Peppermint Hot Chocolate Cookies are rich chocolate cookies topped with marshmallows, chocolate drizzle, and crushed candy canes. Christmas in a tasty bite!
Christmas cookie platters wouldn't be complete without loads of Chocolate Cookie Recipes like Triple Chocolate Cookies and Chocolate Chip Cookies. Holiday treats perfect for dunking in hot cocoa!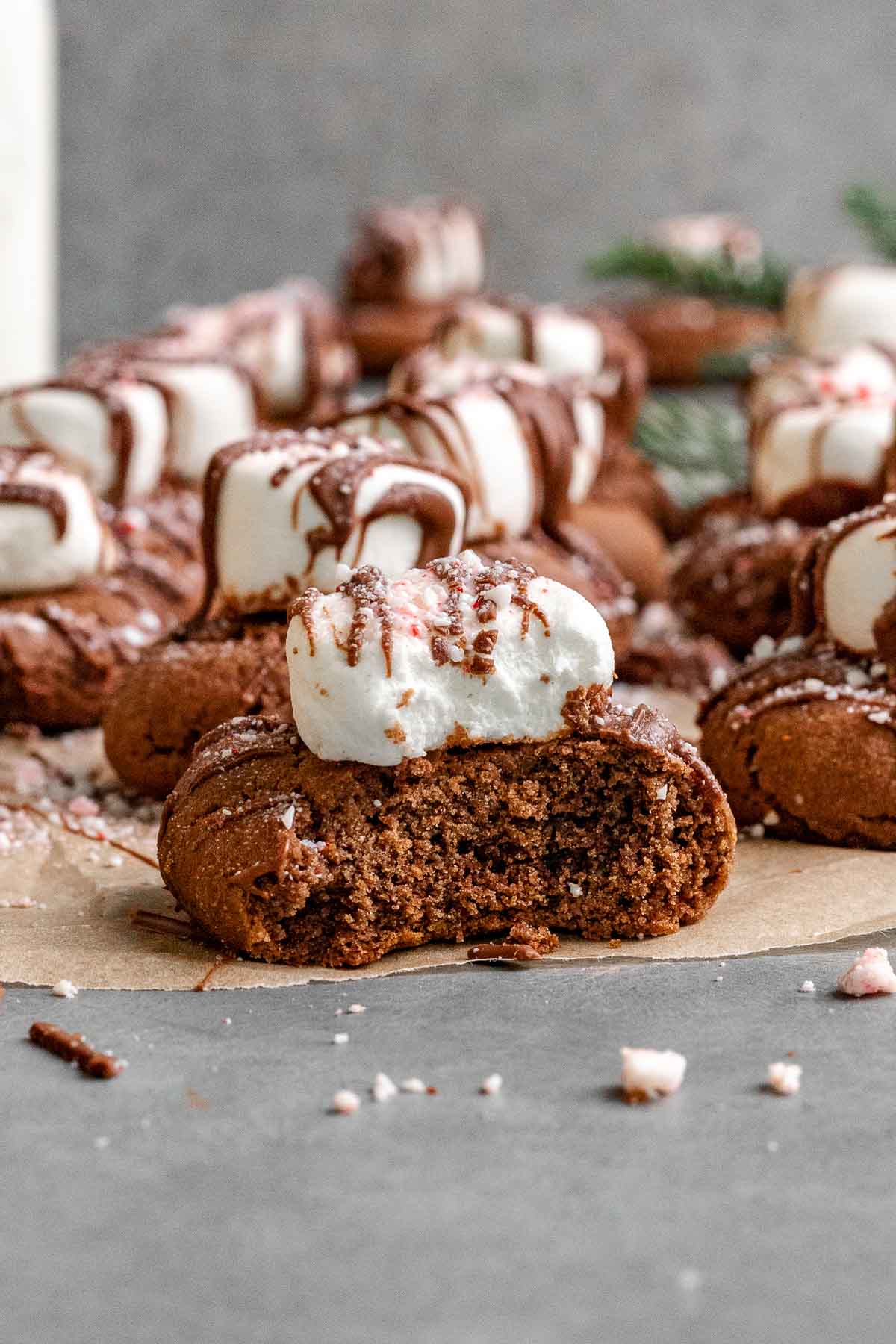 It's no great revelation that the holiday season can be a bit hectic. Running from store to store, various Christmas events (does every kids activity or club need a special holiday thing?), trips to see Santa, and never-ending to-do lists. It can turn even the best of us a bit Grinchy.
This Peppermint Hot Chocolate Cookie is great for those days when you need a jump start to feel holly jolly! It's the next best thing to snuggling with a cup of hot cocoa and a favorite Christmas cookie, all in one delicious bite. Put a couple in your glove compartment for an emergency holiday spirit boost on the go.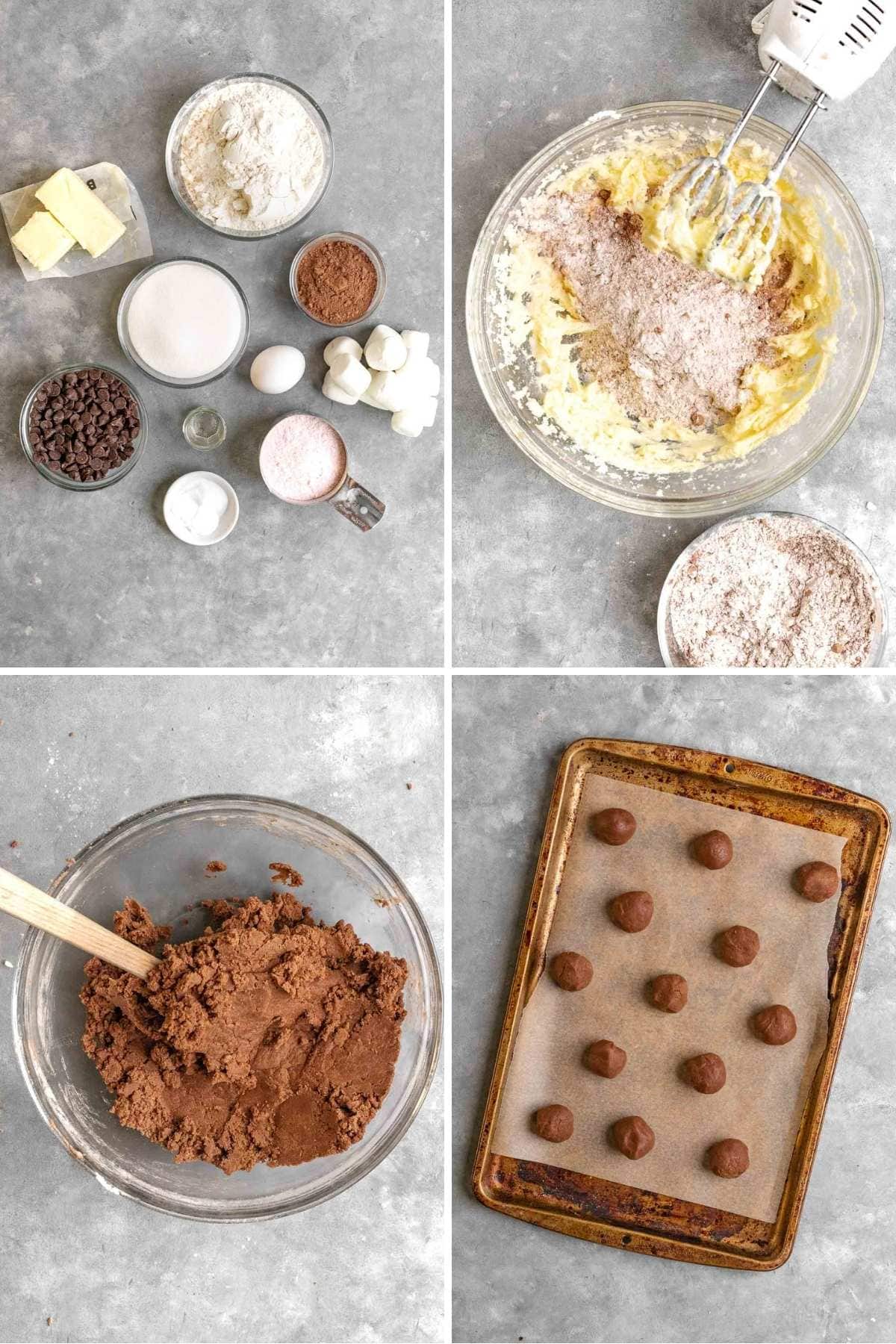 If you have a little more time for holiday baking, you should definitely try Peppermint Hot Chocolate Cookies with Homemade Marshmallows or the easy marshmallow creme below. Bagged marshmallows are great, but there's something extra delicious about a homemade marshmallow. Plus, you can flavor them with even more peppermint if you are a candy cane addict!
Peppermint Hot Chocolate Cookies are a fantastic way to use up those broken or crushed candy canes. They are used as the garnish to these chocolate peppermint cookies, but feel free to fold extra bits of the crushed peppermint candies into the cookie dough too!
Make Santa's day by baking these on Christmas Eve and leaving them out with homemade Hot Chocolate. These Peppermint Hot Chocolate Cookies are great for cookie exchanges or gifting in a holiday treat basket. A handwritten, personalized copy of this recipe makes a heartfelt and special gift tag.
How to Make Peppermint Hot Chocolate Cookies
Preheat your oven to 375, and grease two baking sheets.
Combine the dry ingredients: flour, cocoa powder, salt and baking soda. Set aside.
Cream butter and sugar in a large bowl until light and fluffy, then beat in egg and peppermint extract.
Gradually add the flour mixture to the wet ingredients and mix well, then cover and chill for at least 1 hour.
Drop chilled cookie dough by tablespoonfuls 2 inches apart onto baking sheets.
Bake for 10-12 minutes or until the tops crack. Then remove to wire racks to cool completely.
In a microwave, melt chocolate chips, stirring every 30 seconds, until smooth.
Place a large marshmallow into the center of each cookie. You can cut them in half to make them lay flatter on the cookie.
Drizzle each cookie with melted chocolate and sprinkle immediately with crushed peppermint candies. Let stand on wax paper until set.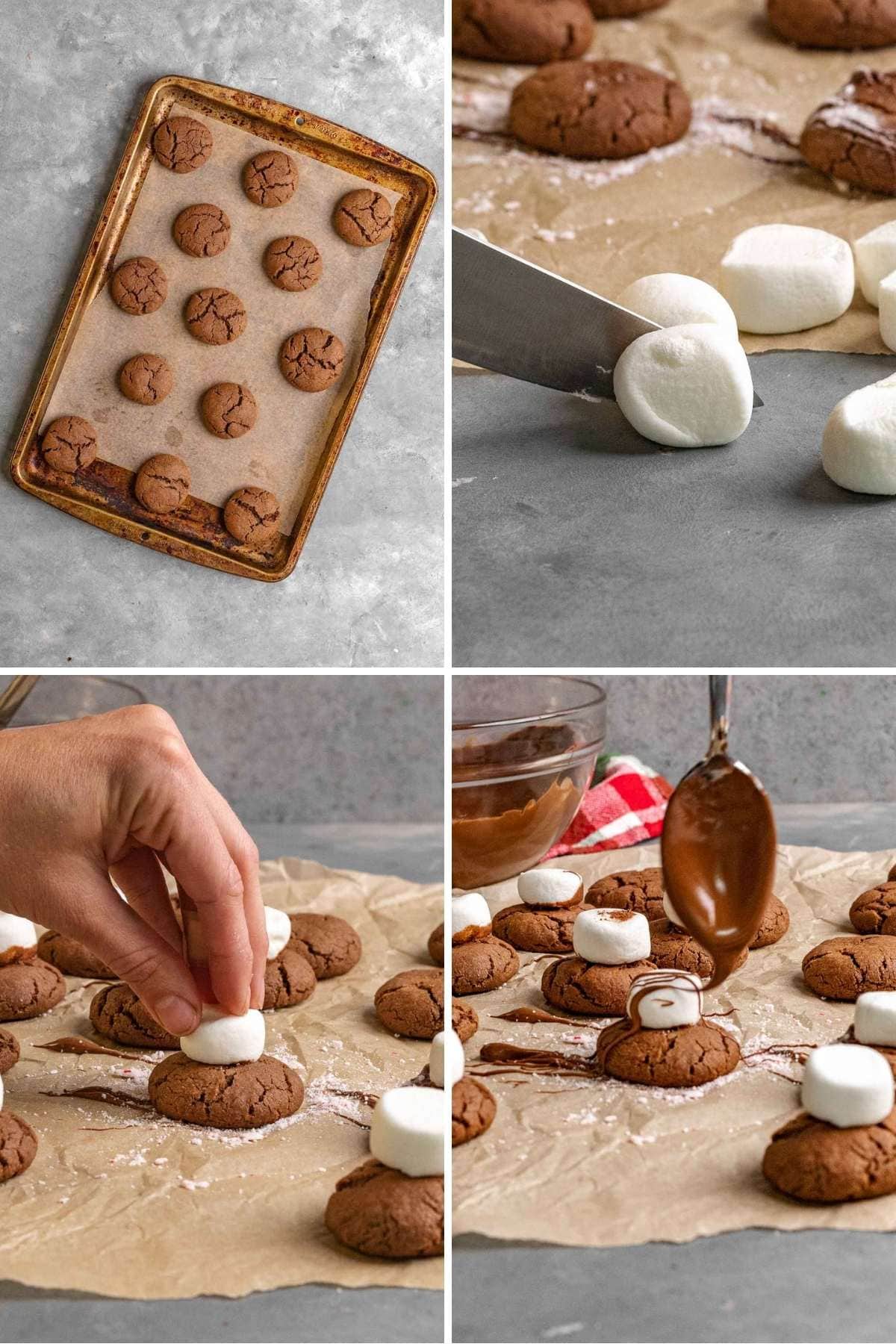 More Delicious Chocolate Cookies
Frequently Asked Questions
Why did my cookies turn out flat?
To keep your Peppermint Hot Chocolate Cookies big and fluffy, make sure you chill the cookie dough for at least an hour. This allows the butter to get cold again so it won't melt and flatten your chocolate cookies. Be sure that your baking soda is fresh too, don't try to use last year's baking powder for this year's holiday treats.
Why did my melted chocolate get clumpy?
When melting chocolate, it is very important to avoid letting any water or steam come into contact with it. If this happens, it will seize and curdle. This can also happen if the chocolate overheats. You can try adding a little vegetable and coconut oil to the seized chocolate and stir vigorously to smooth it out again. If this trick doesn't work, you're better off tossing out the seized chocolate and starting over.
How do I keep cookies fresh for gifting?
When giving cookies as a gift, you want to bake them as fresh as possible before wrapping and gifting (see the tips below on preparing the dough in advance). Make sure they are cooled completely, and package them in tissue paper to keep them from cracking. If your gift box or tin is not air tight, wrap the entire box in a clear plastic bag and tie with a decorative ribbon. Then your gift wrap also serves to help keep the cookies fresh!
How do I keep my cookies from coming out dry?
If your cookies are turning out too dry, you could be measuring your flour incorrectly and using too much. To correctly measure flour for baking, fluff the flour with a measuring cup so it is not compacted, before spooning flour into the measuring cup, then leveling it off with a flat knife. This way you are not using additional flour because it was compacted in the bag. Your oven could also be too hot. Use an oven safe thermometer to check that your oven temperature is correct. If it is off, adjust the dial accordingly until the thermometer reads the correct temperature.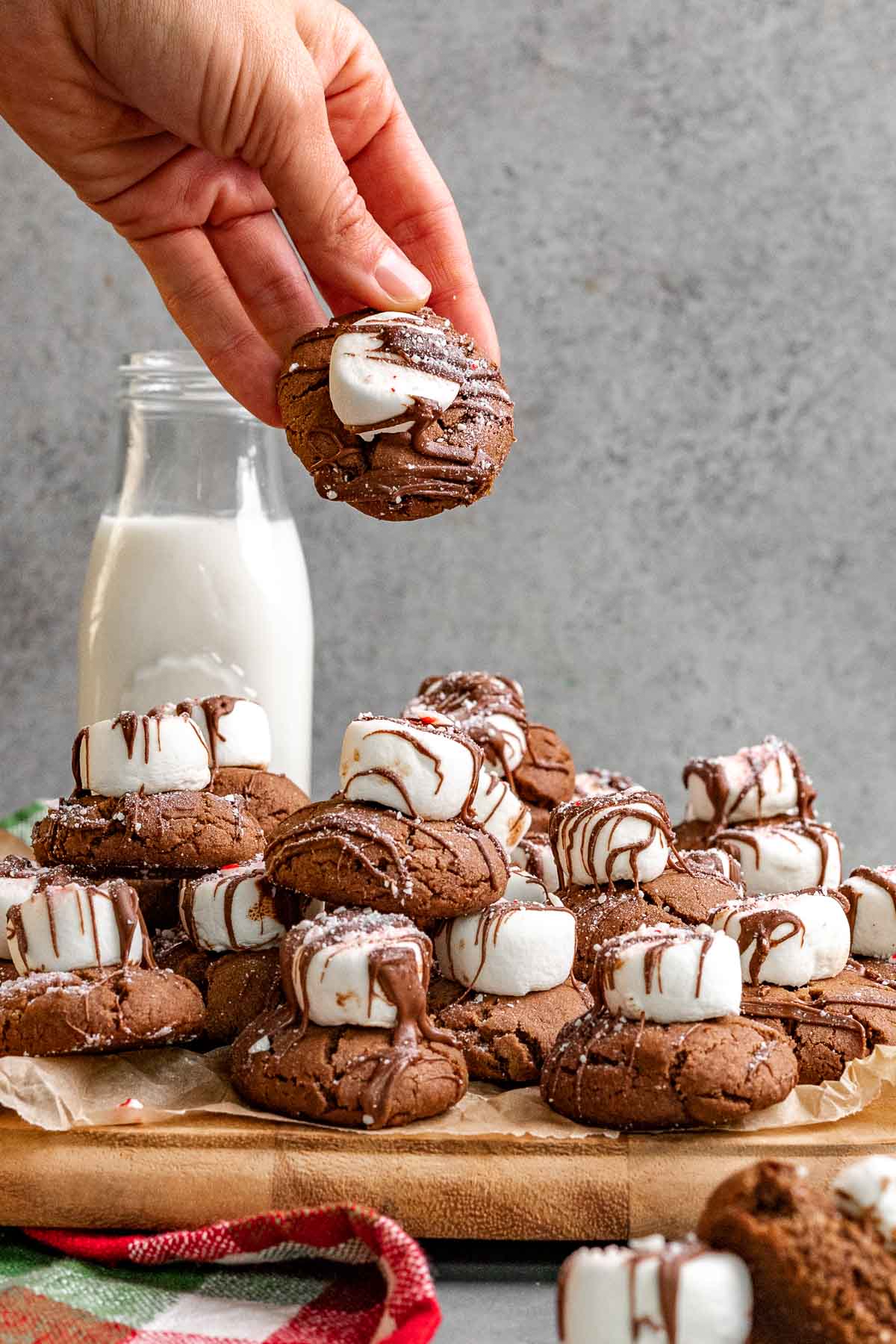 Create a free account to

Save Recipes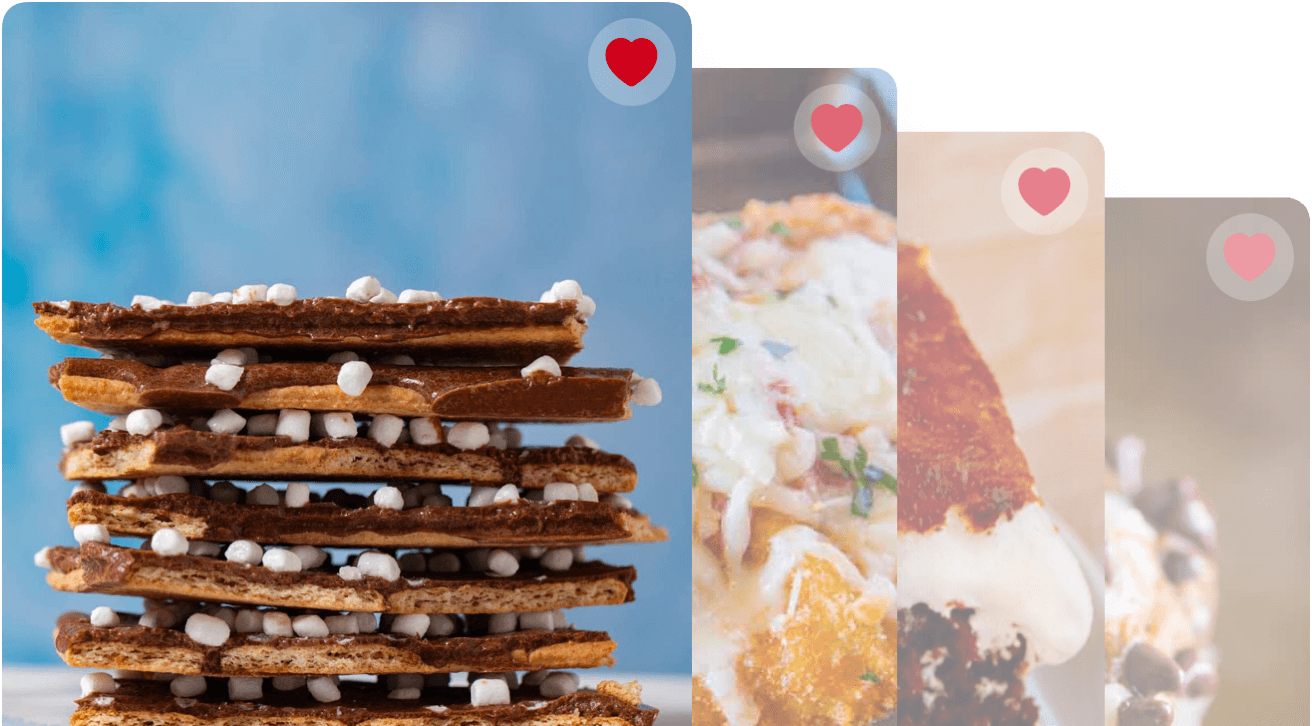 Key Ingredients in Peppermint Hot Chocolate Cookies
Chocolate Cookie Dough: Pantry staples help this Hot Chocolate Cookie dough come together quickly and easily. You'll combine your dry ingredients of flour, unsweetened cocoa powder, baking soda, and salt (the best way to combine dry ingredients for baking is to sift them together, then whisk to finish combining). Cream butter and sugar before adding the egg and peppermint extract, then gently incorporate the dry ingredients into the wet.
Marshmallows: Large marshmallows make the perfect topping for these Hot Cocoa Cookies. Cut each large marshmallow in half horizontally, and place the cut sticky side onto the cooled cookie, using a little melted chocolate if needed to adhere.
Chocolate Drizzle: Melted milk chocolate chips give these holiday cookies that milky cocoa flavor and also a beautiful decoration.
Peppermint Candies: Crushed peppermint candies or candy cane bits add a sparkly crunch and extra peppermint flavor to your Peppermint Hot Chocolate Cookies. Sprinkle them when the chocolate drizzle is still wet so the topping sticks.
Can you make Peppermint Hot Chocolate Cookies ahead?
The best way to make these cookies ahead of time is to prepare the cookie dough and freeze for up to 3 months. You can freeze baked cookies but they won't be the same as baking the cookie dough and adding the marshmallow to the fresh from the oven chocolate cookie.
Variations on Peppermint Hot Chocolate Cookies
Espresso: Make Peppermint Mocha Cookies by sifting 2 tablespoons of instant espresso powder into the cocoa powder.
Frosting: Instead of the chocolate frosting, drizzle Peppermint Hot Chocolate Cookies with a delicious, easy Chocolate Ganache!
Chocolate Chips: Fold in your favorite baking chips like white chocolate chips and dark chocolate chips, or drizzle your cookie with melted white chocolate. Use any chocolate flavor combo that you love.
Peppermint Chips: If you can find them (aka Amazon), Andes Peppermint Crunch Baking Chips would taste out of this world in this chocolate cookie!
Brownie Cookies: To turn these into rich Brownie Cookies, add an extra egg, swap baking powder for baking soda, and replace 2/3 of the granulated sugar with light brown sugar.
Mexican Hot Chocolate Cookies: Instead of the peppermint extract, use 1 teaspoon vanilla extract and add 1 teaspoon cinnamon to the dry ingredients for a warm spiced Mexican Hot Chocolate cookie flavor.
Rocky Road Cookies: Replace the peppermint with vanilla extract and and add chopped almonds to the cookie dough. You can mix mini marshmallows into the dough instead of the big one on top, or do both for extra marshmallow flavor.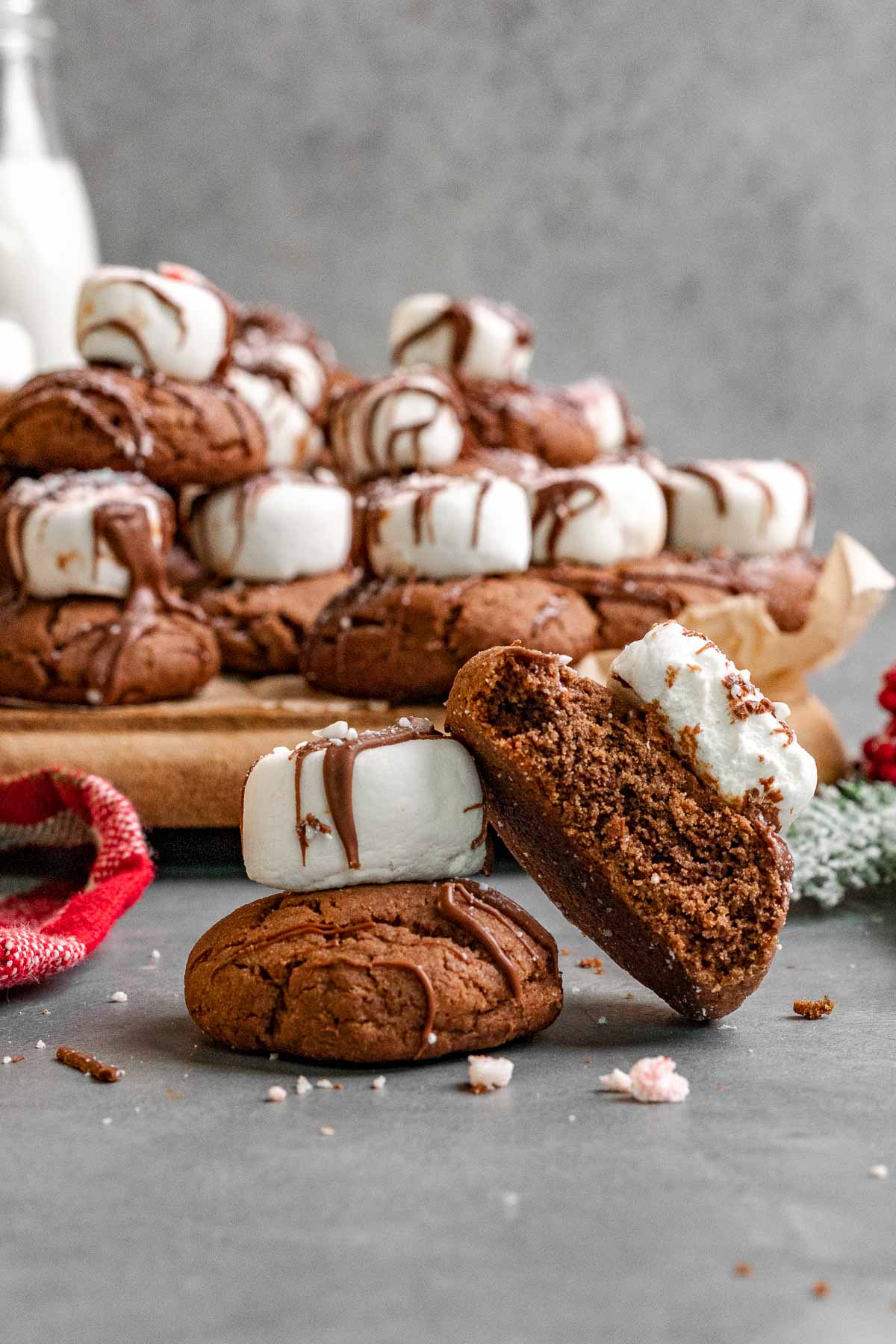 How to Make Homemade Marshmallow Creme
Ingredients: 1 egg white (room temperature), ¾ cup light corn syrup, ¾ cup sifted powdered sugar, 2 ½ teaspoons vanilla, ¼ teaspoon salt
Using an electric mixer on high, beat egg white, corn syrup, and salt for about 5 minutes, until thick and doubled in volume.
Turn mixer on low and mix in powdered sugar until well combined.
Add vanilla extract and beat until just incorporated.
Refrigerate leftover marshmallow creme for 2 weeks or freeze for 1 month.
Holiday Cookie Classics
How to Store Peppermint Hot Chocolate Cookies
Serve: These Peppermint Hot Chocolate Cookies are best warm! They can be kept at room temperature for up to 1 week in an airtight container.
Store: Keep these chocolate cookies fresh longer by storing them in the refrigerator for up to 2 weeks. Pop in the microwave for about 15 seconds to warm them up.
Freeze: Freeze cookies on a baking sheet in a single layer for 1 hour. Then transfer them to an airtight container for up 2 months. Thaw overnight in the refrigerator to keep condensation from forming.


Ingredients
1

cup

butter

, softened

1

cup

sugar

1

large

egg

1

teaspoon

peppermint extract

2 1/3

cups

flour

1/3

cup

baking cocoa

1

teaspoon

salt

1

teaspoon

baking soda

1

package

milk chocolate chips

, 11 ½ ounces

1

package

large marshmallows

1

cup

finely crushed peppermint candies
Instructions
Preheat oven to 375 degrees. Grease baking sheets.

Combine the flour, cocoa powder, salt, and baking soda; set aside.

Cream butter and sugar in a large bowl until light and fluffy.

Gradually add flour mixture and mix well.

Cover and chill cookie dough for at least

1 hour

.

Drop chilled cookie dough by tablespoonfuls 2 inches apart onto baking sheets.

Bake for

10-12 minutes

or until tops are cracked. Remove to wire racks to cool completely.

In a microwave, melt chocolate chips, stirring every

30 seconds

, until smooth.

Place large marshmallow into the center of each cookie.

Drizzle each cookie with melted chocolate.

Immediately sprinkle with candies.

Place on waxed paper and let stand until set.
Nutrition
Calories:
167
kcal
|
Carbohydrates:
23
g
|
Protein:
2
g
|
Fat:
8
g
|
Saturated Fat:
5
g
|
Polyunsaturated Fat:
1
g
|
Monounsaturated Fat:
1
g
|
Trans Fat:
1
g
|
Cholesterol:
20
mg
|
Sodium:
144
mg
|
Potassium:
24
mg
|
Fiber:
1
g
|
Sugar:
15
g
|
Vitamin A:
185
IU
|
Vitamin C:
1
mg
|
Calcium:
15
mg
|
Iron:
1
mg