Easy Fudge Wreath is the perfect recipe to serve at a holiday party. Creamy, chocolate fudge is shaped into a Christmas wreath with decorative toppings.
This Easy Fudge Wreath is the perfect homemade Candy Recipe to share with a group. Instead of individual pieces of Chocolate Fudge, it's all made into one round piece that you can slice to serve. The pretty presentation and festive toppings make it perfect to serve over the holidays!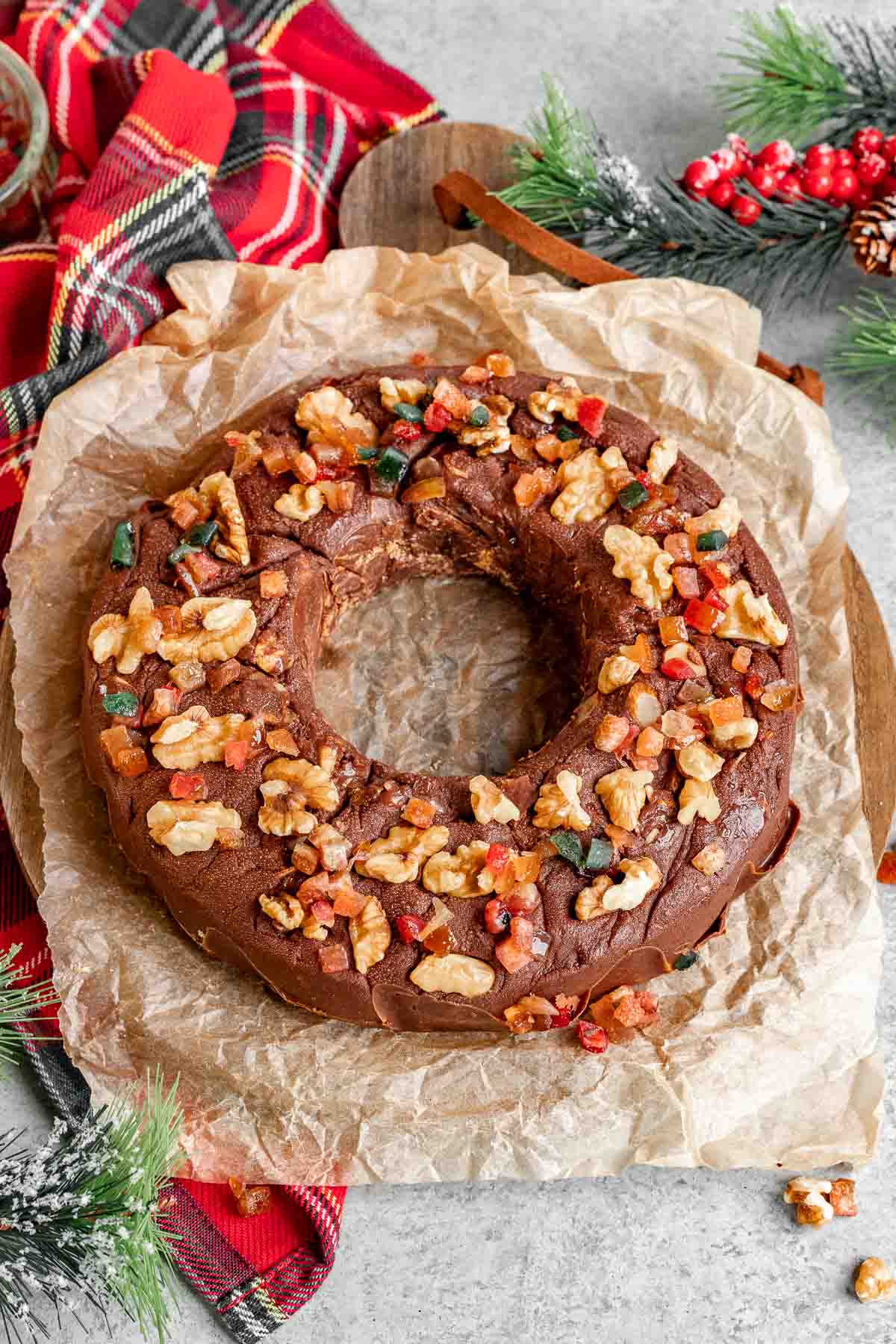 EASY FUDGE WREATH
This creamy fudge recipe only requires 5 minutes of work to get ready. It's so easy that you'll be shocked just how delicious it is! Five-Minute Fudge Wreath is made in just a few steps in the microwave. After a couple of minutes of hands-on work all you have to do is put the wreath-shaped fudge in the fridge to set. It's as easy as it is festive, fun, and delicious.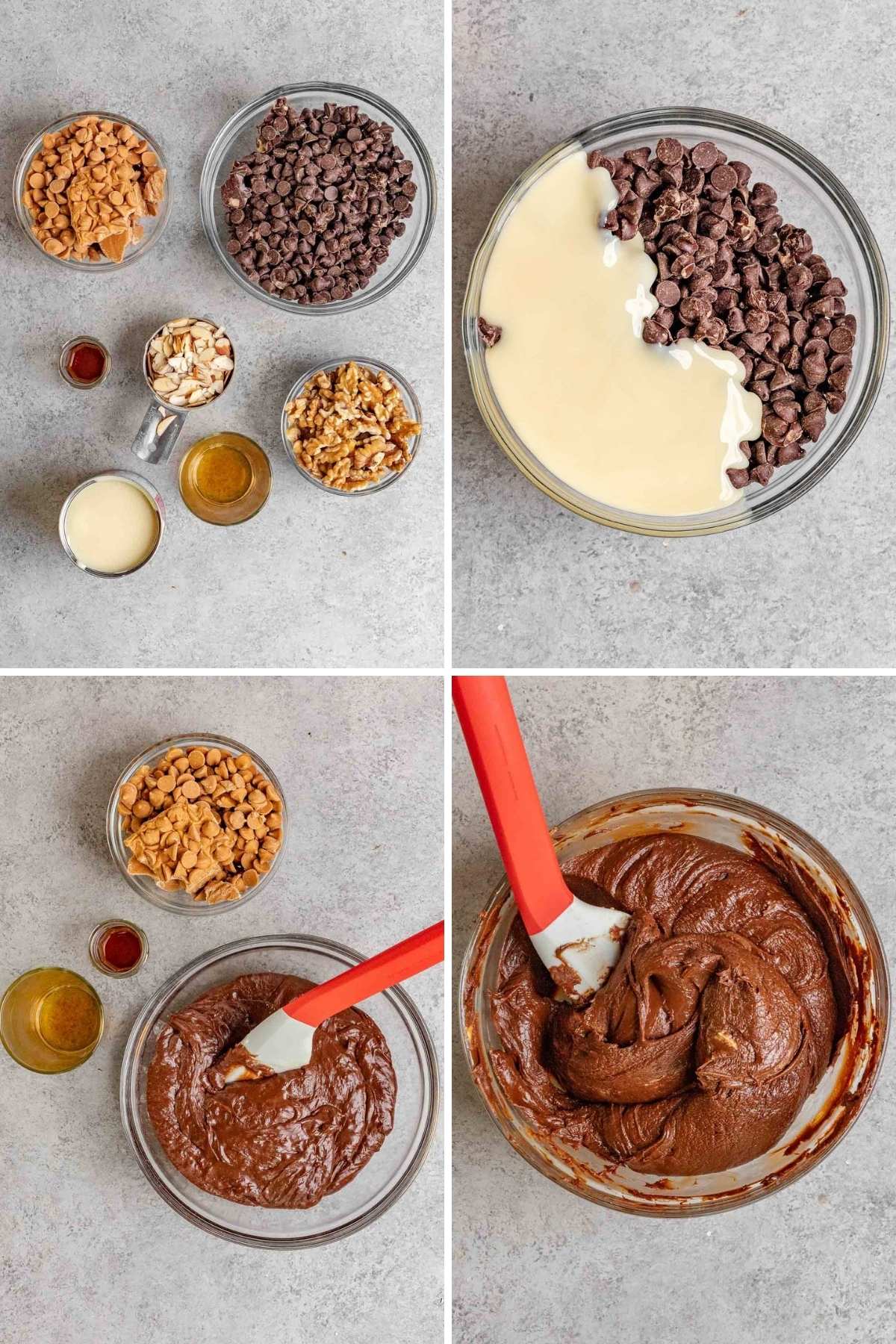 Along with how easy this Five-Minute Fudge Wreath is, it's also wonderfully rich and creamy. The classic chocolate fudge gets caramel flavor added with a couple of handfuls of butterscotch morsels to the creamy mixture. If you're only serving the fudge to adults, you can also stir in some cognac for even more flavor.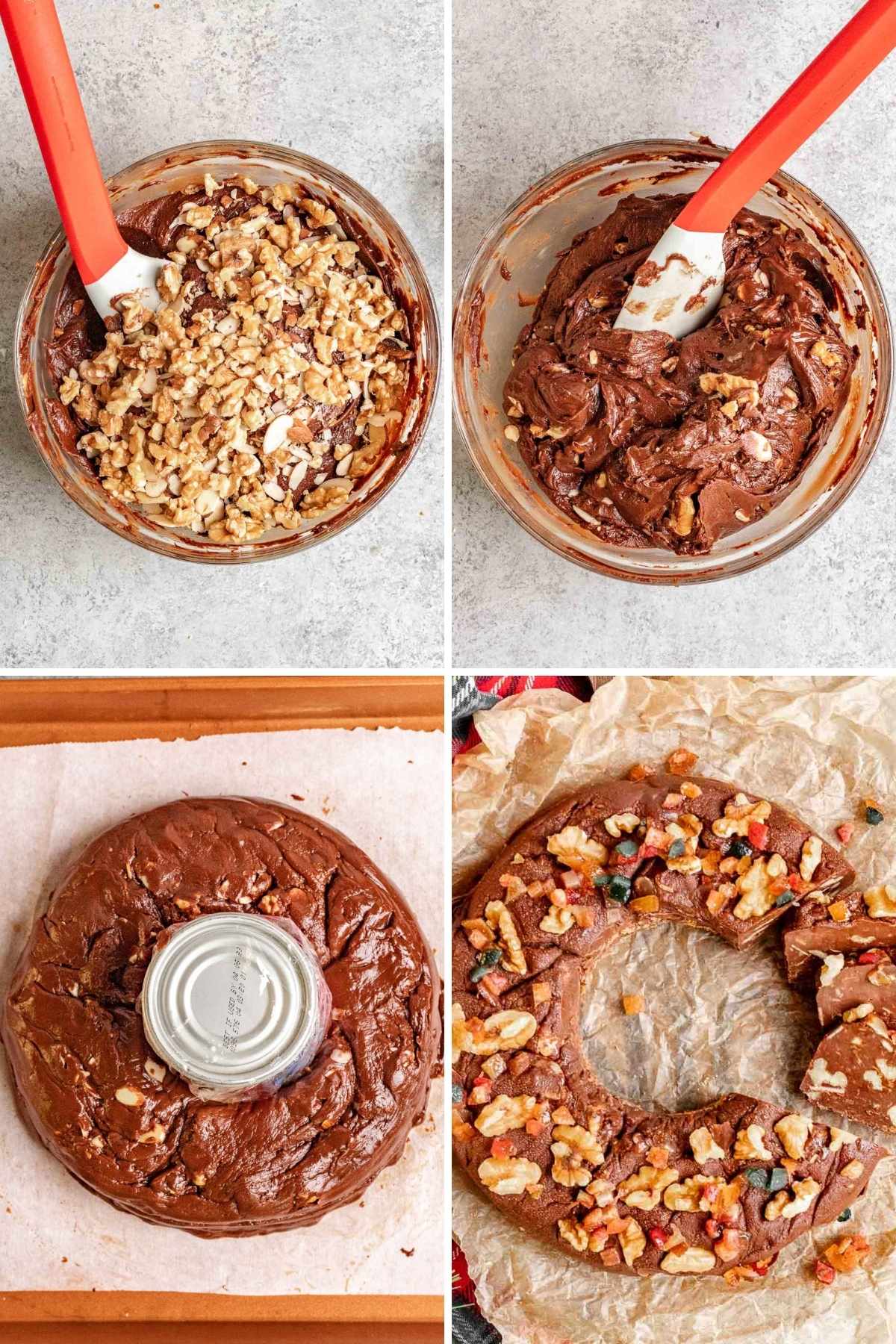 Of course, you can use this same wreath shape to make any fudge recipe look more festive. Feel free to try it on Chocolate Walnut Fudge, Orange Fudge, or Peppermint Fudge. Just prep the fudge recipe as usual, then pour it to make the wreath shape and decorate how you want.
This Fudge Wreath is decorated with walnuts and candied fruit. If you want to keep to holiday colors, you can usually find Christmas candied fruit packages with just red and green cherries. For more wreath decorations try adding holly sprigs or even topping it off with a fabric bow that you remove before cutting.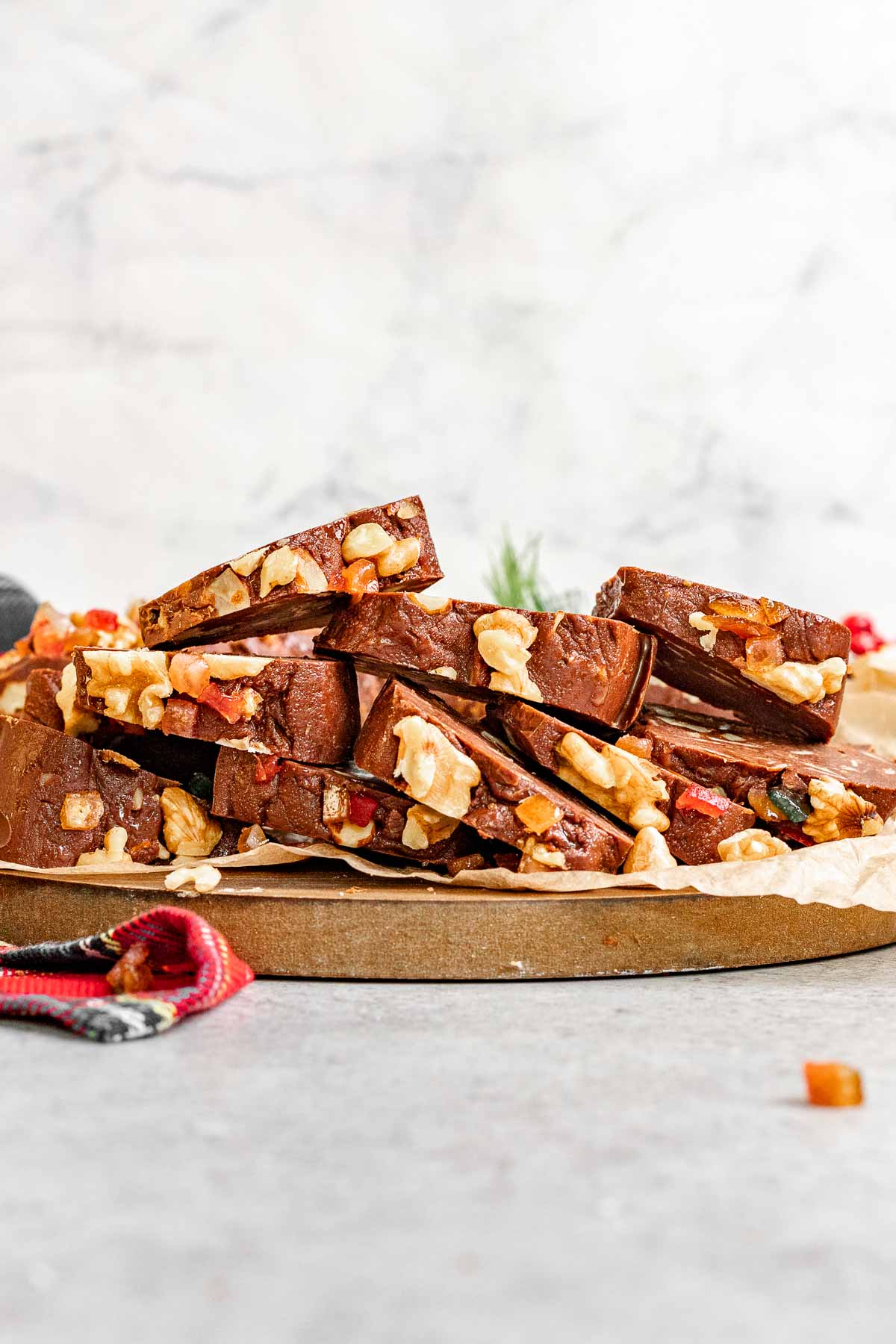 MORE FUDGE RECIPES
TIPS FOR MAKING A FUDGE WREATH
Prep: Make sure to line your baking sheet with parchment paper so that the fudge doesn't get stuck in the pan.
Microwave: Add the chocolate chips and condensed milk to a microwave-safe bowl and heat it for 1 minute. Stir them together until smooth. Add in the cognac, vanilla, and butterscotch chips then stir until creamy. The cognac is optional. You can leave it out if you don't want alcohol in the fudge. Microwave for another 30 seconds or more if needed. Stir the mixture until smooth. Add in the chopped almonds and ¾ cups of walnuts.
Stovetop: You could also prep the fudge ingredients on the stovetop. Put a medium saucepan over medium-high heat and add the condensed milk and chocolate chips. Stir until chips melt into the milk. Add your other ingredients and bring the heat down to low. Once they're melted and stirred smooth, remove the fudge from heat and add in the chopped nuts.
Shape: Use your empty condensed milk can to make the center of the wreath. Wrap it in plastic wrap and put it in the center of your baking sheet. Pour the prepared fudge around the can in a circular shape. Top it off with the remaining walnuts and candied fruit. Arrange the red and green pieces to look how you want on the wreath. Then put it in the fridge to chill until it's firm. Take the can from the wreath, and move it to a serving tray.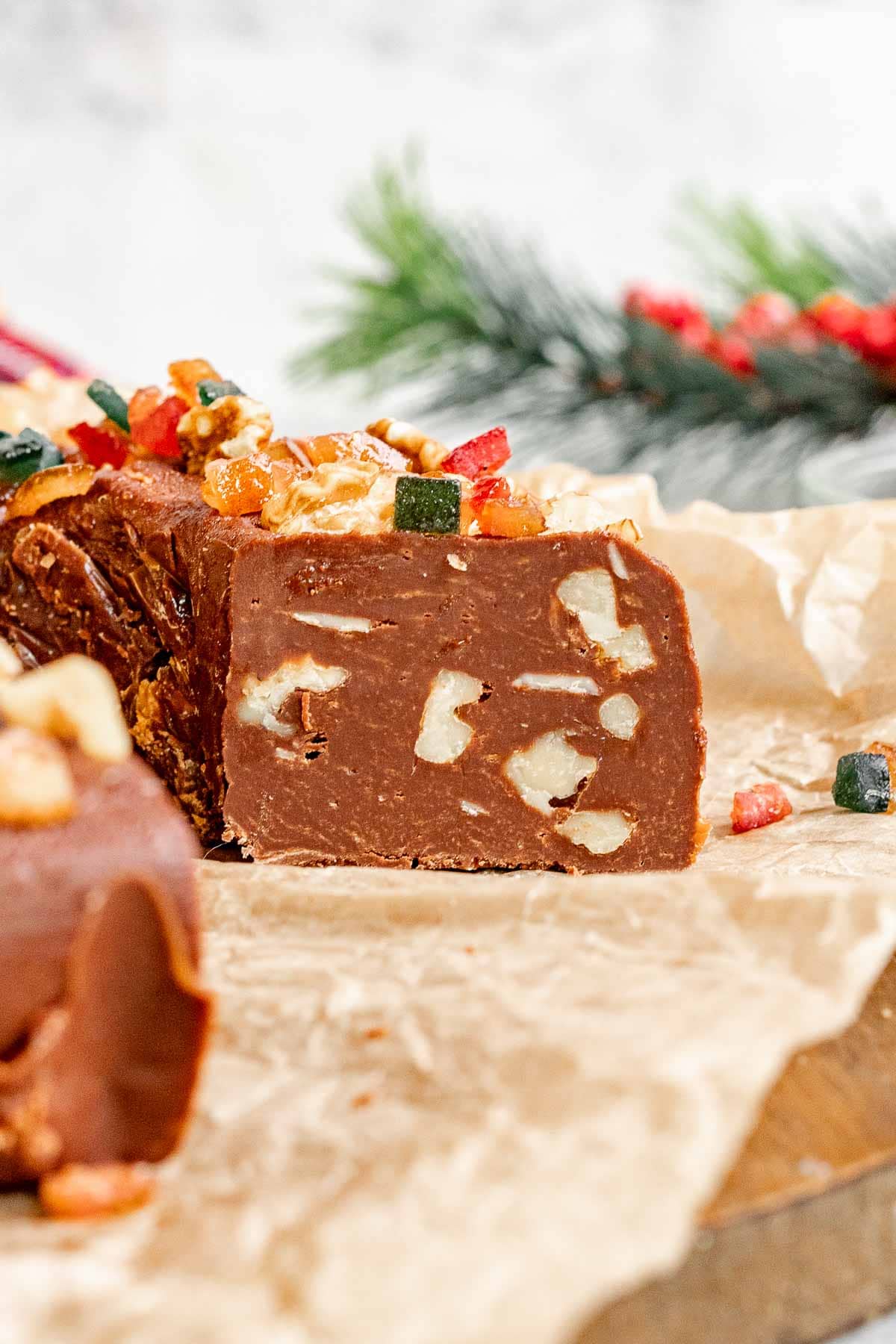 Create a free account to

Save Recipes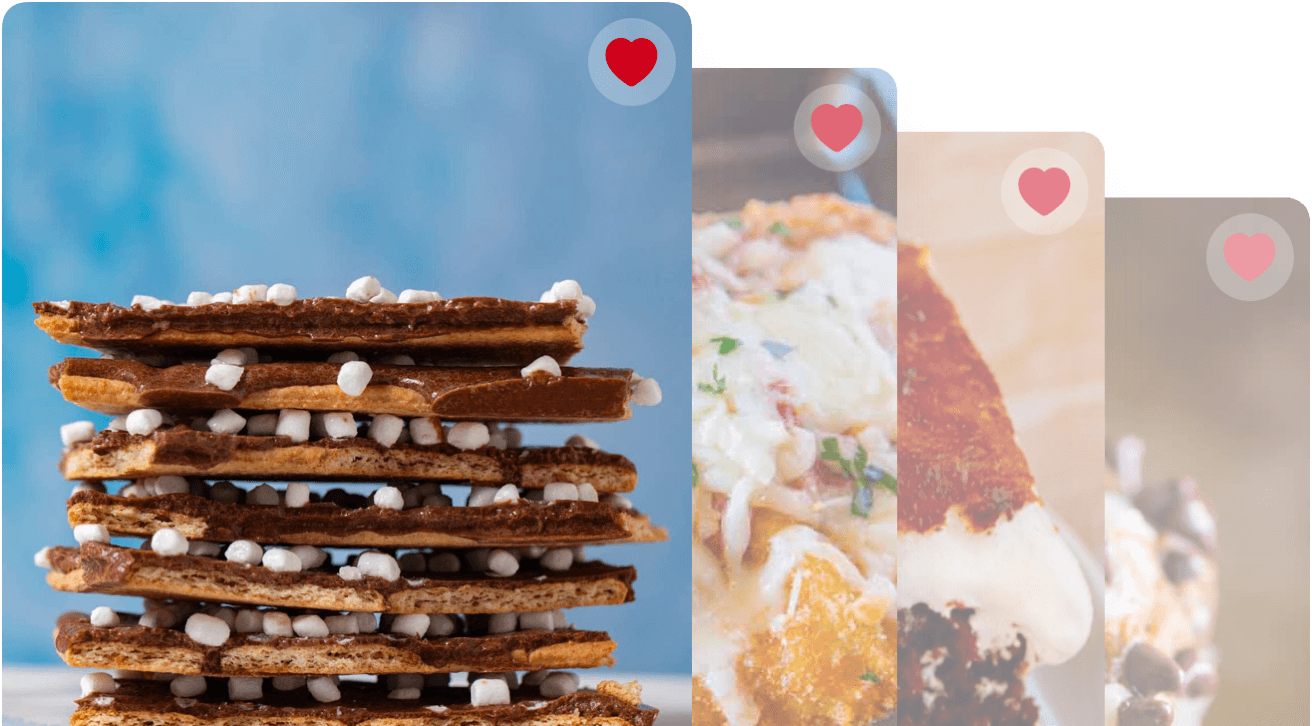 VARIATIONS ON EASY FUDGE WREATH
Chocolate: Instead of using semisweet chocolate chips, you could use milk chocolate, dark chocolate, or white chocolate.
Peanut Butter: To make a Peanut Butter Fudge Wreath replace the butterscotch in the recipe with ½ cup of peanut butter. Make up for the rest of the missing butterscotch with more chocolate chips.
Add-ins: There are plenty of mix-ins you can add to the original recipe for Five-Minute Fudge Wreath. Try ½ cup raisins, pecans, dried cranberries, or dried cherries. You can also decorate the fudge with festive sprinkles, drizzled melted chocolate, or powdered sugar.
MORE FUN HOLIDAY TREATS
HOW TO STORE AN EASY FUDGE WREATH
Serve: You don't want to leave the Fudge Wreath at room temperature for more than 2 hours.
Store: To store the wreath put it in an airtight container or wrap in cellophane. It will stay good in the fridge for up to 2 weeks.
Freeze: You can also wrap the fudge tightly for up to 3 months. For more easy storage you can break up the leftovers into squares and put them in a Ziploc bag separated by parchment paper.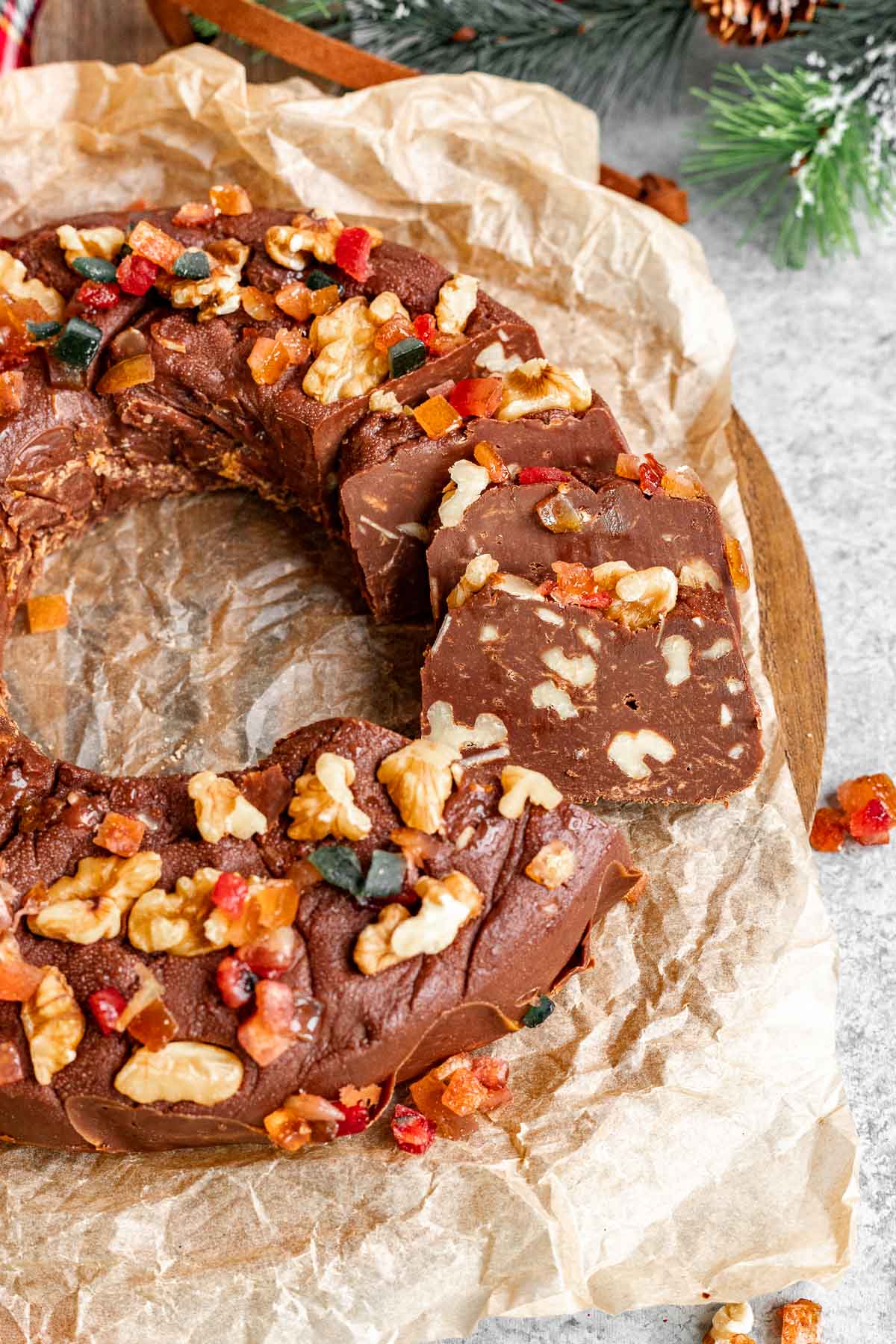 Ingredients
2

cups

semi-sweet chocolate chips

14

ounces

sweetened condensed milk

1

teaspoon

vanilla extract

1

tablespoon

cognac

, optional

1 1/2

cups

butterscotch chips

1

cup

walnut halves

, divided

1/2

cup

almonds

, chopped

1/2

cup

candied fruit mix
Instructions
Line baking sheet with parchment paper.

Add the semi-sweet chocolate chips and condensed milk to a microwave-safe bowl and microwave for

1 minute

.

Stir well.

Add in cognac (optional), vanilla extract, and butterscotch chips and stir well until creamy.

Microwave for

30 seconds

more if needed until smooth.

Stir in chopped almonds and ¾ cups of the walnuts.

Wrap the empty sweetened condensed milk can in plastic wrap and place in the center of the baking sheet.

Add the fudge around the can in a wreath shape.

Top with the remaining walnut halves and candied fruits.

Chill until firm before serving.

Remove the can and place wreath on serving tray for slicing.
Nutrition
Calories:
330
kcal
|
Carbohydrates:
42
g
|
Protein:
5
g
|
Fat:
16
g
|
Saturated Fat:
6
g
|
Cholesterol:
10
mg
|
Sodium:
89
mg
|
Potassium:
252
mg
|
Fiber:
3
g
|
Sugar:
34
g
|
Vitamin A:
88
IU
|
Vitamin C:
1
mg
|
Calcium:
101
mg
|
Iron:
2
mg