Christmas Pretzel Hugs are an easy candy to make in bulk. All it takes is pretzels, Hershey kisses, and m&ms for the perfect holiday treat.
This easy Homemade Candy Recipe takes the idea of Chocolate Covered Pretzels and adds holiday M&M's to make them even more festive and adorable. They are easy to make and this recipe makes a huge batch for endless sweet snacking!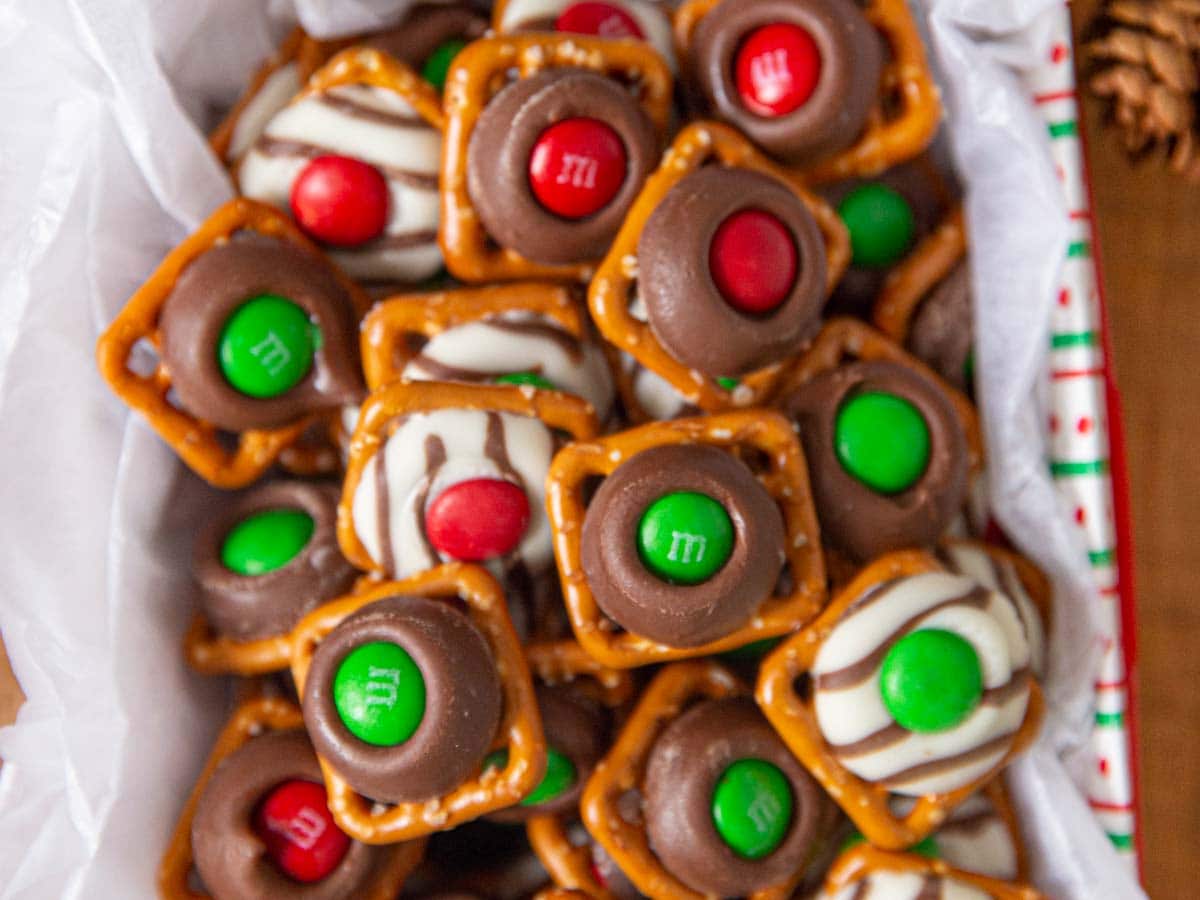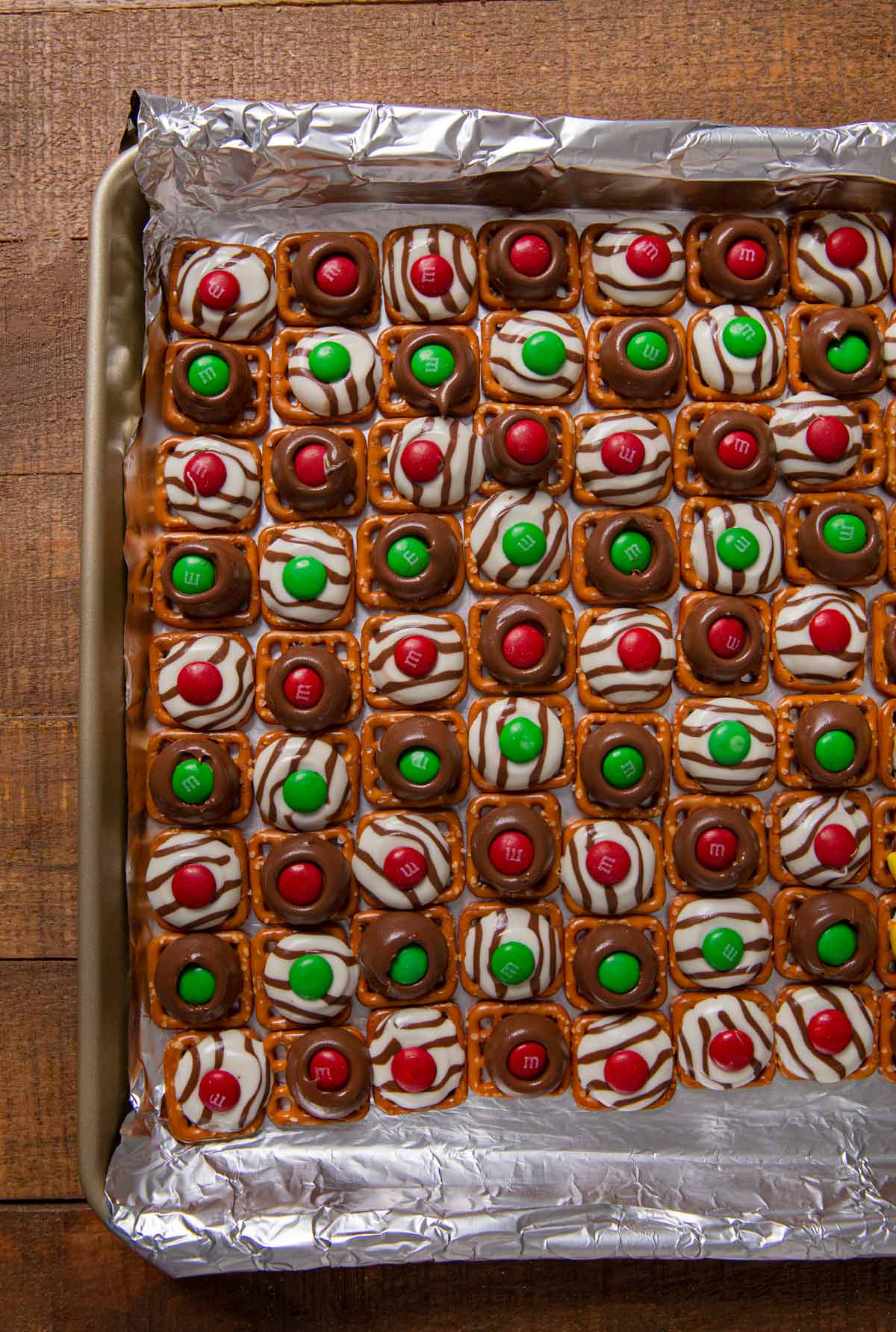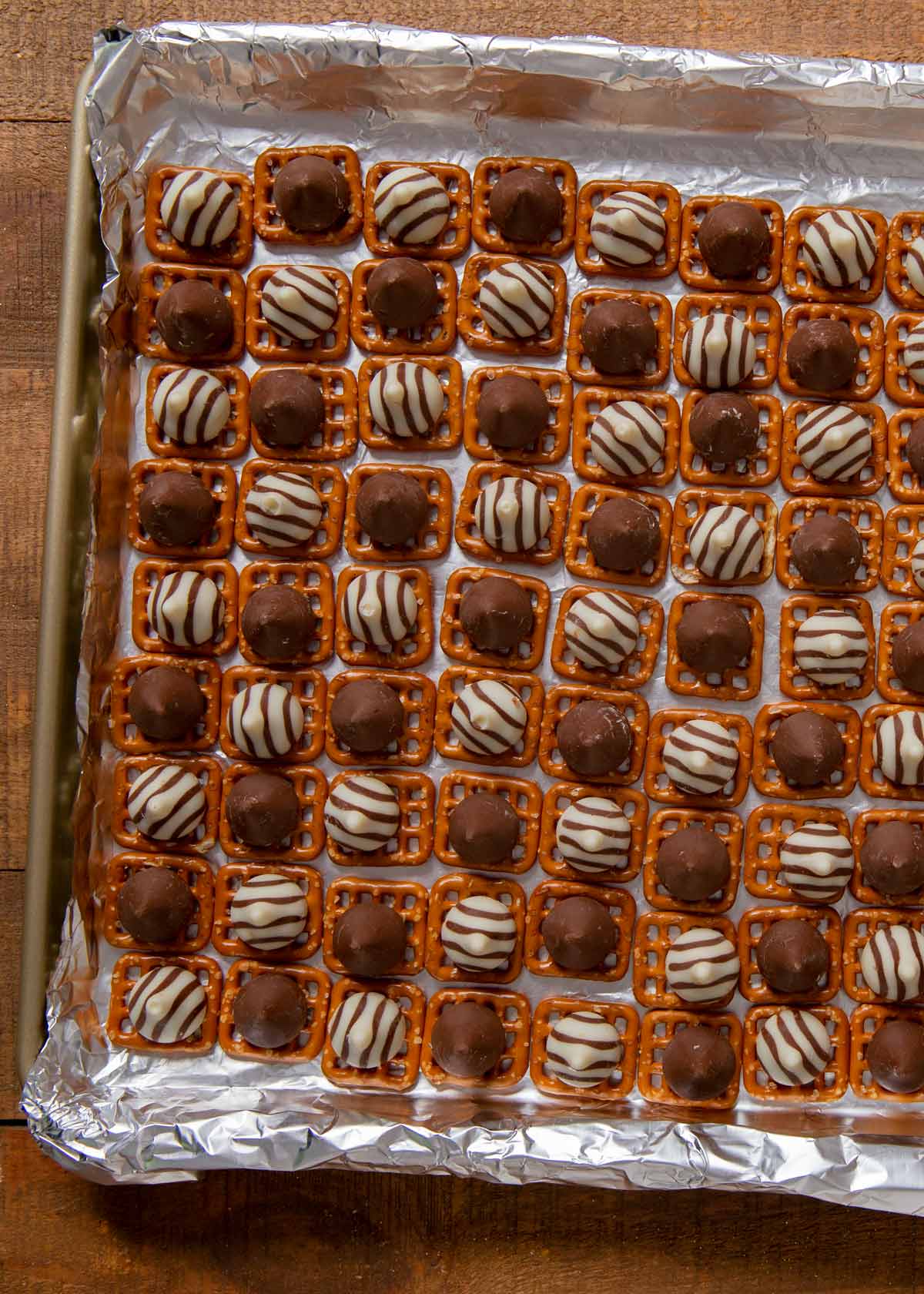 Sabrina's Christmas Pretzel Hugs Recipe
Delicious Christmas Pretzel Hugs are just as cute as their name makes them sound. The chocolate of the Hershey's Kisses wraps around the M&M's like a hug, and using green and red M&M's makes them look like they were sent down from the North Pole. They are festive, they are fun, and they are filled with sweet, salty, chocolaty goodness!
This treat is the perfect combination of flavor and texture. The sweet soft chocolate pairs perfectly with the salty crunchy pretzels. The candy coated chocolates add another level of crispy and soft chocolate. They are light enough for a quick snack in the afternoon and they make a great addition to holiday gift baskets and cookie platters!
Ingredients
Pretzel Snaps: You need 70 pretzel snaps, or mini squares which you'll find more than enough in a regular 16 ounce bag. While you could swap in mini regular pretzels, they work best with the little squares plus the little buttons of chocolate so perfectly matched in size like they were made to go together.
Hugs: Hugs candy are chocolate kisses that combine white and milk chocolate. You'll need a full 12 ounce bag for 70 hugs, so if you know you'll want to eat some, grab a second bag. Plus if you grab two bags, you can do two flavors!
M&M Candy: The delicious chocolate surrounded by crispy candy coating is perfect for this treat! The candy shell won't melt so you get extra crunch. Plus they are just an easy way to add a festive holiday look to these easy treats.
Kitchen Tools & Equipment
Baking Sheet: You need good quality heavy duty baking sheets or trays that won't buckle under the heat. Thin aluminum baking pans sometimes pop up when you put them in the oven which will cause your candies to separate and scatter.
Aluminum Foil: You want to line your baking sheet with aluminum foil (or parchment) so that the melted chocolate doesn't stick to your baking sheet. This keeps them from breaking when you transfer them to a serving dish. Just don't use wax paper because it will melt or even catch on fire in the oven.
How to Make Christmas Pretzel Hugs
Time needed: 35 minutes.
This is one of the easiest holiday treats you can make. Pretzel Hugs are an especially great recipe because you can make so many at once. You can even double up the recipe to make them on two baking sheets if you're making them to share with a big group.
Prep your Baking Sheets

Line your baking sheet with tin foil to make for easy cleanup. Lay out 70 pretzels over the baking sheet. Top each pretzel with a Hershey's kiss.

Soften the Chocolate

You want to make the chocolate soft enough so that you can press the Mu0026M's into the top. Put the baking sheet in the oven for 2-3 minutes, but don't heat them long enough they melt or lose their shape.

Add the Candy Pieces

Press an Mu0026M into the top of each slightly softened kiss. Chill them in the fridge for at least 20 minutes the chocolate can re-harden before setting.
Nutritional Facts
Nutrition Facts
Christmas Pretzel Hugs
Amount Per Serving
Calories 31
Calories from Fat 18
% Daily Value*
Fat 2g3%
Polyunsaturated Fat 0.01g
Monounsaturated Fat 0.01g
Cholesterol 1mg0%
Sodium 17mg1%
Potassium 2mg0%
Carbohydrates 4g1%
Protein 0.5g1%
Vitamin A 2IU0%
Vitamin C 0.03mg0%
Calcium 11mg1%
Iron 0.1mg1%
* Percent Daily Values are based on a 2000 calorie diet.
Cooking Tips & Tricks
Don't Melt the Chocolate Hugs

You don't bake the chocolate hug candy too long or they will melt and spread, and they won't hold your candy coated chocolate pieces in place. It should only take about 2 minutes for them to get soft enough to press the candy in without splitting them but not melt fully.

Square Pretzels Work Best

Usually it doesn't really matter what shape pretzel you use when you are making chocolate covered pretzel treats. However, for this snack recipe, the small squares not only look best but they are the perfect size to make the button shape. It's the best ratio of pretzel to chocolate plus the holes are small enough that your chocolate won't push all the way through or break off after it cools.
Sides for Your Christmas Pretzel Hugs
You can enjoy these as a sweet snack throughout the holiday season or put them out at your next party with other festive treats. Arrange Pretzel Hugs out on a tray with homemade candies like Easy Chocolate Fudge, Peppermint Oreo Bark, and Chocolate Truffles. The great thing about all these desserts is that you can make them ahead of time and keep them in the freezer until your holiday party.
How to Store
Serve: You could keep this candy in an airtight container at room temperature for up to 2 weeks, but keep in mind if it's warm they can melt. Store them in a cool dry place like a pantry or cupboard away from your oven area.
Store: To keep your candy longer put it in an airtight container in the fridge. They'll stay good for about 3 weeks in the fridge. Line your container with parchment or wax paper and place the paper between layers so they don't stick.
Freeze: Christmas Pretzel Hugs can also keep really well in the freezer. Make these in advance of the holidays and keep them in an airtight container in the freezer for up to 6 months. You can enjoy them frozen for a cool little treat or thaw them in the fridge first.
How to Serve Christmas Pretzel Hugs
Gift the Candy: Homemade treats and candy like Christmas Pretzel Hugs are perfect to make edible holiday presents. Package up these pretzel candies to give to neighbors, friends, family, and your kids' teachers around the holidays. Wrap up the Pretzel Hugs in cellophane and tie the top with a Christmas ribbon or twine. You could also package them in a cookie tin. Line the bottom of the tin with wax paper or colorful food safe paper then add in a layer of the chocolate pretzels. If you want to add another layer, put another sheet of paper to separate them.
Dessert Table: If you plan on serving lots of desserts for your holiday party, these delicious candies make a festive decoration too! Put them in little glass cups around the table and sprinkle on the platters around your cookies, cakes and other treats.
Frequent Questions
Which kind of pretzel should I use?
We've found the best pretzel is the small square pretzels that kind of look like a thatch or grid pattern. The holes on regular small pretzels are too big and the melted candy kind of pushes through and mini pretzel sticks won't hold up the hug candy after it cools, it just falls or breaks off. So use the little mini squares!
How many bags of each ingredient will I need?
For this recipe, you'll need one standard 12 ounce bag of kisses, a 16 ounce bag of pretzel snaps (squares), and a 10 ounce bag of Mu0026Ms (not the snack size or individual size). This will give you just enough hugs candy, but you'll have lots of Mu0026Ms and pretzels leftover to snack on or add to other recipes.
Recipe Card


Ingredients
70

square pretzel snaps

70

Hershey's kisses

70

m&m candies

, red and green
Instructions
Preheat the oven to 250 degrees.

Line a baking sheet with foil.

Line up the pretzels on the baking sheet.

Top with Hershey's kisses.

Place in oven for

2-3 minutes

until chocolate is shiny but not losing its shape.

Remove carefully and press an m&m into the center of each chocolate candy kiss.

Press gently to ensure the kiss maintains most of its shape.

Let cool completely in refrigerator for

20 minutes

.
Nutrition
Calories:
31
kcal
|
Carbohydrates:
4
g
|
Protein:
0.5
g
|
Fat:
2
g
|
Saturated Fat:
1
g
|
Polyunsaturated Fat:
0.01
g
|
Monounsaturated Fat:
0.01
g
|
Trans Fat:
0.002
g
|
Cholesterol:
1
mg
|
Sodium:
17
mg
|
Potassium:
2
mg
|
Fiber:
0.2
g
|
Sugar:
3
g
|
Vitamin A:
2
IU
|
Vitamin C:
0.03
mg
|
Calcium:
11
mg
|
Iron:
0.1
mg
Christmas Pretzel Hugs Variations
Chocolate: There are lots of different kinds of Hershey's Kisses you can use in your Pretzel Hugs. Try using Candy Cane, Cherry, Mint Truffle, White Chocolate, Dark Chocolate, Cookies n' Cream, or any other kind of Hershey's Kiss you'd like.
Candy: You can make your Pretzel Hugs for any time of year and switch up the color of candy you use, or switch up the candy all together! They would make delicious Halloween treats with Reese Pieces or candy corn. Use candy cane kisses but add red hots for a minty, spicy Valentine's candy!
Peanut Butter: Make a chocolate peanut butter treat and add a dollop of creamy peanut butter to the bottom of the chocolate kiss before you put it on the pretzel. You could also use mini peanut butter cups instead of the hugs candy.
Related Recipes
More Easy Pretzel Christmas Candy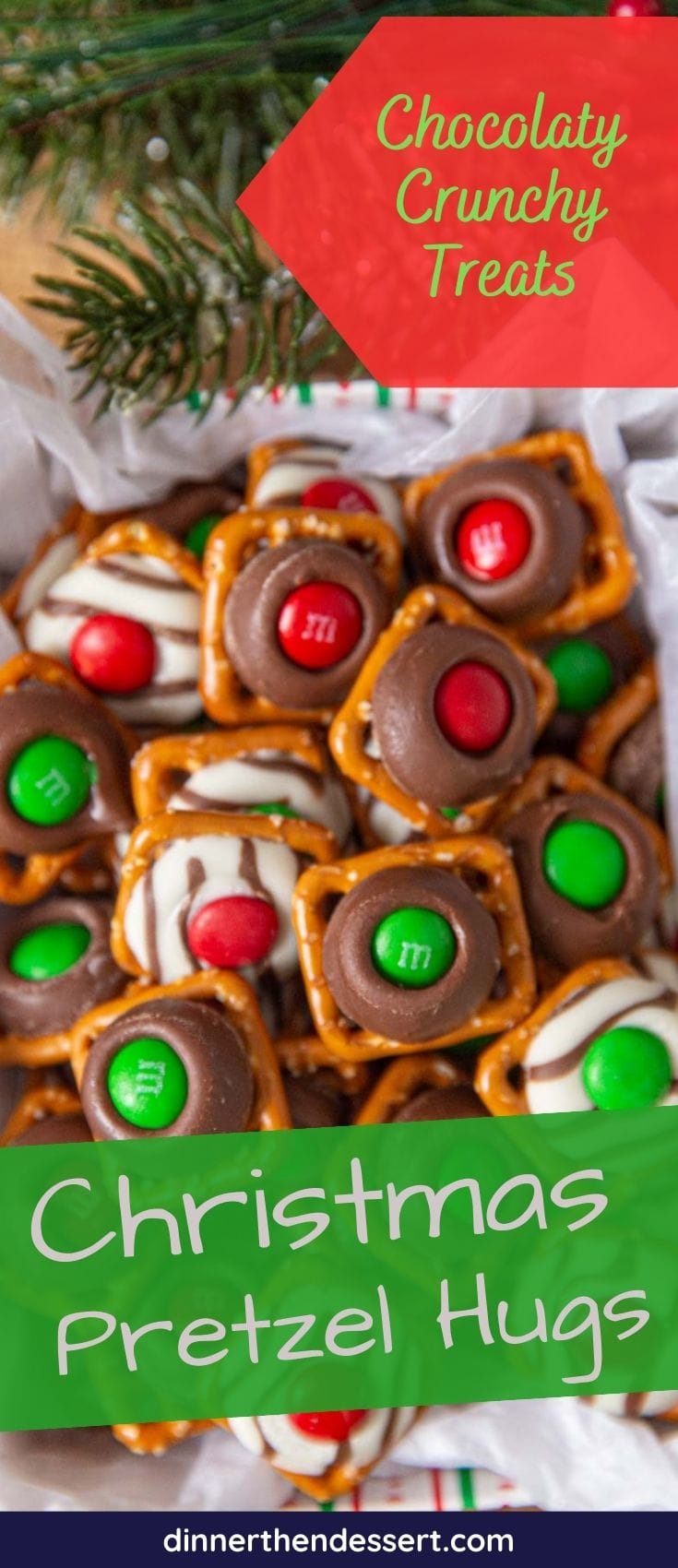 These Images were used in previous versions of this post: