Eggnog Fudge is rich, smooth, and creamy. It's the perfect holiday treat made with real eggnog, white chocolate, and marshmallow creme.
Eggnog-Flavored Fudge Pieces are delicious and unique Homemade Candies. They're easy to make and absolutely melt in your mouth. For more seasonally flavored, homemade fudge try Gingerbread Fudge and Peppermint Fudge.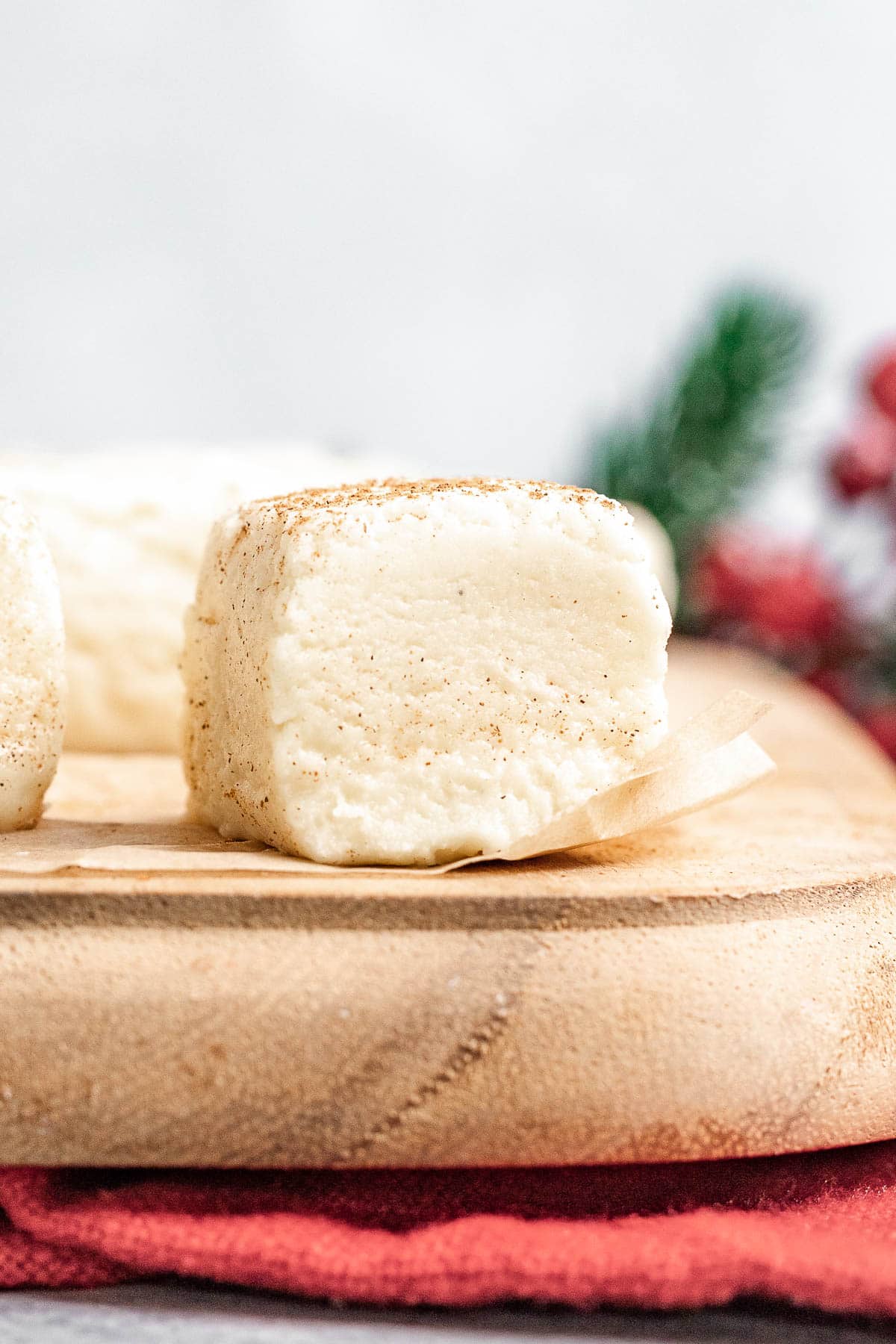 This recipe is inspired by the classic holiday drink – Eggnog. The creamy drink is traditionally flavored with vanilla and warm nutmeg, which translates perfectly into fudge perfection. Not only does the eggnog add to the fudge taste, but it also helps make extra creamy fudge that's just perfect! Each bite is soft, buttery, and warmly flavored!
If you love the flavor of eggnog, you've got to try out other eggnog recipes like Eggnog Bread. Although these treats are great to make for the holidays, you can also try them after Christmas to use up any leftover eggnog you still have in the fridge.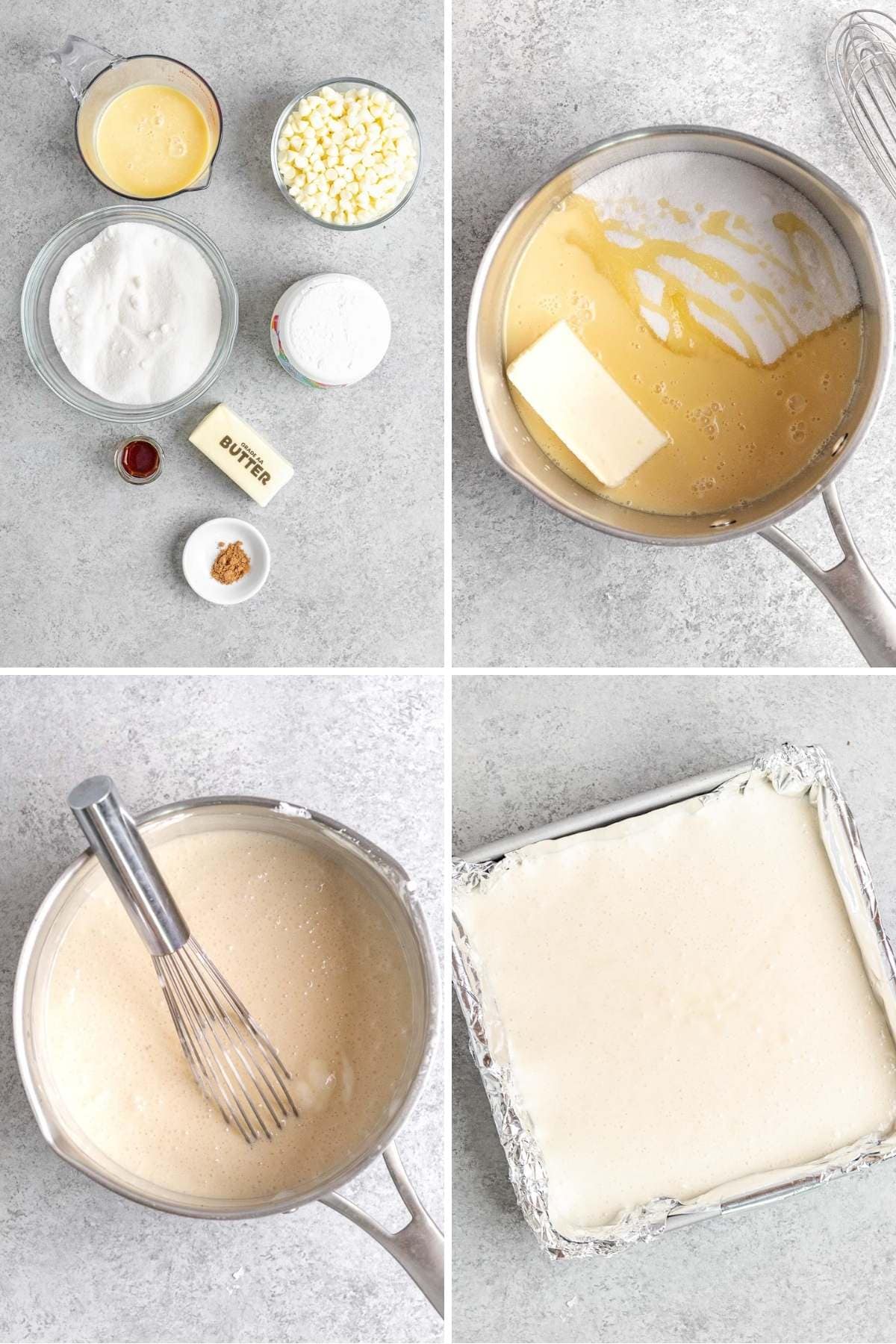 Eggnog Fudge as a Gift
This Eggnog Fudge recipe is the perfect sweet candy for the holidays. The rich fudge makes an excellent edible gift to give to friends and family. It's great to serve on candy plates if you're throwing a party, or give as a thoughtful hostess gift at any party you attend.
Delicious Eggnog Fudge is perfect to make for lots of people because you can always double, or even triple the batch you're making. The 7-ingredient fudge comes together in just a few minutes, then you only have to wait for it to set. Slice the dessert into squares and package it with other holiday treats, like cookies for an amazing gift for neighbors, friends, and teachers. 
Eggnog Fudge would also be a very nice addition to a holiday treat basket or cookie platter you might already prepare every year. Fudge goes well with other holiday treats and especially well with cookies as both are an easy, grab-and-eat treat that all ages can enjoy.
More Fudge Recipes
Key Ingredients
Eggnog: If you've never tried Eggnog, you're in for a treat. It is a rich, creamy drink that tastes like the holidays due to the fantastic spices its made with like nutmeg, cinnamon, and cloves. The rich, creamy texture comes from eggs, which are made safe to drink by using pasteurized eggs. Some people even cook their eggnog mixture once it all comes together, and then chill it again before serving.
White Chocolate Chips: White chocolate isn't technically chocolate, but it makes a great, firm base for fudge and other treats. The light, but sweet flavor serves as a great backdrop to lots of different flavors, especially during the holidays.
Marshmallow Creme: Marshmallow creme will allow for a soft, fluffy texture in this fudge, and is used in many fudge recipes to produce the same results. You can buy it in the grocery store in jars near where you'll find marshmallows.
How to Make Eggnog Fudge
Pan: Line an 8×8 inch baking pan with tin foil, this will ensure that the pieces of fudge are easy to get out of the pan once they're set. 
Amazing Fudge Mixture: Put a heavy saucepan over medium-high heat, and add the white sugar, butter, and eggnog to it. Heat the mixture, and whisk it well. Continue whisking as the fudge temperature reaches 234 degrees. It's important to constantly whisk because letting it sit can make the fudge gritty. Whisking will also keep the dairy from scorching. Then remove it from the stove, and add the white chocolate chips, marshmallow creme, vanilla extract, and nutmeg. Stir until the ingredients are combined. 
Set: Pour the fudge into the prepared pan, and let it chill completely. This will take about 3 hours. Then slice them into inch-size squares.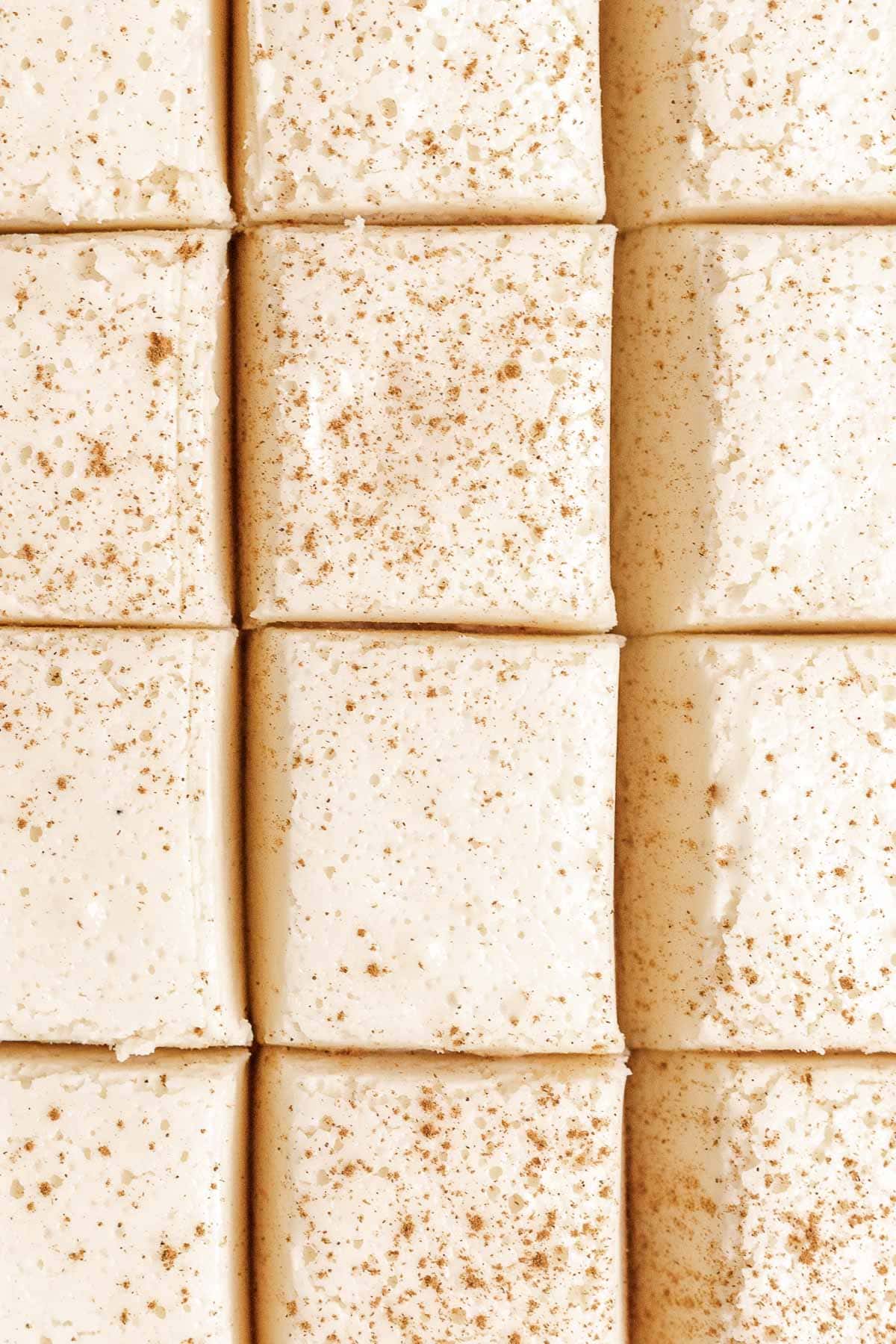 Create a free account to

Save Recipes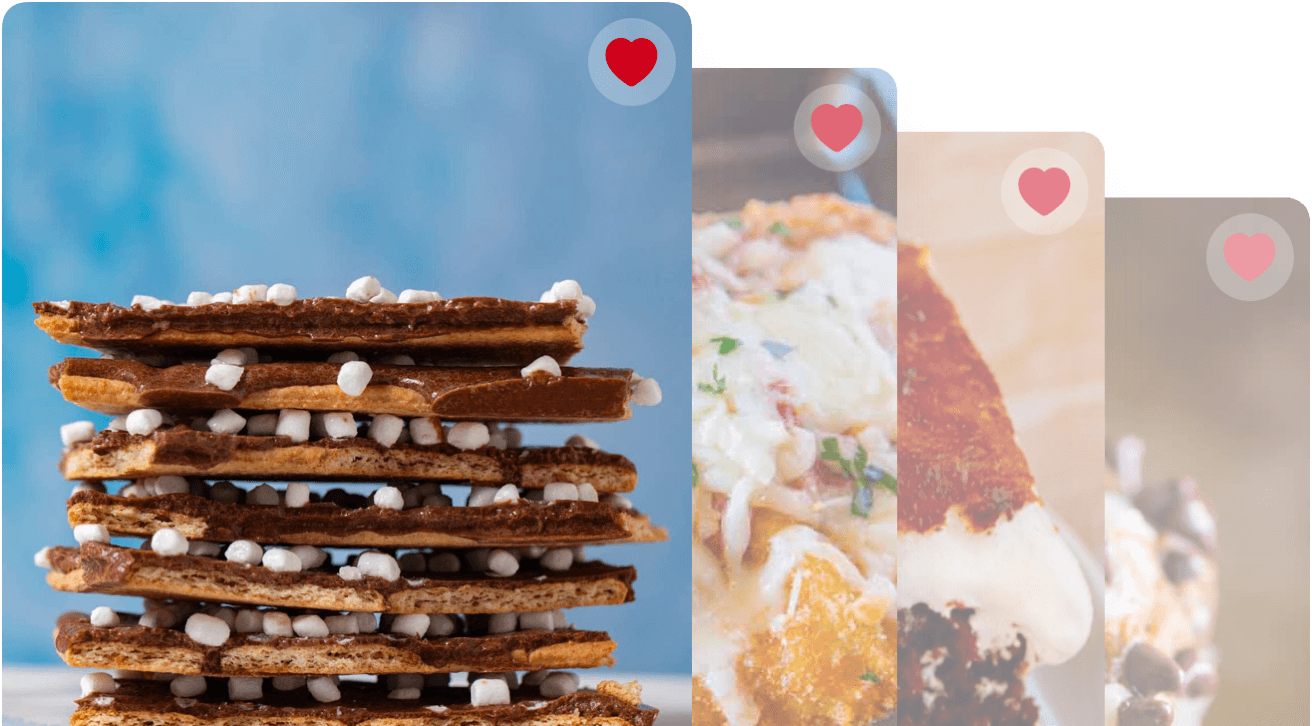 Frequently Asked Questions About Eggnog Fudge
Why do I need to bring the fudge to 234 degrees?
As the fudge boils, the water content decreases. If you stop cooking your fudge before 234 degrees then the mixture will contain too much water and the fudge will be too soft and gooey. If you keep cooking beyond 234 degrees then too much water will cook out and your fudge will end up too firm.
Can I use melted marshmallows instead of marshmallow creme?
Do not substitute melted marshmallows for marshmallow creme in your Eggnog Fudge. As the marshmallows cool they will come back to the firm consistency of marshmallows, whereas marshmallow creme stays creamy and fluffy. It will allow for your fudge to have the right texture once it cools.
Variations on Eggnog Fudge
Boozy Eggnog Fudge: For a more boozy flavor in the recipe, try adding 1-2 teaspoons of rum extract to the fudge mixture.
Mix-Ins: For some fun texture and flavor, try mixing in chopped walnuts, pecans, or almonds. You can also add dried fruit like cranberries, cherries, or coconut flakes. For some extra spice sprinkle cinnamon and nutmeg for garnish over the top of the fudge. 
Chocolate Eggnog Fudge: The base for this recipe is white chocolate, but you can exchange that for milk or dark chocolate. Classic Chocolate Fudge with an eggnog flavor is great for people who don't enjoy white chocolate. Instead of using white baking chips, try milk or semisweet, or dark chocolate chips and continue the rest of the recipe as usual.
More Holiday Treats
How to Store Eggnog Fudge
Serve: After the delicious fudge has set, it can stay good covered at room temperature for up to a week.
Store: You can also cover it in aluminum foil, or put it in an airtight container to store in the refrigerator for up to 2 weeks.
Freeze: To store the recipe longer, slice the batch into squares and put them in a freezer bag with the layers separated by parchment paper. Frozen fudge can stay good for 6 months.


Ingredients
1 3/4

cups

sugar

1/2

cup

unsalted butter

3/4

cup

eggnog

12

ounces

white chocolate chips

7

ounces

marshmallow creme

2

teaspoons

vanilla extract

1/2

teaspoon

ground nutmeg
Instructions
Add foil to an 8×8″ baking pan.

In a large saucepan on medium heat add sugar, butter, and eggnog, whisking well.

Whisk constantly until the mixture reaches 234 degrees on your candy thermometer.

Remove from heat and add white chocolate chips, marshmallow creme, vanilla extract, and nutmeg, whisking quickly to melt and combine.

Pour into baking pan and spread evenly.

Sprinkle with additional nutmeg if desired.

Cool completely before slicing.
Nutrition
Calories:
201
kcal
|
Carbohydrates:
30
g
|
Protein:
1
g
|
Fat:
9
g
|
Saturated Fat:
5
g
|
Polyunsaturated Fat:
1
g
|
Monounsaturated Fat:
2
g
|
Trans Fat:
1
g
|
Cholesterol:
18
mg
|
Sodium:
24
mg
|
Potassium:
56
mg
|
Fiber:
1
g
|
Sugar:
28
g
|
Vitamin A:
139
IU
|
Vitamin C:
1
mg
|
Calcium:
40
mg
|
Iron:
1
mg