Christmas Saltine Toffee Snack Mix is unique and addictive! In the fridge in 30 minutes with oyster crackers coated in brown sugar and melted chocolate.
Making a Dessert Recipe with oyster crackers might sound crazy at first, but trust us these little crackers are good for more than topping soup. Just like our recipe for Saltine Toffee this mix comes out sweet, chocolatey, and with a little crunch that makes it even better.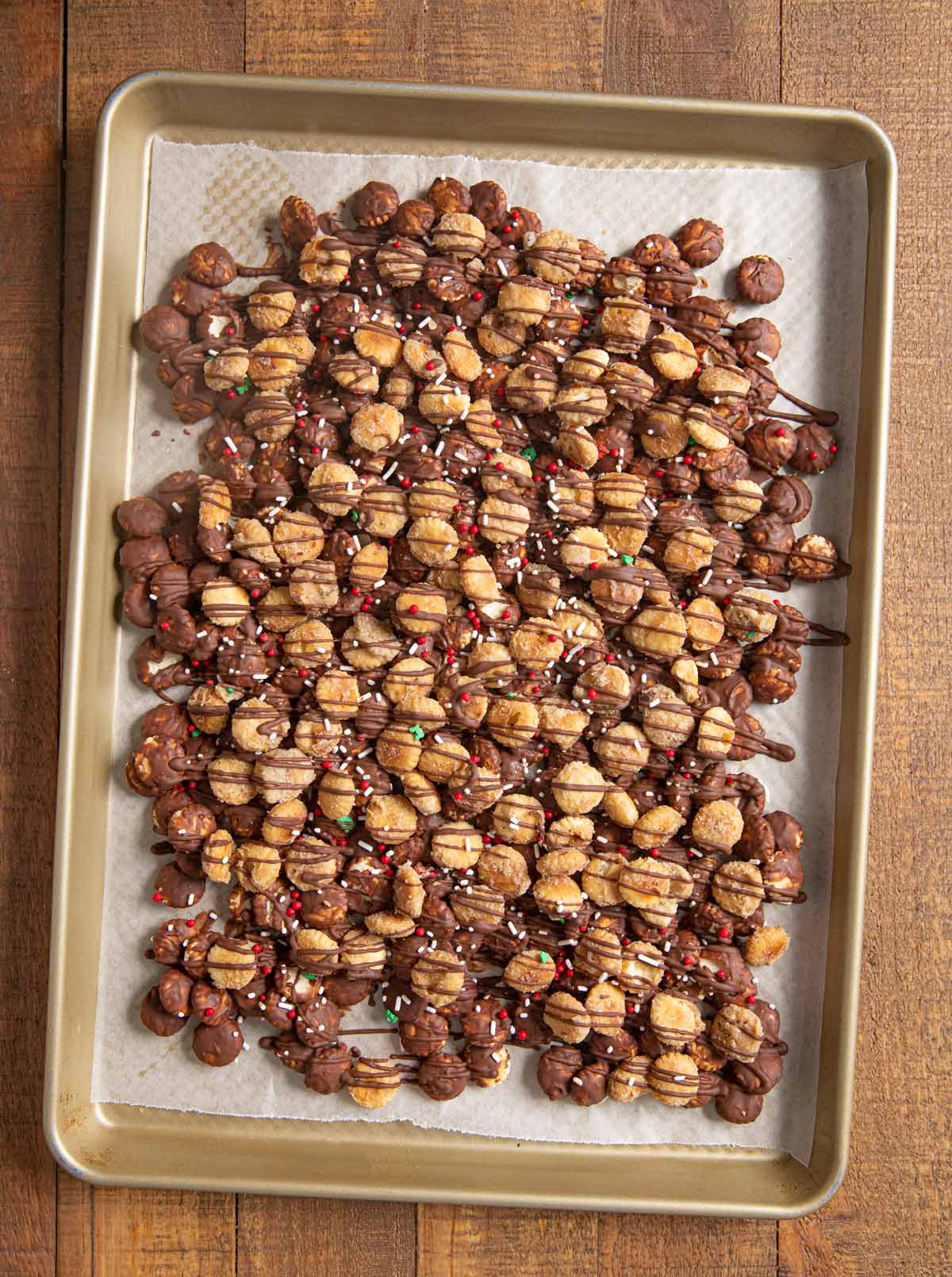 CHRISTMAS SALTINE TOFFEE SNACK MIX
This Toffee Snack Mix is the ultimate kid-friendly treat for December. The oyster crackers bring a little bit of crunchiness that's hard to get in Homemade Candies and is absolutely delicious. Plus the mild, salty taste of the crackers perfectly balances out the sweet toffee and chocolate tastes.
You can pack up ziplock bags of this treat to take in lunches leading up to winter break, or serve it for family movie or game night. I love putting out a big bowl of festive treats as an alternative to the same-old popcorn. This sweet Saltine Toffee Snack Mix is the perfect way to make things a little more special, and it's been a huge hit every time I've served it!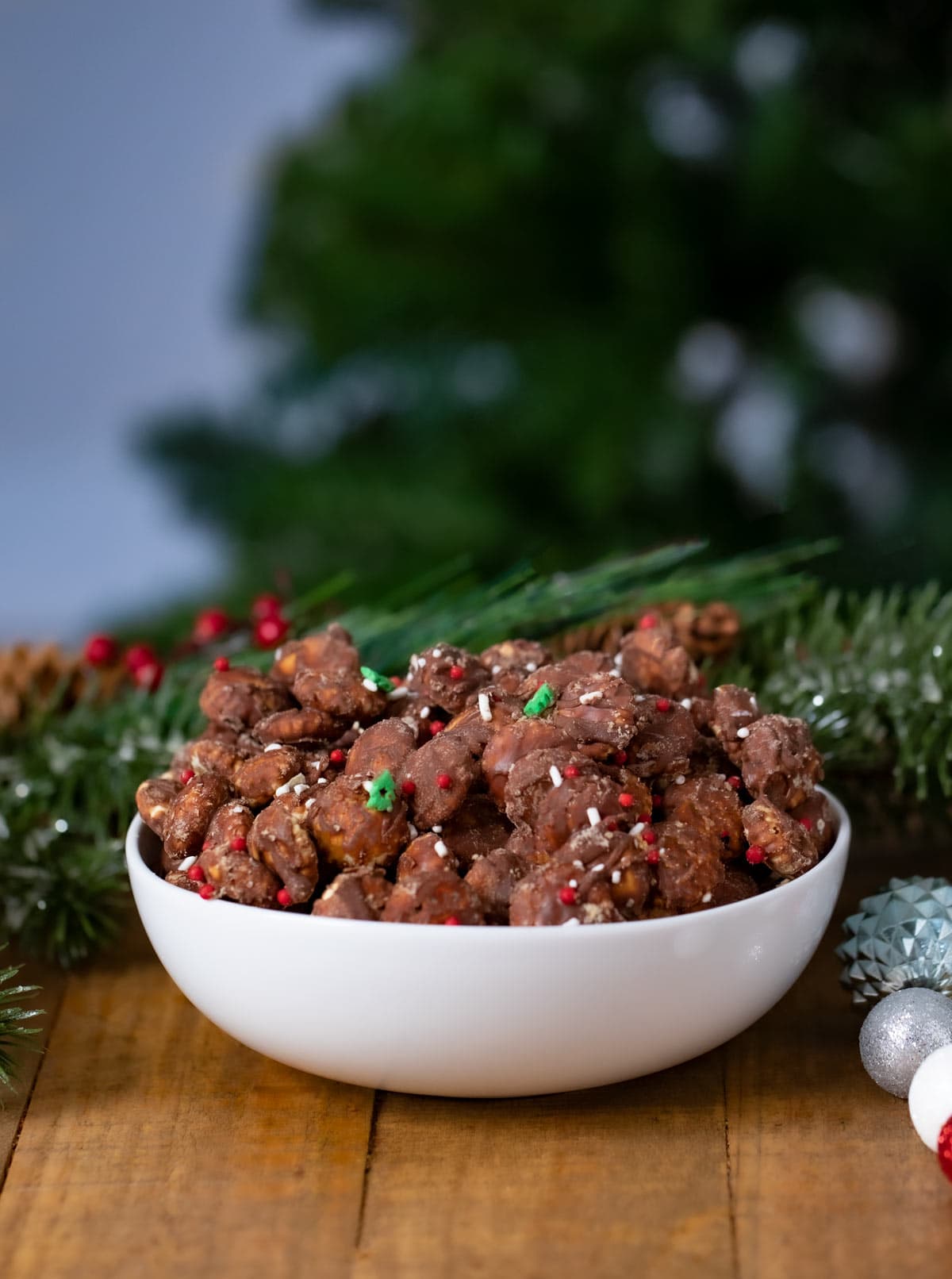 HOW TO MAKE CHRISTMAS SALTINE TOFFEE SNACK MIX
Prep: Start by preheating the oven to 350 degrees, and line a baking sheet with tin foil so the toffee won't get stuck to the pan.
Toffee crackers: Put the oyster crackers into 2 large bowls. In a saucepan over medium-high heat cook the butter and brown sugar together. Stir the mixture until the sugar has dissolved into the butter and it's bubbling. Pour the hot sugar mixture over the crackers in just one of the bowls. Toss until all the crackers are boiled. Do this carefully so the hot sugar doesn't spill out of the bowl.
Bake: Put the toffee coated oyster crackers on the prepared baking sheet and bake for 8-10 minutes. Break them apart and put them in one large bowl.
Chocolate: Add the chocolate chips to a microwave-safe bowl and microwave in 30-second increments. Continue until the chocolate is smooth and stir after every 30 seconds. Toss the chocolate with the bowl of crackers that you didn't put the brown sugar over. Spread the chocolate covered crackers over a baking pan.
Combine: Add the toffee covered crackers on top of the chocolate ones. Put the remaining melted chocolate in a ziplock bag with the corner cut off. Drizzle the chocolate over the pan of toffee. Add Christmas sprinkles.
Set: Refrigerate for 15 minutes so it all sets together, then break it apart into manageable pieces and enjoy.
MORE FUN SNACK RECIPES
CHRISTMAS SALTINE TOFFEE SNACK MIX AS A GIFT
Saltine Toffee Mix makes a great gift for Christmas. It's easy to make a large batch then divide up to give to friends, family, neighbors, and teachers. Let the Snack Mix completely set, before you start packaging it. Once the chocolate has hardened, use your hands to break the toffee into manageable bite-sized pieces.
You can scoop the Snack Mix candies into see-through bags for easy gift wrapping. Just use a holiday bow to tie off the top and you'll have plenty of adorable and tasty gifts ready in no time.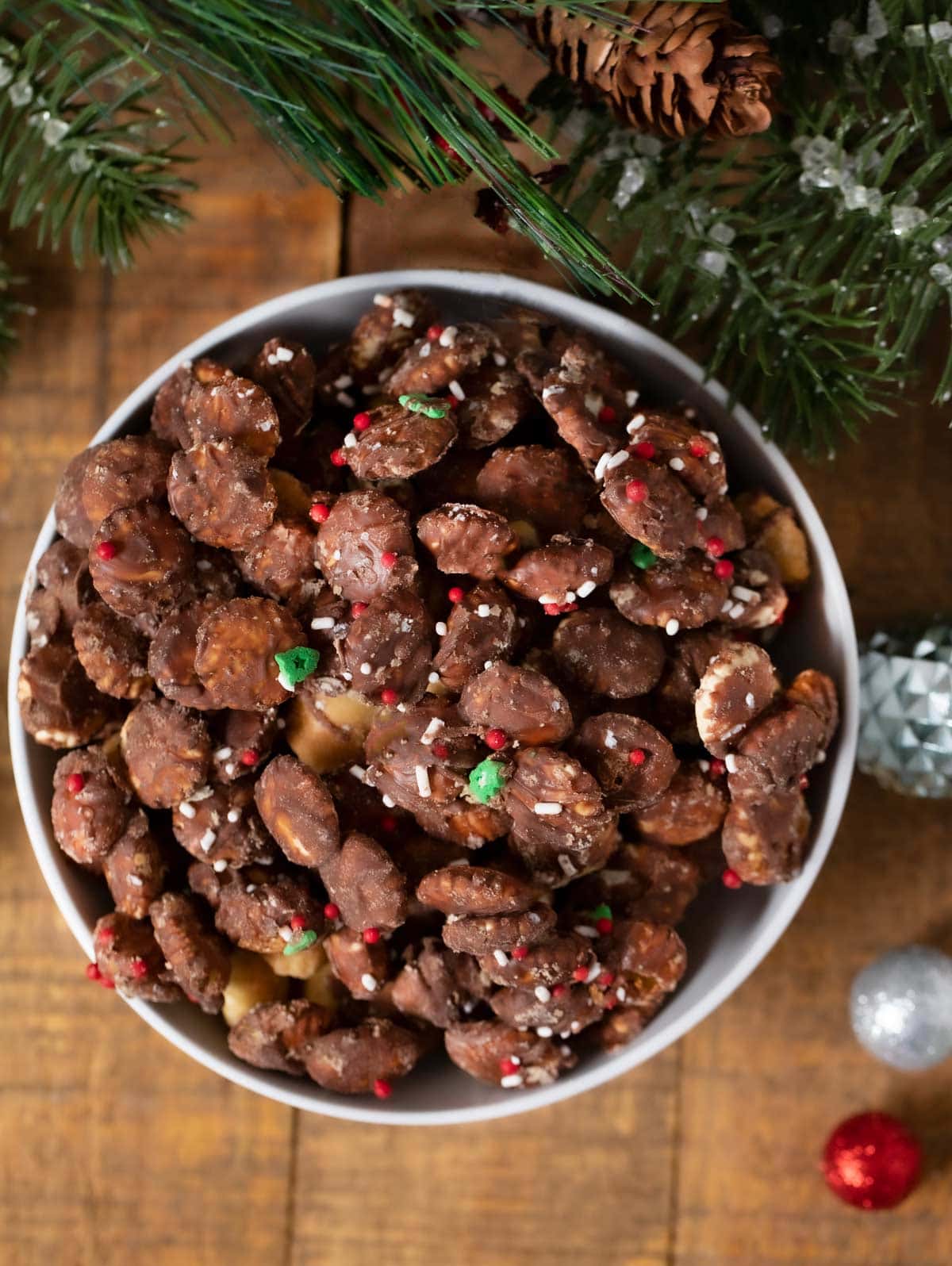 Create a free account to Save Recipes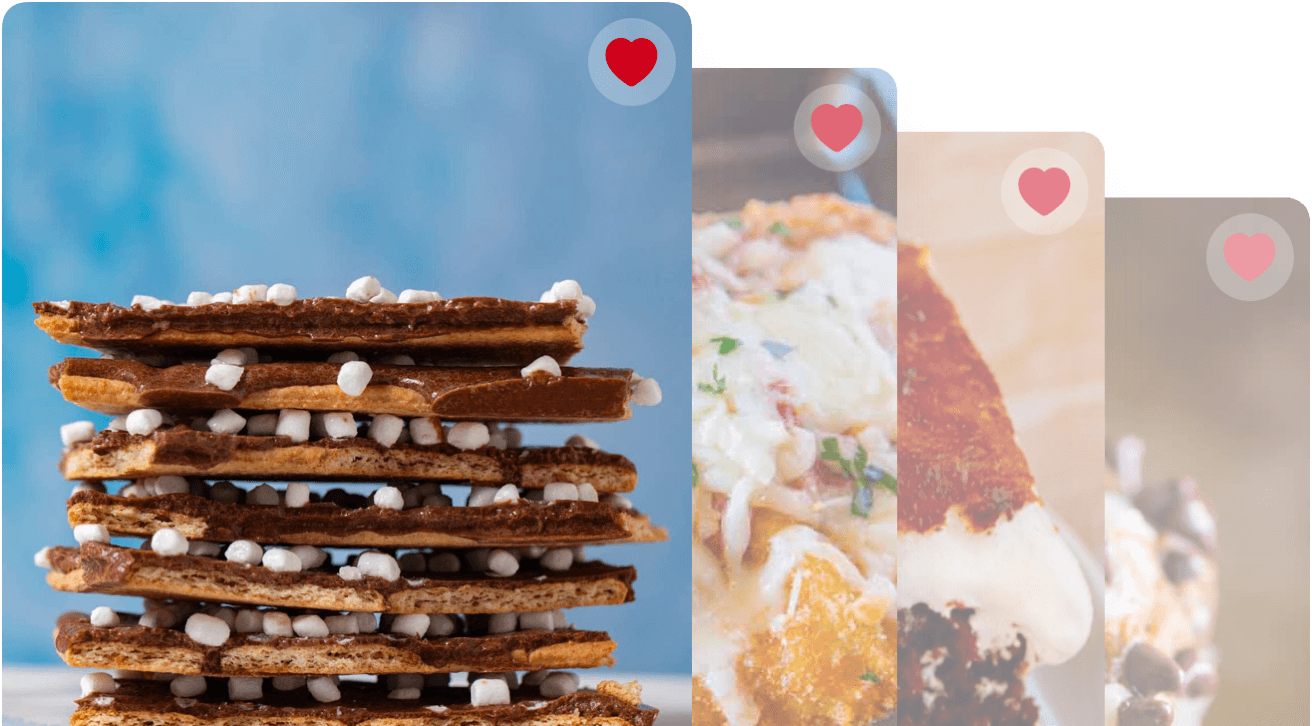 VARIATIONS ON CHRISTMAS SALTINE TOFFEE SNACK MIX
Chocolate: You can replace the semisweet chocolate chips in this recipe with dark chocolate, milk chocolate, or white chocolate chips. Another option is keeping the semisweet chocolate, but melting a little white chocolate to drizzle over the top.
Molasses: For a slightly darker sweet taste to the Saltine Toffee Snack Mix try mixing in a tablespoon or two so of molasses with the brown sugar mixture while it's in the pan.
Toppings: There are plenty of toppings you can add over the snack mix before you put it in the fridge. Try putting some mini-marshmallows, nuts, or M&M's on top. You could also drizzle melted peanut butter over the top along with the chocolate.
MORE HOLIDAY DESSERTS
HOW TO STORE CHRISTMAS SALTINE TOFFEE SNACK MIX
Serve: Saltine Toffee Mix will stay good at room temperature for about a day. Keep it in a ziplock bag or other airtight container.
Store: The problem with keeping Saltine Mix at room temperature, is if you have the heat too high the chocolate will melt. To avoid that risk entirely, keep your mix in the fridge. It can keep well in the fridge for up to a week.
Freeze: If you make this treat ahead of time and want to store it, it'll stay good in the freezer for up to 3 months. The problem is the crackers don't thaw well. So, if you're going to freeze them you'll also have to enjoy the treat while still frozen, which actually tastes quite good.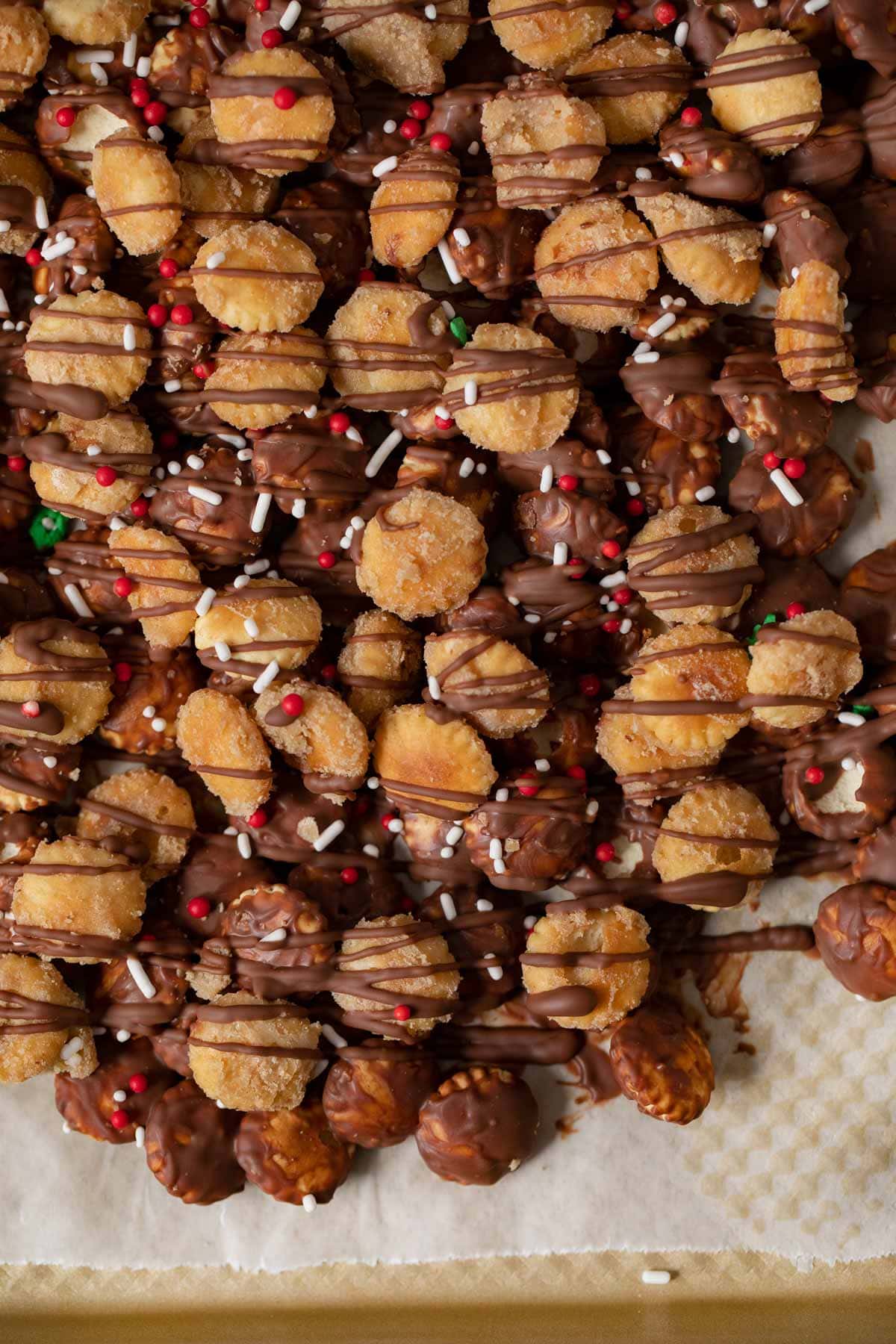 Ingredients
9

ounces

oyster crackers

, divided

1/2

cup

unsalted butter

6

tablespoons

brown sugar

, packed

1

cup

semisweet chocolate chips

1/2

cup

Christmas sprinkles
Instructions
Preheat the oven to 350 degrees and line a 15x10 baking pan with foil.

Divide the oyster crackers evenly between two large bowls.

Add butter and brown sugar to a medium saucepan on medium high and cook and stir for

2 minutes

or until sugar is dissolved and bubbling.

Pour evenly over one of the bowls of crackers and toss carefully making sure they are all coated.

Bake for

8-10 minutes

then remove the pan and break apart the crackers gently and place them in a bowl.

Microwave the chocolate chips in a microwave safe bowl in

30 second

increments until smooth, stirring between each time.

Toss the remaining crackers with ¾ cup of the chocolate and pour it over the toffee crackers, then spread them onto a baking sheet.

Add the toffee covered crackers on top.

Add the remaining chocolate to a ziplock bag, trim the very tip of one corner and drizzle the melted chocolate over the entire pan, helping the crackers stick to each other.

Sprinkle with Christmas sprinkles while the chocolate is wet.

Refrigerate for

15 minutes

or until fully cooled before removing and breaking into chunks.
Nutrition
Calories:
295
kcal
|
Carbohydrates:
36
g
|
Protein:
3
g
|
Fat:
16
g
|
Saturated Fat:
9
g
|
Cholesterol:
21
mg
|
Sodium:
221
mg
|
Potassium:
127
mg
|
Fiber:
2
g
|
Sugar:
18
g
|
Vitamin A:
244
IU
|
Calcium:
21
mg
|
Iron:
2
mg