Caramel fondue is a fun and easy interactive sweet and salty dessert with just three ingredients the whole family will LOVE! 
Caramel is amazing. From Chocolate Covered Caramels and Caramel Chocolate Chip Cookies to Salted Caramel Brownies and Homemade Caramel Sauce, there's nothing that isn't improved by being dipped in it.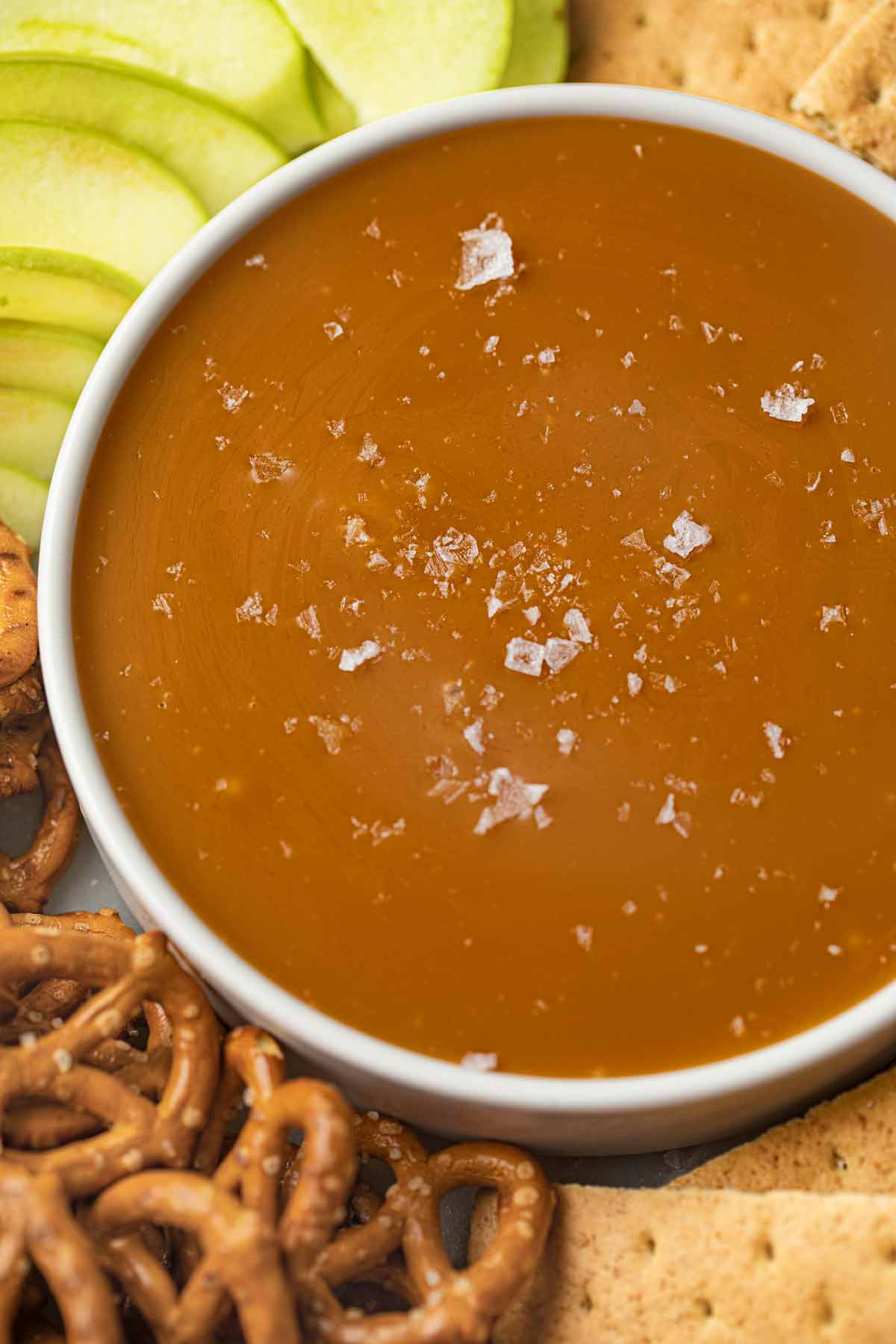 SALTED CARAMEL FONDUE
Fondue is a great dessert to share on a romantic evening or with a group of friends on a cold night.
Whether you're looking for a new, easy dessert to try at your next dinner party or looking to wow your date on Valentine's Day (never too early to plan!), salted caramel fondue is quick and easy to make. The great thing about this recipe is that you don't need to have a fondue pot for it to work, although you may want to invest in some tiny forks.
HOW TO MAKE SALTED CARAMEL FONDUE 
Set a small saucepan on medium-low heat and add in the caramels and heavy cream.
Stir them together constantly until the caramel is fully melted.
Stir in the sea salt (save a bit for garnish).
Serve with sliced apples, graham crackers and pretzels.
Enjoy this dessert fondue with dippable treats or drizzle it over Homemade Vanilla Ice Cream.
Great Dipping Options
Here are some delicious dippers to try in your caramel fondue.
Vanilla Pound Cake: cut pound cake into shareable squares and dip them into the caramel with your fingers for best results.
Homemade Marshmallows: marshmallows are always amazing dipped in caramel, and these homemade ones are sure to impress your date or dinner guests.
Brownies: you can cut up chocolate brownies into long strips or bite-sized squares and dunk them.
Cheesecake: you may not immediately think of cheesecake as a fondue dipper but trust me, it's amazing. Try my recipe for Sopapilla Cheesecake Bars.
Chocolate caramel fondue: melt some chocolate chips in the microwave and stir them into the caramel for a rich take on chocolate fondue that you'll love.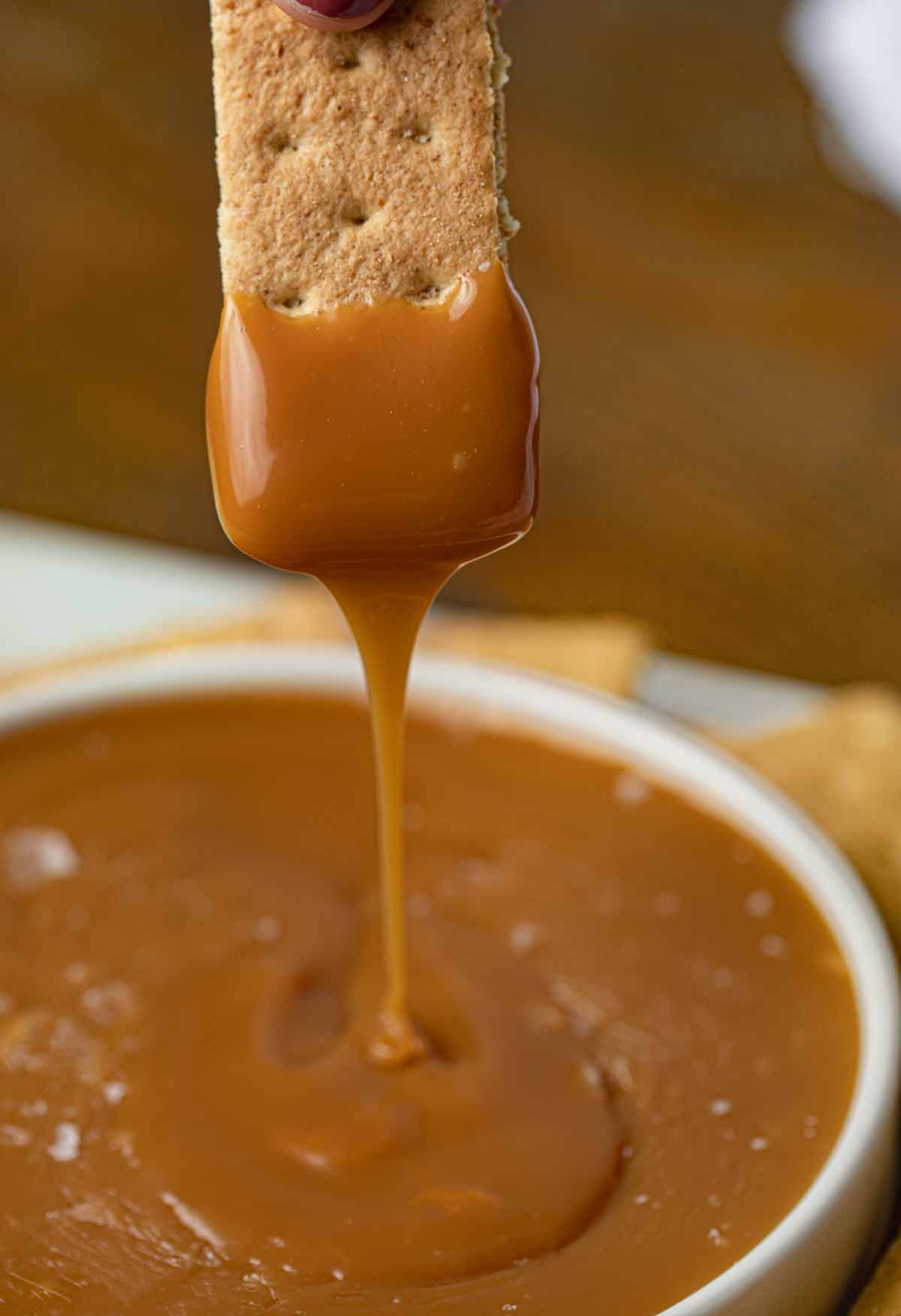 Create a free account to

Save Recipes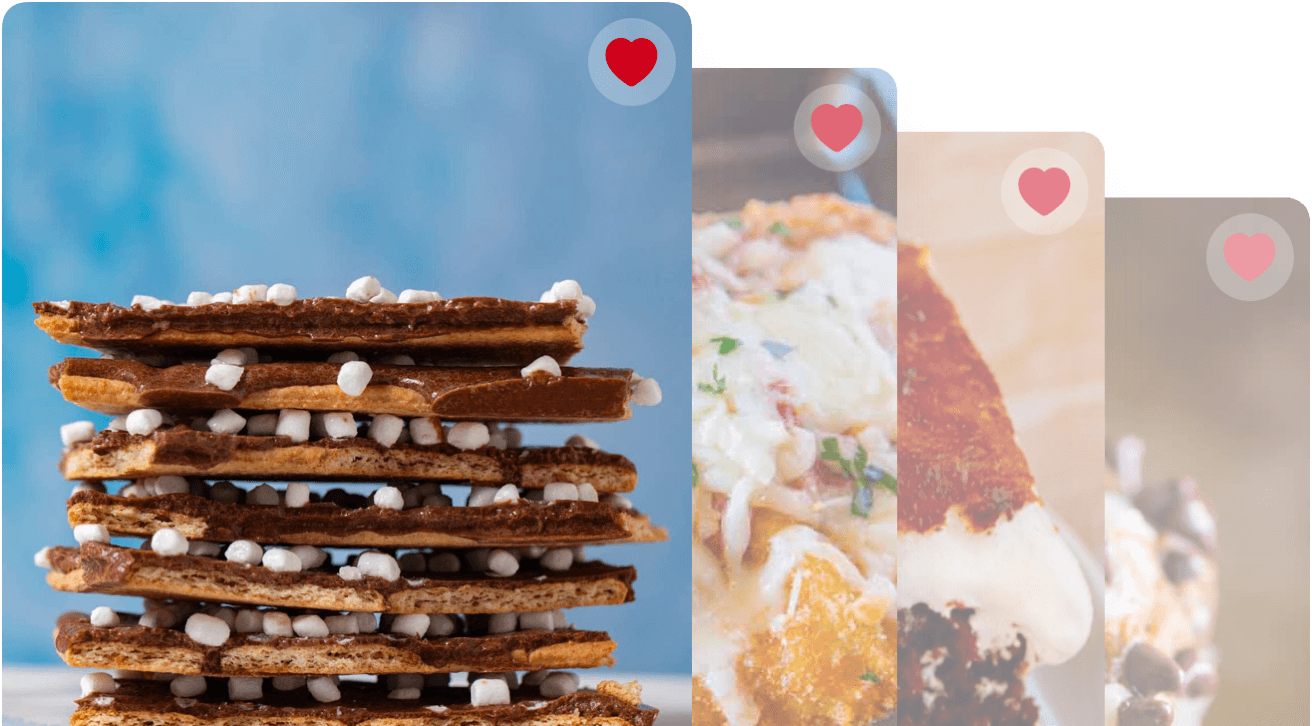 FONDUE FACTS
The word comes from the French verb "fondre," which means "to melt." Fondue originally was the name of a completely different meal which was closer to cheesy scrambled eggs.
Earliest known recipe came from Zurich in 1699, and it was called "Käss mit Wein zu kochen," or "to cook cheese with wine."
The modern fondue goes all the way back to 1875 and is the Swiss national dish.
Fondue Dos and Don'ts
Because fondue is a communal dish that everyone is going to be eating from there are traditional dos and don'ts that you should be aware of.
Do use your own fork every time. Mixing and matching forks spreads bacteria and can make things a bit more intimate than you want them to be.
Don't stab your food all the way through with your fork. This may seem counter-intuitive, but not stabbing the food all the way through, especially rigid foods like crackers, keeps it structurally intact so it doesn't break and fall into the dip.
Do hold your fork over the dip for long enough to let the excess caramel drip off. This way you don't make a sticky mess on the table.
Don't rest your unused fork on the rim of the fondue pot. This is considered rude and can cross-contaminate the rest of the fondue.
Fun fact: according to Swiss tradition, if you drop your dipper into the fondue you have to kiss your neighbor or buy a round of drinks for everyone. Depending on how good of a grip you've got on your dessert, that could get expensive, or awkward, fast.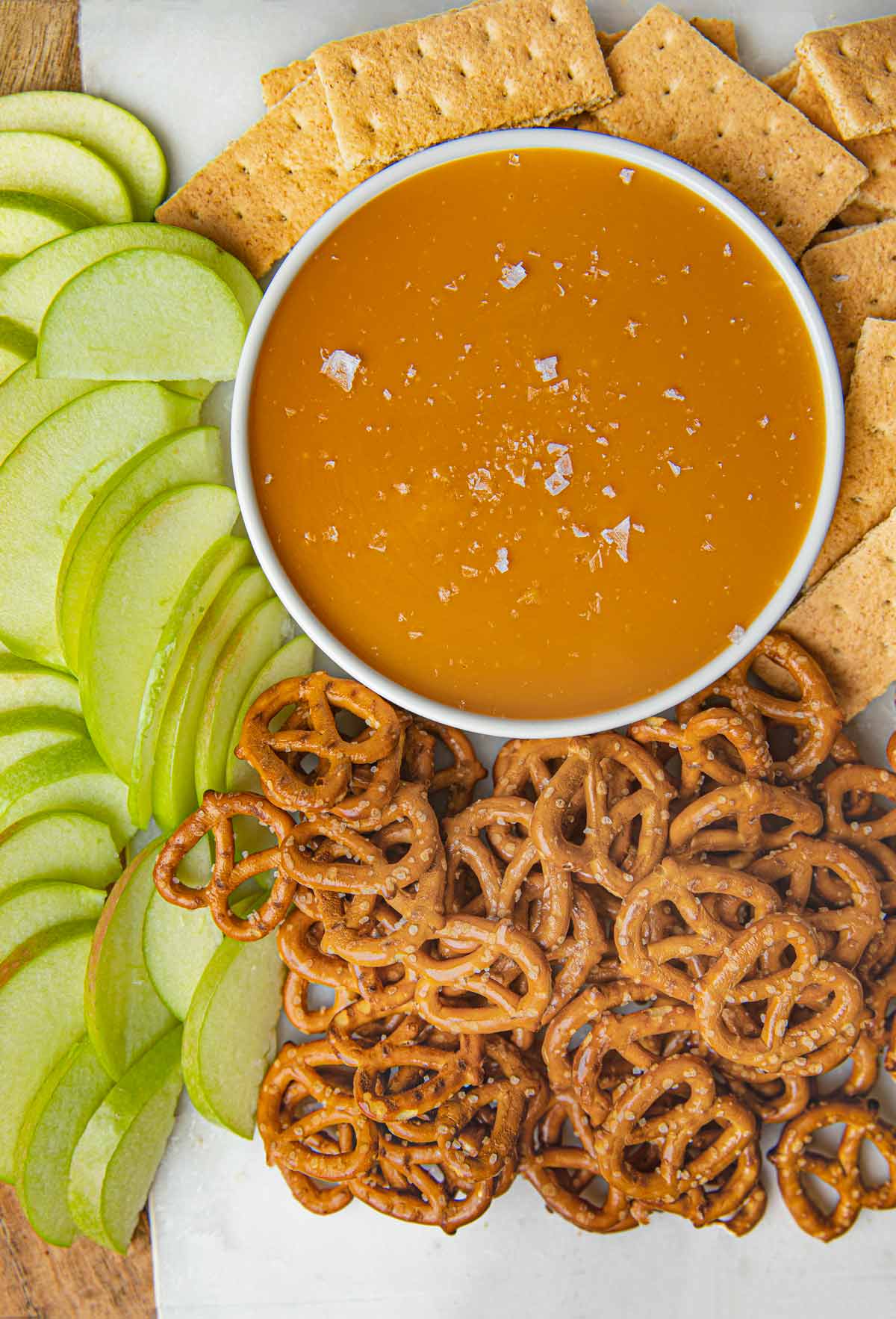 How to Store Salted Caramel Fondue:
Serve: caramel is good at room temperature for a long time, but the fondue will harden into a brick fairly rapidly. You should keep the caramel sauce warm while eating it and then refrigerate the left overs for later.
Store: caramel fondue is good in the fridge for up to 1 month. Reheat it in a microwave-safe bowl in 30 second increments and stir in between to keep it from burning or exploding.
Freeze: your fondue leftovers are good in the freezer for up to 4 months before you should throw them away and make a new batch.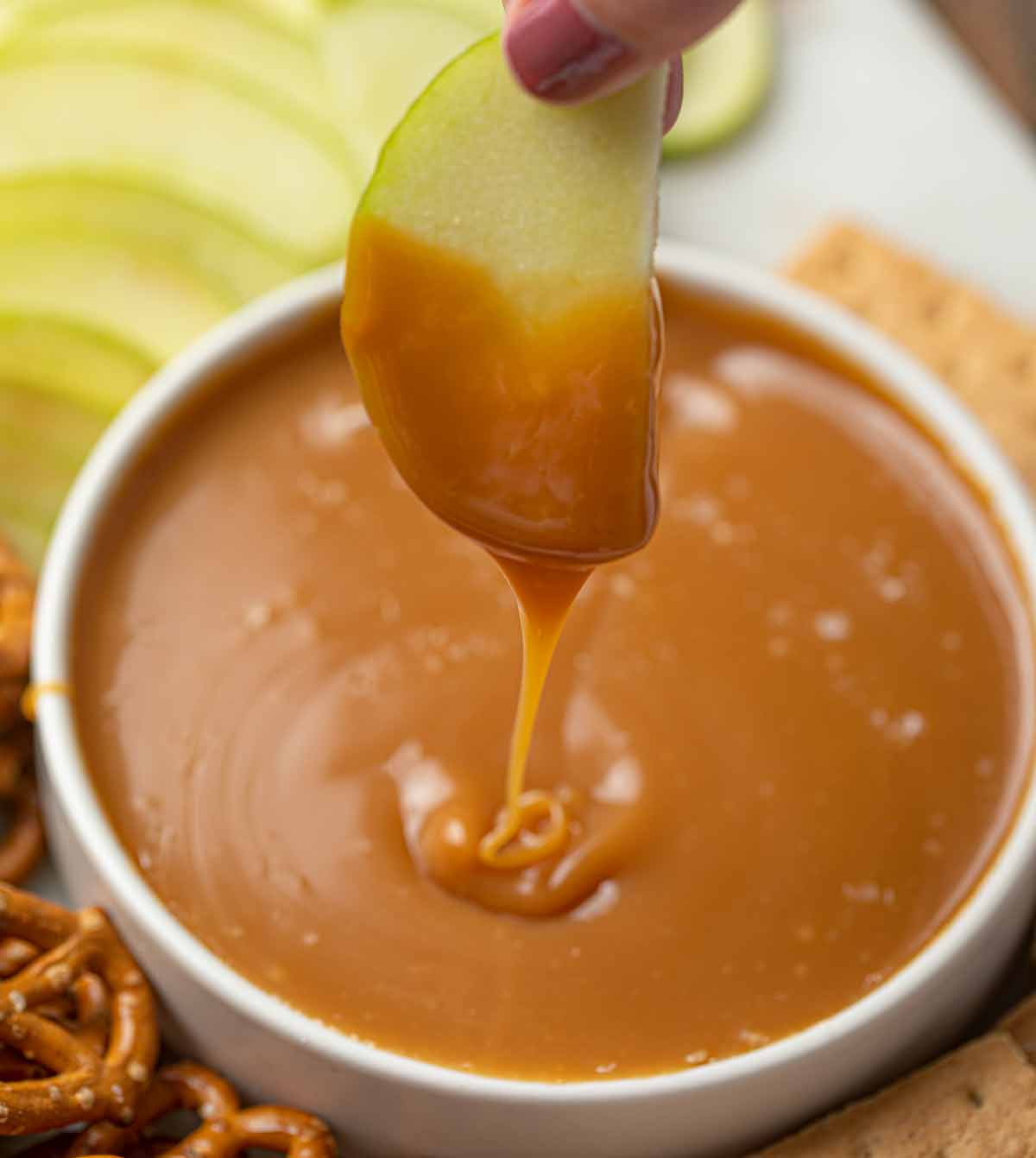 Ingredients
30

soft caramels

unwrapped (Kraft or Soft Werthers)

1/3

cup

heavy cream

1/8

teaspoon

sea salt

green apple slices

for dipping

graham crackers

for dipping

pretzels

for dipping
Instructions
In a small saucepan, combine soft caramels and heavy cream over medium-low heat. Cook, stirring often, until the caramel is melted, about

15 minutes

. Stir in flaky sea salt.

Serve warm with green apples, graham crackers and pretzels for dipping.
Nutrition
Calories:
177
kcal
|
Carbohydrates:
29
g
|
Protein:
2
g
|
Fat:
7
g
|
Saturated Fat:
3
g
|
Cholesterol:
16
mg
|
Sodium:
132
mg
|
Potassium:
88
mg
|
Sugar:
25
g
|
Vitamin A:
160
IU
|
Vitamin C:
0.2
mg
|
Calcium:
58
mg
|
Iron:
0.1
mg