Peppermint Bark Dip is a quick and easy Christmas dessert dip with chocolate chips, peppermint candy pieces, Cool Whip and cream cheese.
No-bake Desserts like Peppermint Bark are a classic holiday treat. The cool peppermint and blend of chocolate and vanilla are an addictive flavor combo. This easy recipe has all the flavor of the popular holiday Candy in a delicious fluffy dip!
During the busy holiday season, it's nice to keep a few super easy, tasty recipes on hand that can be whipped up in less than 15 minutes. This quick and simple dessert dip comes in handy for class parties, potlucks, and other holiday gatherings.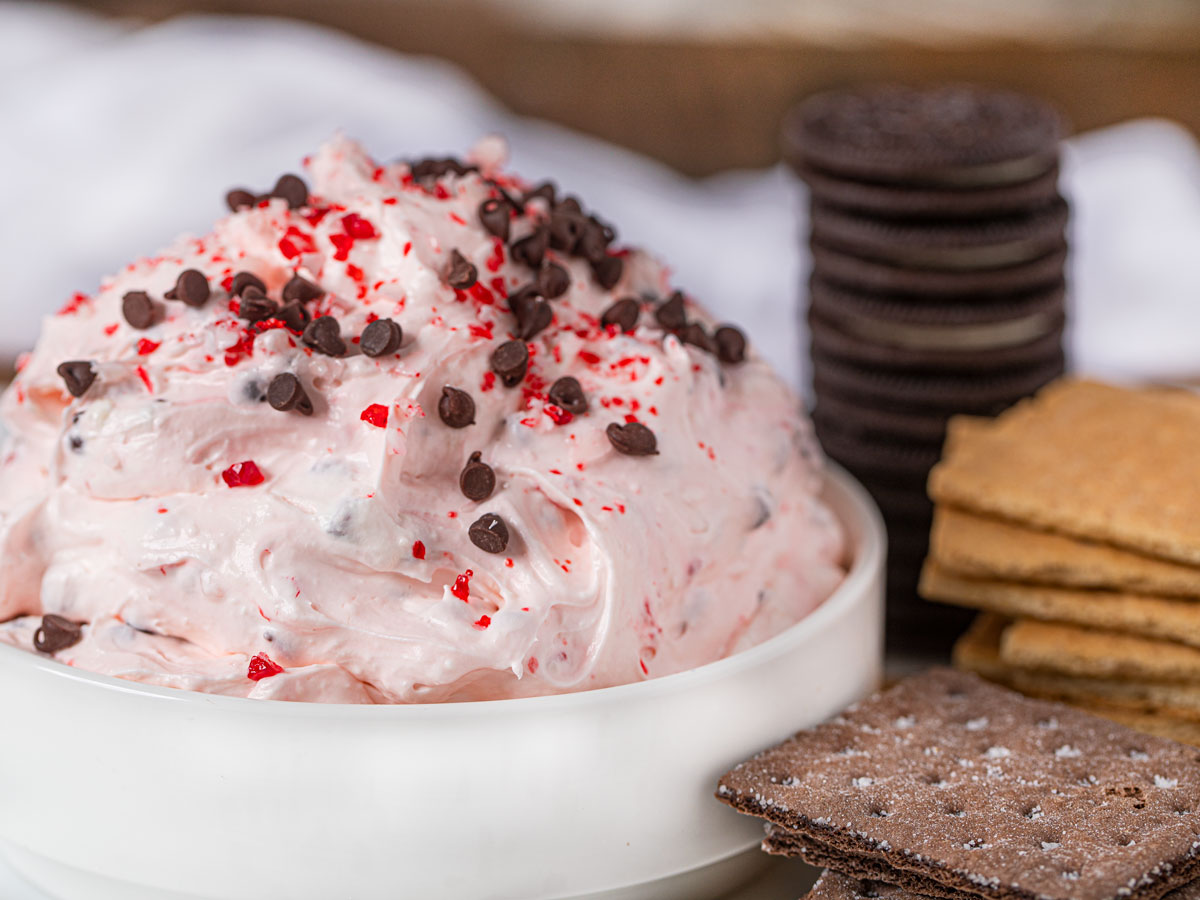 About our Peppermint Bark Dip Recipe
Peppermint Bark Dip is sweet, creamy, and full of that bold peppermint flavor that tastes just like Christmas and it is oh so easy to make. This dip recipe combines everything delicious about peppermint candy with the rich sweetness of chocolate, with a light and creamy base that is almost like whipped cheesecake. It is one of the easiest peppermint recipes you'll ever make too, the whole thing is ready in about 10 minutes!
Make a dessert dip trio for your holiday party with Peppermint Bark Dip, Gingerbread Dip, and Pumpkin Cheesecake Dip in separate bowls on a festive tray surrounded by cookies, graham crackers, and other yummy dippers. The best part is you can make all your dips, including this peppermint one, ahead of time so the day of the party you just need to plate it and add your dippers.
Peppermint Bark Dip Ingredients
Cream Cheese: The base of this recipe is an 8 ounce block cream cheese to give it a creamy, tangy, almost cheesecake like flavor. Make sure your cream cheese is softened so it gets lots of air for the ultimate fluffy texture.
Sugar: The dessert dip is sweetened with 1 cup of powdered sugar. It's best to use powdered sugar so it dissolves easy for a perfectly smooth and creamy dip.
Peppermint: It wouldn't be a true peppermint dip without some peppermint flavoring added. Add ½ teaspoon peppermint extract to get the perfect amount of peppermint taste without it being too strong. You also want to make sure you use peppermint extract and not spearmint or wintergreen.
Cool Whip: What really makes this dip light and fluffy is the 3 cups of Cool Whip. You want to use the frozen whipped topping because it has additives that keep the dip stable so it doesn't deflate. If you wanted to use whipped cream, you'd have to add gelatin or pudding otherwise it would separate and go soft.
Peppermint Candy: There are ½ cup of crushed peppermint candy pieces so it's filled with crunchy, minty bursts throughout. Plus the pretty stripped candy makes the dish look extra festive for the holidays.
Chocolate: Along with the peppermints, there is ½ cup of mini chocolate chips for some delicious, chocolaty flavor to balance with all the peppermint and creaminess.
Kitchen Tools & Equipment
Electric Mixer: You don't have to use an electric mixer but it makes the process much easier. If you do want to mix by hand, use a whisk and vigorously beat the mixture for about 4-5 minutes.
Serving Dish: With a dip this pretty, you definitely want to show it off in an equally beautiful and festive serving dish. Use a glass bowl so you can see the candy pieces and cloud-like fluffy texture.
How to Make Peppermint Bark Dip
Time needed: 10 minutes.
Prep Work

To crush the candies without making a mess, pulse them in a food processor or place them in a sealed bag and smash with a rolling pin.

Whip the Cream Cheese Base

Beat the cream cheese, sugar, and peppermint extract with a hand mixer for a few minutes until it's light and fluffy.

Add the Cool Whip

Gently fold in the whipped topping until it's well mixed in but don't over-mix or you will knock out the air you created. Chill the dip if you aren't serving immediately.

Add the Candy and Serve

Stir in peppermint candy pieces, then fold in chocolate chips until well distributed. Transfer to your serving bowl and serve cold.
Nutritional Facts
Nutrition Facts
Peppermint Bark Dip
Amount Per Serving
Calories 150
Calories from Fat 63
% Daily Value*
Fat 7g11%
Cholesterol 17mg6%
Sodium 59mg3%
Potassium 34mg1%
Carbohydrates 21g7%
Protein 2g4%
Vitamin A 228IU5%
Vitamin C 0.03mg0%
Calcium 36mg4%
Iron 0.1mg1%
* Percent Daily Values are based on a 2000 calorie diet.
Peppermint Bark Dip Tips & Tricks
Make Your Own Cool Whip

If you've got some extra time on your hands, you can really elevate the taste of this dip by making this Homemade Cool Whip recipe. It's surprisingly easy to make and it's great to have on hand to top off all your holiday desserts.

Don't Substitute Whipped Cream

While it's tempting to want to simplify the ingredients and use whipped heavy cream, it is not going to stand up well in this dip. If you make Peppermint Bark Dip with whipped cream, it will last maybe 24 hours before it loses it's light and dreamy texture.
What to Pair With Peppermint Bark Dip
Drinks: It doesn't get much cozier and more filled with holiday cheer than a warm mug of Peppermint Hot Chocolate while dipping your favorite cookies into this delicious minty dip. If you are having peppermint overload, a cup of regular Hot Chocolate tastes yummy with this dip as well.
Cookies: You can dip all your favorite cookies in this creamy holiday dip! Try it with cookies like Shortbread Cookies or Oreos. Some chocolaty, minty Thin Mints would really go with the peppermint bark flavors!
How to Store Peppermint Bark Dip
Store: This dip needs to be kept chilled when you aren't serving it. It's best to store it after about an hour at room temperature. You can keep the serving bowl in a large bowl with ice to keep it chilled for up to 2 hours. Store it in an airtight container in the fridge for up to 3 days.
Freeze: You can store your leftover Peppermint Bark Dip in the freezer for up to 3 months. Keep it in a sealed container with a piece of plastic wrap pressed into the top of the dip. This will prevent ice crystals. Thaw it in the fridge overnight then beat it with your hand mixer for a few minutes until it's fluffy again.
Ideas to Serve Peppermint Bark Dip
Dippers: This yummy dessert dip goes with more than just cookies! You can also dip pretzels, vanilla wafers, chocolate graham crackers, or even some fresh fruit into it! Some apple slices and juicy strawberries would taste amazing with the cool and creamy dip.
Brownies: Instantly turn a batch of Chocolate Brownies into a holiday dessert by spreading a thick layer of this Peppermint Bark Dip over top. It would taste delicious in the middle of Vanilla Cupcakes or your favorite layer cake too!
FAQ for Peppermint Bark Dip
What is Peppermint Bark?
Peppermint Bark can be any chocolate with peppermint candy pieces but typically it's a layer of dark chocolate topped with white chocolate then the peppermint candies. The chocolate chips, peppermint candy and vanilla base make this dip taste like the classic confection!
What do you serve with Peppermint Bark Dip?
Typically this dessert dip is served with graham crackers and vanilla cookies, but really it goes with many sweet snacks. It can even be served with fruit like apples and strawberries, or salty snacks like pretzel chips.
Recipe Card


Instructions
To your stand mixer add the cream cheese, powdered sugar and peppermint extract until well combined.

Add in the cool whip on low speed until well combined then refrigerate for one hour.

Right when you're ready to serve, stir in the peppermint candy pieces and mini chocolate chips.
Nutrition
Calories:
150
kcal
|
Carbohydrates:
21
g
|
Protein:
2
g
|
Fat:
7
g
|
Saturated Fat:
4
g
|
Polyunsaturated Fat:
0.3
g
|
Monounsaturated Fat:
1
g
|
Trans Fat:
0.01
g
|
Cholesterol:
17
mg
|
Sodium:
59
mg
|
Potassium:
34
mg
|
Fiber:
0.2
g
|
Sugar:
17
g
|
Vitamin A:
228
IU
|
Vitamin C:
0.03
mg
|
Calcium:
36
mg
|
Iron:
0.1
mg
Peppermint Bark Dip Variations
Peppermints: Switch up the regular red striped candy with green and red striped candy canes, or use different flavored candy canes to mix it up. During the holidays in the baking section, you can find Andes Peppermint Crunch which is like white baking chips with candy pieces.
Chocolate: Make this dip extra chocolaty by mixing in a little hot cocoa mix or cocoa powder. You can also use dark chocolate chips, or a mixture of dark chocolate and white chocolate. Some festive M&Ms or other small chocolate candies would work too.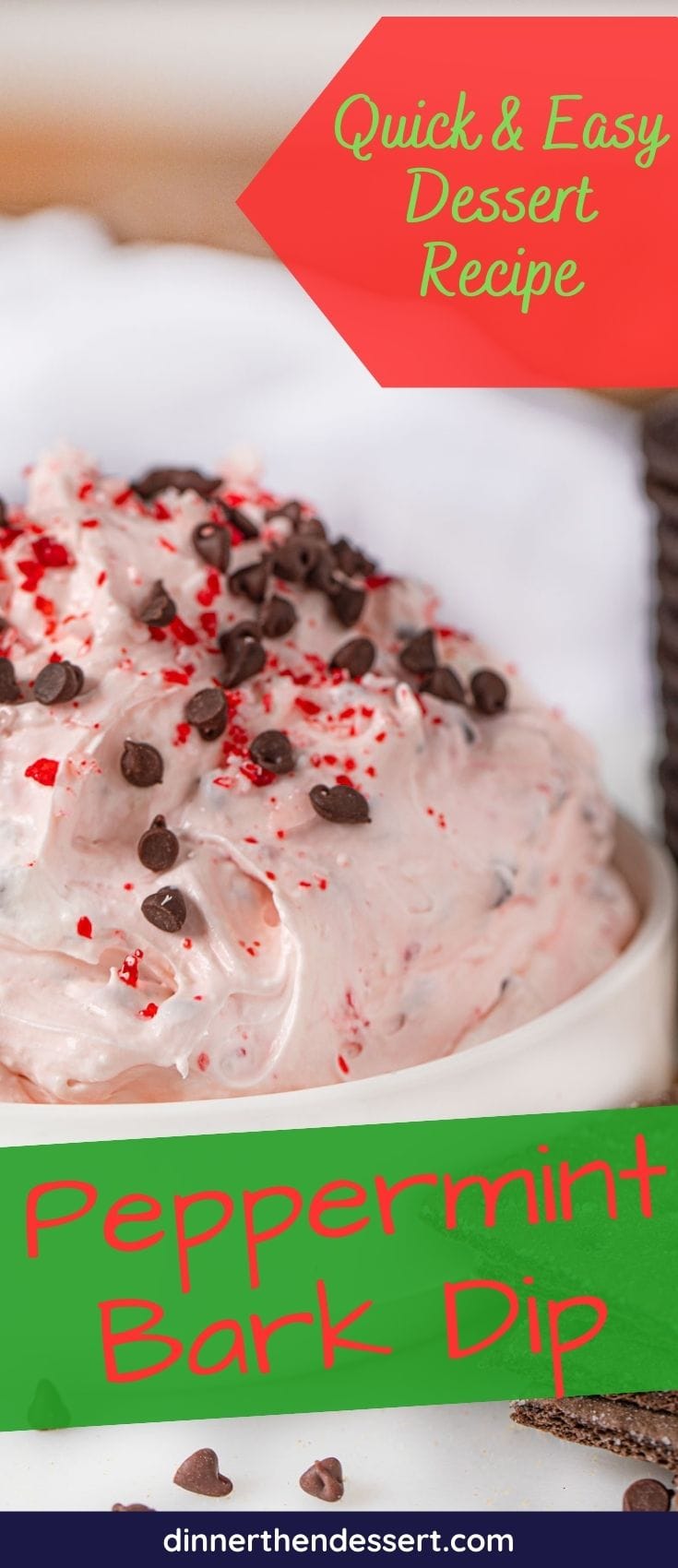 Images included in the original version of this post: