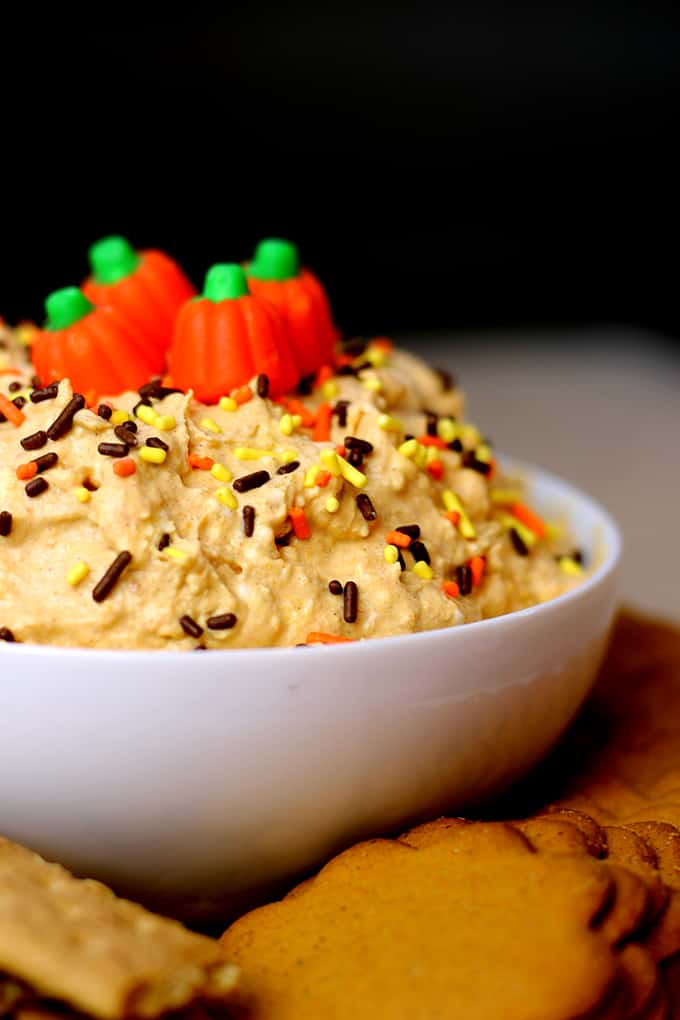 Part Cheesecake, part mousse and part whipped cream this recipe is actually really easy to make and tastes amazing! Plus I've included 10 flavor alternatives to Pumpkin should you be reading this after Thanksgiving and you can't bear to look at another pumpkin again until Labor Day. Since I was a kid I have loved the holidays. All the love, cheer and festivities that come from all the holiday parties and get togethers make the last quarter of the year feel like it lasts ten minutes instead of three months. As a kid when we would have holiday parties I would look forward to them and to planning them as much as the actually holiday itself. In fact a couple of years ago we took a large family cruise (by large I mean 10 of us) and I have to say I actually enjoyed the planning process of the cruise as much if not more than the cruise itself.
So when it comes to the holidays I spend months planning my recipes, crafting the menus, figuring out the party themes and testing recipes. Yes I test them all year round (which is why you see things like my Slow Cooker Thanksgiving Meal posted in the middle of summer). This dip was actually one of the first pumpkin recipes I tested this year.
A couple of years ago I tasted a pumpkin pie mousse dip that was fantastic and make me want to pull up a chair to the table it was on and eat it with a spoon. Not quite the right party etiquette, but the idea of dessert dips was something I had to explore more of. This recipe was the first of many that came out of that night. My husband's favorite dessert is cheesecake (literally any flavor at all, he just LOVES cheesecake) so when I tried the recipe I used a mixture of what goes into a mousse and what would go into a no bake cheesecake! Magic I tell you.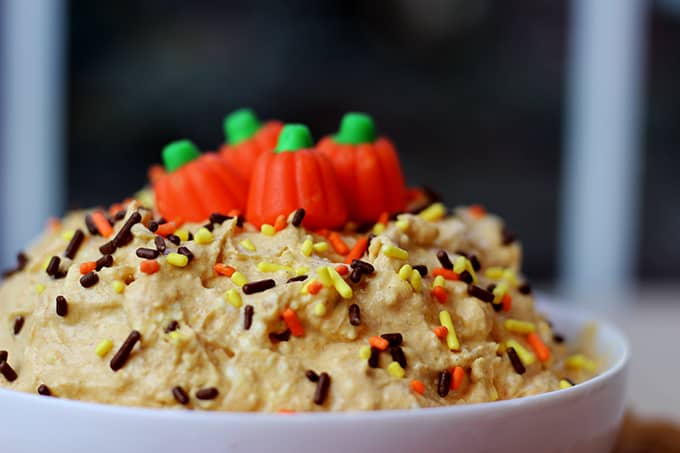 So this recipe is not only simple but it is a base. A recipe you can use to make your favorite cheesecake dip flavor. Pumpkin is my flavor I obsess over in the fall but really this recipe is good year round. Just think, No bake cheesecake + whipped cream = this bowl of deliciousness.
Some alternate flavor ideas:
Cherry Cheesecake with Vanilla (Cherry Vanilla)
Strawberry Cheesecake with Cocoa Powder (Chocolate Dipped Strawberry)
Raspberry Cheesecake with Cocoa Powder (Chocolate Raspberry)
Strawberry Cheesecake with Lemon Zest/Juice (Strawberry Lemonade)
Peanut Butter Cheesecake with Strawberry Jelly (PB&J)
Coffee Cheesecake with Cocoa Powder (Tiramisu Flavor)
Gingerbread Cheesecake with Cinnamon
Vanilla Cheesecake with melted Caramels
Oreo Cheescake with Oreo chunks
Nutella Cheesecake
These are just a few of the flavors we've experimented with and loved and the best part is that the simplicity of it means you can vary it as you wish.
The base is is simple enough, 1 package cream cheese, 1 teaspoon vanilla, ½ cup sugar, your choice of flavorings and 2 cups of whipped cream (this is made by whipping ¾ cup of heavy cream with 2 tablespoons of sugar). The choices of flavors you use is up to you, you aren't baking it and there isn't a whole lot of science involved. I would just hesitate adding high volumes of liquids because then your dip can get soupy.
As for what to dip in these concoctions, the list is quite long, but the most popular things have always been graham crackers, chips, cookies, sliced fruit, marshmallows, pretzels, and on particularly gluttonous occasions, chocolate bars.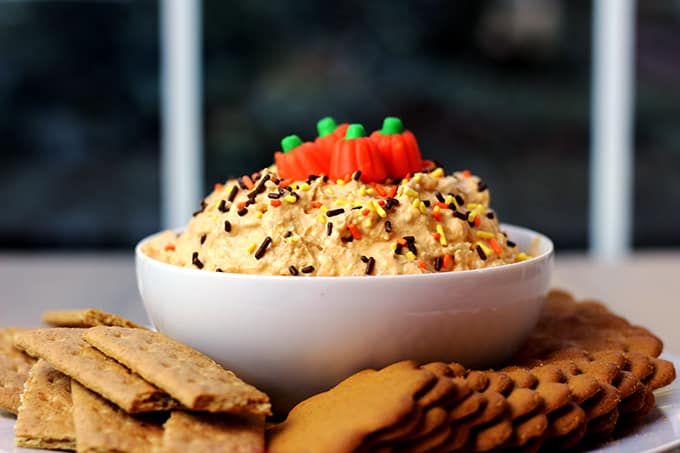 Ingredients
8

ounces

cream cheese

(1 package, room temperature)

1/2

cup

sugar

(or ¾ cup powdered sugar)

1

teaspoon

vanilla

1

cup

pumpkin puree

2

teaspoons

cinnamon

1/2

teaspoon

ground ginger

1/4

teaspoon

ground nutmeg

1

pinch ground cloves

1

pinch ground allspice

3/4

cups

heavy cream

(very cold)

2

tablespoons

powdered sugar
Instructions
In a stand mixer beat the heavy cream and 2 tablespoons of powdered sugar until its formed almost hard peaks (

2-3 minutes

).

Remove from stand mixer and set aside into another bowl.

Add the rest of the ingredients into the stand mixer and let it cream until fully combined and you can't taste the granules of sugar (alternately you can also use ¾ cup of powdered sugar instead of the regular sugar).

Fold half of the whipped cream in gently to lighten the dip before adding the second half.

The first half will mostly deflate because the weight of the dip is still heavy, but the second half of the whipped cream will make it airy and light.

Serve with your favorite cookies or fruit for dipping
Nutrition
Calories:
162
kcal
|
Carbohydrates:
12
g
|
Protein:
1
g
|
Fat:
12
g
|
Saturated Fat:
7
g
|
Cholesterol:
41
mg
|
Sodium:
67
mg
|
Potassium:
79
mg
|
Sugar:
10
g
|
Vitamin A:
3650
IU
|
Vitamin C:
0.9
mg
|
Calcium:
37
mg
|
Iron:
0.4
mg