Pumpkin Fluff Dip is the easiest Fall dessert recipe with lots of pumpkin flavor! Made with cream cheese, marshmallow creme and real pumpkin.
Fall is the perfect time for so many delicious foods and pumpkin desserts. There are Perfect Pumpkin Cookies, adorable Mini Pumpkin Pies, Pumpkin Bread, and so many others. This Fluffy Pumpkin Dip is an incredible dessert for when you want those flavors, but don't want to spend a lot of time baking.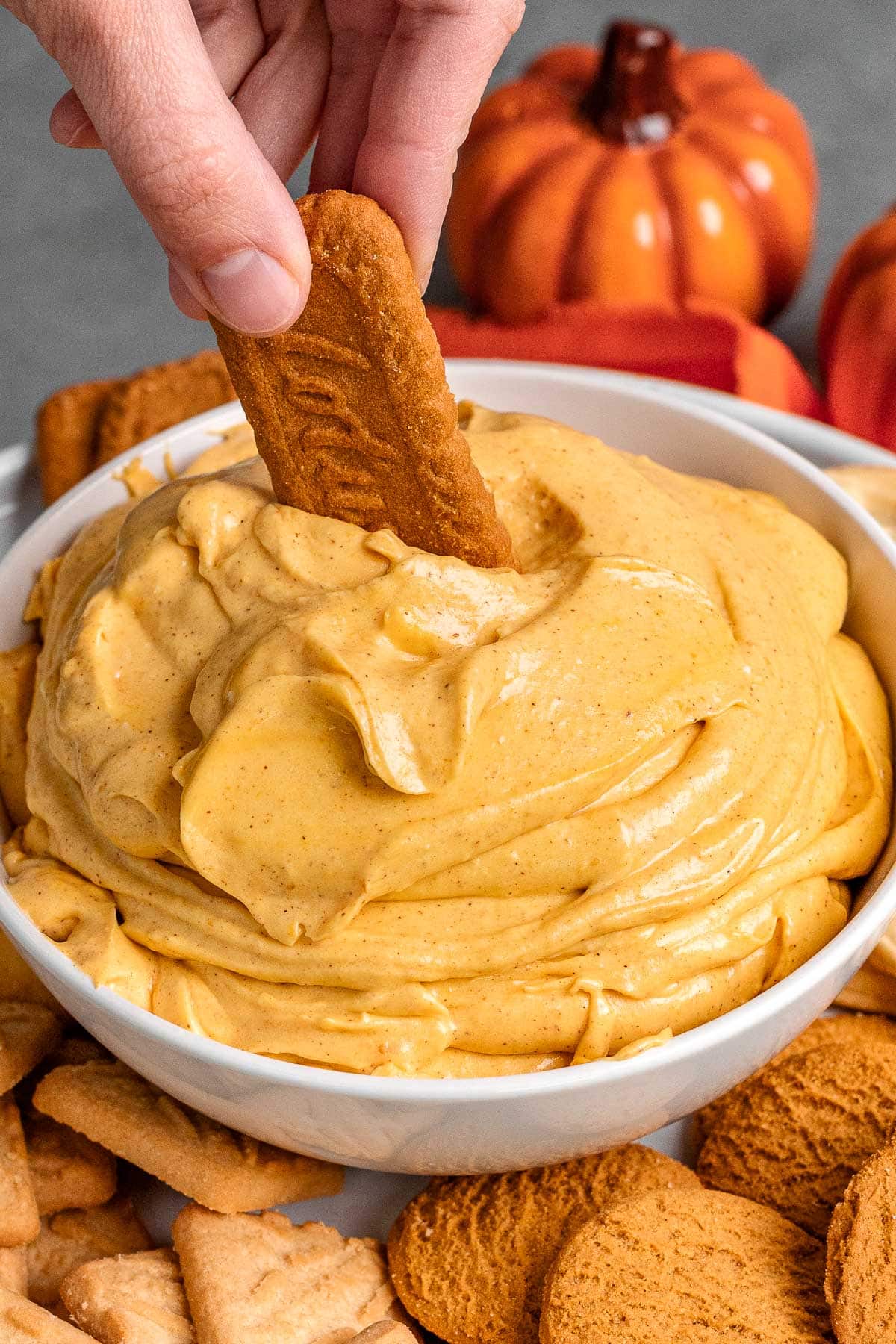 Whether you're looking for an easy sweet appetizer or your new favorite Fall snack, then you've come to the right recipe. This fluffy sweet pumpkin dip will take simple crackers and cookies to the next level with its spiced pumpkin taste. The best part is you don't need a stove or oven, it's a creamy cool dip that you make in one bowl!
Pumpkin Fluff Dip makes a delicious no-bake dessert that you can serve with gingersnap cookies, sliced apples, and a variety of other easy treats. This creamy pumpkin dip is sure to become a favorite party appetizer. Serve it at your Thanksgiving get-together, or store it in small individual containers for a treat you can take with a packed lunch.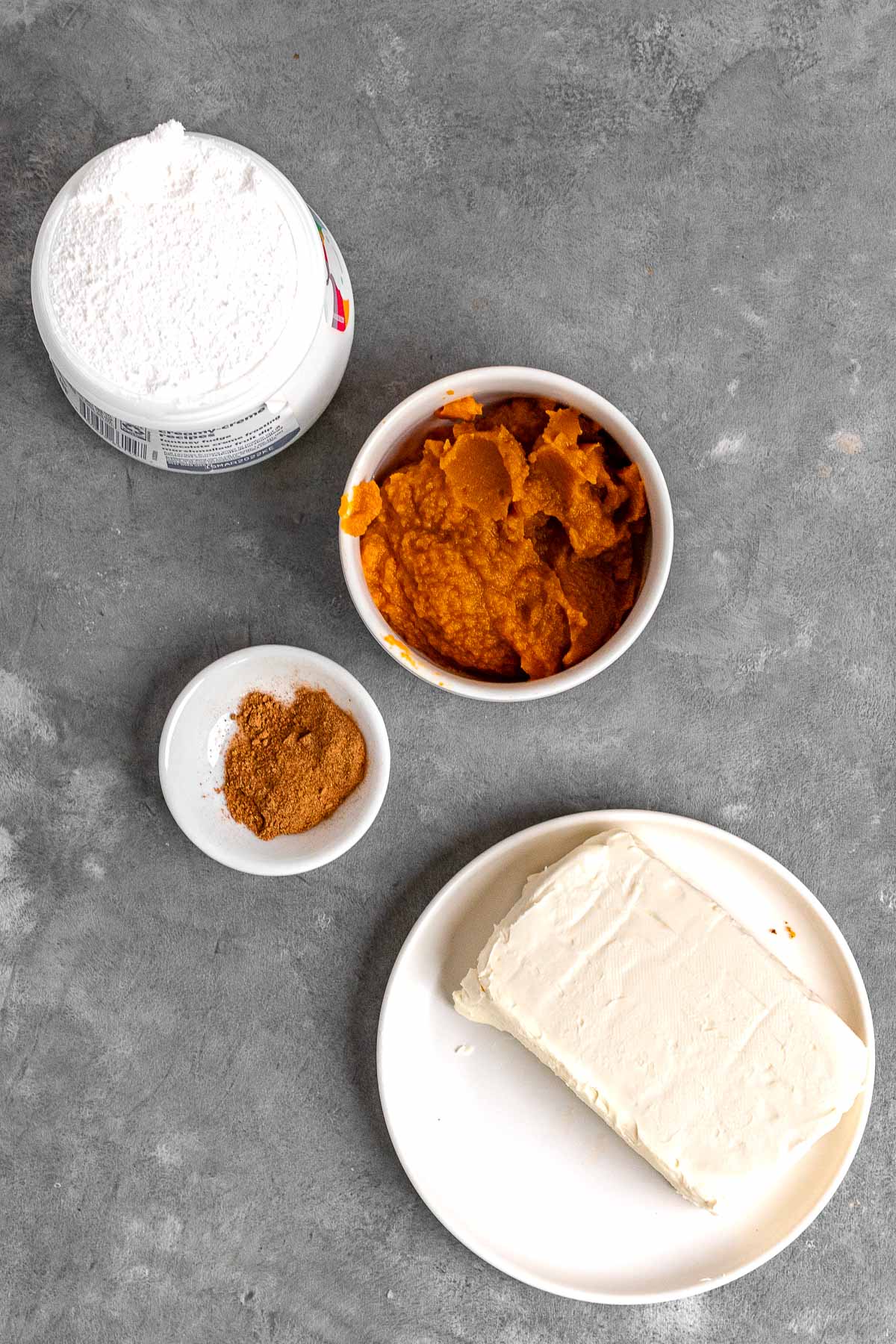 This Pumpkin Fluff Dip is made with just a couple ingredients in a couple of minutes. It's so easy, you could let your little kitchen helpers take care of it while you work on the trickier holiday desserts. First you beat marshmallow fluff and cream cheese until it is a fluffy, creamy base. Then you add the pumpkin pie spice and pumpkin puree, and give it another mix to fluff it back up and it's ready to serve.
You can serve Fluffy Pumpkin Dip with cookies for a sweet Autumn dessert or with fruit for a Fall Snack that you can enjoy throughout the day. You could even spread it on toast with a cup of coffee for a sweet, indulgent breakfast. Look further in the post for more delicious and easy ways to serve this amazing pumpkin flavored fluff dip!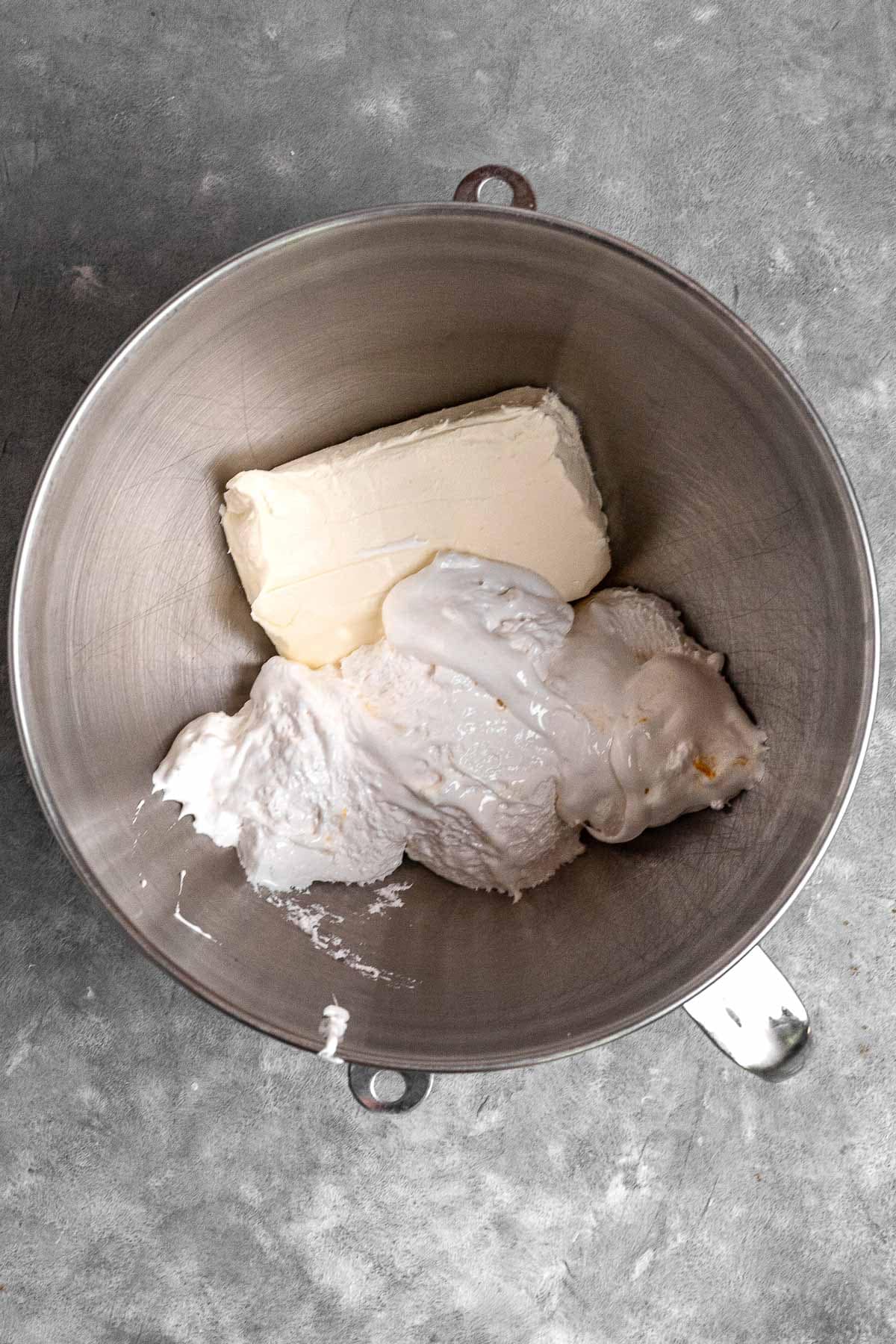 How to Make Pumpkin Fluff Dip
Cream Cheese: Blend the cream cheese and marshmallow creme in a stand mixer until fluffy. Make sure the cream cheese and marshmallow creme are well combined before you add the pumpkin to the mixing bowl.
Add Pumpkin: Add the pumpkin puree and pumpkin spice to the cream cheese mixture. Beat again until the mixture is smooth and airy.
Serve: Serve immediately with sweet crackers and cookies. Keep the dip chilled by placing the serving bowl in a slightly larger bowl with ice in it.
More Amazing Dessert Dip Recipes
FAQs for Pumpkin Fluff Dip
What if I don't have a stand mixer?
If you don't have a stand mixer or electric hand mixer, you can combine the ingredients in a food processor and pulse until it's mixed and fluffy, just avoid pureeing it. You can also whisk it by hand, but it is going to be more creamy than fluffy unless you can stir super fast.
Do I need Cool Whip to make Pumpkin Fluff?
No, you don't need any Cool Whip, or frozen whipped topping, to make this Pumpkin Fluff Dip. Instead it is made with marshmallow creme and cream cheese.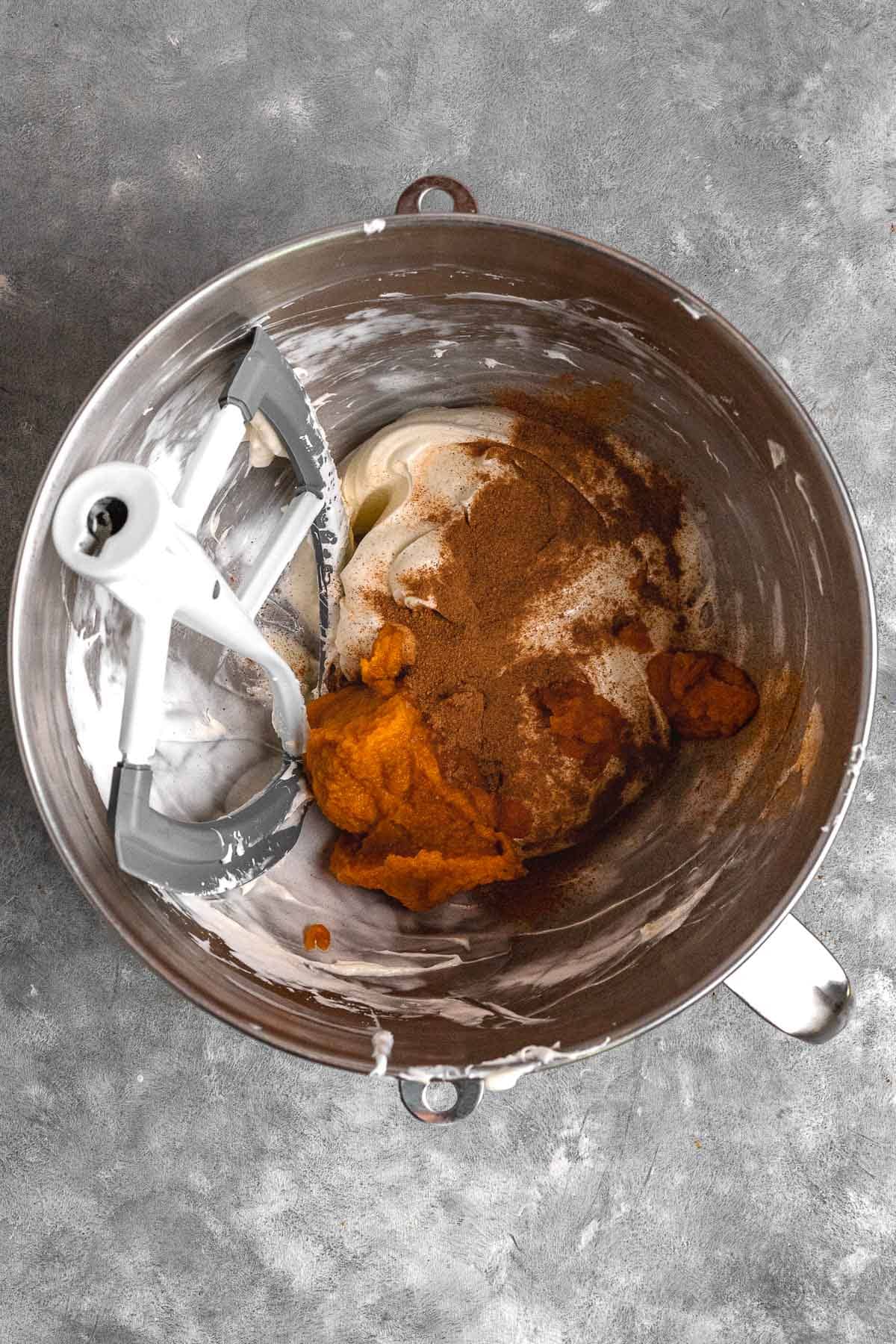 Create a free account to Save Recipes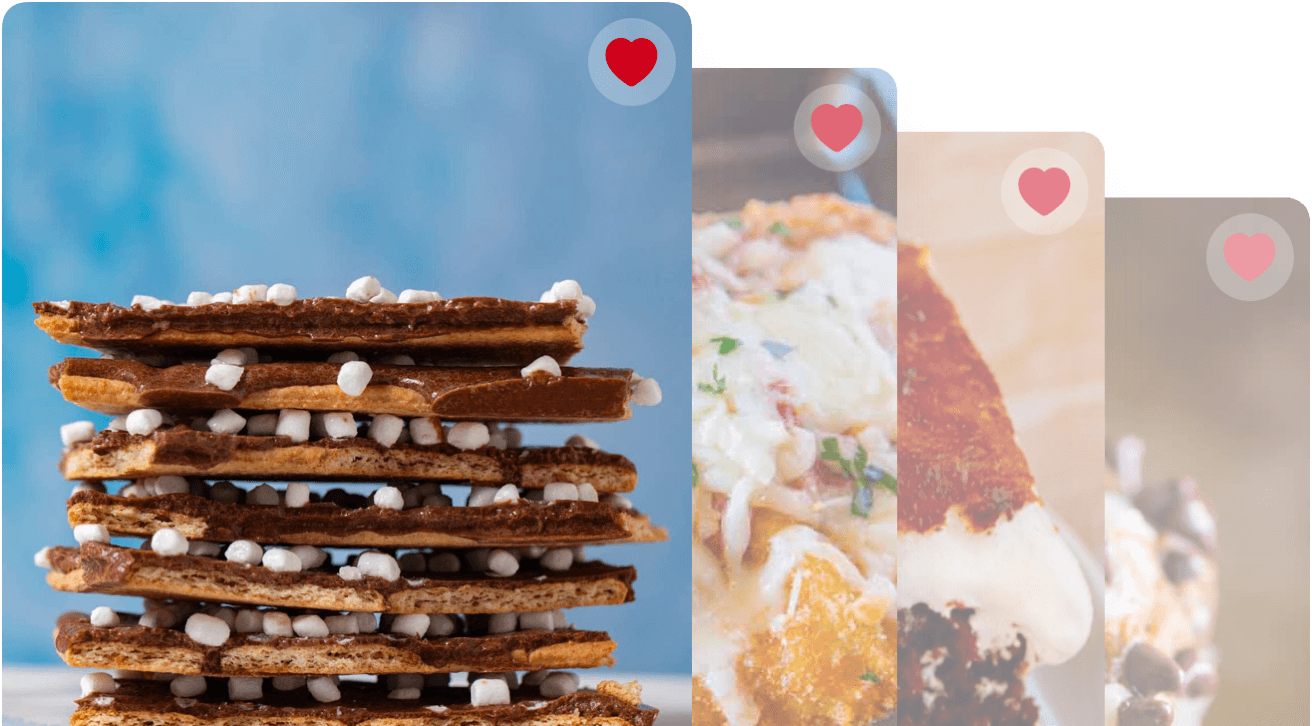 Key Ingredients
Cream Cheese: The tangy, rich cream cheese makes this dip thick and creamy while also creating an airy texture when whipped with the marshmallow creme. Make sure your cream cheese is fully softened before you start the dip, or it won't get super fluffy. You want to use full fat cream cheese for the best flavor and texture. It's a holiday dip after all, go ahead and indulge!
Marshmallow Creme: The fluffy marshmallow creme puts the "fluff" in Pumpkin Fluff Dip and it helps the dip stay fluffy too. Not only does it give your pumpkin dip an airy, light texture, it also adds all the sweetness to this dessert dip.
Pumpkin Puree: This delicious pumpkin recipe is made with real pumpkin puree so you get lots of pumpkin flavor. You want to use 100% pumpkin that doesn't have any added sugar or spices. If you want to use homemade Pumpkin Puree, make sure to drain it very well, you don't want your dip to be watery.
Pumpkin Pie Spice: Pumpkin pie spice is a cozy blend of warm baking spices like cinnamon, nutmeg, ginger, and cloves. You can make your own Pumpkin Pie Spice blend or use a store-bought, whichever is easiest!
Can Pumpkin Fluff Dip be made ahead of time?
While you can definitely prepare your dip in advance before you want to serve it, there aren't really any steps you can take to save time making this fluffy pumpkin dip. The only thing is if you want to make your own pumpkin puree, make that ahead at least a day so it is cooled completely.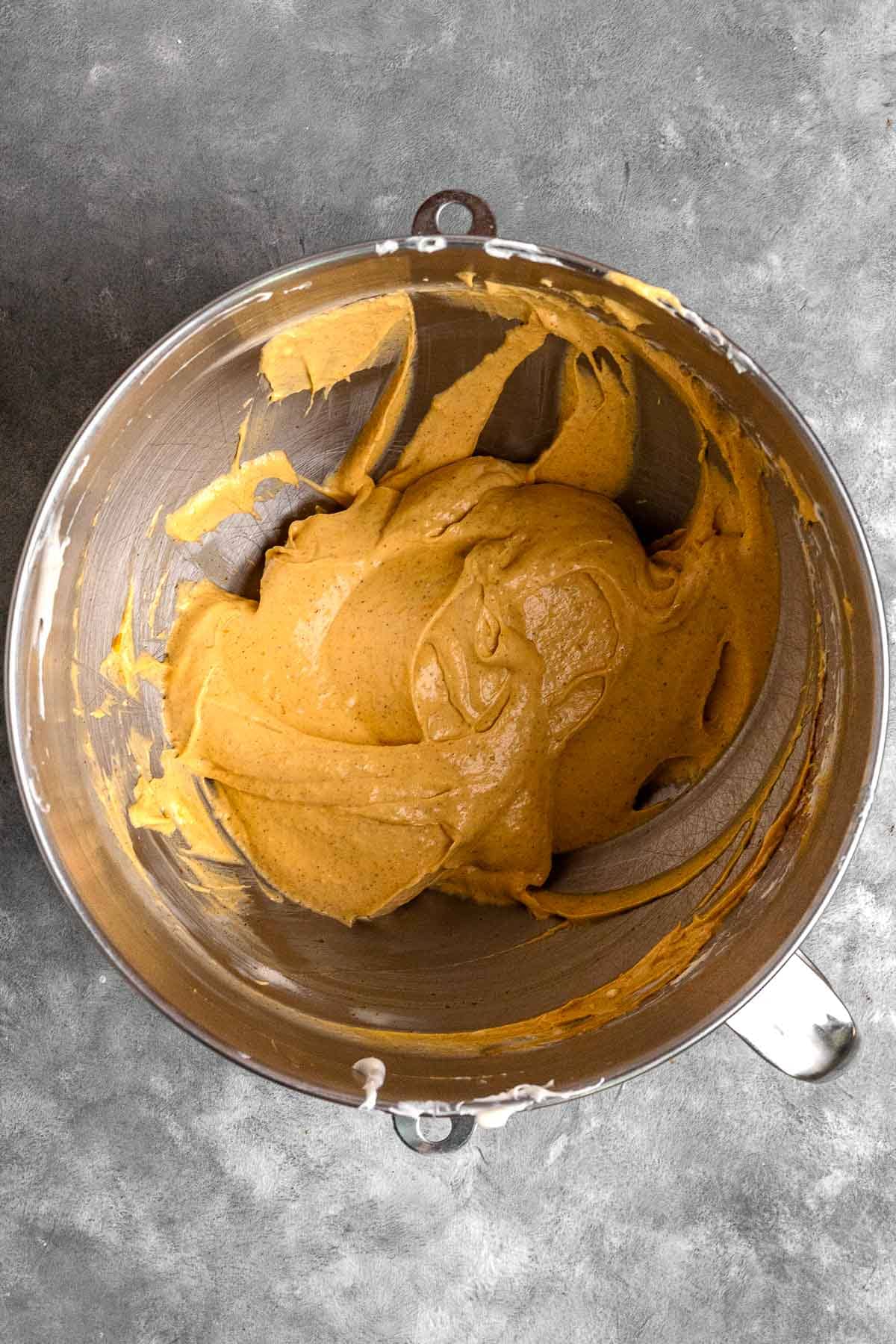 Variations
Flavorings: There are lots of easy ingredient swaps to change the flavor of this pumpkin recipe. Try mixing in some vanilla extract, almond extract, or powdered sugar. The powdered sugar is good if you want some extra sweetness. You can also change up the amounts of individual ingredients like the pumpkin spice. Skip the pumpkin spice and use cinnamon for less pumpkin pie taste.
Vanilla Pudding: You could also use a vanilla pudding mix for a creamier, thicker and sweeter Pumpkin Fluff Dip. You'll need 1 package of instant vanilla pudding mix. Just whip the vanilla instant pudding in at the same time you add the pumpkin puree. To get vanilla flavor without the pudding just mix in vanilla extract. Or change up the flavor by using butterscotch or cheesecake instant pudding mix.
Mix-ins: For some delicious mix-ins add chocolate chips, crushed almonds, or crushed pecans. Mini chocolate chips will be easier to pick up in the dip, than full-sized chocolate chips. You could also mix in some sprinkles and food coloring for an extra festive-looking Pumpkin Fluff Dip.
Whipped Topping: For an even fluffier dip, you can use frozen whipped topping, which has been thawed first. Simply swap half the marshmallow creme and cream cheese amounts with Cool Whip, or leave out the marshmallow creme all together so it's not overly sweet.
How to Serve Pumpkin Fluff Dip
Dessert Board: Serve this addictive treat as the centerpiece on a Fall charcuterie board at your next party or family get-together. Surround it with tasty dippers like graham crackers, vanilla wafers, ginger snaps, and animal crackers. Some Candied Pecans, homemade candy (like Toffee Bits), and roasted pumpkin seeds help finish off the sweet dessert board!
Fruit Dip: Fluff dip is perfect for dipping fruit. Your favorite fresh sliced apples and pears are great for dunking, or you can dip dried fruit chips like banana chips or dehydrated apple slices.
Spread: This Pumpkin Fluff makes a sweet spread for baked goods in the fall! Try it on some Pumpkin Bread for a delicious pumpkin dessert or just spread it on a warm English muffin for a tasty breakfast treat.
Cannoli: For an easy, amazing pumpkin dessert pipe the creamy pumpkin fluff dip into a store-bought cannoli shell. Add some pumpkin pie spice to Whipped Cream for a nice topping and serve chilled!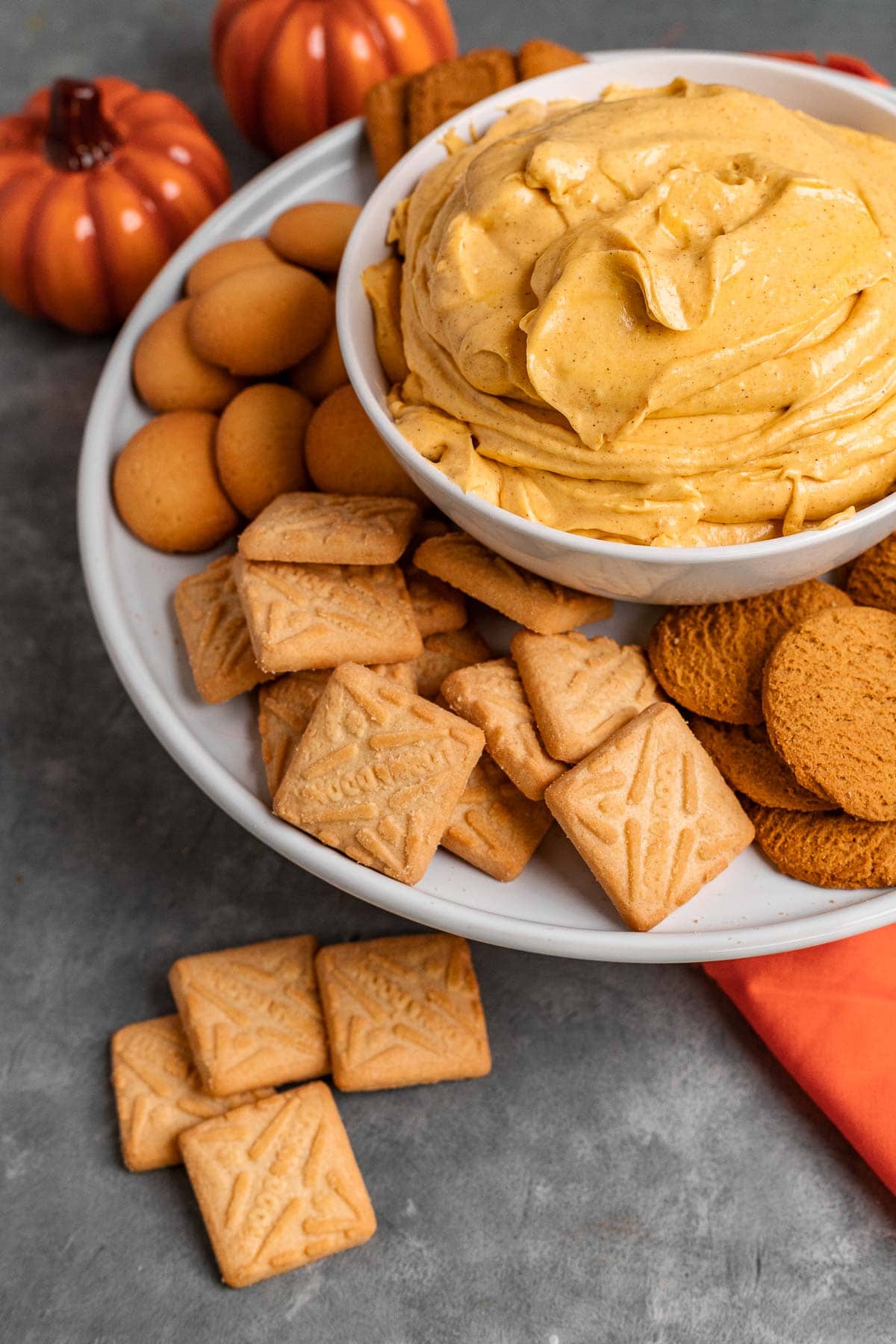 Delicious Sweet Pumpkin Recipes
How to Store
Serve: Don't leave Pumpkin Fluff Dip at room temperature for more than 2 hours. It's best kept chilled so you can put the bowl in larger bowl with ice to keep it cold at parties.
Store: You can transfer the dip into an airtight container to chill in the fridge. Or keep it in individual dessert cups with lids. If they're in serving-sized containers you can grab the dip for packed lunches.
Freeze: You can also store the Pumpkin Fluff Dip in the freezer. Store it in an airtight container with a piece of plastic wrap under the lid to prevent frostbite. Thaw the dip in the fridge then give it a quick mix to fluff it back up and serve.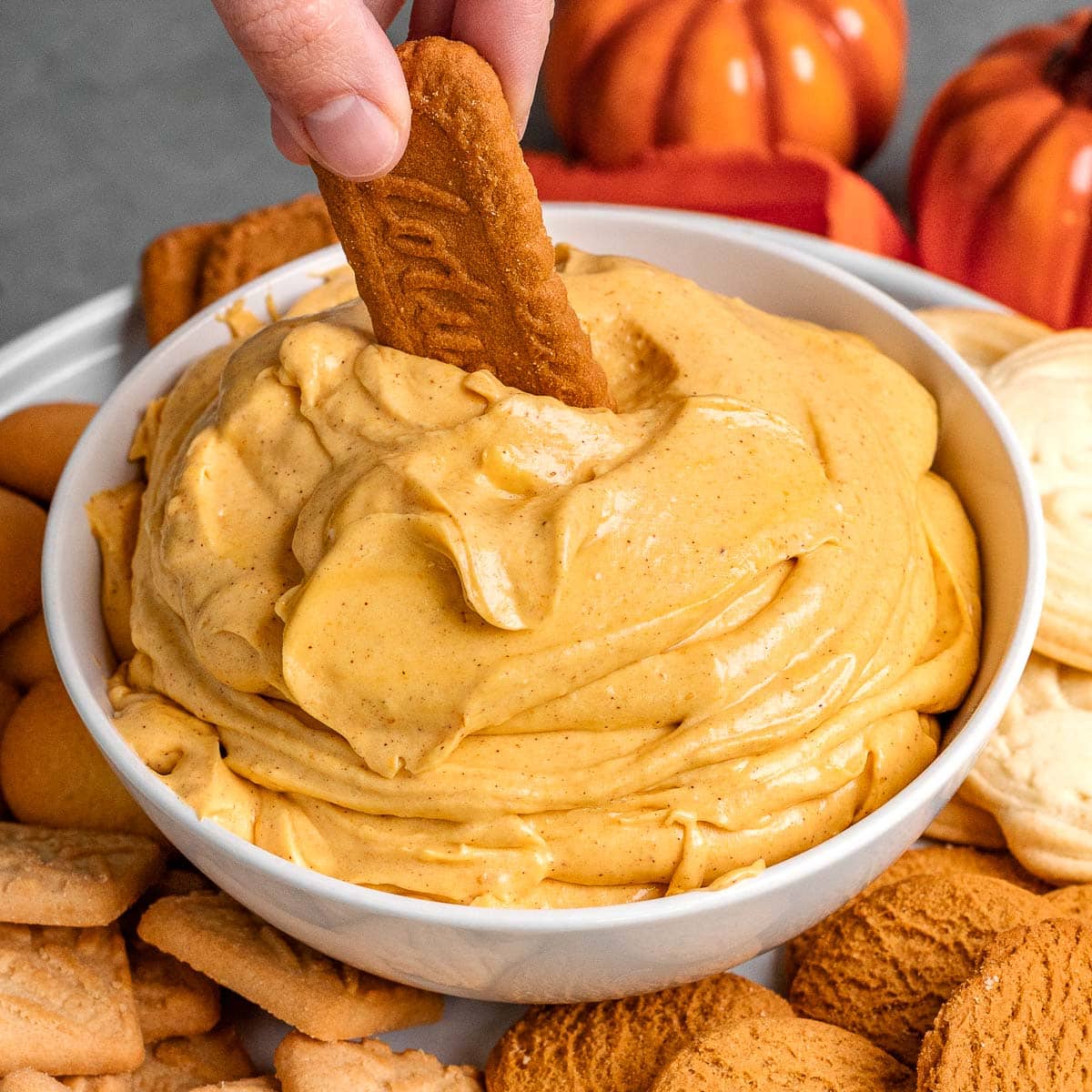 Instructions
Add cream cheese and marshmallow creme to your stand mixer.

Blend for

1 minute

until fluffy and well mixed together.

Add in pumpkin puree and pumpkin pie spice and blend until smooth.

Serve, immediately, with sweetened crackers and cookies.
Nutrition
Calories:
143
kcal
|
Carbohydrates:
24
g
|
Protein:
3
g
|
Fat:
4
g
|
Saturated Fat:
3
g
|
Polyunsaturated Fat:
1
g
|
Monounsaturated Fat:
1
g
|
Cholesterol:
15
mg
|
Sodium:
123
mg
|
Potassium:
106
mg
|
Fiber:
1
g
|
Sugar:
16
g
|
Vitamin A:
2541
IU
|
Vitamin C:
1
mg
|
Calcium:
50
mg
|
Iron:
1
mg