Pumpkin Pancakes are the ultimate Autumn breakfast recipe. Buttery, fluffy pancakes full of flavor from pumpkin purée and pumpkin pie spices.
A tall stack of fluffy Buttermilk Pancakes is a great way to start any morning! But, if you're looking for a new spin on a classic Breakfast Recipe, then this pumpkin version of pancakes is a great way to mix things up.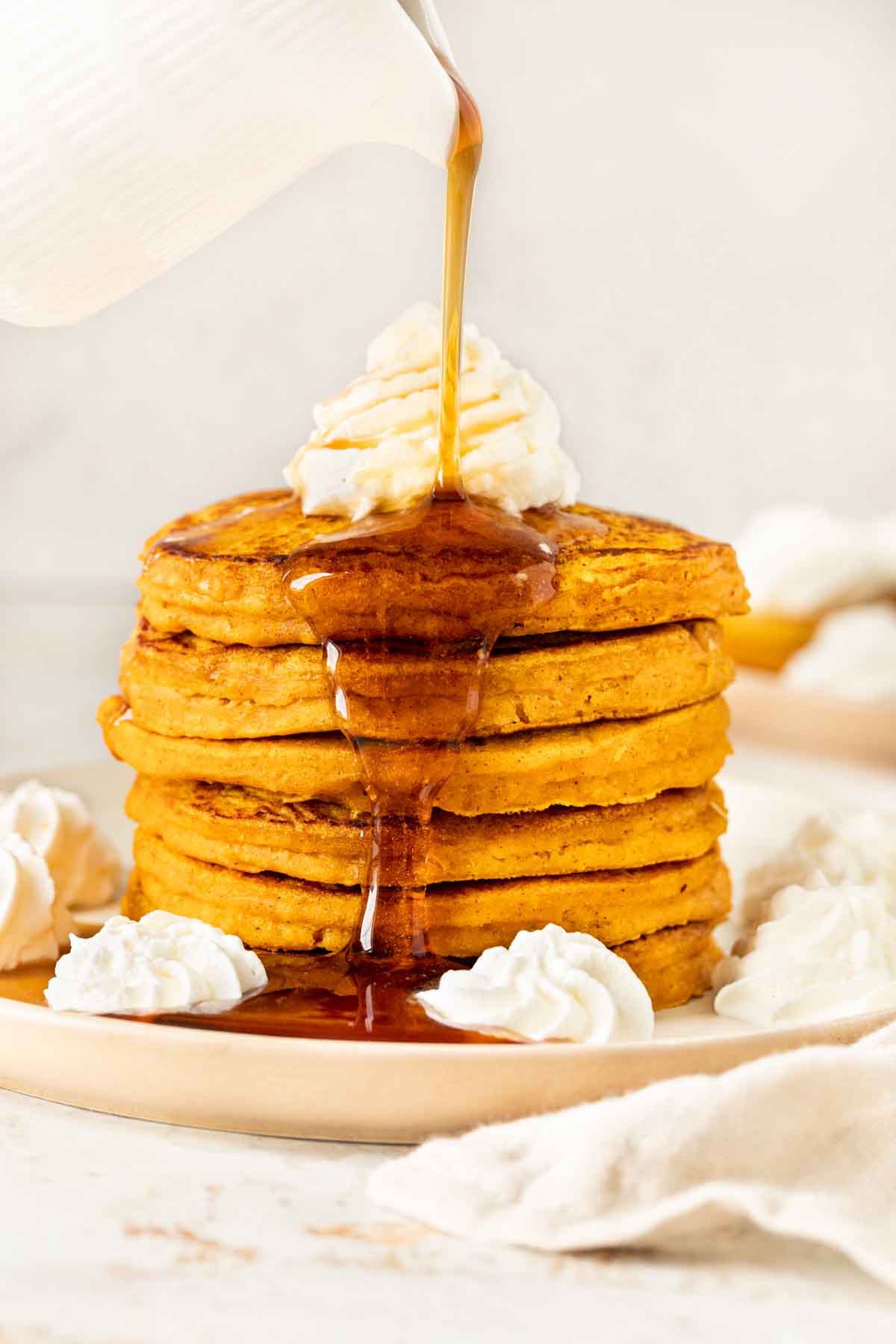 This Pumpkin Pancake recipe is truly the perfect breakfast for Fall. You get the same airy, buttery texture you do from a regular pancakes, but with Pumpkin Pie Spice! You'll love how the house fills with the smell of Pumpkin Pie Spice while the pancake recipe cooks.
These pumpkin flavored pancakes are great the morning after Thanksgiving to use up a can of leftover pumpkin. They will get rave reviews from the whole family and are hardly any work to whip up! Serve these Perfect Pumpkin Pancakes with classic maple syrup, Whipped Cream, or Nutella.
If you have a big group at your house, you can double up on the pancake recipe. To keep the finished pancakes warm while the others cook, you can put a stack of pancakes on an oven-safe plate. Then just put them in the oven at 200 degrees. When you've finished all the pancakes you can take them out to serve together.
Serve Pumpkin Pancakes a variety of toppings like chocolate chips, chopped pecans, or dried cranberries. Pair them with Candied Bacon or Breakfast Pork Sausage and some fresh fruit or eggs for a sweet and savory Fall breakfast treat.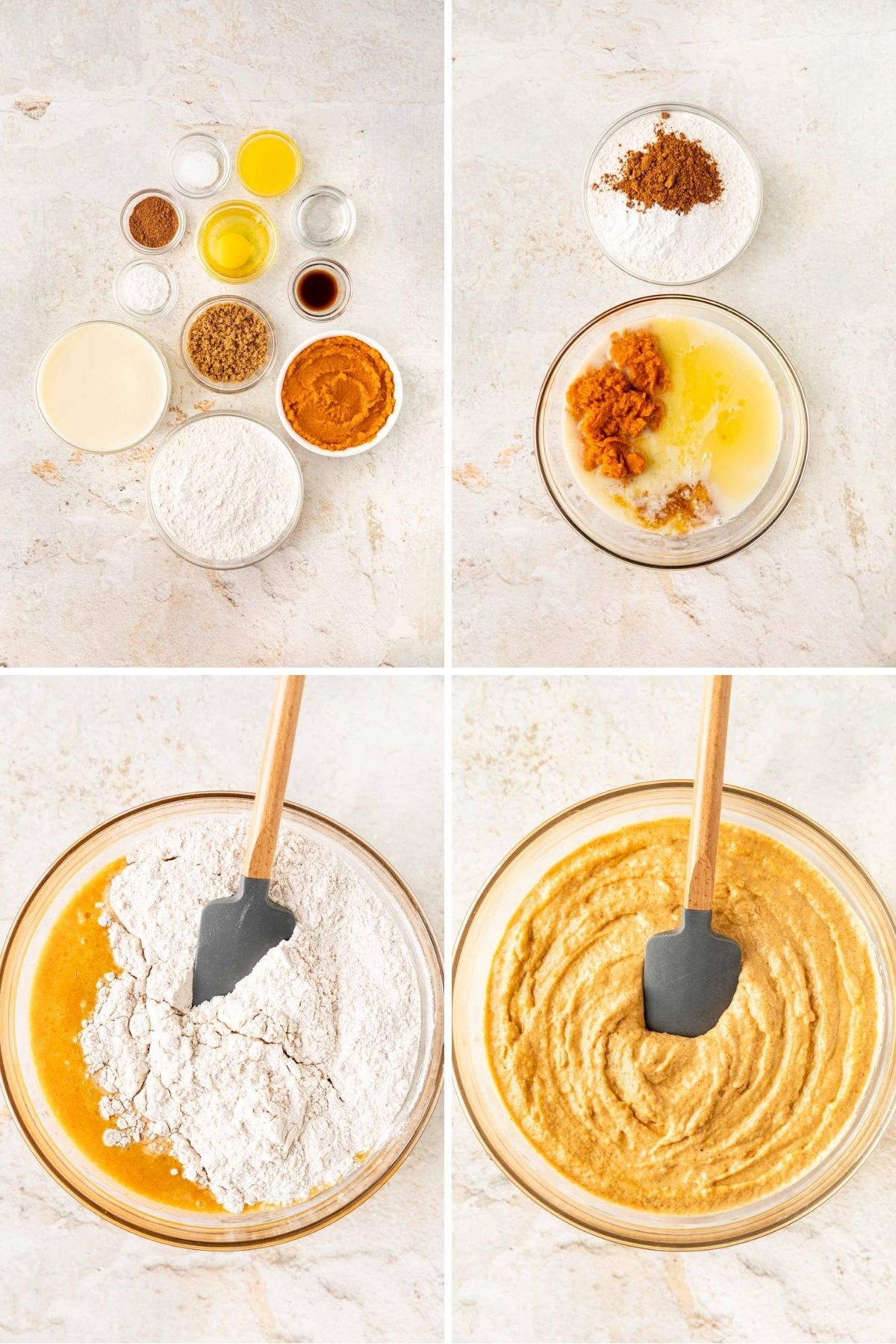 How to Make Pumpkin Pancakes
Dry ingredients: Sift the flour, baking powder, pumpkin spice, and salt into a large bowl. You want to make sure to sift the flour mix thoroughly so that there aren't lots of clumps.
Wet ingredients: Whisk together the butter, milk, canned pumpkin purée, egg, vanilla extract, vinegar, and brown sugar in a separate bowl. Continue stirring until the pumpkin mixture is nice and smooth.
Pancake batter: Mix the dry ingredients in. Be careful not to over-mix. Let the pancake batter sit for 5 minutes before you start cooking it. Letting the batter sit is important to getting fluffy pancakes.
Cook: While the batter is sitting turn on your griddle so that the cooking surface is ready. Use butter or cooking spray to prep the griddle, unless you have a non stick griddle. Scoop the pancake batter onto the griddle with ¼ cup. Keep it on medium heat so that they don't burn. When the batter starts to bubble on top, flip the pancake over and cook for 20 seconds or until it's cooked golden brown on each side.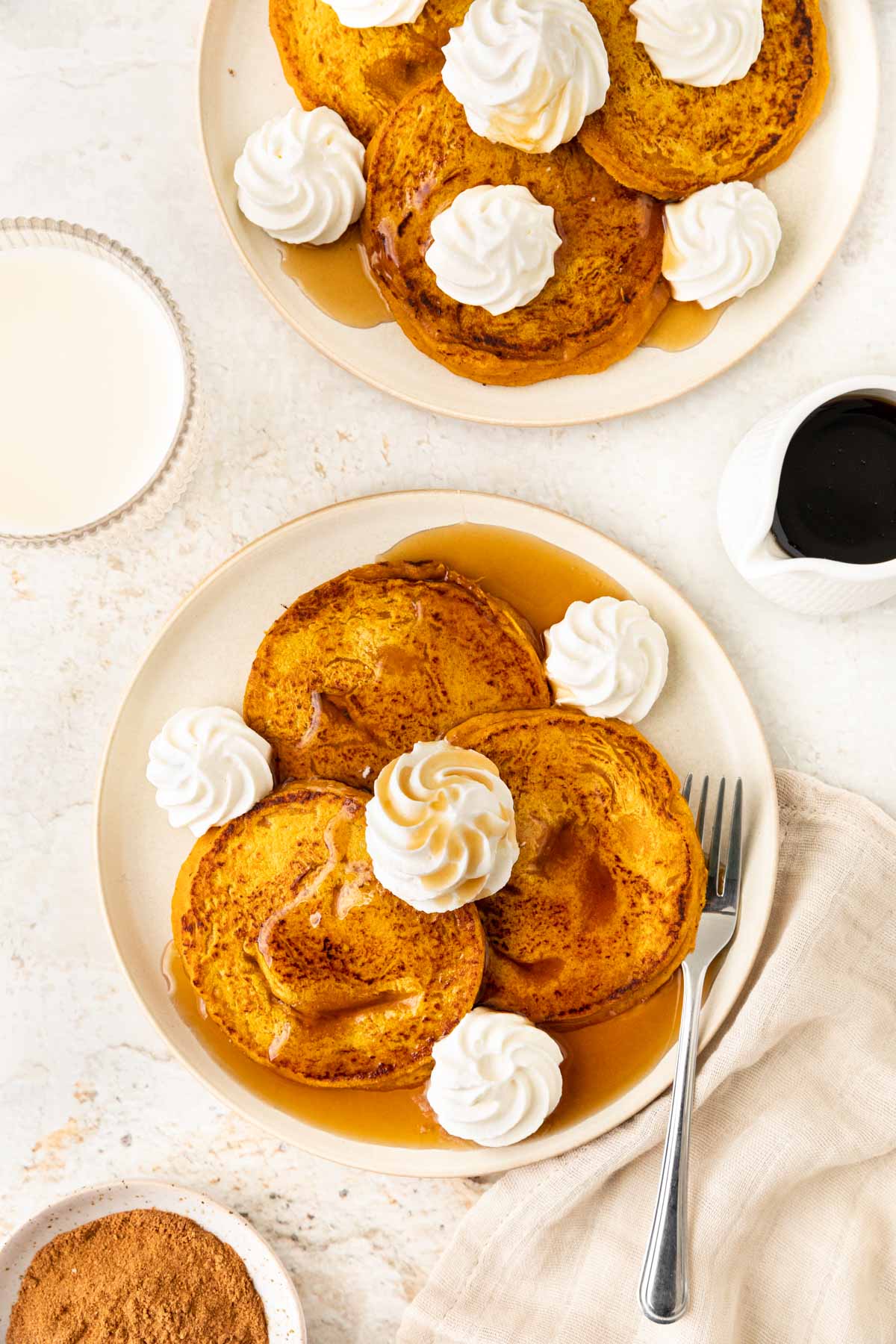 More Delicious Breakfast Recipes
Frequently Asked Questions
Is there real pumpkin in Pumpkin Pancakes?
Yes! By using canned pumpkin purée, these Pumpkin Pancakes have a delicious natural pumpkin flavor without any artificial ingredients. The real pumpkin also keeps these pancakes nice and moist.
Can I use fresh pumpkin for Pumpkin Pancakes?
You can make your own pumpkin purée out of fresh pumpkins to use in baking and cooking recipes. Small to medium sized sugar pumpkins work well for this. Simply cut the pumpkin in half, remove the seeds and strings, and place in a baking dish cut side down, covered with foil. Bake at 375 for 90 minutes or until a paring knife inserts easily. Allow to cool before scooping out the flesh to mash or purée it with a food processor.
What is the best pan for cooking pancakes?
A flat, heavy bottomed griddle or your widest flat skillet will give you the best results for pancakes. Even if your pan or griddle is nonstick, use a small amount of butter to keep the pancakes from sticking. Keep the temperature hot enough so that the pancakes sizzle when the batter is poured, but not too hot that the butter starts to scorch. This also gives them a nice golden brown finish and crisp buttery edges that taste amazing.
How do I make Gluten Free Pumpkin Pancakes?
To make this recipe friendly for a gluten free diet, substitute the wheat flour for your favorite gluten free all purpose flour. You could also use almond or coconut flour, or even a gluten free pancake or baking mix if you are in a pinch. Just check whether your mix already contains baking powder and reduce the additional baking powder accordingly.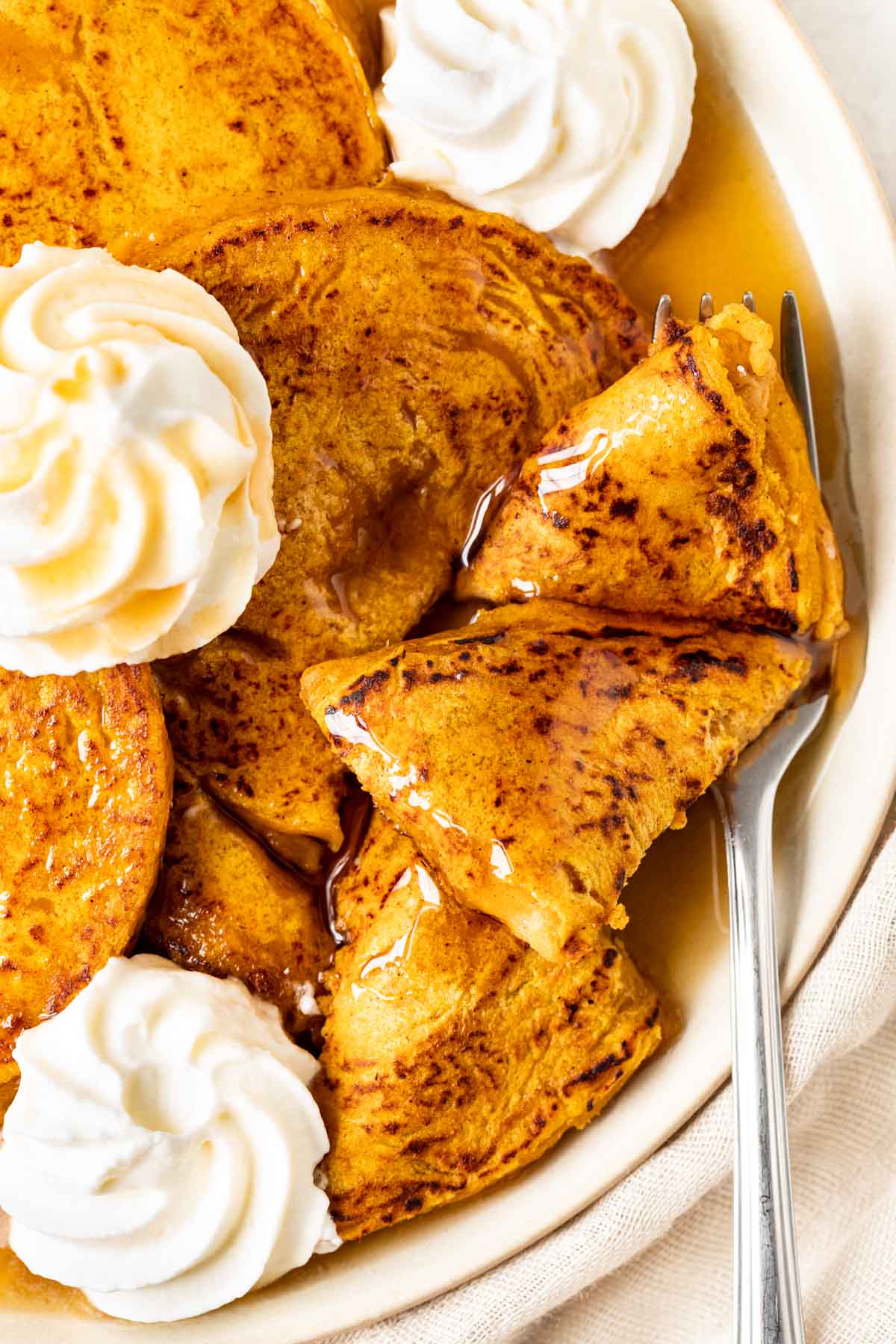 Create a free account to Save Recipes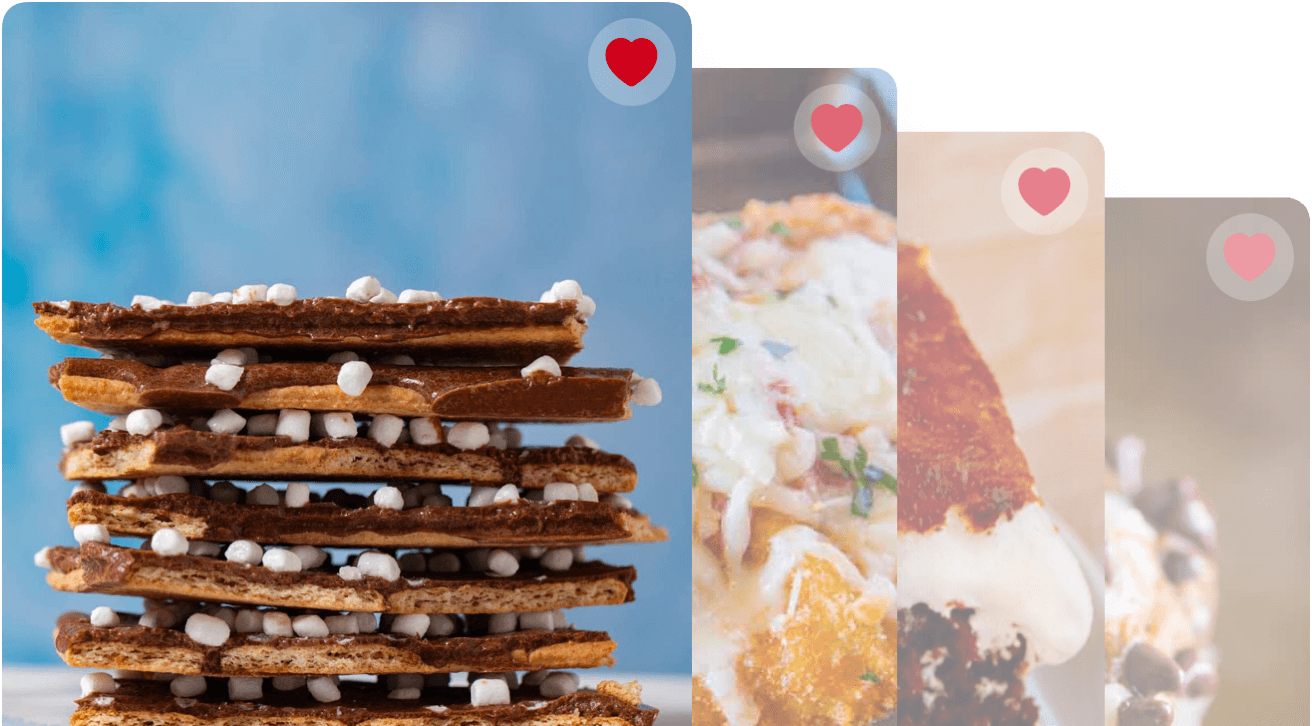 Key Ingredients in Pumpkin Pancakes
Pumpkin: Canned pumpkin purée is easy to find in the grocery store, especially in the fall. Look for pure pumpkin, not pumpkin pie filling, which will already be spiced and have other ingredients added.
Dry Ingredients: Homemade pancakes are so easy because they use pantry staples you already have on hand like all purpose flour, spices, and salt.
Pumpkin Pie Spice: You can use a store bought mix or make your own homemade Pumpkin Pie Spice. If you don't have pumpkin pie spice on hand, use 1 ½ tsp cinnamon and ½ teaspoon each of ground nutmeg, ground ginger, and allspice.
Vinegar: The secret ingredient to the fluffiest pancakes ever is a splash of vinegar in the batter. This mimics the same reaction that is created when you use buttermilk in pancakes. In this case, 2 tablespoons is enough to react with the baking powder to create a light and fluffy pancake.
Brown Sugar: Brown sugar is the perfect sweetener for Pumpkin Pancakes because its caramely molasses flavor pairs perfectly with the warm pumpkin pie spices and maple syrup topping.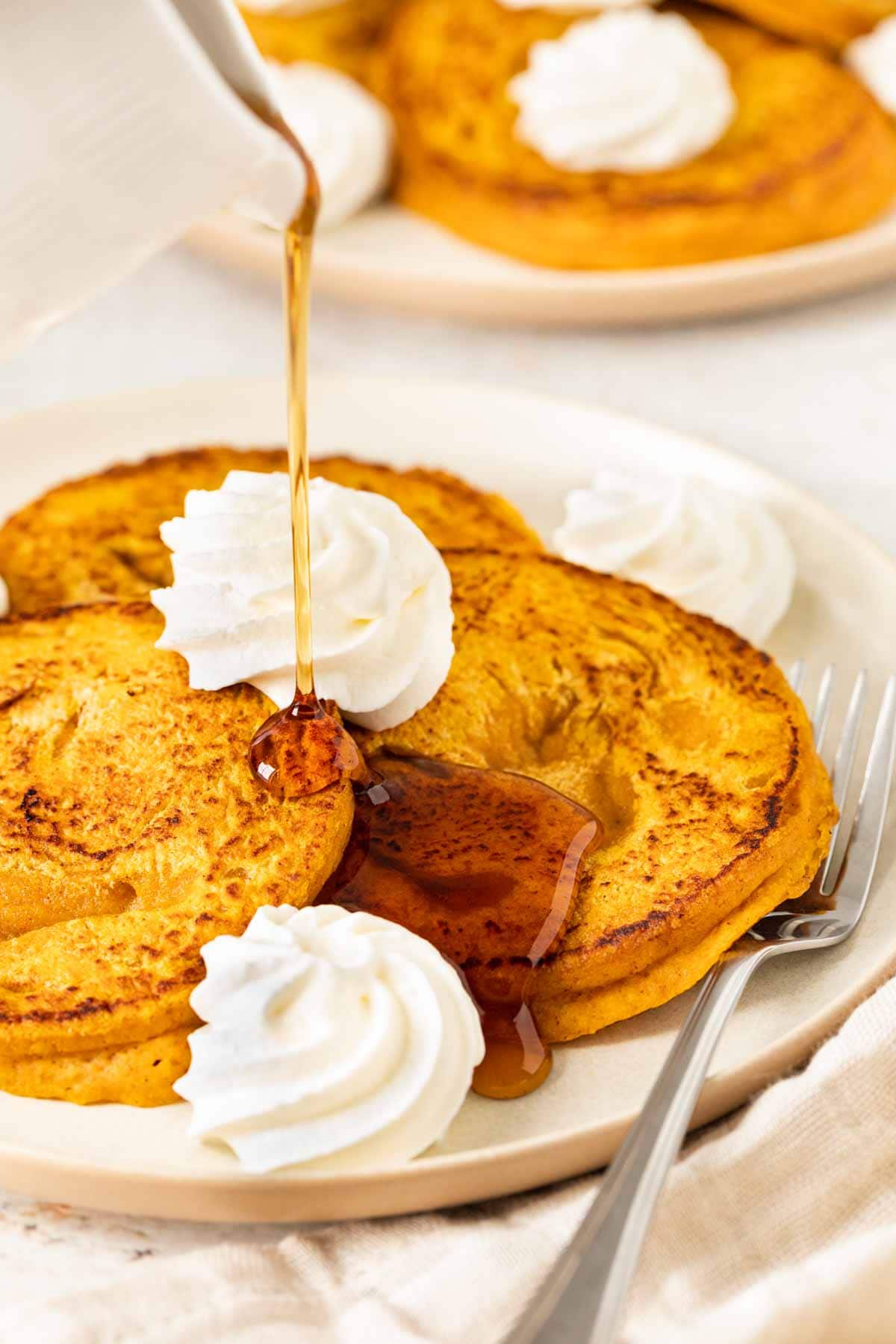 Variations on Pumpkin Pancakes
Toppings: There are plenty of delicious toppings you can use on fresh Pumpkin Pancakes. Along with maple syrup, you can spread some butter and cinnamon sugar over the top. You could also use Cool Whip, Chocolate Sauce, or Cinnamon Syrup.
Spices: For some extra Autumn taste try mixing in some extra warm spices into the pancake batter along with the pumpkin spice. 1 teaspoon ground ginger, 1 teaspoon ground cinnamon, 1 teaspoon ground allspice, 1 teaspoon nutmeg, or 1 extra teaspoon ground cloves would all add lots of delicious flavor. You can use more or less of any of the classic spices depending on your taste.
Flour: Instead of 2 cups all-purpose flour, you can make wheat pancakes using wheat flour. Or, for gluten-free pancakes combine oat flour, almond flour, or coconut flour.
Milk: Use buttermilk instead of whole milk and omit the vinegar to make delicious Pumpkin Buttermilk Pancakes. You can also use an alternative milk such as almond milk or oat milk for a dairy free version.
Chocolate chips: Make Pumpkin Chocolate Chip Pancakes by folding 1-1 ½ cups chocolate chips into the batter. You can also garnish with mini chocolate chips on top.
Halloween Candy Pancakes: Make your Pumpkin Pancakes even more festive for spooky season by mixing in M&Ms, Reese's Pieces, or chopped peanut butter cups, Snickers, Kit Kat, Crunch bars, or Butterfinger candies. This is a fun way to use up extra trick-or-treat candy, too.
Nuts: If you're looking for some nice crunchy texture in your Pumpkin Pancakes, mix 1 cup of chopped pecans into the batter. Pecans and pumpkin go together naturally. If you'd prefer, you can also use chopped almonds, walnuts, or peanuts.
Pumpkin Cranberry Pancakes: Mix in ½ cup dried cranberries to add a chewy sweet bite to the Pumpkin Pancakes.
More Pumpkin Recipes
How to Store Pumpkin Pancakes
Serve: Pumpkin Pancakes can be kept at at room temperature for up to 2 hours. Cover with a paper towel to absorb moisture or keep warm in an oven until you are ready to serve.
Store: Let the pancakes cool and then put them in a Ziploc bag or another airtight container to store in the fridge for 3-4 days.
Freeze: You can also freeze Pumpkin Pancakes for up to 3 months. Let them thaw in the fridge and then reheat them in a 350 degree oven.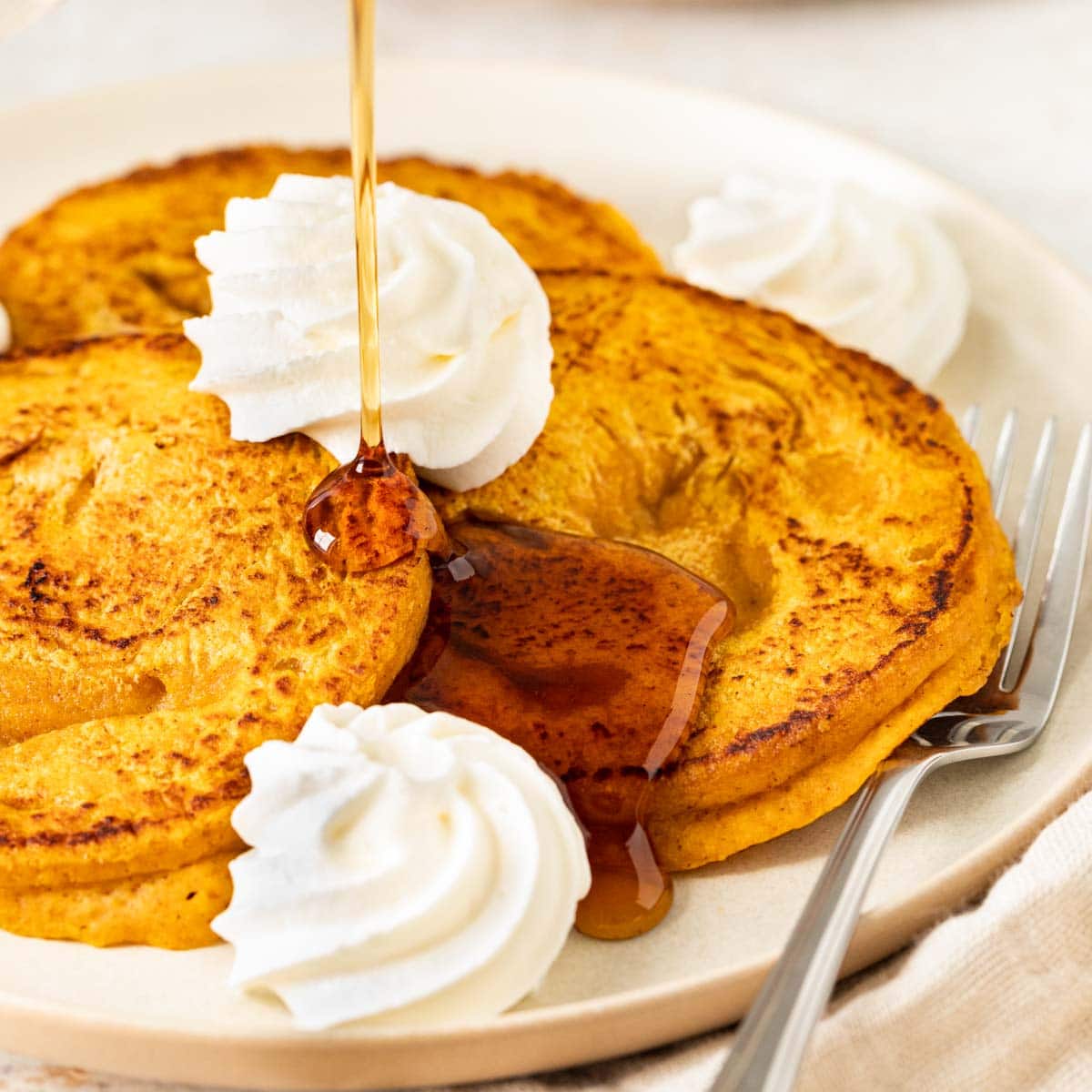 Ingredients
2

cups

flour

2

teaspoons

baking powder

1

tablespoon

pumpkin spice

1/2

teaspoon

salt

2

tablespoons

unsalted butter

, melted

1 1/2

cups

whole milk

1

cup

pumpkin puree

1

large

egg

1

teaspoon

vanilla extract

2

tablespoons

vinegar

3

tablespoons

brown sugar

, packed
Instructions
Sift the flour, baking powder, pumpkin spice and salt twice into a large bowl.

In a medium bowl whisk together butter, milk, pumpkin puree, egg, vanilla extract, vinegar and brown sugar until smooth.

Add in flour mixture and whisk until just combined.

Scoop ¼ cup batter onto lightly buttered griddle on medium heat and cook until bubbles form.

Flip and cook for 20 seconds.
Nutrition
Calories:
209
kcal
|
Carbohydrates:
34
g
|
Protein:
6
g
|
Fat:
5
g
|
Saturated Fat:
3
g
|
Cholesterol:
35
mg
|
Sodium:
179
mg
|
Potassium:
277
mg
|
Fiber:
2
g
|
Sugar:
8
g
|
Vitamin A:
4961
IU
|
Vitamin C:
1
mg
|
Calcium:
120
mg
|
Iron:
2
mg