Mini Pumpkin Pies are an amazing bite-size version of the classic Fall dessert! The perfect one-bite treat for parties or even just for snacking!
We all know Fall means lots of Pumpkin Pie, the most iconic of the holiday season Desserts. However, if you're having a less formal holiday gathering, you might want to opt for these no-fuss Mini Pumpkin Pies which are perfect for a party where people will be eating with their fingers (think football parties!)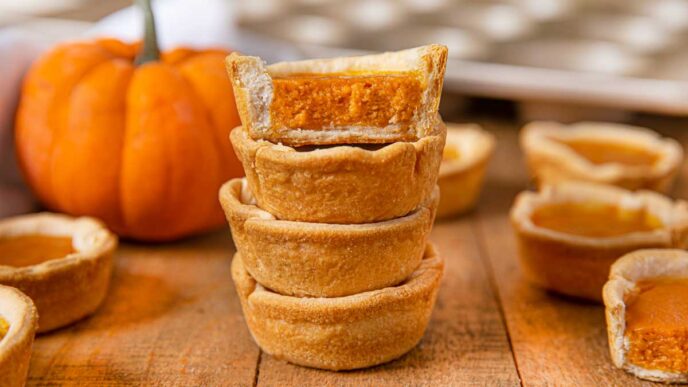 MINI PUMPKIN PIE
Mini Pumpkin Pies are a rich, creamy dessert with all of the crisp, savory flavors of autumn. Top with a dash of whipped cream, and you've got the perfect mouthful of holiday dessert you can finish in two bites.
This version of Pumpkin Pie is super easy to prep and bake, and gives you perfect visually stunning little dessert bites perfect for family gatherings, Thanksgiving Dinners, or cozy get-togethers with friends.
Making Mini Pie Crusts:
Using a biscuit cutter, cut 3 1/2″ circles of pie crust dough.
Spray the muffin tins with baking spray very well then add in the pie crust and make sure there are no air bubbles under the pie crust when you place them into the tin.
Push 3 ½ inch diameter circles of pie crust into a mini muffin tin and pour the Pumpkin Pie filling into the crusts.
Smooth the pumpkin filling with the back of a spoon and work out any bubbles before putting it into the oven and letting it cook.
Once the crust is crunchy and golden brown let them cool for just five minutes before carefully removing the pies.
Using a knife edge, remove the pies gently and let the them cool on a wire rack.
Top the mini pies with some delicious, Homemade Whipped Cream (or Homemade Cool Whip!) and a side of Homemade Vanilla Ice Cream.
MORE DELICIOUS PUMPKIN RECIPES:
HOW TO MAKE MINI PUMPKIN PIES
Preheat oven to 350 degrees.
Cut your pie crust into circles approximately 3 ½ inches in diameter.
Place the circles into a muffin tin, forming a pie crust cup in each muffin circle.
Whisk together filling ingredients then pour it into the mini pie crusts in the muffin tin.
Bake for 20-25 minutes.


Create a free account to

Save Recipes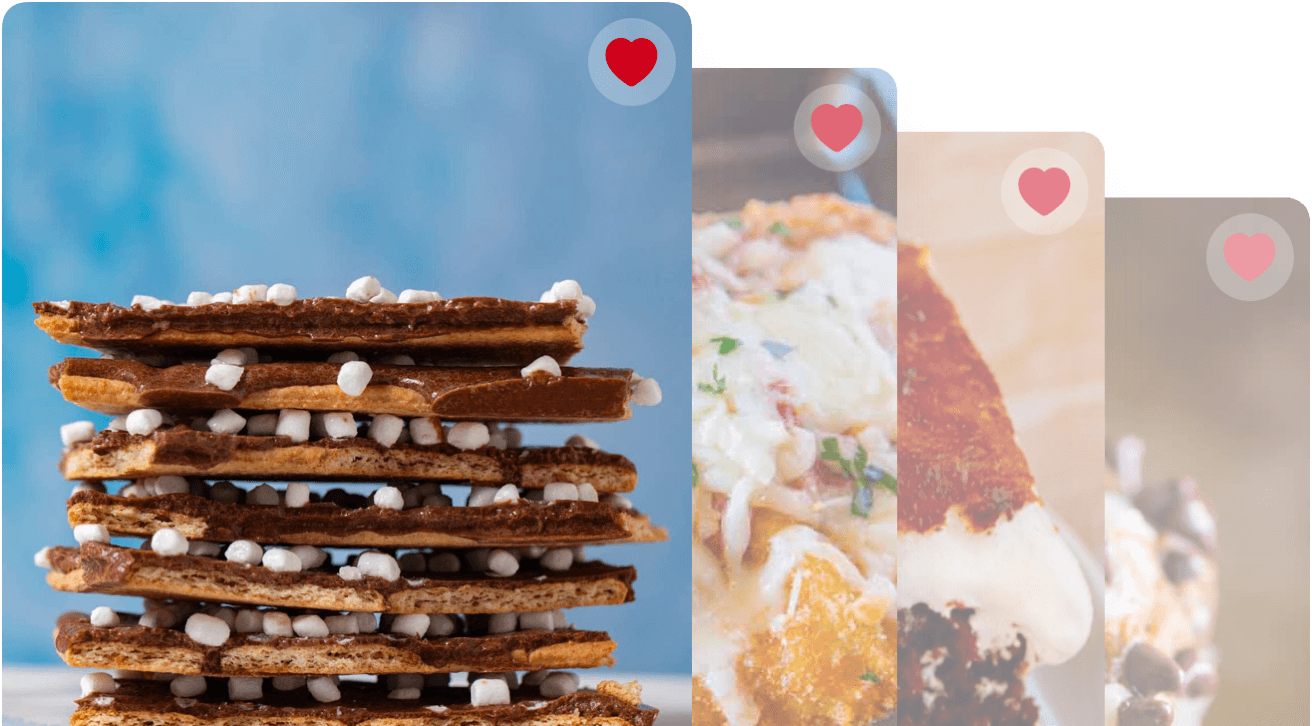 VARIATIONS ON PUMPKIN PIE
Toppings: When the pie is still warm from the oven, sprinkle brown sugar over the top. The heat of the pie filling will partially caramelize the sugar, giving you a delightfully crunchy, sweet flavor.
Spice: Add a teaspoon ground cloves to the pumpkin filling to give it an even bolder, richer flavor. The cloves have a delicious flavor that goes really well with ground cinnamon and pumpkin.
Gluten free: To make my recipe for classic Pumpkin Pie better for people with a gluten intolerance, all you need to do is select your pre-made pie crust carefully. Check the nutrition information for a list of ingredients and make sure that it only uses all-purpose flour substitutes, such as almond or buckwheat flour.
Pumpkin: If canned pumpkin puree is not for you, you can use fresh pumpkin puree (my recipe is foolproof!). Make sure you puree it down in a food processor until there are few to no lumps before mixing in the rest of the ingredients.
MORE HOLIDAY DESSERT RECIPES
HOW TO SERVE AND STORE:
Serve: Don't leave your fresh Mini Pumpkin Pies out for longer than 2 hours. After the 2 hour mark they must be refrigerated or they can grow bacteria. Don't leave them out overnight.
Store: Place your Mini Pumpkin Pies on a plate and cover with plastic wrap or aluminum foil and put them in the fridge. They'll be cool and delicious for about a week, after which you'll probably want to throw them out.
Freeze: Always let Mini Pumpkin Pies cool down to room temperature before wrapping it up and storing it. If you seal it up in an airtight container, Mini Pumpkin Pies will stay good for about 2 months. To thaw, let a mini pie sit in the fridge for a few hours before bringing it out to room temperature again.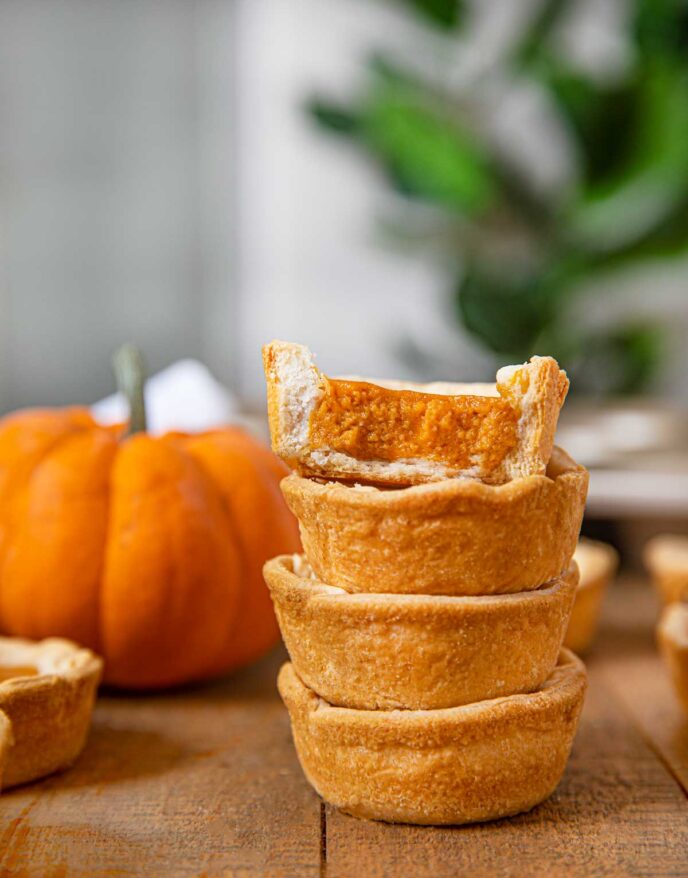 Ingredients
2

pie crust dough

, rolled to 1/4" thickness

15

ounces

pumpkin puree

3/4

cup

sugar

2

large

eggs

12

ounces

evaporated milk

1

teaspoon

cinnamon

1/4

teaspoon

ground ginger

1/4

teaspoon

salt

1/4

teaspoon

nutmeg
Instructions
Preheat oven to 350 degrees.

Cut your pie crust into circles approximately 3 ½ inches in diameter.

Place the circles into a muffin tin, forming a pie crust cup in each muffin circle.

Whisk together pumpkin puree, sugar, eggs, evaporated milk, cinnamon, ginger, salt and nutmeg in a large bowl then pour it into the mini pie crusts in the muffin tin.
Nutrition
Calories:
144
kcal
|
Carbohydrates:
19
g
|
Protein:
3
g
|
Fat:
6
g
|
Saturated Fat:
2
g
|
Cholesterol:
21
mg
|
Sodium:
124
mg
|
Potassium:
118
mg
|
Fiber:
1
g
|
Sugar:
10
g
|
Vitamin A:
3373
IU
|
Vitamin C:
1
mg
|
Calcium:
57
mg
|
Iron:
1
mg