Easy Pumpkin Cheesecake Bars are the perfect holiday dessert! Creamy baked cheesecake filling made with pumpkin puree, pumpkin spice, and gingersnap crust!
Creamy Cheesecake Bars are the easiest way to get New-York Style Cheesecake with half of the work! This pumpkin recipe is a perfect addition to your holiday Dessert table!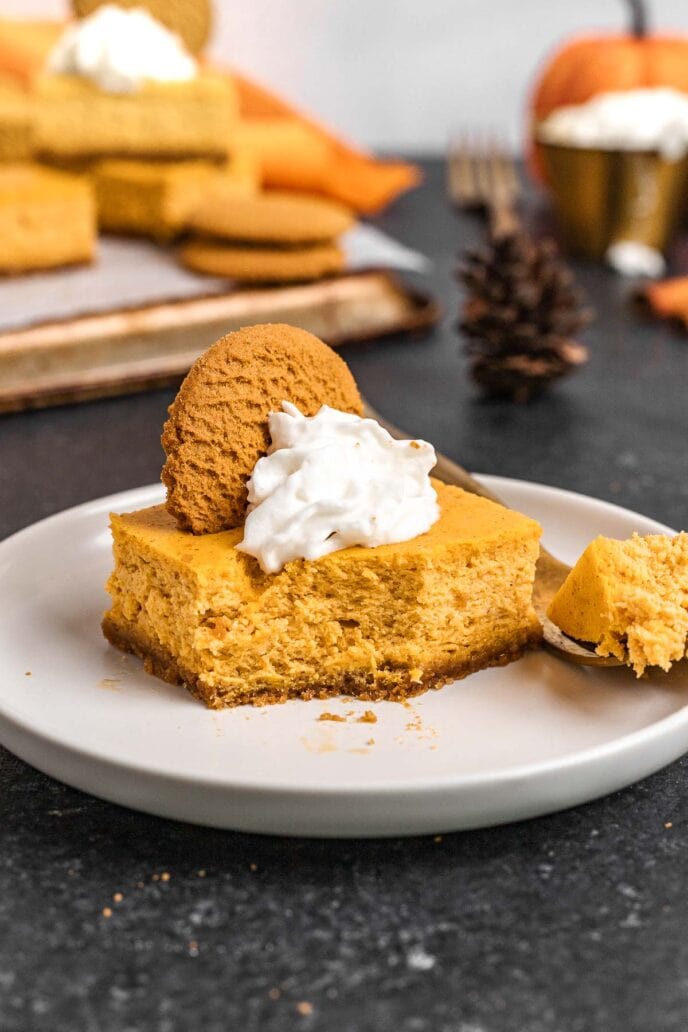 The next time you are craving a creamy classic cheesecake but don't want the hassle, skip the bakery and make cheesecake bars instead. Pumpkin Cheesecake Bars have all the creaminess and pumpkin flavor you love in a delicious Pumpkin Cheesecake without the water bath or long wait time. Plus they'd be great for a party. You can easily take these bars on the go!
These Pumpkin Cheesecake Bars are a great treat to make for gifting or for your holiday dessert table. They are so easy to make with some pantry ingredients you are sure to have on hand. The gingersnap crust gives this pumpkin dessert an extra special holiday flavor, but you can always swap them out with graham crackers or other cookies you have in the cupboard.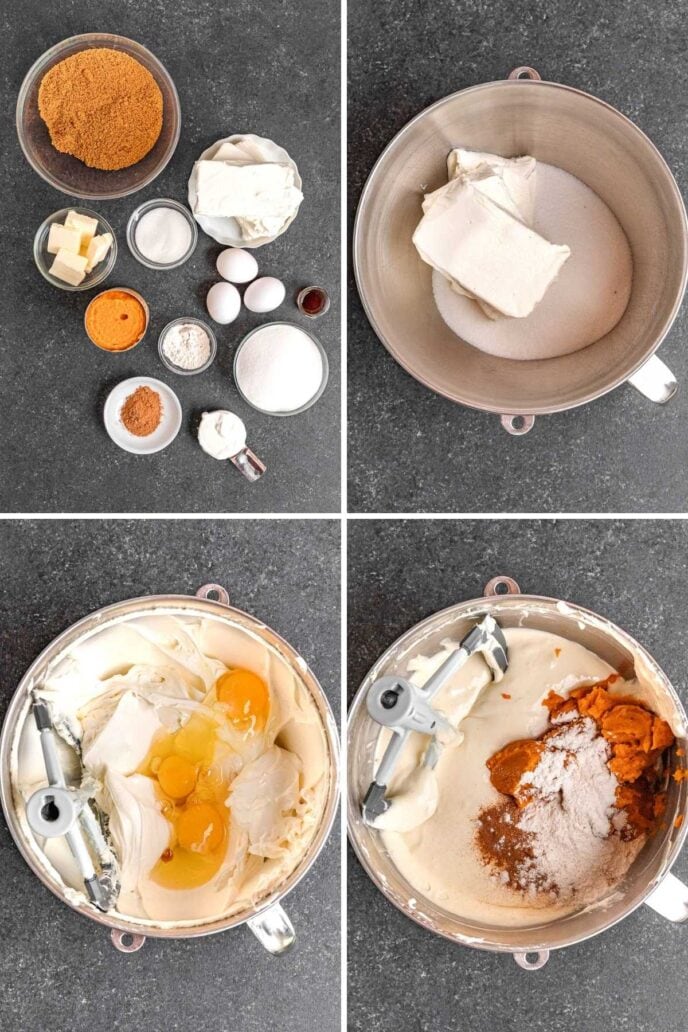 If your Pumpkin Cheesecake Bars crack, or you just want another layer of sweet goodness, top the cheesecake layer with a Cream Cheese Frosting or a sauce after they are cooled. Spread a layer of Chocolate Ganache or Salted Caramel Sauce over the cooled cheesecake and chill until firm before cutting into bars.
This Pumpkin Cheesecake Bars recipe calls for canned pumpkin puree, but if you have homemade Pumpkin Puree on hand you should use that instead! Be sure to drain any excess liquid out of the homemade puree before using. Pumpkin puree is different than pumpkin pie filling, which is already sweetened so be sure to use regular puree!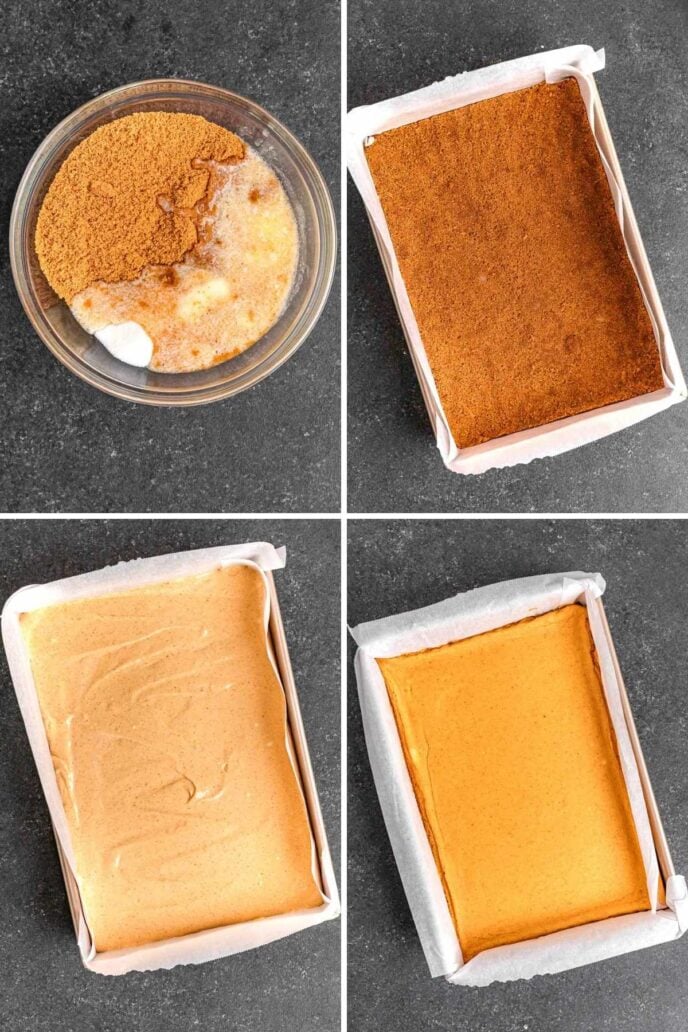 More Delicious Cheesecake Recipes
Prepare Gingersnap Crust: Process gingersnap cookies into fine crumbs and mix with granulated sugar, then add melted butter. Press crumb mixture into a 9×13 baking pan coated with baking spray.
Pumpkin Cheesecake Filling: In a stand mixer, or with a handheld mixer, beat cream cheese and sugar until light and fluffy. Lower the speed to medium and add in the eggs, sour cream, and vanilla until smooth. Then add in the pumpkin puree, flour, and pumpkin pie spice and mix well.
Bake: Pour the pumpkin mixture into the the prepared baking dish over the crust. Bake at 325 degrees for 40-45 minutes until set and firm. Chill completely before slicing and serving.
More Delicious Cheesecake Recipes
Frequently Asked Questions
How do I know when Pumpkin Cheesecake Bars are done?
When the pumpkin filling is completely set in the middle and the edges are golden brown, your bars are ready to come out of the oven.
Do I need a water bath for Cheesecake Bars?
You do not need to use a water bath when baking these Pumpkin Cheesecake Bars. Because you are using a 9 x 13-inch baking pan, the pumpkin cheesecake mixture will bake at a more even rate and be done sooner than a traditional thicker cheesecake would in a springform pan.
Why is Cheesecake sticking to my knife when sliced?
Cheesecake can be very sticky if sliced when it's not chilled well enough. To prevent turning your bars into a gooey mess, follow these easy tips. Make sure the Pumpkin Cheesecake Bars are well chilled, then dip a sharp knife into hot water to help it glide easily through the cheesecake. Rinse and dip the knife in between each cut to keep them nice and clean.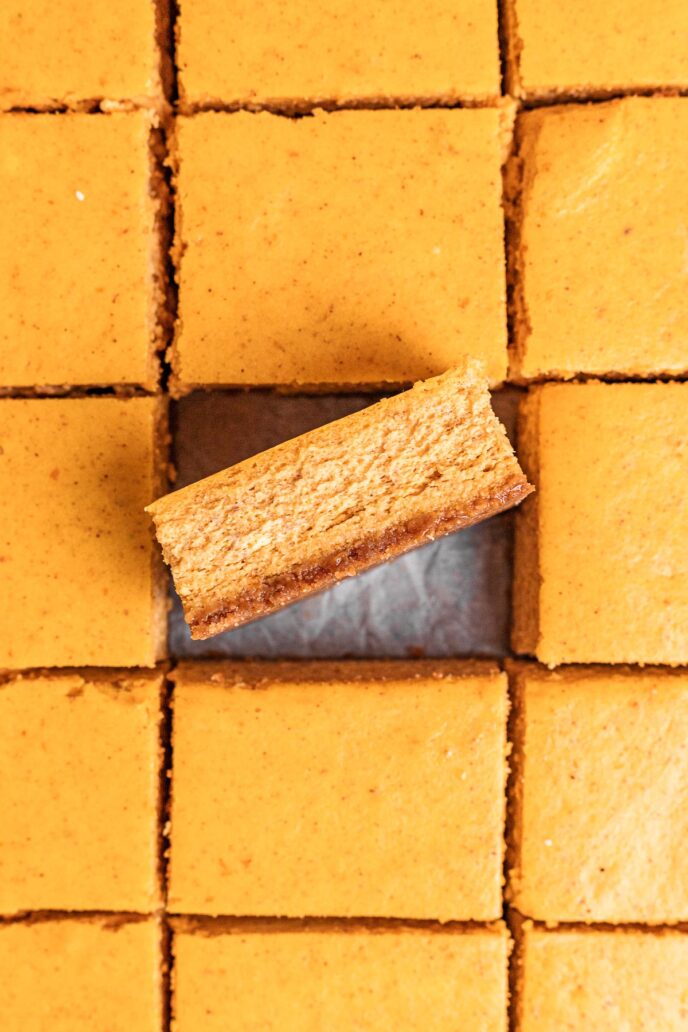 Create a free account to Save Recipes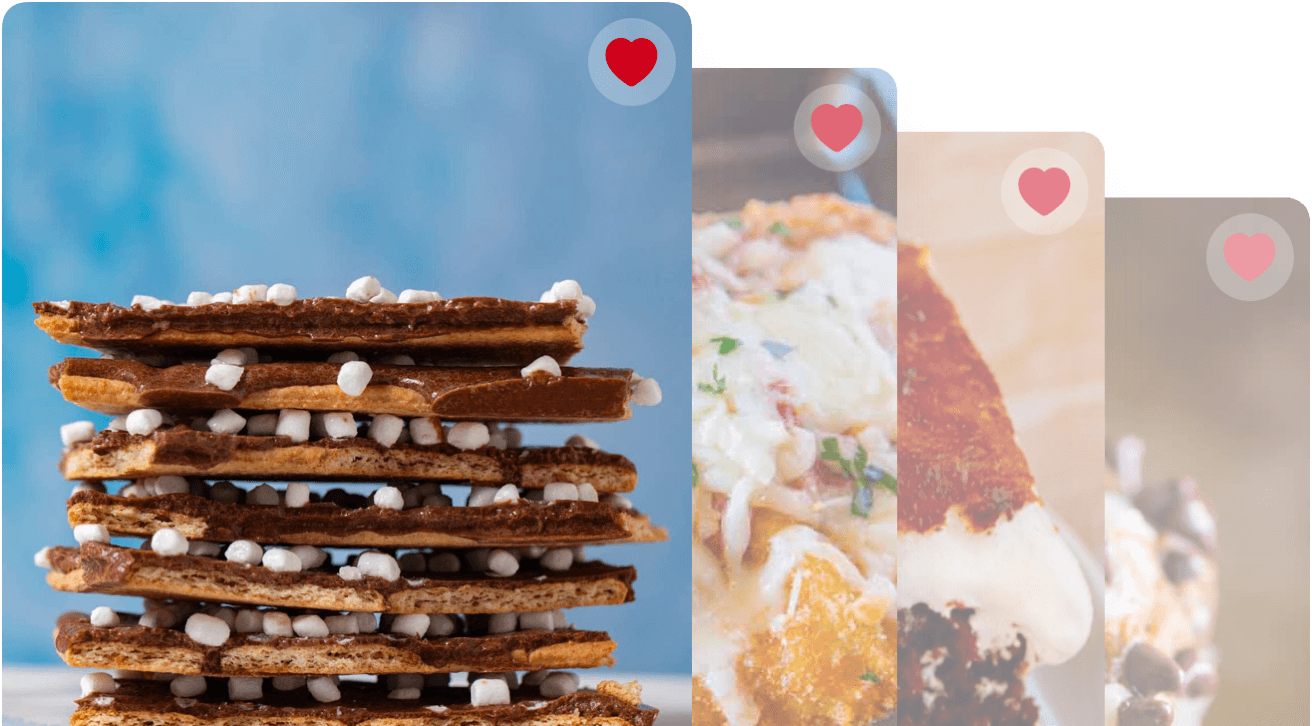 Key Ingredients in Pumpkin Cheesecake Bars
Crust Ingredients: Use your favorite store bought crunchy gingersnap cookies, as long as they're unfrosted. If you don't have a food processor to crush them, you can break the cookies into small pieces and run them through a blender. Or simply put them in a sturdy plastic bag and crush them well with a rolling pin. Adding white sugar and melted butter will create a crumbly mixture that you can press into your baking pan to create a delicious spiced cookie crust without extra ingredients.
Cheesecake Base: The base of the cream cheese filling is a classic cheesecake recipe using cream cheese, granulated sugar, eggs, sour cream, vanilla, and flour. Make sure to use full fat cream cheese and sour cream, and let your ingredients come to room temperature before mixing so that your dessert bars are nice and smooth.
Pumpkin Puree: Pumpkin puree gives these holiday treats their signature seasonal flavor. If you are using homemade puree made from fresh pumpkin, make sure to strain as much liquid as possible so that it is not watery. If using canned pumpkin, make sure to buy pure pumpkin puree and not pumpkin pie filling, which has extra sugar and spices already mixed in.
Pumpkin Pie Spice: It's easy to make your own homemade Pumpkin Pie Spice using cinnamon, nutmeg, ginger, and allspice. Or use a store bought pumpkin spice mix to save time.
Can Pumpkin Cheesecake Bars be Made Ahead?
Pumpkin Cheesecake Bars are a great dessert for a crowd during the holidays, and this recipe makes a big batch! You can prep the cheesecake filling ahead of time. Just spread it over the crust before covering and refrigerating overnight. Bake for an extra 5-10 minutes until the filling is set. Cut cheesecake bars into bite-sized pieces for even more servings.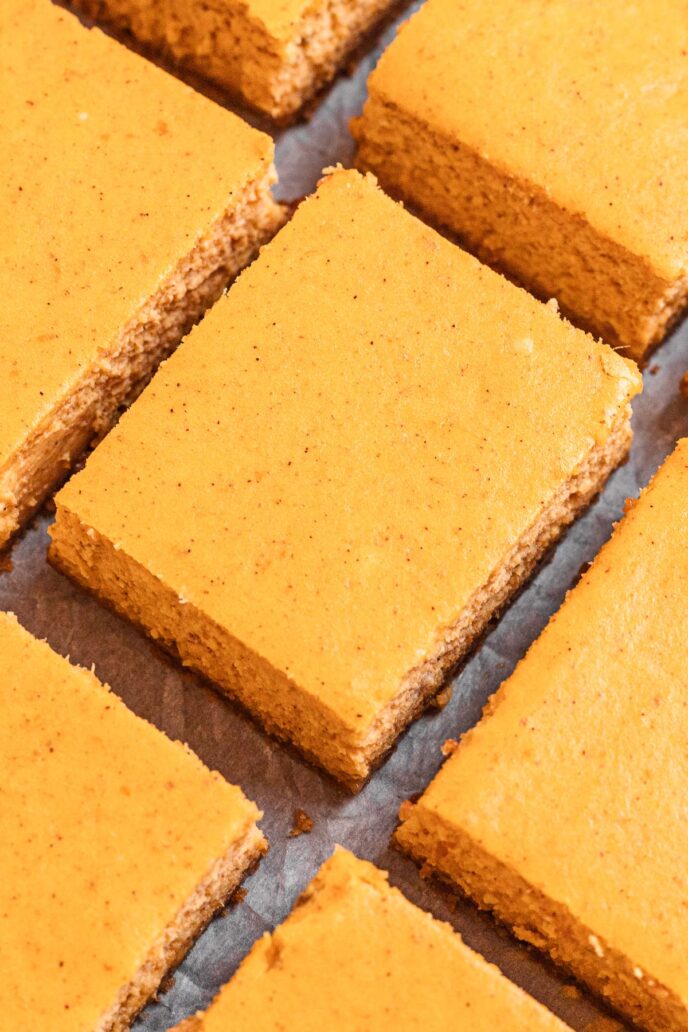 Variations on Pumpkin Cheesecake Bars
Cookie Crust: Make a regular Graham Cracker crust if you don't have gingersnap cookies. You can also try cookies like Nilla wafers, Oreos, chocolate graham crackers, or hard chocolate chip cookies. Try a shortbread crust with leftover Shortbread Cookies too!
Chocolate Chips: Add chocolate chips to the cheesecake mixture. Try dark chocolate chips, white chocolate chips, or semi-sweet chocolate chips. Use ½ cup total, dividing chocolate chips between the batter and sprinkling half on top before baking.
Cranberries: Dried cranberries and pumpkin are a great flavor combination for the holidays! Fold ¼ cup dried cranberries into the cheesecake filling and top the pumpkin cheesecake layer with more cranberries. Add white chocolate chips for the ultimate holiday flavored treat!
Cheesecake Cups: Instead of a baking dish, make individual Pumpkin Cheesecakes. Line a 12 cup muffin tin with paper liners. Divide gingersnap crust into each muffin cup and press into bottom. Fill each cup with cheesecake filling and bake for 20-25 minutes, until filling is set.
Mini Cheesecake Parfaits: For a different presentation, use this recipe to make mini Pumpkin Cheesecake Parfaits in small clear shot glass style cups. Bake the pumpkin cheesecake mixture without the crust and let cool. Crush the gingersnap cookies and leave out the other crust ingredients. Layer small spoonfuls of the crushed cookies, baked pumpkin filling, and whipped cream, until you fill the cup, topping with whipped cream and diced candied ginger. This makes a fun individual dessert for a holiday pot luck.
Toppings: Serve your Pumpkin Cheesecake Bars with tasty toppings like Whipped Cream, Hot Fudge Sauce, or Vanilla Ice Cream. Dust with cinnamon or freshly grated whole nutmeg for a beautiful finish that adds another layer of pumpkin spice flavor. You can also use whole or broken gingersnap cookie pieces on top for extra crunch!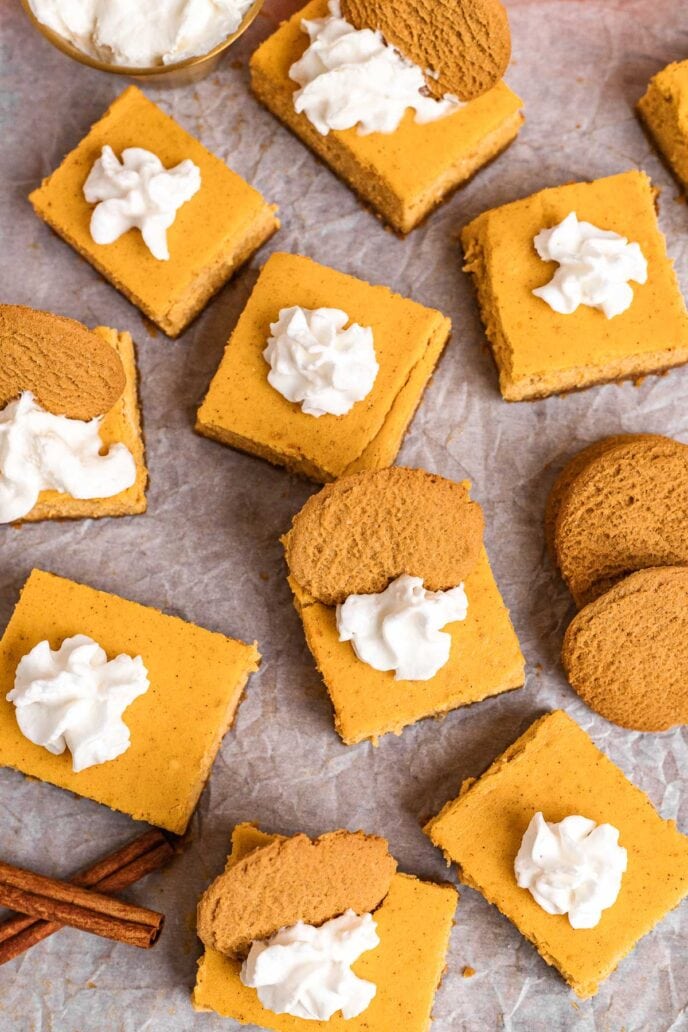 More Delicious Pumpkin Recipes
How to Store Pumpkin Cheesecake Bars
Serve: You can keep Pumpkin Cheesecake Bars at room temperature for up to 2 hours before refrigerating them.
Store: Store Pumpkin Cheesecake Bars in an airtight container in the refrigerator for up to 1 week. Bring Cheesecake Bars to room temperature (about 30 minutes) to soften and serve.
Freeze: Once Pumpkin Cheesecake Bars are cool, cut into squares and freeze in a sealed container. Use parchment paper between layers to keep from sticking and thaw at room temperature to serve.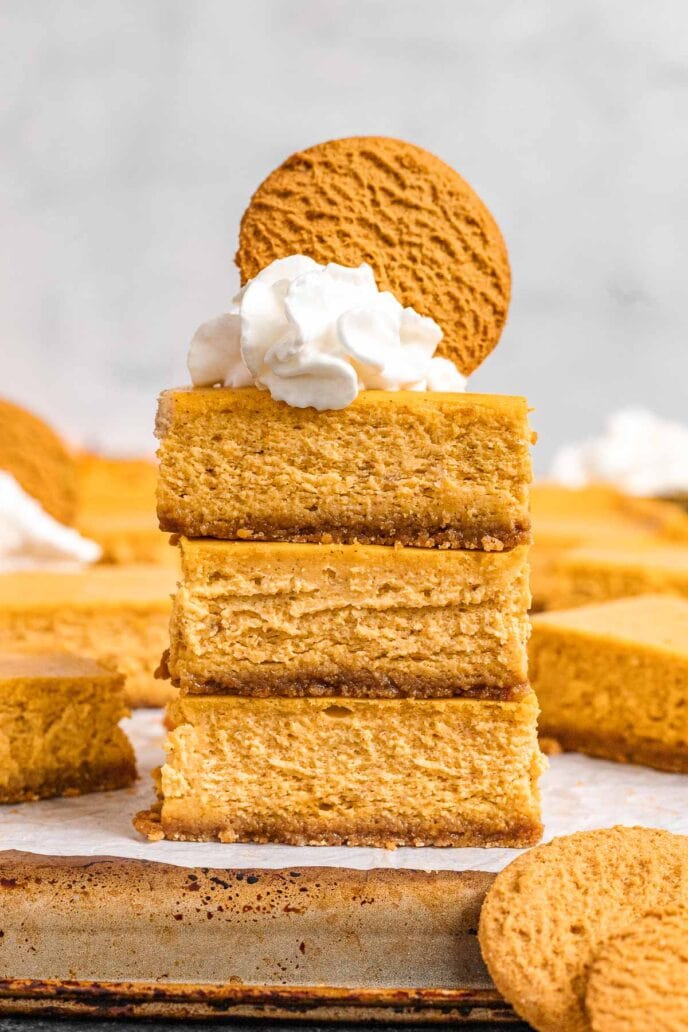 Ingredients
Ginger Snap Crust
1 1/2

cups

gingersnap cookies

, processed into crumbs (about 8 ounces)

1/4

cup

sugar

1/3

cup

unsalted butter

, melted
Pumpkin Cheesecake Filling
Instructions
Preheat oven to 325 degrees and spray a 9×13 inch baking dish with baking spray.

Mix the ginger snap crumbs, sugar and melted butter together then press it into the baking dish in an even layer.

To your stand mixer add the cream cheese and sugar, beat on high speed until light and fluffy.

Lower the speed to medium and add in the eggs, sour cream, and vanilla until smooth.

Add in the pumpkin puree, flour, and pumpkin spice until well mixed.

Carefully spread mixture on the crust and bake for

40-45 minutes

, until set and firm.

Chill completely before serving.
Nutrition
Calories:
249
kcal
|
Carbohydrates:
33
g
|
Protein:
5
g
|
Fat:
12
g
|
Saturated Fat:
6
g
|
Polyunsaturated Fat:
1
g
|
Monounsaturated Fat:
3
g
|
Trans Fat:
1
g
|
Cholesterol:
59
mg
|
Sodium:
201
mg
|
Potassium:
193
mg
|
Fiber:
1
g
|
Sugar:
24
g
|
Vitamin A:
4051
IU
|
Vitamin C:
1
mg
|
Calcium:
80
mg
|
Iron:
1
mg