This classic Trail Mix is the best sweet and salty snack recipe with peanuts, almonds, M&M candies, dried cranberries, and yogurt raisins.
Sweet and salty treats like Granola Bars, Mixed Nut Clusters, and this Classic Trail Mix are easy delicious Snacks for parties, lunch boxes, and road trips!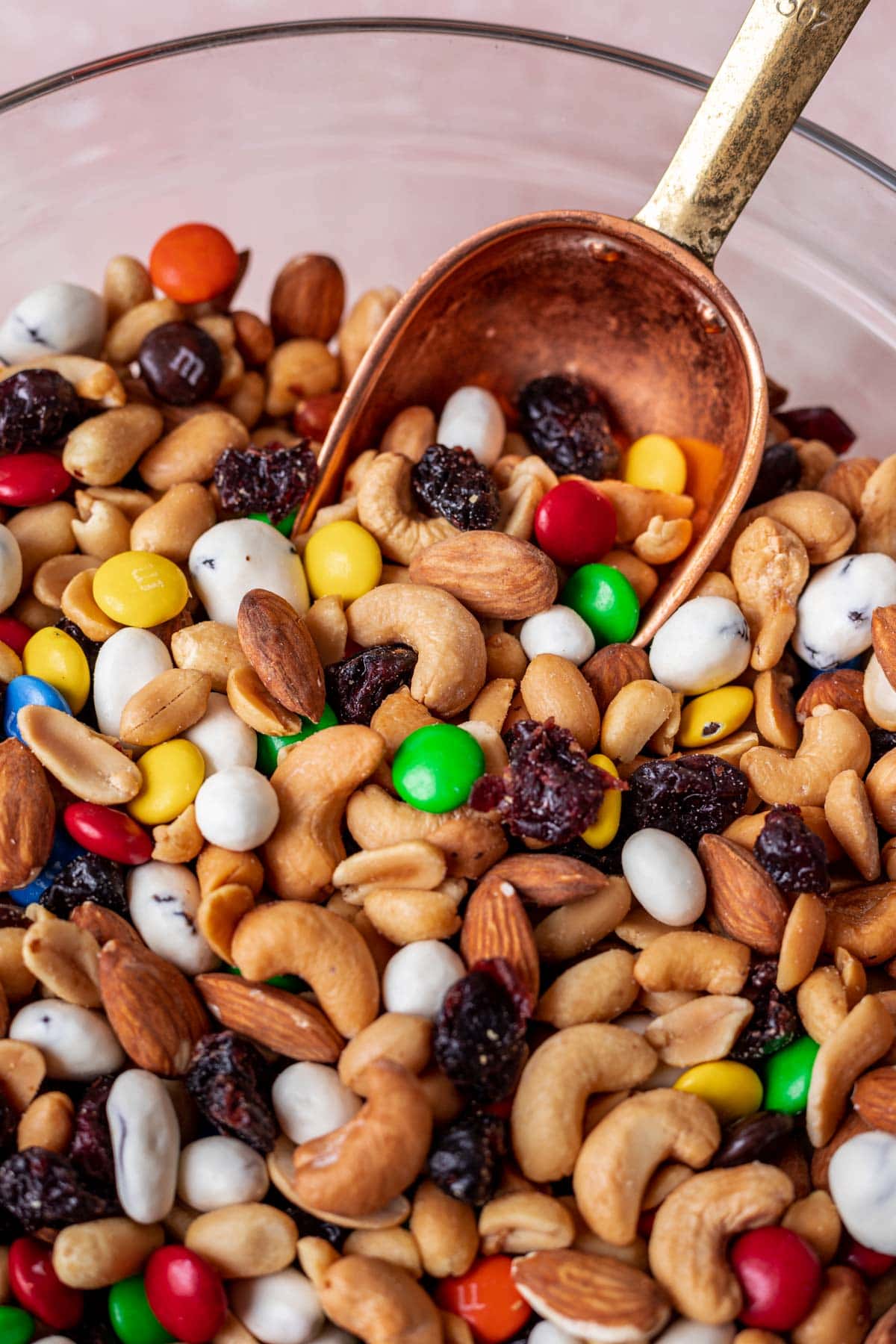 The secret to great Trail Mix is having the perfect blend of salty and sweet, chewy and crunchy, healthy food and treats! There are so many combinations of nuts, candy, and dried fruit you can make for a healthy, protein packed snack but this is the traditional Trail Mix recipe we all grew up on. Whether you want to serve it for parties, take it hiking, or pack it for road trips, a handful of trail mix is the perfect snack for everywhere you go.
This old-school blend has right balance of crunchy, salty nuts and chewy raisins and cranberries, plus the added sweetness of candy-coated chocolate candies.There's no baking or extra time to make this Classic Trail Mix, just dump the ingredients in a bowl and stir then serve. The simple ingredients are found at most stores and can easily be altered. To make this recipe extra special, there are yogurt covered raisins but you can use plain ones to keep it traditional. You can also make homemade yogurt raisins with the quick recipe included with this post.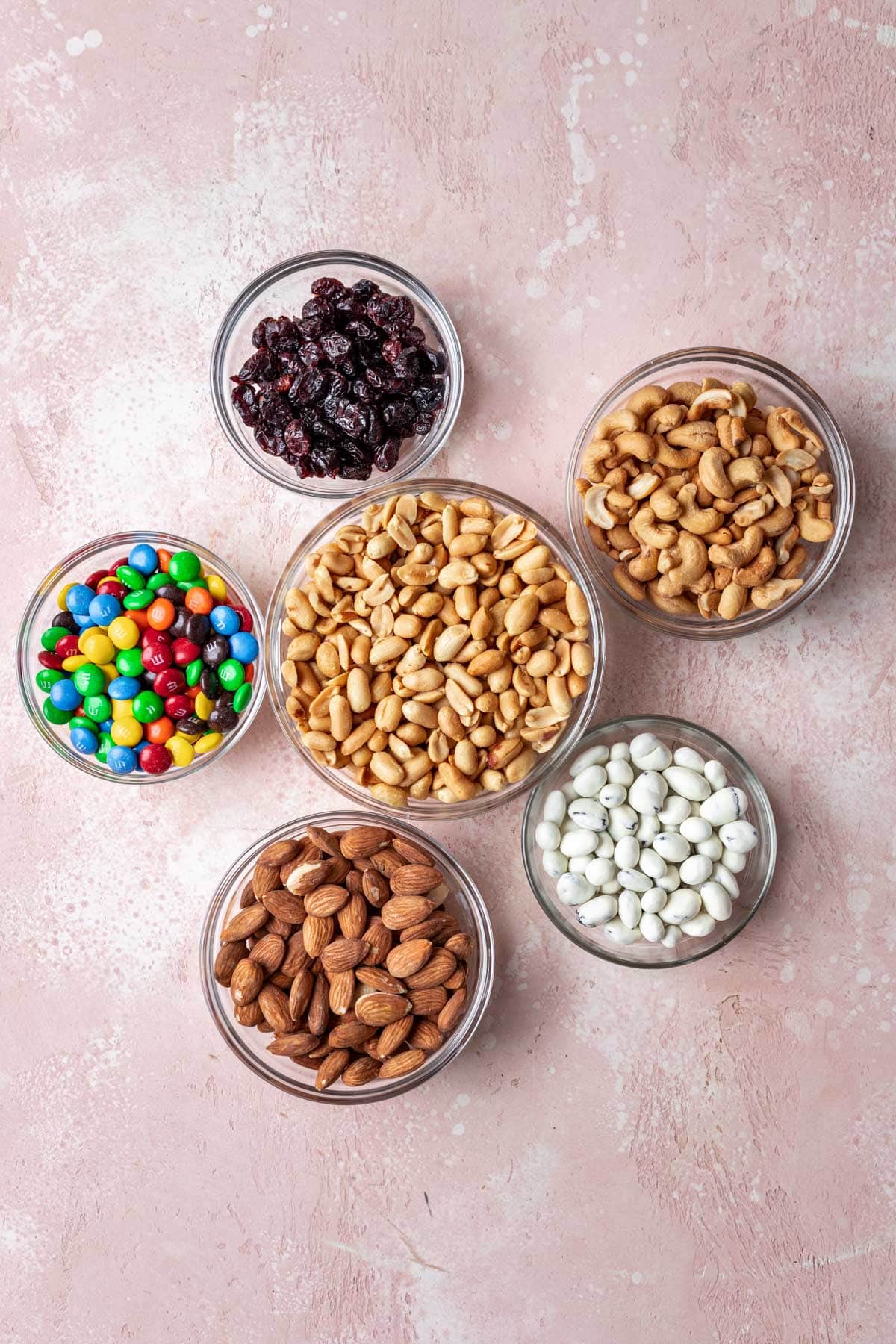 One of the key parts of trail mix is the protein packed, energy boosting mixed nuts. Some recipes use just peanuts or peanuts and cashews, but this recipe includes almonds for lots of variety and flavor. The 4 cups of peanuts, plus 2 cups each almonds and cashews can seem like a lot, but with about ¼ cup servings it's actually a budget friendly snack recipe. You can keep large batches in the refrigerator or freezer for maximum freshness and have a cheap, tasty snack ready to throw together all year long.
Keep trail mix on hand for a quick party snack instead of Chex Mix, or mix it with Cheddar Popcorn for a tasty movie night treat. This Trail Mix makes a great, easy edible gift during the holidays too! Mix the nuts, fruit, and candy together really well and scoop it into pint sized jars, or you can layer each ingredient for a prettier look. Tie some twine and pine cones for a "mountain" look. A tag with a cute hiking pun or nature quote finishes off a unique, thoughtful gift everyone will love snacking on.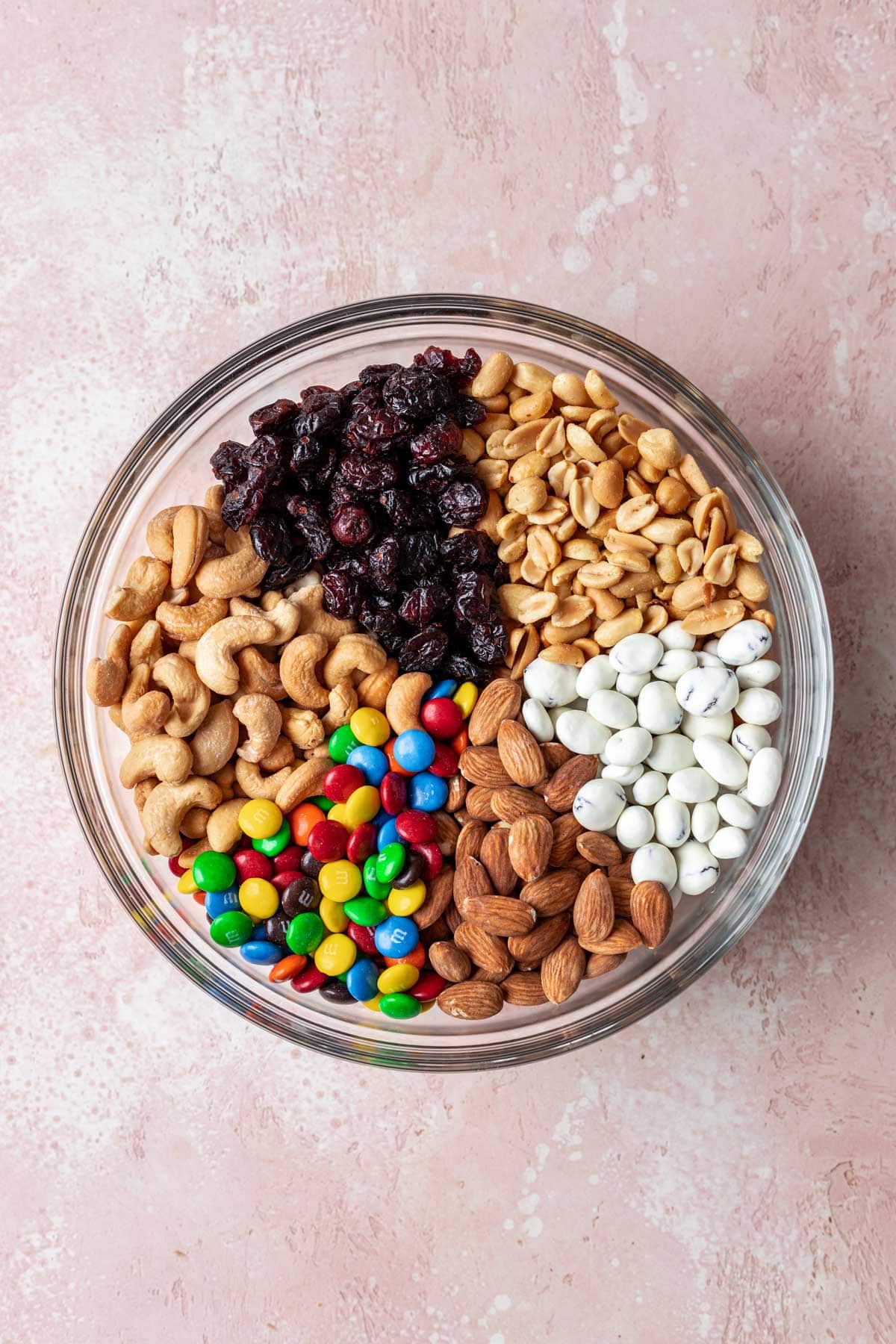 Why You Should Make Homemade Trail Mix
Making your own Trail Mix is much less expensive in the long run than buying bags of pre-made mixes. You can buy the separate ingredients in bulk bins to cut costs or just use what you have on hand. Plus homemade trail mix is a great way to switch up the flavors to exactly what your family likes. If someone has a peanut allergy or tree nut allergy, you can swap out the peanuts, cashews, and almonds, with sunflower seeds, pretzels, or other crunchy snacks. Kids don't like cranberries or raisins? Trade them for their favorite dried fruits. Check out our variations below for more mix-in ideas and Trail Mix flavor combinations.
How to Make Classic Trail Mix
This is probably the simplest snack recipe you will ever make – all you have to do is combine everything in a bowl then portion it out or transfer to a large sealed container!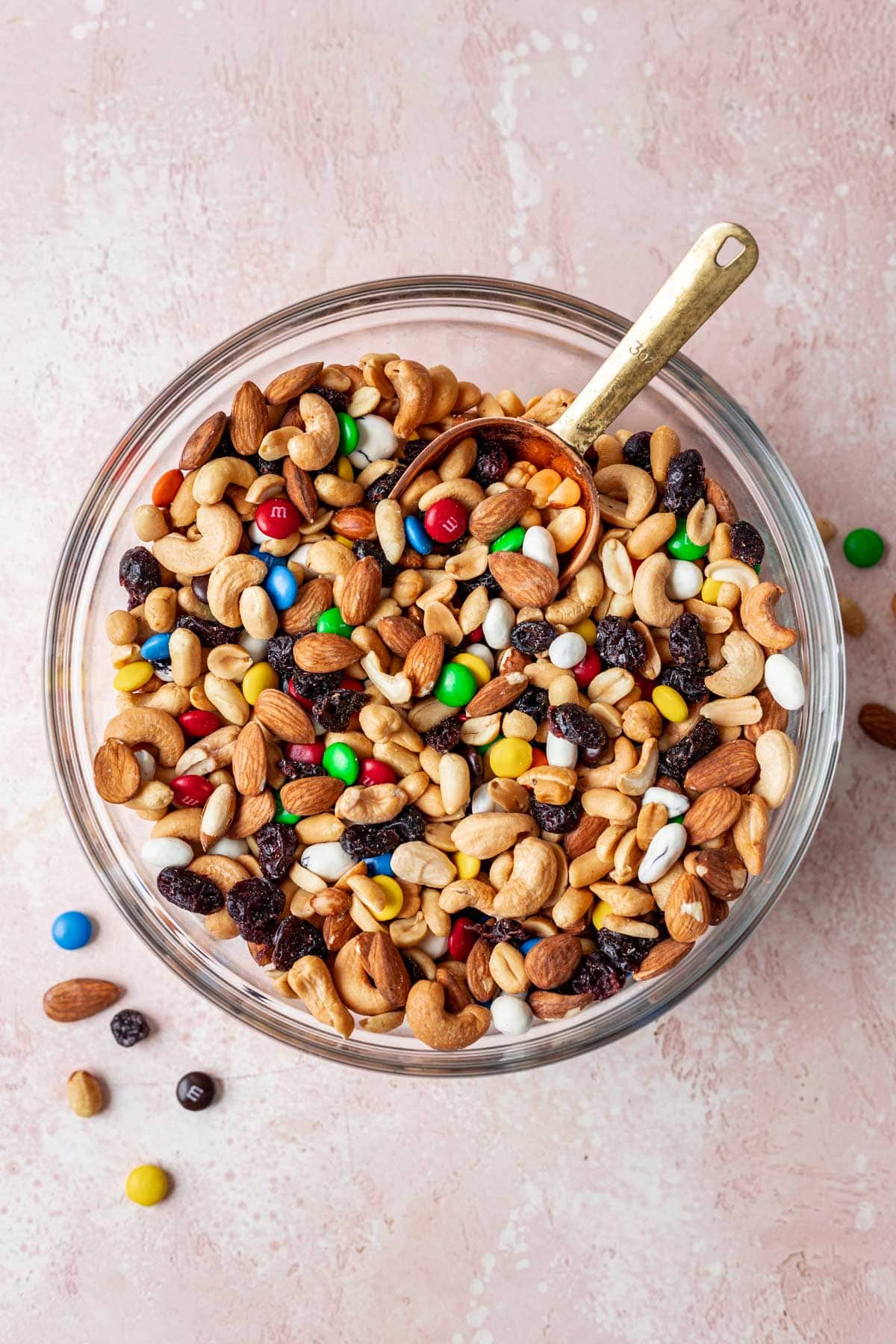 More Tasty Trail Mix Recipes
FAQs for
Classic Trail Mix
What was in the original trail mix?
The origins of trail mix can be traced back to early history, and would have had some mixture of dried meat, berries, and nuts as a portable food source for hunting and travel. The more modern trail mix combination we know today was popularized in the 1960's and originally just had peanuts and raisins, and sometimes oats.
What should go in a trail mix?
A good trail mix is going to have a balance of healthy fats, protein, and some carbohydrates, plus a tasty combination of textures and flavors so you enjoy eating it! Examples of healthy fats and proteins are nuts and seeds, and carbs can come from dried fruit, pretzels, and candies. The most important thing is to choose ingredients that you know you and your family like best.
Is trail mix a healthy snack?
Typically, most trail mix recipes are healthy snacks because the nuts and seeds provide heart healthy fats and are a good source of protein. Since trail mix is usually eaten for a snack during outdoor physical activity, it's a great way to stay full, replenish energy, and even the salt plays a part keeping you hydrated.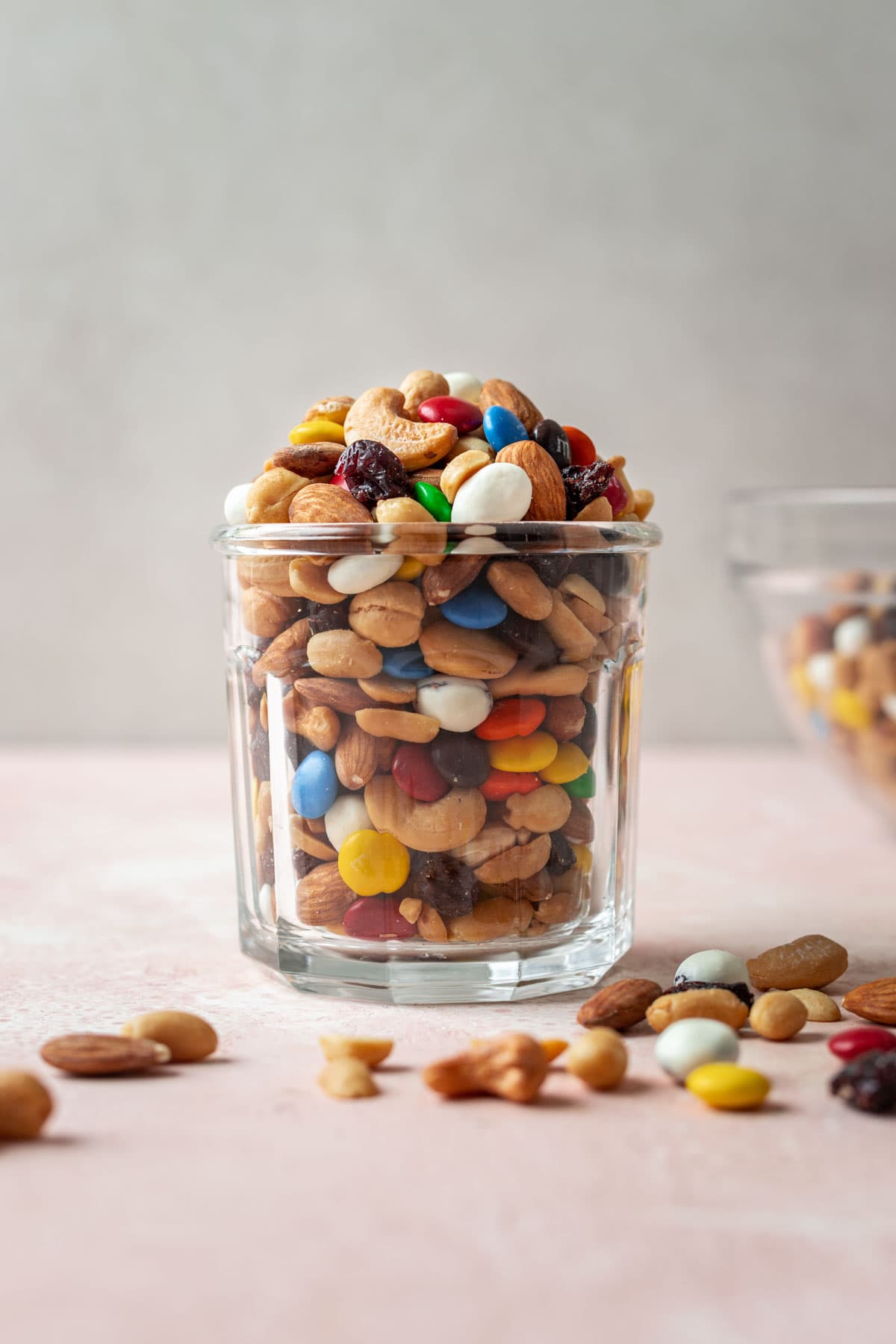 Create a free account to

Save Recipes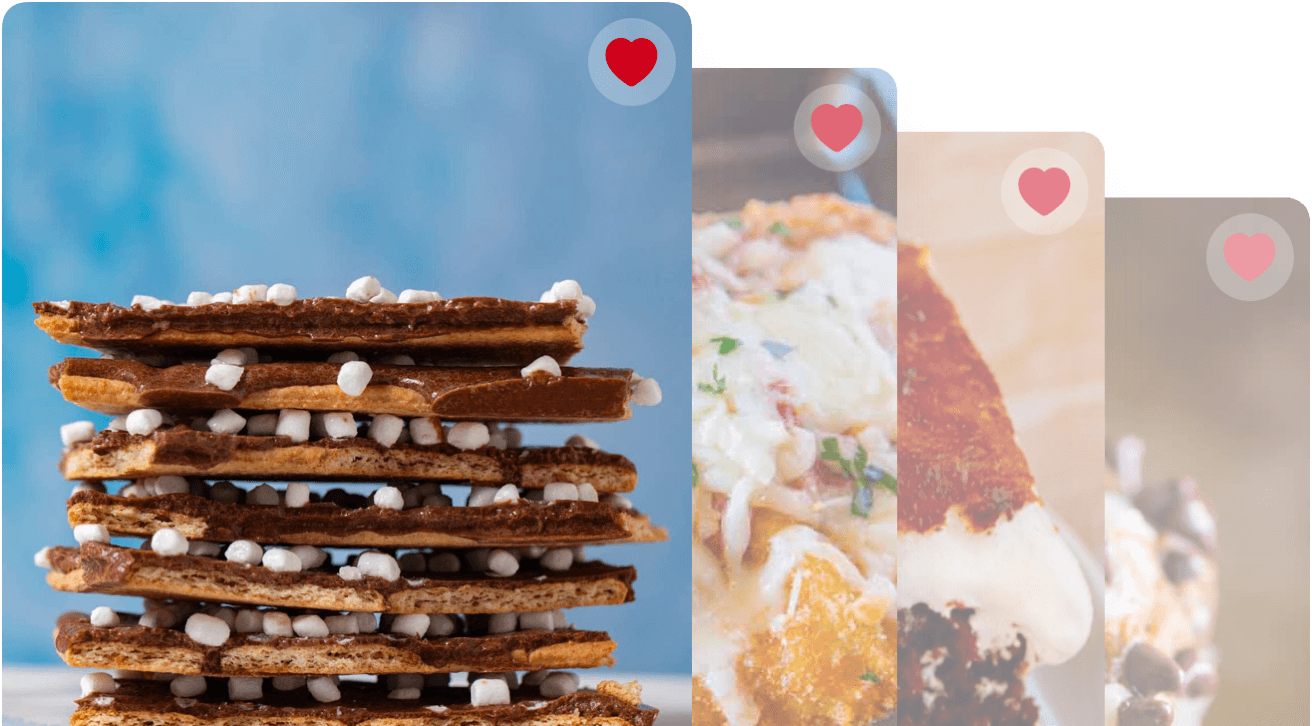 Key Ingredients
Nuts: This mix has three different kinds of nuts so you get lots of variety in nutty flavor and texture. Cashews are creamy and buttery, peanuts are savory and firm, and almonds have a crunchy sweetness. You just need plain, salted nuts or you can toast them to bring out even more of their natural flavors.
Dried Fruit: Normally a Classic Trail Mix would have cranberries and raisins, but this recipe has extra special yogurt raisins. The yogurt sneaks in a little extra protein plus a creamy, sweet vanilla flavor. If you want to make your own, there are instructions later in this post.
Candy: Colorful candy coated chocolates are an iconic part of any old-school mix! Kids and kids at heart love the bright candy shells peeking out in the sea of healthier ingredients, it's like a treat within a treat! You can use the classic milk chocolate kind, or pick up whatever flavor you like best.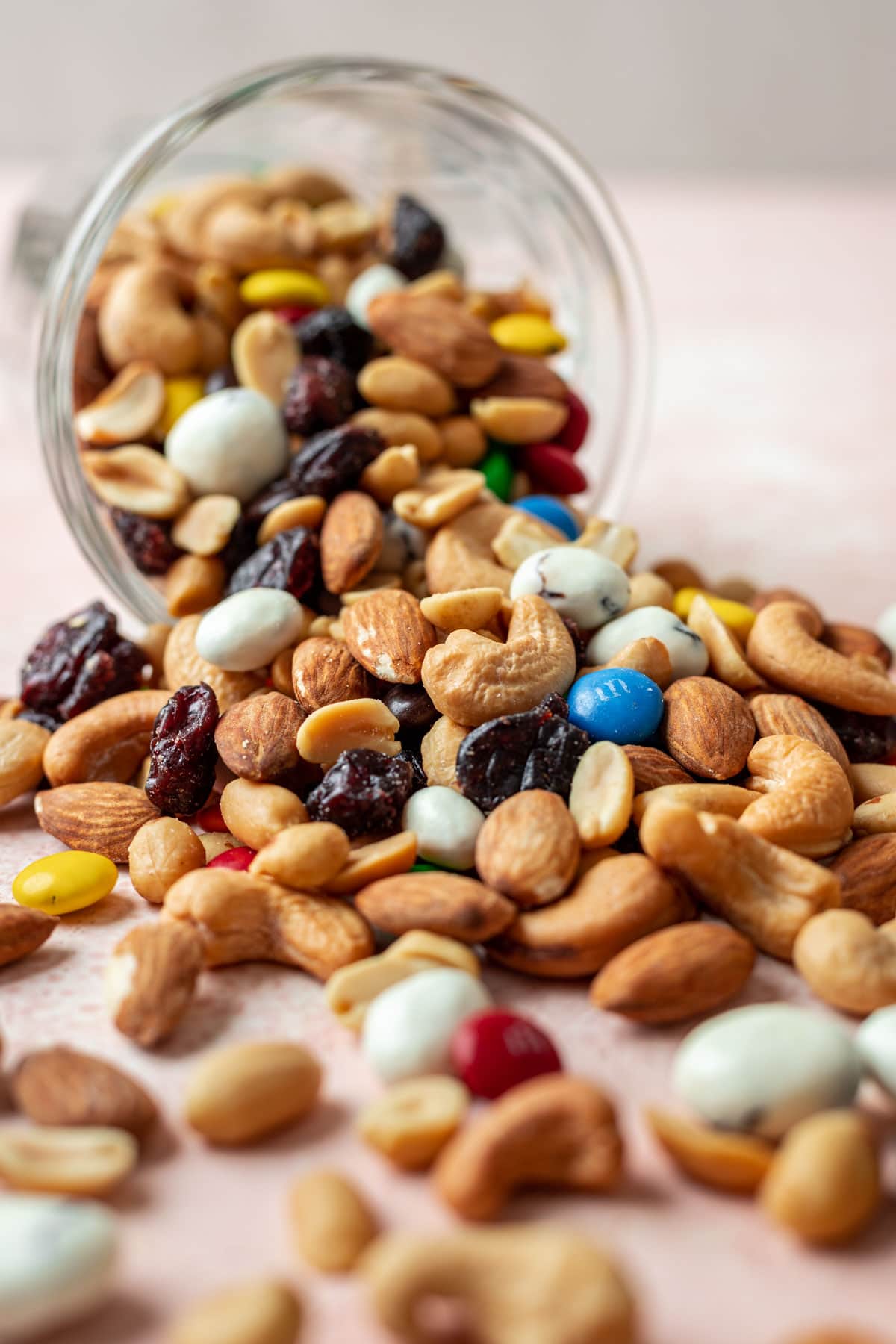 Variations
Nuts and Seeds: If you aren't a fan of peanuts, you can reduce to 2 cups peanuts and increase the other nut amounts or swap in nuts and seeds like sunflower seeds, pumpkin seeds, macadamia nuts, or pistachios. During the holidays, throw in some leftover chopped Candied Pecans.
Crunchy Mix-Ins: Head over to the bulk foods section and pick up other crunchy, healthy mix-ins like dried peas, corn nuts, dried corn, or pretzel sticks. Add a little indulgent flavor with Kettle Corn or Chocolate Covered Pretzels.
Candy: Other candies that work well in Trail Mix are peanut butter chips, white chocolate chips, Reese's Pieces, Mini Hershey Kisses, chopped chocolate bars, or other small chocolate candy.
Cereal: Add your favorite crunchy cereal to your trail mix like granola clusters, Chex, Cocoa Puffs, Fruit Loops, Peanut Butter Crunch, Lucky Charms (with the marshmallow bits!), or Grape Nuts.
Dried Fruit: You can swap or add other dried fruit like banana chips, apple pieces, crystallized ginger, dried pineapple, dried cherries, dried apricots, dried mangos, or dates.
Peanut Butter and Jelly: Make Peanut Butter and Jelly Trail Mix by swapping the M&Ms and Raisins with with Reeses Pieces, peanut butter baking chips, and dried strawberries or cherries.
S'Mores Trail Mix: Replace the cashews with Teddy Grahams, swap the cranberries for mini marshmallows, and add ½ cup dark chocolate chips or chocolate chunks.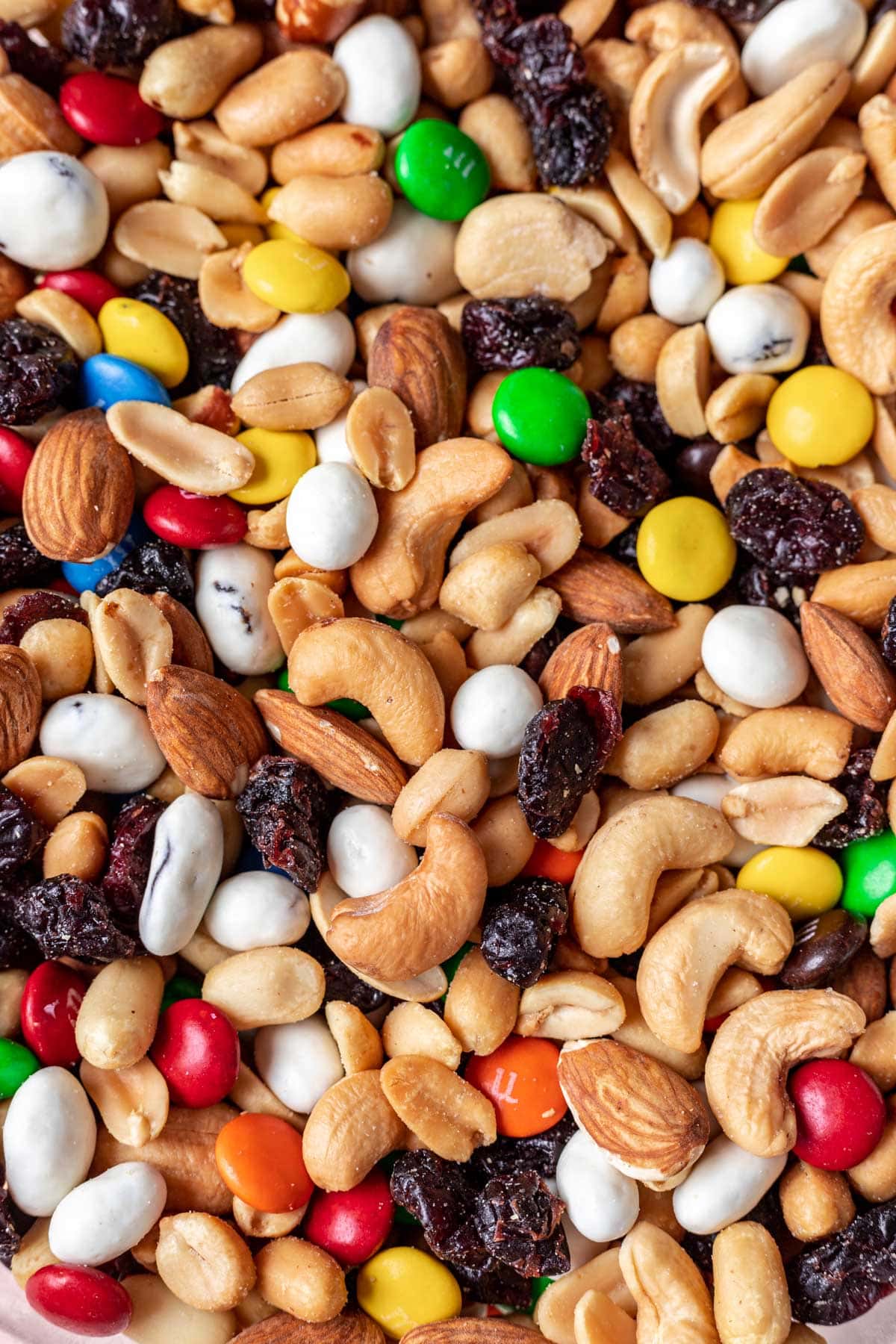 Homemade Yogurt Covered Raisins
In a large mixing bowl, mix together 1 cup vanilla yogurt (or strawberry yogurt) with 2 ½ cups powdered sugar until smooth.
Cover a baking sheet with parchment paper.
Add 1 cup raisins or dried cranberries (or other dried fruit) to the yogurt mixture and stir to coat.
Remove raisins with slotted spoon, tapping off excess, and spread in single layer on baking sheet.
Allow to harden for 3-4 hours and then add to your trail mix. Store in the refrigerator or freezer.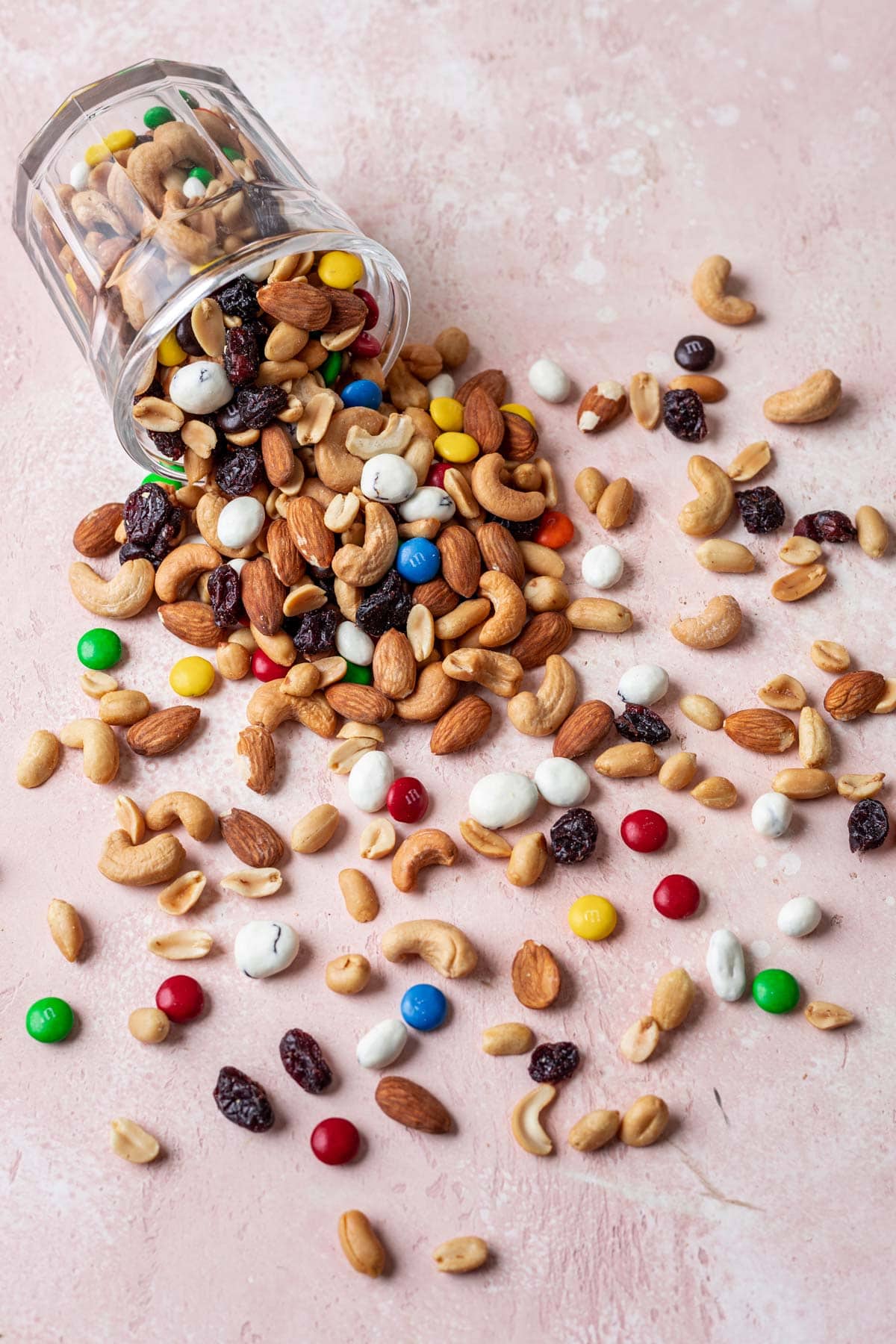 More Easy Salty and Sweet Snacks
How to Store
Serve: You can keep Classic Trail Mix at room temperature in airtight containers, like plastic zippered bags, for up to 1 month at room temperature.
Store: Store your trail mix longer in the refrigerator in an airtight container for up to 2 months. Keep the moisture low and layer a paper towel between trail mix and lid.
Freeze: Divide the mixture evenly between sealed containers and freeze up to 1 year. To prevent frostbite or ice from forming, store Trail Mix in small freezer safe bags, squeeze out as much air as you can, and store sealed bags in a larger container or plastic bag.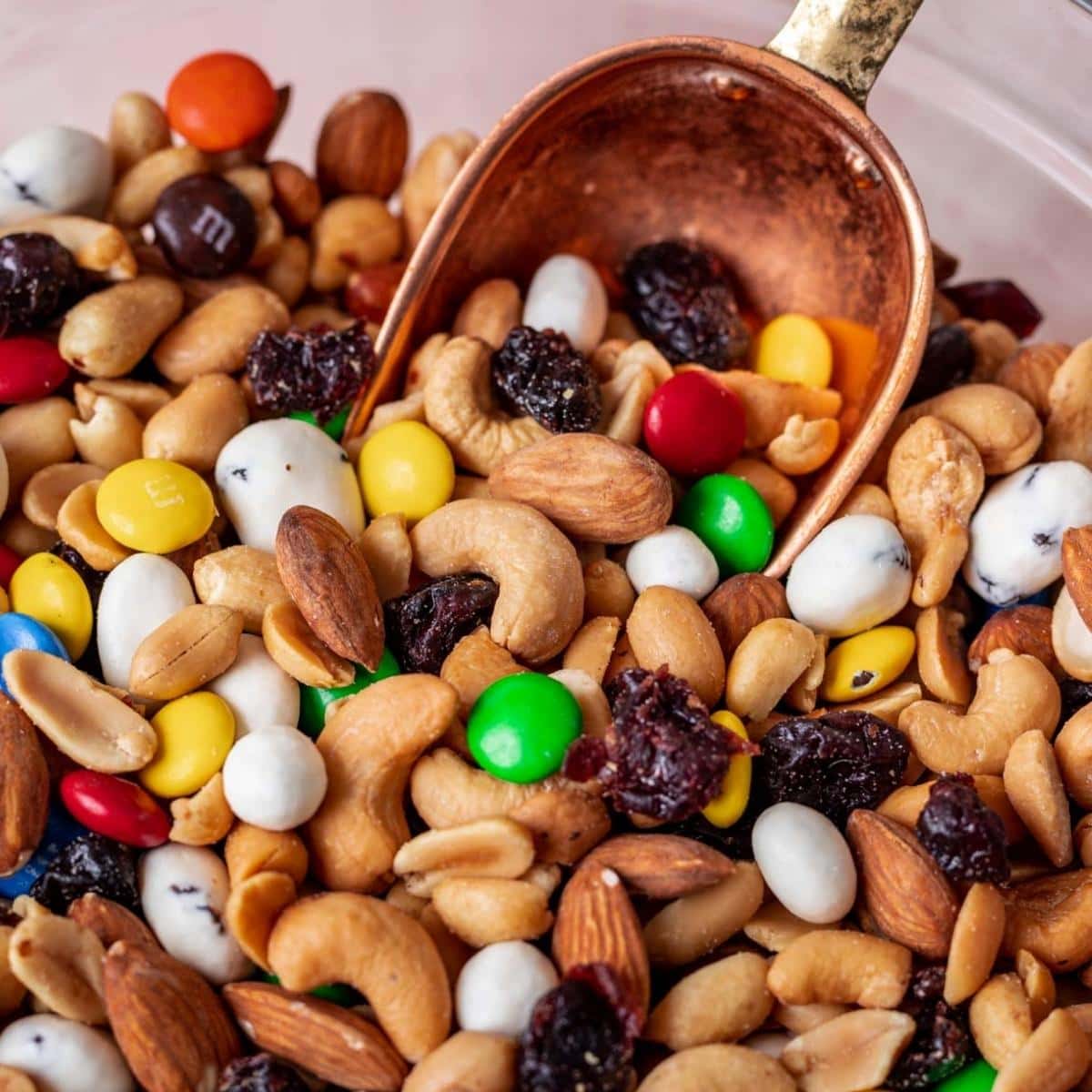 Ingredients
4

cups

salted peanuts

2

cups

roasted almonds

2

cups

salted roasted cashews

1 1/2

cup

m&m candies

1

cup

dried sweetened cranberries

1

cup

yogurt covered raisins
Instructions
Mix all the ingredients together in a large bowl and store in an airtight container.
Nutrition
Calories:
257
kcal
|
Carbohydrates:
19
g
|
Protein:
8
g
|
Fat:
18
g
|
Saturated Fat:
4
g
|
Trans Fat:
1
g
|
Cholesterol:
1
mg
|
Sodium:
127
mg
|
Potassium:
252
mg
|
Fiber:
3
g
|
Sugar:
11
g
|
Vitamin A:
24
IU
|
Vitamin C:
1
mg
|
Calcium:
55
mg
|
Iron:
1
mg