Kettle Corn is the ultimate sweet and salty treat perfect for an at-home movie night made with a sugar coating and a sprinkling of salt.
When it comes to a delicious Snack or Party Food, it's hard to beat popcorn! Whether it's Caramel, Chicago Mix, or this Kettle Corn the sweet and salty combo is always a favorite with a crowd. Use this recipe to make Homemade Kettle Corn on your stovetop!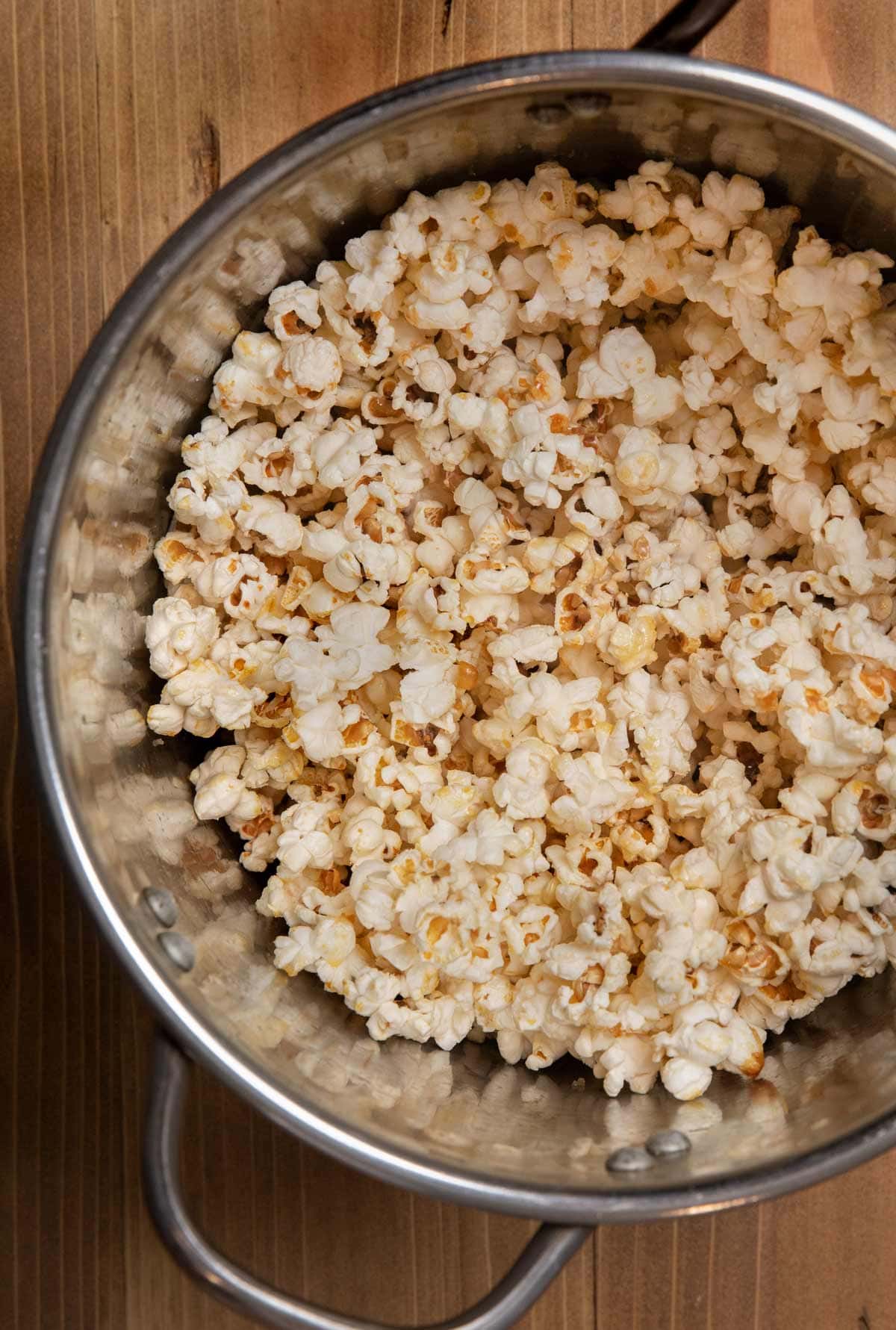 KETTLE CORN
A movie without popcorn just isn't the same, and this easy popcorn recipe is sure to take your at-home-theater to the next level. Made with easy ingredients like vegetable oil, sugar, and salt this is the perfect sweet and salty popcorn that everyone is sure to love!
There's no need for a special popcorn popper or any fancy tools. Stovetop popcorn is easily made with just a large pot. It only takes a few minutes, and you can really tell the difference between popcorn made fresh at home and commercial microwave popcorn. It's more flavorful and the popcorn itself is more light and airy.
Flavored popcorn is perfect for snack time, movie marathons, or family game nights. You can also put this recipe out as a party snack along with other appetizers like Bacon Sugar Smokies and Totchos. They're all easy and delicious crowd favorites!
MORE SNACK RECIPES
TIPS FOR MAKING KETTLE CORN
Heat: Put a large pot over medium heat, and add in the vegetable oil. As the oil heats add in 4 unpopped kernels. Once the kernels pop you'll know the oil is heated enough to start.
Sugar: Use a slotted spoon to remove the popped kernels, and stir in the sugar until it's combined with the oil.
Popping: Add the remaining unpopped kernels of popcorn to the pot and cover it with a lid. Shake the pot well to coat the kernels in the sugar mixture. Place the pot back on the burner. Every 3 seconds take the pot from the heat and shake it well to stir the popcorn. Then put it back on the burner and repeat. It should be done popping when there are 2-3 seconds between each pop. Usually, this will take between 2 to 4 minutes.
Serve: Uncover and sprinkle popcorn with salt. Cover and shake once more. Give the finished popcorn a little time to cool before you serve it.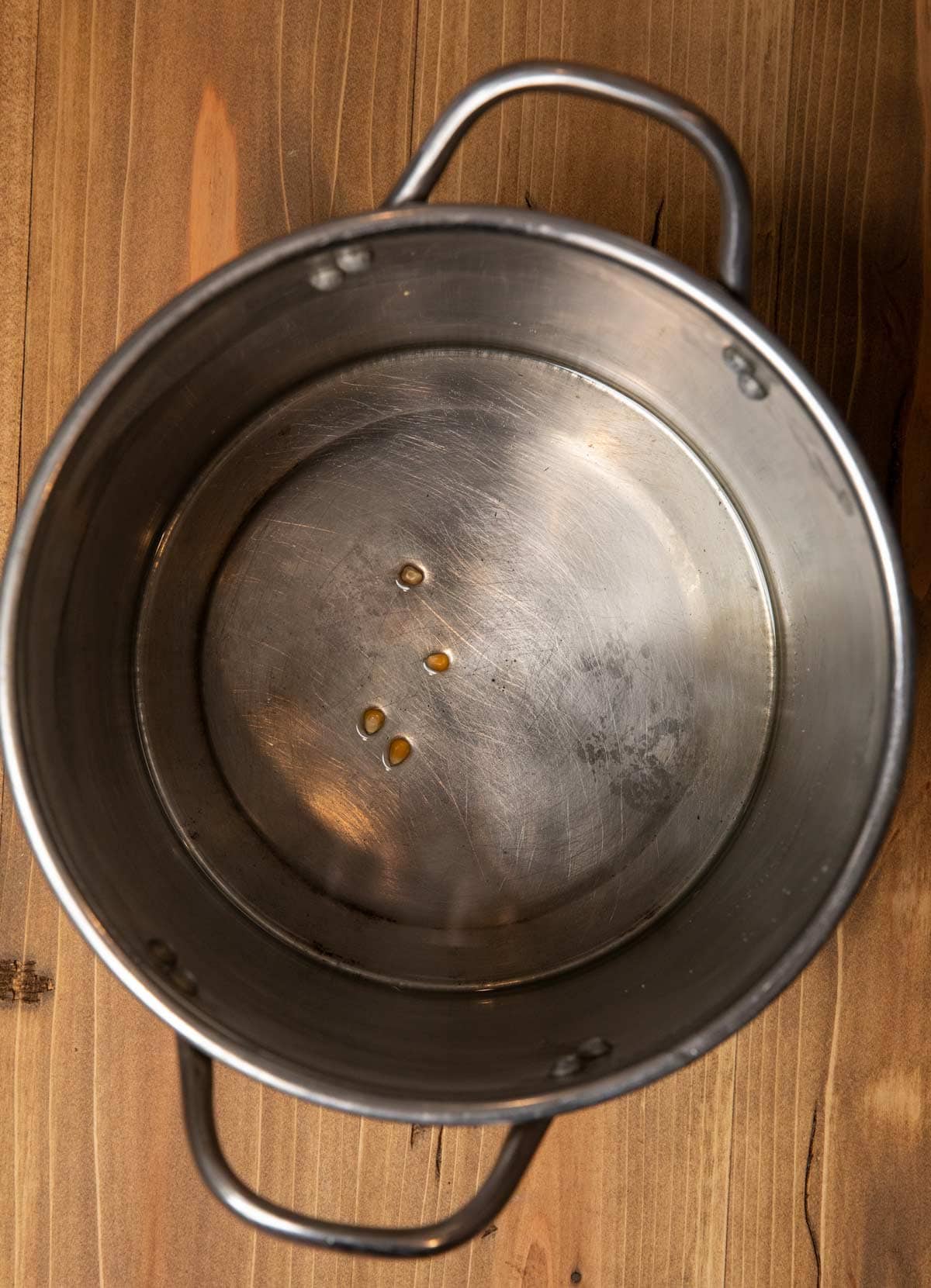 Create a free account to

Save Recipes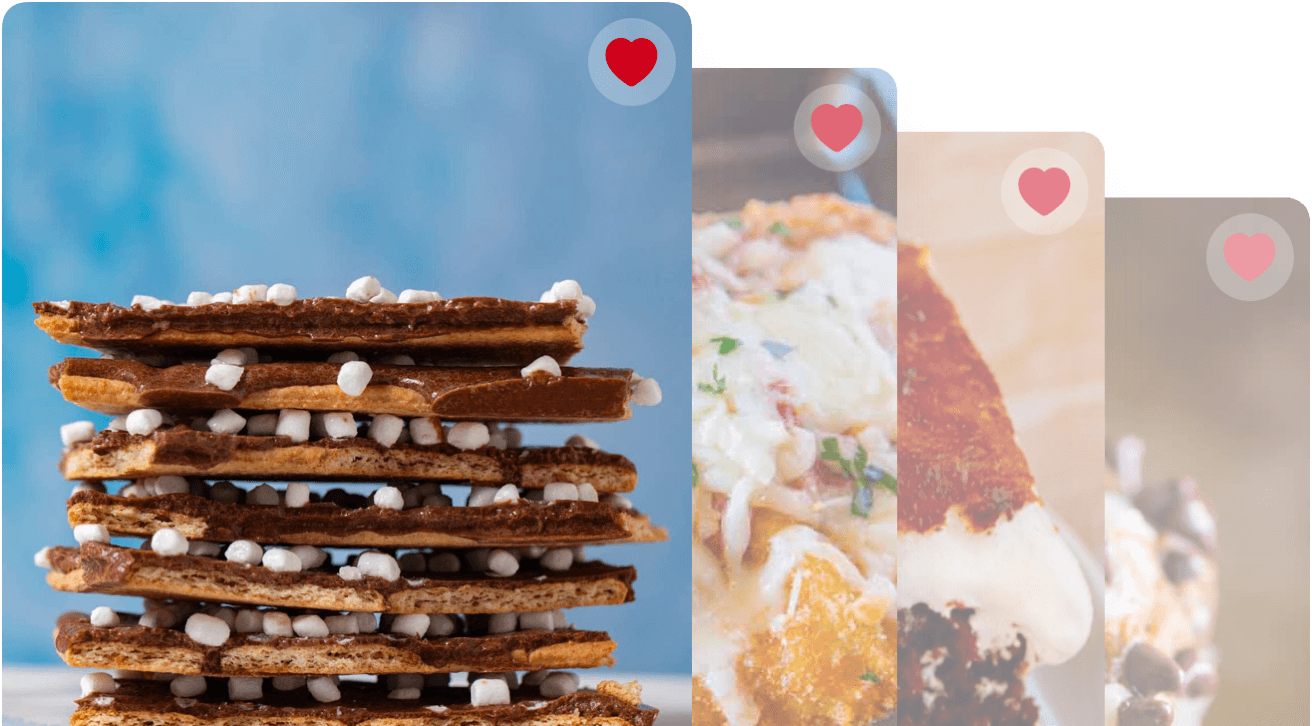 VARIATIONS ON KETTLE CORN
Coconut oil: If you prefer, you can use coconut oil, instead of vegetable oil. This will give the Kettle Corn Popcorn a slight coconut flavor. If you're a coconut fan, you can lean into that flavor and add in some coconut flakes with the popcorn mixture.
Popcorn Flavors: There are plenty of other flavors you can try in this recipe. Try different kinds of sugars like brown sugar or maple syrup to experiment with the coating. You could also mix cinnamon, ginger, or cocoa powder into the coating. Or, for a savory popcorn skip the sugar, and try garlic powder, rosemary, and shredded parmesan to make Garlic Rosemary Parmesan Popcorn.
Popcorn Balls: To make homemade popcorn balls combine ¾ cup corn syrup, ¼ cup butter, 2 teaspoons water, 2 ½ cups powdered sugar, and 1 cup marshmallows in a pot over medium heat. Stir continuously as the mixture comes to a boil, then pour it over popped popcorn. Stir the coating and popcorn together. Let it cool, but don't give it enough time to harden. Use your hands to shape the mixture into popcorn balls and wrap them in plastic wrap to set.
EVEN MORE FUN SNACK FOODS
HOW TO STORE KETTLE CORN
Store: Let the Homemade Kettle Corn cool to room temperature before you put it in an airtight container to store. The recipe will keep well stored in a dry, cool place for up to 1 week.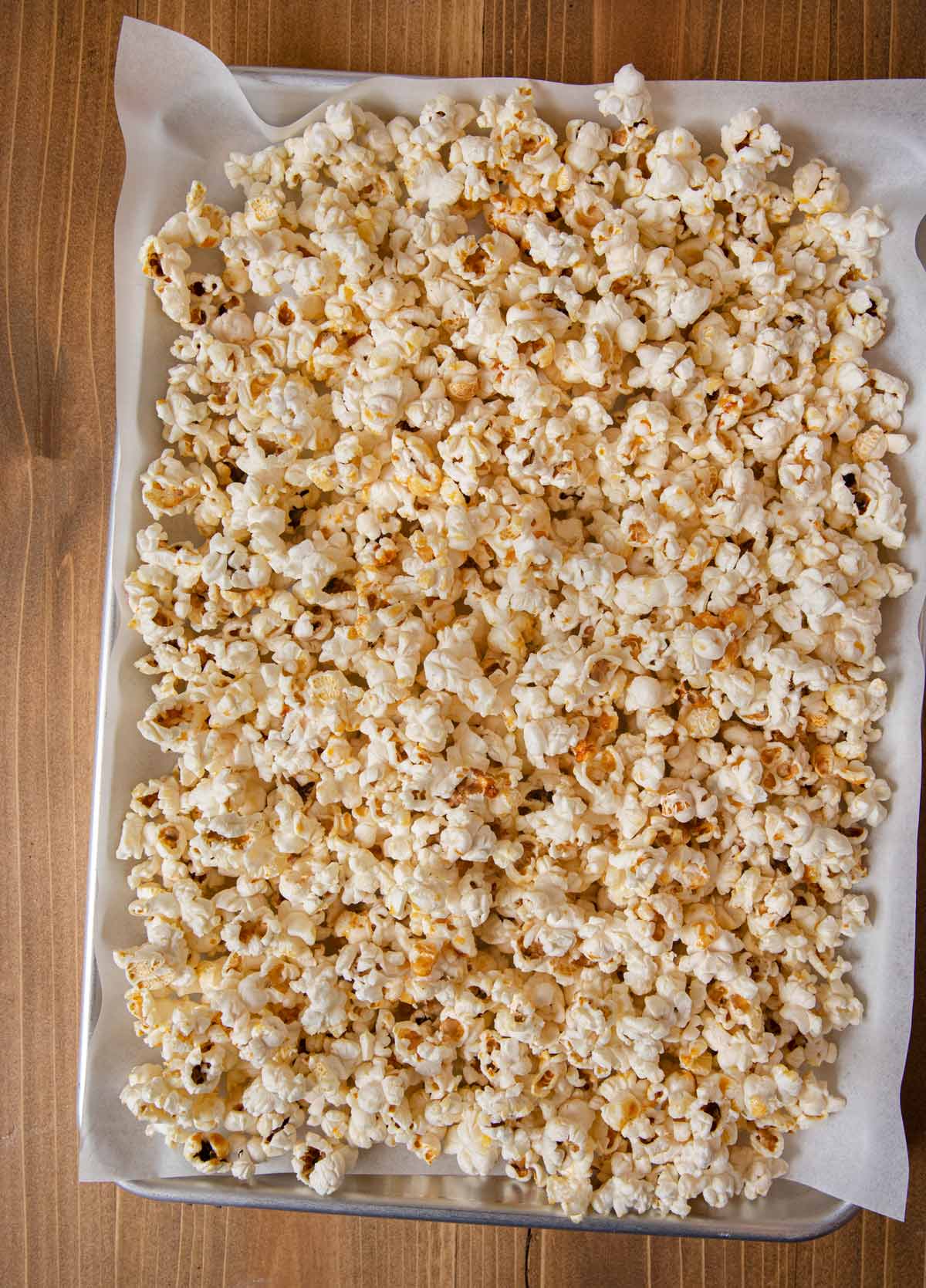 Ingredients
1/4

cup

vegetable oil

1/4

cup

white sugar

1/2

cup

unpopped popcorn kernels

1/4

teaspoon

salt
Instructions
Add vegetable oil to a very large pot (we use a stockpot) on medium heat with four popcorn kernels.

When they've popped remove them and add in the sugar and stir well.

Add in the rest of the popcorn kernels, cover the pot and shake well.

Do not walk away from the stove.

Every 3 seconds the pot is on the stove pick up the pot and shake to stir, then put it back on the stove.

When popcorn is done popping add salt evenly over the top, cover, and shake.
Nutrition
Calories:
121
kcal
|
Carbohydrates:
14
g
|
Protein:
1
g
|
Fat:
7
g
|
Saturated Fat:
6
g
|
Sodium:
73
mg
|
Potassium:
28
mg
|
Fiber:
1
g
|
Sugar:
6
g
|
Calcium:
1
mg
|
Iron:
1
mg