Parmesan Crisps are the PERFECT cheesy, crispy snack made with ONLY 1 ingredient and ready in under 10 minutes!
We love all things parmesan, and if you like these crisps you'll also love my Chicken Parmesan, Parmesan Crusted Pork Chops, and Lemon Parmesan Chicken!
PARMESAN CRISPS
Parmesan Crisps are one of my favorite go-to snacks, made with parmesan cheese baked in the oven until it's light and crispy. You can serve this with salads as a crouton, with soup (like Chicken Noodle Soup which this is a totally perfect complement to!), or as part of a cheese plate for a party appetizer. Or keep them in a sealed plastic bag for a snack on-the-go. They always go fast when I make them, and take a total time of under 10 minutes to make!
HOW TO STORE PARMESAN CRISPS
Parmesan cheese crisps will keep in an airtight container at room temperature for 2-3 days.
CAN YOU FREEZE PARMESAN CRISPS?
You can freeze these cheese crisps in an airtight container for several months. They might not be quite as crispy when you defrost them, so I would definitely recommend enjoying them while they're as fresh as possible.
HOW DO YOU KEEP BAKED PARMESAN CRISPS CRISPY?
Store your cheese crisps away from humidity or moisture, sealed tightly. These will be the most crispy the day they're made. I also like to store them between pieces of parchment paper to prevent the cheese from sticking together.
HOW TO MAKE PARMESAN CRISPS IN THE MICROWAVE
I always prefer to make these in the oven because you can make a large batch at once. But if you're short on time, you can also make these cheese crisps in the microwave. You'll have to make a few batches, but it shouldn't take more than a few minutes.
Just place your thin layer of parmesan on a plate, then microwave for 30 seconds on high. Repeat if the parmesan hasn't melted completely. Once it's done, allow to cool before touching it.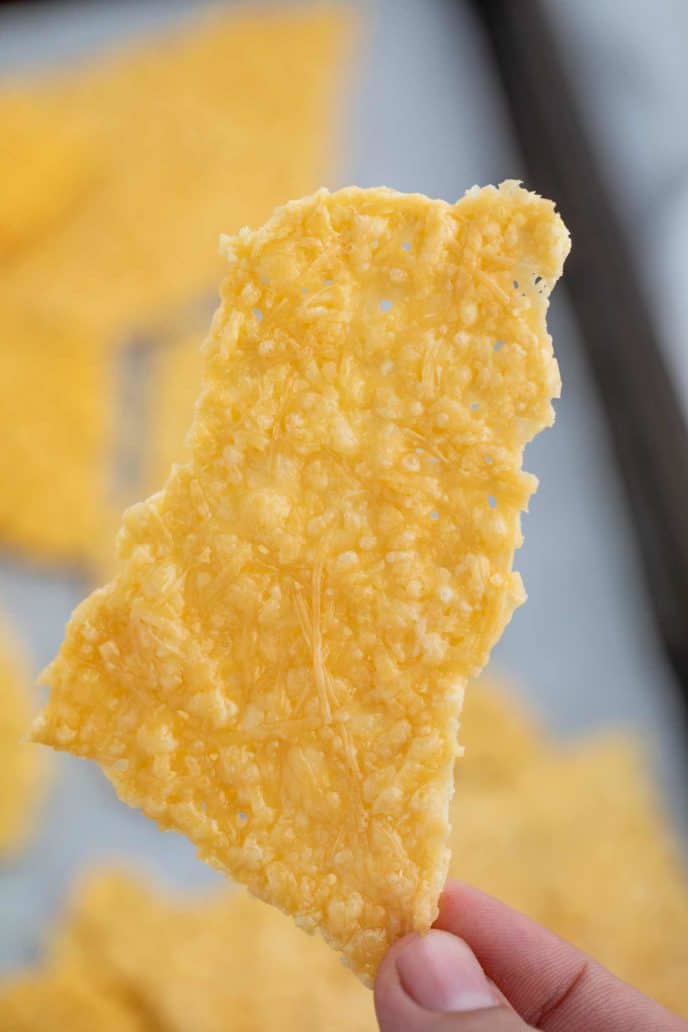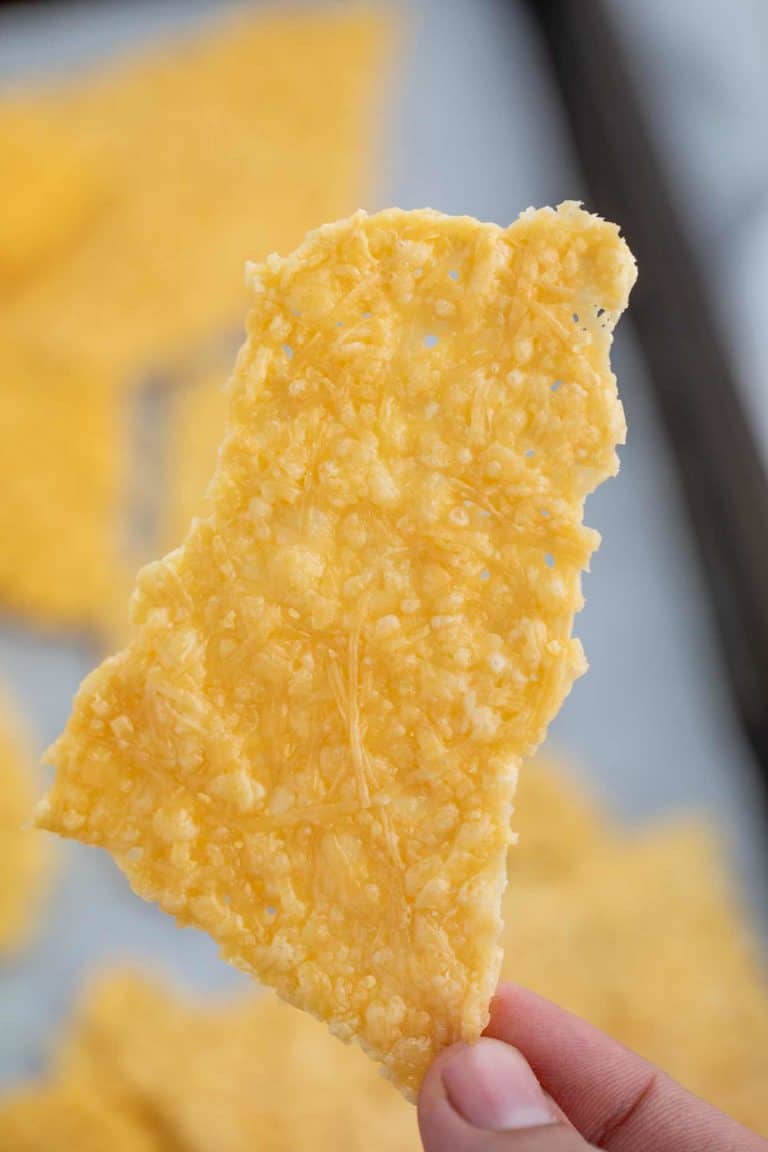 Create a free account to

Save Recipes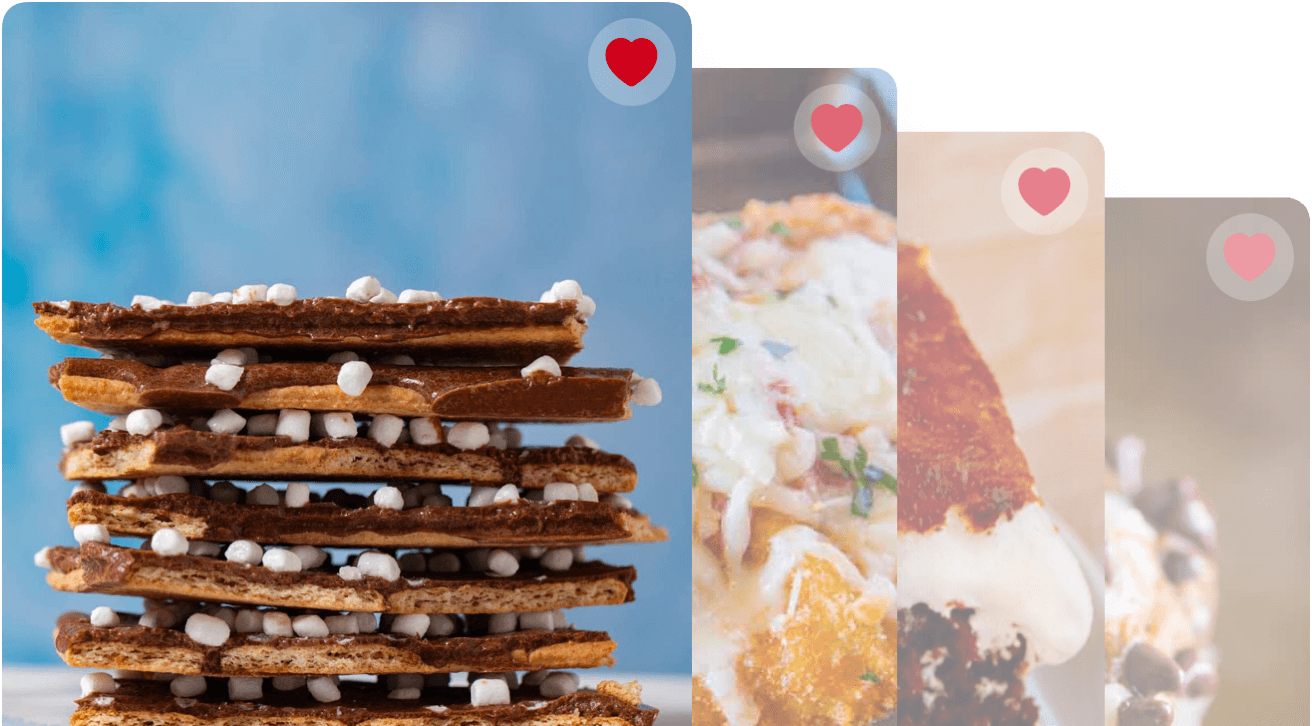 WHY ARE MY PARMESAN CRISPS CHEWY?
If your baked parmesan cheese crisps turn out chewy instead of crispy, it's most likely because too much parmesan was added to the baking sheet and they are too thick to crisp up correctly. Make sure you're making thin layers.
MORE PARMESAN RECIPES TO TRY
TIPS FOR MAKING PARMESAN CRISPS
Make sure your crisps are completely cooled before trying to lift them off of the baking sheet. If they're not cool enough, they might break apart.
Add a sprinkle of herbs or spices like garlic powder to your parmesan to add flavor to your crisps! I would not add any salt, because parmesan is salty enough already.
You can also do this with cheddar cheese instead of parmesan, or do a blend of both cheeses for extra flavor in your cheese chips.
I recommend using freshly grated parmesan over the pre-shredded cheese for this snack, because the flavor will turn out better. Freshly grated parmesan cheese will also melt better because there's no added ingredients like pre-shredded has.
You can shred your parmesan with a grater, or use a food processor to prep it faster.
Try dipping these in my homemade pizza sauce or marinara sauce!
Make sure to line your baking sheet with parchment paper even if it's non-stick, or the cheese crisps might stick to the pan. You can also grease a baking sheet but I like to avoid adding extra oil to the parmesan cheese.
You can make one big sheet of parmesan and break it apart once it crisps, or make tablespoonful round sections for chips. These easy parmesan crisps will spread out as they bake, so if you do make them as rounds make sure to leave room between each one so they don't bake together.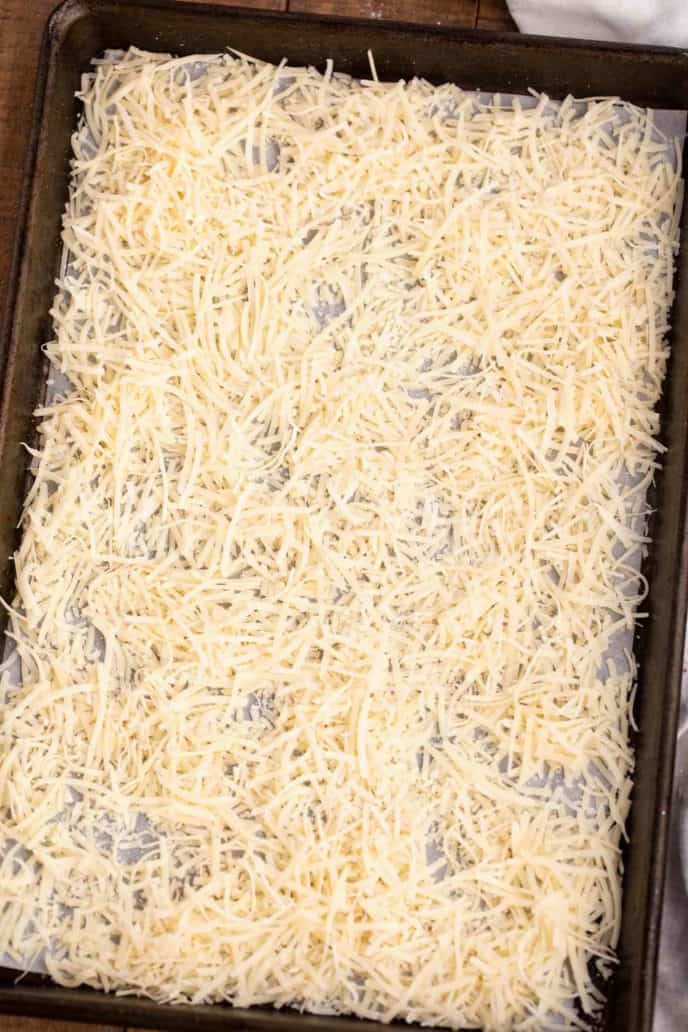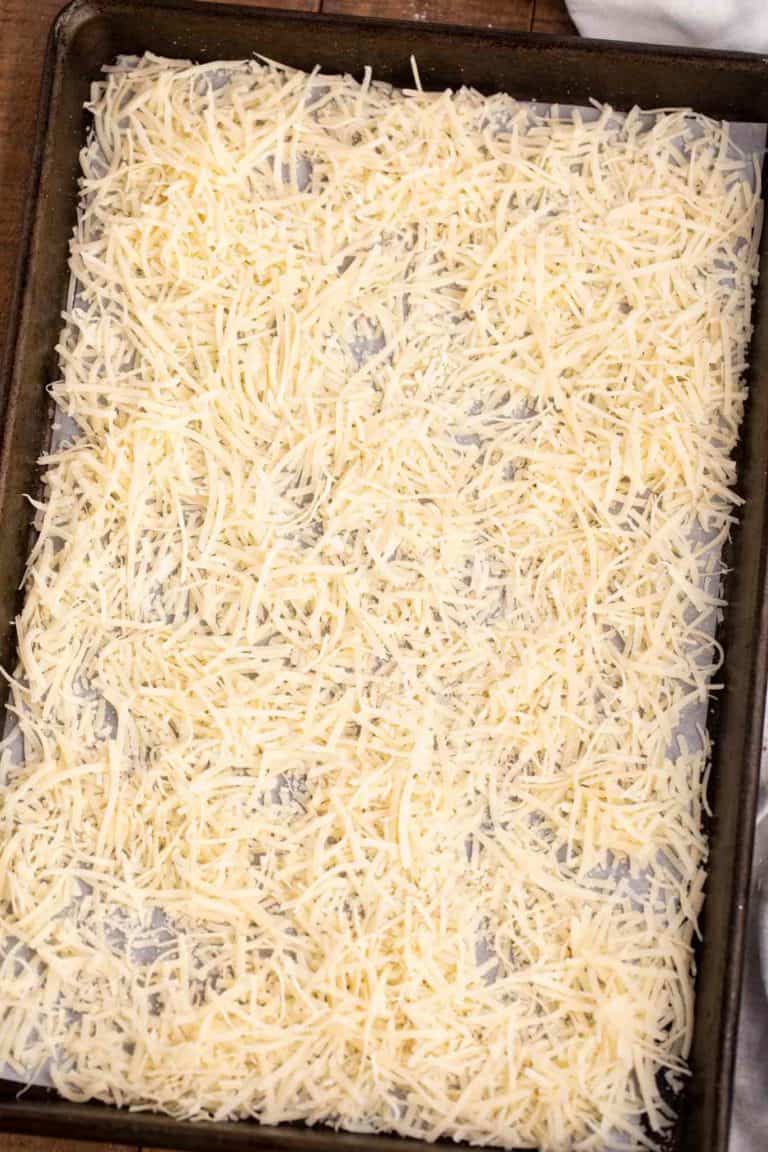 Ingredients
2

cups

Parmesan cheese

, freshly grated

1/4

teaspoon

coarse ground black pepper

, optional
Instructions
Preheat oven to 400 degrees.

Spread the cheese on a baking sheet lined with parchment paper, then sprinkle black pepper over the top if using.

Lightly pat down cheese on baking sheet and bake for

3-5 minutes

before letting it cool completely and become crisp before breaking it apart.
Nutrition
Calories:
98
kcal
|
Protein:
8
g
|
Fat:
6
g
|
Saturated Fat:
4
g
|
Cholesterol:
17
mg
|
Sodium:
400
mg
|
Potassium:
23
mg
|
Vitamin A:
195
IU
|
Calcium:
296
mg
|
Iron:
0.2
mg