Firecracker Ranch Saltines are the perfect spicy snack. Simple saltine crackers are flavored with ranch seasoning, chili powder, and red pepper flakes.
This simple trick can turn plain crackers into the perfect Appetizer Recipe. Just coat the crackers in Ranch Dressing Mix and a little bit of spice and you've got your new favorite snack!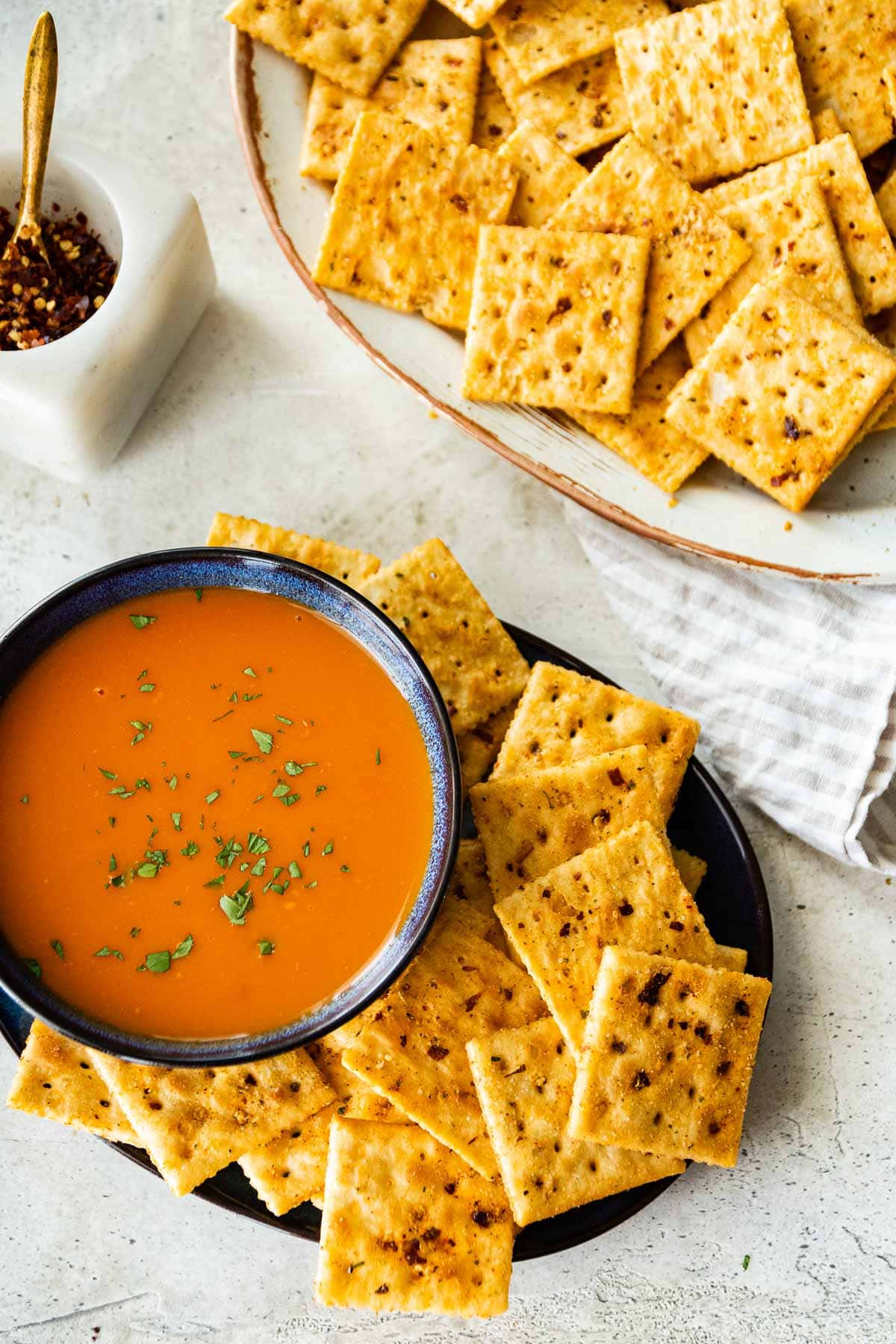 If you've already tried homemade Ranch Saltine Crackers, this version just adds a little extra kick to the delicious tangy, buttery crunchy snack. They've got a nice spicy heat without being too hot, so they make a crowd-pleasing appetizer everyone is going to go wild over.
These crackers are packed with spice and flavor from just a few easy ingredients. Toss regular saltine crackers in oil, a packet of ranch dressing, red pepper flakes, and chili powder. Just like that, you'll have the perfect most addicting spicy crackers ever. The best part of making them yourself, is you get to experiment with how much spice you add or even change up the flavors to make them exactly the snack you love!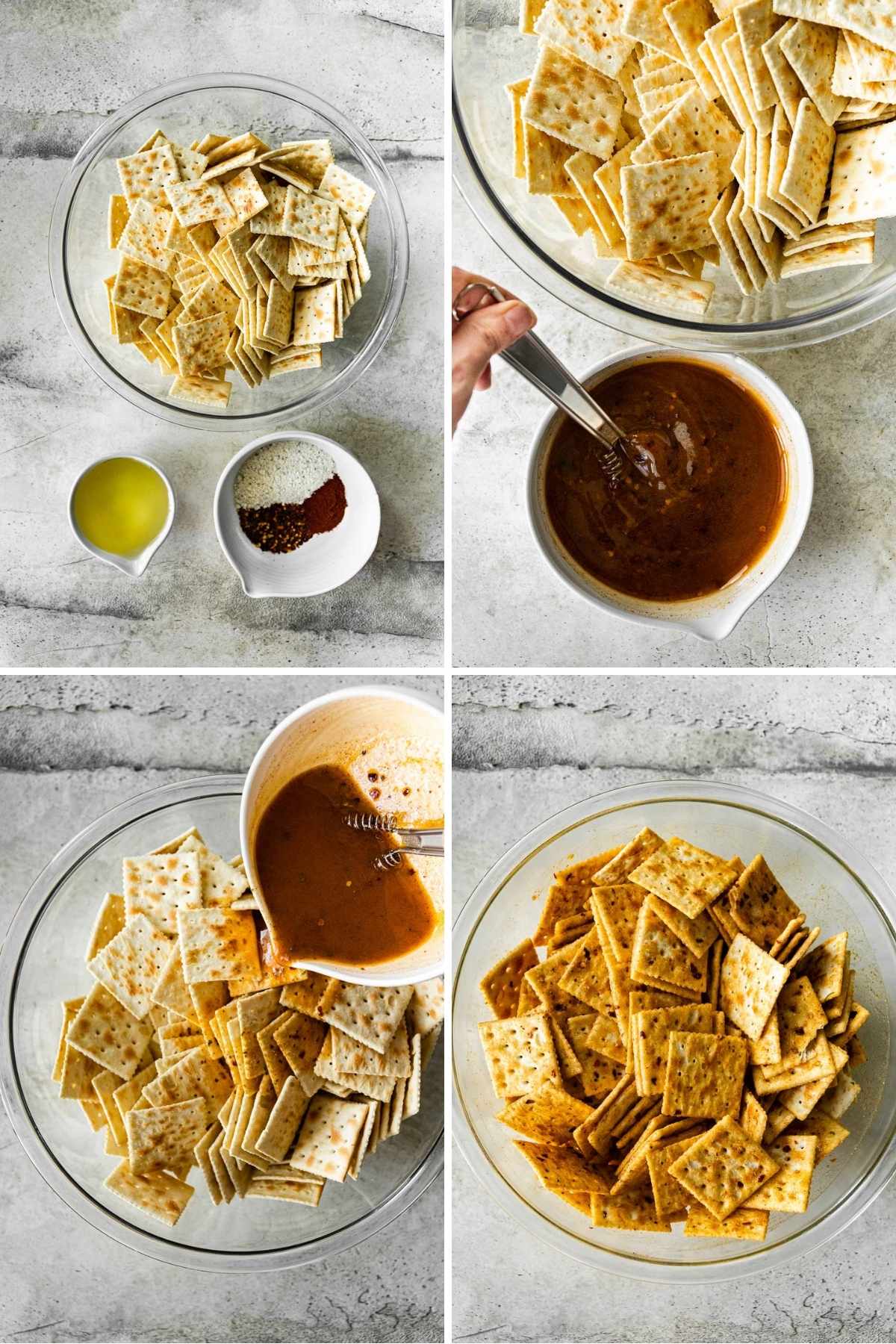 Baked seasoned saltine crackers are always a great appetizer to serve at parties and these spicy ones are sure to be a hit. You can put them out on a party platter with other crackers and chips along with your favorite dips. They'd taste amazing cheesy, creamy dips like Bacon Cheddar Ranch Dip, Queso Dip, or Jalapeno Popper Dip. They don't just have to be a snack either, try them with your favorite soups like Clam Chowder or Tomato Soup.
If you're serving the Firecracker Ranch Saltines to a big crowd, you can double up the recipe and use 2 sleeves of crackers. You'll just need to bake them in batches to prevent overcrowding and soggy crackers. You could just double the recipe to freeze half the crackers for later so you always have these amazing ranch crackers on hand. 
How to Make Firecracker Ranch Saltines
Prep: Start by preheating your oven. Line 2 baking sheets with parchment paper or aluminum foil for easy clean up.
Spice Mixture: Add the oil, ranch seasoning mix, crushed red pepper flakes, and chili powder to a measuring cup. Use a fork to whisk the mixture together until it's smooth.
Crackers: Add the crackers to a large mixing bowl, then pour the spice mixture over the crackers. Shake the bowl until the crackers are all coated in the seasoning. Don't toss them too hard because you don't want the crackers to break.
Baking Time: Spread the crackers out in a single layer on the 2 baking sheets. Bake for 20 minutes until the crackers are lightly browned.
Delicious Party Dip Recipes
FAQs for Firecracker Ranch Saltines
How do you keep the crackers from being soggy?
You don't want to overcrowd the baking sheets or have the crackers overlapping too much. If they are overlapping, it causes steam to release as they bake which makes your crackers soggy and soft. Spread them in a single layer, using more baking sheets and baking in batches if you need to.
Do you have to bake these seasoned crackers?
Yes, you definitely want to bake these Firecracker Ranch Saltines because it allows the oil and seasonings to get into the cracker. Plus, the baking time lets the moisture evaporate for crispy, crunchy crackers.
What do you serve with Spicy Ranch Saltines?
You can eat these spicy ranch crackers on their own like you would chips or other seasoned salty snacks. You can also treat them like chips with creamy dips like french onion dip or Ranch Dip, or spread soft cheese on them like Cheez Wiz, whipped cream cheese, or pimento cheese.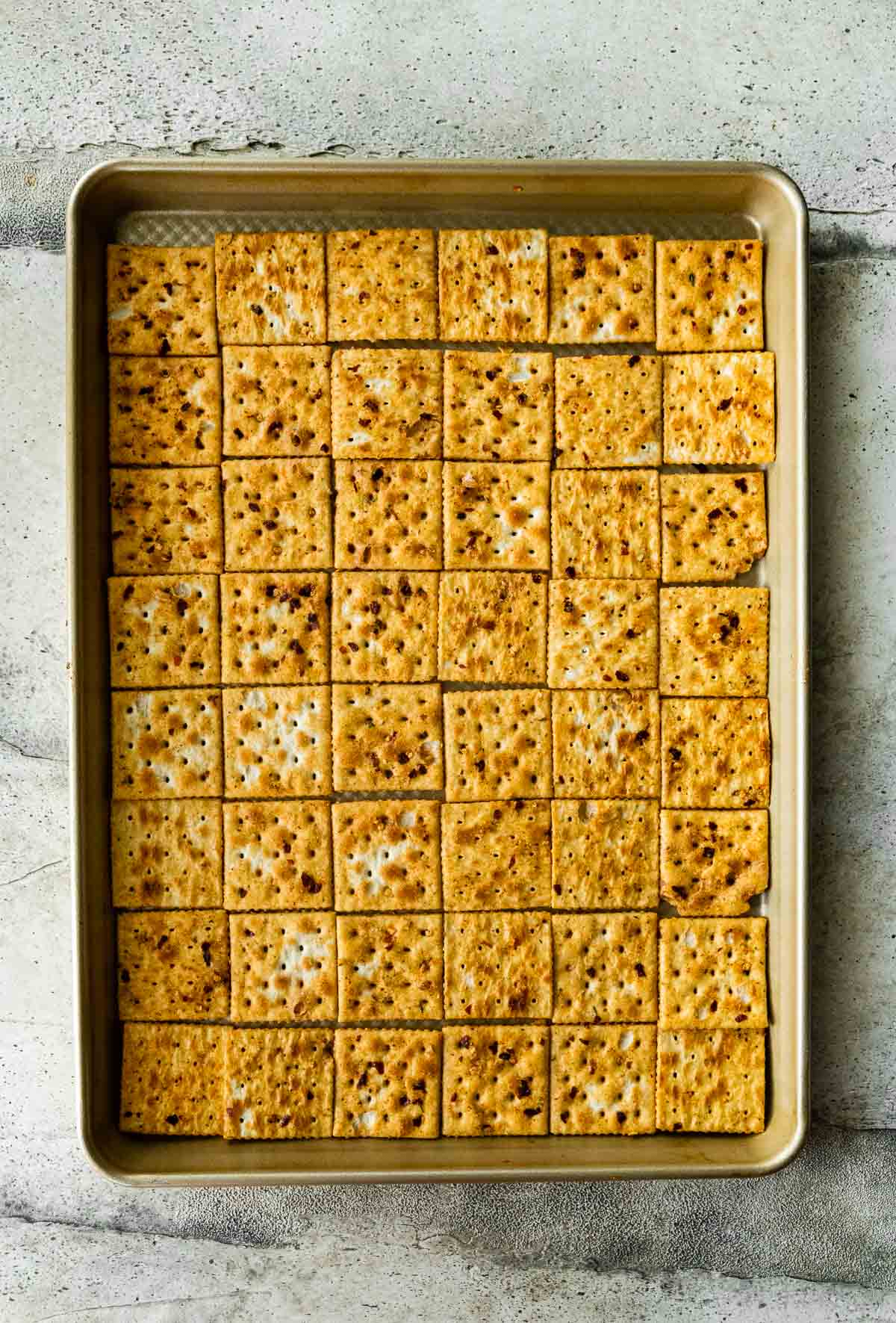 Create a free account to Save Recipes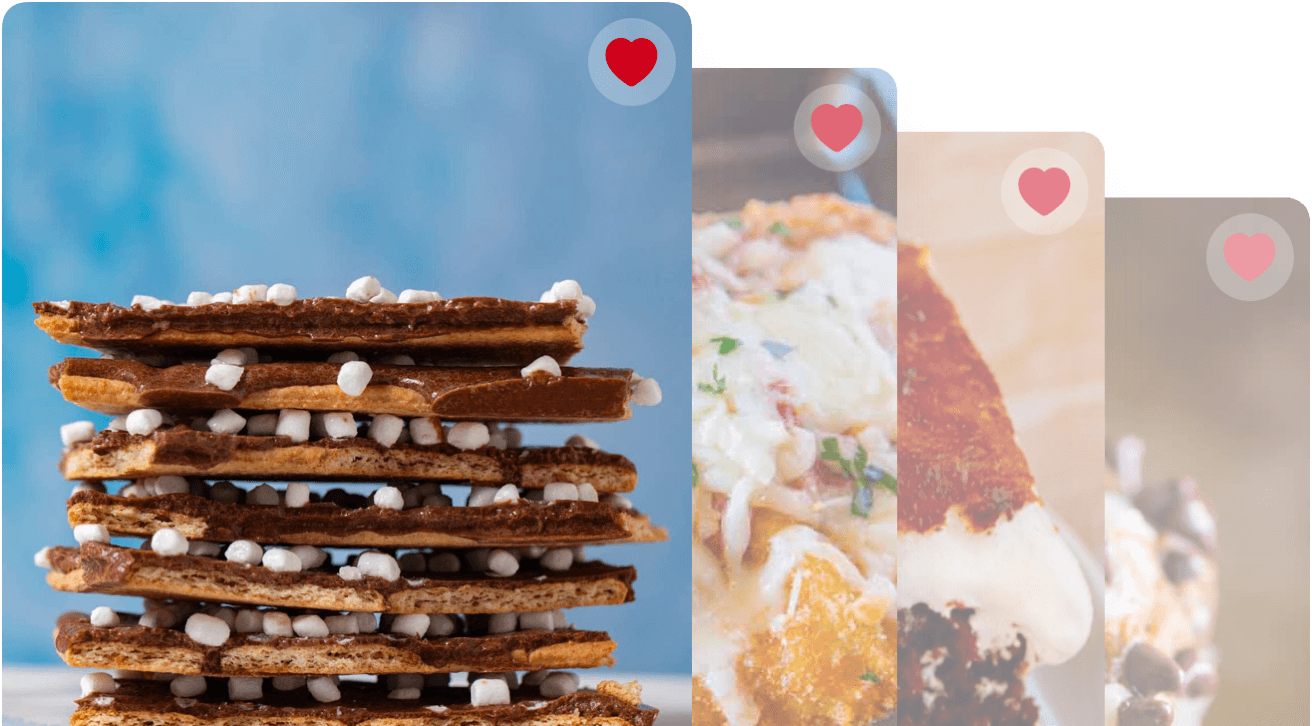 Key Ingredients
Oil: Some simple vegetable oil is needed to coat the crackers and make the seasonings stick to them. It is good for baking because it can get really hot without burning or smoking. It also has a mild flavor that doesn't compete with all the other flavors.
Crackers: Saltine crackers are perfect for adding seasonings because they have a salty, buttery flavor to begin with that goes with all kinds of other flavors. Also, the light, thin crackers are able to soak up all the flavors in the oil but then get crispy again when you bake them at low heat. You don't need to add salt to them because they have plenty of it on their own.
Ranch Seasoning: You can use homemade Ranch Dressing Mix or just the packets from the store. The dry mix is perfect because it sticks really well to the crackers and adds a delicious tangy, herb flavor. Bring out more ranch flavor with some dried dill leaves that have been crushed.
Red Pepper Flakes: This spicy seasoning is made from dried and crushed hot chili peppers, usually cayenne variety peppers and includes their seeds. They can be really spicy to most people, so a little goes a long way.
Chili Powder: Chili Powder is also made from dried chili peppers, but more of the smoky, mild variety like ancho chilies, and it also usually includes some other spices and seasonings like cumin, paprika, and oregano. It is different from Chile Powder which is just dried chilies and tends to be spicier.
Can you make Firecracker Ranch Saltines ahead of time?
You can definitely make these Firecracker Saltines ahead of time to save time on the day you want to serve them! They are better in the first few days, with the ultimate crispy texture and best flavor. Keep them in a cool, dry place in an airtight container. If they've gone a little soft, no worries, just pop them in the oven again for about 10 minutes to crisp them back up!
Variations
Oil: You can replace the vegetable oil in the recipe with olive oil, avocado oil, or sesame oil. You could also use melted butter for a delicious buttery flavor that goes great with the crackers.
Lime: For some citrus flavor squeeze a little bit of lime juice into the spice mixture before you add them to the crackers. You could also add some chili-lime seasoning blend instead of the lime juice.
Taco Crackers: For a tasty, Tex-Mex twist on the crackers, replace the ranch seasoning with Taco Seasoning. You can make your own or buy a package at the store.
Crackers: Instead of ordinary saltine crackers, you could try a variety of crackers like multigrain crackers, oyster crackers, wheat thins, Ritz crackers, or buttery club crackers.
Seasonings: There are lots of other spices and seasonings you can try adding to the spice mixture. Garlic powder, onion powder, black pepper, paprika, cumin, cloves, or coriander could all add a new delicious flavor to the recipe.
Sweet Crackers: For a sweet and spicy flavor, try out Spicy Brown Sugar Crackers. Instead of the ranch seasoning, use brown sugar, plus the chili powder and pepper flakes, and swap the vegetable oil with melted butter. You can add some warm spices like cinnamon or nutmeg in this sweet and spicy cracker recipe.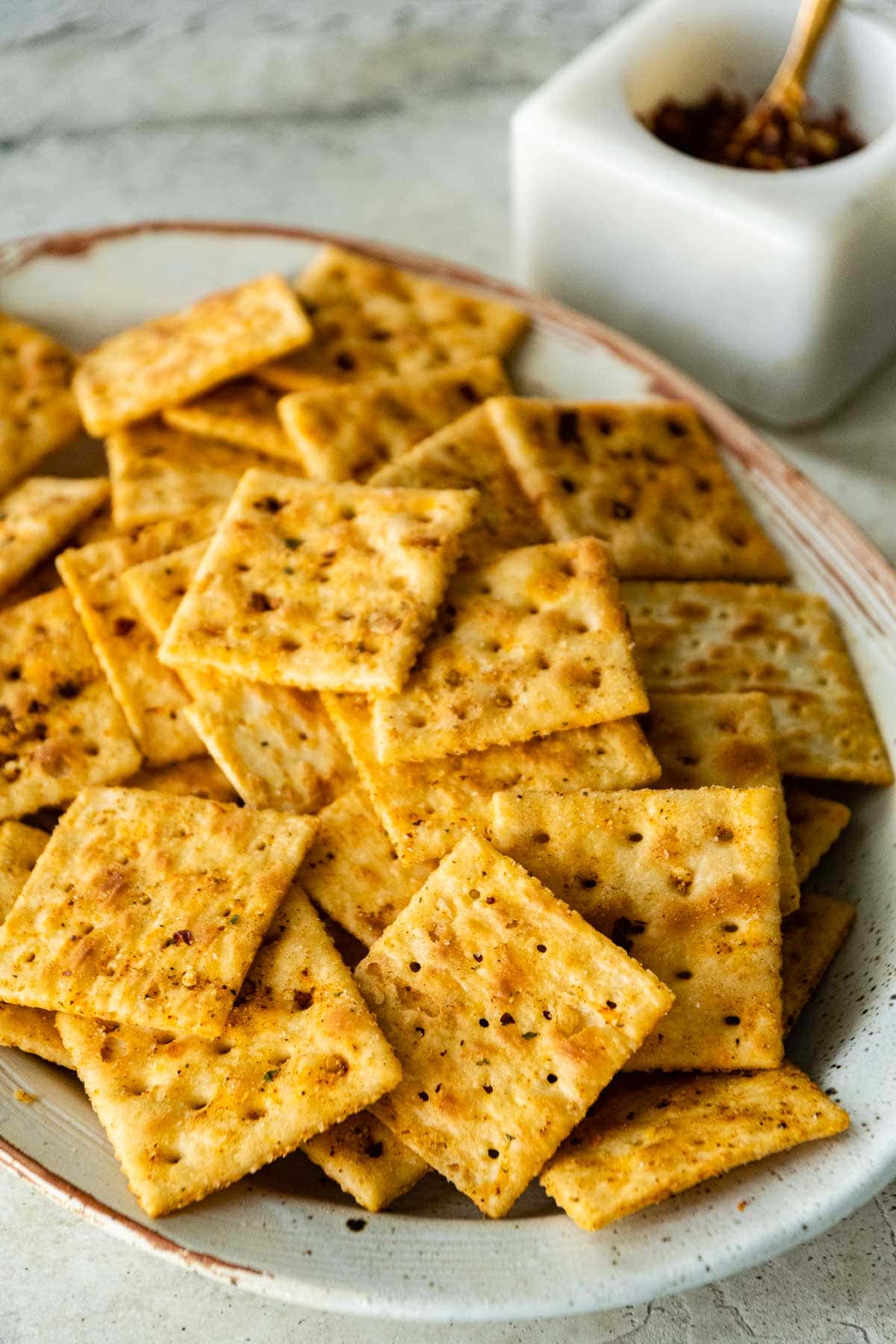 Crunchy and Savory Party Snacks
How to Store
Serve: These crackers will stay good for about 2 weeks at room temperature. Seal the seasoned crackers in an airtight storage container to keep in your pantry. Add paper towels to the base of the airtight container to absorb any excess moisture.
Store: Pop the crackers in the refrigerator and store them for up to a month. Bring them to room temperature to serve or heat them up in the oven at low temperature if they've gotten a little soft.
Freeze: You can keep these crackers for an even longer time in the freezer. Once the crackers are cooled, freeze them in a single layer on a baking pan for an hour. Transfer the crackers to a freezer bag and remove any air. They will stay good for about 6 months. Enjoy frozen or pop them in the oven to make them warm and crispy again.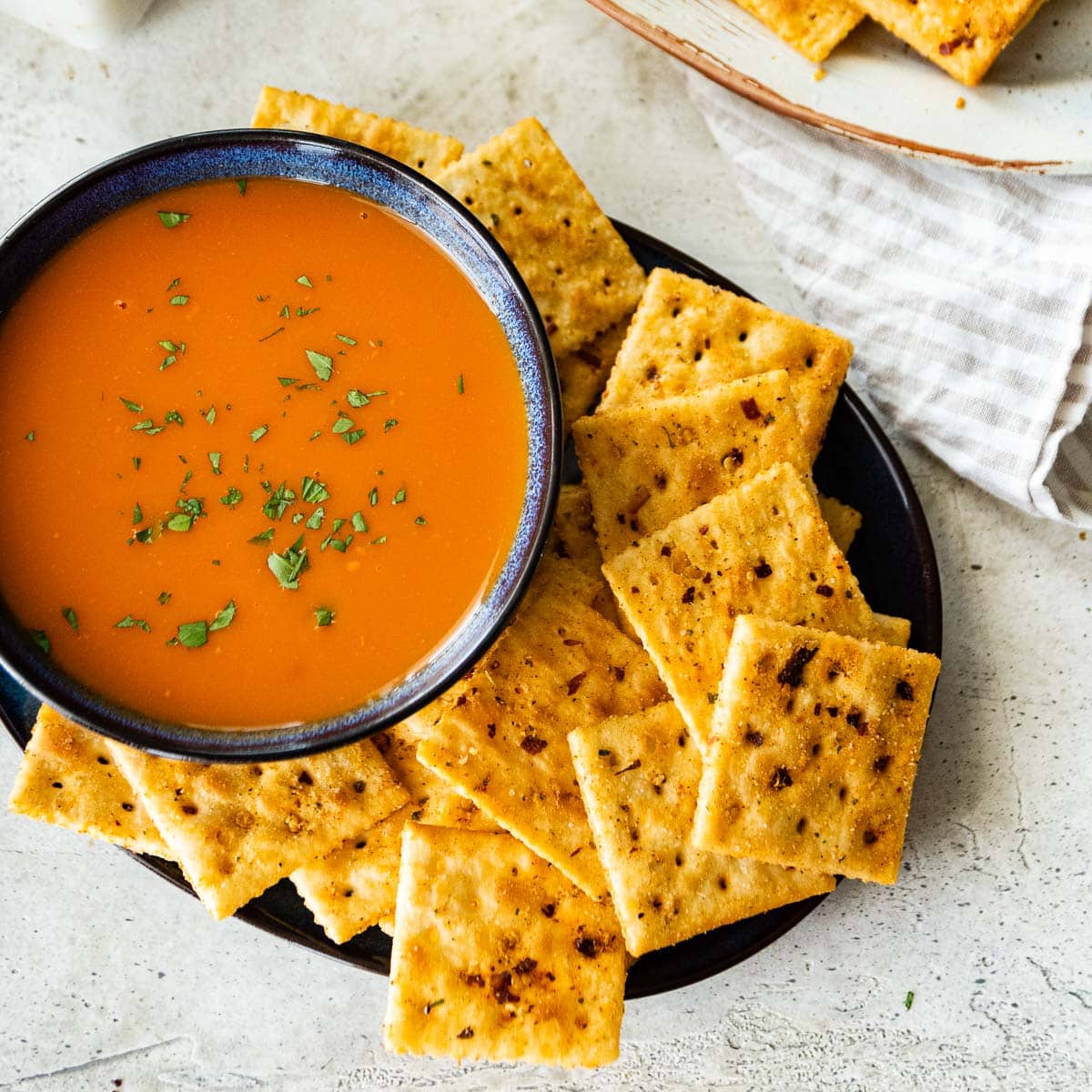 Ingredients
3/4

cup

vegetable oil

3

tablespoons

ranch seasoning mix

4

teaspoons

crushed red pepper flakes

2

teaspoons

chili powder

16

ounces

saltine crackers
Instructions
Preheat oven to 250 degrees.

In a small measuring cup add the oil, ranch seasoning mix, crushed red pepper flakes, and chili powder, stirring well until smooth.

Add crackers to a large mixing bowl.

Evenly pour the oil slowly over the saltine crackers.

Toss them quickly and well until all coated.

Spread onto 2 baking sheets and cook for

20 minutes

until lightly golden brown.
Nutrition
Calories:
292
kcal
|
Carbohydrates:
31
g
|
Protein:
4
g
|
Fat:
17
g
|
Saturated Fat:
3
g
|
Polyunsaturated Fat:
10
g
|
Monounsaturated Fat:
4
g
|
Trans Fat:
1
g
|
Sodium:
653
mg
|
Potassium:
77
mg
|
Fiber:
1
g
|
Sugar:
1
g
|
Vitamin A:
297
IU
|
Vitamin C:
1
mg
|
Calcium:
10
mg
|
Iron:
2
mg