Ranch Oyster Crackers are an easy snack of tiny crackers tossed in ranch dressing mix, oil, and dill then baked. Delicious soup topping too!
These tasty snack crackers are great as an Appetizer or with your favorite bowl of Soup. Delicious with cozy winter favorites like Vegetable Beef Soup and Clam Chowder!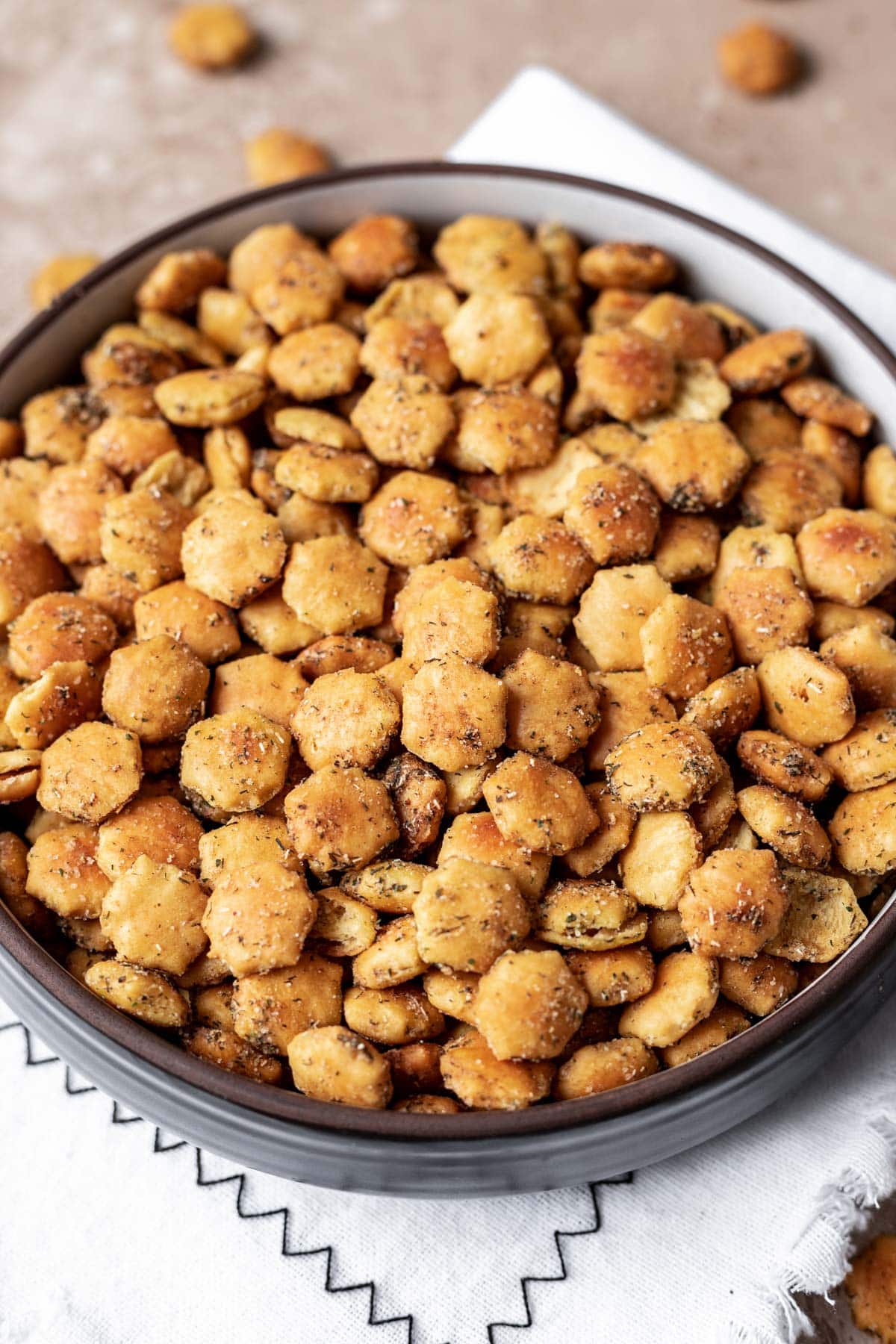 From potato chips to Chex Mix, no party would be complete without a bowl or two of crispy salty snacks for guests to nibble on. These ranch-flavored crackers are a delicious new addition to your snack table that will have people raving. You should to make a double batch for big parties so you don't run out – they are that addicting!
Even if you do run out of Ranch Oyster Crackers the middle of a party, you can quickly whip up another batch in minutes. These easy seasoned snack crackers only have 4 ingredients and take about 20 minutes to make. All of the ingredients are budget-friendly and stored in your pantry in for up to a year (or longer!). You can easily keep what you need on hand to make Ranch Oyster Crackers whenever you need a fast salty snack.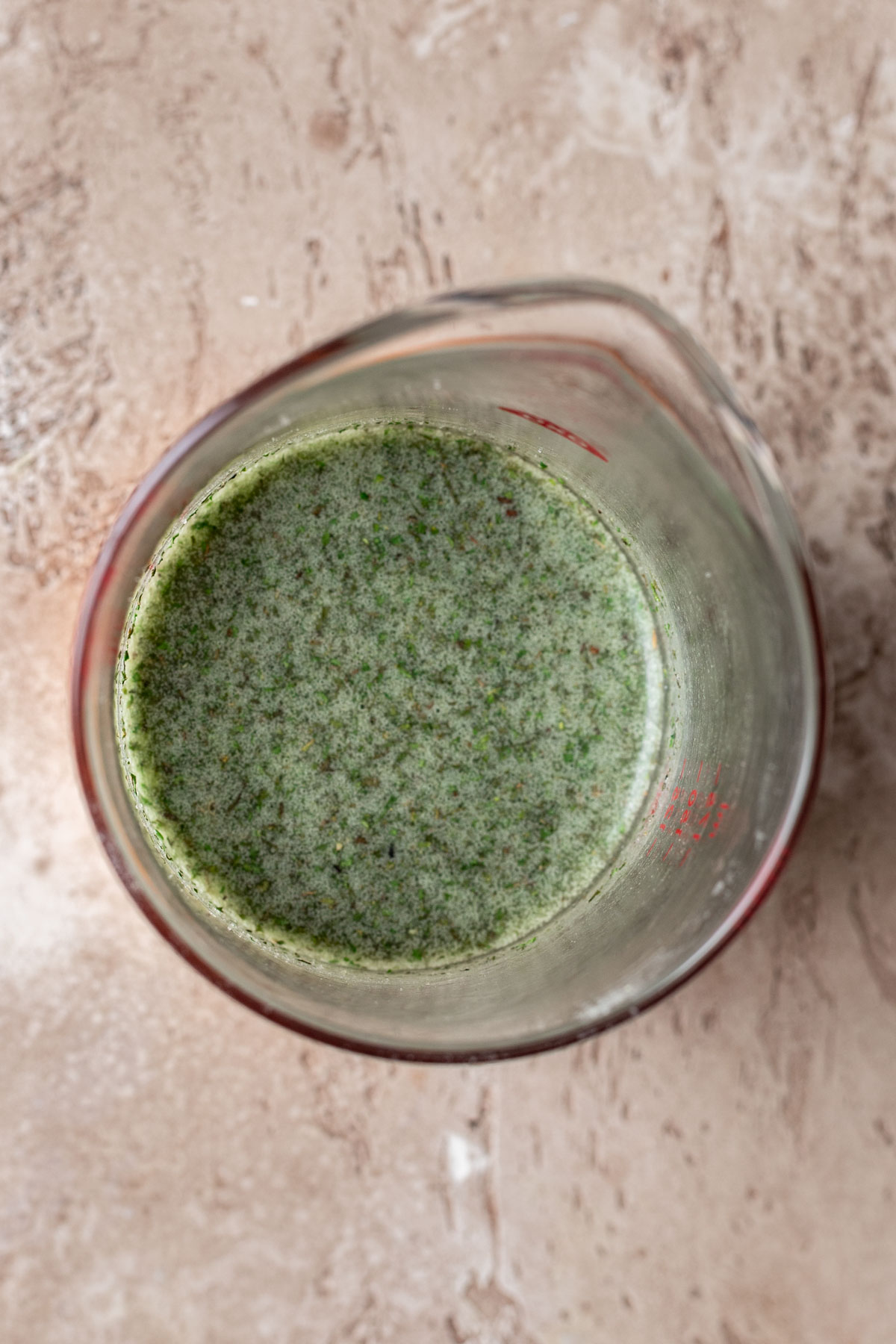 These Ranch Oyster Crackers are made with store-bought dry ranch dip and dressing mix, but you can also use a Homemade Ranch Dry Mix recipe too. You want to use the dry seasoning so that it sticks and you get even more tangy buttermilk ranch flavor. The extra dried dill weed gives even more tangy, sour flavor that makes ranch so delicious! If you prefer less dill flavor you can leave it out or swap with other dried seasonings like garlic powder or onion powder.
Not only are Ranch Oyster Crackers a great snack mix for parties, but they are a delicious garnish for your favorite salads and soups! Swap these Ranch Seasoned Oyster Crackers for croutons on a side garden salad. These addicting seasoned crackers will take your Clam Chowder, Beef Chili, and Beef Stew to the next level, and they can be made while your soup is cooking. Make a big batch ahead of time and freeze for an even easier grab-and-go garnish or snacks.
This Ranch and Dill Oyster Crackers recipe is a baked, but you can also just coat the crackers with seasoning and allow it to soak in. If you want to skip baking these crackers, use melted butter instead of vegetable oil for a better flavor plus the butter will soak into the crackers better. Let the butter and seasonings soak up for at least an hour for the best flavor. If you use butter, store them in the refrigerator (if there are any leftovers!) so the butter stays fresh.
How to Make Ranch Oyster Crackers
Prep: Preheat your oven and set out a baking sheet. Line it with foil or parchment if it is not a non-stick pan.
Dressing: Whisk the oil, ranch seasoning, and dill until smooth in a measuring cup.
Coat: In a large bowl, add the oyster crackers and the dressing mixture. Toss until the crackers are coated.
Bake: Immediately spread on your sheet pan and bake until lightly golden brown. Let cool for 10-15 minutes before transferring to the serving dish.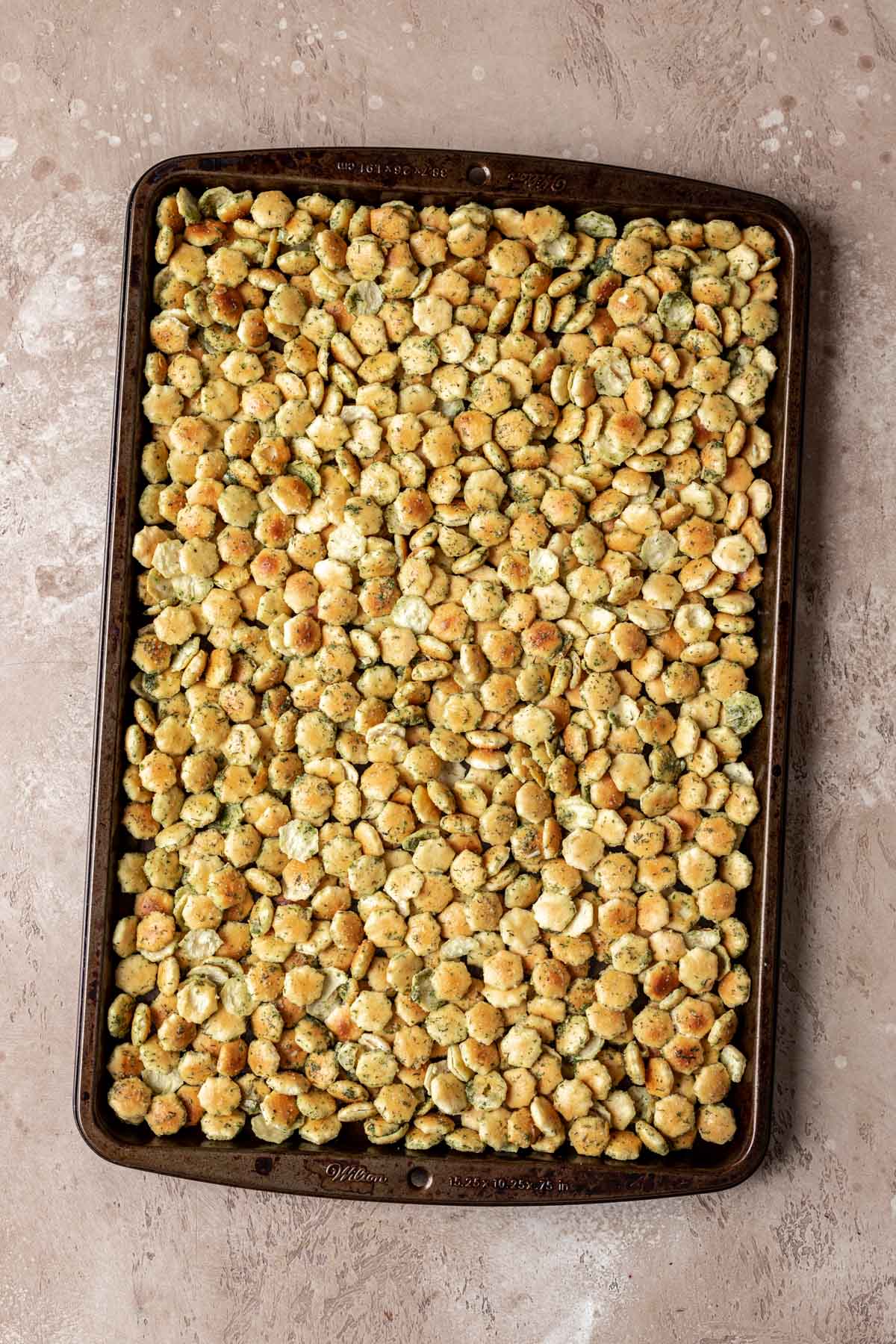 The BEST Chowder Recipes!
FAQs for
Ranch Oyster Crackers
What are oyster crackers?
Oyster crackers are small round crackers that puff up and get crispy when baked, and are about the size of a dime. They have a buttery taste and are slightly salty, and usually served alongside seafood dishes like raw oysters which is where they got their name.
What to do with seasoned oyster crackers?
These crackers can be a tasty appetizer and so much more! They can be a snack for hiking instead of trail mix, a lunchbox side in place of chips, or served as topping for salads and soups in place of croutons. 
Are oyster crackers just saltines?
While they are very similar and made with similar ingredients, oyster crackers and saltine crackers have a couple differences. First, oyster crackers are not as salty as saltines and secondly, the texture of an oyster cracker is a little denser and puffed up around a pocket of air, while saltines are flat, lighter and extra crisp.
Are oyster crackers made with oysters?
No, these slightly salty, buttery crackers are not made with oysters or oyster juice. They are made with wheat flour, salt, butter or oil, yeast, and baking soda.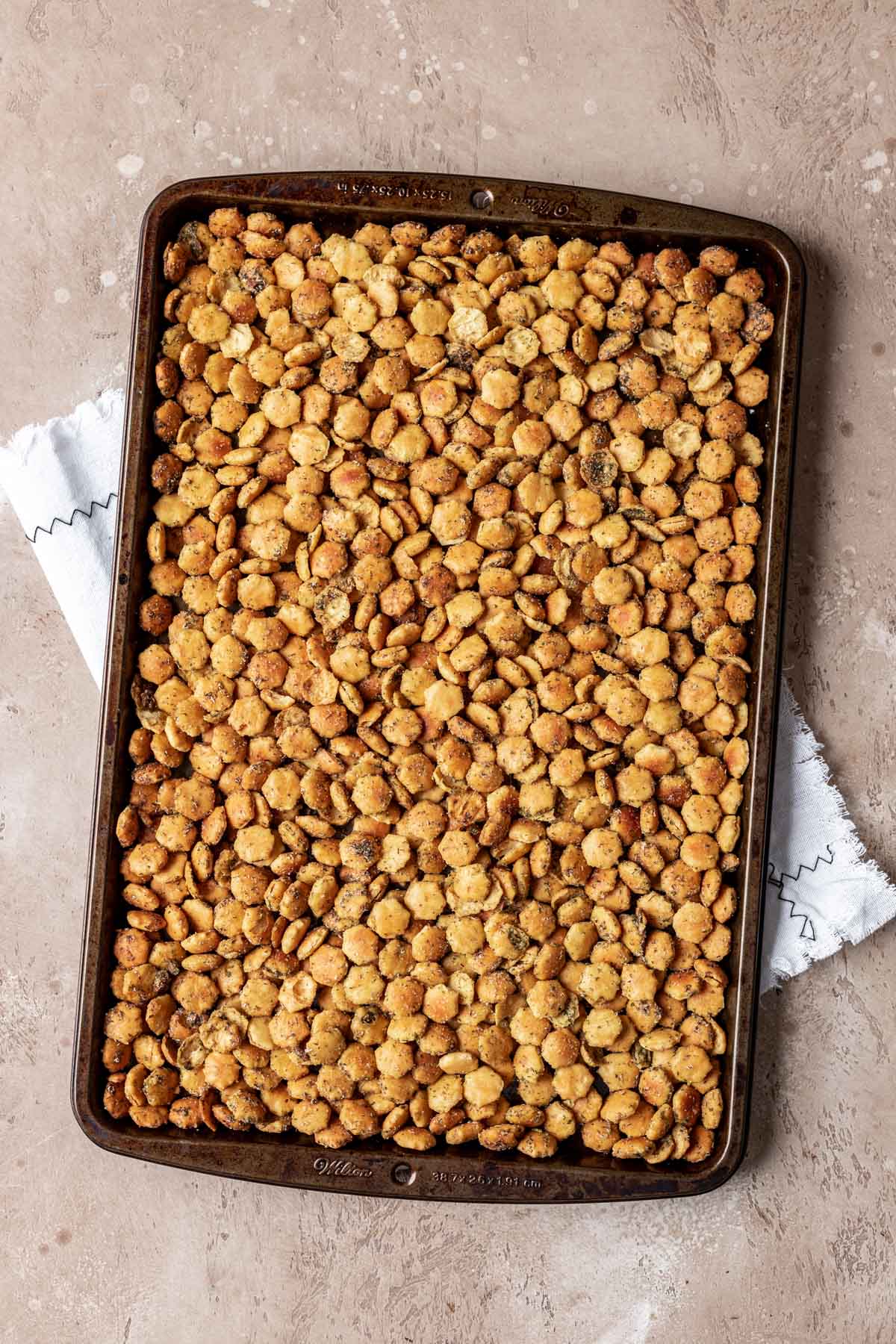 Create a free account to

Save Recipes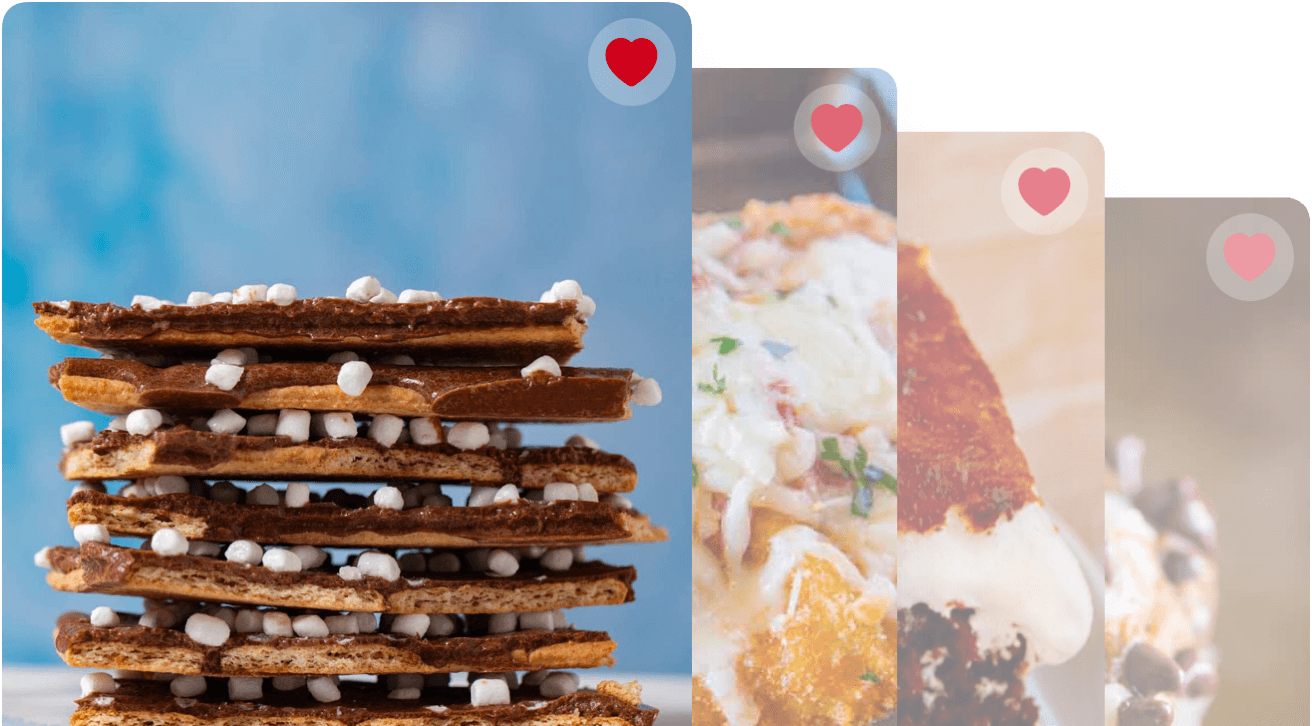 Key Ingredients
Vegetable Oil: You want to use a neutral tasting oil like vegetable oil or canola oil so that the seasoning doesn't get overpowered. You could also use melted butter, but they will need to be stored in the fridge.
Ranch Seasoning: Either regular ranch mix or buttermilk ranch mix will work for these crackers, it's just up to your preference. You just want to make sure to use a dry seasoning mix so that it sticks to the crackers.
Dill: Dried dill is already an ingredient in ranch, but we really want that tangy, herby dill flavor to be noticeable so there's a bit extra added. You can always omit the dill or swap it for a herb you like better.
Oyster Crackers: These tiny buttery crackers are the perfect size for snacking or adding to soups and salads! They work great because they don't have much flavor of their own so they take on the taste of whatever you season them with.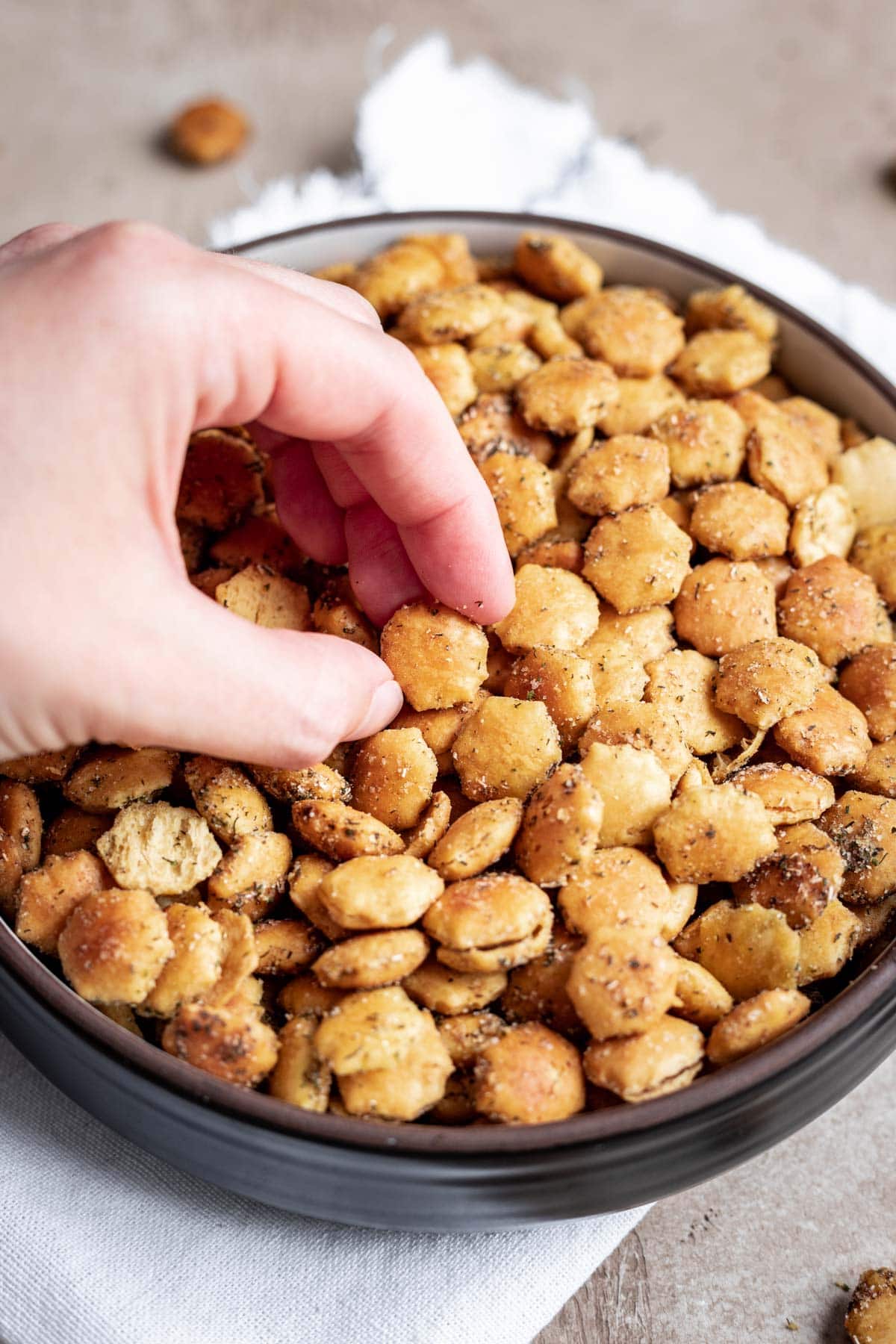 Can these be made ahead of time?
The seasoned, baked crackers can be made in advance, just keep them in the fridge or freezer for the best freshness. Bring them to room temperature for about 20 minutes before serving or you can pop them in the oven to warm them up. Unfortunately you don't want to make the dressing and oil mixture ahead because it will thicken as it sits (like dressing) and won't stick as well.
Variations
For flavor variations, start with the same amount of vegetable oil and crackers but you do not have to use ranch seasoning mix or dried dill.
Parmesan Garlic Oyster Crackers: Use 2 tablespoons parmesan cheese (grated), 1 tablespoon dried Italian seasoning, and 2 teaspoons garlic powder.
Cajun Oyster Crackers: Make your own Cajun seasoning blend (use 2 tablespoons of blend) with 1 teaspoon each salt, paprika, garlic powder, and onion powder, plus ½ teaspoon black pepper, cayenne pepper, oregano, and thyme.
Lemon Pepper Oyster Crackers: Instead of ranch seasoning, use 2 tablespoons lemon and pepper seasoning salt, or grate 2 teaspoons fresh lemon zest, 1 tablespoon lemon juice, and 1 teaspoon coarse ground pepper.
Other Seasonings: Other dry seasonings you can try are Taco Seasoning, cumin, rosemary, buffalo wing seasoning, or curry powder. Keep dry seasonings to about 2 tablespoons and be mindful if there is salt in your seasoning or using just spices means you need to add salt and pepper.
Crackers: Instead of oyster crackers, try this recipe with regular saltine crackers broken up or left whole, mini saltine crackers, cheddar cheese crackers, pretzel twists, or even cubed bread to make croutons.
Slow Cooker Ranch Oyster Crackers
Coat the inside of the slow cooker insert lightly with cooking spray.
Add all the ingredients to the slow cooker and stir to combine.
Cover and cook on high heat for 1 hour.
Remove crackers from the slow cooker and cool on a sheet pan before serving.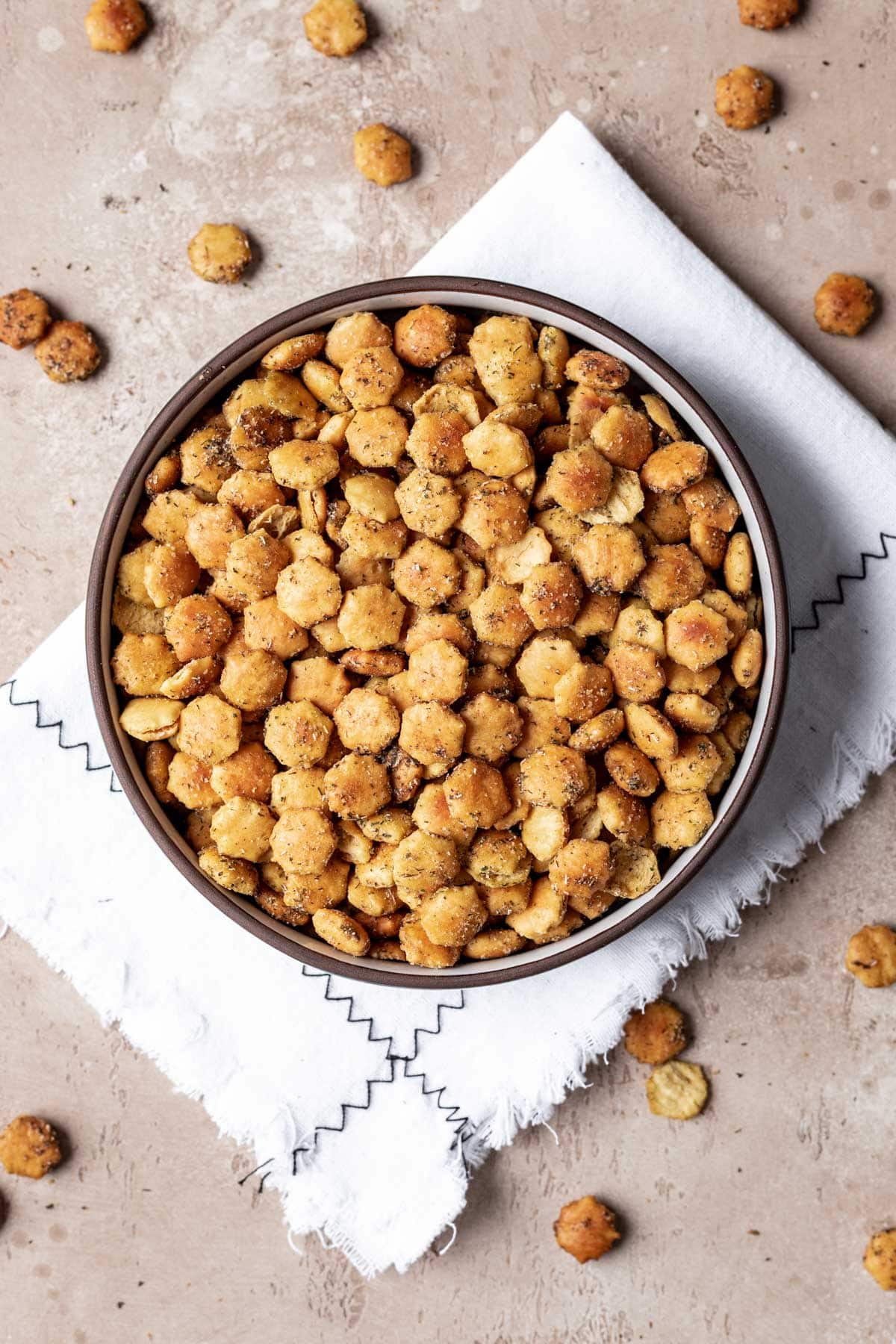 More Tasty Ranch-Flavored Appetizers!
How to Store
Serve: Allow Ranch Oyster Crackers to cool for 10 minutes before serving. Keep them at room temperature in a sealed bag for up to 3 days.
Store: Ranch Oyster Crackers will stay fresh in the refrigerator for up to 2 weeks in an airtight container.
Freeze: You can freeze these crackers for up to 6 months in a sealed container. Freeze for 1 hour on a baking tray before storing to dry them out and so that they don't stick together.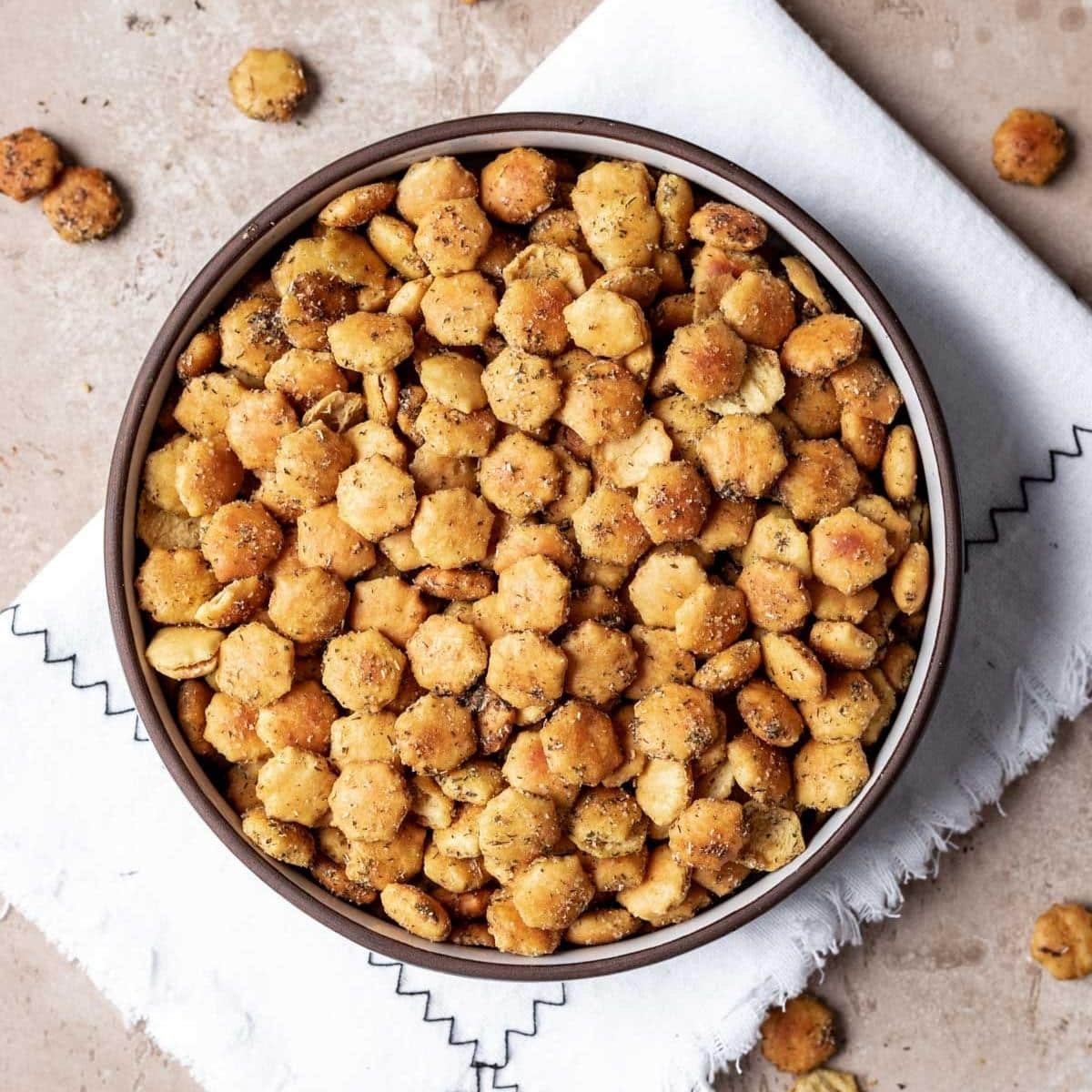 Ingredients
1/4

cup

vegetable oil

2

tablespoons

ranch seasoning mix

1

teaspoon

dried dill

16

ounces

oyster crackers
Instructions
Preheat oven to 350 degrees.

In a small measuring cup add the oil, ranch seasoning mix and dill, stirring well until smooth.

Add oyster crackers to a large mixing bowl.

Evenly pour the oil slowly over the oyster crackers.

Toss them quickly and well until all coated.

Spread onto baking sheet and cook for

20 minutes

until lightly golden brown.
Nutrition
Calories:
154
kcal
|
Carbohydrates:
22
g
|
Protein:
3
g
|
Fat:
6
g
|
Saturated Fat:
3
g
|
Trans Fat:
1
g
|
Sodium:
430
mg
|
Potassium:
47
mg
|
Fiber:
1
g
|
Sugar:
1
g
|
Vitamin A:
4
IU
|
Vitamin C:
1
mg
|
Calcium:
7
mg
|
Iron:
1
mg