Manhattan Clam Chowder is a hearty, savory, flavorful soup. Tomato based clam chowder with tender clams, bacon, potatoes, celery and carrots.
Clam Chowder is one of those classic favorite Soups that we all hope is soup of the day when we eat out, but is actually really easy to make at home!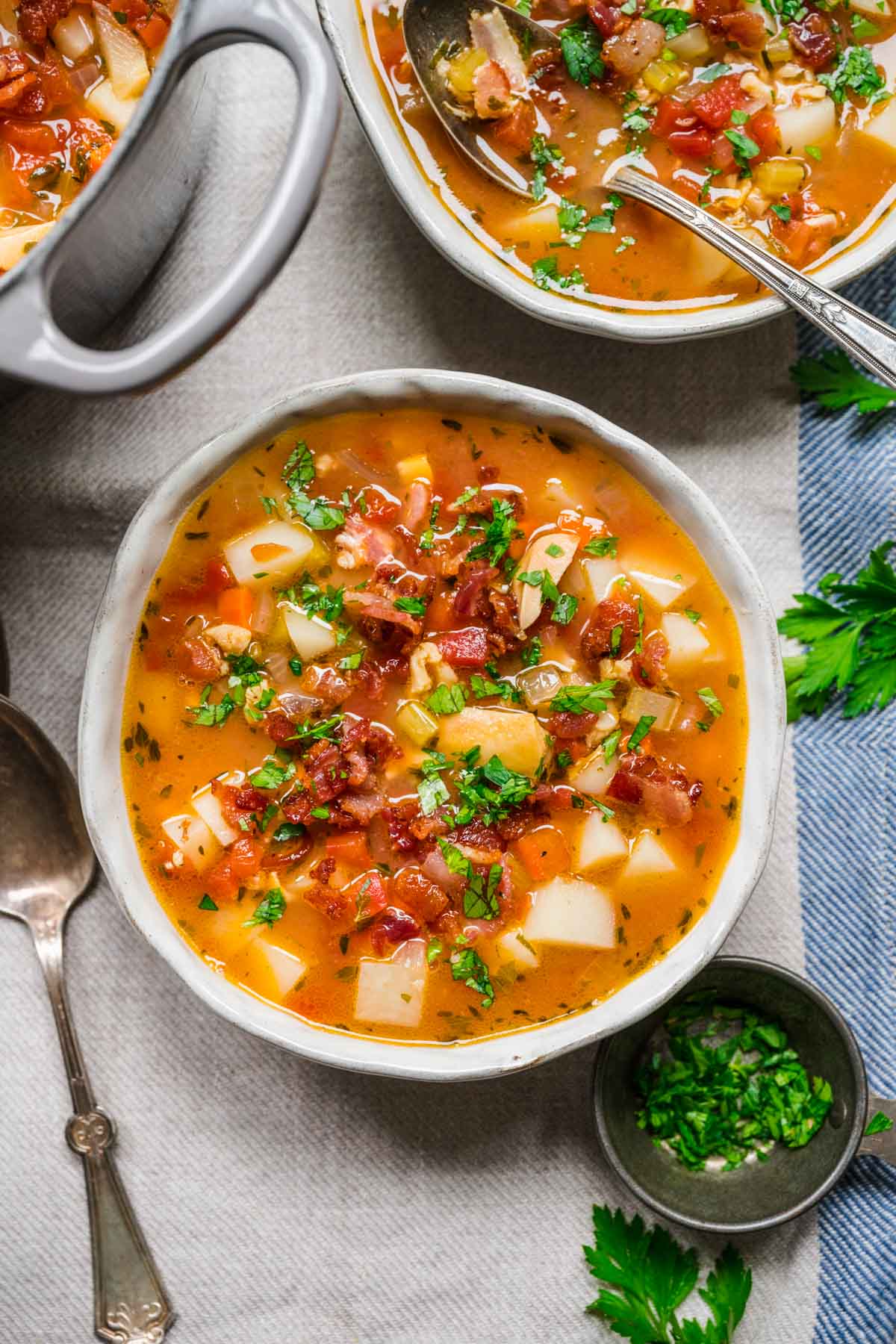 You'll love this tasty shellfish soup that's lighter but just as easy and delicious as the New England style creamy clam chowder variations. Red clam chowder has a tomato base instead of cream and is loaded with veggies so it's still hearty and filling. This Manhattan Clam Chowder is a fabulous comforting soup perfect for cool nights and light enough to serve during the summer too!
Manhattan Clam Chowder is a quick and budget friendly recipe that uses canned clams so there are no special prep skills like shucking needed. Get diced clams or minced clams so it's one less thing to chop, and be sure not to drain the clam juice. If you want even more flavorful clam broth, you could add bottled clam juice if it's in your pantry or your budget.
The lighter Manhattan Clam Chowder is healthier than a heavy cream soup, but it's definitely not light in flavor. It starts with bacon and then the aromatic veggies are sautéed in reserved bacon grease to give the perfect amount of fat. There is a toss up whether red clam chowder or New England clam chowder is the best, but really it comes down to what kind of seafood chowder you are craving!
Manhattan Clam Chowder is a delicious side dish for Italian favorites like Meat Lasagna or Chicken Parmesan. The savory tomato broth is begging to have a slice of homemade Dinner Rolls or Garlic Bread dunked into it. You can make this a slow cooker soup year round when the weather is hot and you don't want turn on the stovetop. Garnish this clam soup with chopped parsley, crushed red pepper, and oyster crackers.
More Chowder Recipes
Using Fresh Clams for Manhattan Clam Chowder
If you are lucky enough to get fresh clams for a great price, start with 2 pounds small clams, baby clams, or medium size Quahog clams.
Scrub clams very well and set aside. Start preparing chowder as usual but don't add clams for the first 10 minutes of simmering.
After soup simmers for 10 minutes, add scrubbed clams and simmer for 8-10 minutes until all the clams have opened.
Remove soup from heat and discard any clams that have not opened after 10 minutes.
Carefully remove clams, take out meat from shells and stir back into soup with cooked bacon. Discard shells unless you want a few for decoration.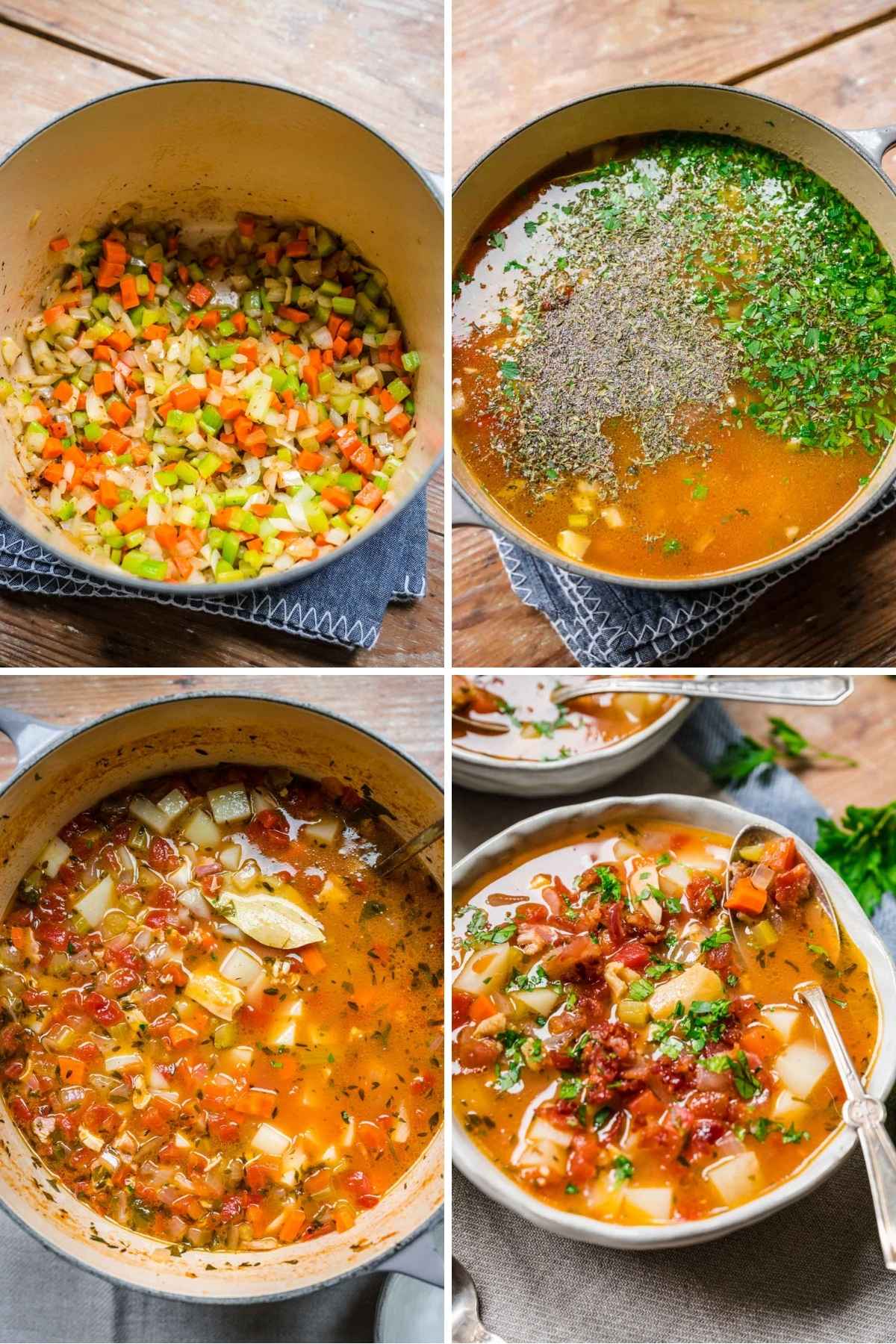 Create a free account to Save Recipes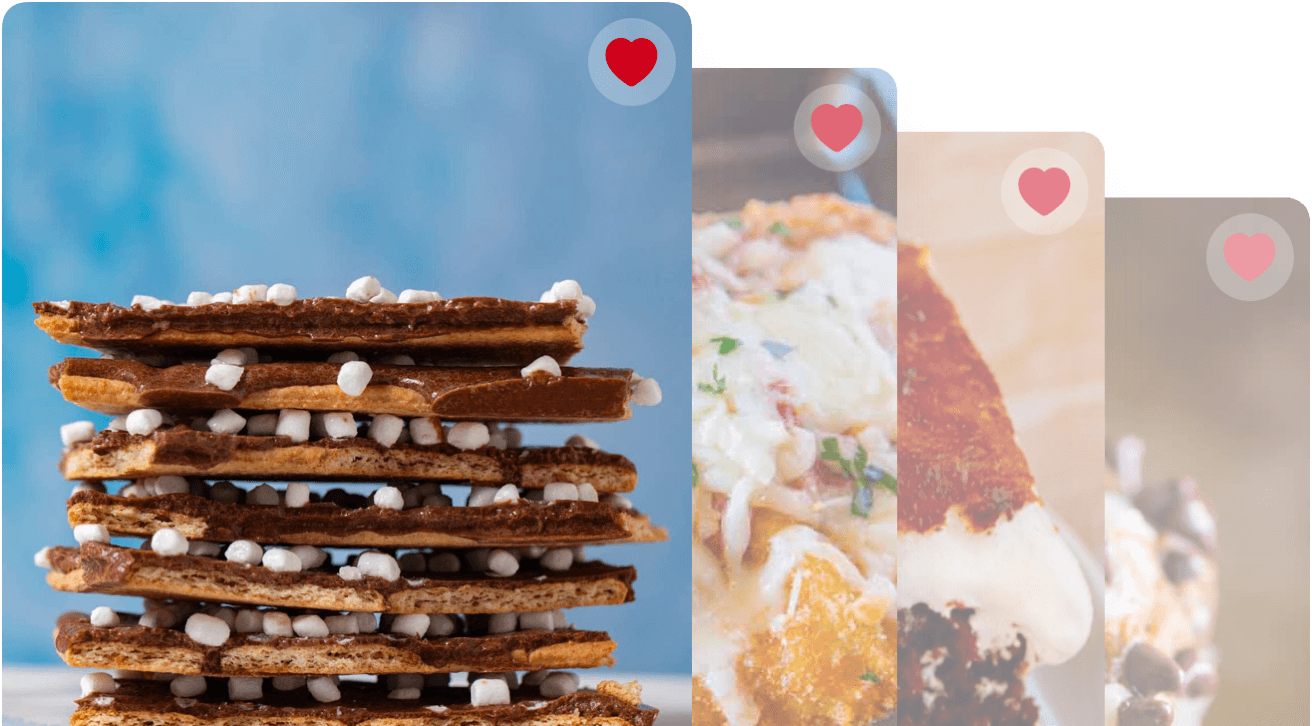 Frequently Asked Questions
What kinds of clams are used in Manhattan clam chowder?
Canned clams make this seafood chowder simple. You can use whole clams or already chopped clams, whichever is easiest.
Can I use other kinds of seafood in Manhattan Chowder?
Replace the clams with white fish like tilapia, cod, or sea bass to make a Manhattan Fish Chowder. You can keep the clams in and also add mussels, lobster, shrimp, and other shellfish for Manhattan Shellfish Soup.
Can I substitute the bacon in Manhattan Clam Chowder?
Instead of cooked bacon, you can use pancetta, salt pork, or leftover Baked Ham. If you don't want to use pork, you can try turkey bacon instead. Otherwise you can omit bacon entirely and use 2 tablespoons olive oil to cook veggies.
What kind of potatoes are used in Manhattan Clam Chowder?
Use any potatoes like Yukon gold potatoes, red potatoes, or sweet potatoes. For thin potatoes like Yukon gold potatoes, you don't need to peel them first. For a low carb and keto recipe, use celery root or cauliflower for potatoes.
What other vegetables can be added to Manhattan Clam Chowder?
Add green bell peppers, red pepper, canned or frozen corn, zucchini, or plum tomatoes for a healthier hearty soup.
Can I add other seasonings to Manhattan Clam Chowder?
Use Old Bay Seasoning, fresh herbs like fresh thyme and fresh parsley, a couple cloves garlic, white wine, bottled clam juice, red pepper flakes, or tomato juice for more wonderful flavor.
Variations on Manhattan Clam Chowder
Pasta: While not traditional, you could add some pasta to the Manhattan Clam Chowder, especially if you're serving to kids. Pasta shells, macaroni, or bowties will add some familiarity for children to encourage them to give this delicious soup a try, and win over a new fan.
Spicy: If you love spice, you can add a dash of your favorite spicy seasoning to the veggies as they cook. Another option is to add a few drops of hot sauce to the soup once it is done.
A Twist: Serve your clam chowder with a twist of lime or lemon over each bowl to give it a nice, brightly flavored finish. You could also top off each bowl with a dollop of sour cream, crème fraîche, or greek yogurt like we often see in tomato soup. A drizzle of heavy cream would also add an extra dimension of flavor.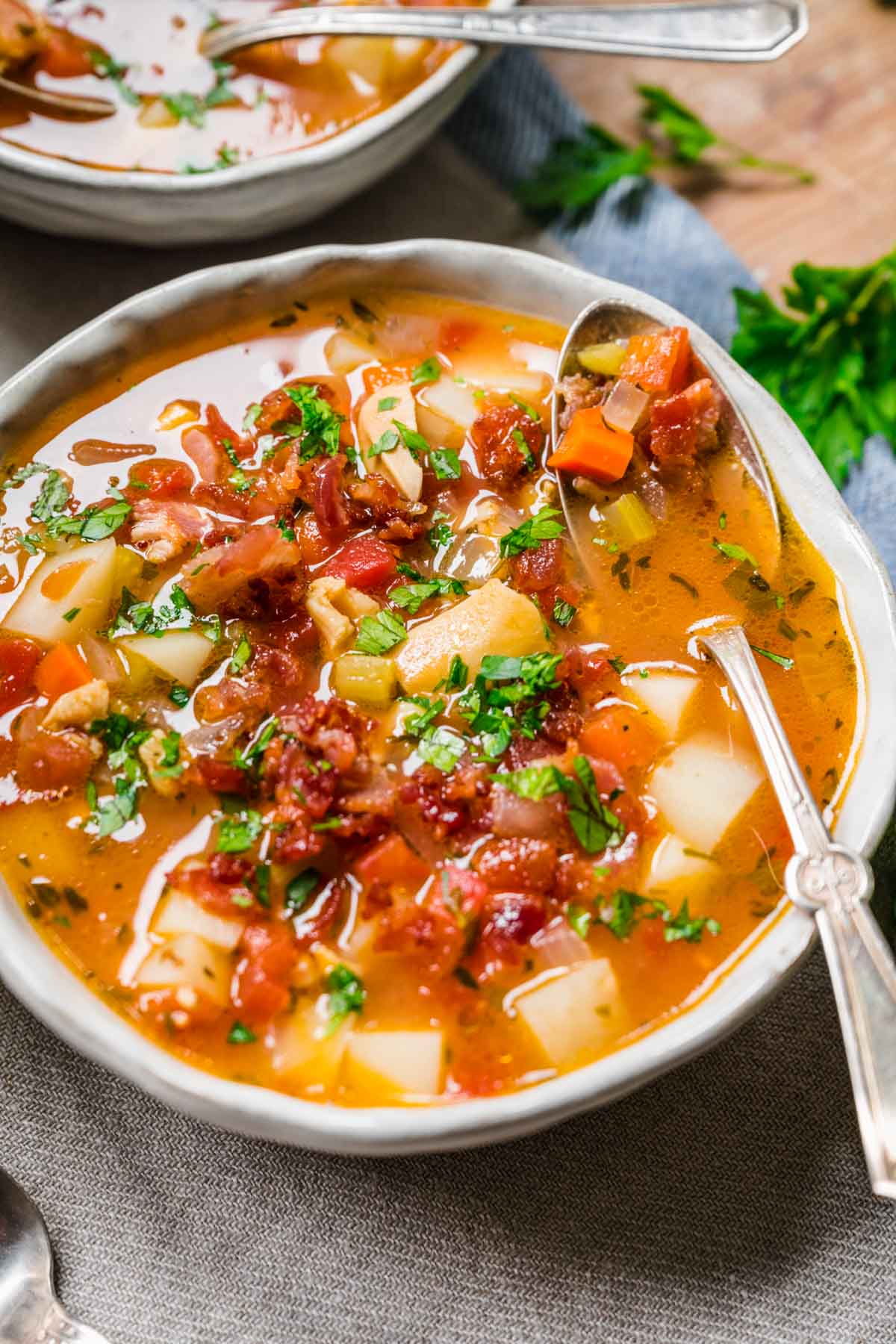 Slow Cooker Manhattan Clam Chowder
Bacon: In a large skillet, cook bacon until it's crispy. Remove bacon, set aside, and drain all but 2 tablespoons bacon grease.
Sauté Veggies: In reserved bacon grease, sauté onions, celery, and carrots until onions are translucent. Add onion mixture to crockpot and add remaining ingredients, except clams and bacon, in slow cooker and stir.
Cook: Cover slow cooker with lid and cook on low for 3-4 hours or high for 2 hours, until potatoes are fork tender. Place clams in tomato soup, stir, and cook an additional 20-30 minutes.
Serve: Stir in bacon and serve with chopped parsley and oyster crackers.
More Seafood Recipes
How to Store Manhattan Clam Chowder
Serve: Manhattan Clam Chowder can be at room temperature for up to 2 hours or kept warm in a slow cooker for up to 4 hours.
Store: Refrigerate Manhattan Clam Chowder in an airtight container for up to 3 days. Reheat on the stove top, simmering soup for about 5 minutes.
Freeze: Cool Clam Soup before freezing to prevent freezer burn from moisture. Freeze in a sealed container for up to 2 months and thaw overnight in the refrigerator before reheating.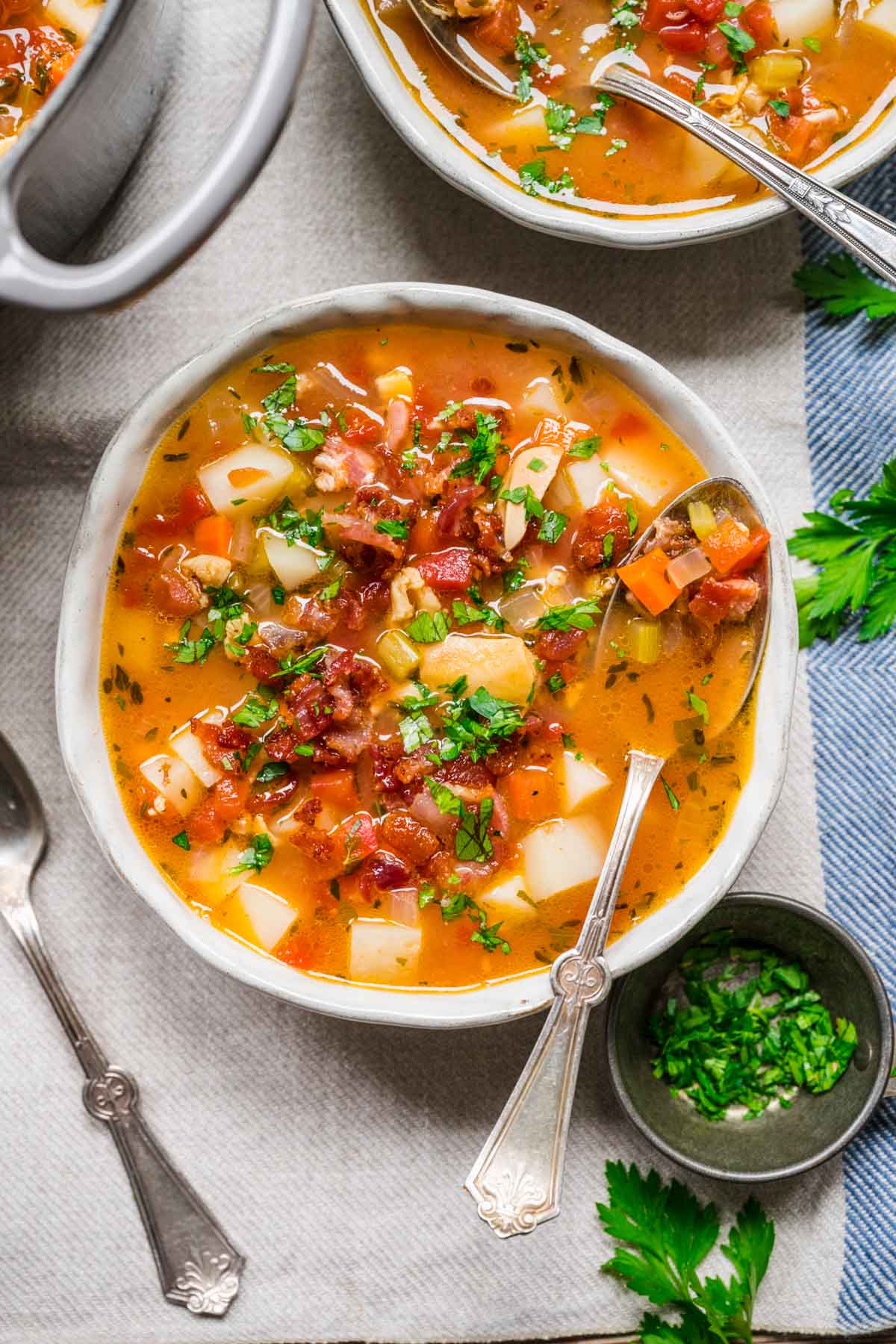 Ingredients
1/2

pound

bacon

1

yellow onion

, diced

2

carrots

, diced

3

stalks

celery

, diced

4

cups

vegetable broth

4

cans

clams

, chopped, undrained (6-½ ounces each)

28

ounces

diced tomatoes

, undrained

2

pounds

russet potatoes

, peeled and diced

2

tablespoons

parsley

, chopped

2

teaspoons

dried thyme

1

bay leaf

1/2

teaspoon

coarse ground black pepper
Instructions
Add the bacon to a large stockpot and cook until crispy and chewy.

Remove bacon from pan and drain all but 2 tablespoons grease.

Chop the bacon and set to the side.

Add in the onion, carrots and celery on medium heat and cook for

6-8 minutes

until translucent, stirring occasionally.

Add in the vegetable broth, clams, diced tomatoes, potatoes, parsley, thyme, bay leaf and black pepper.

Stir well, bring to a simmer and cook, uncovered, for

20-25 minutes

.

Stir in the bacon, and serve.
Nutrition
Calories:
329
kcal
|
Carbohydrates:
40
g
|
Protein:
10
g
|
Fat:
15
g
|
Saturated Fat:
5
g
|
Cholesterol:
25
mg
|
Sodium:
933
mg
|
Potassium:
1105
mg
|
Fiber:
5
g
|
Sugar:
8
g
|
Vitamin A:
4114
IU
|
Vitamin C:
26
mg
|
Calcium:
90
mg
|
Iron:
3
mg