Corn Chowder with Cornmeal Dumplings is the perfect creamy, hearty dish ready in around 30 minutes with corn, potatoes, and soft cornmeal dumplings.
This recipe takes a classic, hearty Corn Chowder Recipe and adds tender dumplings for an even more flavorful and comforting dish. It's the perfect Soup Recipe to serve on a cold night.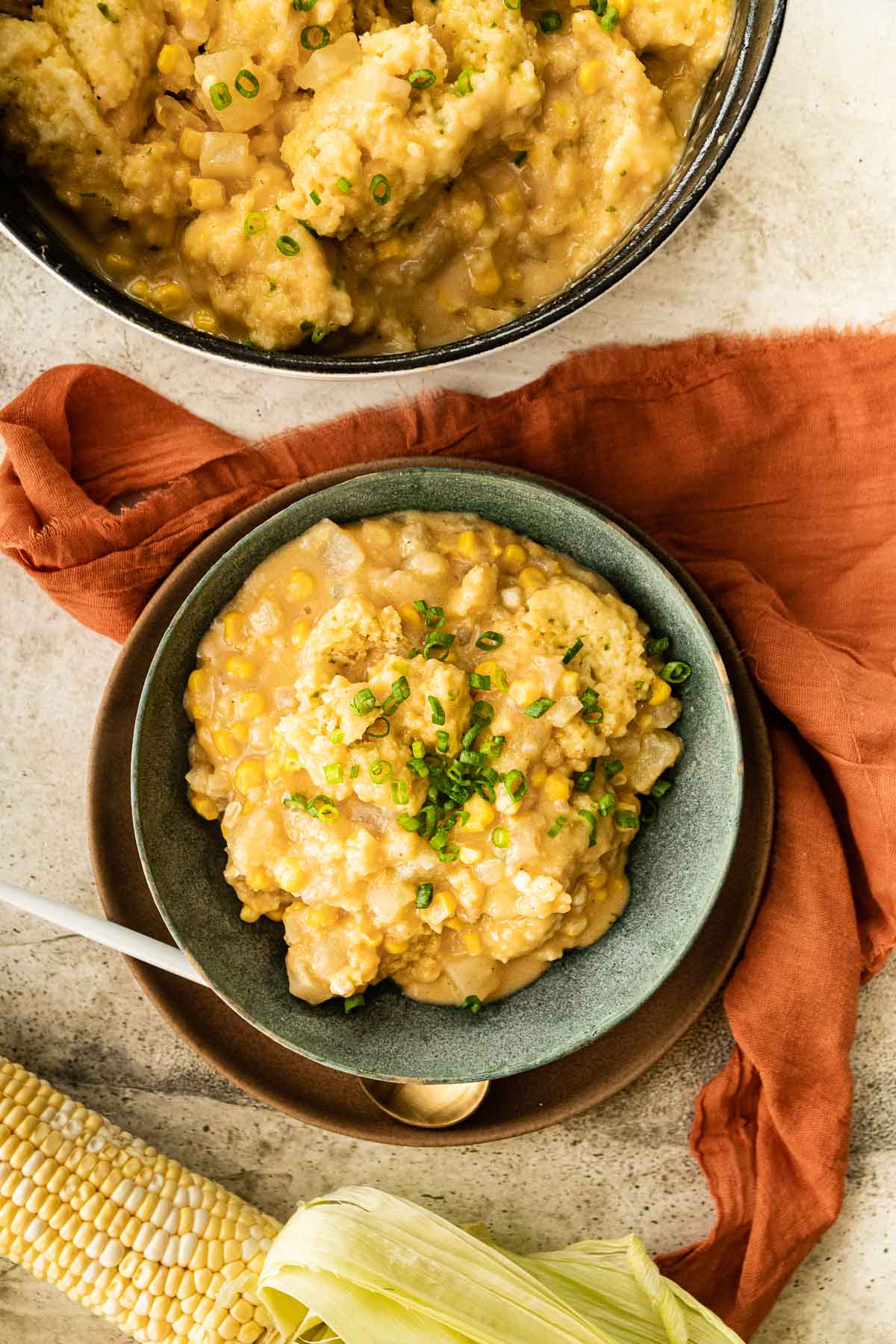 Corn Chowder with Cornmeal Dumplings is a simple recipe that's packed with wonderful flavors from amazing ingredients like sweet corn, hot sauce, potatoes, and chili powder. The chowder soup recipe is finished off with heavy cream to give it a rich, thick, creamy consistency. This flavorful corn chowder is delicious enough just with that, but this recipe also adds an amazing fluffy dumplings recipe.
The homemade cornbread dumplings are easy to whisk together with milk, flour, cornmeal, and baking powder for the batter. Cheddar cheese and green onions are then added in for an amazing, bold savory dumplings recipe. Thanks to the cornmeal, the cheddar cornmeal dumplings have a similar consistency to Classic Cornbread.
The creamy corn chowder and simple dumplings make the perfect hearty, warming dish. You can serve the soup recipe as a side dish with your favorite Sandwich for a soup and sandwich combo like you could get at a café. Or, enjoy a big bowl of Corn Chowder with Cornmeal Dumplings as your main dish with Crusty Bread for dipping in.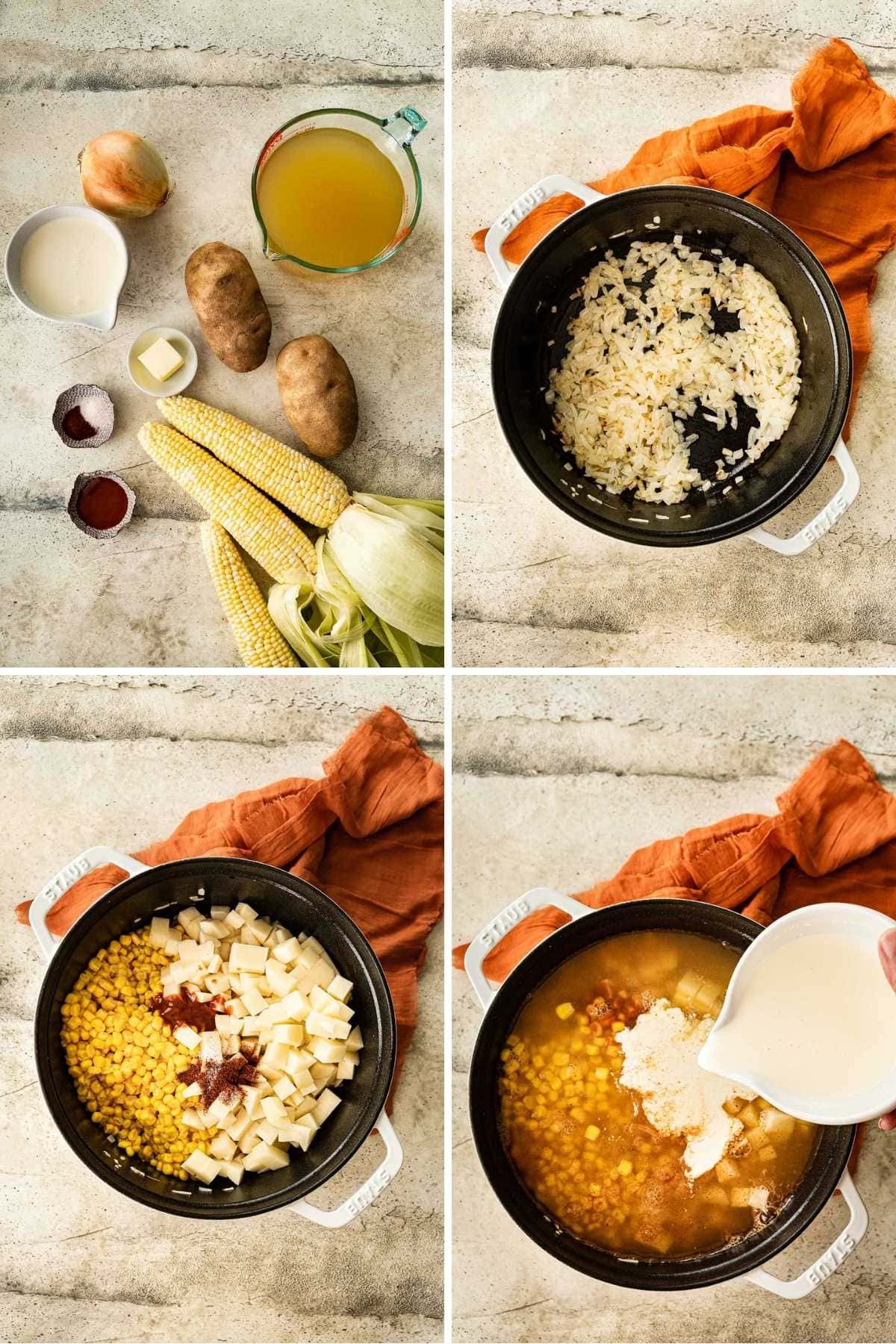 How to Make Corn Chowder with Cornmeal Dumplings
Onions: Start by slicing the yellow onion, and then adding them to the base of a heavy-bottomed soup pot or dutch oven with melted butter. Put the pot over medium-high heat and cook for 4-5 minutes or until the onion slices are translucent.
Chowder: Add the chicken broth, corn, potatoes, heavy cream, hot sauce, chili powder, and salt to the pot. Stir the ingredients, and bring the soup to a simmer over medium heat. Let it simmer uncovered for 4-5 minutes.
Cornbread dumplings: While the soup is simmering, make the dumpling dough. Add all-purpose flour, ½ cup cornmeal, baking powder, and garlic salt to a medium mixing bowl. Whisk the dry ingredients together, then add milk to the cornmeal mixture. Once it's combined into a coarse, crumbly dough, fold in the green onions and cheddar cheese.
Finish: Spoon dumpling mixture into rounded tablespoons, and drop dough into the soup. Cover the pot and continue simmering over medium-low heat for 20 minutes. Make sure to leave the lid on, and don't open the pot. Trapping the heat inside helps the cornmeal dumplings to cook through. To check if the dumplings are done, stick a toothpick in the center. If the toothpick comes out clean, ladle the chowder into bowls and serve.
Frequently Asked Questions
When is fresh corn in season?
Sweet corn on the cob is in season during the summer, which makes it perfect for fresh summer side dish recipes. However, you can make this delicious hearty corn chowder recipe all year round using frozen corn kernels. Frozen corn is picked and flash frozen at the peak of freshness, which makes it a perfect option to enjoy corn recipes all year long.
Is Corn Chowder vegetarian?
For a vegetarian option, use vegetable broth instead of chicken broth for this corn chowder recipe.
Do I need to make a roux for Corn Chowder?
While some chowder recipes do call for thickening the soup with a roux, which is a mixture of fat and flour cooked together, you do not need to take that extra step here. Corn Chowder with Cornmeal Dumplings will naturally thicken from the starch in the potatoes and the flour in the dumplings that both cook in the broth.
More Easy Soup Recipes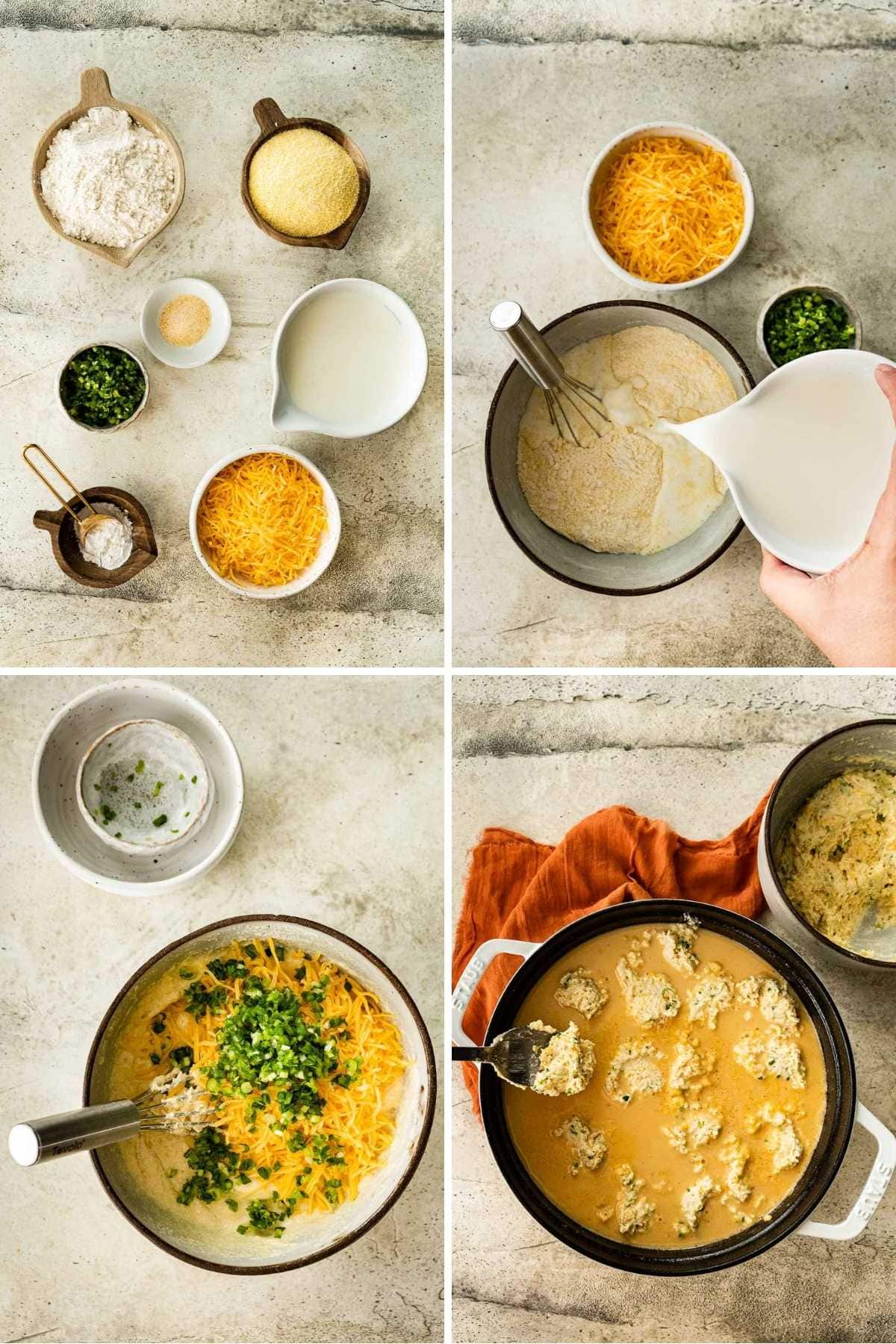 Create a free account to

Save Recipes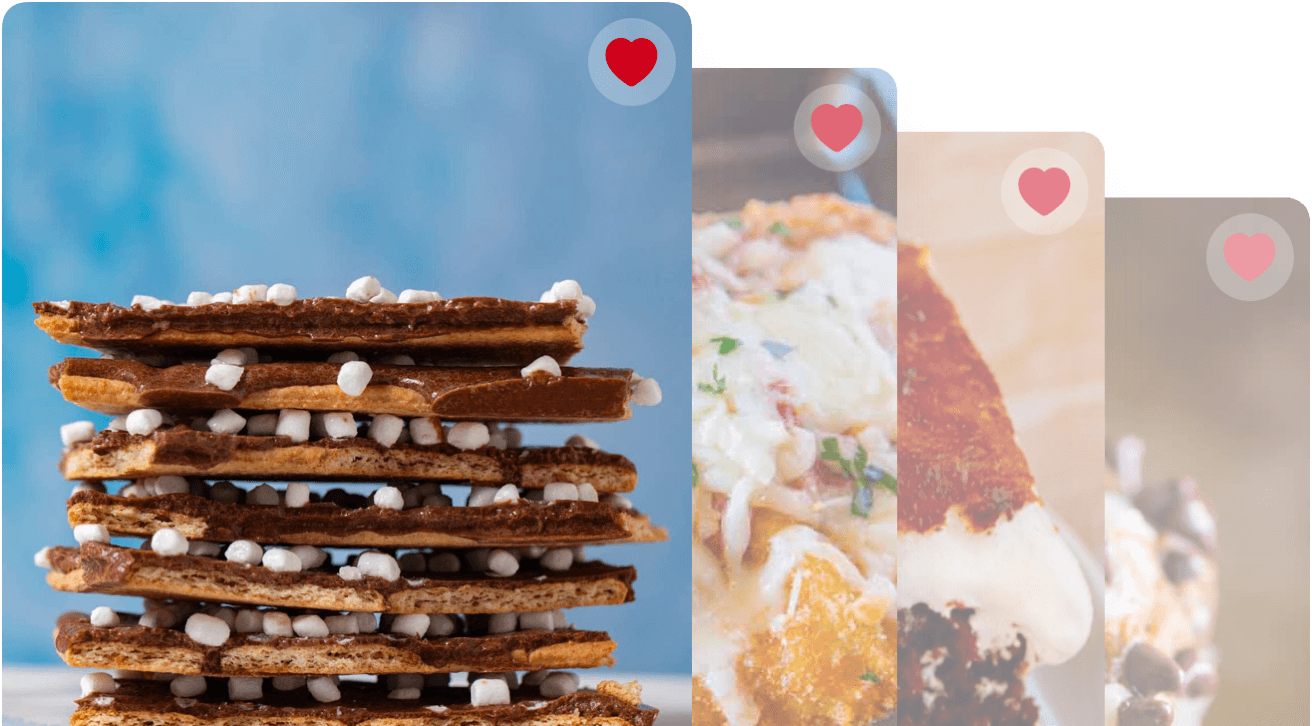 Key Ingredients in Corn Chowder with Cornmeal Dumplings
Corn: When corn is fresh in season, it is a wonderful option for this soup recipe. Look for cobs of corn that have bright green husks and do not look black or dried out around the tops. Keep in a plastic bag in the refrigerator with the husks on until you're ready to use. Frozen corn also works wonderfully in corn chowder.
Cornmeal: Cornmeal is made from ground dried corn kernels. It is more coarse than flour and has a nice chewy texture when used in breads, tortillas, or in this case, corn soup dumplings.
Heavy Cream: Use full fat heavy cream to give your corn chowder a silky, creamy consistency with lots of flavor.
Butter: Using butter to saute the onions infuses another layer of flavor in the rich hearty soup.
Vegetables: Onions provide an aromatic flavor to corn chowder that complements the sweetness of the corn kernels. The cubed potatoes help make this soup even heartier. They absorb the flavors from the rest of the soup and the starch helps to thicken it.
Cheddar Cheese: Adding shredded cheddar to the cornmeal dumplings adds a slightly sharp contrast to the sweet corn. Use a good quality cheese for the best flavor.
Slow Cooker Corn Chowder with Cornmeal Dumplings
Start by cooking the onions in a skillet until translucent.
Then add the chicken broth, corn, potatoes, heavy cream, hot sauce, chili powder, salt, and onions to the slow cooker.
Stir, cover, and cook on high for 7-8 hours.
Whisk together the flour, cornmeal, baking powder, and garlic salt. Then whisk in the milk.
Stir in the green onions and cheddar cheese.
Drop spoonfuls of the dumpling batter into the corn chowder.
Cover and cook for an additional 30-40 minutes until a toothpick inserted in the dumplings comes out clean.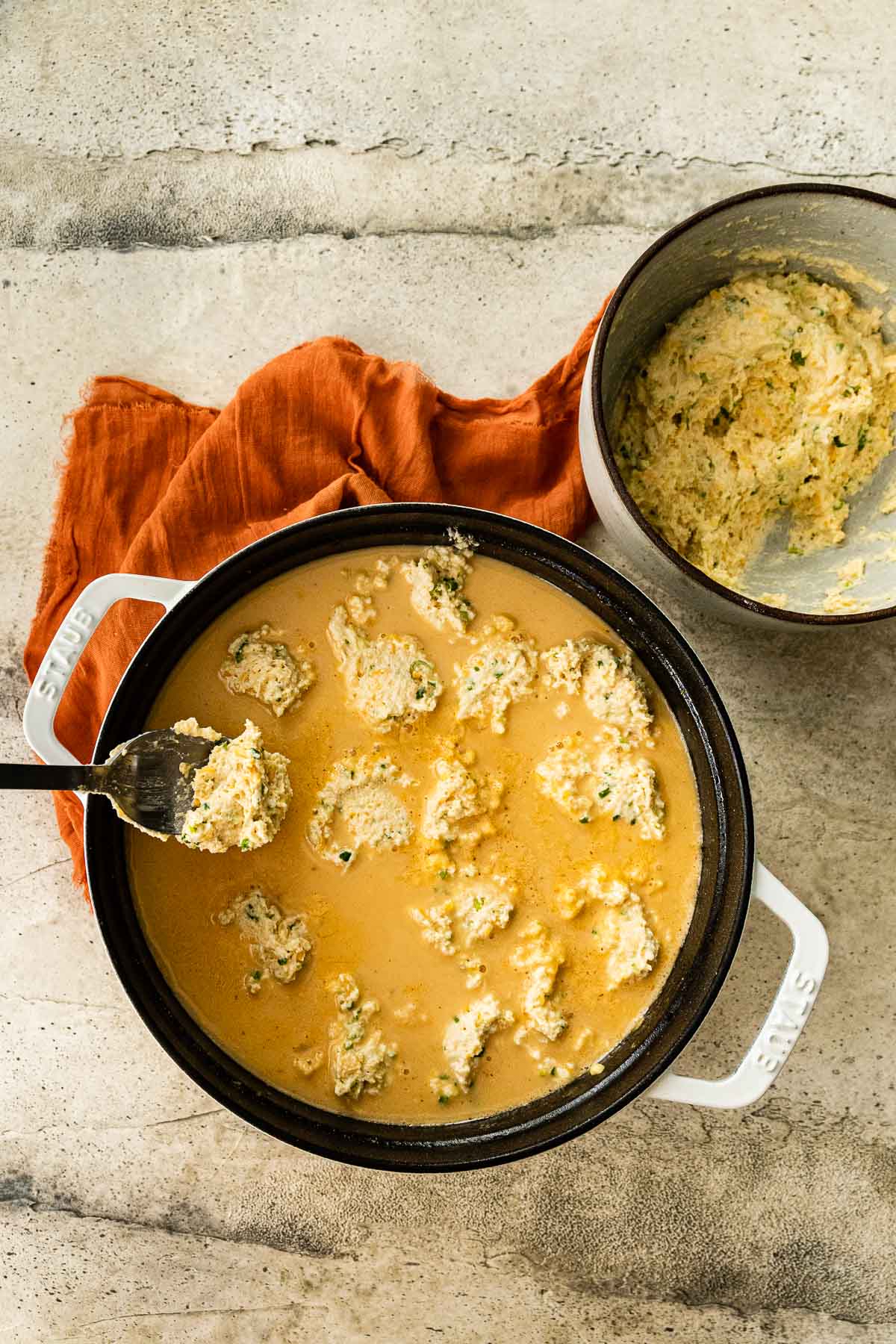 Variations on Corn Chowder with Cornmeal Dumplings
Chicken: If you want to add some more protein into your recipe, try mixing in some chicken. You can either brown ground chicken with the onion before adding the other soup ingredients or use already-cooked chicken. Slice Rotisserie Chicken or another leftover chicken recipe into bite-sized pieces. Then add the cubed chicken to the soup pot and heat it through before serving.
Beans: Another way to add some protein is by mixing beans into the chowder recipe. Northern beans, navy beans, or black beans would make delicious and filling ingredients.
Gluten-free: To make the dumplings recipe gluten free, you'll need to use a gluten-free alternative in the flour mixture. Buckwheat, almond flour, or rice flour would all work well in the dumpling batter. Cornmeal is already gluten free, so you shouldn't have to change the rest of the recipe.
Seasonings: For extra flavor try adding fresh flat-leaf parsley, ground black pepper, bay leaf, paprika, red pepper flakes, or cumin.
Bacon: Lots of people like corn chowder with bits of bacon. You can cook up bacon before starting the recipe and slice it into small pieces to add to the soup.
Vegetables: Try adding bell pepper, green beans, and carrots. If you want hot peppers mix in chipotle pepper, jalapeños, or green chilies.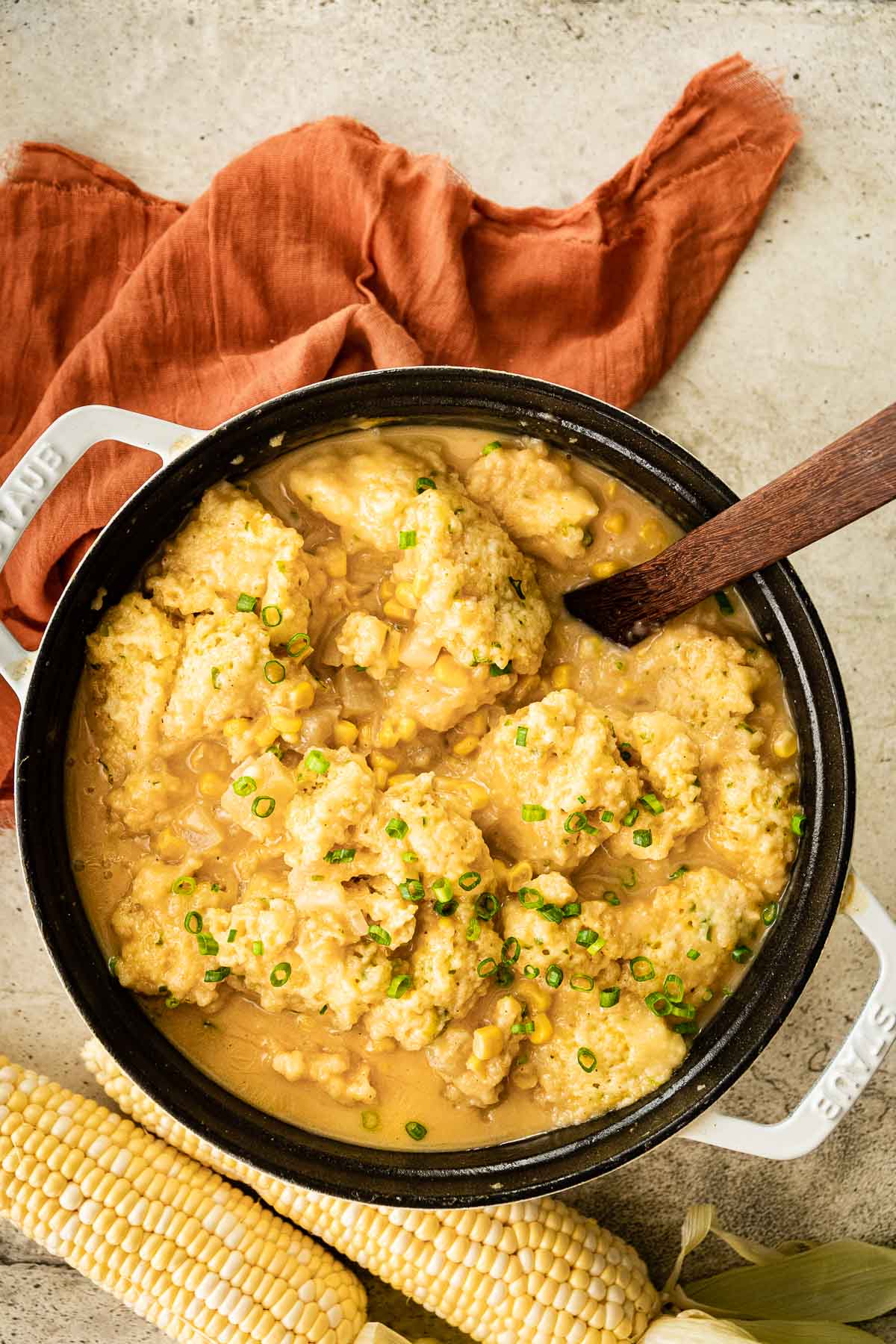 How to Serve Corn Chowder with Cornmeal Dumplings
Serve the chowder at the table directly from the pot to keep it warm, or from a slow cooker on the warm setting. In addition to the green onions, have a variety of fun toppings like extra shredded cheese, sour cream, sliced jalapeños, or crumbled bacon for everyone to personalize their bowl of corn chowder.
What to Serve with Corn Chowder
How to Store Corn Chowder with Cornmeal Dumplings
Serve: Don't keep Corn Chowder with Cornmeal Dumplings at room temperature for more than 2 hours. If you want to keep the dish out longer, pour the chowder in a crockpot at low heat.
Store: Transfer the chowder to an airtight container to store in the fridge for 3-4 days.
Freeze: You can also freeze Corn Chowder with Cornmeal Dumplings for up to 4 months. Reheat it in a large pot on the stovetop before serving.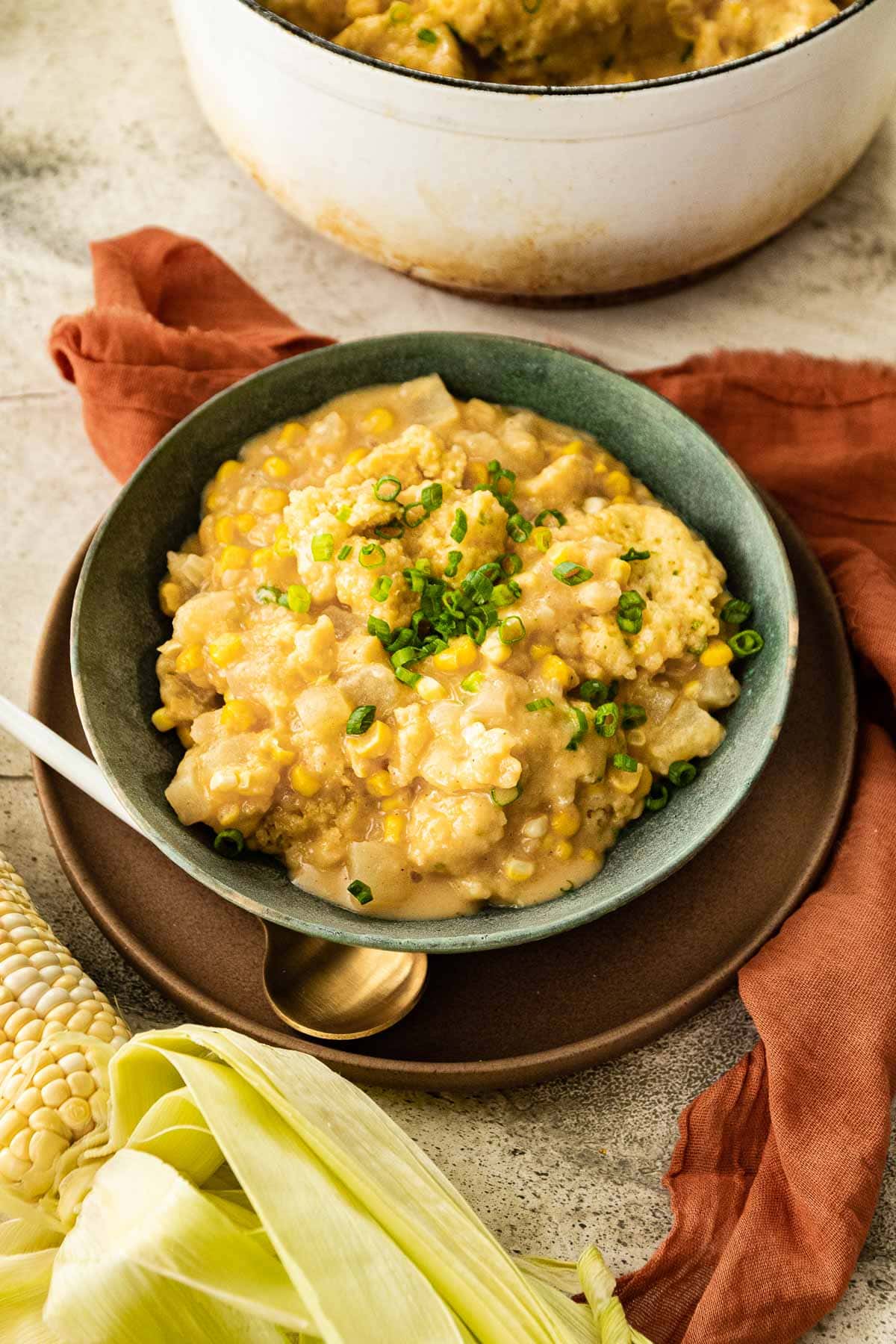 Ingredients
Corn Chowder:
1

tablespoon

unsalted butter

1

yellow onion

, chopped

4

cups

chicken broth

3

cups

sweet corn

, frozen or fresh

2

russet potatoes

, peeled and diced (Yukon okay too)

1

cup

heavy cream

1

teaspoon

hot sauce

1/2

teaspoon

chili powder

1/2

teaspoon

Kosher salt
Cornmeal Dumplings:
1

cup

flour

1/2

cup

yellow cornmeal

2

teaspoons

baking powder

1/2

teaspoon

garlic salt

1

cup

whole milk

1/4

cup

green onions

, minced

2/3

cup

shredded cheddar cheese
Instructions
Add butter to a large heavy-bottomed pot.

On medium-high heat, add in the onions, cooking them until they are translucent (about

4-5 minutes

).

Add chicken broth, corn, potatoes, heavy cream, hot sauce, chili powder, and salt.

Stir well and bring to a simmer, uncovered, for

4-5 minutes

.

While the soup is simmering make the cornmeal dumplings: In a large bowl whisk together the flour, cornmeal, baking powder, and garlic salt until well mixed.

Add in the milk and whisk.

Stir in the green onions and cheddar cheese.

Drop-in small heaping tablespoons onto the soup.

Cover the pot and let it simmer on medium-low for

20 minutes

(no peeking).

Test dumplings with a toothpick.
Nutrition
Calories:
378
kcal
|
Carbohydrates:
46
g
|
Protein:
10
g
|
Fat:
18
g
|
Saturated Fat:
11
g
|
Trans Fat:
1
g
|
Cholesterol:
57
mg
|
Sodium:
825
mg
|
Potassium:
696
mg
|
Fiber:
4
g
|
Sugar:
5
g
|
Vitamin A:
849
IU
|
Vitamin C:
17
mg
|
Calcium:
190
mg
|
Iron:
2
mg