Rocky Road Trail Mix is a quick, easy, sweet, and crunchy snack with teddy Grahams, almonds, chocolate chips, and mini marshmallows.
This Trail Mix recipe is a kid-friendly Sweet Treat that you can throw together in a matter of minutes for a great on-the-go snack. For more fun and easy snack recipes try our Rice Krispies Trail Mix Bars and Concession Stand Popcorn Mix next.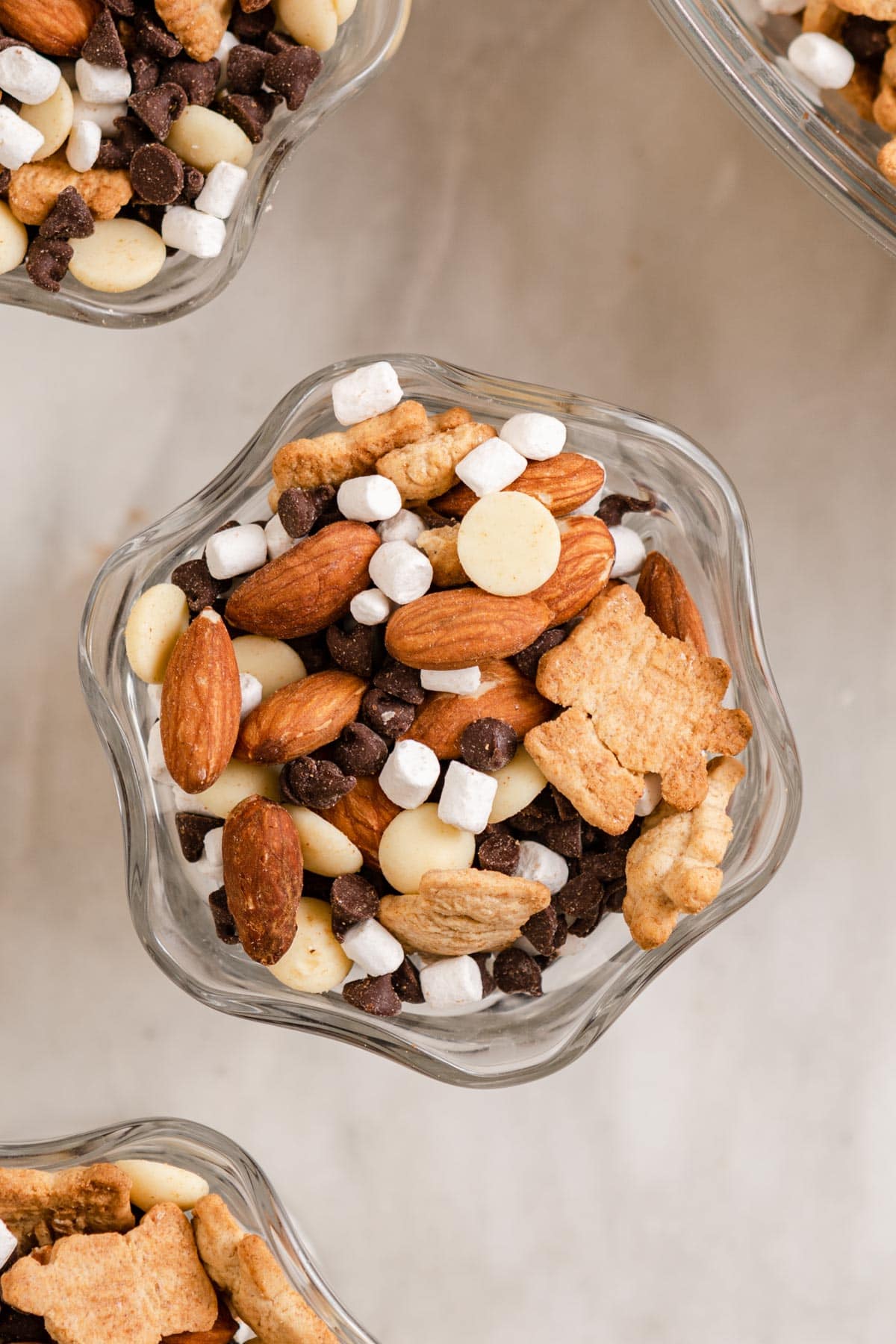 This sweet and salty trail mix is made with the best tasty ingredients. With chocolate, almonds, Teddy Grahams, and marshmallows, the flavors are inspired by classic rocky road ice cream. The classic ice cream mix-ins turn into a filling and delicious trail mix that is sure to be a favorite with the whole family!
It only takes a minute or two to make Rocky Road Trail Mix. Just toss the ingredients together in a huge bowl, and you're ready to go. It's the perfect recipe to serve for a movie or game night. You can also package them up to take on a hike, road trip, or send them with your kids as a school treat.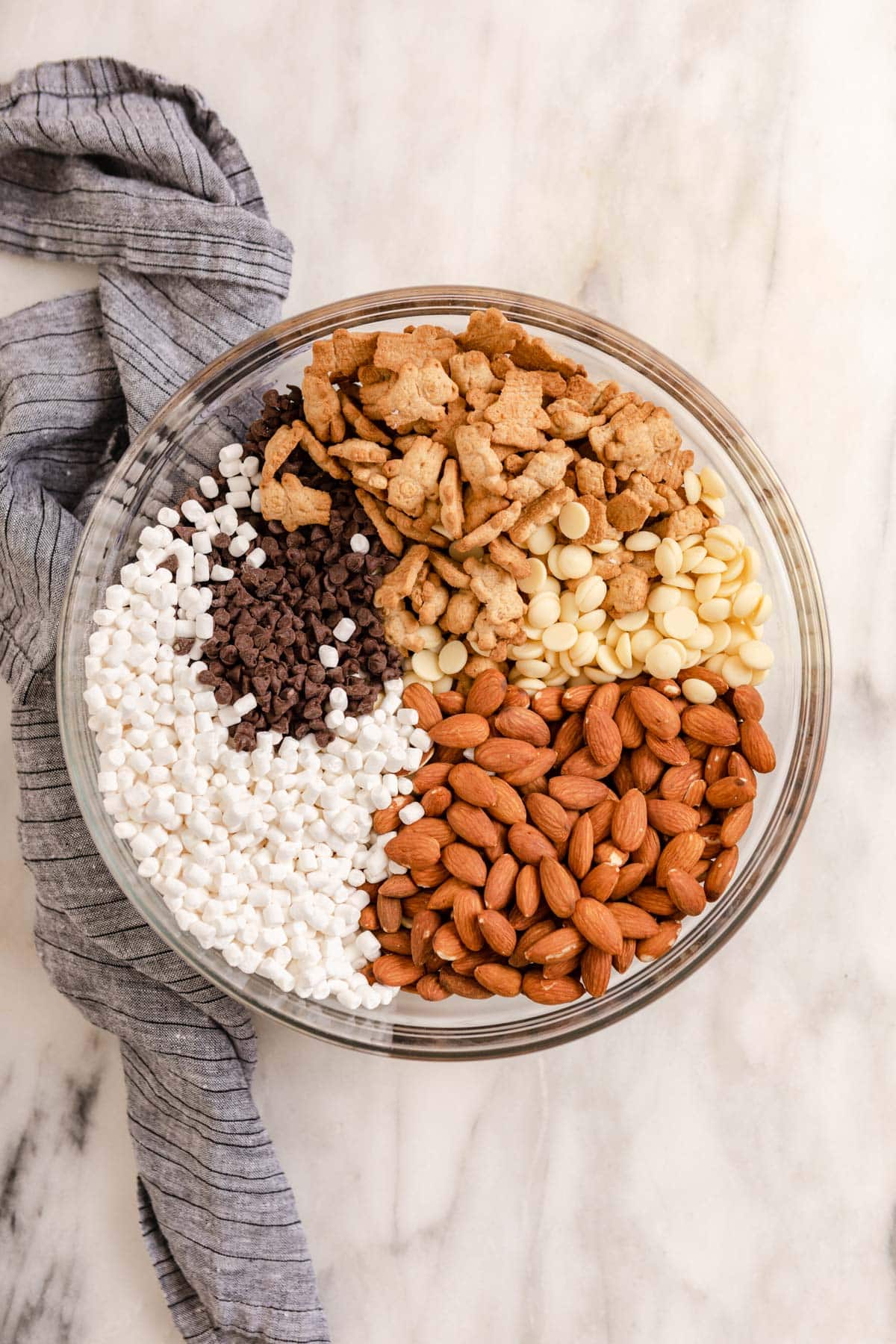 Trail mixes make the perfect tasty treats because they're quick, simple, and you can easily experiment with different flavors and textures. Because all you have to do is toss together your favorite snacks in a mixture, it's easy to make all different variations on the snack. If you love this recipe and are looking for another type of trail mix to try next, take a look at our Costco Trail Mix or Tropical Trail Mix.
MORE TASTY SNACKS
HOMEMADE ROCKY ROAD GRANOLA BARS
Rocky Road Trail Mix is a great on-the-go snack for a hike or camping trip. Another favorite snack to take with you on the road is a granola bar. You can use these same base ingredients to make delicious homemade granola bars. Here are the easy steps:
Preheat your oven to 325 degrees. Then line a square baking pan with parchment paper.
Add the almonds, teddy Grahams, chocolate chips, and marshmallows to a large mixing bowl, and toss them together until the ingredients are well distributed.
To bring the ingredients together into bars, you need liquid ingredients. Whisk together ¼ cup maple syrup or honey with 1 teaspoon vanilla extract. You could also mix in 2 tablespoons melted creamy or crunchy peanut butter if you want some peanut butter flavor in the bars.
Pour the sugar mixture over the bar mix-ins. Then stir the mixture together until the nuts and chocolate are all coated in a sticky mixture.
Add the mixture to the prepared baking sheet, and flatten it into one even layer.
Bake for 30-35 minutes.
Let them cool to room temperature before slicing and eating the bars.

Create a free account to

Save Recipes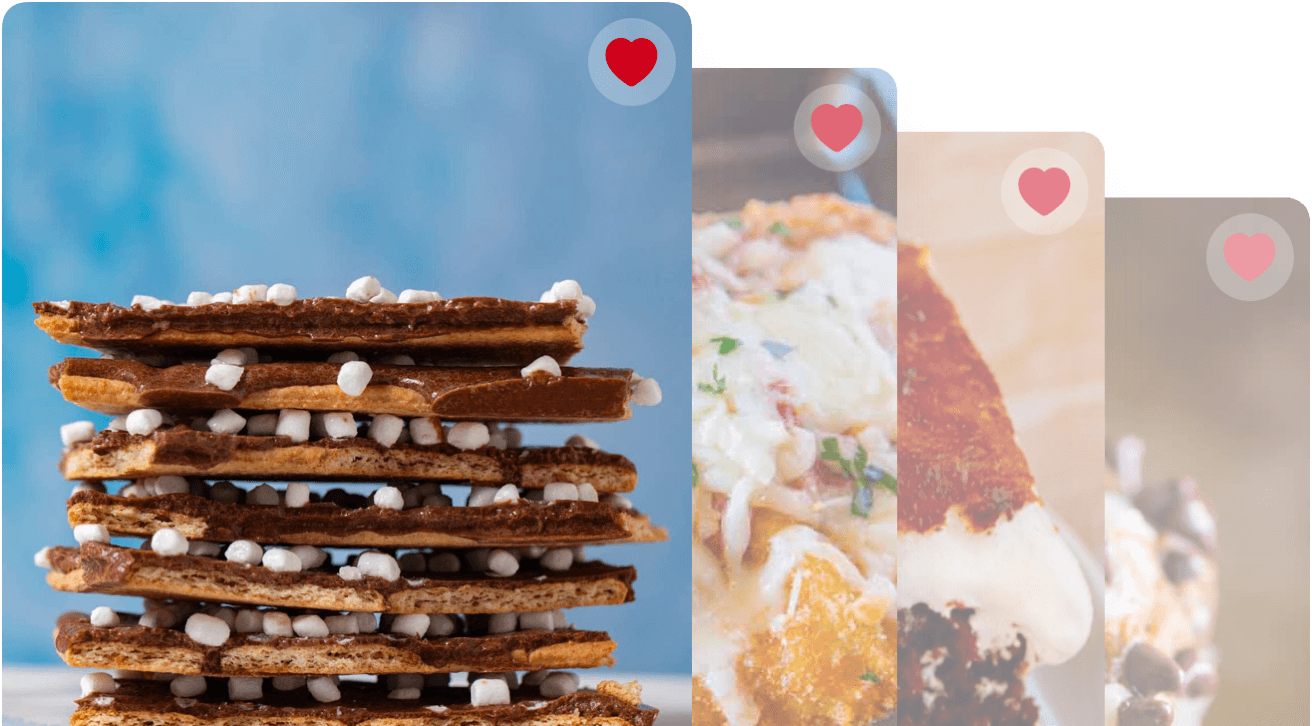 VARIATIONS ON ROCKY ROAD TRAIL MIX
Nuts: Nut trail mixes are wonderfully filling and packed with protein. For some extra nuts in the recipe try adding roasted peanuts, pecans, or cashews along with the almonds. Peanuts are always a favorite addition to trail mix ingredients, and you can experiment with regular peanuts, salted peanuts, honey peanuts, or toffee peanuts.
Honey nut cheerios: To get some honey nut flavor in the recipe, you can replace the Teddy Grahams with tasty honey nut cheerios.
Dark chocolate: For a deeper chocolate flavor in the recipe try using dark chocolate chips. You can use dark chocolate chips to replace the chocolate chips already in the recipe or just to go along with them.
M&M Rocky Road Trail Mix: For delicious M&M Rocky Road Trail Mix toss in a cup of M&M candies to go along with the other sweet ingredients.
Fruits: This regular trail mix will also taste great with some dried fruit add-ins. Try banana chips, raisins, dried cherries, or cranberries.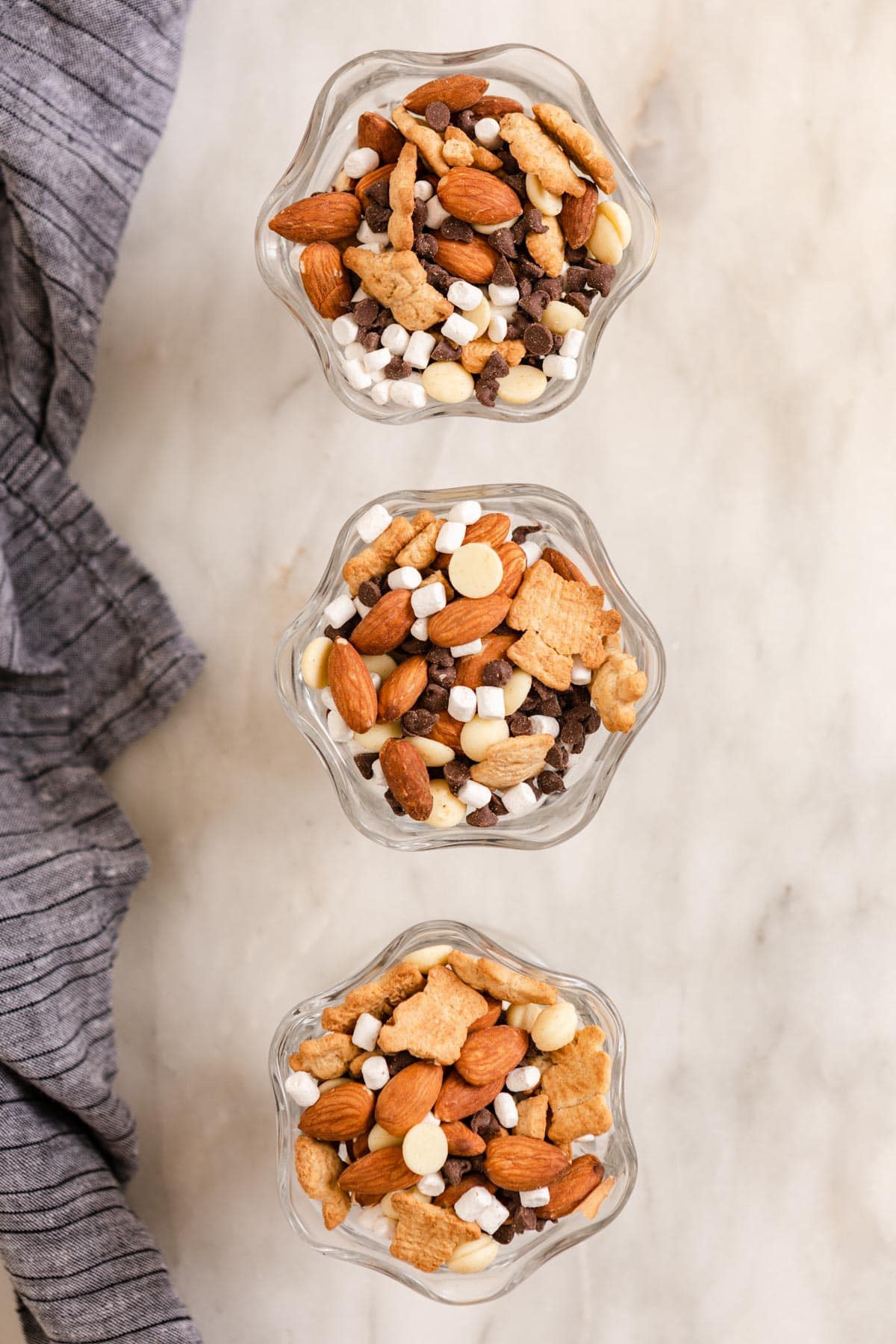 MORE SWEET AND SALTY SNACKS
HOW TO STORE ROCKY ROAD TRAIL MIX
Storage: Even though this is a big recipe, you don't have to worry about it going bad. For one thing, it will probably get gobbled up in no time, and for another, it has an excellent shelf life. Once you've tossed the ingredients together, you can transfer the mix to a Ziplock bag or another airtight container to store in your pantry. As long as you keep it sealed, the Rocky Road Trail Mix can stay good for up to 6 months.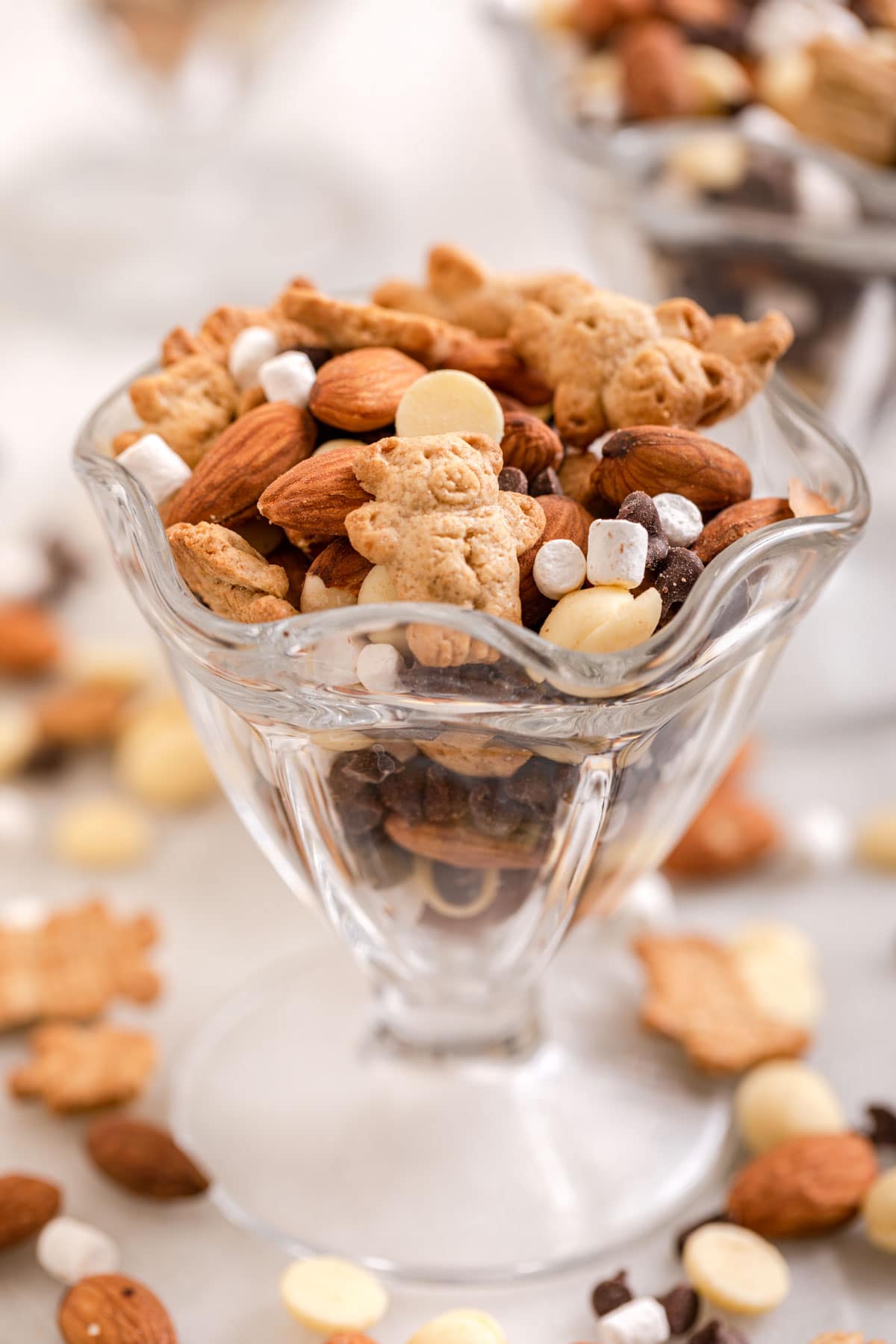 Instructions
Mix all the ingredients together in a large bowl.

Store in an airtight container.
Nutrition
Calories:
347
kcal
|
Carbohydrates:
35
g
|
Protein:
7
g
|
Fat:
21
g
|
Saturated Fat:
7
g
|
Trans Fat:
1
g
|
Cholesterol:
4
mg
|
Sodium:
117
mg
|
Potassium:
281
mg
|
Fiber:
4
g
|
Sugar:
21
g
|
Vitamin A:
12
IU
|
Vitamin C:
1
mg
|
Calcium:
98
mg
|
Iron:
2
mg