Strawberry Upside Down Cake is an easy, delicious stunning summer dessert. Fresh strawberries and sweet candied glaze top a vanilla cake made from scratch.
Fresh ripe strawberries make an easy, bright, summery twist on Pineapple Upside Down Cake is sure to be one of your new favorite Cake Recipes!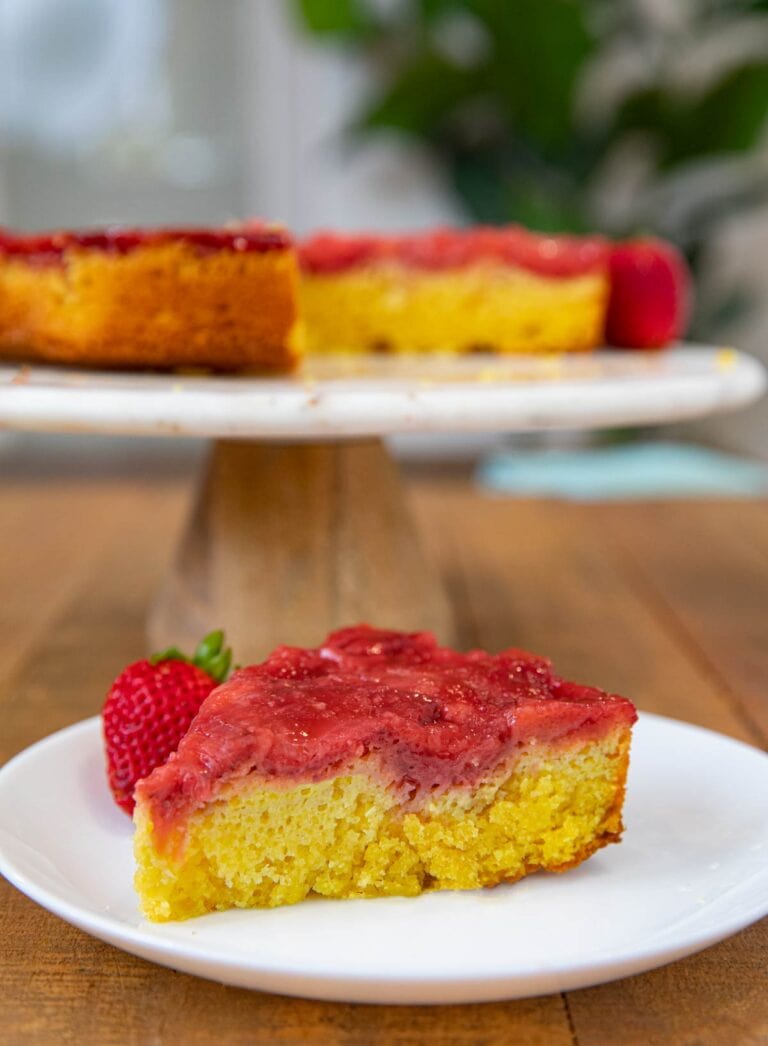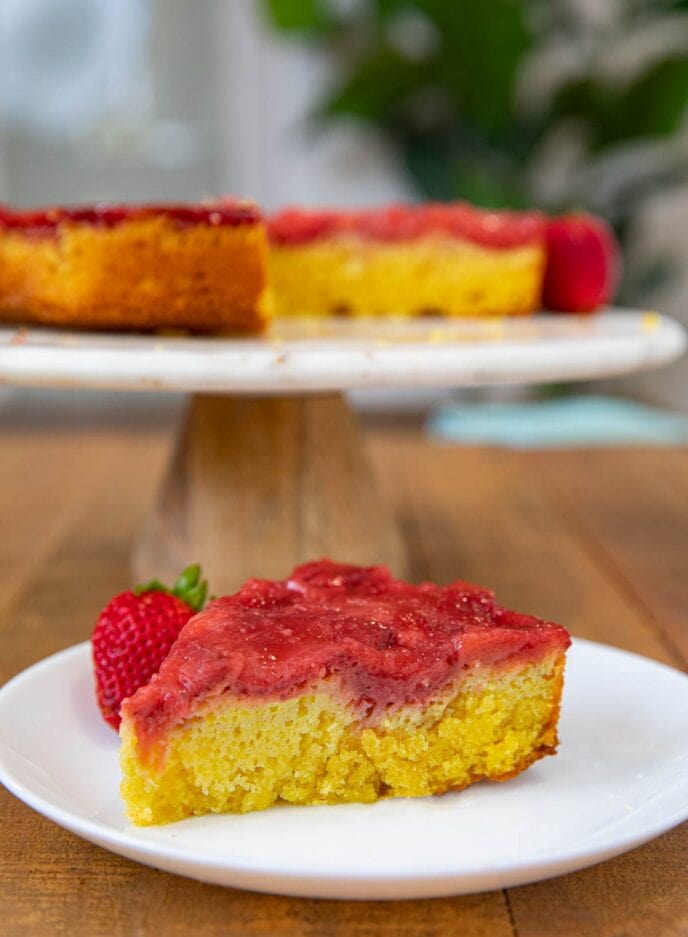 STRAWBERRY UPSIDE DOWN CAKE
Pineapple Upside Down Cake may be a favorite old fashioned cake recipe, but upside down cakes, also known as skillet cakes, have been around for centuries. Baking a moist cake over fresh fruit and then inverting it has been an easy way to get a stunning cake long before Dole introduced us to canned pineapple slices.
One of the best things about upside down cakes is that you can make them year round with whatever ripe seasonal fruit you have on hand. This Strawberry Upside Down Cake recipe is perfect for plump, juicy strawberries on sale all summer long.
If it's not strawberry season, but you are still craving Strawberry Upside Down Cake, you can absolutely use frozen strawberries instead! Make sure to thaw the berries and pat them dry. Too much moisture will make the topping syrupy and not get caramel-like.
This recipe seems like a lot of ingredients and steps, but it's actually very simple. The total time to make Strawberry Upside Down Cake, from gathering ingredients to enjoying it with a scoop of Vanilla Ice Cream, is about an hour and half. Use the cake mix hack below to shave off about 30 minutes.
This Strawberry Upside Down Cake is gorgeous and tasty on its own, but you can serve it with Whipped Cream or pipe Buttercream Frosting on the edges once it has cooled. For the brightest strawberry topping, serve your cake within 30 minutes of baking. Baked fruit tends to lose color over time, but it definitely won't lose any of the delicious flavor!
MORE EASY SUMMER DESSERTS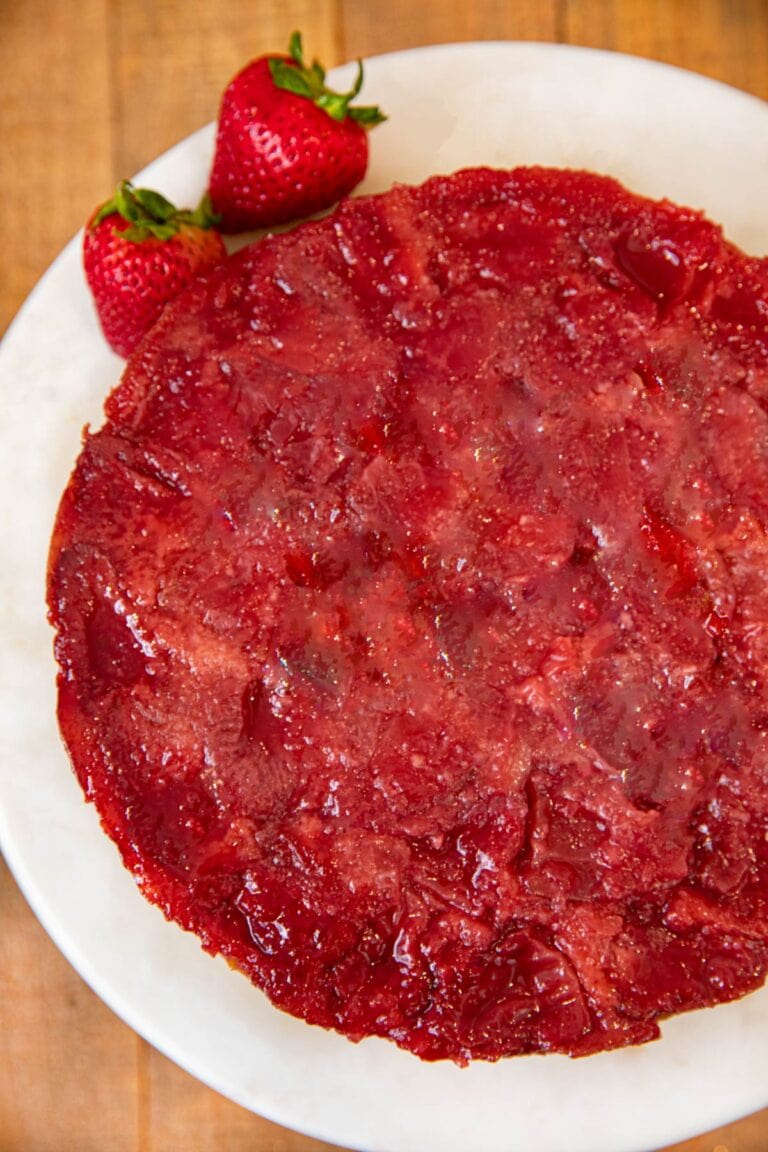 VARIATIONS ON STRAWBERRY UPSIDE DOWN CAKE
Chocolate: Use Chocolate Cake batter instead of vanilla cake for a chocolate covered strawberry taste. You can also fold in a 1/2 cup milk chocolate, semi-sweet chocolate, or white chocolate chips.
Marshmallows: A layer of chopped Marshmallows over the strawberries will create pockets in the cake as it bakes for the glaze seep into. Use half the sugar in the strawberry mixture if adding marshmallows.
Berries: This upside down cake can be made with all your favorite fresh berries. Try blueberries, raspberries, blackberries, or use 4 cups mixed berries.
Jell-O: Sprinkle a package of dry strawberry jello mix over the strawberries. This not only adds flavor, but keeps the topping bright red for days!
Strawberry Rhubarb Upside Down Cake: For a classic strawberry pairing, substitute 1 cup peeled and cubed rhubarb for 1 cup strawberries.
Strawberry Upside Down Cake with Cake Mix
Substitute an 18.25 ounce box of cake mix for the dry ingredients. Use vanilla or yellow cake, or try strawberry cake mix.
For the wet ingredients, use 4 eggs, 1 cup melted butter, and 1 1/4 cup milk.
Prepare strawberry mixture and place in bottom of the pan.
In a medium bowl, combine cake mix and wet ingredients.
Spread cake batter over strawberries and bake at 350 degrees for 45-55 minutes.
Strawberry Upside Down Cake Adjustments for Different Sized Pans
Use the toothpick method to test when the cake is done baking. The toothpick should come out clean with moist crumbs.
Muffin Pan: Grease a 12 cup muffin tin with baking spray. Divide strawberry mixture and cake batter evenly. Bake for 25-28 minutes.
13×9 Baking Dish: Line with parchment paper and grease well with baking spray. Bake for 40-50 minutes.
Cast Iron Skillet: Grease a 10-12 inch skillet, add a parchment paper circle at bottom of pan, and spray paper with baking spray. Bake for 35-40 minutes.
MORE FRESH FRUIT DESSERTS
HOW TO STORE STRAWBERRY UPSIDE DOWN CAKE
Serve: Strawberry Upside Down Cake is best served warm. Cover cake and keep at room temperature for up to 3 days
Store: Refrigerate the cake covered in plastic wrap, or in an airtight container, for up to 1 week. Warm in the oven or bring to room temperature to serve.
Freeze: Cool Strawberry Upside Down Cake completely and wrap with plastic wrap and aluminum foil. Freeze for up to 3 months. Defrost in the refrigerator before reheating the oven.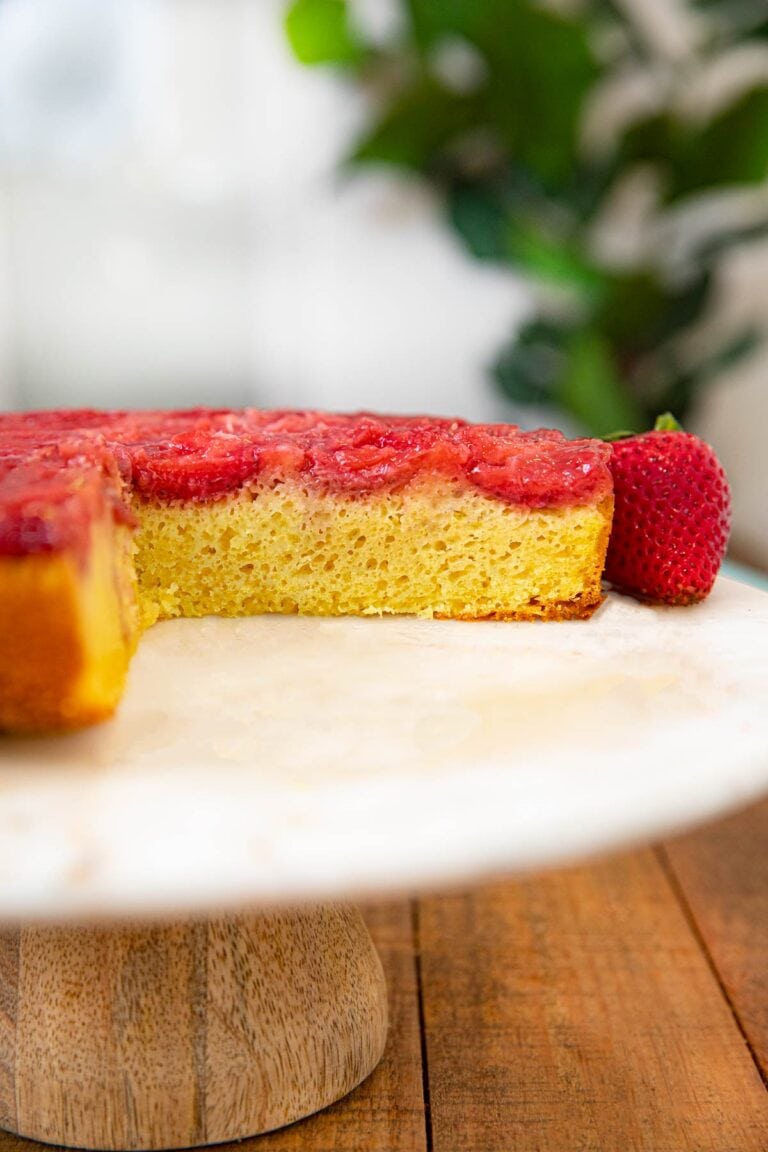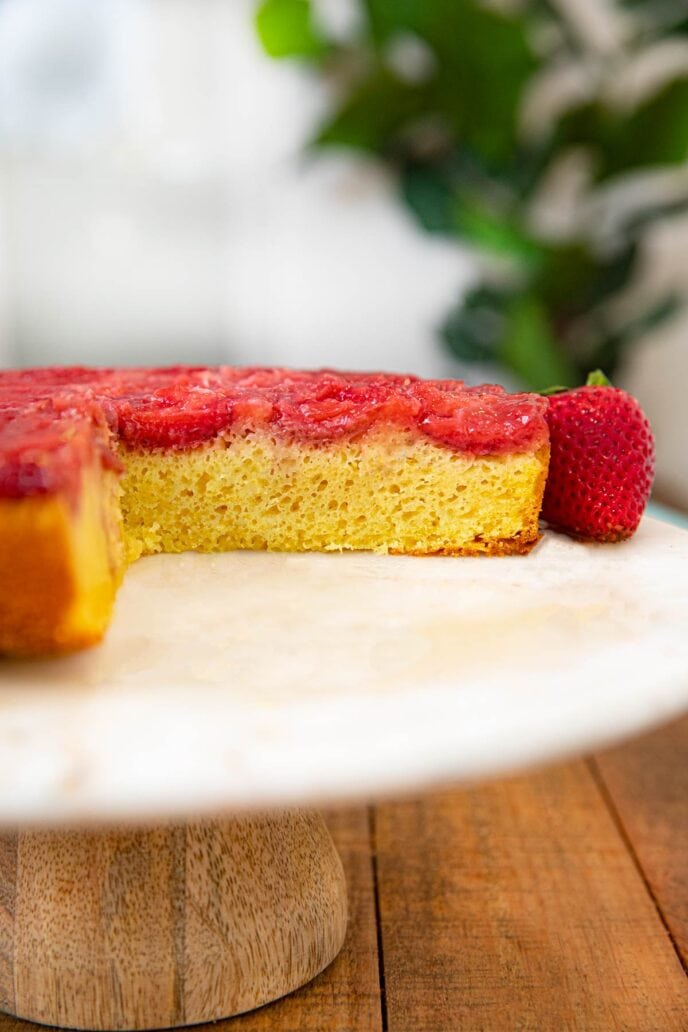 Recipe
Save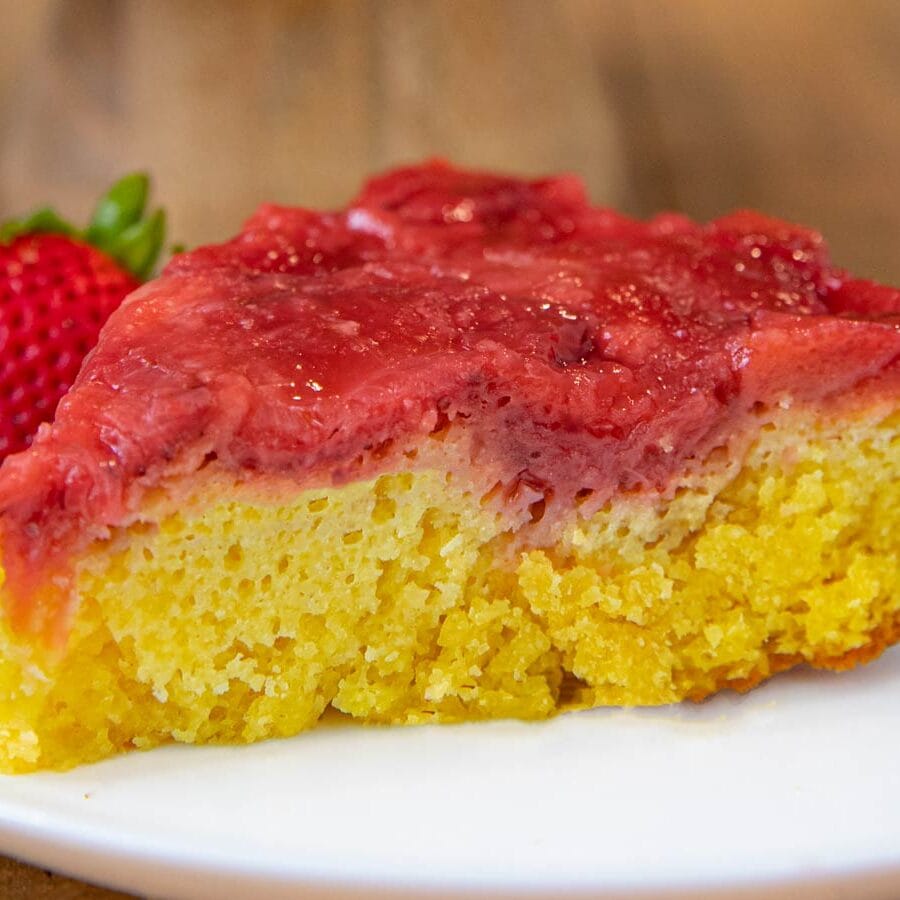 Strawberry Upside Down Cake
Yield:

12

servings

Prep Time:

15

minutes

Cook Time:

1

hour

Total Time:

1

hour

15

minutes

Course: Dessert
Cuisine: American
Author: Sabrina Snyder
Strawberry Upside Down Cake is an easy, delicious stunning summer dessert. Fresh strawberries and sweet candied glaze top a vanilla cake made from scratch.
Ingredients
1/2

cup

sugar

2

tablespoons

corn starch

4

cups

fresh strawberries

, sliced
Cake Batter:
1/2

cup

unsalted butter

, melted

1 1/2

cups

sugar

4

large

eggs

1

cup

whole milk

1/2

cup

vegetable oil

2

teaspoons

vanilla extract

2

cups

flour

1

tablespoon

baking powder

1/4

teaspoon

salt
Instructions
Note: click on times in the instructions to start a kitchen timer while cooking.
Preheat oven to 350 degrees and coat a springform pan with baking spray.

Toss strawberries in cornstarch and 1/2 cup sugar.

Spread strawberry mixture evenly on the bottom of the prepared pan.
Cake Batter:
In a stand mixer, beat butter and sugar until lightened in color, then add in the eggs one at a time.

In a large measuring cup whisk together milk, oil and vegetable oil.

Sift flour, baking powder then add it into the stand mixer on the lowest speed setting.

Add half the flour mixture to the stand mixer, then half the milk mixture (then repeat until done).

Carefully add the cake batter over the sliced strawberries.

Bake for 50-60 minutes, or until an inserted toothpick comes out clean.
Nutrition Information
Yield: 12 servings, Amount per serving: 408 calories, Calories: 408g, Carbohydrates: 56g, Protein: 5g, Fat: 19g, Saturated Fat: 13g, Cholesterol: 77mg, Sodium: 148mg, Potassium: 244mg, Fiber: 2g, Sugar: 37g, Vitamin A: 354g, Vitamin C: 28g, Calcium: 88g, Iron: 2g
All images and text © for Dinner, then Dessert.
Keyword:
Strawberry Upside Down Cake
Save