Strawberry Pineapple Bread is the perfect sweet summer quick bread recipe with cinnamon, fresh strawberries, crushed pineapple, and walnuts.
If you love fruit Bread recipes like Strawberry Banana Bread and Pineapple Coconut Bread, you definitely need to try this strawberry and pineapple filled loaf. It's moist, naturally sweet, and thick enough to hold up to your favorite Breakfast spreads.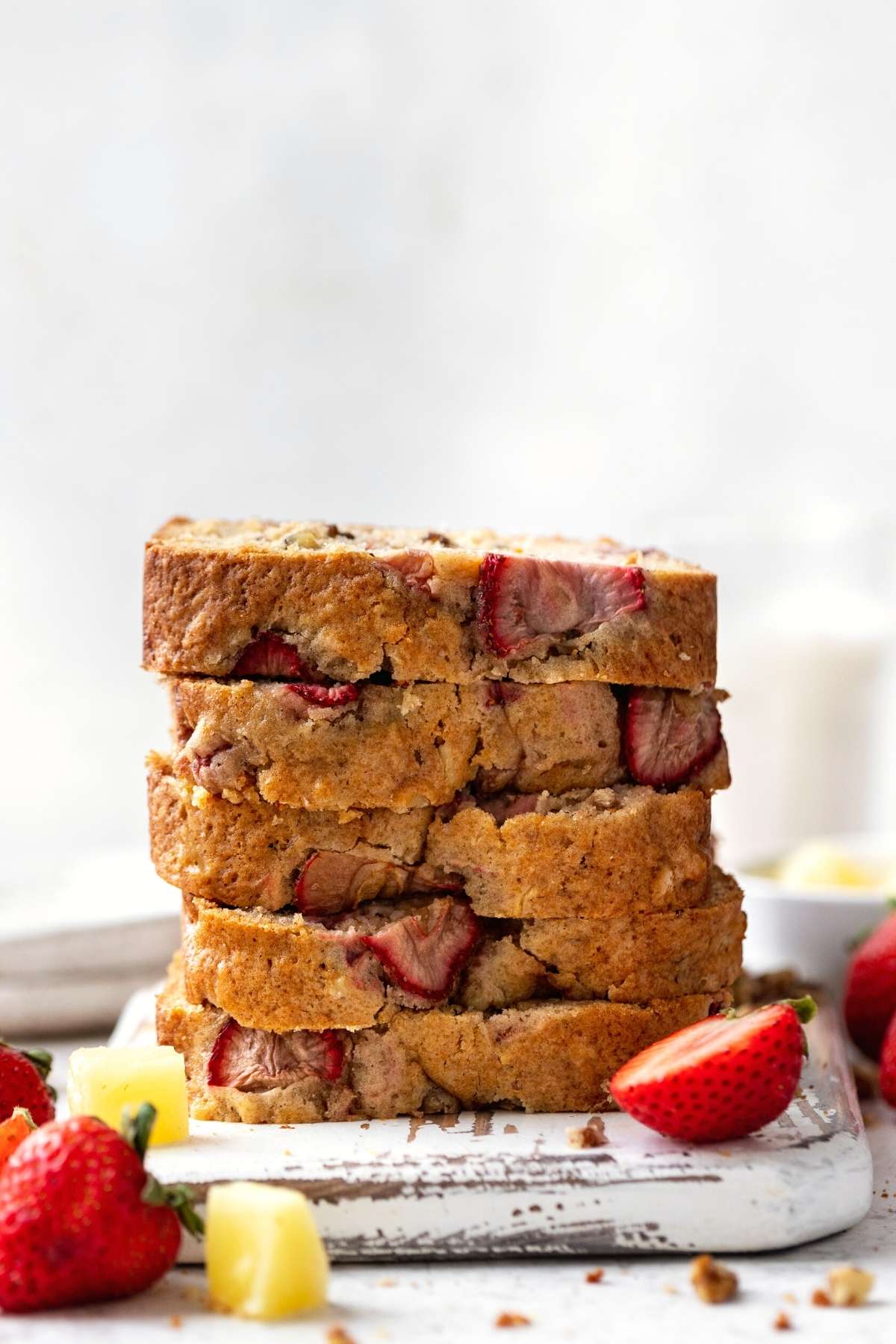 This easy, no-mixer quick bread recipe is the perfect combination of ripe juicy strawberries, sweet crushed pineapple, warm cinnamon and savory walnuts. You can cut yourself a slice and eat it fresh out of the oven, or save it for a busy mornings when you want a sweet, filling breakfast on the go. Whether you serve this delicious Strawberry Pineapple Bread with butter, whipped cream cheese, or plain, it's sure to be a great start to any morning.
You might be used to the combination of strawberry and pineapple in fruity drinks like smoothies and slushes, but it makes a delicious flavor for baked goods too! The tart pineapple balances perfectly with the sweet juicy berries and the fruit juices make the bread extra tender and moist. Add to that the subtle warmth of cinnamon and the satisfying crunch of walnuts, and you have a loaf that tastes as good as any bakery treat.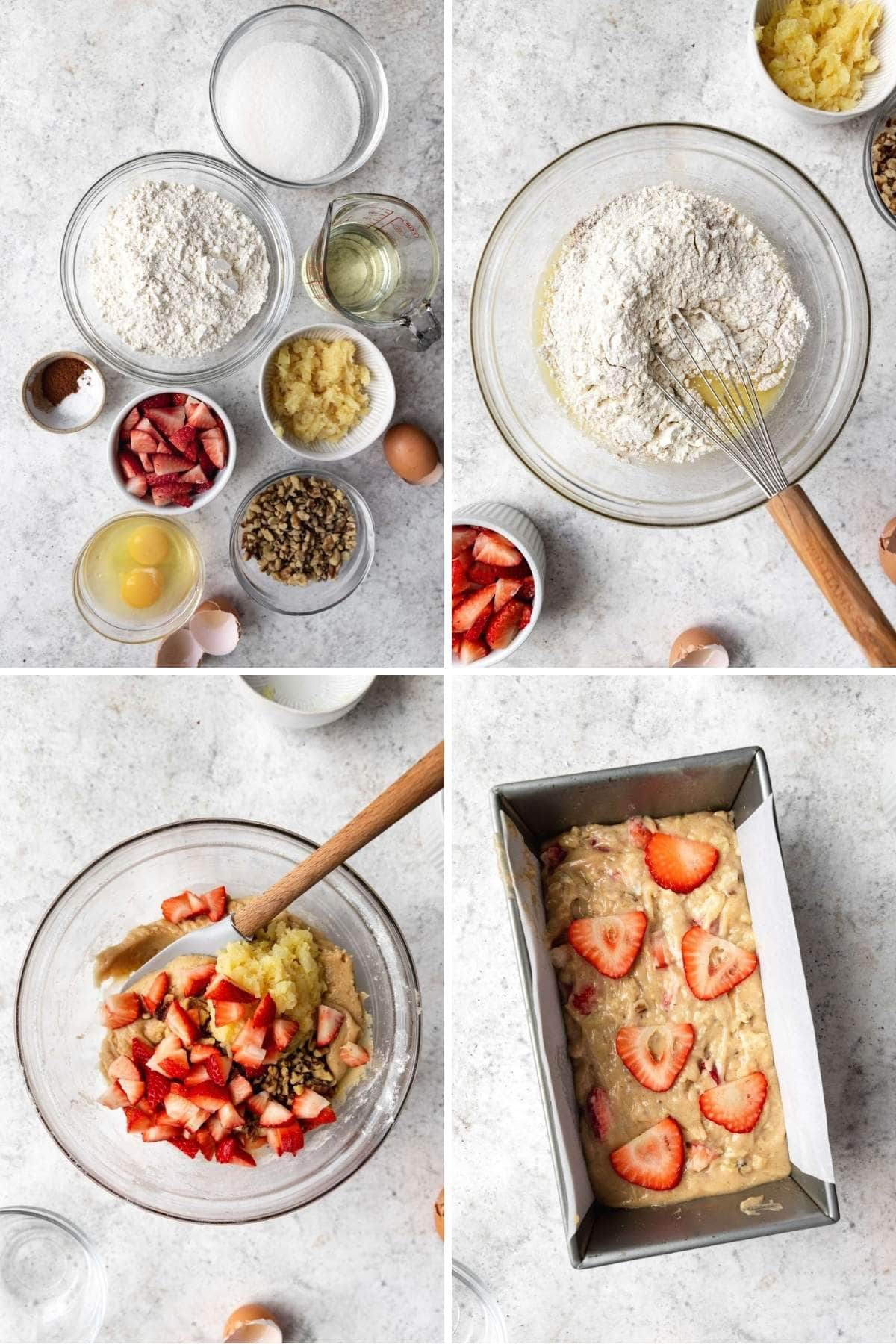 The beauty of this Pineapple Strawberry lies in its versatility – you can serve it as a scrumptious breakfast treat, a satisfying snack, or even as a delectable dessert. It's a hand-mixed batter that is ready for the oven in minutes and then about an hour of baking time and you have a delicious bread filled with summer flavor. Bring out the fruity flavors by serving with Strawberry Preserves or Pineapple Topping.
How to Make Strawberry Pineapple Bread
Prep: Preheat the oven and grease a loaf pan generously with baking spray. You can also line it with parchment paper first before spraying.
Batter: Combine the eggs, sugar, and vegetable oil in a mixing bowl and set aside. Sift the all-purpose flour, baking soda, salt, and cinnamon together, then whisk the flour mixture into the egg mixture until just combined. Gently fold in the nuts, strawberry pieces, and pineapple bits.
Bake: Pour the batter into the prepared loaf pan. Bake for about 55 minutes, until a toothpick inserted into the center of the loaf comes out clean with moist crumbs. Cool the pan elevated on a rack before removing the bread and serving.
More Fruity Quick Bread Recipes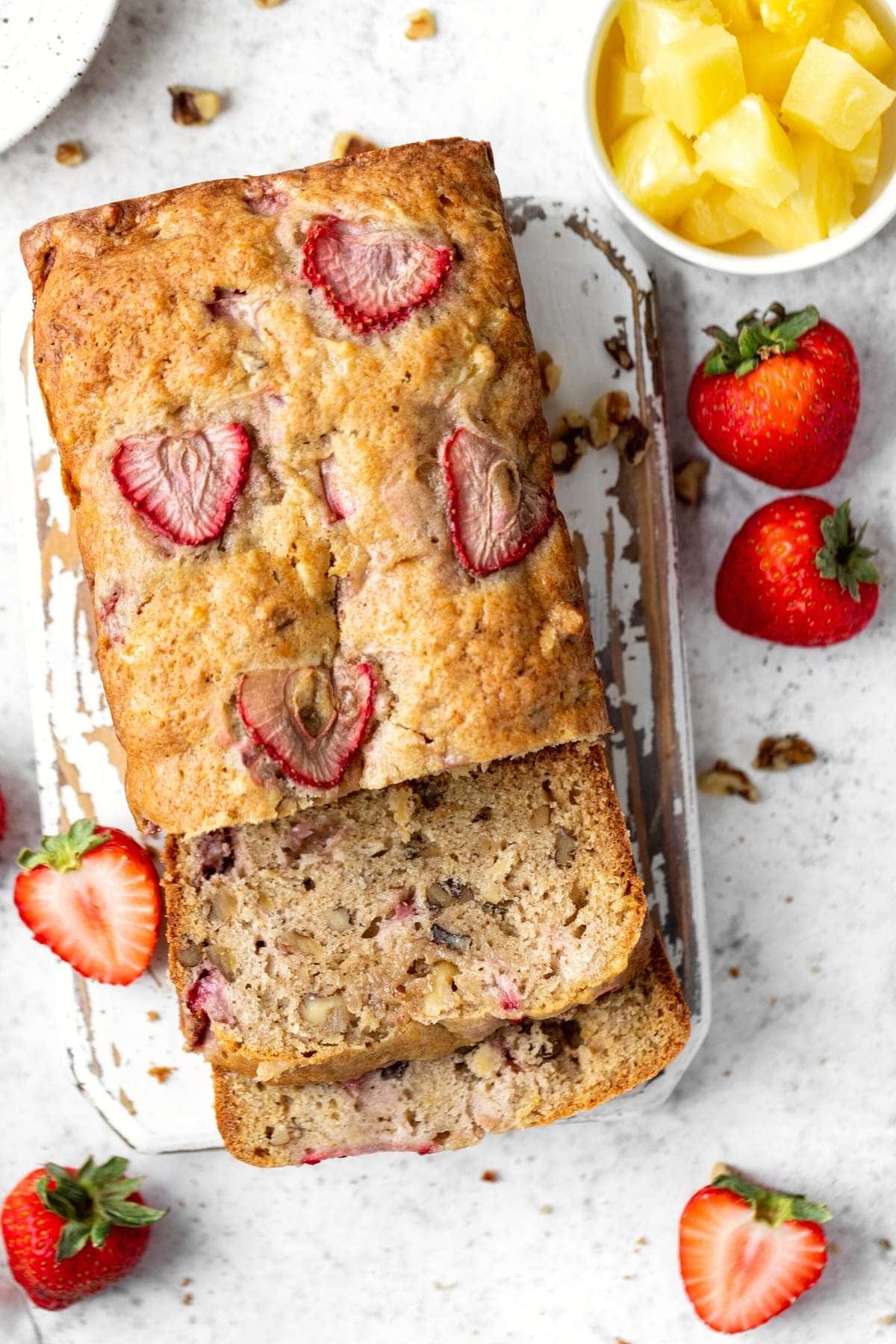 FAQs for Strawberry Pineapple Bread
Can I use frozen strawberries or pineapple in this sweet bread recipe?
While you can use frozen strawberries and pineapple in a pinch, it's better to use fresh fruit, since frozen strawberries and pineapple tend to have more residual moisture and can make the bread really mushy. If you do use frozen fruit, let it thaw completely, drain and pat dry before adding.
How to make moist quick bread?
To make a moist quick bread, use ingredients that retain moisture, like crushed pineapple and fresh strawberries, and avoid overmixing the batter. In this Strawberry Pineapple Bread recipe, combining the wet and dry ingredients until just combined ensures a tender, moist crumb. 
What is quick bread?
Quick bread is a type of bread that uses leavening agents like baking soda or baking powder, rather than yeast, to help the bread rise. This results in a shorter preparation time, hence the name "quick." Quick breads can be sweet or savory, and include a wide range of baked goods, such as muffins, scones, and loaf breads like Strawberry Pineapple Bread.
What is the difference between quick bread and loaf cake? 
The main difference between quick bread and loaf cake lies in their texture and sweetness. Quick breads, like Strawberry Pineapple Bread, are typically less sweet and have a denser texture than loaf cakes. While both types use baking soda or baking powder as a leavening agent, loaf cakes often have a more cake-like consistency and sweeter taste, making them closer to a dessert.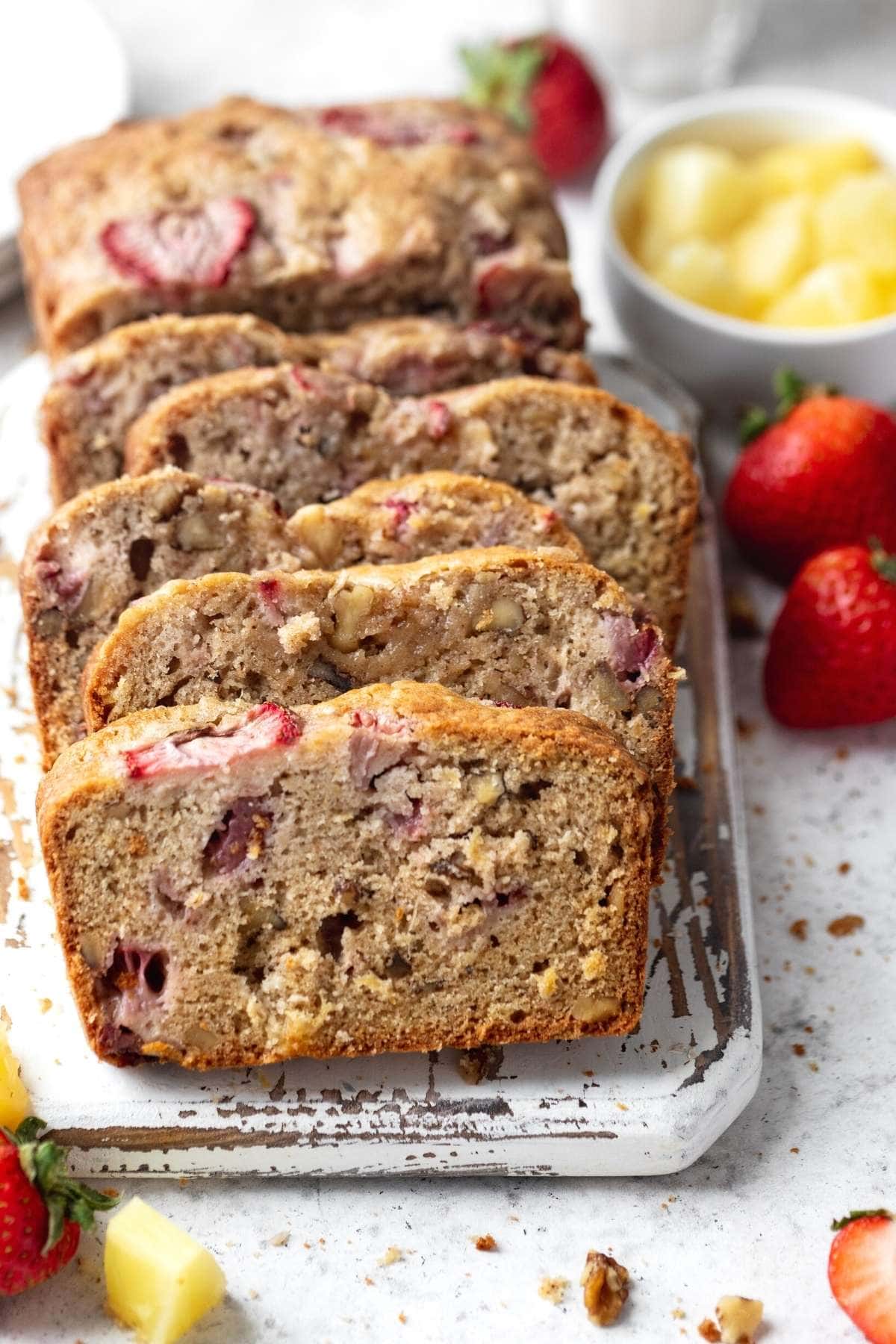 Create a free account to Save Recipes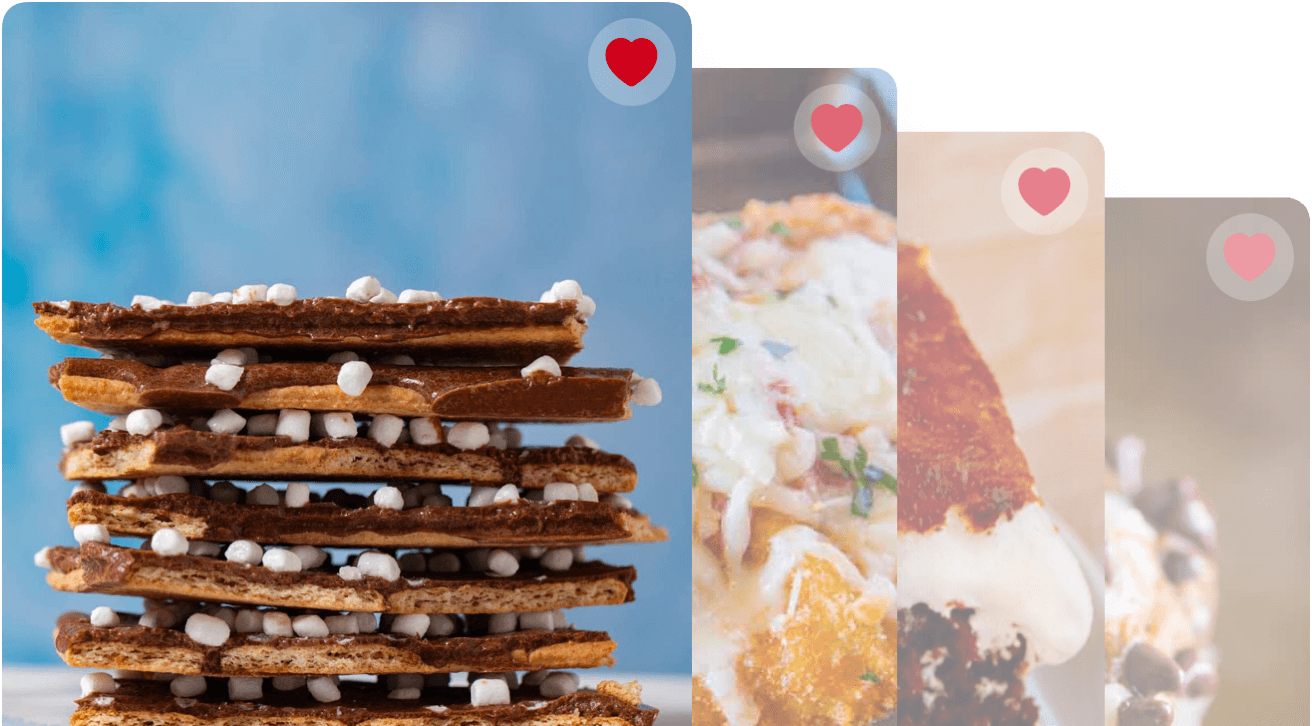 Key Ingredients
Vegetable Oil: Vegetable oil is the fat that helps bind everything while adding flavor and moisture. Oil stays liquid at room temperature, which keeps bread from drying out.
Sugar: A cup of white sugar is included to add some extra sweetness to the bread, balancing the tart flavors of the strawberries and pineapple. It also contributes to the browning and tender texture of the bread as it bakes.
Baking Soda: Instead of yeast, quick bread recipes often use baking soda as the leavening agent to help the bread rise and have a light, airy texture. The baking soda reacts with the acidic components in the batter, like the strawberries and pineapple.
Cinnamon: Warm cinnamon adds a depth of flavor that complements the sweetness of the strawberries and pineapple. The aromatic spice makes the entire loaf taste like it came from a bakery.
Strawberries: This delicious loaf of bread is studded with juicy strawberry pieces that are naturally sweet and tender, while adding a pop of bright color. Use fresh fruit and dice it into even pieces about ½ inch long for the best texture and flavor.
Pineapple: Canned pineapple adds a tropical twist to this delicious strawberry bread recipe. The pineapple juice adds sweetness and moisture while the crushed fruit fills the bread with pineapple tidbits.
Walnuts: Chopped walnuts provide a pleasant crunch and nutty flavor, contrasting with the soft, moist texture of the bread and tender fruit.
Can Strawberry Pineapple Bread be made ahead of time?
Yes, Strawberry Pineapple Bread can be made ahead of time. In fact, its flavors often meld and develop even more as it sits, enhancing the taste and overall experience. After baking, allow the bread to cool completely, then wrap it tightly in plastic wrap or aluminum foil and store it at room temperature for up to 3 days. This makes it a convenient option for preparing in advance for busy mornings or for gifting.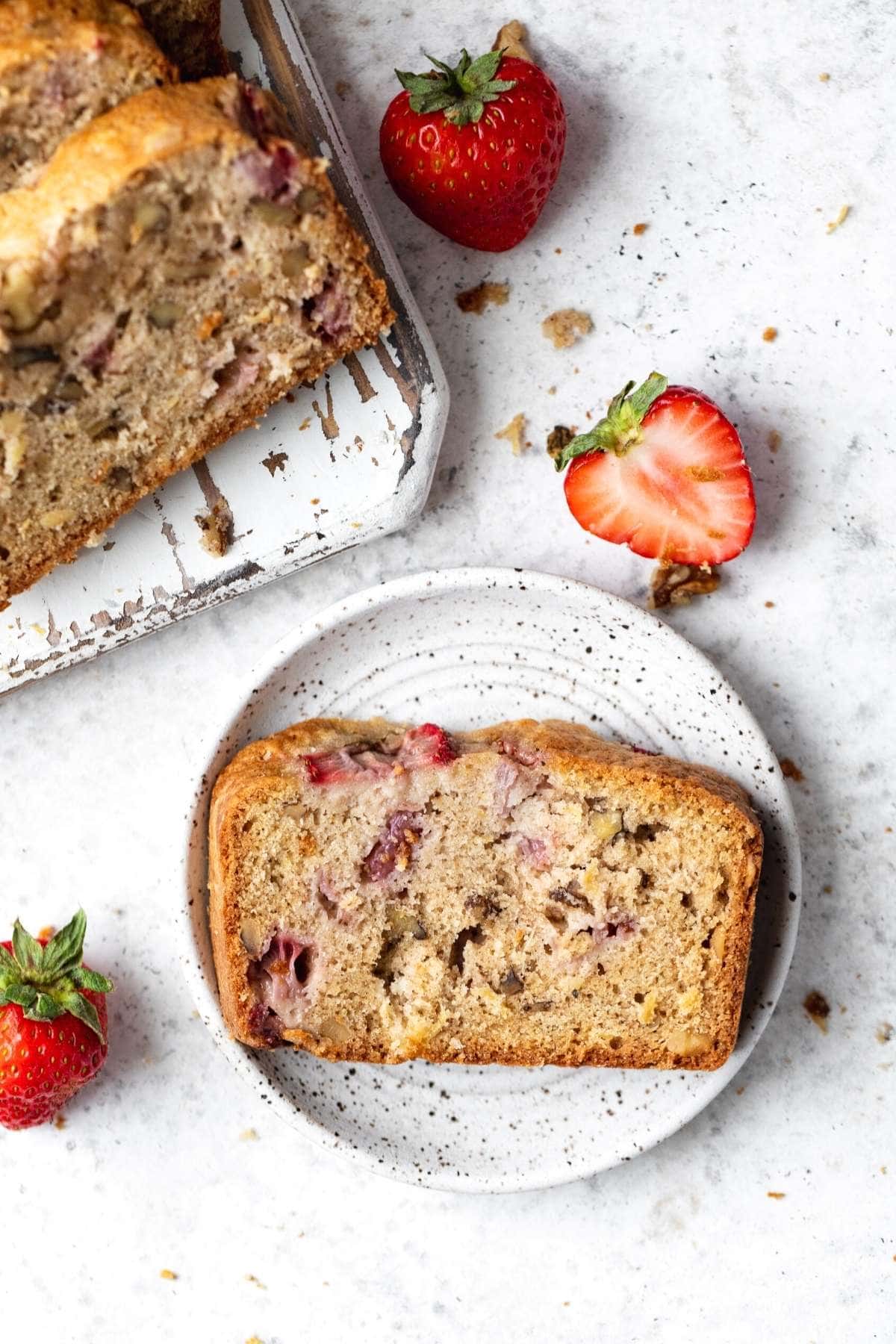 Variations
Gluten-Free: To make this bread recipe friendly for those with gluten intolerance, you can substitute the all-purpose flour or whole wheat flour for almond or buckwheat flour. The rest of the recipe doesn't need to be changed.
Fruit: Try using other fresh fruit like cherries, blueberries, apples or bananas instead of strawberries or canned pineapple. Add some orange juice for nice citrus flavor to balance all the sweetness of the fruit.
Glaze: Make a sweet pineapple glaze to pour over the baked bread with the pineapple juice from the canned pineapple plus powdered sugar and vanilla extract. You can also do a drizzle of strawberry glaze, made with strawberry preserves, lemon juice, and powdered sugar.
Coconut Pineapple Bread: For a tropical twist, add ½ to ¾ cup of shredded coconut and substitute coconut oil for the vegetable oil for a delicious coconut flavor. To top it off, sprinkle some shredded coconut over the top before baking and swap macadamia nuts for a loaf that tastes like a tropical vacation.
Chocolate Chips: To add a touch of chocolatey goodness, mix in ½ cup of chocolate chips (either semi-sweet, milk, or white chocolate chips) to the batter with the strawberries and pineapple.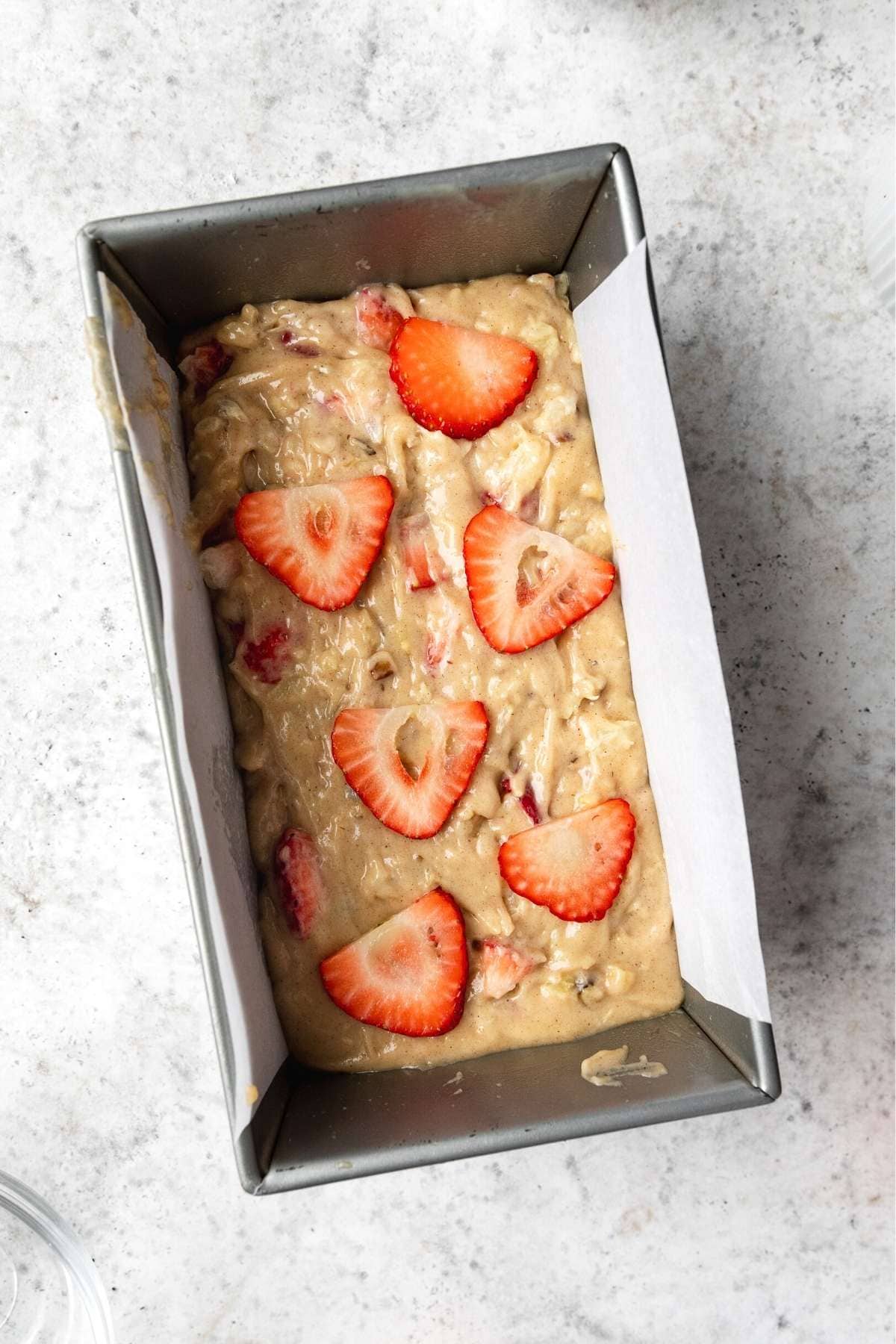 More Strawberry and Pineapple Treats
How to Store
Serve: Let the Strawberry Pineapple Bread cool completely on a wire rack after it's done baking to make removing from the pan easy. Cover leftover bread with plastic wrap and keep at room temperature for up to 3 days.
Store: Once the bread has cooled, you can transfer the baked bread to an airtight container and store in the refrigerator for about 1 week. Warm up in the toaster oven or microwave and serve.
Freeze: Strawberry Pineapple Bread will stay good in the freezer for up to 6 months. Let the bread cool and wrap tightly with plastic wrap then aluminum foil. Store in the back of the freezer and thaw at room temperature before warming and serving.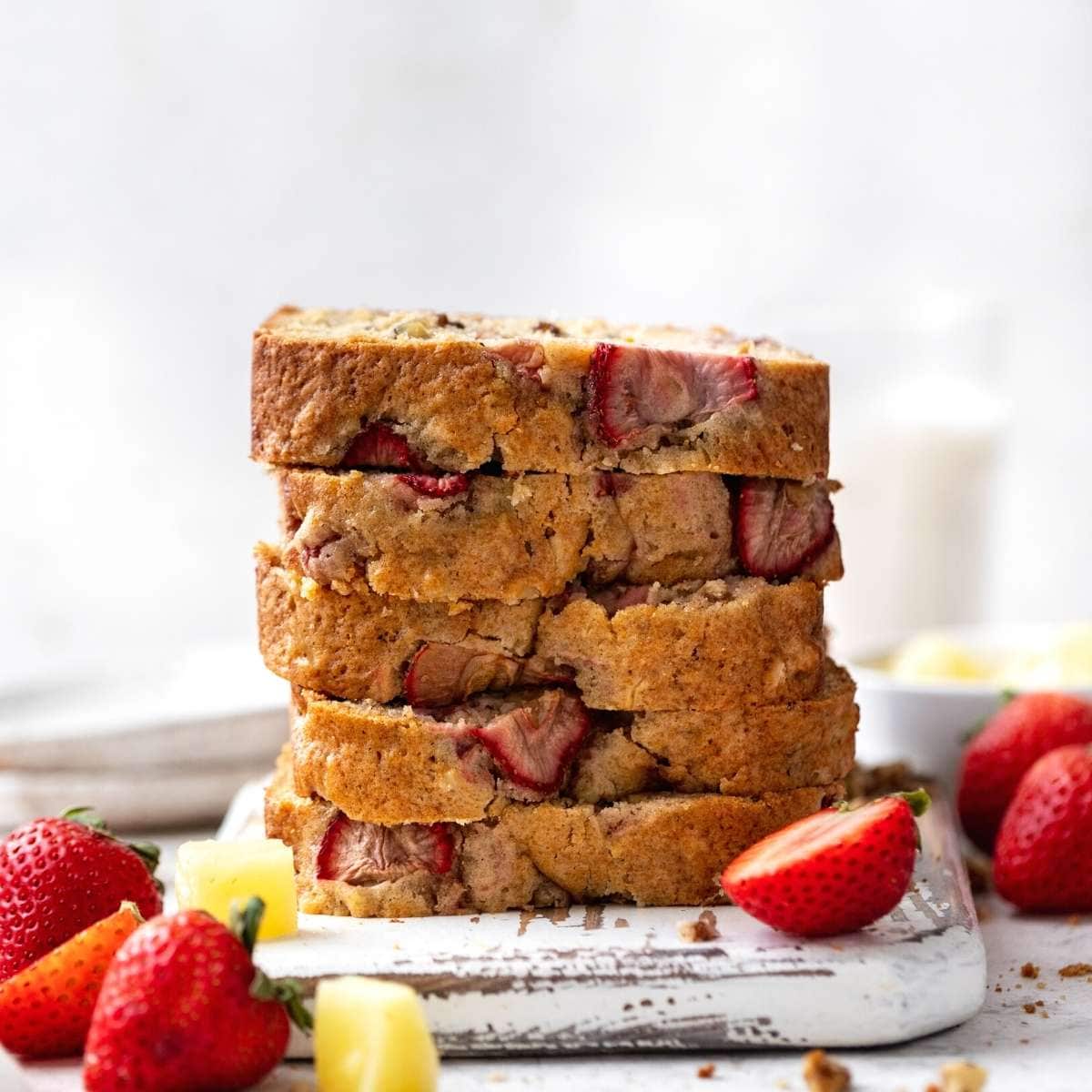 Ingredients
2

large

eggs

, beaten

1/2

cup

vegetable oil

1

cup

sugar

2

cups

flour

1/2

teaspoon 

baking soda

1/2

teaspoon

salt

1

teaspoon

ground cinnamon

1

cup

walnuts

, chopped

1

cup

strawberries

, chopped

1/2

cup

crushed pineapple

, drained well
Instructions
Preheat oven to 350 degrees.

Spray a 9×5 loaf pan with baking spray.

Whisk the eggs, oil, and sugar together in a large bowl.

Sift together the flour, baking soda, salt, and cinnamon.

Add flour mix to the wet ingredients and whisk until just a few streaks of flour remain.

Add in the walnuts, strawberries, and pineapple, and stir until just combined.

Add to loaf pan and bake for

50-55 minutes

or until a toothpick comes out clean from the center.

Cool completely on a wire rack before removing from loaf pan.
Nutrition
Calories:
306
kcal
|
Carbohydrates:
36
g
|
Protein:
5
g
|
Fat:
17
g
|
Saturated Fat:
2
g
|
Polyunsaturated Fat:
10
g
|
Monounsaturated Fat:
3
g
|
Trans Fat:
1
g
|
Cholesterol:
31
mg
|
Sodium:
166
mg
|
Potassium:
108
mg
|
Fiber:
2
g
|
Sugar:
19
g
|
Vitamin A:
54
IU
|
Vitamin C:
8
mg
|
Calcium:
23
mg
|
Iron:
1
mg