Apple Bread is the perfect moist and sweet quick bread recipe with ground cloves, cinnamon, apples, and brown sugar.
This delicious Apple Bread makes an amazing sweet snack, Dessert, or even Breakfast. For more amazing apple breads try our Apple Crumble Bread and Apple Crisp Quick Bread.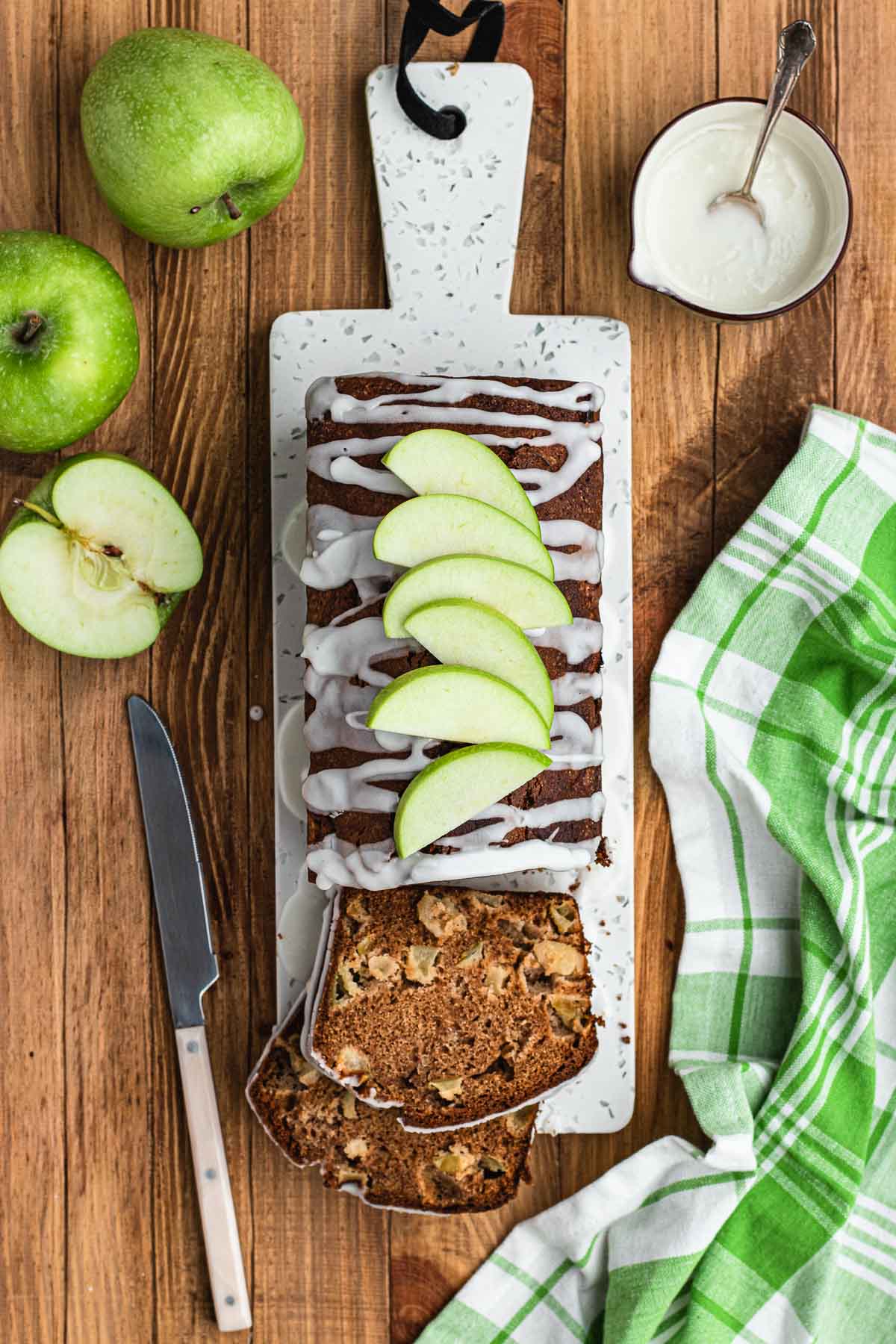 This spiced Apple Bread tastes amazing with warm spices, sweet ingredients, and real apple chunks for authentic apple flavor. You can enjoy this delicious bread all year round, but the comforting taste is especially great in the fall and winter. Apple Bread is an excellent way to enjoy classic Apple Pie flavors without all the work of baking a pie.
You can make the batter for this simple recipe in a matter of minutes. Then you just have to pop it in the oven and give it some extra time to cool after baking Apple Bread. It's super easy and so tasty!
I love having a slice of warm bread in the morning with my cup of coffee. You can eat it with a little butter spread on top, and if you want a little extra sweetness a dusting of cinnamon sugar tastes amazing. Or, to make the recipe into more of a dessert serve it up with a scoop of creamy Vanilla Ice Cream.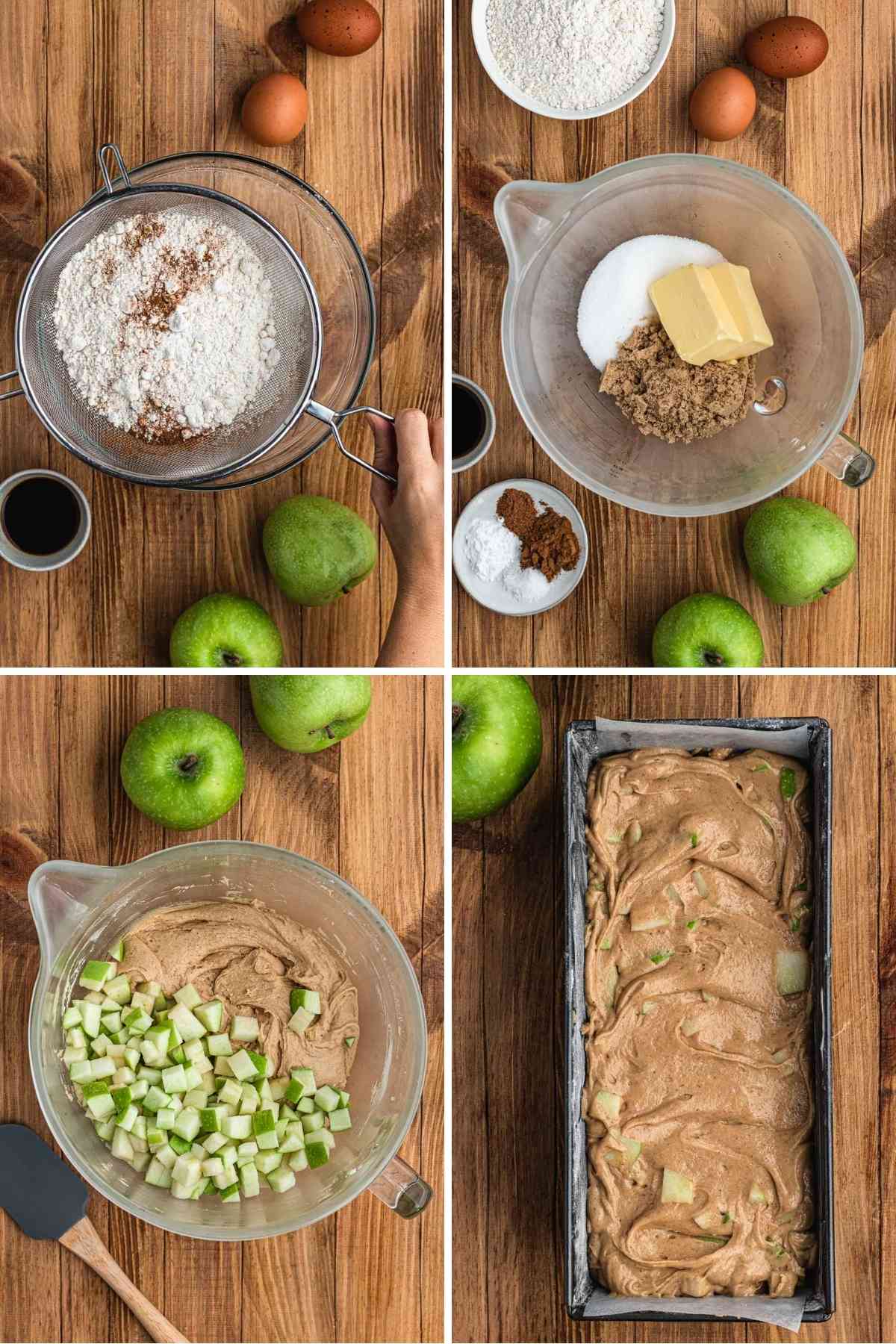 How to Make Apple Bread
Prep time: Before you start making the Apple Bread preheat the oven to 350 and prep your loaf pan with non-stick baking spray. You can also line the pan with parchment paper instead of baking spray. If you have cold butter from the fridge, you also want to give it some time to soften before making the bread dough.
Apple bread dough: Add softened unsalted butter, granulated sugar, and brown sugar to your mixing bowl. Then cream butter into the sugar until lightened in color. Add one egg at a time, making sure the first is mixed into the dough before adding the next. Then mix in the vanilla extract. Sift the flour, baking soda, salt, cinnamon, and cloves into a separate bowl. Whisk to combine the flour mixture. Then add the dry ingredients to the wet ingredients, keeping the mixer on low speed. Once just combined, fold in the apple slices.
Baking time: Pour the apple batter into the prepared loaf pan, using a rubber spatula to get all the batter out of the mixer. Bake the bread loaf for 55-60 minutes. Then let the Apple Bread rest for 20 minutes before slicing and serving.
Awesome Apple Recipes
Frequently Asked Questions
Do I need to peel apples for baking?
You do not need to peel the apples for this Apple Bread recipe, as the peels will soften when it bakes. The peels add a slight crunch and tartness to the finished bread that works well with the tender sweet cake. Some recipes do require that you peel apples before coring them. In those cases, simply use a vegetable peeler to remove the skin.
What kind of apples should I use for baking?
It's always a safe bet to use Granny Smith apples for baking recipes, because they are crisp and tart and stand up well to the added sugar. If you cannot find Granny Smith apples, you can use other less sweet varieties such as Honeycrisp, Braeburn, and Pink Lady.
Why did my Apple Bread sink after baking?
There are a few tricks to prevent your quick breads from sinking when you pull them out of the oven. Firstly, make sure that your leavening agents are fresh. If your baking soda and baking powder have been hanging around your cupboard for too long, it's time to replace. You'll also want to make sure you are not over mixing the batter or overfilling your loaf pan. Finally, double check the temperature of your oven with a thermometer to make sure that it's baking at the correct temperature.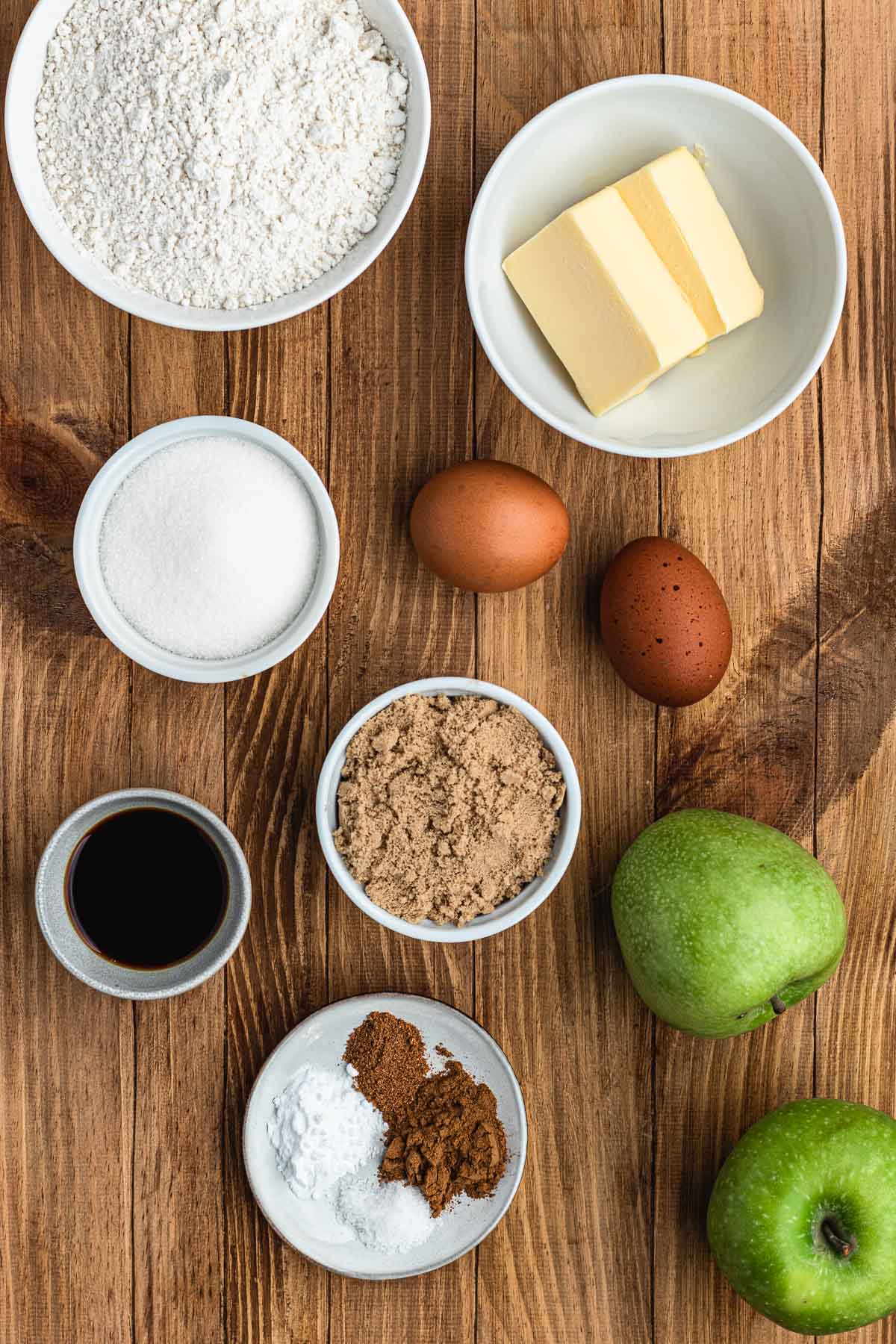 Key Ingredients in Apple Bread
Fresh apples: When you're picking out baking apples, using Granny Smith green apples is always a good choice. They have a strong taste that flavors the entire apple recipe, and they don't turn too mushy when baked. You can use another type of apple in a pinch, but make sure to use fresh, medium apples and pick an apple variety that's fairly crisp.
Spices: Apart from the apples, this recipe uses pretty basic ingredients. The other two important add-ins that change up the flavor are cinnamon and cloves. These classic spices give this Apple Bread a warm, autumnal flavor perfect to enjoy around Thanksgiving.
Sugar: The combination of granulated sugar and brown sugar make the perfect sweeteners for this Apple Bread recipe. While the white sugar has a more pure, sweet taste, the brown sugar makes the bread moister and gives it a rich somewhat caramelly flavor.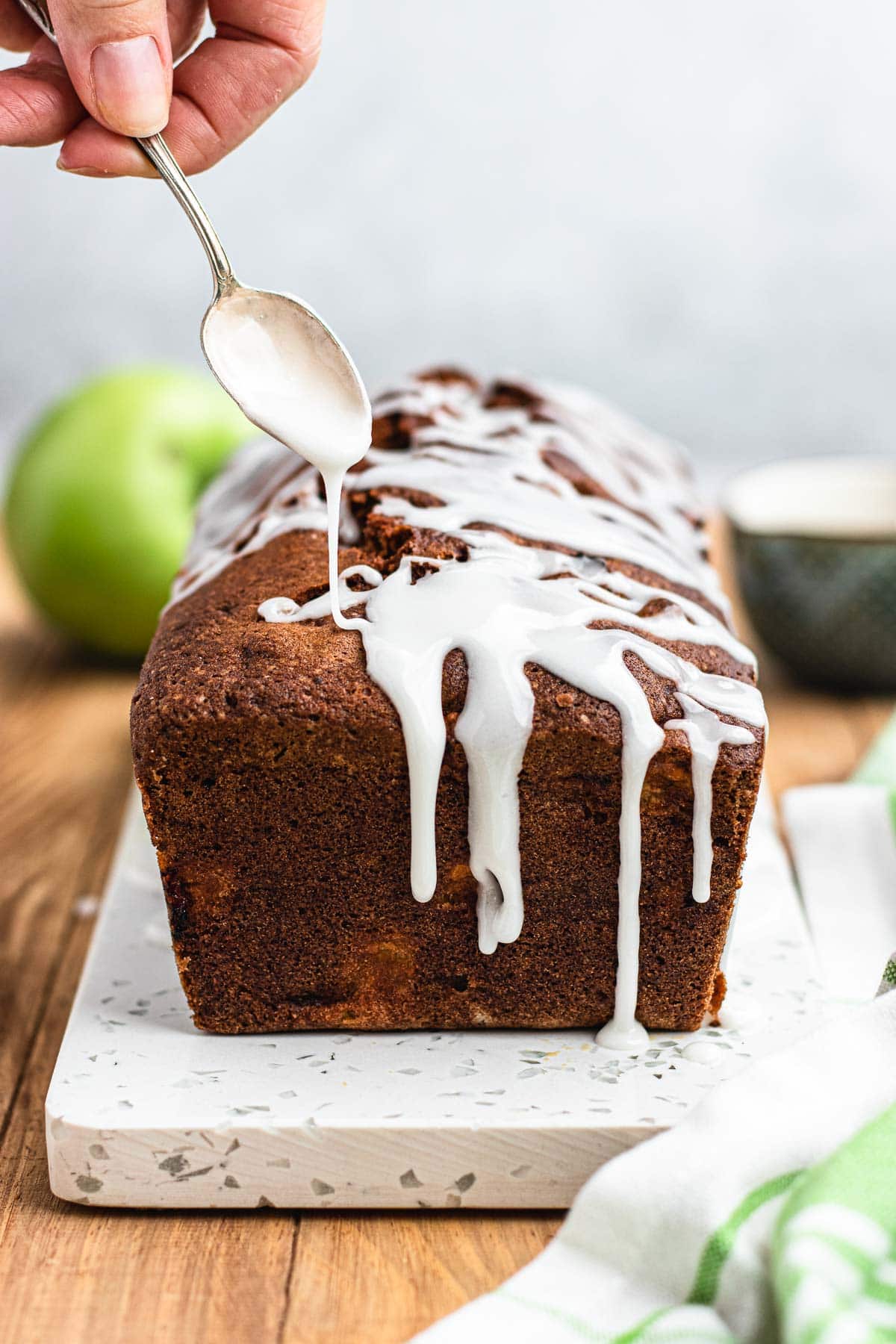 Create a free account to

Save Recipes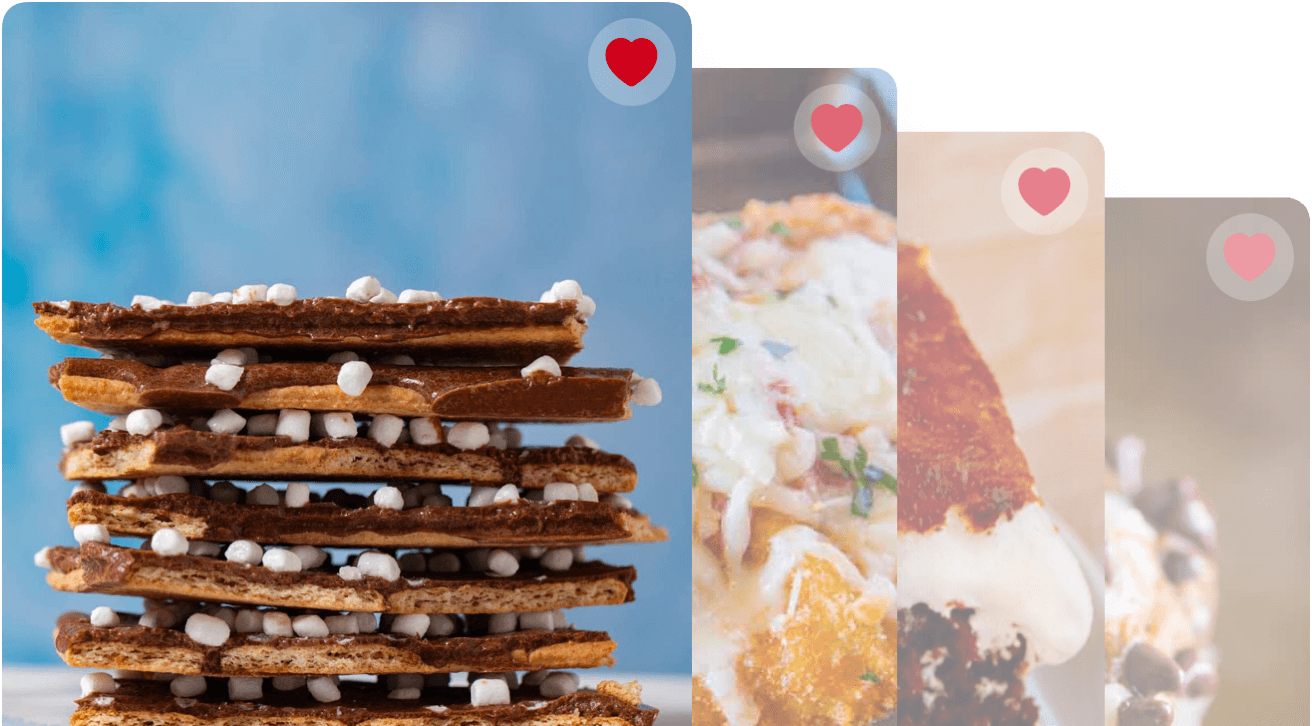 Variations on Apple Bread
Maple apple bread: To make Apple Bread with a rich, sweet flavor, you can add a couple of tablespoons of maple syrup to the mixture. The maple Apple Bread is particularly perfect if you want to enjoy the recipe for breakfast.
Gluten-free bread: To make your Apple Bread loaf gluten-free, you can use almond flour, oat flour, coconut flour, or another favorite gluten-free replacement for the all-purpose flour.
Dairy-free: You can also make Apple Bread to fit a vegan diet. Firstly, replace the butter with coconut butter, almond butter, or applesauce. You'll also need to substitute the eggs, which can be done with flaxseed, or mashed bananas.
Vanilla glaze: Try making a warm vanilla glaze to drizzle over the top of your quick bread recipe. For the ingredients, you'll need 1 cup powdered sugar, 2 tablespoons melted butter, 2 tablespoons of your milk of choice, and ¾ teaspoon vanilla. To make the glaze, sift the sugar. Then add the milk, butter, and vanilla. Beat until creamy. If it's too thick, add more milk to reach the right consistency. Then drizzle the glaze over the cooled loaf.
Cinnamon sugar topping: To make a crunchy sugar crust, you'll need ⅓ cup brown sugar, ½ teaspoon cinnamon, 4 tablespoons melted butter, and 2/3 cup flour. Start by whisking together the cinnamon-sugar mixture. Then stir in the butter. Finish the cinnamon-sugar mixture by mixing in the flour to form crumbs. You can whisk some of the crumbly mixture into the batter for a cinnamon sugar swirl and sprinkle the rest on top of the bread for a crispy crust.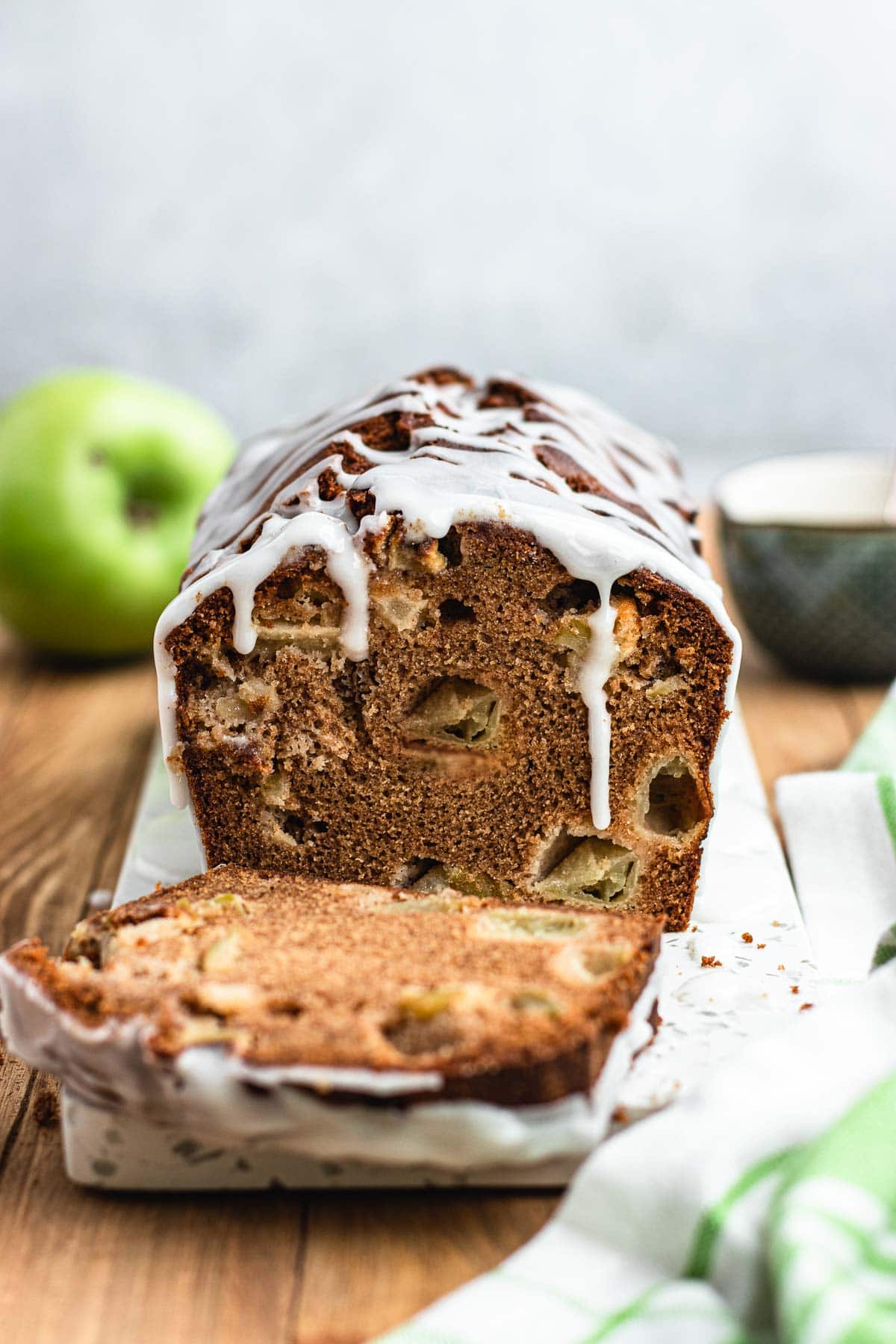 More Quick Bread Recipes
How to Store Apple Bread
Serve: Apple Bread can stay fresh at room temperature for 2-3 days. Let the bread cool. Then cover the loaf in plastic wrap or aluminum foil to keep it moist.
Store: Or, keep the bread in an airtight container in the fridge for up to 1 week.
Freeze: You can also freeze Apple Bread for up to 3 months. Wrap the whole loaf in plastic wrap, or store individual slices in an airtight container. To keep the slices from sticking together you can put parchment paper between each one.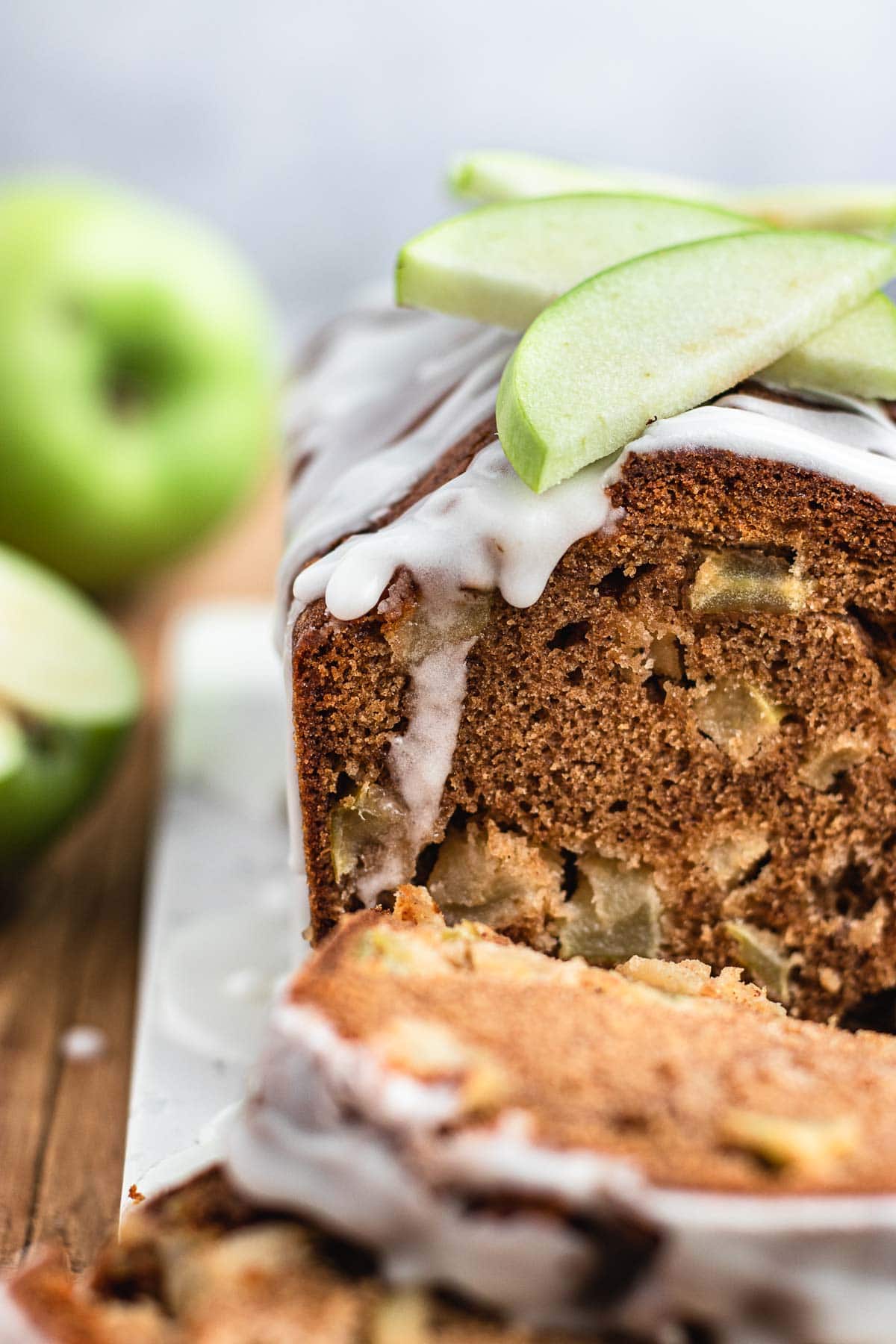 Ingredients
1/2

cup

butter

1/2

cup

sugar

1/2

cup

brown sugar

2

large

eggs

2

teaspoons

vanilla extract

2

cups

flour

1

teaspoon

baking soda

1/2

teaspoon

salt

1

teaspoon

ground cinnamon

1/2

teaspoon

ground cloves

2

granny smith apples

, chopped
Instructions
Preheat oven to 350 degrees and spray a 9×5 loaf pan with baking spray.

In a stand mixer cream the butter, sugar, and brown sugar until lightened in color.

Add in the eggs one at a time, then add in the vanilla extract.

Sift together the flour, baking soda, salt, cinnamon, and cloves in a medium bowl.

Add the flour mixture into the butter on low speed until just combined, then fold in the apples with a spatula.

Pour into loaf pan and bake for

55-60 minutes

then let cool for

20 minutes

before removing from loaf pan.

Cool completely before slicing.
Nutrition
Calories:
241
kcal
|
Carbohydrates:
38
g
|
Protein:
3
g
|
Fat:
9
g
|
Saturated Fat:
5
g
|
Polyunsaturated Fat:
1
g
|
Monounsaturated Fat:
2
g
|
Trans Fat:
1
g
|
Cholesterol:
51
mg
|
Sodium:
271
mg
|
Potassium:
83
mg
|
Fiber:
1
g
|
Sugar:
21
g
|
Vitamin A:
298
IU
|
Vitamin C:
1
mg
|
Calcium:
22
mg
|
Iron:
1
mg