Rustic Apple Galette (Pie Tart) is even easier than pie! Fresh apples are baked with vanilla and cinnamon in a flaky pastry crust for a perfect dessert.
Think of Apple Galette as a simplified Apple Pie. There's no need for a pie pan, or for making a lattice crust. The fresh fruit is folded easily into the chilled pie dough and cooked on a baking sheet for a wonderfully simple Dessert Recipe.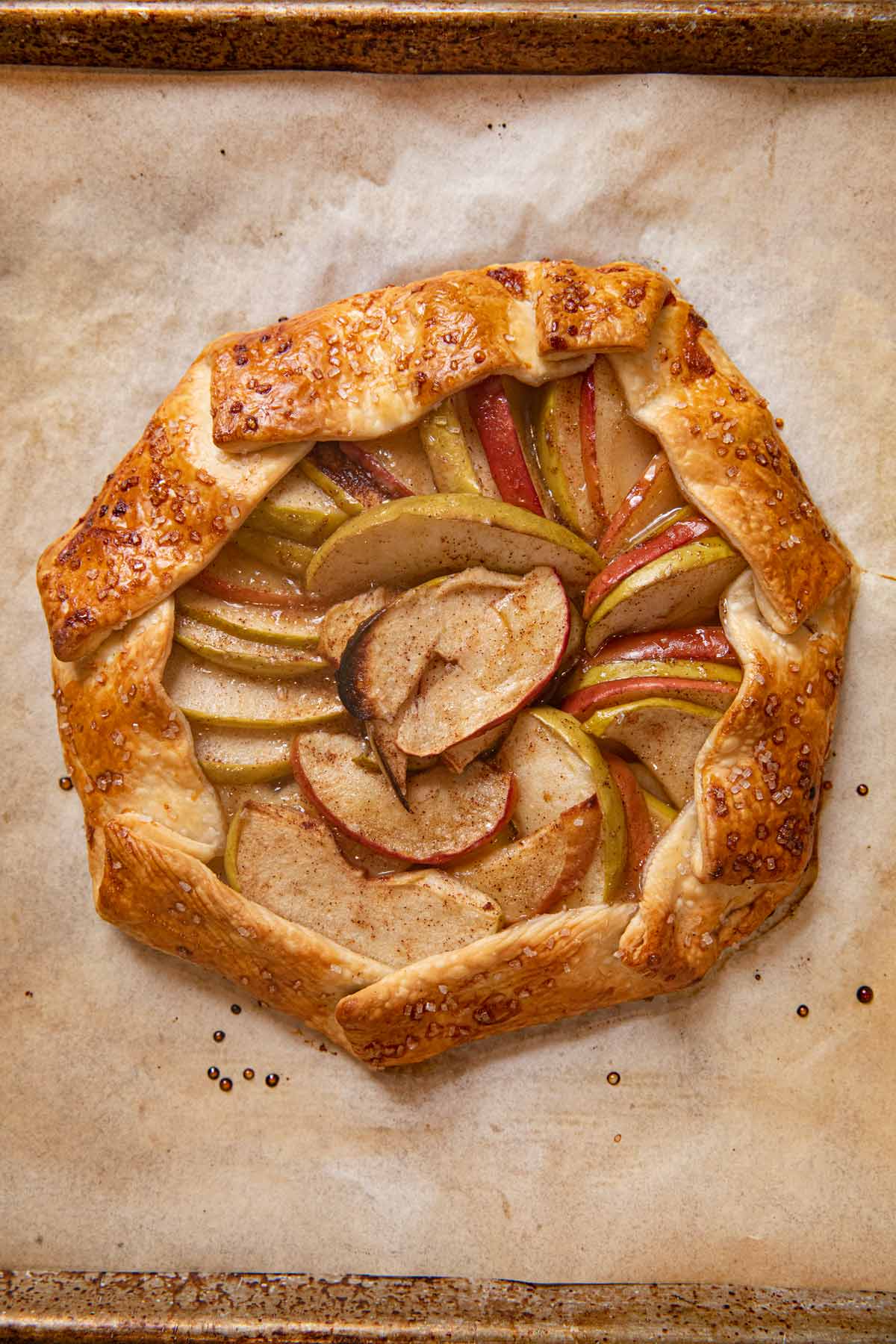 RUSTIC APPLE GALETTE (PIE TART)
This simple Galette is sure to become a favorite Fall dessert. In our house, Apple Baked Tart is a must-have treat around Thanksgiving. It's right up there with other delicious Fall recipes like Pumpkin Pie and Apple Cider.
The fresh apples, ground cinnamon, and pastry crust all come together so easily. It has the warm flavors of an Apple Pie, but in an everyday dessert that you can make quickly. There's no need for any fancy pastry skills. You get a buttery crust and sweet apple filling with minimal effort.
To take your Rustic Apple Galette up a notch serve it with your favorite ice cream on top. You could even make your own Vanilla Ice Cream and top that off with some delicious Whipped Cream. The creamy toppings will melt into the warm tart and pastry crust for the ultimate comforting dessert.
HOW TO MAKE HOMEMADE PIE CRUST
Although using a prepared pie crust is easy, you could also make your own pastry dough. Here's a simple dough recipe:
Add 2 cups all-purpose flour, ½ cup chilled butter, 1 tablespoon sugar, and 1 teaspoon salt to a food processor or mixing bowl.
If using a food processor, pulse the cold butter with the other ingredients until it's in coarse crumbs. For a mixing bowl, do the same thing using a pastry cutter.
Add 6 tablespoons water to the mixture. You want to use cold water for the best results. Pulse the ingredients again until combined with the chilled water.
Form the dough into a ball and place it on a floured surface. Add some extra flour to your hands and flatten the dough slightly.
Wrap in plastic wrap and put in the fridge for an hour to make a nicely chilled dough.
Take the refrigerated dough from the fridge and put it on the baking sheet. Use a rolling pin to spread the rolled dough out, until it's the right size for your Rustic Apple Galette.
MORE EASY APPLE DESSERTS
TIPS FOR MAKING RUSTIC APPLE GALETTE (PIE TART)
Prep time: It's up to you if you want to peel the apple or bake the apple slices with the peel for some extra texture. Slice and core 3 medium apples into fairly thin pieces for the apple filling. You'll also want to prep the sheet pan with baking parchment and preheat the oven.
Fruit Filling: Add the sliced apples, sugar, vanilla, and cinnamon to a large mixing bowl. Toss them thoroughly until the apples are entirely coated.
Pie Crust: Place dough on the prepared baking sheet. The rolled-out dough should be in about a 9-inch circle. If you're worried about the crust drying out, you can melt butter to brush over it.
Combine: Take the apples from the mixing bowl and place them on the pie crust. Arrange the slices so they're overlapping and going out in a circle like dominos. Make sure the apples stay 2 inches from the pastry border. Fold that outer dough over, making overlapping folds. You don't have to worry about making the folds too perfect as it's meant to look homey and rustic.
Egg wash: Separate the egg white from the egg yolk and whisk the egg white in a small bowl. Brush the egg wash over the Apple Galette. The egg wash will help the coarse sparkling sanding sugar to stick to the galette.
Bake time: Bake for 20-22 minutes. Take it out when the Apple tart is golden brown and bubbly. You can let it cool slightly on the baking sheet or a wire rack before serving.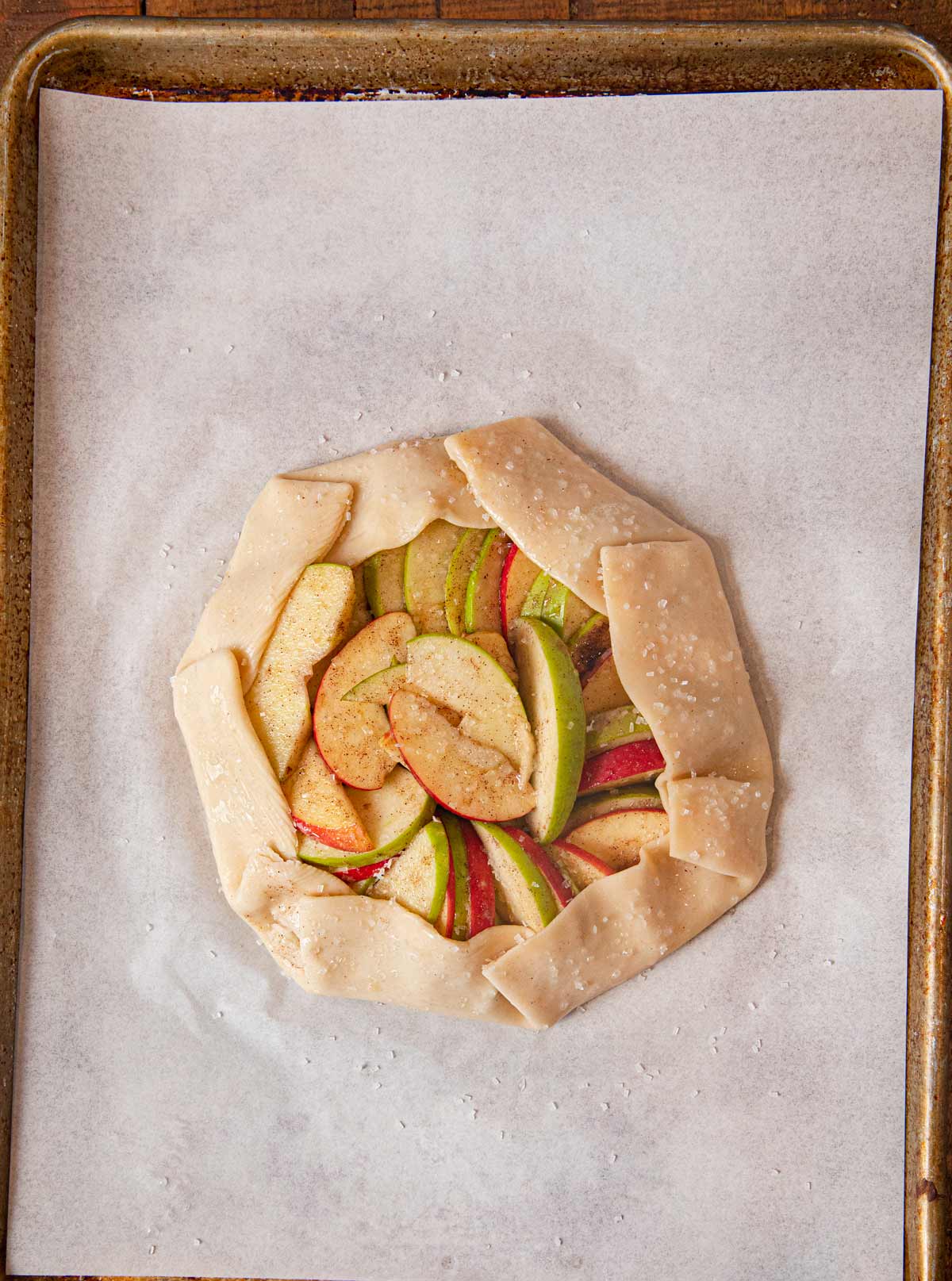 Create a free account to

Save Recipes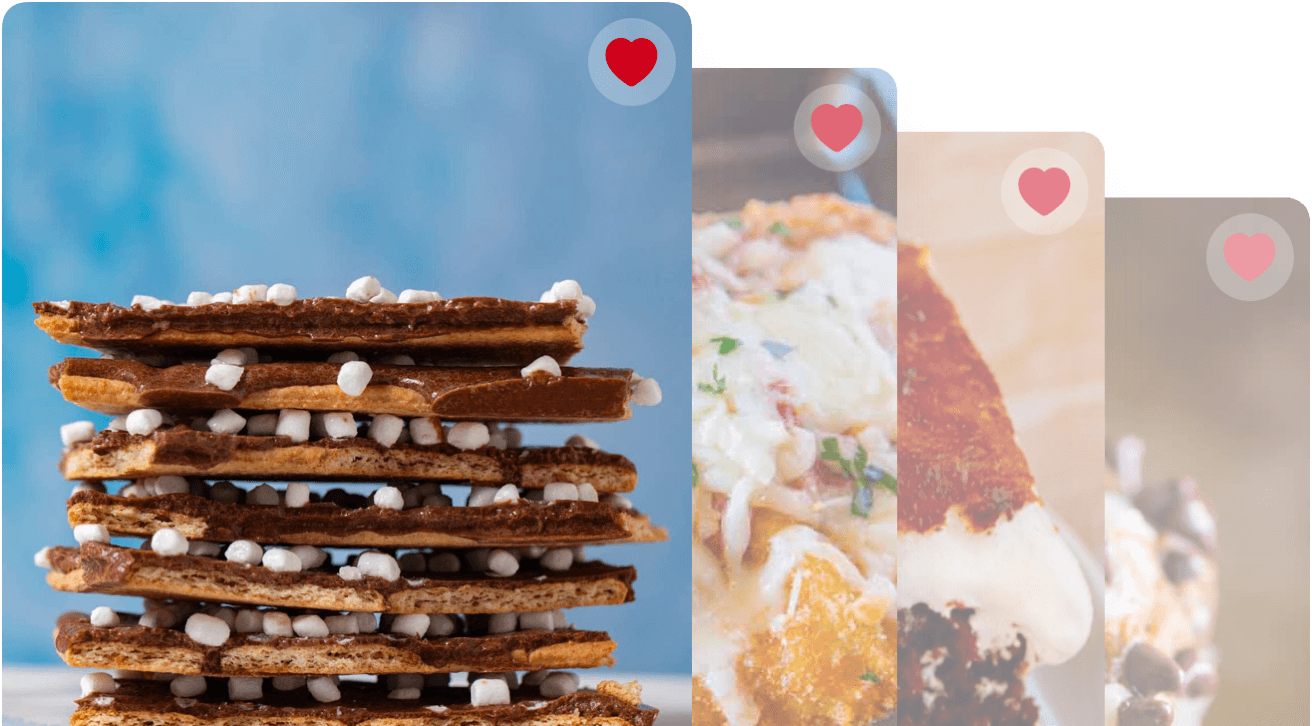 VARIATIONS ON RUSTIC APPLE GALETTE (PIE TART)
Flavor: There are lots of different flavor combos you could try in your Apple Galette. For some extra tartness toss the apples with fresh lemon juice. For a perfect spice blend mix the cinnamon with ground nutmeg, ginger, and cloves.
Fruit: Granny Smiths are always our go-to favorite baking apples. However, if you want a sweeter tart, you could try Honeycrisp, Gala, or Golden Delicious apples. You could also mix in other fruits like peaches, strawberries, raspberries, or blueberries. Galettes are great with pretty much any fresh fruit.
Sweeteners: Although the recipe calls for granulated sugar you could always use brown sugar, honey, or coconut sugar as alternatives to granulated sugar.
Small Galettes: Try dividing the pie crust into small pieces. You can divide it into 3-inch pieces for mini pie crusts. Put them all on one baking sheet and make sure to still leave room at the dough edge when you divide the apples into the mini crusts. Keep an eye on them while baking as the mini galettes will bake faster than a large one.
MORE DELICIOUS FRUIT BAKED GOODS
HOW TO STORE RUSTIC APPLE GALETTE
Serve: After letting the Rustic Apple Galette cool, you can wrap it in plastic wrap to store at room temperature. It will stay good in the pantry for 2 days.
Store: Kept sealed, the tart will also be good in the fridge for 4-5 days.
Freeze: For long-term storage, wrap the Apple Dessert tightly and freeze it for up to 6 months.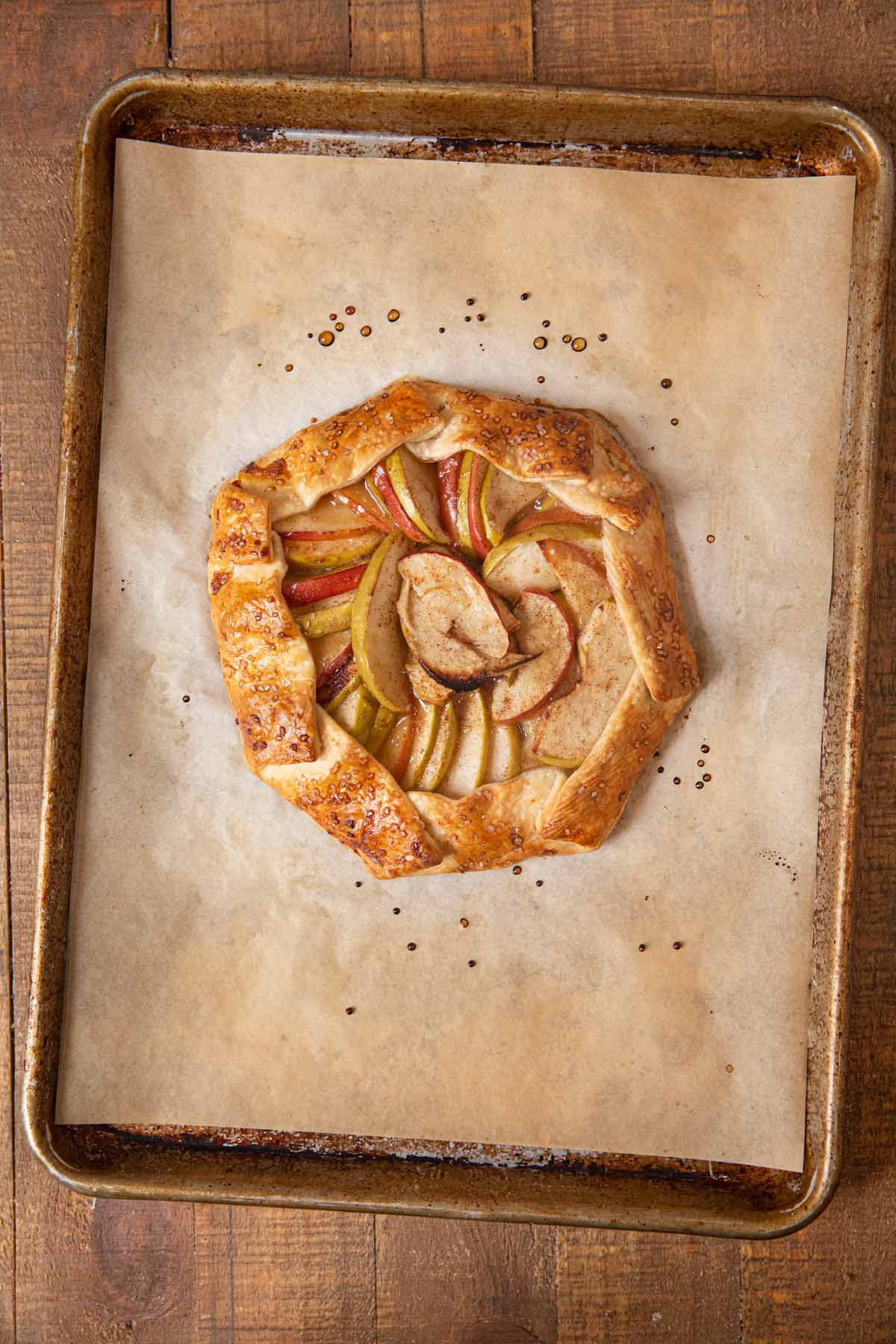 Ingredients
3

granny smith apples

1/3

cup

sugar

1

teaspoon

vanilla extract

1

teaspoon

cinnamon

2

tablespoons

unsalted butter

, melted

1/8

teaspoon

salt

1

refrigerated pie crust

1

large

egg white

, lightly beaten

1

tablespoon

coarse sanding sugar
Instructions
Preheat oven to 425 degrees and line a baking sheet with parchment paper.

Peel, core, and slice apples thinly (between 1/8-¼ inch thick) into a large bowl.

Add the sugar, vanilla, and cinnamon, tossing the apples well.

Add the pie crust to your baking sheet and brush with melted butter.

Top with the apple mixture, adding them in a domino, overlapping pattern in circles, spread to 2" from the edge of the pie dough, evenly.

Fold the crust over in 2" sections, making overlapping folds as you go.

Brush with egg white, then sprinkle with coarse sanding sugar.

Bake for

20-22 minutes

until golden brown and bubbly.
Nutrition
Calories:
200
kcal
|
Carbohydrates:
30
g
|
Protein:
2
g
|
Fat:
9
g
|
Saturated Fat:
4
g
|
Cholesterol:
8
mg
|
Sodium:
131
mg
|
Potassium:
100
mg
|
Fiber:
2
g
|
Sugar:
17
g
|
Vitamin A:
124
IU
|
Vitamin C:
3
mg
|
Calcium:
11
mg
|
Iron:
1
mg