Bananas Foster Cobbler is an easy, rich, buttery cobbler recipe with creamy banana, brown sugar and cinnamon vanilla flavors in every bite.
This warm, rich and creamy banana Dessert is all the best parts of gooey fruity cobbler and Bananas Foster baked into one delicious bite. For more warm fruity cobblers, try Peach Cobbler or Blueberry Cobbler!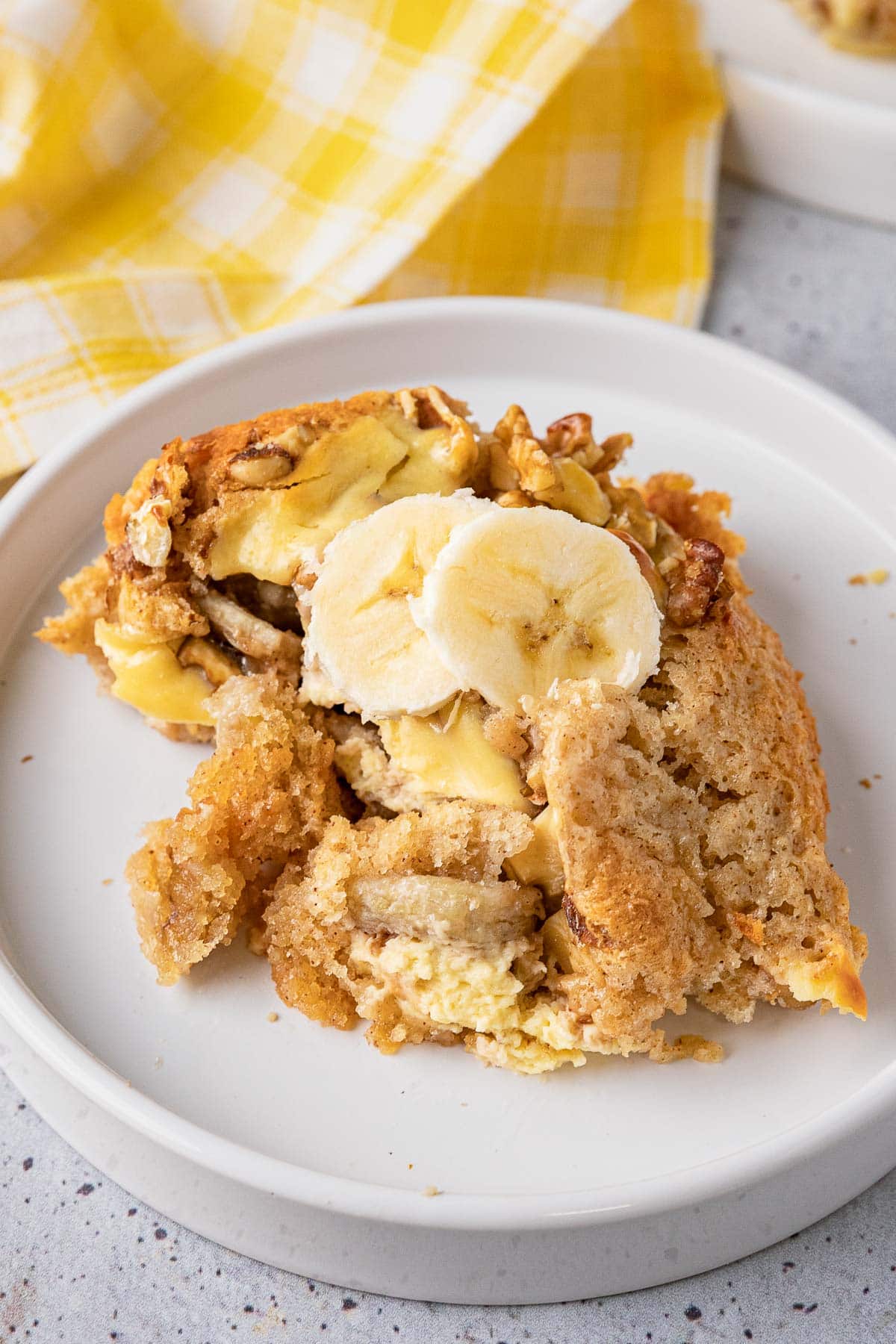 If you are a banana fan and you are looking for a rich, indulgent banana dessert idea that is also easy to make, this is definitely the sweet treat you need! It has all the amazing flavors you love in Bananas Foster with a warm cinnamon vanilla brown sugar filling baked around fresh banana slices and crunchy walnuts. There are pockets of sweet cream cheese for a burst of caramel cheesecake flavor.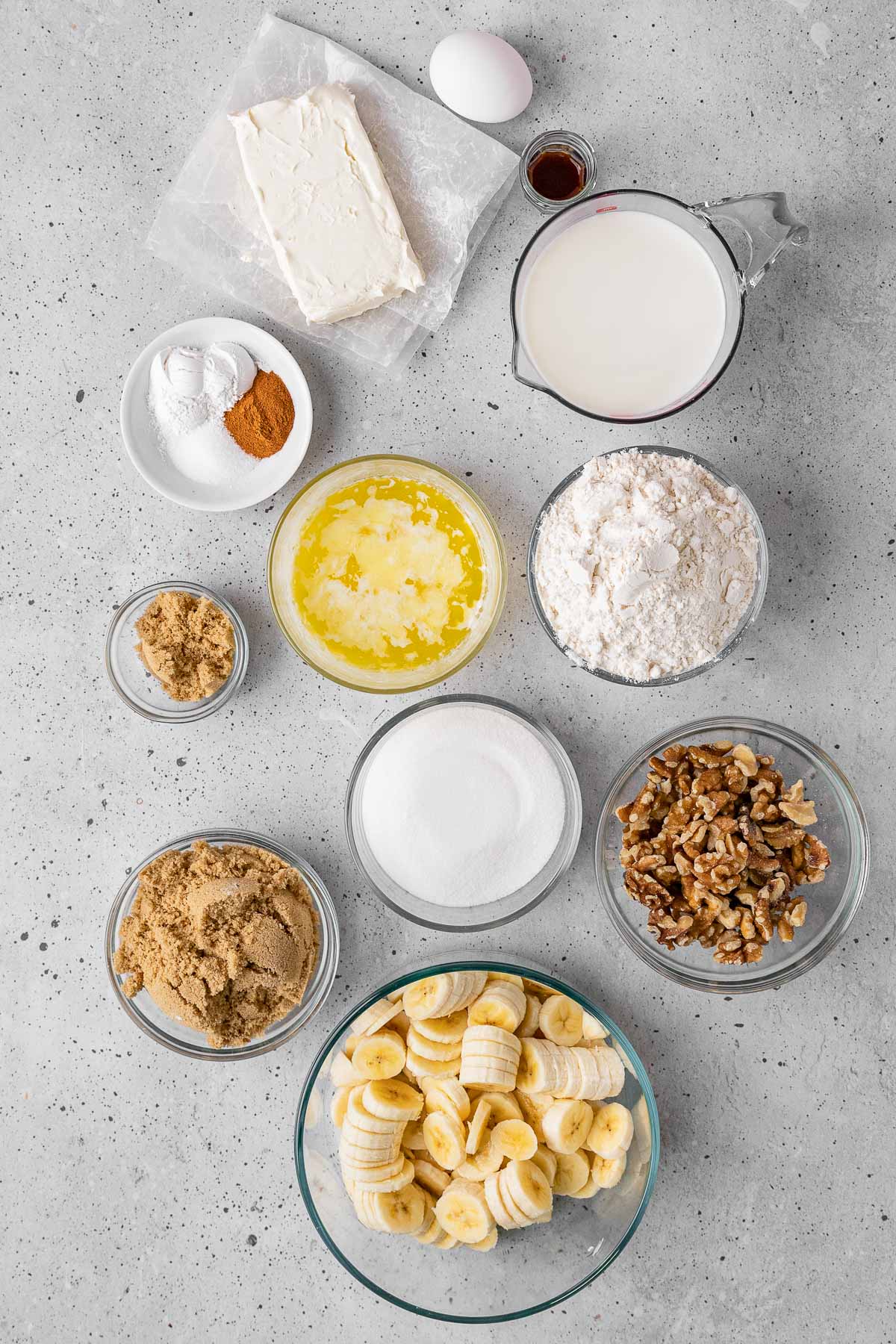 Bananas Foster Cobbler is incredibly easy to make! From start to finish, this dessert is ready in less than an hour and takes just a few minutes to throw together. It might sound fancy, but this sweet treat is made with regular pantry ingredients and a couple ripe bananas. The riper the fresh bananas, the sweeter your cobbler will be. For more melt-in-your-mouth banana flavor, roast your bananas in the oven before slicing them.
Bananas Foster Cobbler is a layered cobbler dish that starts with the cake batter on the bottom that bakes up around the fruit and cream cheese. Essentially it is assembled upside down compared to a regular fruit crisp or cobbler recipe. The important tip to remember when making a cobbler recipe like this one is to not mix the batter into the melted butter. Just carefully spread over the melted butter so that the layer stays separate and can work its magic while the cobbler bakes.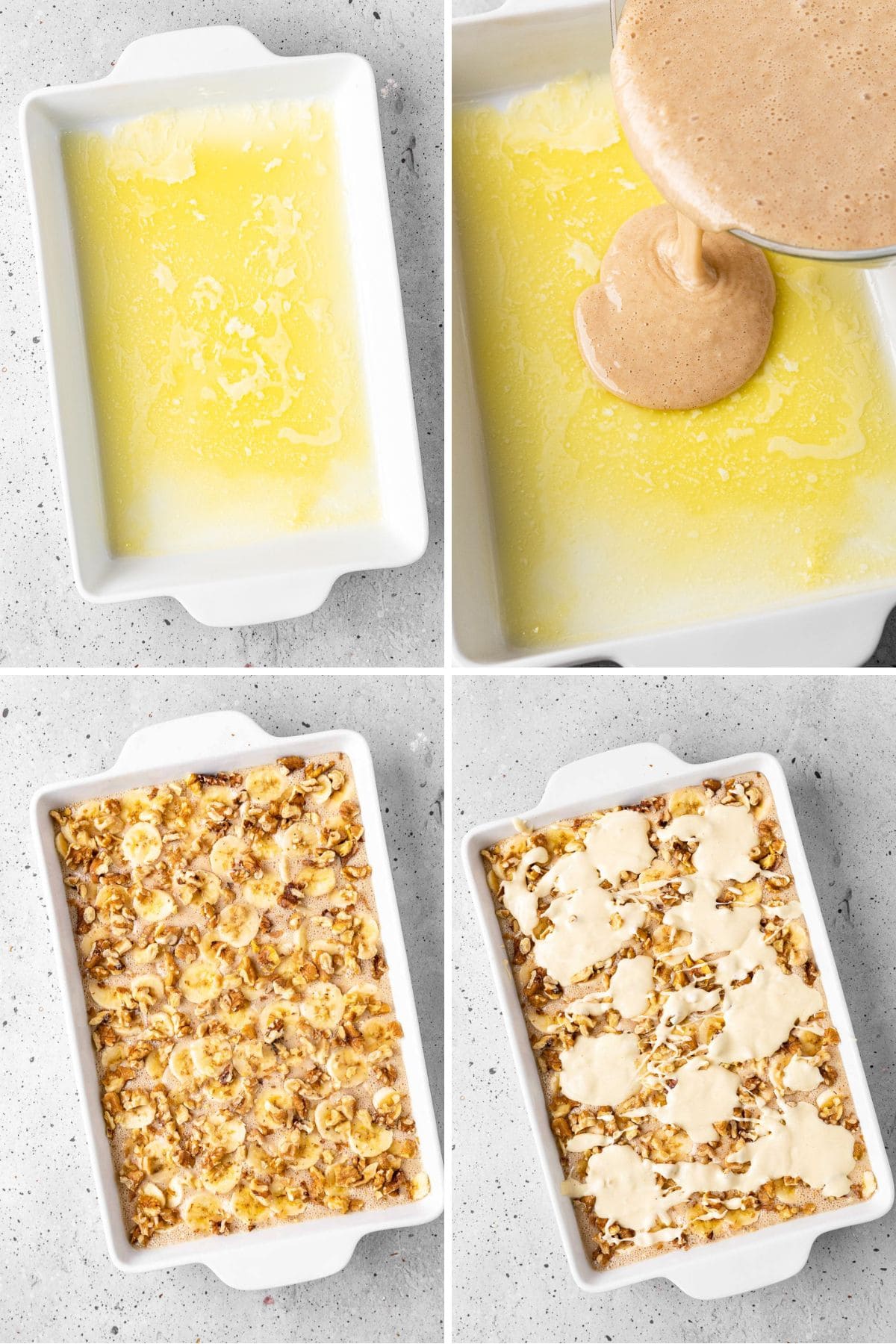 This Bananas Foster Cobbler is practically made to be served with a scoop of Vanilla Ice Cream on top! The sweet cream melts down into the gooey banana vanilla cake and cream cheese filling for a heavenly indulgent bite. If you want even more rich, sugary indulgence add a drizzle of Salted Caramel Sauce or dollop of fluffy handmade Whipped Cream. Double the recipe to make an extra Bananas Foster Cobbler to freeze for later and reheat from frozen for the easiest fancy dessert ever!
How to Make Bananas Foster Cobbler
Prep: Preheat your oven. Spray a baking dish generously with baking spray. Pour melted butter into the bottom of the dish.
Batter: In a large bowl, whisk the milk, flour, white sugar, brown sugar, baking powder, salt and cinnamon together until well combined. It should have a thinner, pancake consistency. Pour the batter over the melted butter slowly so they don't combine.
Banana Filling: Top the batter with the banana slices in an even layer and sprinkle chopped walnuts over everything. The banana slices will sink into the batter partially.
Creamy Topping: In a microwave safe medium-size mixing bowl, warm the cream cheese until softened enough to stir easily. Whisk the egg, brown sugar, and vanilla into the cream cheese until combined. Spoon the mixture in dollops evenly over the banana filling.
Bake: Bake the cobber until golden brown and the crust is set. Let the cobbler dish cool for 10 minutes before serving because the filling will be very hot.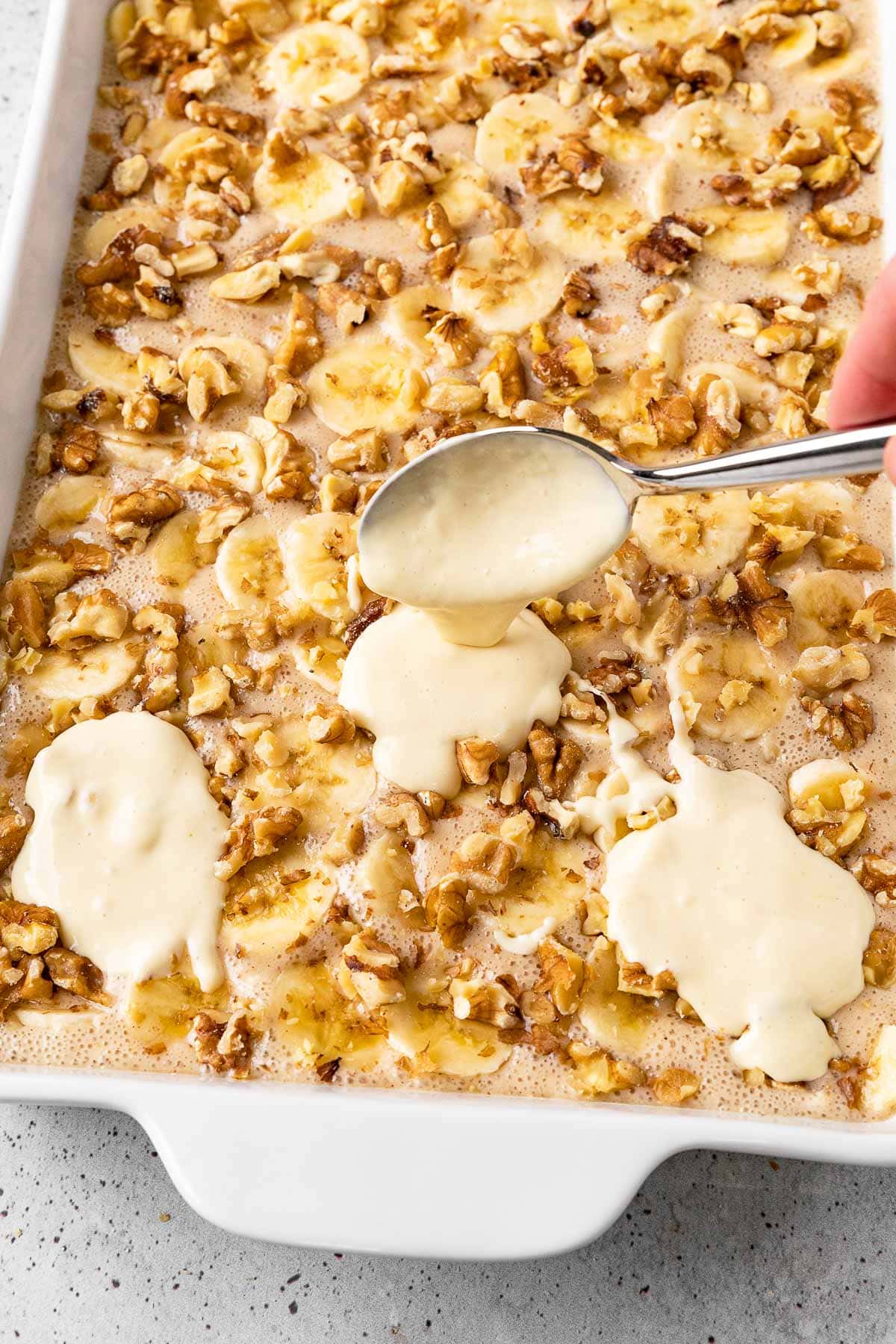 More Delicious Banana Desserts
FAQs For
Bananas Foster
Cobbler
What is Bananas Foster?
Bananas Foster is a sweet and rich dessert from the heart of Bourbon Street, New Orleans. It starts with bananas sauteed in a pan sauce made from brown sugar, butter, cinnamon, banana liqueur and dark rum. The mixture is then ignited to burn off the excess liqueur and caramelize the bananas, then the whole thing is served warm over vanilla ice cream.
What does Bananas Foster taste like?
Bananas Foster is a delicious banana dessert that tastes buttery and sugary, with deep caramel flavors plus some warm spiced flavor from the rum and cinnamon. The flames burn off the alcohol taste from the liquor so instead you get a banana-y butter rum flavor.
How ripe should my bananas be for this recipe?
Bananas should be very ripe when used for this recipe, as their sweetness and softness make them easier to mix into the cobbler batter. Plus very soft bananas have a more intense banana flavor than firm bananas.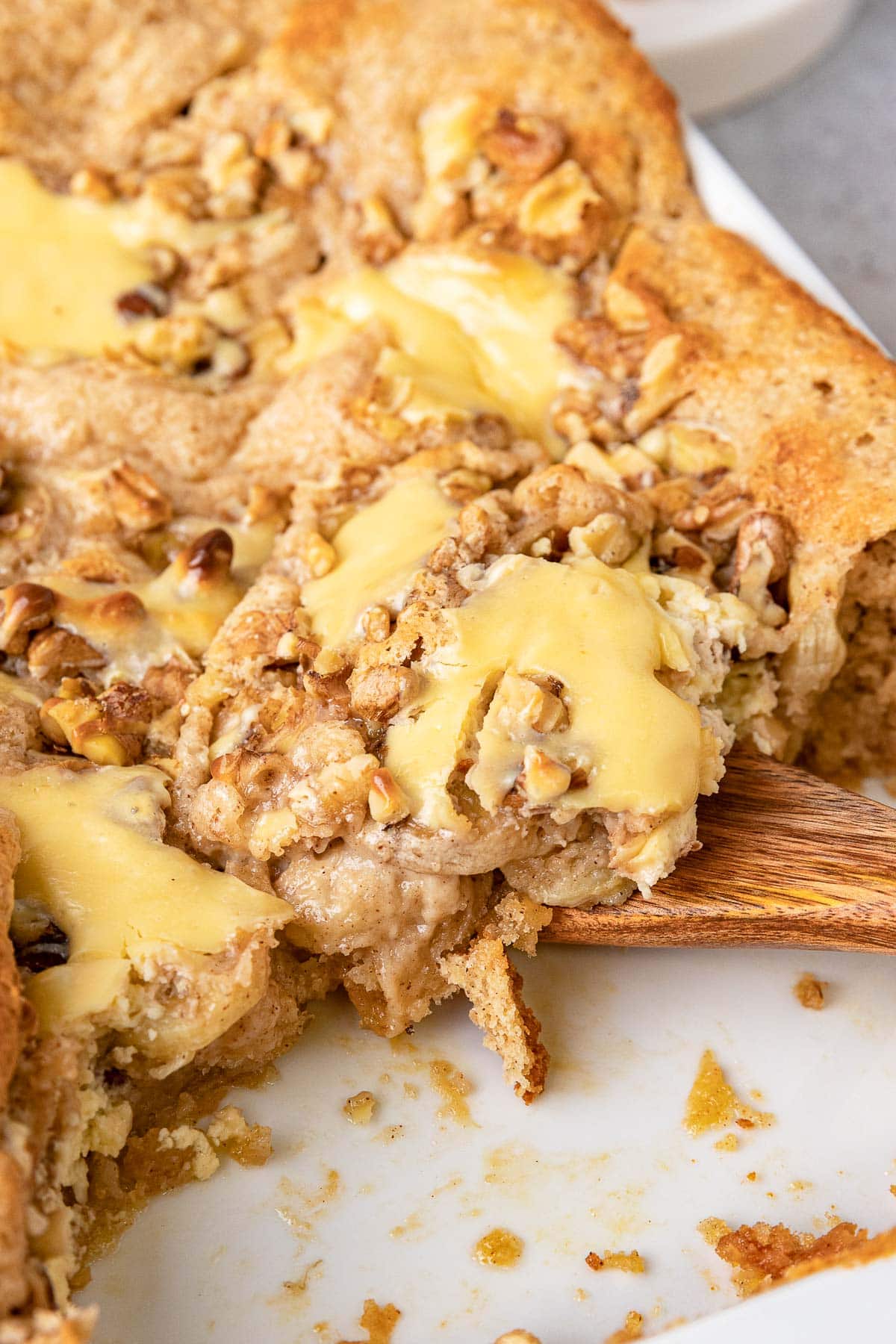 Create a free account to

Save Recipes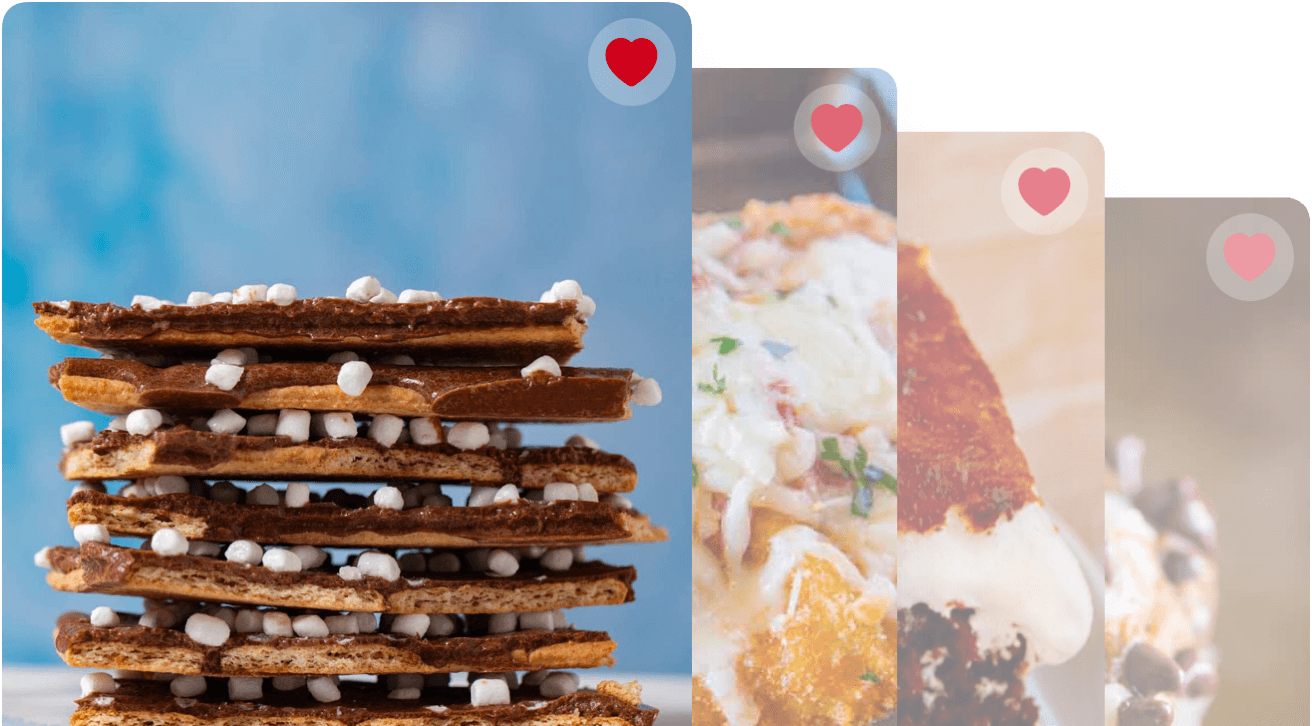 Key Ingredients
Unsalted Butter: Unlike many baking recipes, the unsalted butter is not part of the batter, instead you melt butter and then pour it into the bottom of the baking dish. As the dish cooks, the batter and bananas sink into the butter and it bubbles up around everything to form a crust on top of a creamy, gooey banana filling.
Cobbler Batter: The cobbler batter is a cross between a cake batter and pancake batter, made up of milk, flour, white sugar, brown sugar, baking powder and little salt to balance the sweetness. It's much thinner than a regular cake batter and doesn't have any egg in it so it stays relatively soft as it bakes.
Cinnamon: Cinnamon is one of the key flavors in bananas foster and it is a common spice in banana desserts and baked goods. The natural woodsy, warm spice pairs really well with the sweet banana flavor.
Bananas: Fresh banana slices go on top of the batter instead of being mixed in. This lets the banana brown and caramelize as the dessert bakes to give them that signature bananas foster taste!
Walnuts: To give some texture and slightly savory flavor to this gooey, sweet dessert, there are walnuts added with the banana slices on top. To bring out more nutty walnut flavor, you can toast them in a skillet until fragrant before adding them.
Cream Cheese Topping: To mimic the vanilla ice cream you usually serve with bananas foster, this cobbler has a cheesecake topping added. It's made with cream cheese, egg, brown sugar, and vanilla, and tastes like a vanilla brown sugar cheesecake!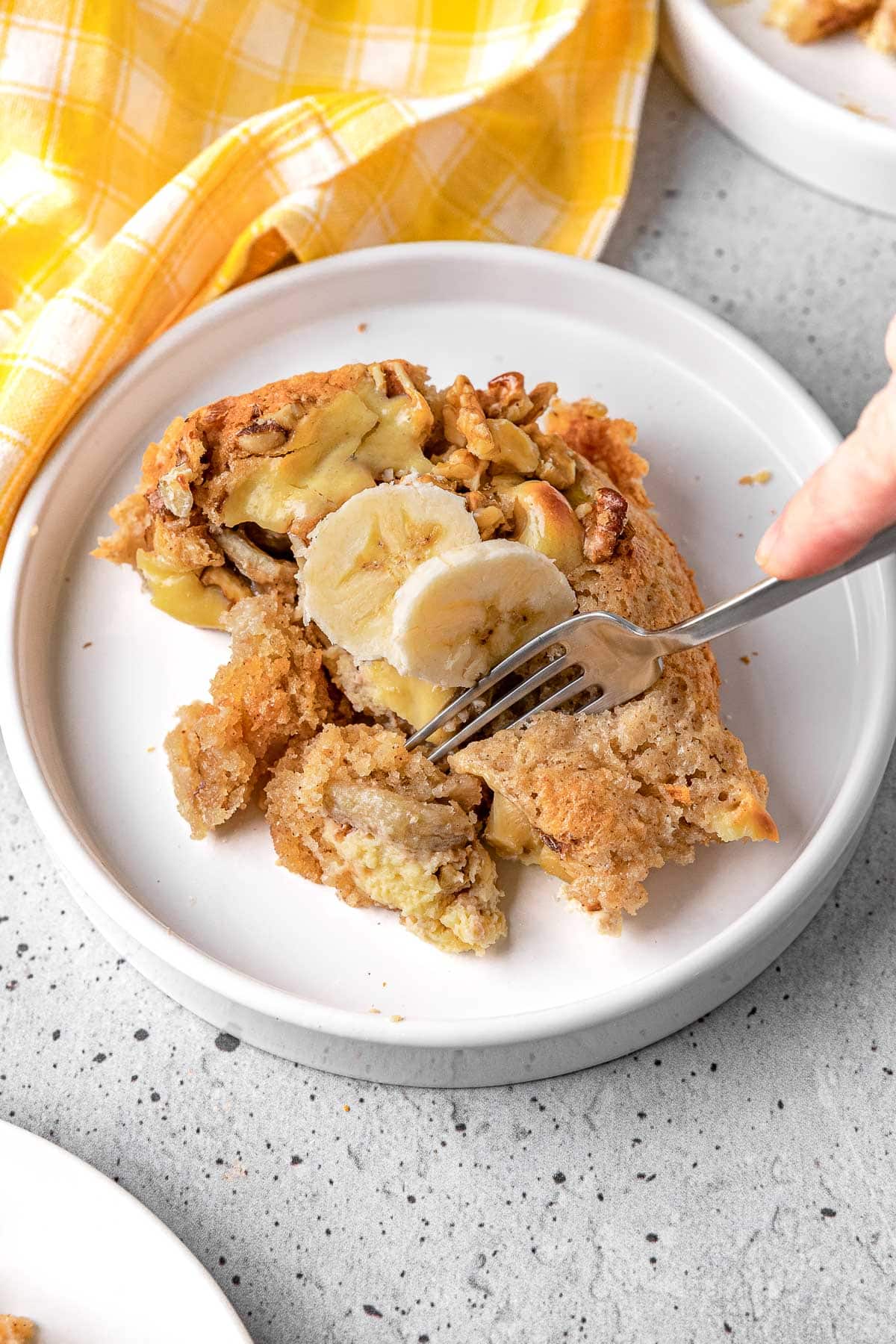 Can this be made ahead of time?
Yes, this cobbler dish can be made ahead of time, however you will want to bake it first then store it. The batter needs to be cooked after it's prepared for the best results. Once the cobbler has been baked, let it cool completely then cover it with plastic wrap and store it in the refrigerator for up to 3 days. To reheat, place it in a preheated oven at 350 degrees for about 15-20 minutes, or until heated through.
Variations
Berries: Add sweet fruity bursts to this Bananas Foster Cobbler by sprinkling a ½ cup fresh berries like blueberries, cherries, or strawberries. Canned or frozen peach slices (thawed first) would taste delicious with bananas too!
Cream Cheese: Instead of cream cheese, you can use sour cream, Greek yogurt, ricotta cheese, or Mascarpone cheese. If you use sour cream or Greek yogurt, use full fat dairy and strain the liquid out so it's thicker.
Liqueur: Give this Bananas Foster Cobbler a little "spirit" by adding 1 tablespoon dark rum, brandy, or banana liqueur to the cake batter mixture. For the rum taste without booze, you can add a teaspoon butter rum flavoring to the cream cheese topping.
Nuts: Swap the walnuts with pecans, almonds, or hazelnuts, or bring out the nutty flavor by toasting the walnuts first in a hot skillet until fragrant.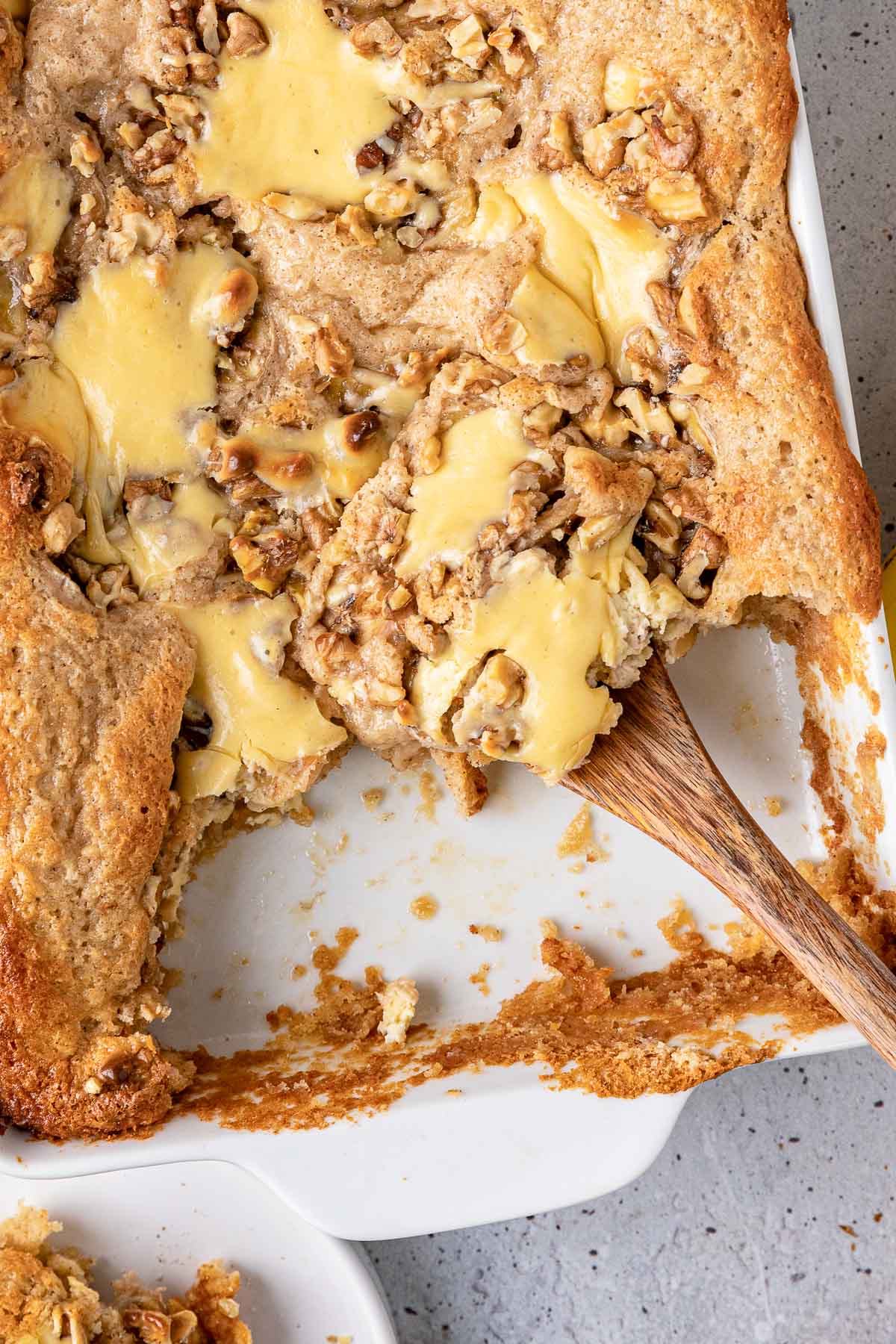 More Decadent Cobbler Recipes
How To Store
Serve: Bananas Foster Cobbler should cool for at least 10 minutes before serving because the filling gets really hot. This cobbler can be at room temperature for up to 2 hours because it has cream cheese in it.
Store: Once cooled, store Bananas Foster Cobbler in an airtight container or cover pan with aluminum foil. Refrigerate Bananas Foster Cobbler for up to 4 days and reheat in the oven at low heat until hot.
Freeze: Wrap Bananas Foster Cobbler tightly with plastic wrap and aluminum foil, or transfer to a sealed container. Freeze Bananas Foster Cobbler for up to 6 months and reheat from frozen in the oven covered in foil.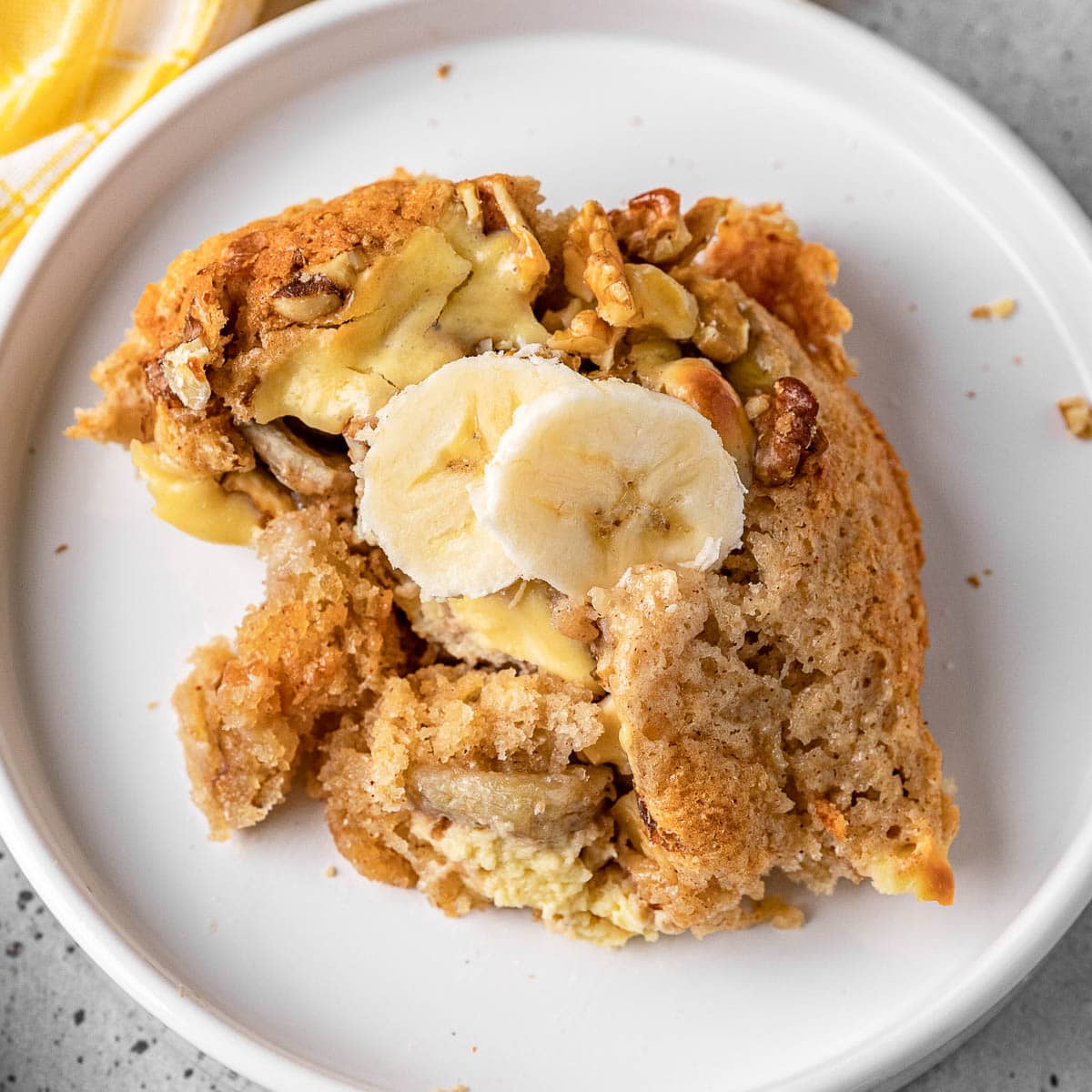 Ingredients
1/2

cup

butter

melted

2

cups

milk

2

cups

flour

1

cup

white sugar

1

cup

light brown sugar

, packed

4

teaspoons

baking powder

1

teaspoon

salt

1

teaspoon

cinnamon

4

bananas

, very ripe, sliced

1

cup

walnuts

, chopped

8

ounces

cream cheese

1

large egg

2

tablespoons

brown sugar

1

teaspoon

vanilla
Instructions
Preheat oven to 400 degrees and spray a 9×13 baking dish with baking spray.

Add melted butter to the bottom of the baking dish.

Whisk together milk, flour, sugar, baking powder, salt and cinnamon together in a large bowl

Pour flour mixture carefully over the butter in the baking dish.

Add the bananas and walnuts to the baking dish.

Microwave the cream cheese until warm, then stir the egg, brown sugar and vanilla into it.

Spoon the cream cheese over the mixture in small pockets.

Bake for

40-45

minutes or until golden brown.
Nutrition
Calories:
335
kcal
|
Carbohydrates:
50
g
|
Protein:
6
g
|
Fat:
13
g
|
Saturated Fat:
6
g
|
Trans Fat:
1
g
|
Cholesterol:
35
mg
|
Sodium:
286
mg
|
Potassium:
362
mg
|
Fiber:
2
g
|
Sugar:
34
g
|
Vitamin A:
349
IU
|
Vitamin C:
3
mg
|
Calcium:
130
mg
|
Iron:
1
mg