Snickerdoodle Cobbler tastes like a fresh batch of cinnamon sugar cookies baked into a gooey pie. Perfect with a scoop of vanilla ice cream!
This easy and delicious dessert has the same flavors and warm spices as Classic Snickerdoodle Cookies and is as simple as Pie. It's the perfect crowd-pleasing and nostalgic Dessert Recipe that you can bake in 30 minutes.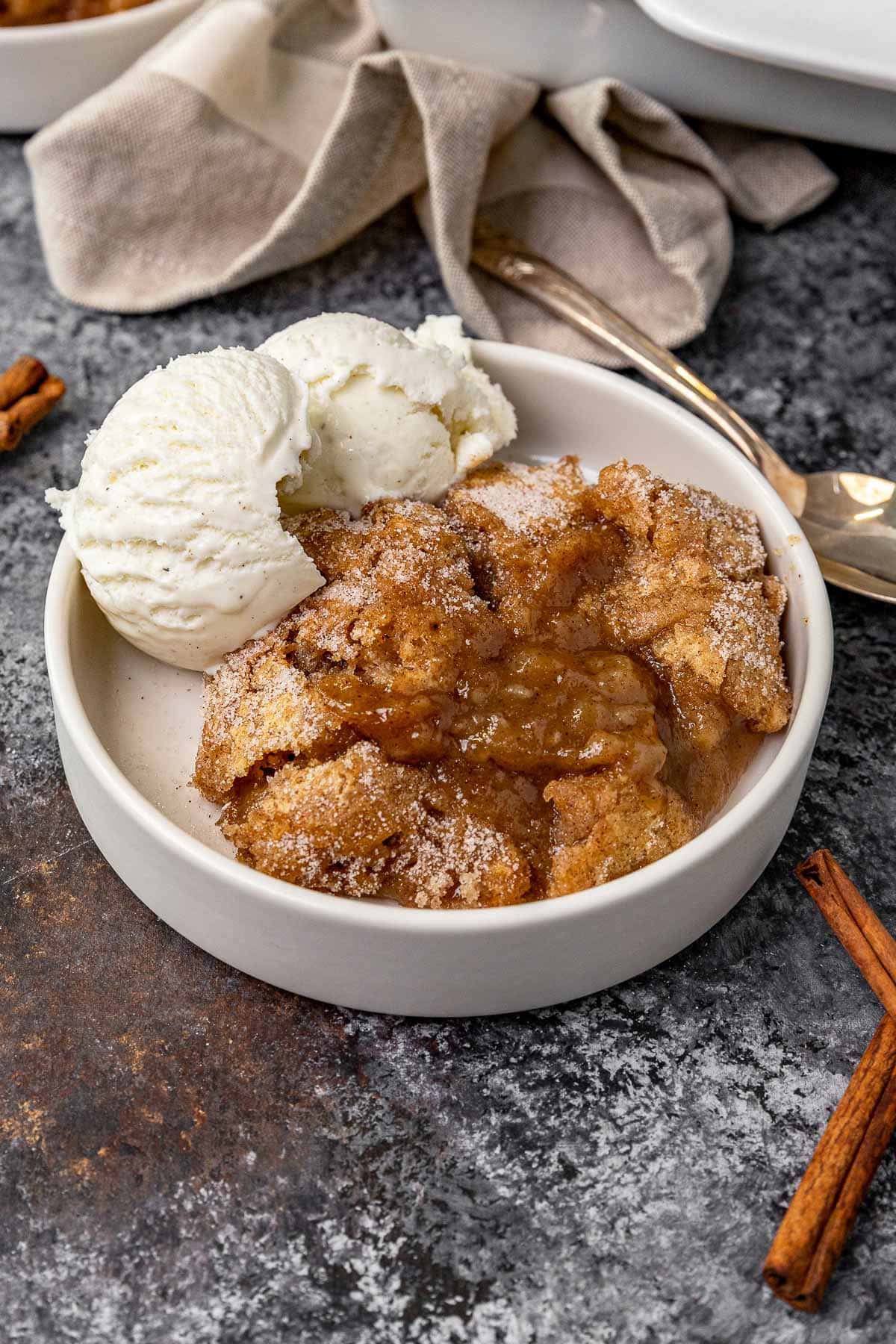 There are so many classic desserts that come to mind when you think of Fall baking. Snickerdoodle Cobbler probably isn't one of them, but you could make the case that it should be. This cobbler is a buttery combination of cinnamon and brown sugar that will melt in your mouth and tastes like the best nostalgic holiday treat. The consistency is like your favorite holiday pie but without all of the work of rolling out a crust. What's not to love?
If you love this cobbler (which, we're pretty sure you will) be sure to try out other fun cobbler recipes. Some favorites are Pumpkin Cobbler, Easy Pecan Cobbler, and Blueberry Cobbler. Any of these recipes make a hassle-free alternative to baking a pie. This Snickerdoodle version is a fun alternative because it takes the idea of a cobbler, but with the flavors of your favorite childhood cookie.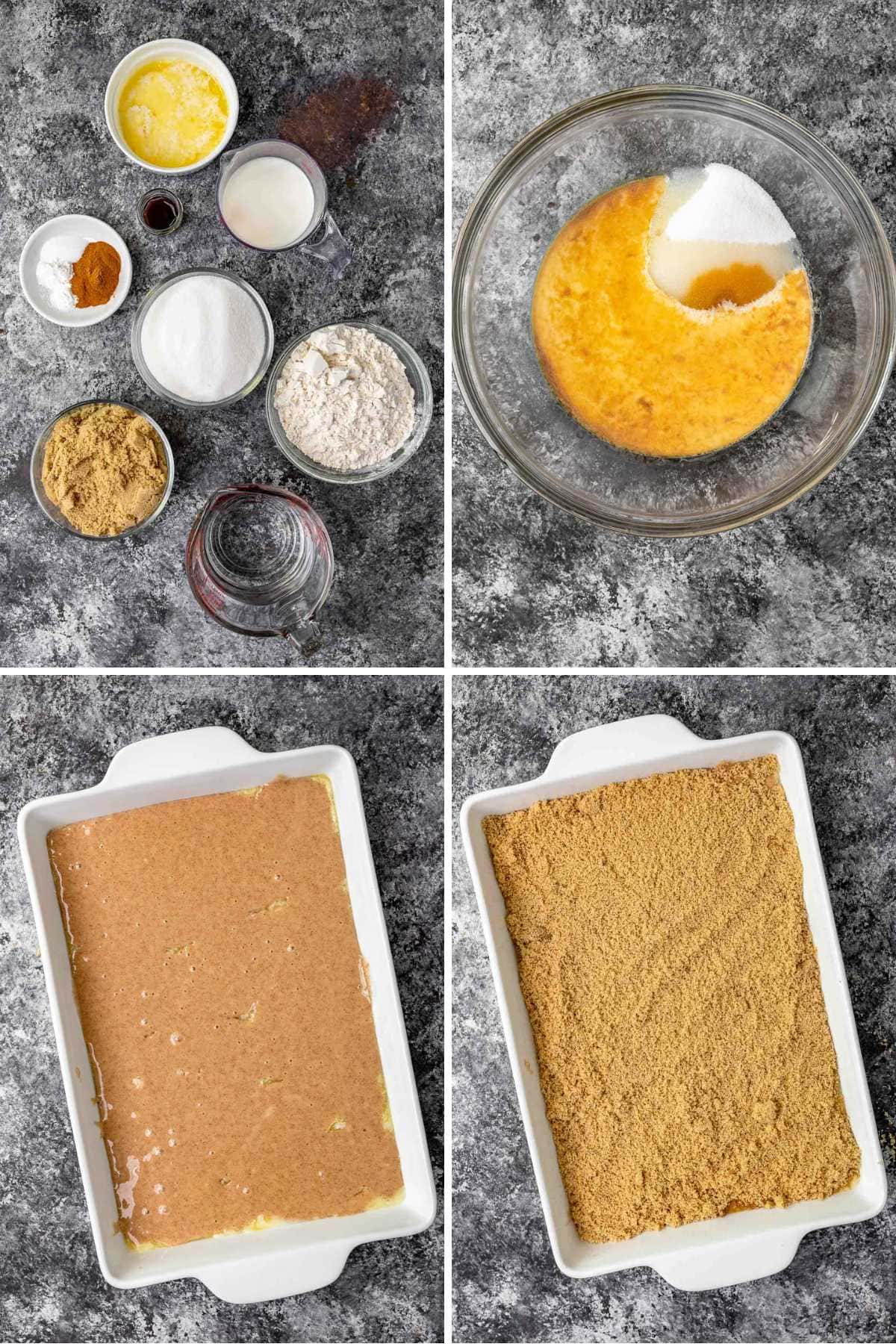 Snickerdoodle Cobbler is easy enough to make for an after-dinner treat, but delicious enough to serve for a special occasion. Cobblers are made in a big baking dish, perfect to serve to a crowd over the holidays at any time of the day. They're easy to put out and let people serve themselves because you don't need careful slices like with a pie.
Just like other fruit cobblers and crisps, you are going to want to serve this cinnamon cobbler with a scoop of Vanilla Ice Cream or Whipped Cream. The cool, creamy toppings perfectly complement the warm and gooey cobbler. You can also give it a drizzle of Caramel Sauce or Strawberry Topping for an extra bit of sweetness and flavor.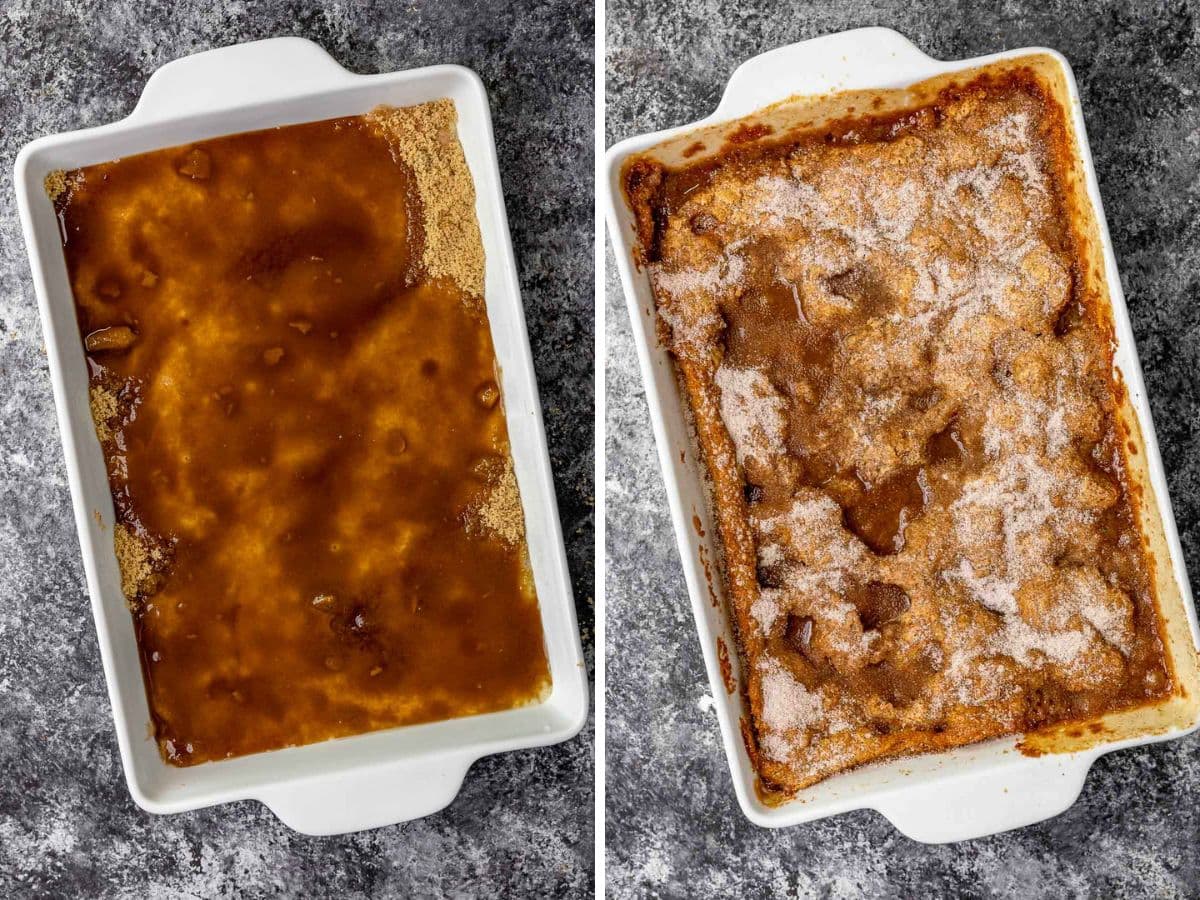 What is a Snickerdoodle?
Snickerdoodles cookies are thought to come from a classic Dutch-German cookie recipe, in which the shape of the cookie resembled a snail. The "snicker" part comes from Dutch (snekrad) and German (schnecke) words that translate roughly to a "snail-like shape". Even though this recipe is a twist on the classic cookie recipe, the fragrant cinnamon sugar flavors, and the classic "snail" shape are still very present in this dessert.
How to Make a Snickerdoodle Cobbler
Prep: Preheat your oven. Melt butter and pour into the baking dish.
Batter: Whisk the milk, vanilla and sugar in a large bowl until the sugar is mostly dissolved. Add the flour, baking powder, salt and cinnamon to the milk mixture and whisk until just combined.
Layer: Pour batter over the butter, being careful not to mix. Sprinkle the brown sugar over the top of the batter. Carefully pour the hot water over the batter and brown sugar.
Bake: Bake for 30-35 minutes until golden brown and the center is mostly set. Note that it will still be pretty gooey, you just don't want it liquidy or too jiggly. Once out of the oven, combine the cinnamon and sugar then sprinkle over the top. Let cool a few minutes before serving with ice cream or whipped cream.
More Delicious Cobbler Recipes without Fruit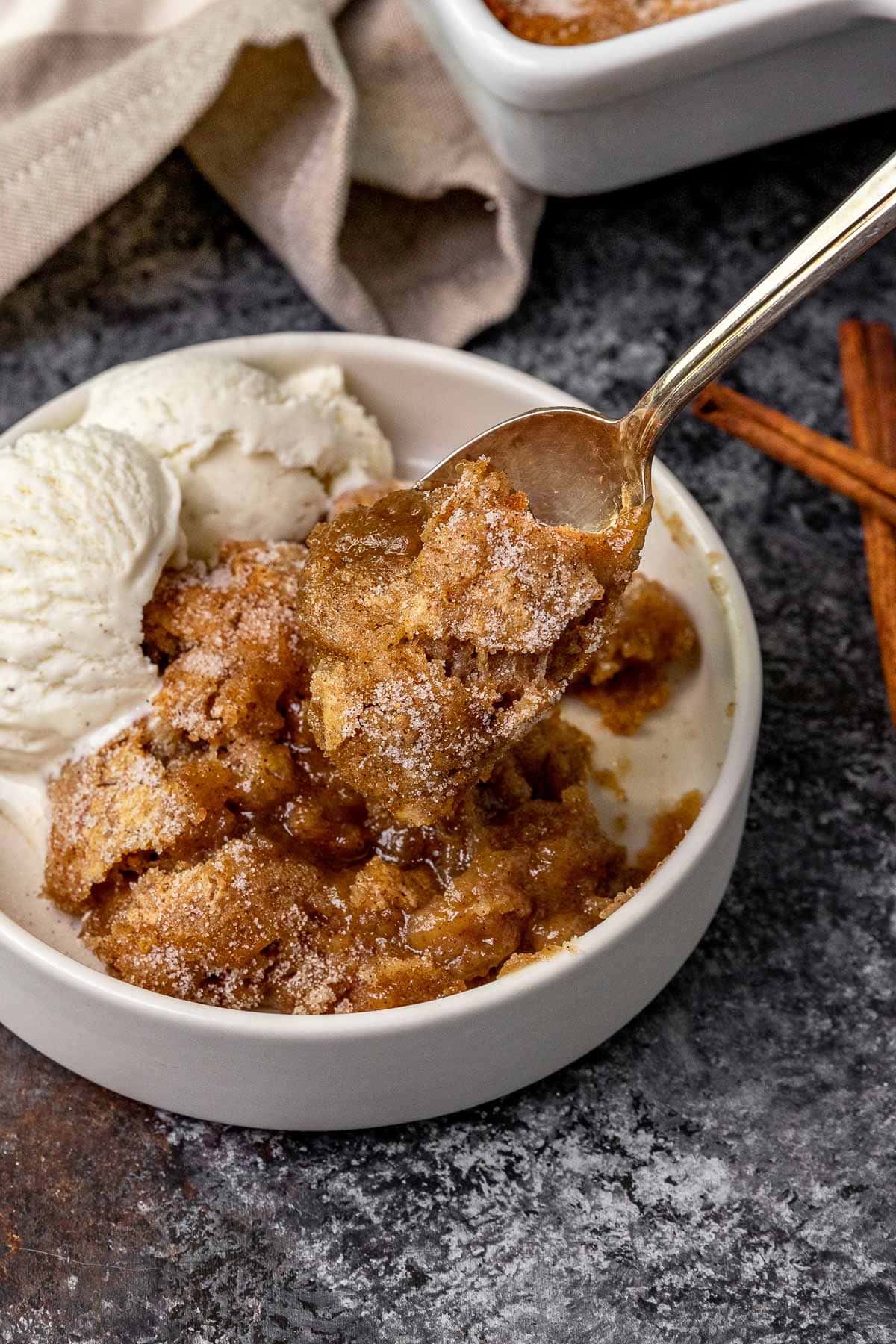 FAQs for Snickerdoodle Cobbler
What ingredients are needed for a Snickerdoodle Cobbler?
The ingredients needed for a Snickerdoodle Cobbler are likely already in your kitchen right now! With minimal prep time, this is a recipe that can be made at any time. All you will need for this recipe is milk, unsalted butter, granulated sugar, brown sugar, all-purpose flour, baking powder, and vanilla extract.  No cream of tartar or eggs is needed.
Can this be served for breakfast?
The simple household ingredients in the Snickerdoodle Cobbler make this a hit at any time of day.  This cobbler is a perfect brunch item, an easy weekend breakfast, or even a fast weeknight dessert that can be reheated and eaten throughout the week.
What size pan is needed to make a Snickerdoodle Cobbler?
A 9×13 baking The best way to make this delicious cobbler is in a 9×13 pan because it keeps the mixture thin enough that it cooks quickly while it still stays gooey. If you use a smaller pan, like a square 9×9 pan, it is going to need more time to cook and you may need to divide it between multiple pans.  pan works best, but you can also use two 8×8 inch pans or two 9×9 inch pans.

Create a free account to

Save Recipes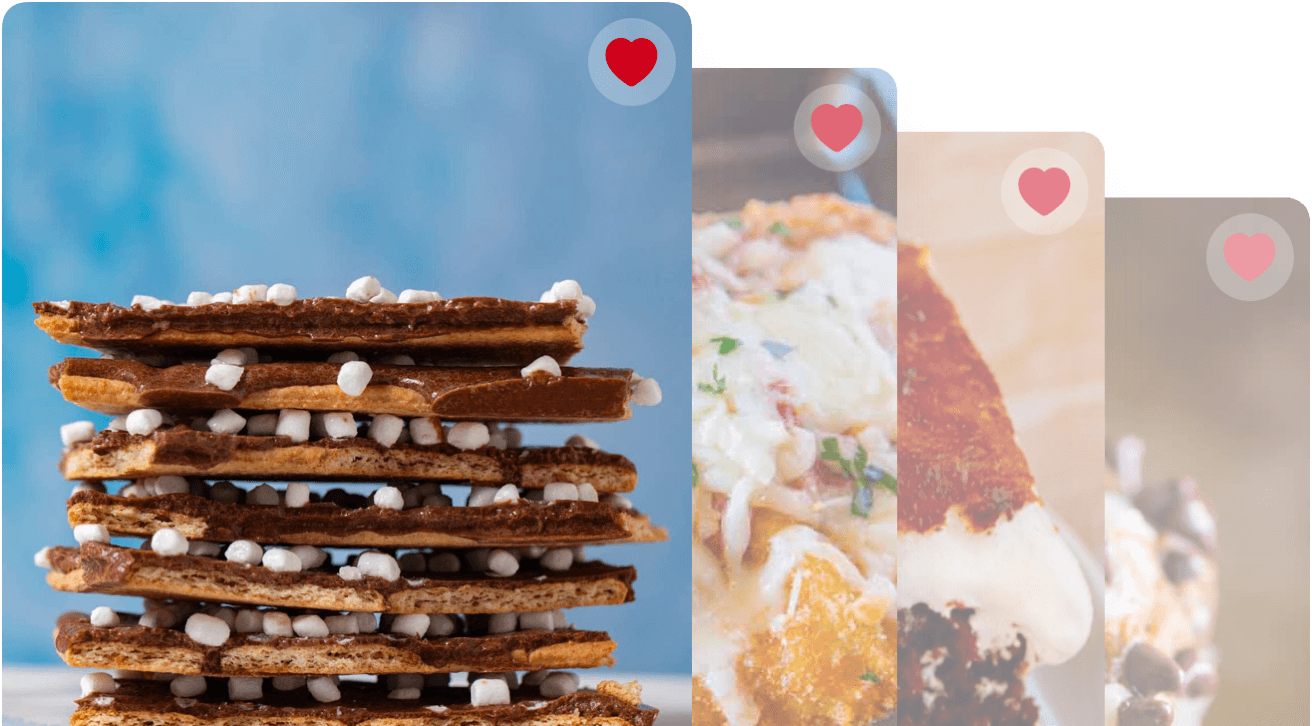 Key Ingredients
Butter: Unsalted butter is the foundation of this recipe. You will get a buttery bite in every morsel. It's also what is keeping the batter from sticking to the pan.
Sugar: Two types of sugar elevate the sweetness in this cobbler: granulated sugar and light brown sugar. The molasses in the brown sugar helps the cobbler retain its moisture and softness.
Cinnamon: This warm spice may be the star of the recipe, but it is also what is responsible for making your kitchen smell yummy and inviting.
Vanilla Extract: A little extract goes a long way in this recipe. Vanilla extract brings out the flavor of the rest of the ingredients.
Can you make Snickerdoodle Cobbler ahead of time?
Unlike fruit cobblers, this snickerdoodle dessert can be reheated without the filling breaking down. Because of this you can easily make the cobbler a day or so ahead and store it in the fridge. For a make-ahead cobbler start by baking the cobbler exactly according to the recipe instructions on this page, then prepare as follows.
Wait for the cobbler to cool to room temperature, before covering it to store in the fridge.
When ready to serve, preheat your oven to 325 degrees.
Tent foil over the cobbler to keep the top from browning.
Leave the cobbler in the oven for 10-15 minutes or until heated through.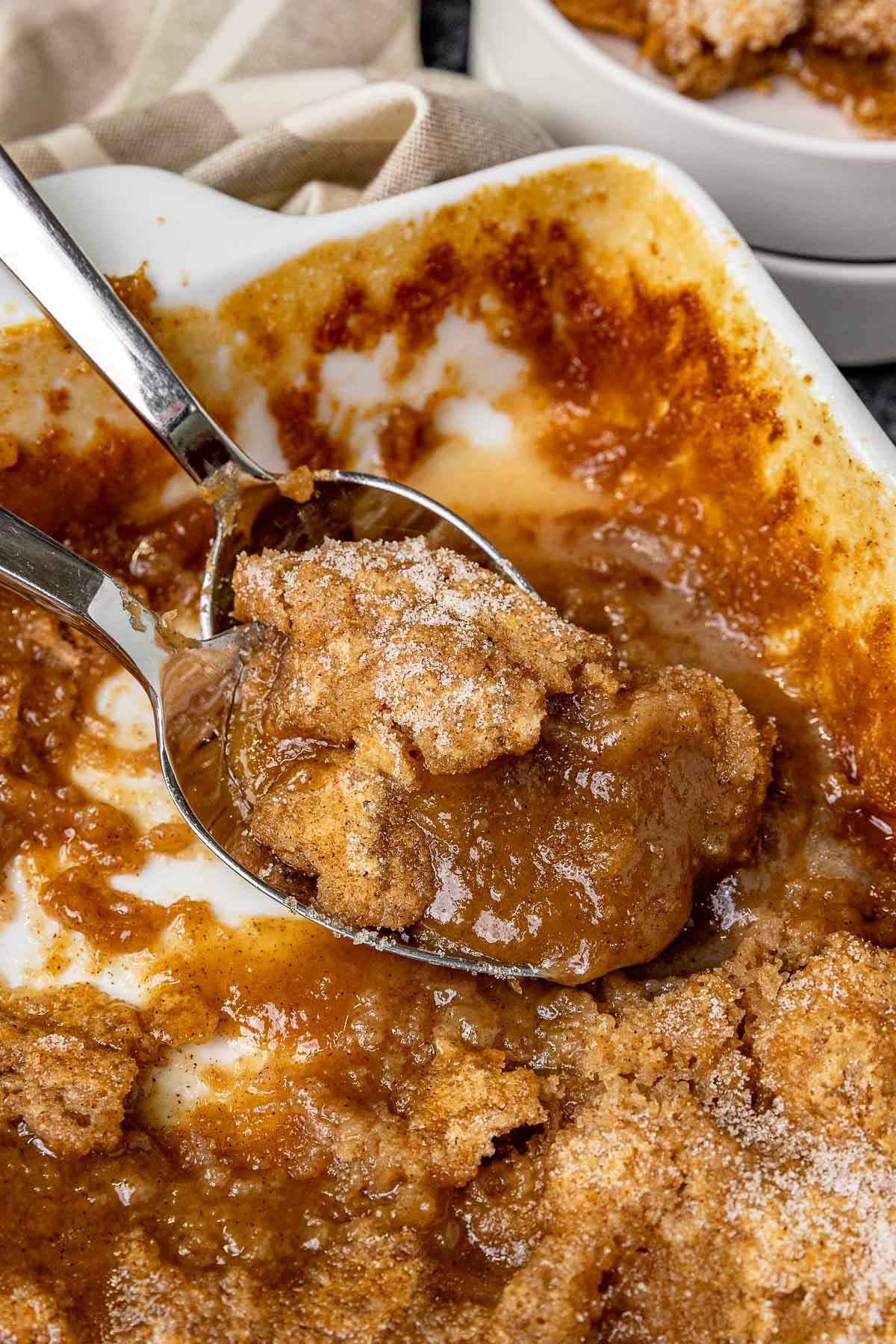 Variations
Fruit: Add homemade Apple Pie Filling for an Apple Snickerdoodle Cobbler. Fall fruits like apples pair extremely well with the snickerdoodle spices in this recipe. You can also add pumpkin filling for a delicious variation. Even canned peaches or pears would enhance this cobbler's fruity flavors.
Sauce: While creamy vanilla ice cream is the perfect complement for this cobbler, a Homemade Salted Caramel Sauce, whipped cream or even a cream-cheese icing would make this cobbler extra tasty.
Nuts: To add some extra crunch to your cobbler mix some chopped nuts with the cinnamon sugar topping. You can use pecans, almonds, walnuts, or even peanuts.
Gluten-free: If you have any dietary restrictions, making this recipe gluten-free is very easy. Just replace the flour with a gluten-free flour option like almond flour or coconut flour.
Buttermilk: You can add buttermilk to your recipe to make the cobbler more creamy and tangy. Just mix in 1 cup of buttermilk with the batter. Alternatively, you can also use Greek Yogurt.
Cake Mix Hack: To make this recipe even more simple, exchange the dry batter ingredients for your choice of cake mix. You can use yellow, chocolate, or even brownie mix for this cobbler.
Slow Cooker Snickerdoodle Cobbler
Pour the melted butter over the bottom of your slow cooker.
Mix together the cobbler batter according to the instructions, then spoon the batter over the butter. Be careful not to stir or mix the butter in.
Sprinkle the brown sugar on top.
Pour boiling water over the top.
Cook in the crock pot for 2-3 hours on high or 4-5 hours on low.
Once cooked sprinkle sugar and cinnamon mixture over the top, and serve.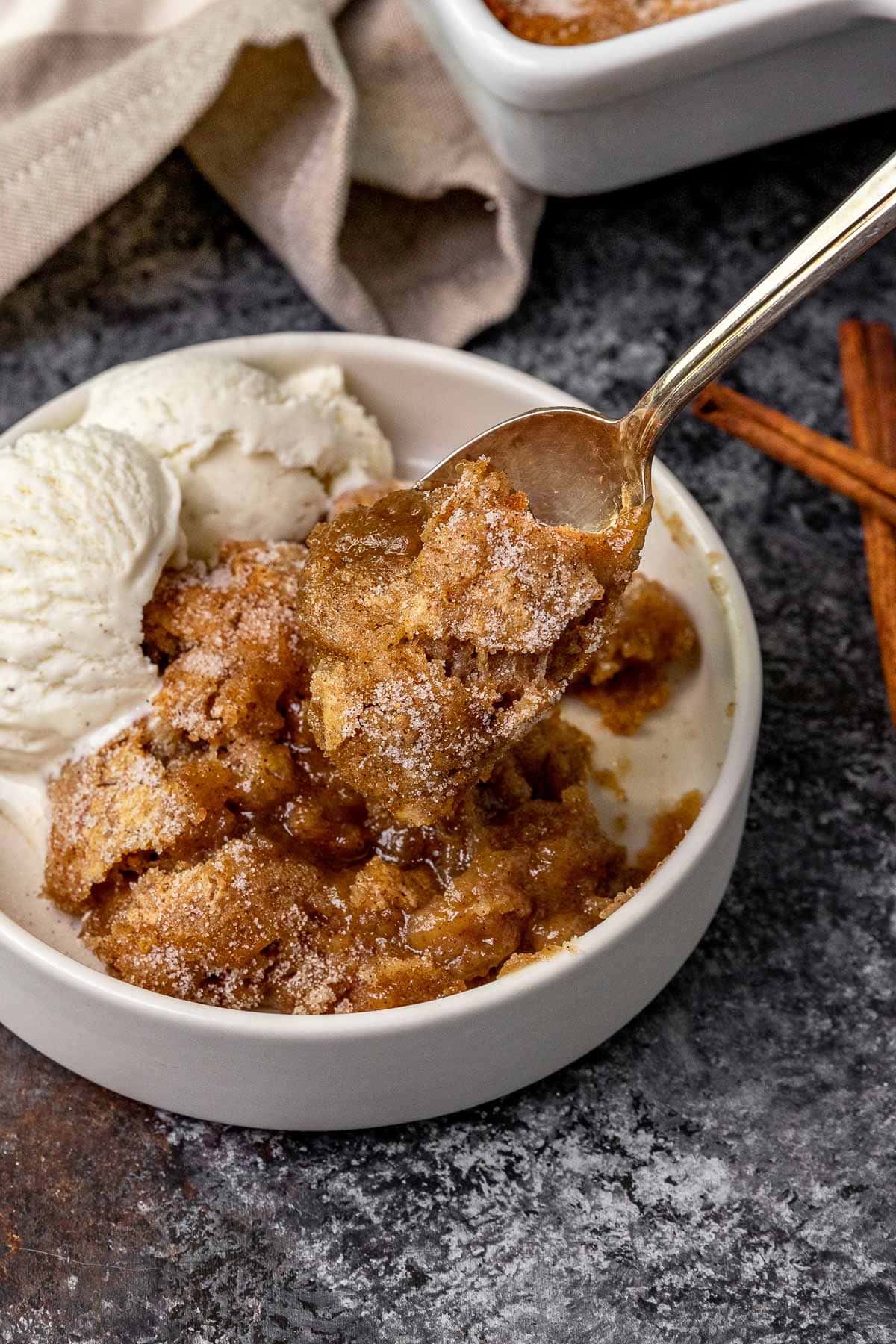 More Amazing Snickerdoodle Desserts
How to Store
Serve: Snickerdoodle Cobbler is best served warm. Don't leave your cobbler at room temperature for more than 2 hours.
Store: Once the Cobbler has cooled, cover it in plastic wrap or tin foil to store in the fridge. It should keep well for up to 4 days. Reheat it in the oven to 325 degrees.
Freeze: To store your Pecan Cobbler in the freezer, keep it in an airtight container. Cobbler will stay good in the freezer for up to 2 months. Let it defrost in the fridge before reheating it in the oven.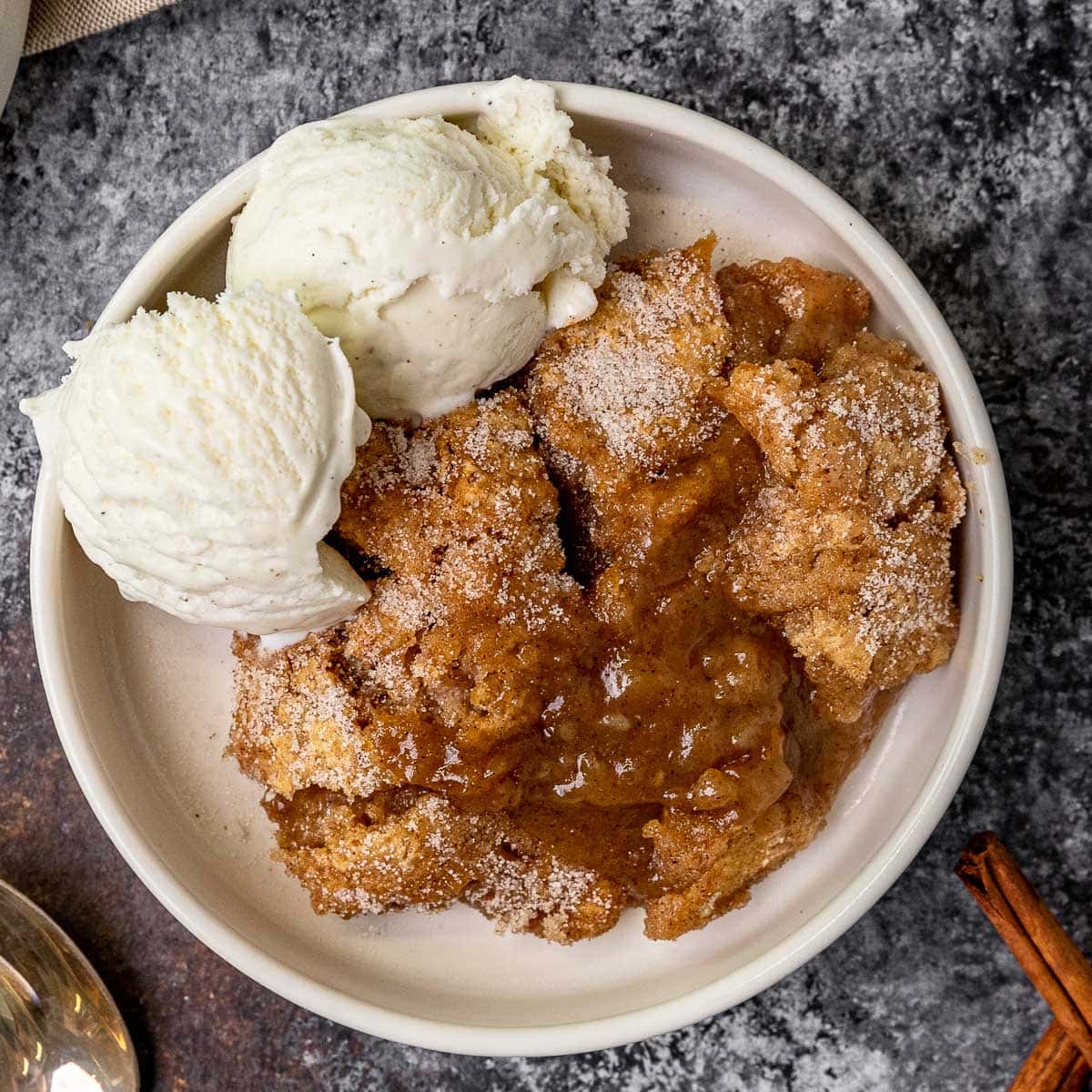 Ingredients
1/3

cup

unsalted butter

, melted

3/4

cup

whole milk

2

teaspoons

vanilla extract

1 1/2

cups

sugar

1 1/2

cups

flour

2 1/4

teaspoons

baking powder

3/4

teaspoon

salt

2

teaspoons

cinnamon

1 1/2

cups

brown sugar

, packed

1 1/2

cups

hot water
Topping:
1/4

cup

sugar

1/2

teaspoon

cinnamon
Instructions
Preheat oven to 350 degrees.

Spread melted butter over a 9×13 baking pan.

In a large bowl whisk together the milk, vanilla and sugar until mostly dissolved.

Add in the flour, baking powder, salt and cinnamon, then whisk until just combined and no dry streaks remain.

Spoon batter over the butter, careful to not mix the butter in.

Sprinkle the brown sugar over the batter.

Gently pour the water over the batter and sugar.

Mix together sugar and cinnamon, when cobbler comes out of the oven, sprinkle the cinnamon and sugar mixture over the top.
Nutrition
Calories:
332
kcal
|
Carbohydrates:
70
g
|
Protein:
2
g
|
Fat:
6
g
|
Saturated Fat:
4
g
|
Cholesterol:
15
mg
|
Sodium:
163
mg
|
Potassium:
149
mg
|
Fiber:
1
g
|
Sugar:
57
g
|
Vitamin A:
182
IU
|
Calcium:
81
mg
|
Iron:
1
mg