Banana Pudding Cake is an easy twist on a Southern classic! Box cake mix made with instant pudding, topped with bananas, wafers, and frosting!
This fun twist on a well-loved Southern Dessert is like a mashup of Banana Pudding and Banana Sheet Cake. A box of pudding mix and cake mix make this delicious cake super easy and super moist!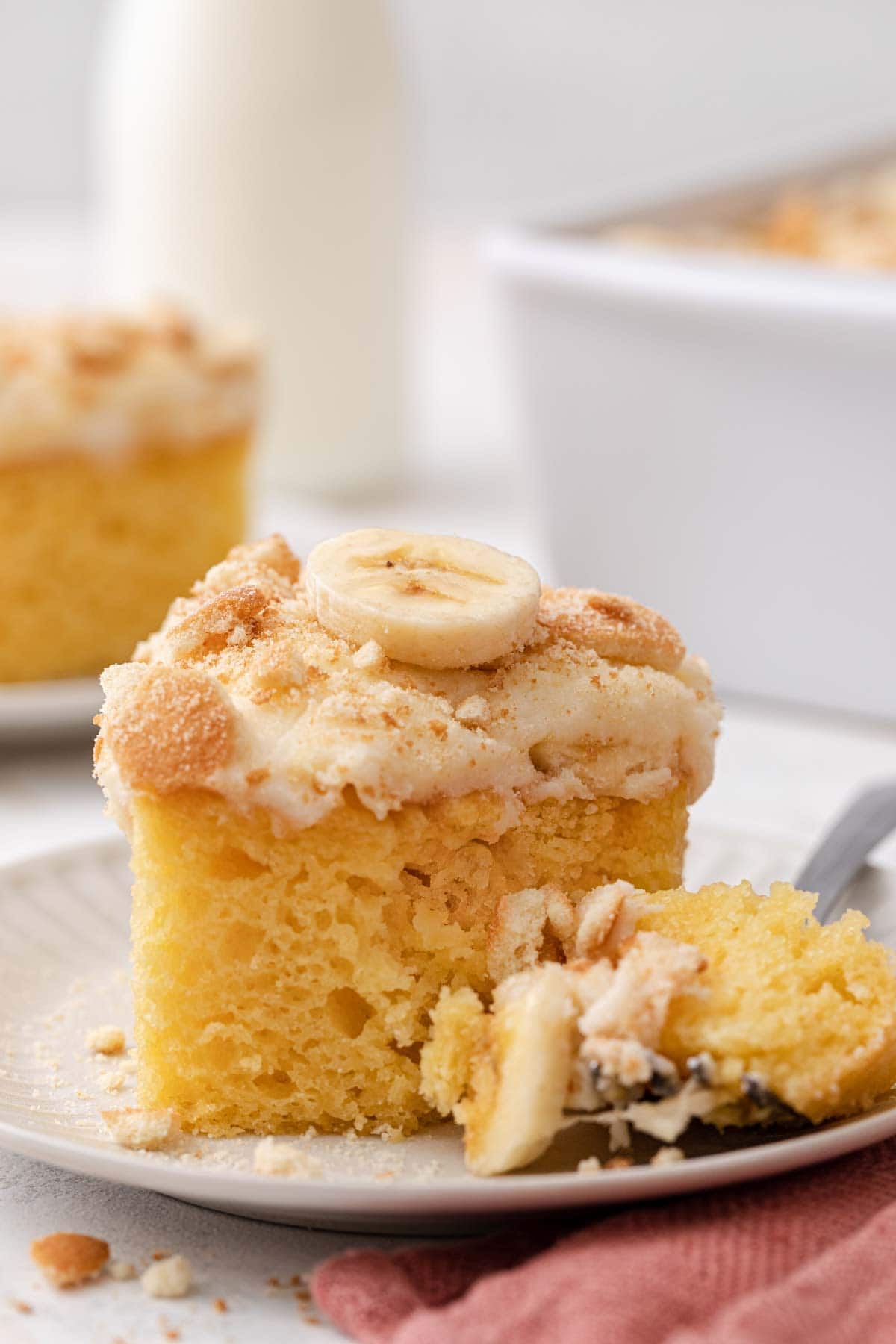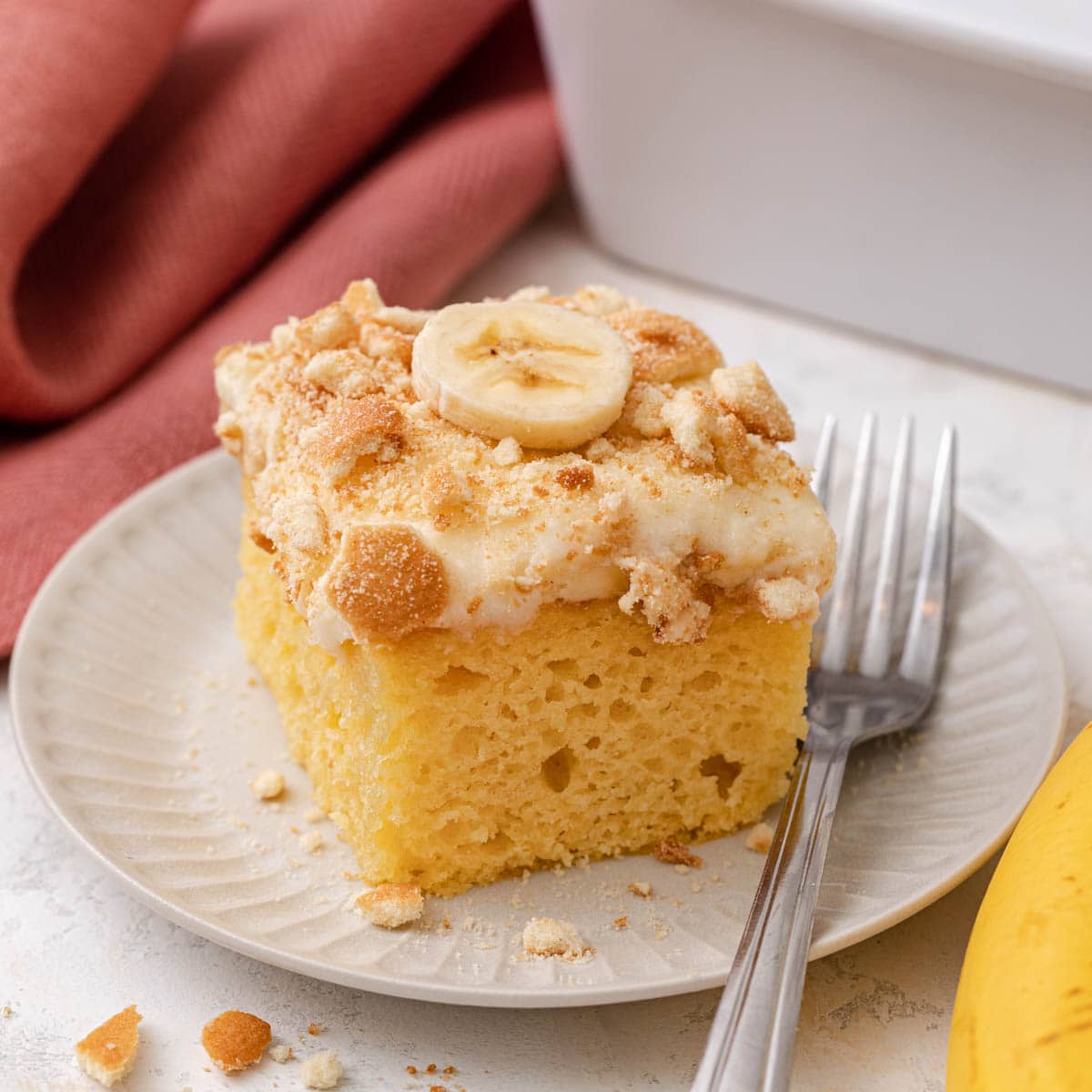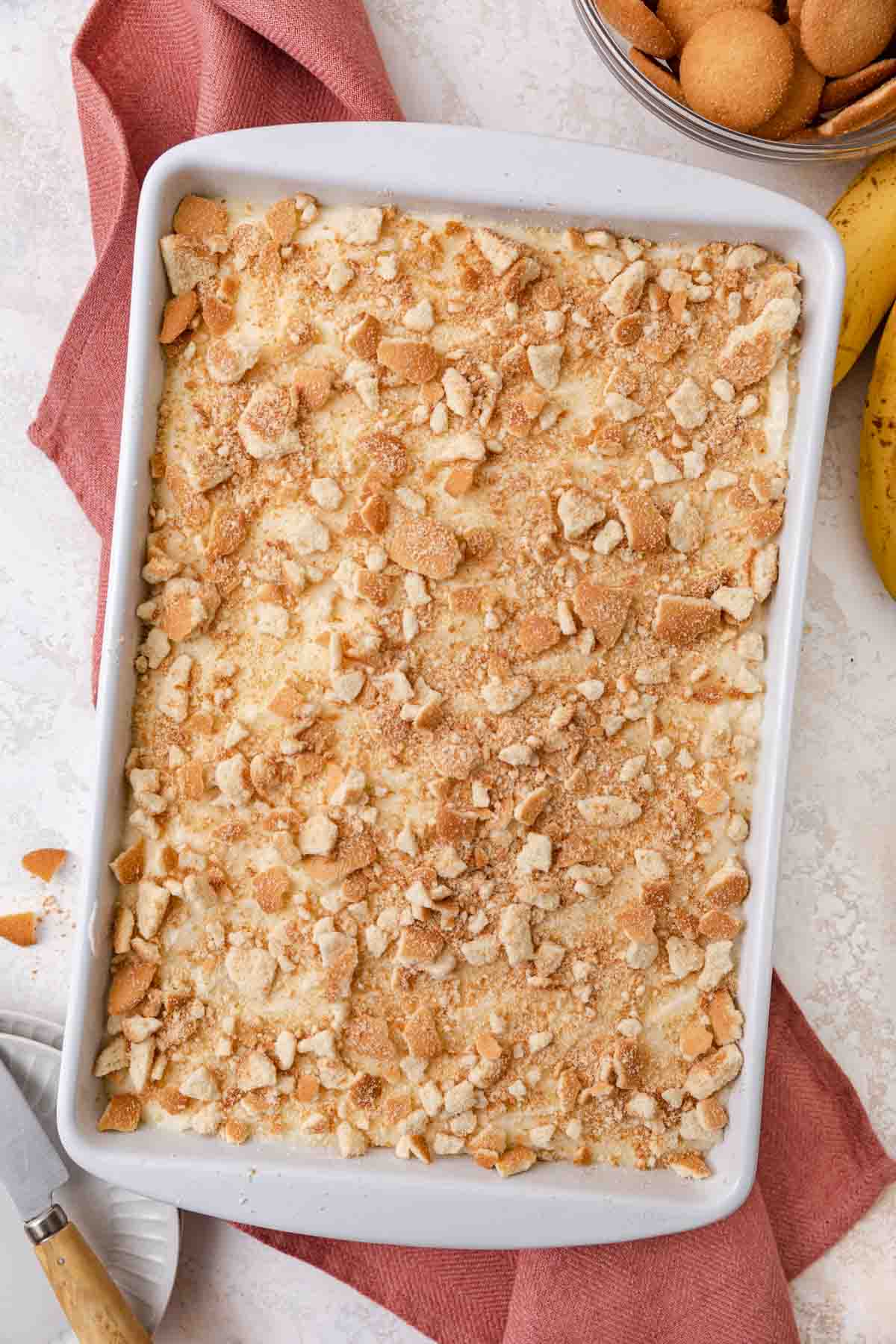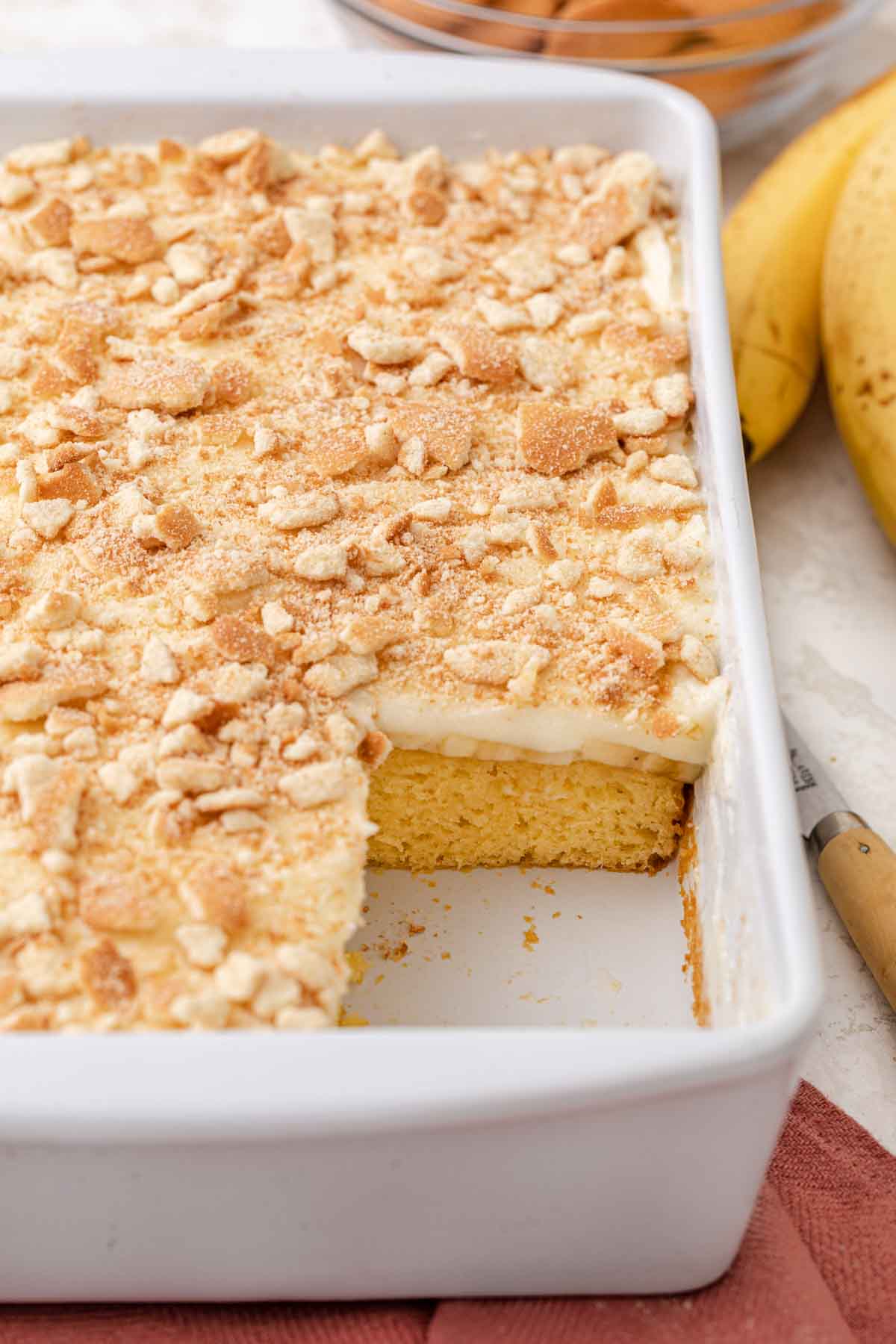 Table of Contents
About Our Banana Pudding Cake Recipe
Banana Pudding Cake has all the creamy, delicious flavors of banana pudding in an incredibly easy cake. A tender, soft banana cake is layered with fresh, sweet bananas, fluffy whipped frosting, and then finished with crispy vanilla cookies. The creamy banana pudding mixed into the cake gives it tons of banana flavor and makes it ultra moist and indulgent. It's the perfect bite of rich, creamy banana goodness,
This gooey, moist banana sheet cake made with a boxed cake mix and pudding will change your mind about boxed mixes forever! The instant pudding mix enhances the banana flavor, making it more delicious and tender, while ensuring it stays extra moist for days. Truly, a mind blowing cake hack that you'll want to use in all your favorite recipes.
"What is Banana Pudding?"
The most well known Banana Pudding is a classic Southern dessert that typically consists of sliced bananas, a mixture of sweetened condensed milk, heavy cream, and vanilla pudding, and a layer of Nilla wafers. Versions of banana pudding have been around long before Nilla Wafers though, with some recipes calling for sponge cake, lady fingers, or other butter cakes. The ingredients are layered similar to trifles, with alternating layers of custard, cookies, and bananas. The whole thing is chilled until set and the cookies can soften, resulting in a cool, creamy and delicious dessert.
"What is the difference between pudding cake and poke cake?"
Pudding cake and poke cake are similar in that they are both made with a cake base and a topping of pudding or other sweet sauce. The difference between the two is that a pudding cake has the pudding mixed into the batter before baking, while a poke cake has holes poked into the cake after it is baked, and the pudding is poured into the holes.
"Can Banana Pudding Cake be made ahead of time?"
Banana Pudding Cake is the perfect make-ahead dessert to save you time for gatherings and special occasions. A baked cake and frosting can be stored in the refrigerator separately for up to 3 days. Wrap the baking dish tightly with plastic wrap and keep the frosting in an airtight container. For spreadable frosting bring it to room temperature, then slice fresh bananas and assemble this banana cake as usual. You can also carefully remove the baked cake from the baking dish and wrap it in plastic wrap and aluminum foil, or bake and store in a freezer safe baking dish, and freeze for up to 3 months.
Banana Pudding Cake Ingredients
3.4 ounces instant banana pudding: The instant banana pudding mix gives the box cake mix the banana flavor, or enhances it if you use banana cake mix. It also replaces butter, oil, and part of the eggs to act as a binding agent and gives it tons of moisture.
2 ¼ cups whole milk: Using whole milk when making instant pudding will thicken it and add a creamy texture. It also enhances the flavor of cake mixtures more than water or low fat milk. 2 cups will be used for the cake and ¼ cup for the frosting.
1 box banana cake mix: Boxed cake mix makes this cake a breeze to bake! You can use banana cake for strong banana flavor, or swap in yellow cake mix or white cake mix for a little less intense banana flavor.
3 cups sliced bananas: You want to use ripe bananas, but unlike most banana recipes, you don't want to use overripe bananas. You want the slices to be soft but not mushy, and the firmer bananas are less sweet to balance all the other sweetness going on in this cake.
1 box Nilla Wafers: You can't have banana pudding without lots of crispy, crunchy vanilla wafers! These iconic cookies are light, buttery, and not super sweet, which is a perfect pair for the sugary frosting and rich cake.
1 teaspoon vanilla, ¾ cups unsalted butter, and 3 ½ cups powdered sugar: The butter and powdered sugar will come together to make the frosting. You'll add the milk listed above, and then vanilla for flavor.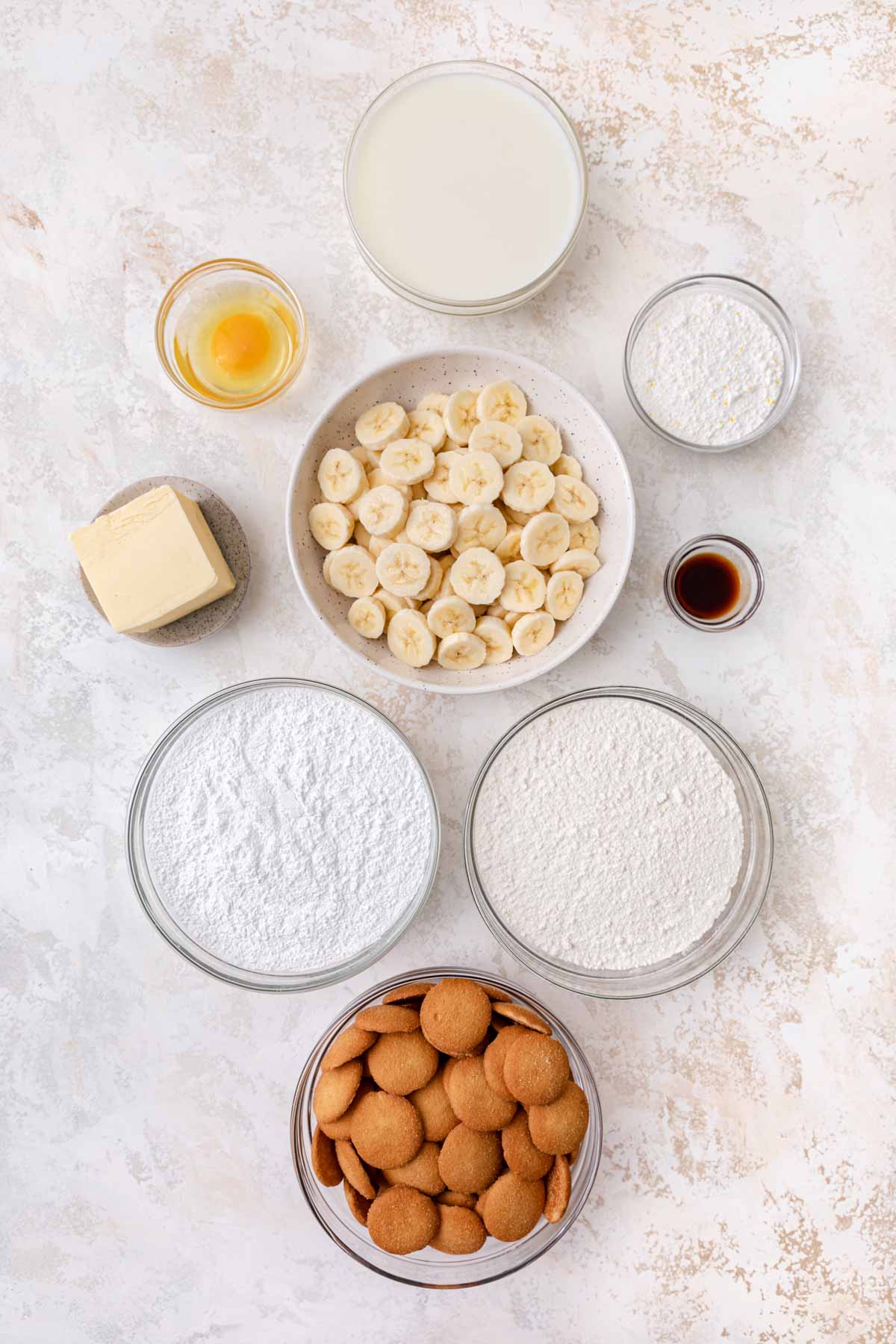 Kitchen Tools & Equipment
Baking Dish: A 9×13-inch baking dish is the perfect choice for this cake. Glass or metal is fine, just watch the cake closely at the end of baking as the timing could differ slightly if you make it in one pan the first time and a different one the next time.
Baking Spray: Baking spray differs from nonstick cooking spray because it contains flour so the spray stays coated to the side of the baking dish. If you don't have baking spray, coat your pan with softened butter and lightly dust with flour.
Large Mixing Bowl and Whisk: Use a large mixing bowl to add all of your ingredients and a whisk to bring them together. You can also use your stand mixer and whisk attachment for the cake mix if you like, but don't over mix the batter.
Stand Mixer and Paddle Attachment: A stand mixer is important in order to achieve fluffy frosting. If you don't have one you can use a handheld electric mixer instead.
Spatula: Use a spatula to spread the frosting over the cake. An angled spatula will especially make an easy job out of the task.
How to Make Banana Pudding Cake
Time needed: 1 hour and 15 minutes.
Prep Time

Preheat the oven. Generously spray your baking pan with baking spray.

Pudding

Whisk the pudding and milk in a large bowl until fully combined. Let it thicken for 5 minutes.

Add Egg

Whisk the egg into the pudding.

Cake Mix

Stir in the cake mix, careful not to over mix.

Cake Layer

Spread batter into the prepared pan.

Bake

Bake for 30-35 minutes. The cake is ready when a toothpick inserted into the center of the cake comes out clean with moist crumbs

Banana Layer

Cool cake completely. Top the entire cooled cake with banana slices, overlapping as needed but keep it relatively even.

Prep Frosting

Cream butter in a stand mixer on high until fluffy. Begin adding sugar and milk in alternating increments, then add the vanilla.

Spread Frosting

Spread the frosting evenly over the banana layer.

Nilla Wafer Layer

Top with vanilla wafers.
Nutritional Facts
How to Store Banana Pudding Cake
Serve: Banana Pudding Cake is best served slightly at room temperature so it's deliciously soft. However, it can only be out at room temp for up to 2 hours, so keep it chilled until about 15-20 minutes before you are ready to serve.
Store

: This pudding cake will stay firm and fresh for up to 3 days in the refrigerator. Transfer leftover cake slices to an airtight container or wrap the baking dish tightly with plastic wrap to keep out excess moisture.

Freeze

: It's best to freeze the banana cake before adding any toppings or frosting. Wrap the naked cake well in plastic wrap and then in aluminum foil and freeze up to 3 months. Allow the cake to come to room temperature for about an hour and then assemble as usual.
Ideas to Serve Banana Pudding Cake
Try making this cake as a layer cake by following these easy instructions.
Banana Pudding Layer Cake
To make this a Banana Pudding Layer Cake, you'll want to divide the batter between two 9-inch cake pans and bake for 20-25 minutes.
Cool cakes completely before starting assembly of cake. It's best to chill for a few hours in the fridge then remove from pans.
Once cooled, top the first layer of cake with ⅓ of the frosting and add half the sliced bananas and vanilla wafers.
Add the next layer of cake and then frost the entire cake with another ⅓ of the frosting.
Chill cake for 1 hour then smooth on a final layer of frosting.
Decorate the cake with the remaining banana slices and vanilla wafer cookies on the top, pressing some cookies or cookie crumbs up the sides. Make additional frosting for decorating if you want to go all out.
FAQ for Banana Pudding Cake
How do you keep fresh banana slices from turning brown?
To prevent fresh banana slices from turning brown, you can brush them with lemon juice before layering them in your banana desserts. The acid in the lemon juice will prevent oxidation and keep the bananas looking fresh.
Why do you add milk to the pudding mix first?
For a creamy texture, it is best to add milk to the pudding mix first. This allows the pudding to fully hydrate and thicken so that it gets evenly distributed among the cake batter. Allowing it to set for a few minutes before adding in the other ingredients will also prevent clumping when mixed with the dry ingredients.
What does adding pudding to cake mix do?
Pudding mix is a great ingredient to add to baked goods such as cakes, because it give them a boost of moisture for an ultra soft and tender cake. The creamy pudding mix also enhances the flavor for an indulgent, rich taste.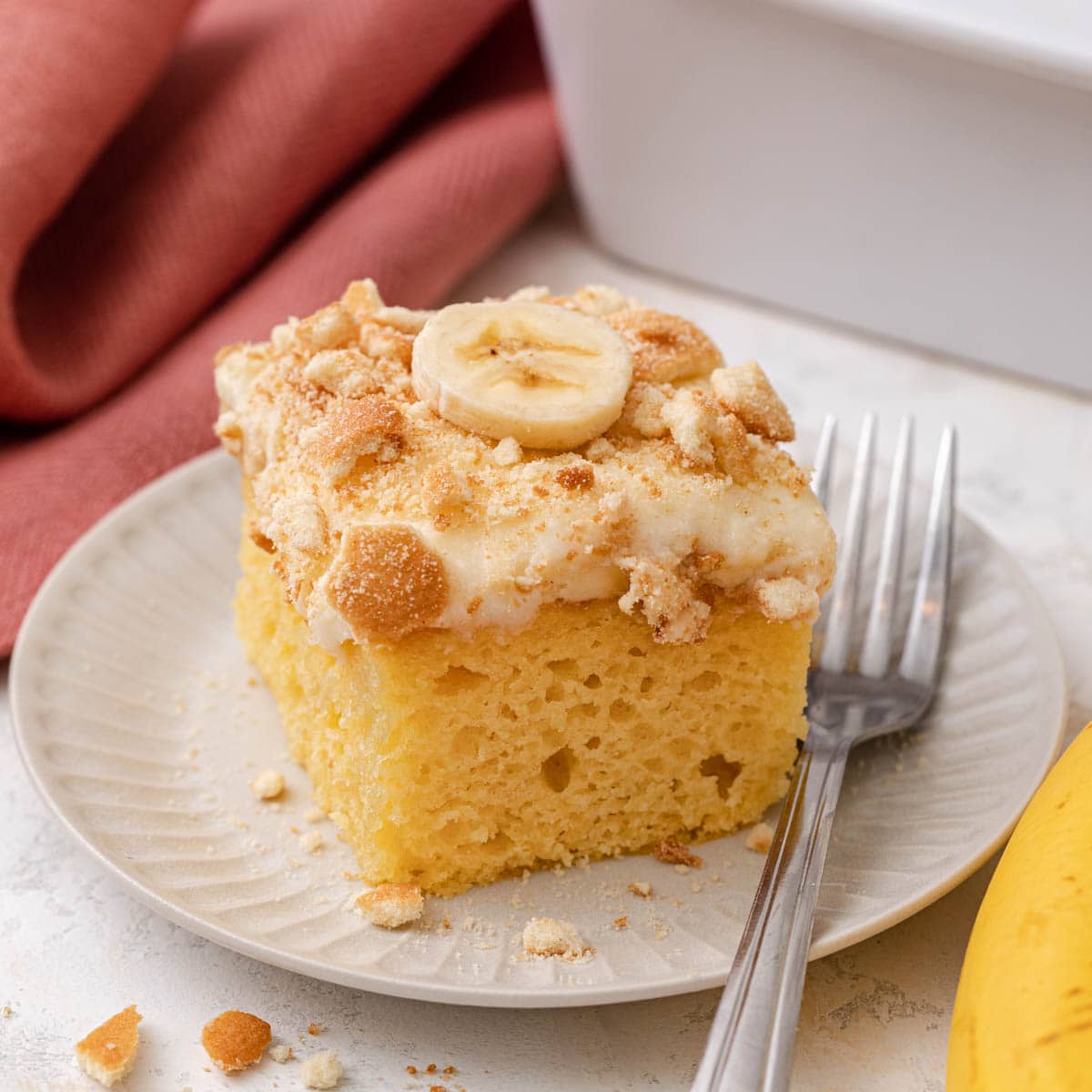 Recipe Card


Ingredients
Banana Pudding Cake:
3.4

ounces

instant banana pudding mix

2

cups

whole milk

1

large egg

15.25

ounces

banana cake mix

, or yellow cake mix
White Frosting:
3/4

cups

unsalted butter

3 1/2

cups

powdered sugar

1/4

cups

milk

1

teaspoon

vanilla extract
Instructions
Banana Pudding Mix:
Preheat oven to 350 degrees and spray a 9x13-inch baking pan with baking spray.

Add pudding and milk together in a large bowl and whisk well until fully combined.

Let sit

5 minutes

, then whisk in the egg.

Spread evenly in baking pan.

Bake for

30-35 minutes

until a toothpick comes out clean.

Let cool completely, then top with banana slices.
White Frosting:
Add the butter to your stand mixer and beat on high speed for

3 minutes

.

Add in the powdered sugar and milk, alternating them ⅓ at a time, and finally add the vanilla extract.

If the frosting is too thick, add a bit more milk.
To Finish:
Spread evenly over the cake and top with Nilla Wafers.
Nutrition
Calories:
344
kcal
|
Carbohydrates:
62
g
|
Protein:
3
g
|
Fat:
10
g
|
Saturated Fat:
6
g
|
Polyunsaturated Fat:
0.5
g
|
Monounsaturated Fat:
3
g
|
Trans Fat:
0.4
g
|
Cholesterol:
35
mg
|
Sodium:
306
mg
|
Potassium:
174
mg
|
Fiber:
1
g
|
Sugar:
47
g
|
Vitamin A:
364
IU
|
Vitamin C:
2
mg
|
Calcium:
105
mg
|
Iron:
1
mg
Banana Pudding Cake Variations
Sour Cream: For an extra rich, slightly tangy flavor, reduce the milk to 1 ½ cups milk and use ½ cup sour cream. Prepare the pudding mixture with the milk (it will be a bit thicker), then add the sour cream when you whisk in the egg.
Banana Pudding Poke Cake

: You will need another box instant banana pudding or instant vanilla pudding. Make the cake as usual and cool for 10 minutes, then use the handle of a wooden spoon to make holes in the cake, careful not to go all the way to the bottom. Spread prepared pudding mixture over the entire cake then cool completely before adding the other cake layers as usual.

Chocolate

: Either use chocolate cake mix or add ¼ cup cocoa powder to the mix. You could also fold in chocolate chips, add a layer of

Chocolate Ganache

before the banana layer, or swap the white frosting for

Chocolate Frosting

.

Caramel

: Once the cake is cooled, spread a thick layer of

Salted Caramel Sauce

over the entire cake then layer the banana slices, frosting, and vanilla wafer cookies. Finish with another drizzle of caramel sauce.
Related Recipes