Tapioca Pudding is a classic and comforting dessert dish that you can make with milk, butter, sugar, eggs, vanilla extract, and tapioca.
This is the perfect Dessert Recipe with a rich flavor and distinct creamy texture with tapioca pieces throughout. For more pudding recipes, try Chocolate Pudding and Rice Pudding.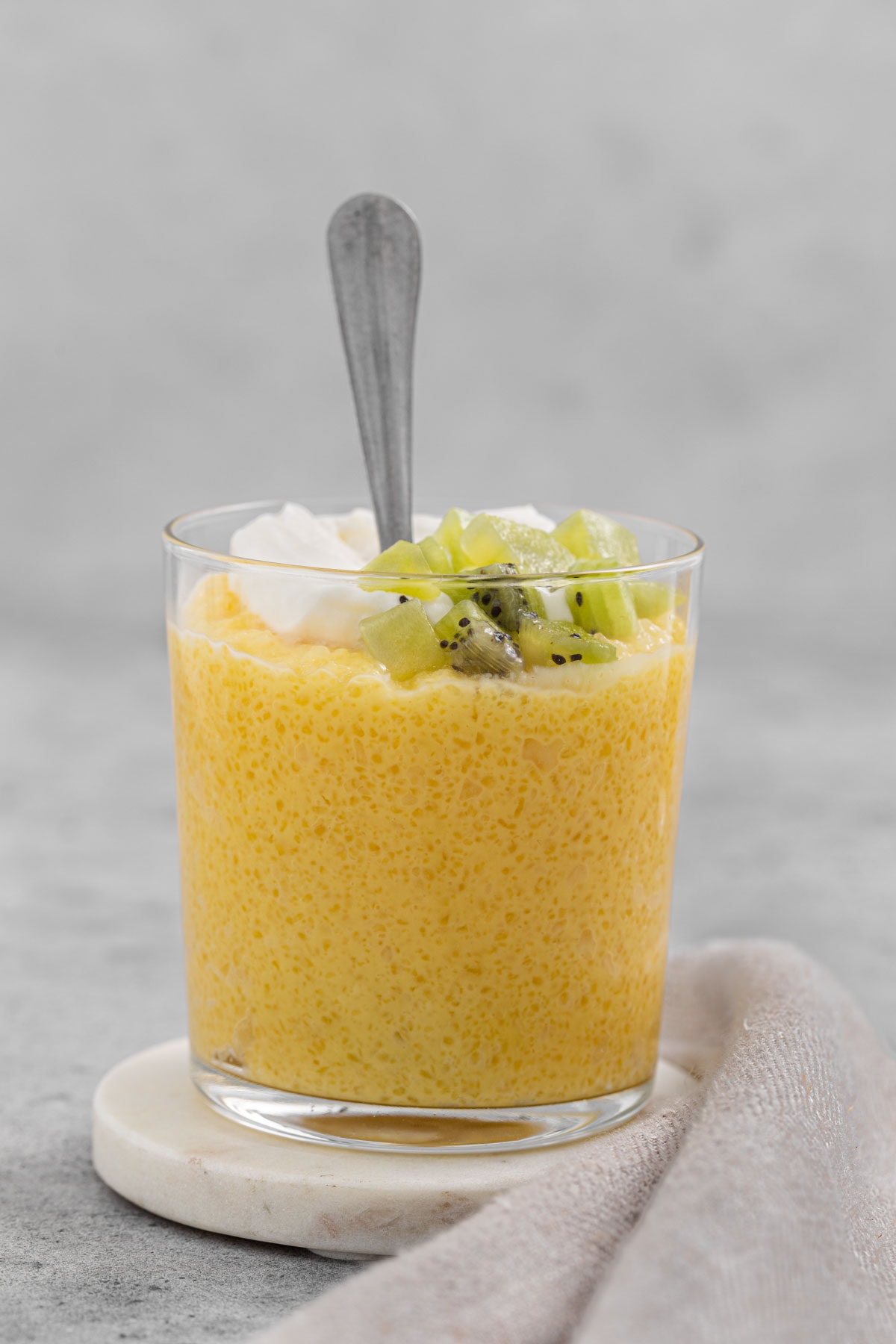 Rich, creamy, flavorful Tapioca Pudding has been a popular dessert around the world since the late 1900s, and it's no wonder why! Homemade Tapioca Pudding is easy to make, filling, sweet, and the tapioca gives it a completely unique and pleasant texture.
Simple pudding recipes like this one are also easy to add toppings and flavors to. You can change up the recipe according to your preference. This basic Tapioca Pudding recipe uses sugar, vanilla extract, and butter to give it a rich but simple vanilla flavor. However, you can always add to that with spices and other flavors that you like.
After preparing the recipe, top the pudding off with a dollop of Whipped Cream for the perfect finishing touch. You could also add chocolate sprinkles or grated chocolate. Or, layer fresh fruit over the creamy dish. Though the classic vanilla flavor is delicious, it's also fairly neutral, making it easy for new flavors to be incorporated and taste amazing.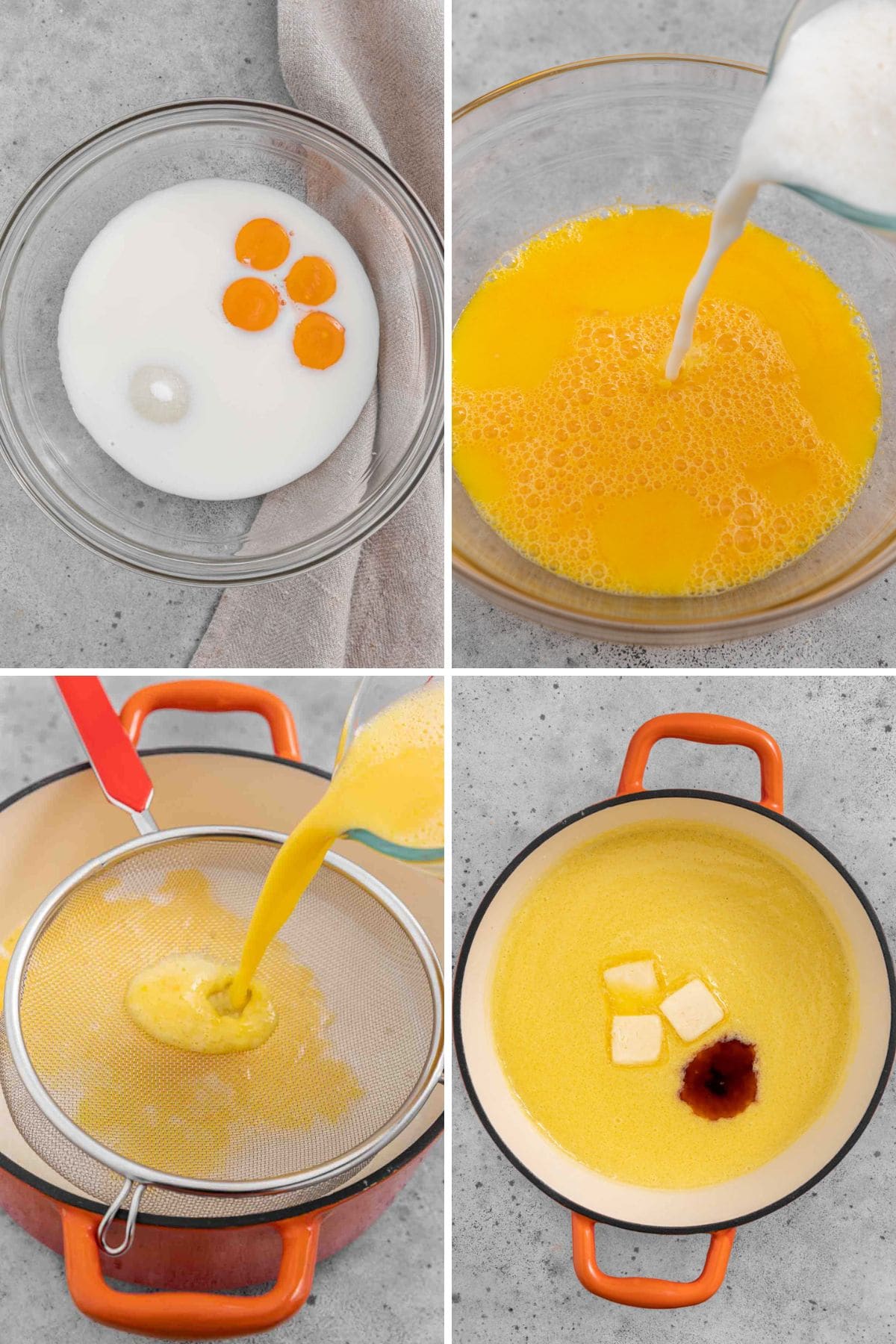 What is Tapioca, anyway?
Tapioca is a naturally gluten-free starch that comes from cassava. It can be turned into powder or tapioca pearls. Tapioca pearls give this pudding recipe its fun texture. Large tapioca pearls are used in bubble tea. You should be able to purchase instant tapioca for this recipe in your grocery store baking aisle.
How to Make Tapioca Pudding
Tapioca Mixture: Add 4 cups of whole milk and the tapioca starch to a large pot, and turn the stovetop heat to medium. Keep the heat at medium until the milk comes to a faint simmer, then turn off the heat. You don't want the mixture coming to a boil.
Egg Mixture: Add the granulated sugar, 1 cup whole milk, and egg yolks to a large, heat-safe mixing bowl. Then whisk the ingredients well. Continue whisking very quickly while pouring ½ cup of the heated milk into the egg mixture in a thin stream. Repeat the same process with another cup of warm milk. Then put a fine strainer over the pot with the remaining milk in it. Pour the egg mixture back into the large pot.
Cooking Time: Turn the heat to medium while continuing to whisk constantly. Bring the creamy mixture to a simmer and then to a boil. Continue to whisk the hot tapioca mixture as you cook. After 2-3 minutes of cooking time, the consistency should start to thicken so it's more pudding-like. Then turn off the heat and remove the pot from the heat.
Add Vanilla: Keep whisking the hot tapioca mixture for 2-3 minutes. Then add the vanilla extract and butter. Continue to whisk until well combined. Then transfer the Tapioca Pudding to a large heat-safe bowl.
Refrigerate: Press a layer of plastic wrap directly on the pudding to prevent a skin from forming on top of the pudding. Then refrigerate for at least 4 hours. Whisk the chilled Tapioca Pudding once more before serving, and top with whipped cream and any other toppings you like.
FAQs
What is instant tapioca?
Instant tapioca or quick-cooking tapioca makes it easier to prepare this recipe quickly. Instead of using large tapioca pearls, the tapioca is ground into finer granules that can dissolve into and thicken the pudding. Instant tapioca has already been cooked and dried before you buy it and because of that, it cooks more quickly when it's added to the warm milk to make the pudding. 
Can I make Tapioca Pudding with whole tapioca pearls?
Yes. If you prefer, you can make homemade Tapioca Pudding with small tapioca pearls instead of instant tapioca. Just keep in mind that this version takes a lot longer to cook. 
What's the difference between Rice Pudding and Tapioca Pudding?
Although the finished desserts are quite similar, rice pudding and Tapioca Pudding have completely different base ingredient. Rice is a grain, whereas tapioca comes from cassava. As far as the other ingredients, rice pudding is usually made with rice, milk, sugar, and spices. Tapioca Pudding is made with tapioca pearls, sugar, milk, and egg yolks. Rice pudding can also be enjoyed warm or cold, whereas Tapioca Pudding is only served cold.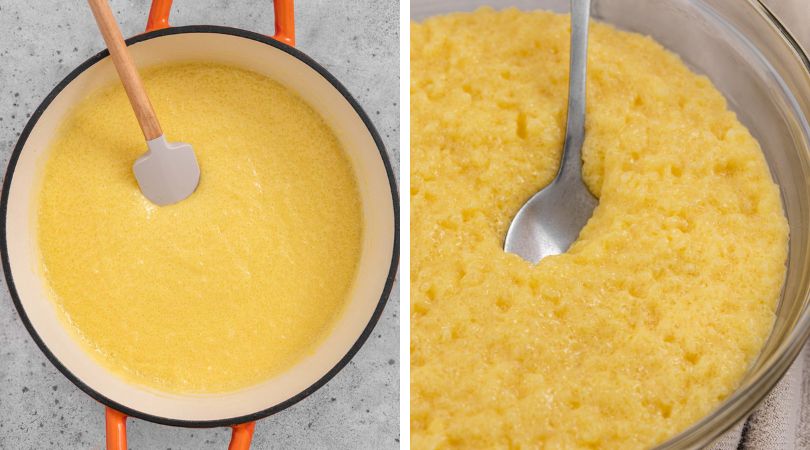 Create a free account to

Save Recipes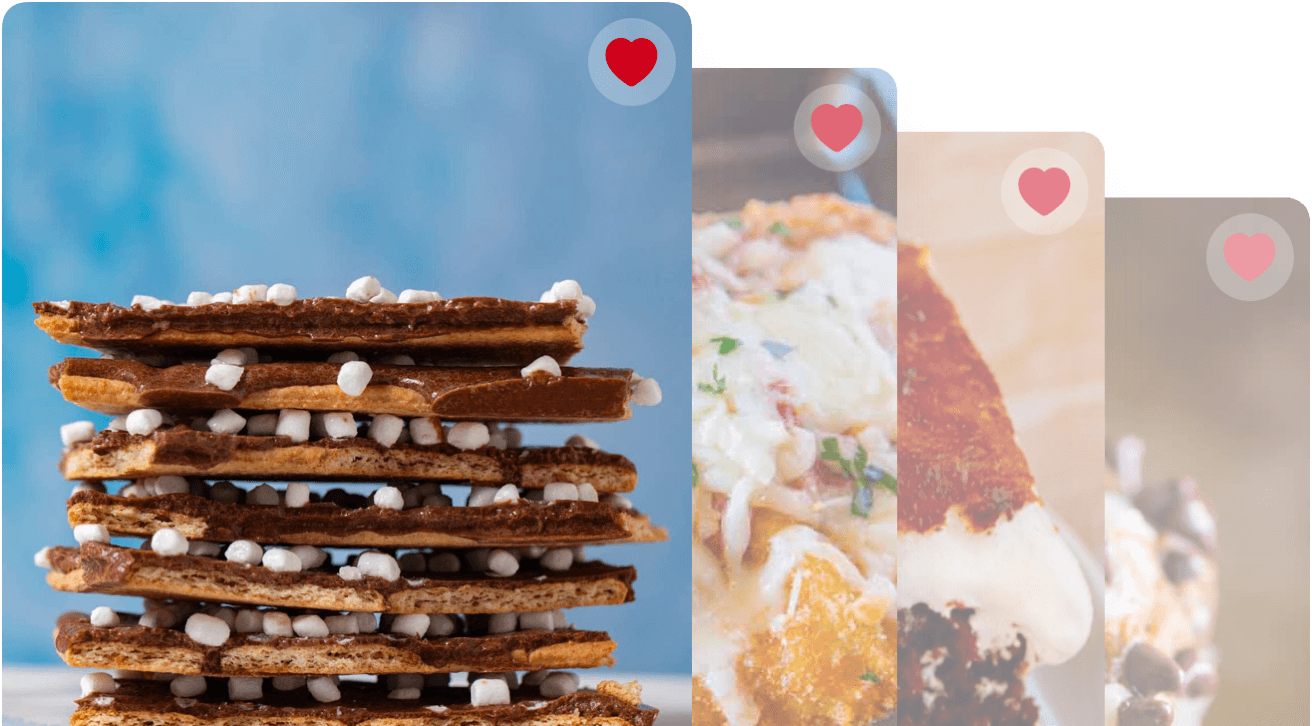 Key Ingredients
Whole Milk: The milk acts as the base liquid ingredient that you'll whisk the other parts of the Tapioca Pudding into. As you slowly cook the mixture, the milk will thicken into a pudding-like consistency. It's best to use whole milk because the fat content makes it easier to form into a thick, rich consistency.
Tapioca: For an easy Tapioca Pudding, use ¾ cup of quick-cooking tapioca. The quick-cooking tapioca still has some pearl-like pieces throughout for a fun texture, but the pieces aren't as large as if you used regular pearl tapioca. The recipe cooks faster and thickens up easily using instant tapioca.
Sugar: Sweeten the Tapioca Pudding by adding ¾ cup sugar. For classic Tapioca Pudding, use regular white sugar.
Eggs: You'll need 4 eggs for this recipe, but separate the yolks and egg whites carefully. You'll only use the egg yolks for the mixture. The egg yolks add flavor, bind the ingredients together, and create a custard-like, thick consistency for the recipe.
Flavor Ingredients: Finish the pudding by adding vanilla extract and unsalted butter for an irresistible, rich flavor.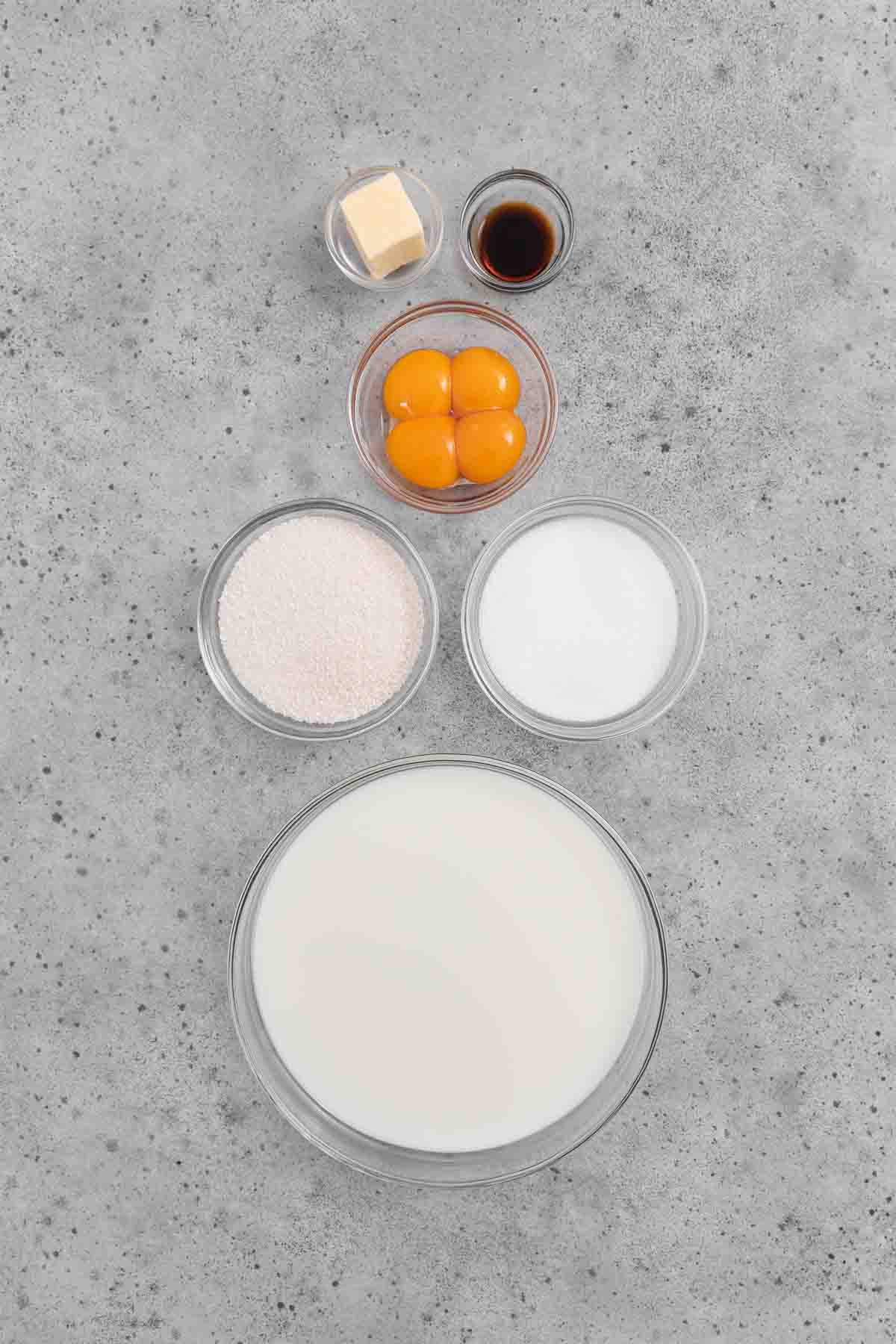 Variations
Extra Creamy Tapioca Pudding: If you want to enhance the rich flavor and creamy texture of this pudding recipe, you can add heavy cream to the mixture. You don't want to use heavy cream as the base liquid ingredient, or the recipe will turn out too heavy. However you can replace ½ a cup of the milk in the recipe with heavy cream.
Vegan Tapioca Pudding: You can swap out the milk in the original recipe for almond milk, oat milk, or coconut milk. Both these options are lighter than whole milk, so it won't turn out as creamy. If you want to make the recipe a little richer, you can add some full-fat coconut cream along with the dairy-free milk to keep the recipe vegan while adding a little more rich flavor.
Chocolate Tapioca Pudding: To make a chocolate version of this classic recipe, you can add real chocolate. After mixing the milk, eggs, and tapioca ingredients, add the ½ cup of chopped chocolate and stir until it melts into the tapioca mixture. You can use dark, semisweet, or milk chocolate, depending on your taste.
Toppings: There are lots of delicious ways that you can top off Tapioca Pudding. You can sprinkle on a little cinnamon, brown sugar, or cinnamon sugar. Additionally you can top the dish with whipped cream and fresh fruit. Fresh berries like sliced strawberries, blueberries, raspberries, or blackberries would taste amazing. You could also add peaches or pear slices.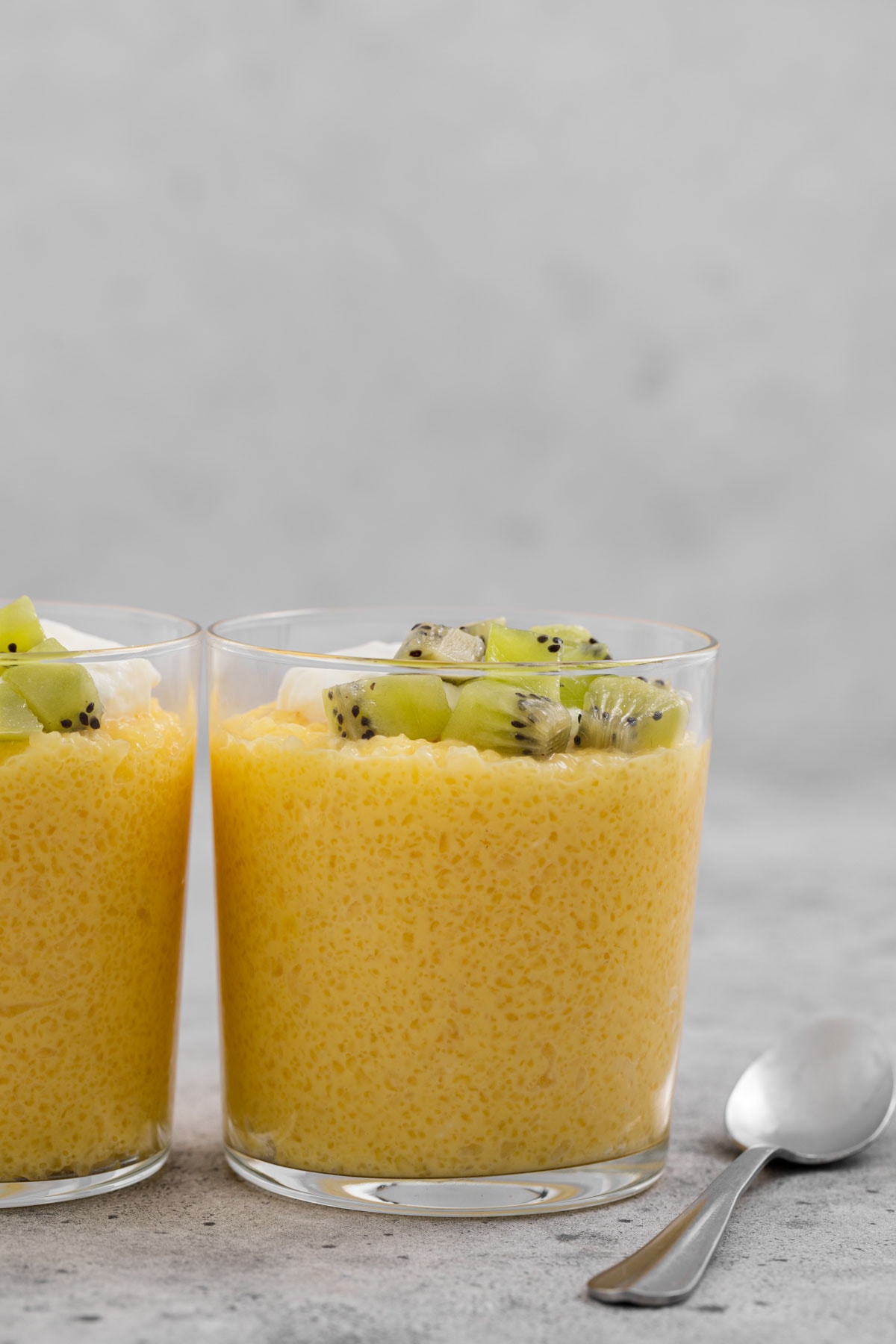 How to Store
Serve: Be sure to refrigerate your pudding recipe for at least 4 hours before serving. Don't leave Tapioca Pudding sitting out at room temperature for more than 2 hours, or it will start to go bad.
Store: After prepping this pudding recipe, you can cover it tightly in plastic wrap or put it in an airtight container to store in the fridge for up to 5 days. Whisk the tapioca mixture once more before serving to ensure none of the ingredients have separated.
Freeze: Tapioca Pudding actually freezes wonderfully. Just be sure to give the recipe enough time to set in the fridge first. Then you can transfer the pudding to a freezer-safe airtight container. It can stay good frozen for up to 3 months. Let the dessert thaw in the fridge for about 5 hours before whisking and serving.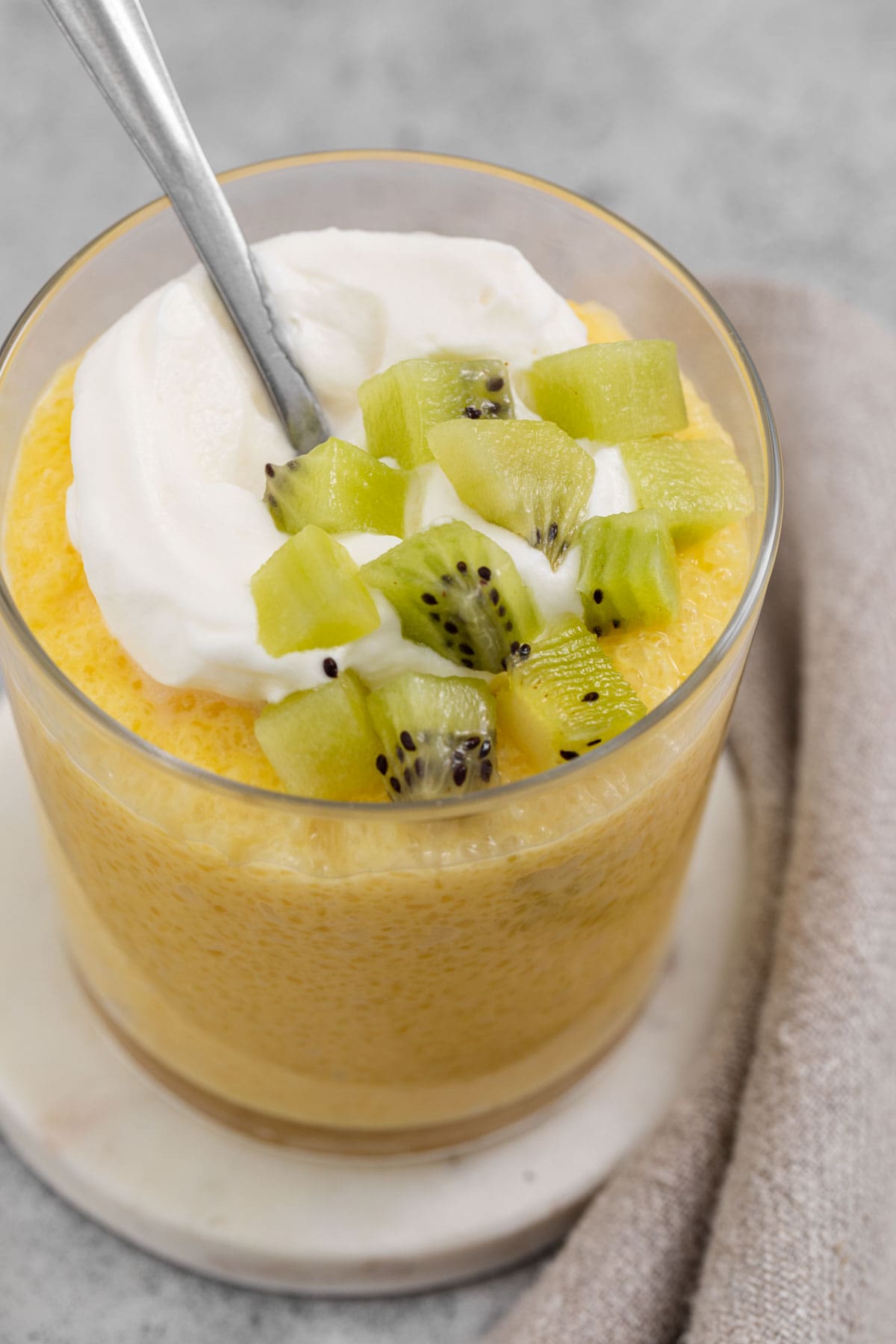 Ingredients
5

cups

whole milk

3/4

cup

quick cooking tapioca

3/4

cup

sugar

4

large

egg yolks

, room temperature

1

teaspoon

vanilla extract

2

tablespoons

unsalted butter
Instructions
Add 4 cups of whole milk and tapioca to a large pot over medium heat.

Note: You are not bringing milk to a boil, just to a very faint simmer, then turn off the heat.

In a large heat safe bowl, add the sugar, remaining 1 cup whole milk, egg yolks and whisk very well.

While whisking very fast add in ½ cup of the heated milk in a very thin stream (similar to how you would temper eggs in an ice cream recipe).

Repeat again with another 1 cup of heated milk.

Holding a fine strainer over the pot, pour the mixture back into the remaining heated milk in the large pot.

Turn the heat back onto medium heat.

Note: Whisk the mixture in the pot constantly.

Bring the mixture to a simmer, then to a boil.

Keep whisking for between

2-3 minutes

until the consistency has thickened to a pudding consistency.

Turn off the heat, remove the pot from the heat.

Keep whisking for

2-3 minutes.

Add in the vanilla extract and butter, keep whisking until well combined.

Remove the pudding to a large heat-safe bowl.

Press a layer of plastic wrap directly onto the top of the pudding (this will prevent a skin from forming on the top of the pudding).

Refrigerate for at least

4 hours.

Whisk well before serving.

Best topped with whipped cream.
Nutrition
Calories:
360
kcal
|
Carbohydrates:
52
g
|
Protein:
9
g
|
Fat:
13
g
|
Saturated Fat:
7
g
|
Polyunsaturated Fat:
1
g
|
Monounsaturated Fat:
4
g
|
Trans Fat:
0.2
g
|
Cholesterol:
157
mg
|
Sodium:
84
mg
|
Potassium:
320
mg
|
Sugar:
35
g
|
Vitamin A:
609
IU
|
Calcium:
266
mg
|
Iron:
0.3
mg