Baked Rice Pudding is an easy baked version of rice pudding! Rich, creamy pudding with cooked rice, sweet raisins, vanilla, and warm spices.
Rice Pudding is a traditional Dessert Recipe often enjoyed around the holidays. Typically, it's made on the stovetop, but you can just pop this simple dessert in the oven for an easy baked version that's just as creamy and delicious.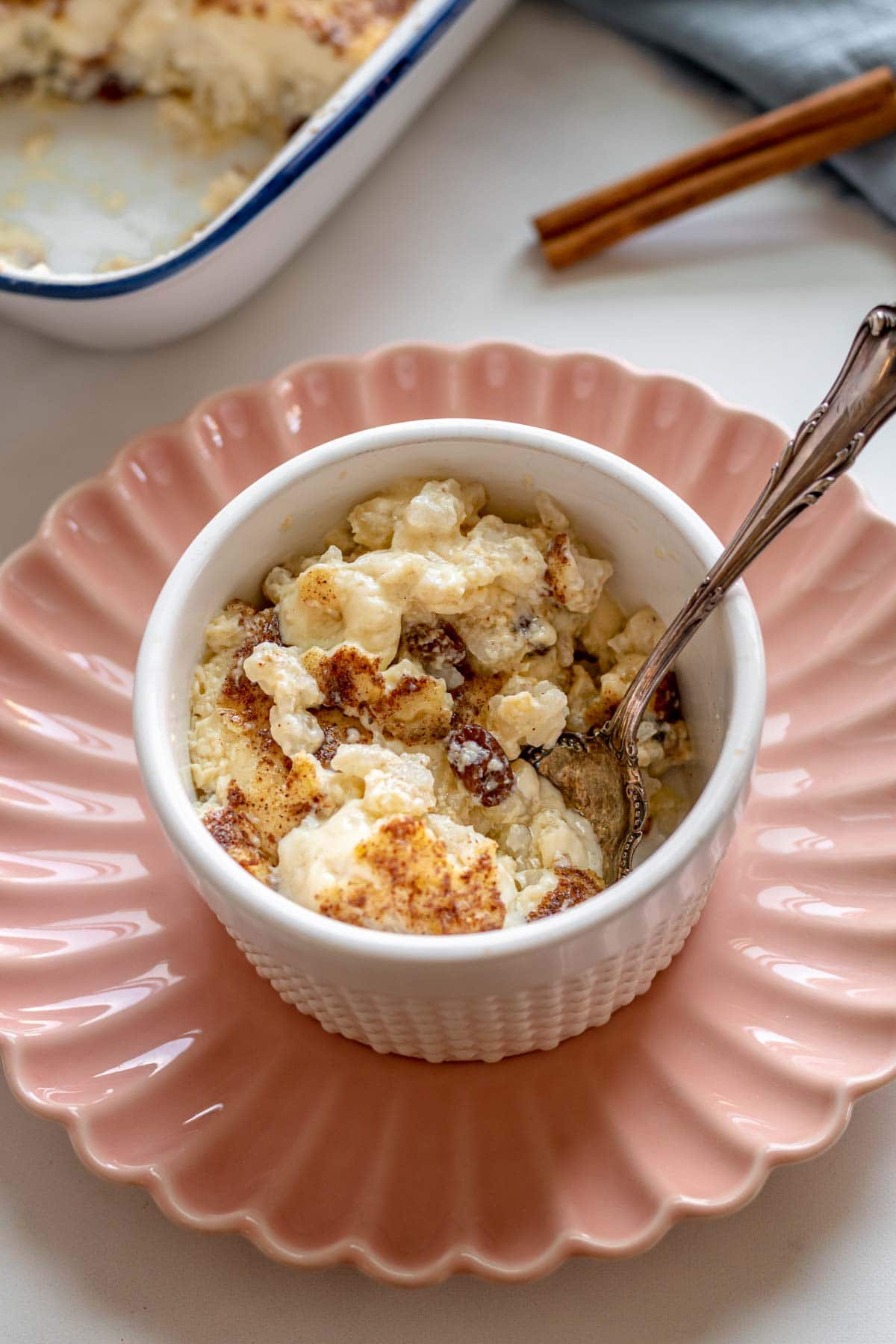 Sweet, decadent Rice Pudding is an old fashioned, amazing dessert that can double as an indulgent treat Breakfast. It turns out so rich and creamy, you wouldn't believe it's one of the cheapest desserts you can make! All you need is some leftover rice and a handful of other ingredients like milk, eggs, and spices you already keep in your fridge and pantry. It's perfect for a sweet treat on a budget.
This easy rice pudding dish might just become your favorite rice pudding recipe ever. It's perfect for those nights you're craving this sweet, indulgent dessert, but don't want to stand over the stove prepping the pudding. Instead, you just mix the ingredients in a bowl, pour in a dish, and let the oven do the rest of the work. It's so sweet, and decadent, it doesn't really need toppings but don't let that stop you from taking it to the next indulgent level with some Vanilla Ice Cream or Salted Caramel Sauce!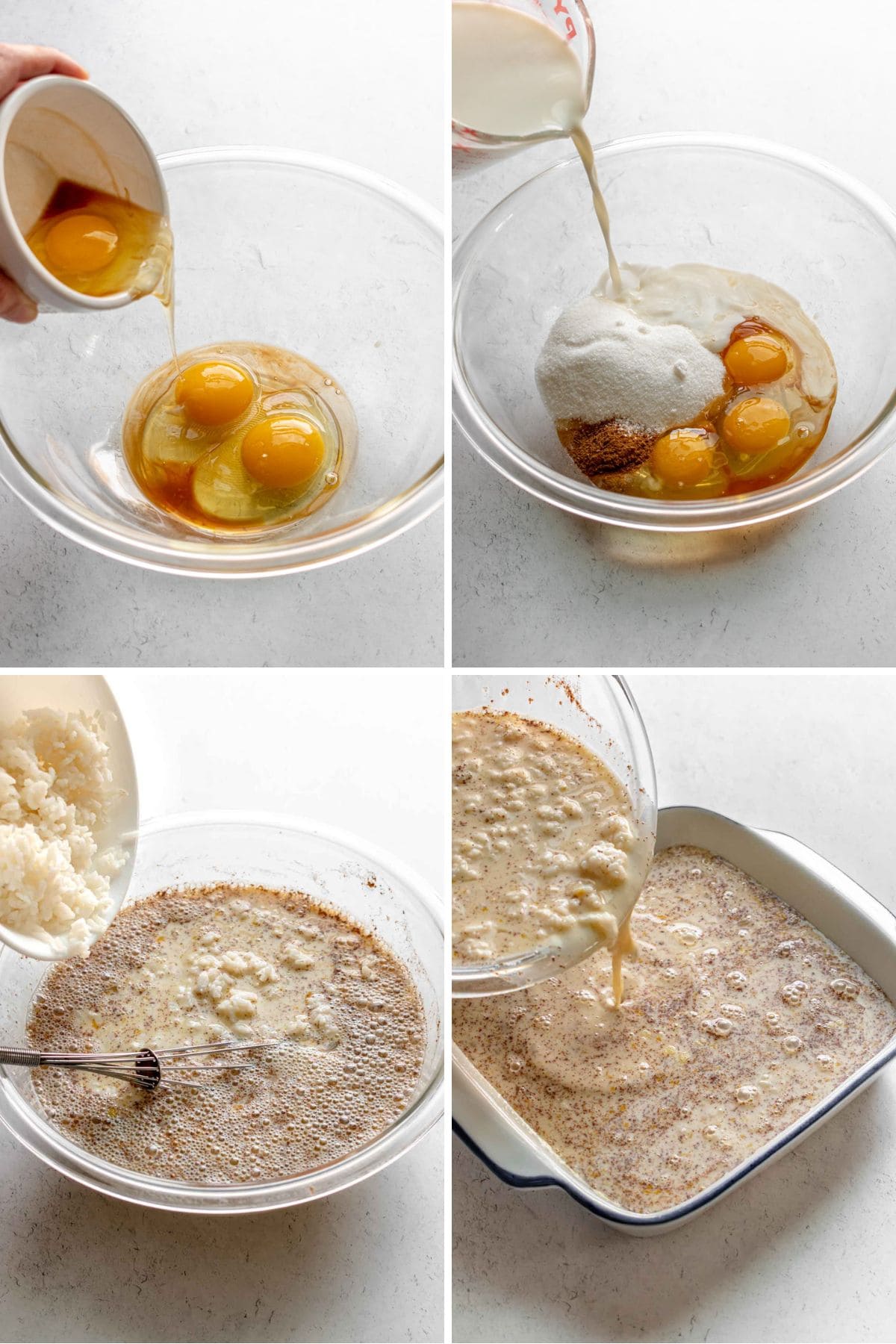 Rice Pudding is a perfect dessert to use up leftover White Rice just sitting in your fridge from dinner a few days ago. In fact, cold rice makes a better rice pudding because it will dry out overnight and dry rice won't soak up too much liquid. Instead, it absorbs just the right amount of the custard mixture for perfectly tender rice pudding that is creamy and luscious, and never mushy.
What is Rice Pudding?
Rice pudding is a creamy rich dessert pudding typically made with rice, eggs, milk, and sugar, then flavored with ingredients like dried fruit, warm spices, vanilla, etc. It is a classic dish in many cultures and is believed to have originated in ancient times in the Middle East, where it was often served as a celebratory dish. Rice pudding can be served hot or cold, and variations of the dish can be found in many cuisines, including Indian, Turkish, and Scandinavian.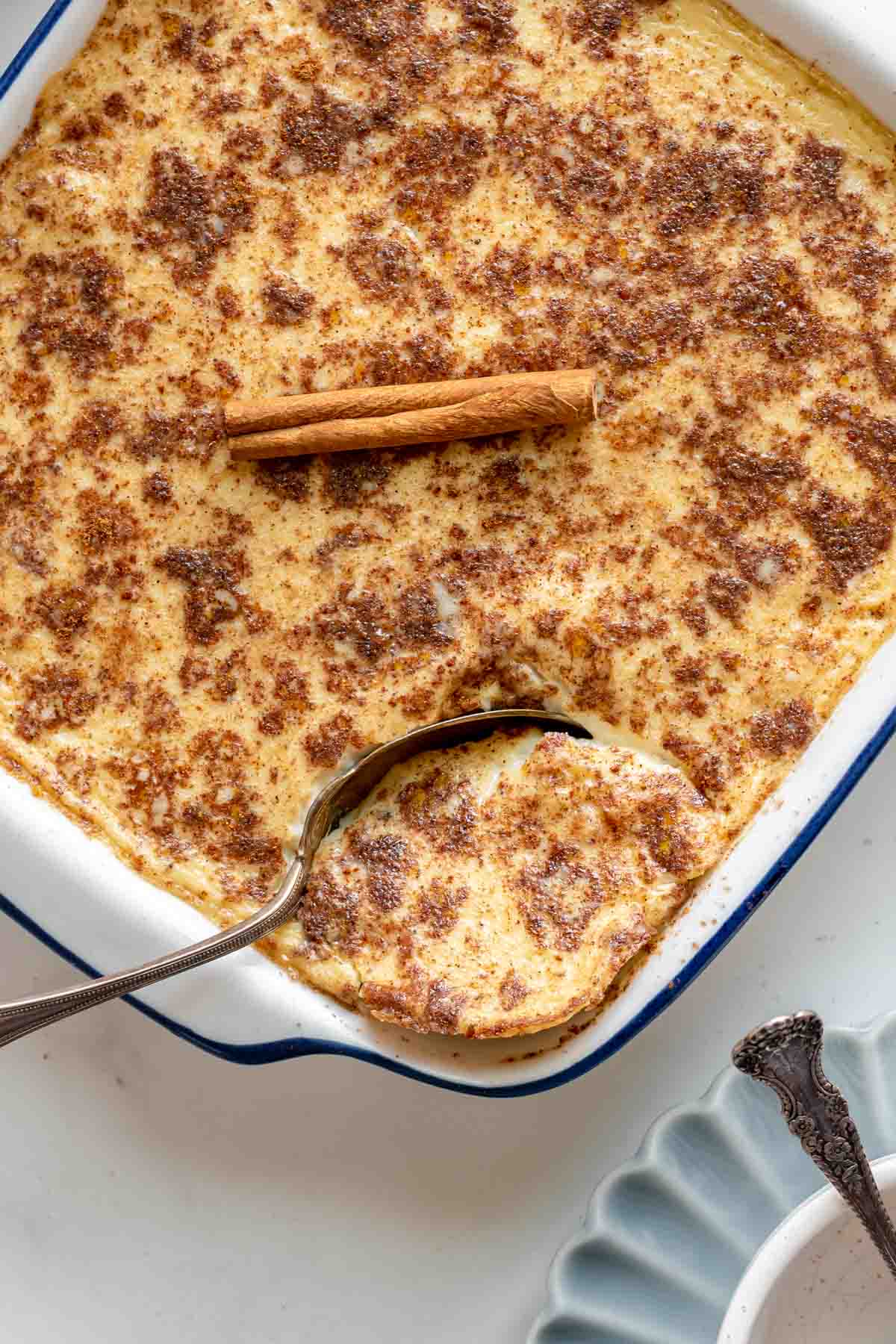 How to Make Baked Rice Pudding
Prep time: Start by preheating the oven and greasing the pan with a thin layer of butter. Fluff up the cooked rice to remove any clumps.
Pudding: Add the rice, eggs, milk, sugar, vanilla extract, salt, raisins, nutmeg, and ground cinnamon to a large mixing bowl. Whisk everything together until well combined. Pour the rice into the prepared baking dish.
Baking Time: Bake the pudding uncovered for 20 minutes. Stir the rice mixture, then bake for another 20 minutes. The rice pudding mixture should have a creamy texture and be golden brown on top. Serve the warm rice pudding in dessert bowls and add extra cinnamon for garnish.
Easy, Creamy Indulgent Pudding Recipes
FAQs for
Baked Rice Pudding
Can I make rice pudding with leftover rice?
Yes, you can make rice pudding with leftover rice, which is actually a great way to use up any leftover rice from a previous meal. Just be sure to fluff the rice before adding it to the pudding mixture to ensure that it is not clumped together.
What is the difference between rice porridge and rice pudding?
Rice porridge and rice pudding are similar dishes made with rice and milk, but rice porridge is typically a savory dish and is often served for breakfast or as a comforting meal. Rice pudding, on the other hand, is a sweet dessert dish and is often served cold or warm as a dessert.
What kind of rice is best for rice pudding? 
Long-grain rice varieties like basmati or jasmine are the best for rice pudding, as they have a firm and slightly chewy texture that holds up well when cooked in milk.
Why is my rice pudding mushy?
Your rice pudding may be mushy due to overcooking or using too much liquid, which can cause the rice to break down and lose its texture. Additionally, using a short-grain or sticky rice variety can also contribute to a mushy consistency.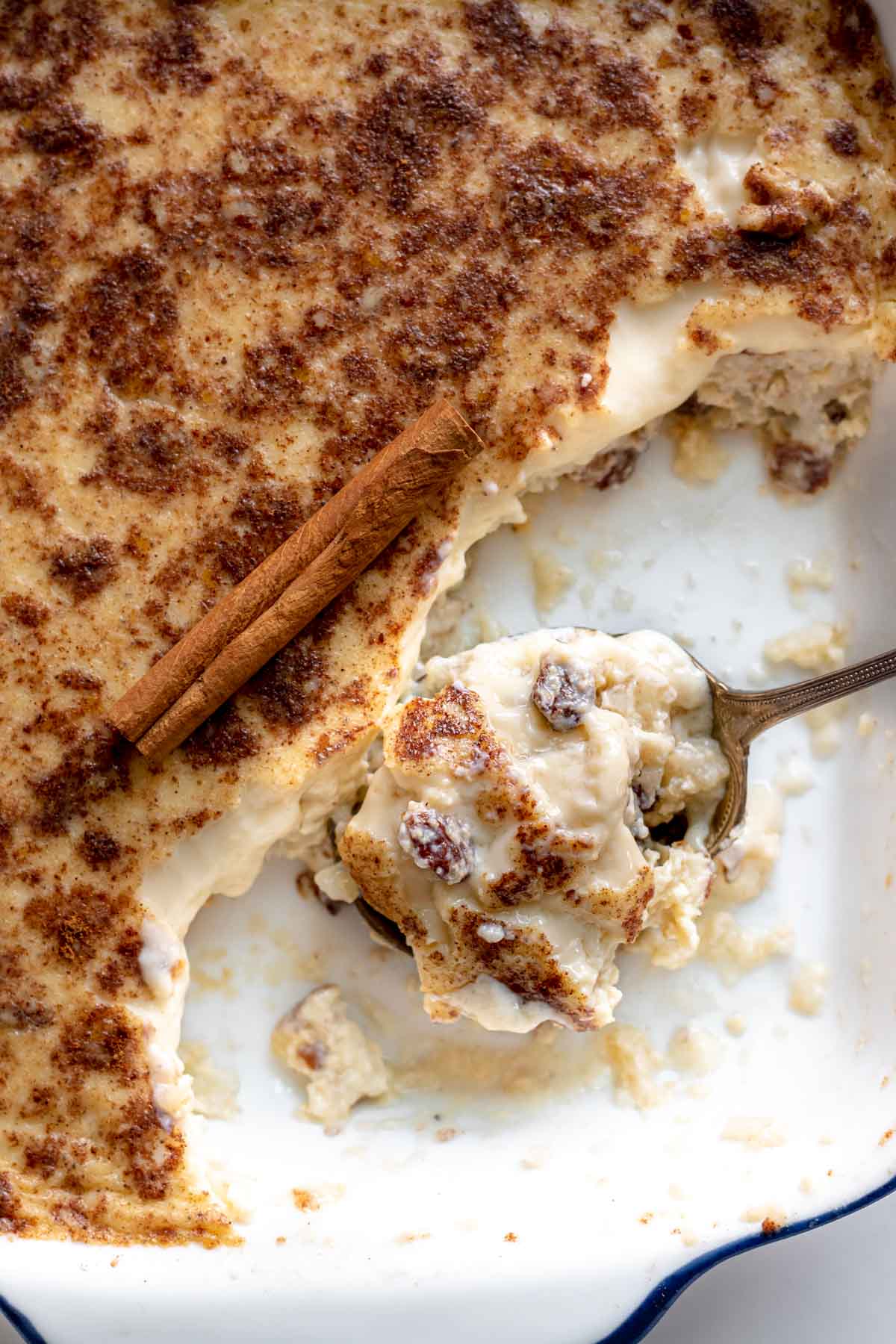 Create a free account to

Save Recipes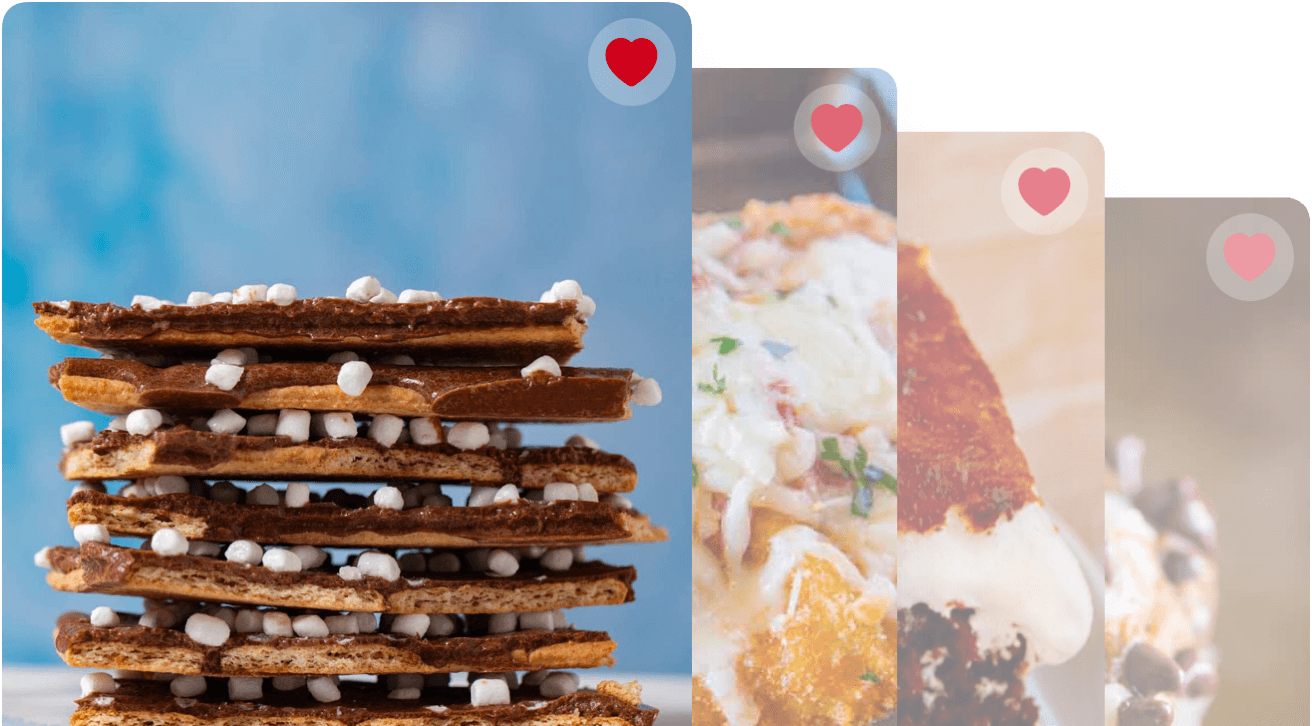 Key Ingredients
Cooked Rice: The recipe calls for 2 cups of cooked rice, which is roughly equivalent to 1 cup of uncooked rice. Use a long-grain variety like basmati or jasmine that is fluffy and tender, but not mushy.
Eggs: The whole eggs help thicken the pudding and give it a smooth, creamy texture while giving it a rich flavor. Use room temperature eggs so they mix in better and cook evenly.
Whole Milk: The whole milk provides richness and creaminess, as well as moisture, to the pudding. You can use low-fat milk if you prefer, but the texture may be slightly less creamy.
Sugar: This rice pudding is meant to be a sweeter dessert pudding, so you want to use a good amount of sugar. You can use either brown sugar or white sugar, depending if you want a little caramel flavor from the molasses or not.
Raisins: Raisins add a chewy texture and a touch of natural sweetness to the pudding. You can use golden raisins if you prefer, or omit them altogether if you don't like raisins.
Flavoring: This pudding has vanilla, cinnamon and nutmeg flavors added to make it extra delicious and comforting. The warm spices and sweet vanilla are the perfect balance to the creamy rich pudding and taste amazing with raisins.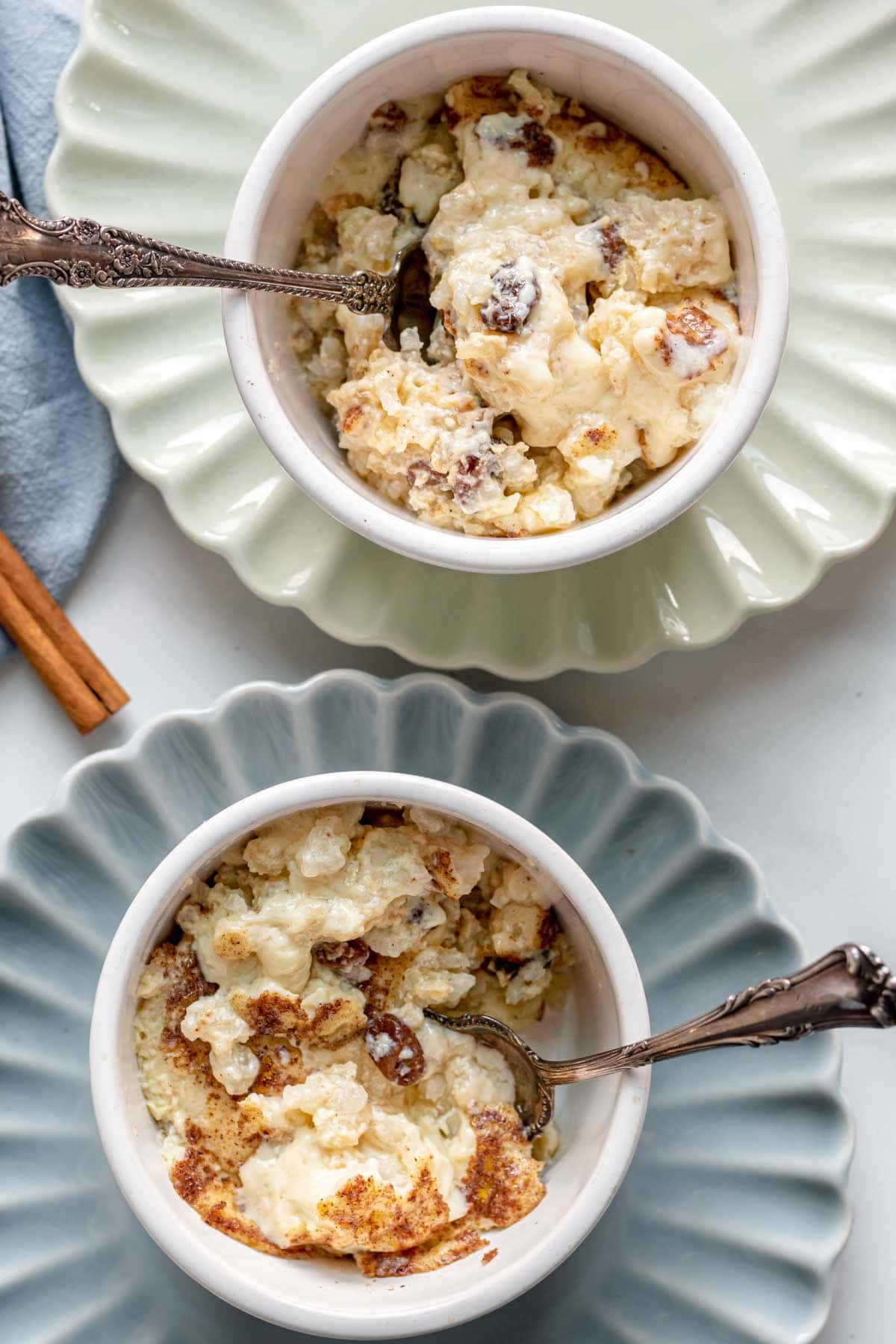 Can Baked Rice Pudding be Made Ahead?
You can bake this rice pudding up to a day in advance and store it in the refrigerator until ready to serve. When reheating, you can either reheat it in the oven or microwave it in individual servings. If reheating in the oven, cover the dish with foil and bake at 350 degrees for about 20-30 minutes or until heated through. Keep in mind that the pudding may be slightly more set and less creamy when reheated, but it will still be delicious.
Variations
Vegan Rice Pudding: To make Baked Rice Pudding vegan, you'll need to replace the milk and the eggs in the recipe with vegan substitutes. The milk piece is easy because you can just use almond, coconut, or soy milk. However, making up for the eggs is a little trickier. You can use mashed bananas to get the right amount of moisture in the recipe. Or, to make sure the pudding has the right sticky and creamy texture, add in a can of coconut milk and a couple of tablespoons of maple syrup.
Sugar: Instead of granulated sugar or brown sugar, you can use maple syrup, honey, or coconut sugar. You might want to start with half the amount if using maple syrup or honey, and adjust to taste so that you don't make it too sweet.
Dried Fruit: You can use other dried fruit like dried pineapple, dates, strawberries, or sultanas instead of the raisins, or just do a mixture of dried fruit. Dried cranberries would make this a delicious holiday flavored rice pudding!
Other Mix-Ins: To give some crunchy contrast to the pudding mix in pumpkin seeds, pecans, or almonds. For an even sweeter dish, add ½ cup chocolate chips, white chocolate chips, or caramel chips.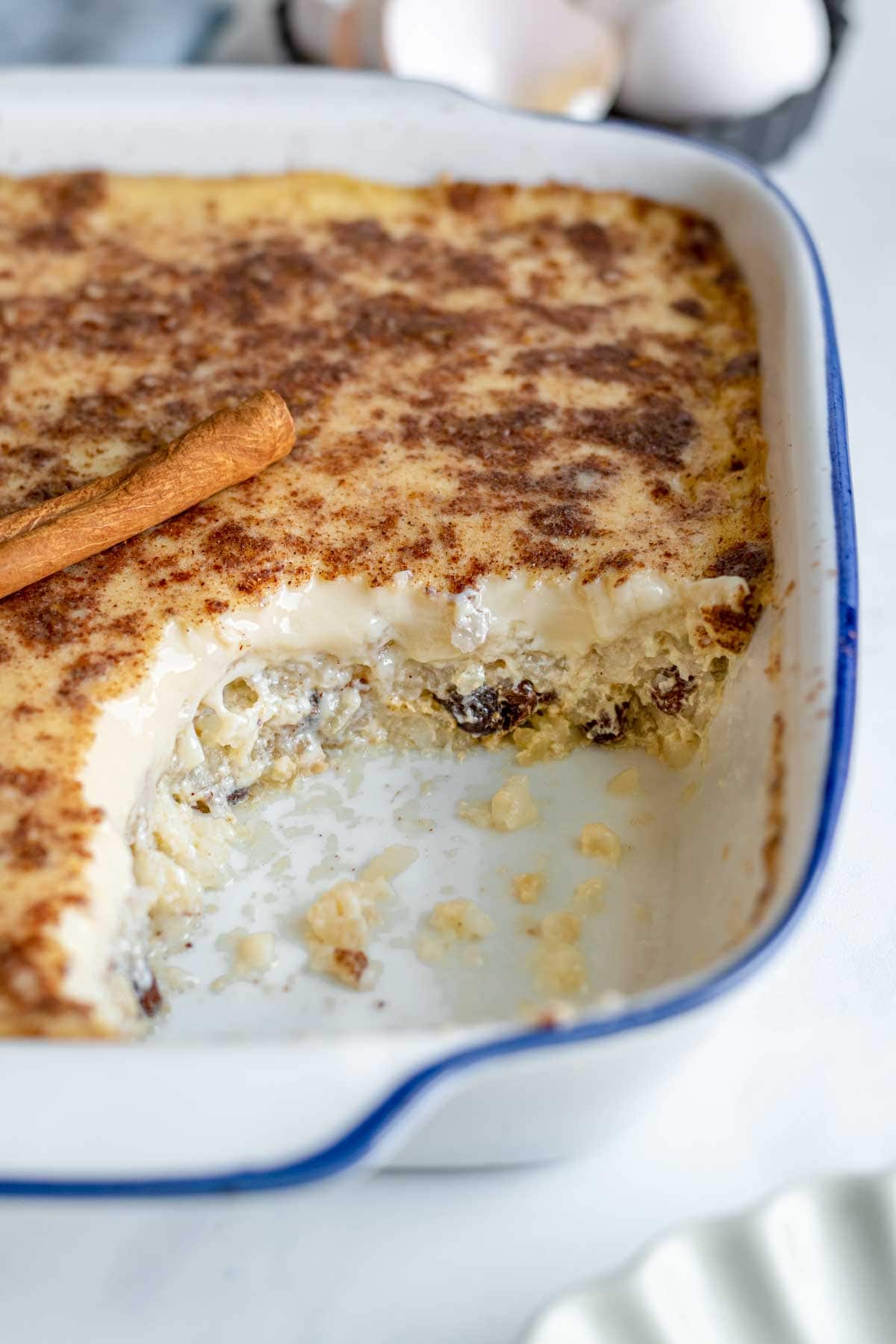 The Ultimate Holiday Breakfast Recipes!
How to Store
Store: Rice pudding needs to be stored after no more than 2 hours at room temperature. Cool the pudding, then cover the dish with plastic wrap or foil, or transfer to an airtight container. Refrigerate for up to 4 days.
Reheat: The best way to reheat this pudding is covered with foil in the oven until warmed through. Stir in a little milk before reheating to make it creamy again if it has dried out.
Freeze: You can freeze leftover rice pudding for up to 3 months in a sealed container. Let it thaw in the fridge before reheating as directed above.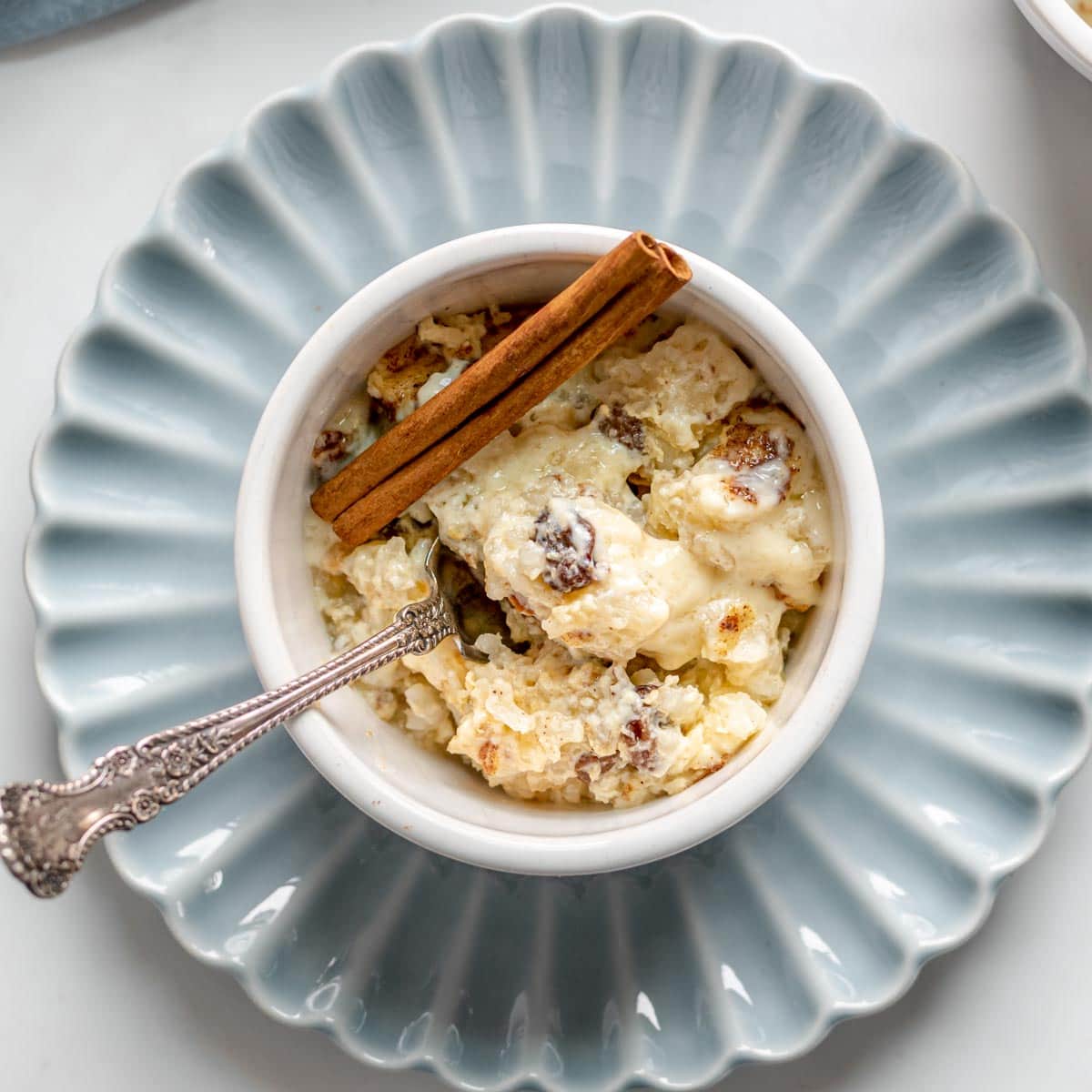 Ingredients
2

cups

cooked rice

3

large

eggs

3

cups

whole milk

3/4

cup

sugar

2

teaspoons

vanilla extract

1/2

teaspoon

salt

1/2

cup

raisins

1/4

teaspoon

ground nutmeg

1/2

teaspoon

cinnamon

, plus more for garnish
Instructions
Preheat oven to 325 degrees and grease an 8×8 baking dish.

In a large bowl whisk together rice, eggs, milk, sugar, vanilla extract, salt, raisins, nutmeg and cinnamon until well combined.

Pour into baking dish.

Bake uncovered for

20 minutes

, stir well and bake an additional

20 minutes

.
Nutrition
Calories:
237
kcal
|
Carbohydrates:
42
g
|
Protein:
7
g
|
Fat:
5
g
|
Saturated Fat:
2
g
|
Trans Fat:
1
g
|
Cholesterol:
79
mg
|
Sodium:
215
mg
|
Potassium:
238
mg
|
Fiber:
1
g
|
Sugar:
24
g
|
Vitamin A:
250
IU
|
Vitamin C:
1
mg
|
Calcium:
122
mg
|
Iron:
1
mg