Classic Rice Pudding with a creamy and sweet texture topped with a sprinkle of cinnamon like mom used to make in just 45 minutes.
For people who liked our Bread Pudding and Corn Pudding, this recipe is a must-try. Rice pudding is thick and delicious, and it can be almost anything depending on how you want to dress it up.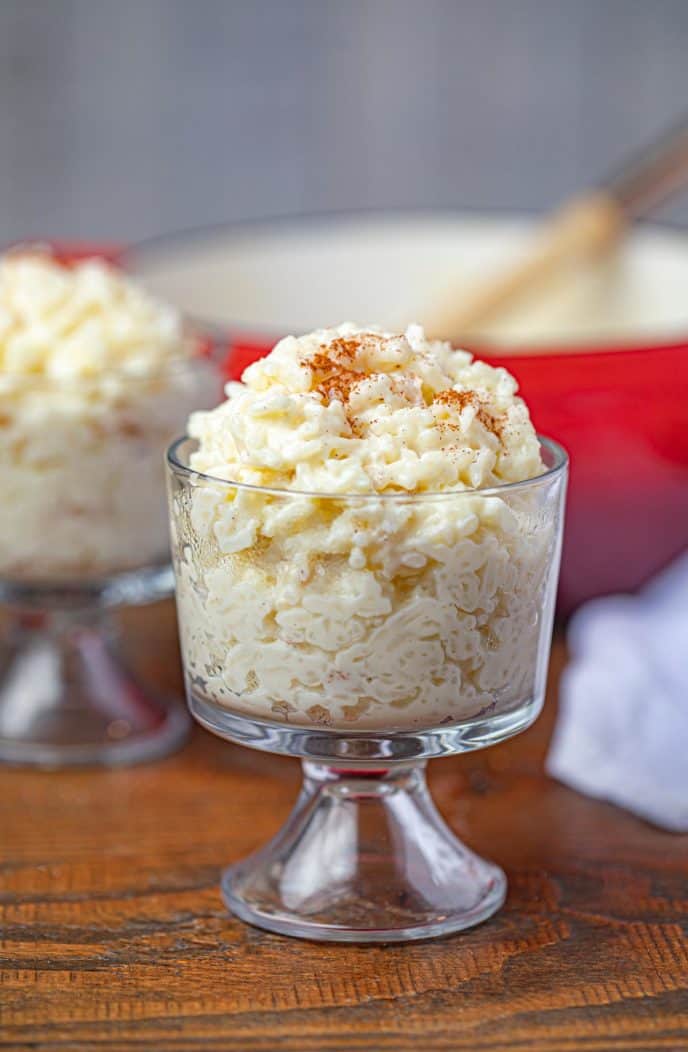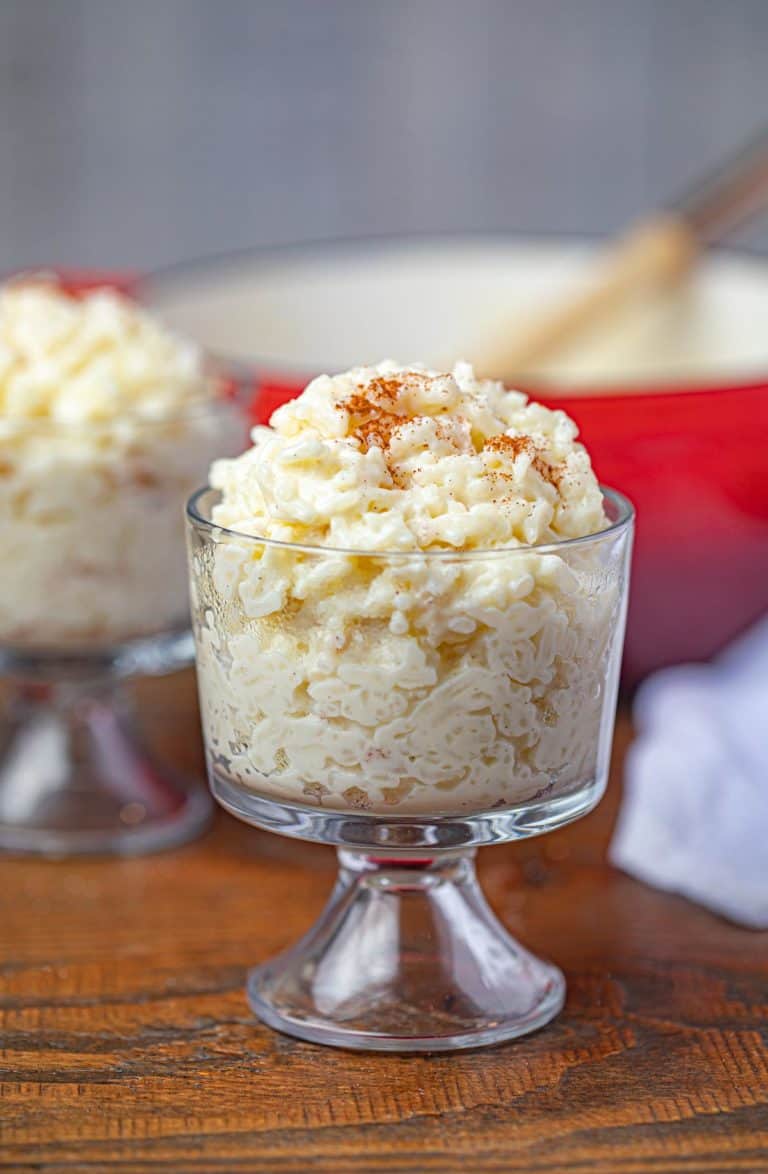 RICE PUDDING
RIce pudding has been enjoyed around the world for centuries, and for good reason. It's rich and tasty, keeps you full and goes with just about any dinner. Plus it has such a wonderful nostalgic flavor the positive memory association back to family members who have made rice pudding (my grandmother used to make rice pudding for me) that it can make you physically and mentally happier to enjoy recipes with food memories.
I actually sit here with a smile on my face even just writing about this rice pudding, I can tell you cooking this recipe makes the house smell like the holidays.
HOW TO MAKE RICE PUDDING
Pour some water into a large pan and bring it to a boil.
Once the water is boiling, stir in your rice and reduce the heat to low.
Cover the pan and let the rice simmer for about 20 minutes, until the rice is cooked through.
Mix the cooked rice, some of your milk, sugar and salt together and cook them over medium heat until the mixture becomes thick and creamy.
Whisk in the rest of the milk and an egg.
Pour the egg mixture into the cooked rice stirring as you go.
Remove from the stovetop and add in the unsalted butter and vanilla.
VARIATIONS
Nutmeg: during the last stage of cooking, when you're stirring in the butter and vanilla, add a dash of nutmeg. It gives the rice pudding a stronger, richer flavor.
Ground Cinnamon: if you're making rice pudding for the holidays, or you just love cinnamon, add a dash into the rice mixture during the last stage and stir it in well.
Heavy Cream: if you want really creamy rice pudding, you can use heavy cream instead of milk. Just be aware that a little goes a long way.


Create a free account to

Save Recipes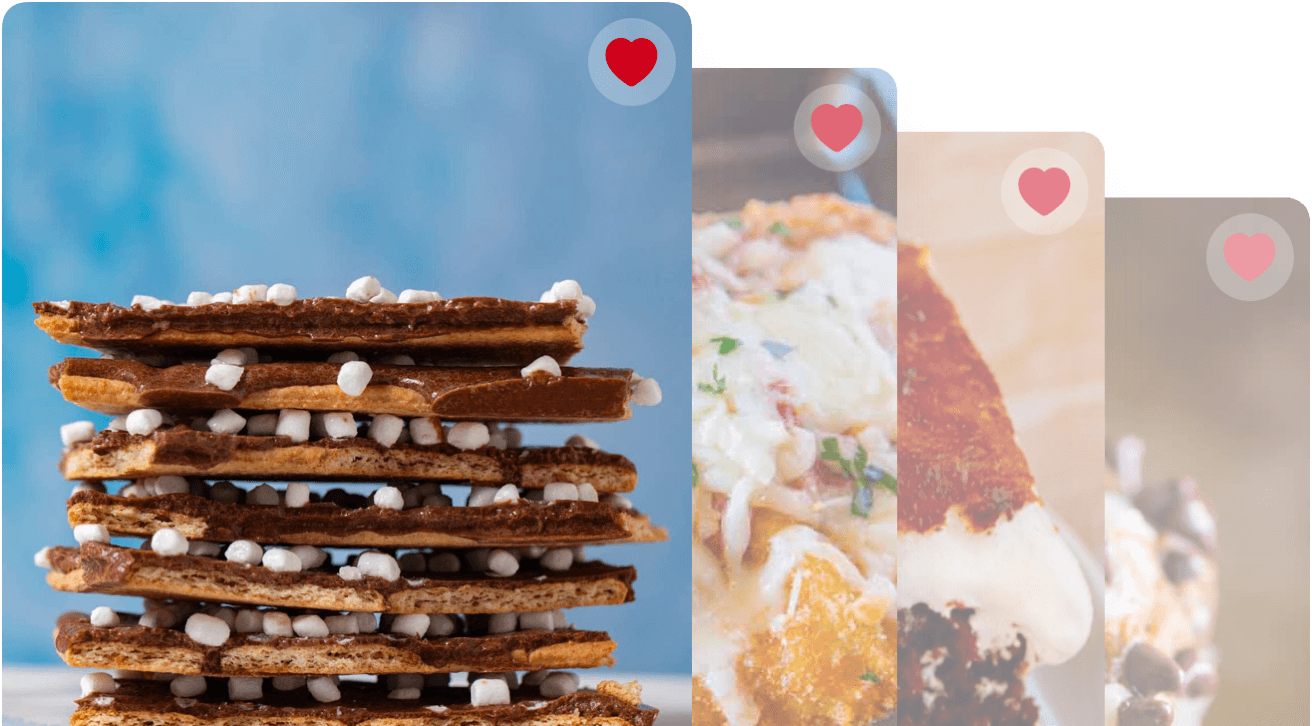 TOPPINGS
Brown Sugar: dust the top of your pudding with some brown sugar to add some more sweetness and make it look nice.
Raisins: you can mix in raisins to break up the creamy texture of the pudding. The raisins are sweet and rich, and make the pudding even more delicious.
Ice Cream: if you're going the dessert route, you can make our rice pudding recipe into ice cream! Follow our directions on this page and then add it to Vanilla Ice Cream before you freeze it.
WHAT KIND OF RICE?
There's a long list of the different rice varieties that you can use for this recipe, and here are some of the best ones that we've found.
White rice: this is our rice of choice because it is easy to cook.
Arborio rice: an Italian short grain rice that is high in protein and vitamins.
Basmati: basmati rice is an aromatic, long grain rice that is common in a variety of Indian dishes.
Jasmine: another long grain aromatic rice, jasmine rice has a mild, floral smell and is delicious in rice pudding.
Japanese short grain: Japanese short grain rice has long, thin grains that are slightly translucent. Apart from being pretty, Japanese short grain rice is delicious and are used in many Asian dishes.
Brown rice: making rice pudding with brown rice makes the dish healthier and gives it a richer, nuttier flavor. When I would make this recipe for the kids as a treat I would use brown rice and all the richness and sweetness would mask it, but it also gave them a taste for the chewiness and nuttiness of brown rice.
More Classic Dessert Recipes:
AROUND THE WORLD
Rice pudding is one of the oldest foods, since grains were one of the first cultivated plants. This dish comes from Asia, where rice was first cultivated, and some Buddhist sutras even say that Siddhartha Guatama's last meal before he became the Buddha was a bowl of rice pudding. In some countries, rice pudding is a breakfast that gives you energy and keeps you full all day, while in others it's an after-dinner treat. Here are just some of the many, many different variations on rice pudding from around the world.
Moghli: this is a Lebanese dessert that uses anise and caraway to give it flavor.
Kheer: Kheer is a delicious pudding from Indian subcontinent that uses slow boiled milk to make it thick.
Arroz con leche: originally from Spain, but now popular in a bunch of different countries in Latin America, arroz con leche means "rice with milk," and is a mixture of rice, milk, sugar, cinnamon, lemon and the occasional egg.
Risovaya kasha: a beloved dish from Russia, risovaya kasha is a savory breakfast dish that's served with sugar and butter.
Risengrynsgrøt: there are so many Scandanavian varieties of rice pudding that we'd be here for days listing them all. Risengrynsgrøt is the Norweigan version, and it is more like rice porridge. Risengrynsgrøt is usually served for breakfast and lunch and is served warm. Risengrynsgrøt is also known as Julegröt or "Christmas pudding" and is a traditional holiday dish.
Baked rice pudding: the British version of rice pudding is made similarly to our recipe, but instead of making it on a stovetop, the UK's rice pudding is baked in the oven like a pudding casserole. The original dish was called whitepot, and is referenced in a whole handful of literature, from Dickens to Milne (usually not in a good way, though.)
Maple syrup rice pudding: a favorite in Canada and the North Eastern United States, rice pudding is served up like oatmeal with a little maple syrup.
Rum raisin rice pudding: this is one that we're dying to try out. Jamaican rice pudding usually has milk, egg, allspice, butter, sugar and rum soaked raisins. Sometimes the pudding is topped off with meringue, coconut flakes or crushed pineapple. It sounds fantastic to us.
How to Store Rice Pudding:
Serve: don't leave your pudding out for longer than two hours at room temperature.
Store: rice pudding is good in the fridge for up to 1 week before it starts to get weird.
Freeze: if you seal it in an airtight container, you can freeze pudding for up to 3 months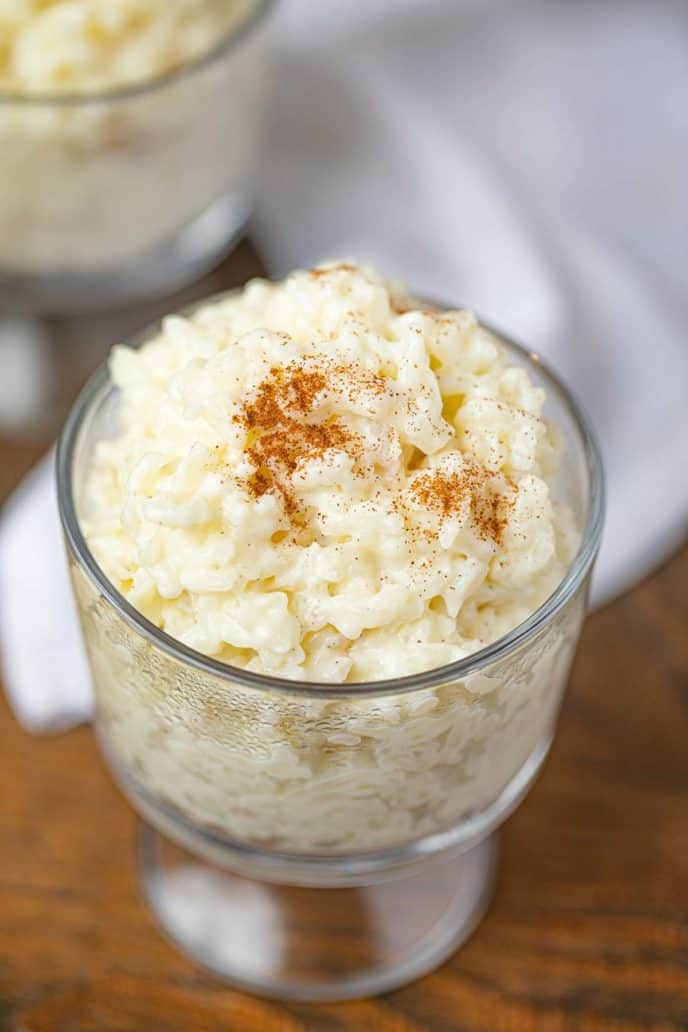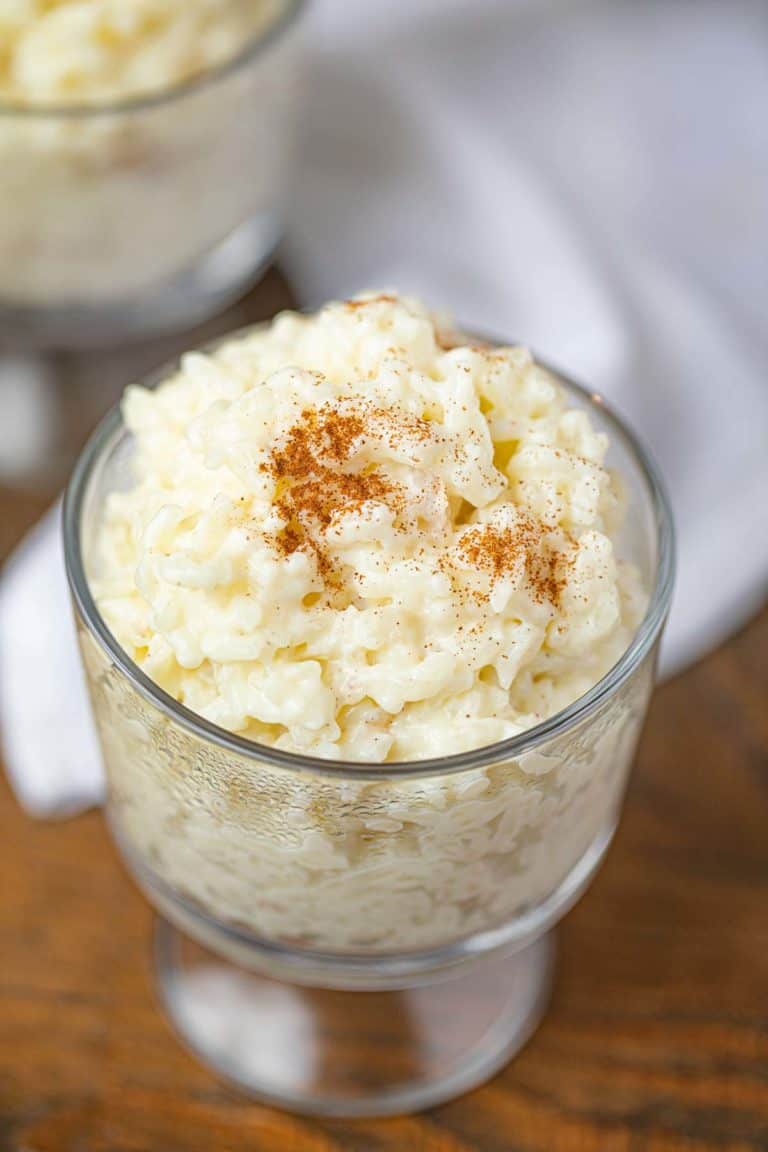 Ingredients
1 1/2

cups

water

3/4

cups

medium grain white rice

1 1/2

cups

whole milk

, divided

1/3

cup

sugar

1/4

teaspoon

salt

1

large

egg

2

tablespoons

unsalted butter

2

teaspoons

vanilla extract
Instructions
Add water to large dutch oven on high heat and bring to a boil, then add in the rice, stir, and cover.

Reduce to a simmer and cook undisturbed for 18-20 minutes.

Once the rice is cooked mix in 1 cup of the milk along with the sugar and the salt.

Cook over medium-low heat until the liquid has reduced and the mixture has thickened, about 18-20 minutes.

Whisk together the last ½ cup of milk with your egg, then in a slow stream add it to your rice while mixing the rice well.

Cook the rice an additional

3 minutes

to bring the egg up to a safe temperature then remove from the heat.

Add in the butter and vanilla off the heat, mixing well and top with cinnamon as garnish before serving (if desired).
Nutrition
Calories:
156
kcal
|
Carbohydrates:
26
g
|
Protein:
4
g
|
Fat:
4
g
|
Saturated Fat:
2
g
|
Cholesterol:
27
mg
|
Sodium:
76
mg
|
Potassium:
87
mg
|
Fiber:
1
g
|
Sugar:
8
g
|
Vitamin A:
150
IU
|
Calcium:
56
mg
|
Iron:
0.3
mg