Fried Ice Cream is creamy ice cream balls rolled in a buttery cinnamon cornflake topping. All the fun of fried ice cream without the mess from deep-frying!
If you've tried Fried Ice Cream before it was probably at a carnival or from a food truck, but you can easily make this Frozen Treat yourself. Make it quickly with store-bought ice cream, or have fun making the whole thing from scratch with this Vanilla Ice Cream Recipe.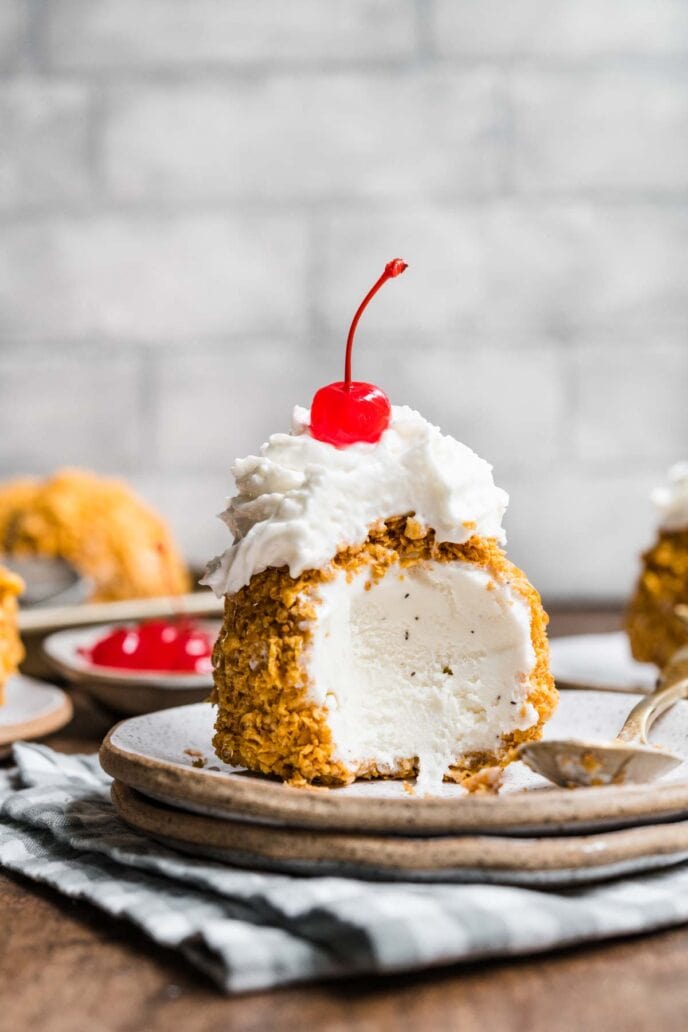 Fried Ice Cream is the perfect combination of creamy ice cream and crispy cinnamon coating. The classic ice cream treat is usually at amusement parks and fairs, but there's no reason you can't enjoy it in your own home. Simple ingredients of ice cream and crunchy corn flakes come together easily, and the only time-consuming part is freezing the ice cream balls.
Traditionally, Fried Ice Cream is made by deep-frying. Using a slotted spoon, you sink the balls into oil for a few seconds at a time. However, the easy cornflake coating in this recipe makes it so all you have to do is roll the ice cream in the buttery mixture. You get the same fried taste without a bunch of oil.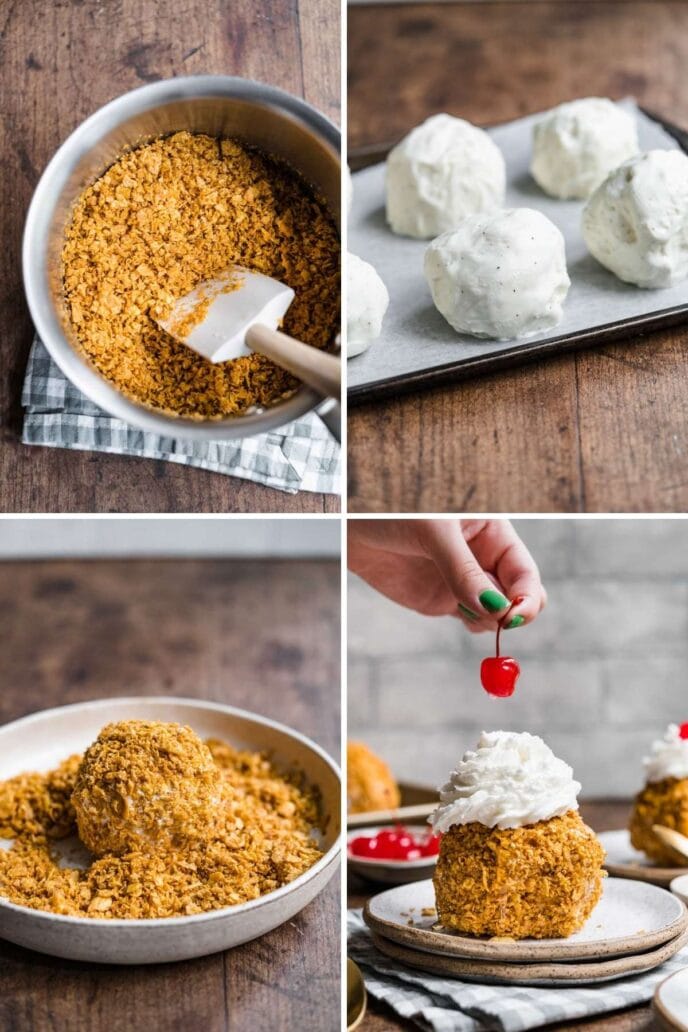 This recipe makes 6 servings, so it's perfect for the whole family. You can also increase the recipe with another scoop of ice cream for every extra person you want to serve. Just add an extra ⅓ cup of corn flakes and increase the other coating ingredients by a third. After they're coated, top off each scoop with Whipped Cream and a cherry for the perfect dessert that everyone is sure to love.
More Frozen Dessert Recipes
How to Make Fried Ice Cream 
Prep Time: Line a baking sheet with parchment paper and put the sheet in the freezer for 1 hour. The cold surface will ensure the ice cream keeps its shape without melting.
Filling: Using a large ice cream scooper, form six ice cream scoops about 1 cup-sized each. Place them on the baking sheet with some space between them. Put it in the freezer for another hour.
Corn flake mixture: During the end of the freezing time go ahead and make the coating. Add the butter, corn flakes, and cinnamon to a small saucepan. Stir and cook for 6-8 minutes until the corn flakes turn a dark golden brown. Remove the cornflakes to a large bowl, and stir in the sugar.
Coat: Take the ice cream scoops from the freezer and roll them in the crumb mixture one ball at a time until they're coated.
Serve: Top the coated ice cream with whipped cream, a maraschino cherry, and any other toppings you want to serve.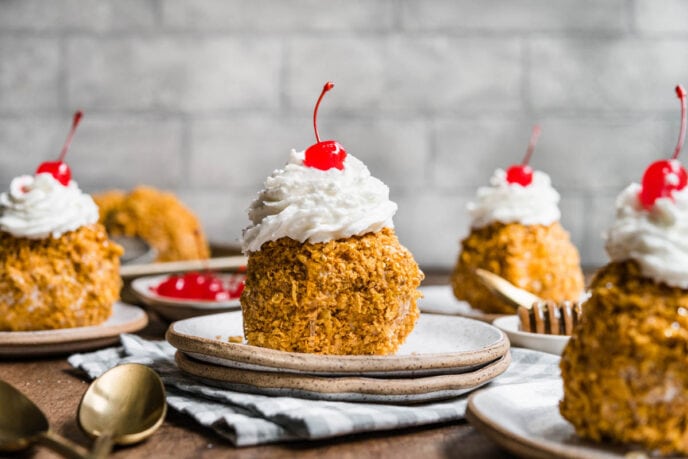 Create a free account to

Save Recipes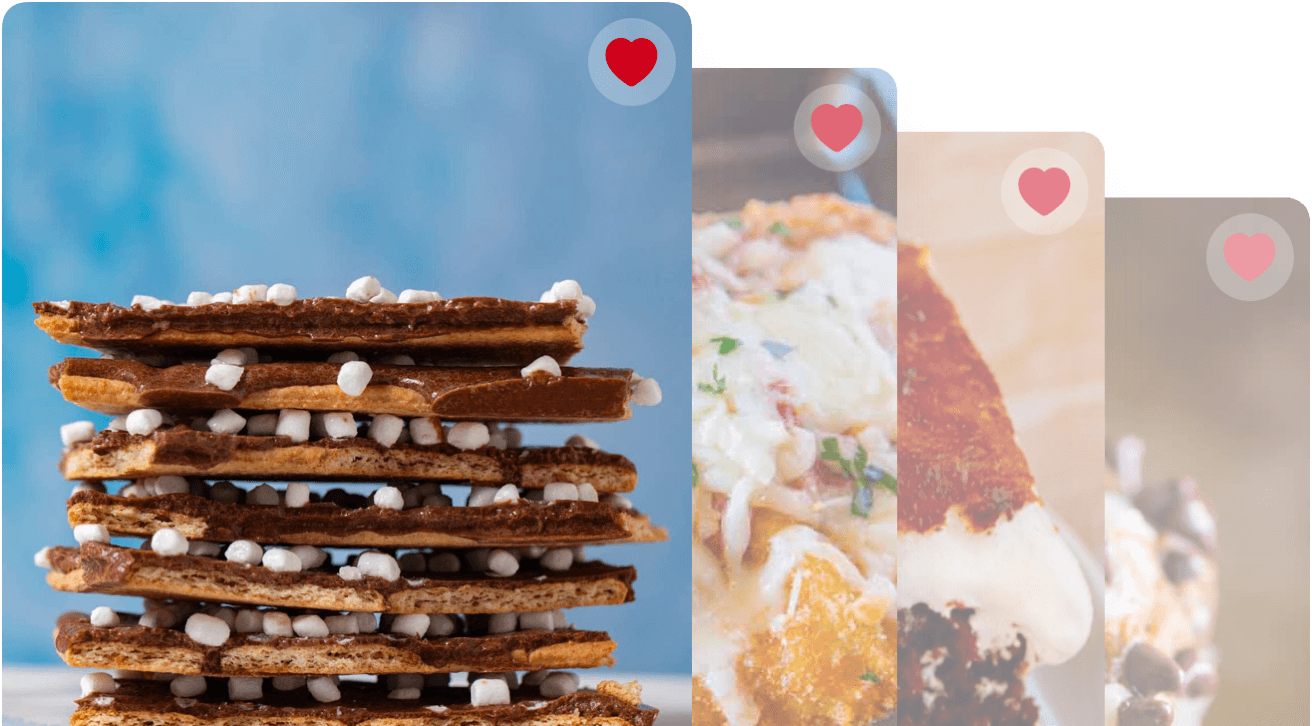 Variations on Fried Ice Cream 
Toppings: Along with the cool whip and cherry, you can add any of your favorite ice cream toppings to your dessert before serving. Drizzle on Caramel Sauce, honey, melted peanut butter, or Hot Fudge Sauce.
Chocolate: One easy way to change up this dessert is to use different ice cream flavors on the inside. You can follow the same recipe with chocolate ice cream. If you want extra chocolate flavor, just mix in chocolate chunks or chocolate chips with the ice cream before forming it into balls.
Strawberry: Another delicious choice is strawberry ice cream. Chop up fresh berries and mix them with the filling for extra fruit flavor.
Coffee: One more fan-favorite variation is to use coffee ice cream. The rich coffee flavor tastes amazing with the buttery crumb mixture.
Crumbs: For the crumb coating, you can use different ingredients other than cornflakes. Try broken up pretzels, potato chips, or panko breadcrumbs instead of the cornflakes.
Fun Dessert Ball Recipes
How to Store Fried Ice Cream
Serve: Fried Ice Cream is best served fresh. That's when the cornflake coating will be at it's best crispy texture.
Store: However, if you have leftovers you can seal them in an airtight container in the freezer. They'll stay good for 3-5 days, but after that the cornflake topping just won't be good anymore. Eat the leftovers right out of the freezer while they're still frozen.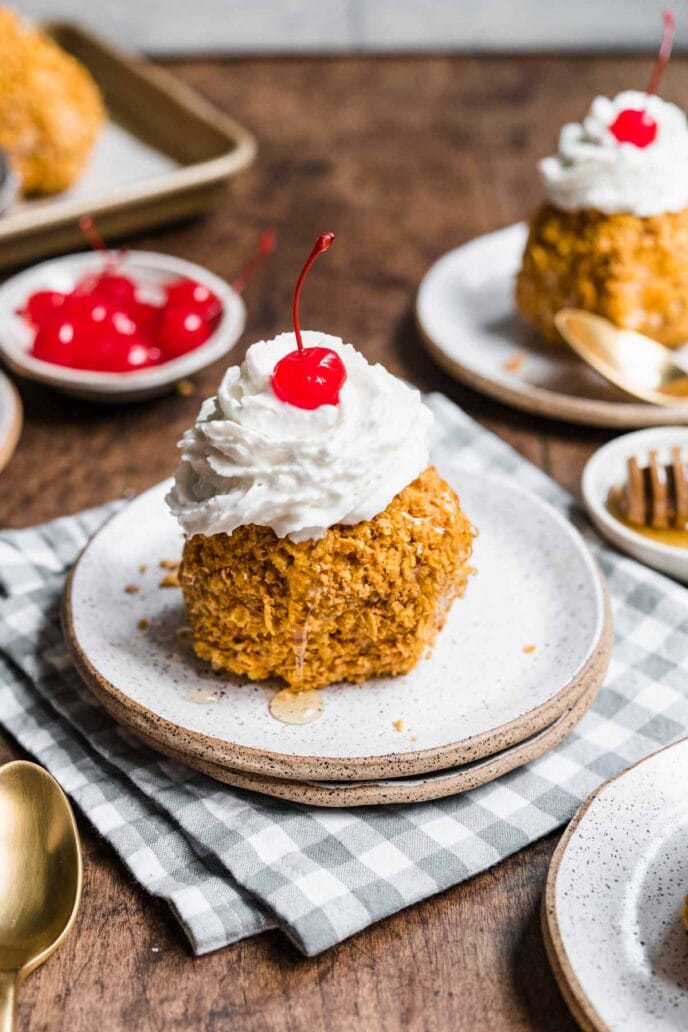 Instructions
Line a baking sheet with parchment paper and freeze for 1 hour.

Scoop 6 balls of ice cream onto baking sheet (about 1 cup each).

To a small saucepan, add butter, corn flakes, and cinnamon.

Stir often, for

6-8 minutes

or until Corn Flakes brown.

Remove from heat to a wide bowl.

Stir in sugar.

Remove ice cream from freezer and roll in cornflake mixture.

Serve topped with whipped cream and a maraschino cherry.
Nutrition
Calories:
382
kcal
|
Carbohydrates:
44
g
|
Protein:
6
g
|
Fat:
21
g
|
Saturated Fat:
13
g
|
Polyunsaturated Fat:
1
g
|
Monounsaturated Fat:
6
g
|
Trans Fat:
1
g
|
Cholesterol:
76
mg
|
Sodium:
208
mg
|
Potassium:
296
mg
|
Fiber:
1
g
|
Sugar:
34
g
|
Vitamin A:
910
IU
|
Vitamin C:
3
mg
|
Calcium:
185
mg
|
Iron:
3
mg