Fried Ice Cream is creamy ice cream balls rolled in a buttery cinnamon cornflake topping. All the fun of fried ice cream without the mess from deep-frying!
If you've tried Fried Ice Cream before it was probably at a carnival or from a food truck, but you can easily make this Frozen Treat yourself. Make it quickly with store-bought ice cream, or have fun making the whole thing from scratch with this Vanilla Ice Cream Recipe, the flavorful Cinnamon Ice Cream, or the incredible Oreo Coffee Ice Cream Pie!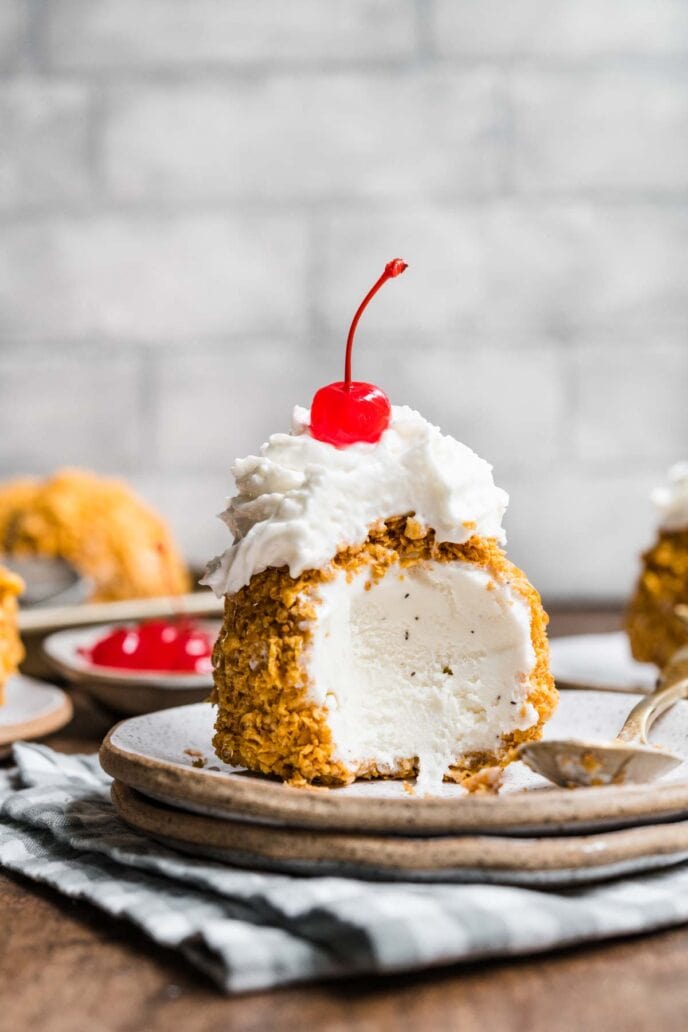 Fried Ice Cream is the perfect combination of creamy ice cream and crispy cinnamon coating. The classic ice cream treat is one of the most popular and favorite desserts usually found at amusement parks, fairs, and Mexican restaurants, but there's no reason you can't enjoy it in your own home. Simple ingredients of scoops of ice cream and crunchy cornflakes come together easily, and the only time-consuming part is freezing the ice cream balls.
Traditionally, Fried Ice Cream is made by deep-frying. Using a slotted spoon, you sink the balls into oil for a few seconds at a time. However, the easy cornflake coating in this recipe makes it so all you have to do is roll the ice cream in the buttery mixture. You get the same fried taste without a ton of greasy oil.
This recipe makes 6 servings, so it's perfect for the whole family. You can also increase the recipe with another scoop of ice cream for every extra person you want to serve. Just add an extra ⅓ cup of corn flakes and increase the other coating ingredients by a third. After they're coated, top off each scoop with Whipped Cream and a cherry for the perfect dessert that everyone is sure to love.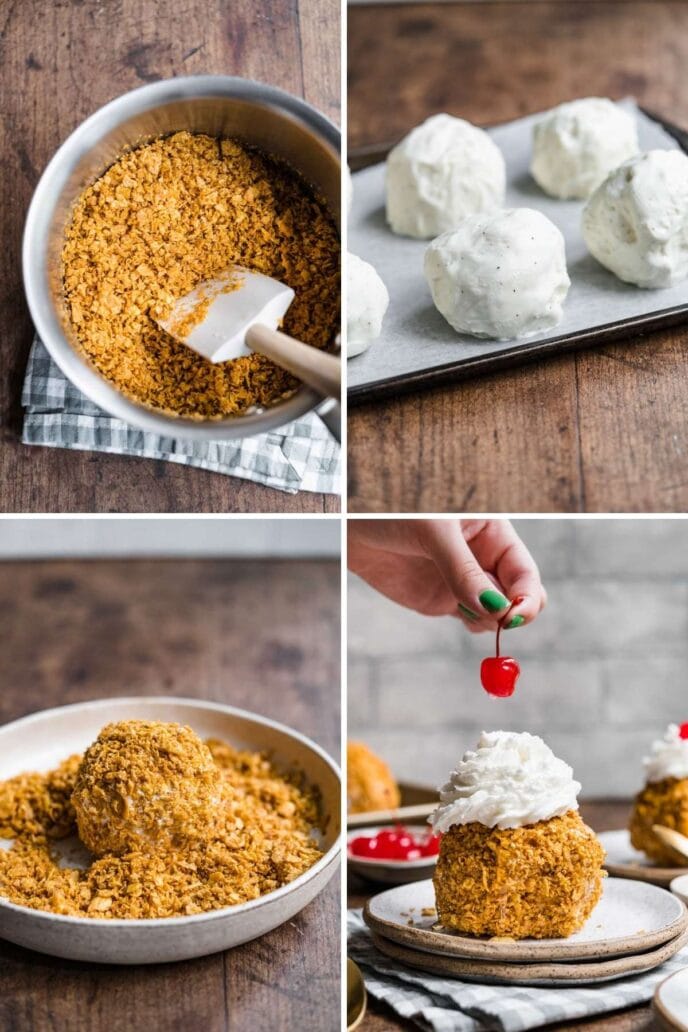 How to Make Fried Ice Cream 
Making Fried Ice Cream is so simple and the best part is there is no deep-frying involved! Just a few simple ingredients and short cook time and you'll be enjoying your frozen ice cream balls in no time. Check it out! 
Prep Time: Line a baking sheet with parchment paper and put the sheet in the freezer for 1 hour. The cold surface will ensure the ice cream keeps its shape without melting.
Filling: Using a large ice cream scooper, form six ice cream scoops about 1 cup-sized each. Place them on the baking sheet with some space between them. Put it in the freezer for another hour.
Cornflake mixture: During the end of the freezing time go ahead and make the coating. Add the butter, corn flakes, and cinnamon to a small saucepan. Stir and cook on a medium skillet over medium heat for 6-8 minutes until the corn flakes turn a dark golden brown. Remove the cornflakes to a large bowl, and stir in the granulated sugar.
Coat: Take the ice cream scoops from the freezer and roll them in the corn flakes mixture one ball at a time until they're coated.
Serve: Top the coated ice cream with whipped cream, a maraschino cherry, and any other toppings you want to serve.
More Frozen Dessert Recipes
Frequently Asked Questions
Why use Corn Flakes for the coating?
Corn Flakes provide a crispy and crunchy texture that contrasts well with the soft and creamy ice cream giving a toasted flavor that tastes great with the vanilla ice cream.
Can I use another type of cereal?
While Corn Flakes are traditional for this recipe due to their texture and flavor, other flaky cereals can be used! Make it your own and try all your favorite cereals!
Why add cinnamon to the Corn Flakes mixture?
Cinnamon adds a hint of warmth and spice to the coating, enhancing the overall flavor of the fried ice cream.
Can I skip the maraschino cherry?
While the cherry adds a pop of color and a touch of sweetness, it can be omitted or replaced with other toppings like chocolate syrup or caramel drizzle, especially if you have a red-dye allergy.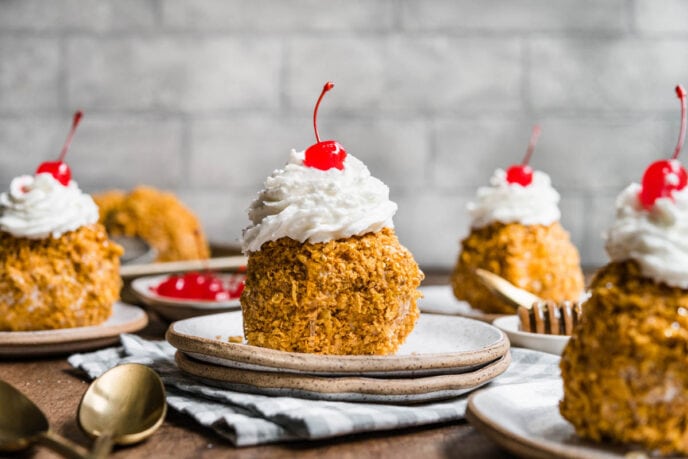 Create a free account to

Save Recipes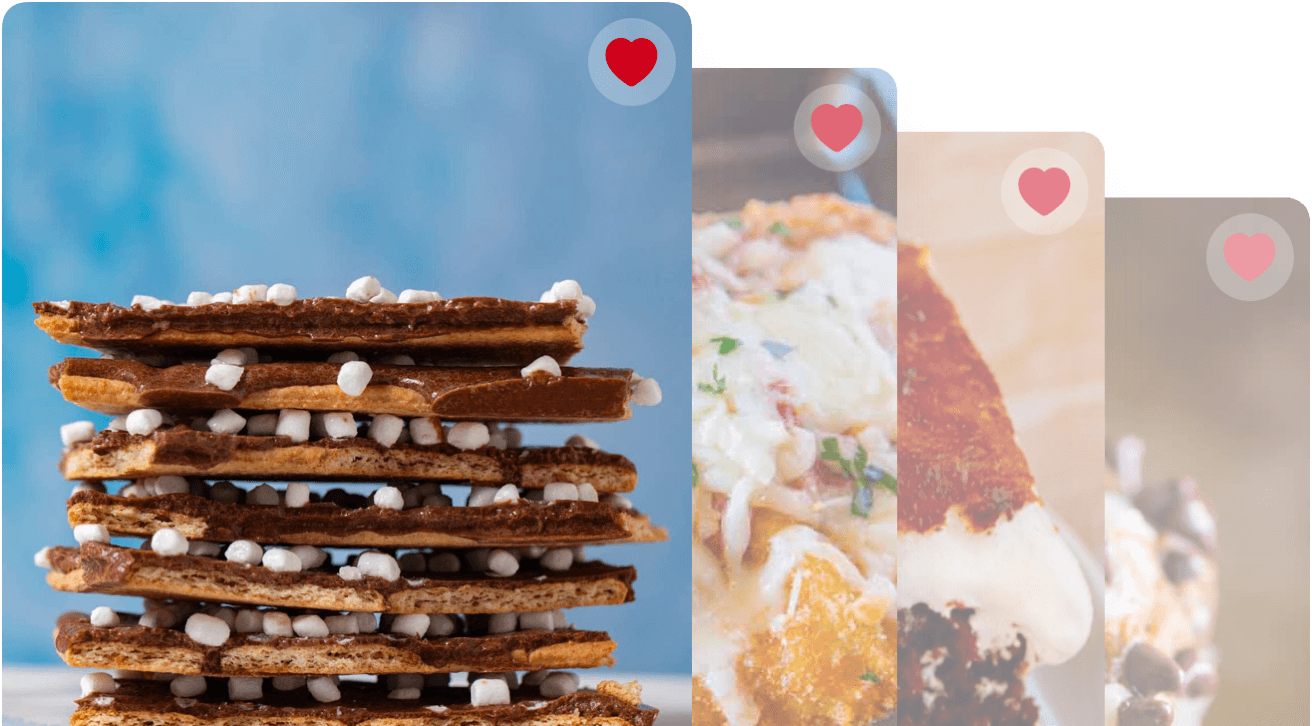 Key Ingredients in Fried Ice Cream
Fried ice cream is a delightful treat that offers a unique combination of textures and flavors. Its ingredients are simple, but each one plays a critical role in achieving the perfect balance of crispy coating and creamy center. Everything can be easily found in your local grocery store! Here's a closer look at some of the key ingredients:
Vanilla Ice Cream: The star of the dish. It's rich, creamy, and provides a blank canvas that pairs beautifully with the crispy coating. While vanilla is traditional, feel free to experiment with other flavors.
Corn Flakes Cereal: Offers the crunch factor. Their flaky texture becomes wonderfully crispy when fried. Other cereals can be used, but Corn Flakes remain a favorite for this dessert.
Cinnamon: Introduces a subtle warmth to the coating. Its sweet-spicy profile elevates the overall taste of the dish.
Whipped Cream: Acts as a cool and creamy contrast to the hot, crispy ice cream balls. It also adds an extra layer of sweetness.
Maraschino Cherries: These give a burst of fruity sweetness and a vibrant pop of color, enhancing the dessert's visual appeal.
Can Fried Ice Cream Be Made Ahead of Time?
Absolutely! Fried ice cream balls can be prepared ahead of time to make the serving process faster. Once you've rolled the ice cream in the cornflake mixture, you can place them back in the freezer until you're ready to serve. If you're storing them for more than a few hours, consider covering them with cling wrap to prevent freezer burn. When ready to serve, simply top with whipped cream and a cherry. However, it's best to consume them within a day to ensure the Corn Flakes remain crispy and the ice cream doesn't crystallize. 
Variations on Fried Ice Cream 
Toppings: Along with the cool whip and cherry, you can add any of your favorite toppings to your dessert before serving, like shredded coconut, chocolate sauce, or chocolate syrup. Drizzle on homemade Caramel Sauce, honey, melted peanut butter, or homemade Hot Fudge Sauce.
Chocolate: One easy way to change up this dessert is to use different ice cream flavors on the inside. You can follow the same recipe with chocolate ice cream. If you want extra chocolate flavor, just mix in chocolate chunks or chocolate chips with the ice cream before forming it into balls.
Strawberry: Another delicious choice is strawberry ice cream. Chop up fresh berries and mix them with the filling for extra fruit flavor.
Coffee: One more fan-favorite variation is to use coffee ice cream. The rich coffee flavor tastes amazing with the buttery crumb mixture.
Crumbs: For the crumb coating, you can use different ingredients other than cornflakes. Try your favorite crunchy cereal, broken-up pretzels, potato chips, or panko breadcrumbs instead of cornflakes.
More Fun Dessert Ball Recipes
How to Store Fried Ice Cream
Serve: Fried Ice Cream is best served fresh. That's when the cornflake coating will be at its best crispy texture.
Store: However, if you have leftovers you can seal them in an airtight container in the freezer. They'll stay good for 3-5 days, but after that, the cornflake topping just won't be good anymore. Eat the leftovers right out of the freezer while they're still frozen.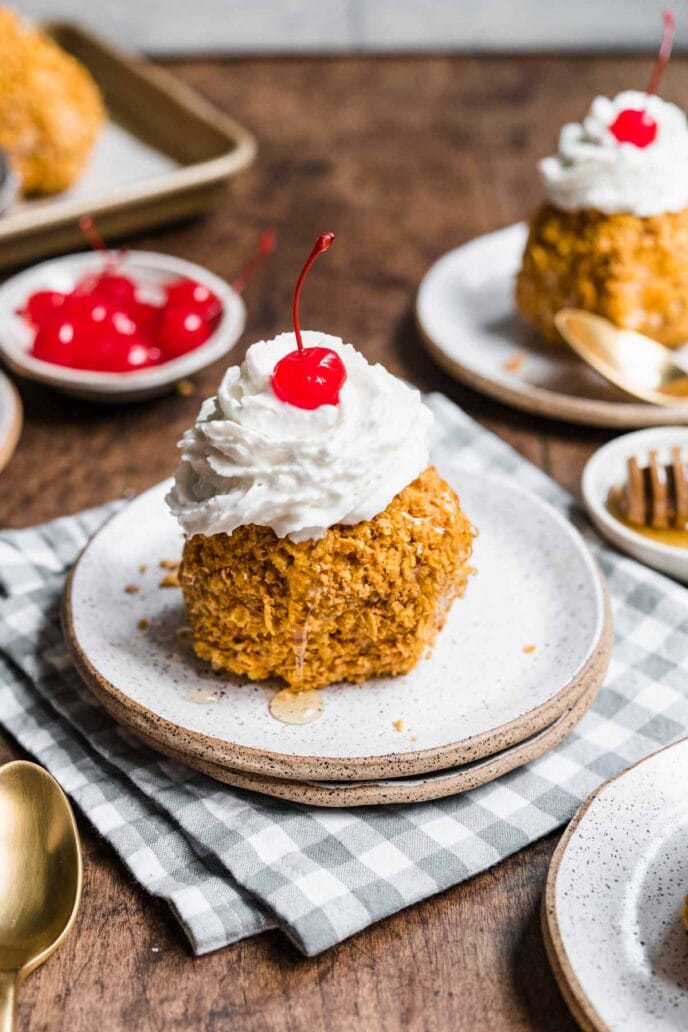 Instructions
Line a baking sheet with parchment paper and freeze for 1 hour.

Scoop 6 balls of ice cream onto baking sheet (about 1 cup each).

To a small saucepan, add butter, corn flakes, and cinnamon.

Stir often, for

6-8 minutes

or until Corn Flakes brown.

Remove from heat to a wide bowl.

Stir in sugar.

Remove ice cream from freezer and roll in cornflake mixture.

Serve topped with whipped cream and a maraschino cherry.
Nutrition
Calories:
382
kcal
|
Carbohydrates:
44
g
|
Protein:
6
g
|
Fat:
21
g
|
Saturated Fat:
13
g
|
Polyunsaturated Fat:
1
g
|
Monounsaturated Fat:
6
g
|
Trans Fat:
1
g
|
Cholesterol:
76
mg
|
Sodium:
208
mg
|
Potassium:
296
mg
|
Fiber:
1
g
|
Sugar:
34
g
|
Vitamin A:
910
IU
|
Vitamin C:
3
mg
|
Calcium:
185
mg
|
Iron:
3
mg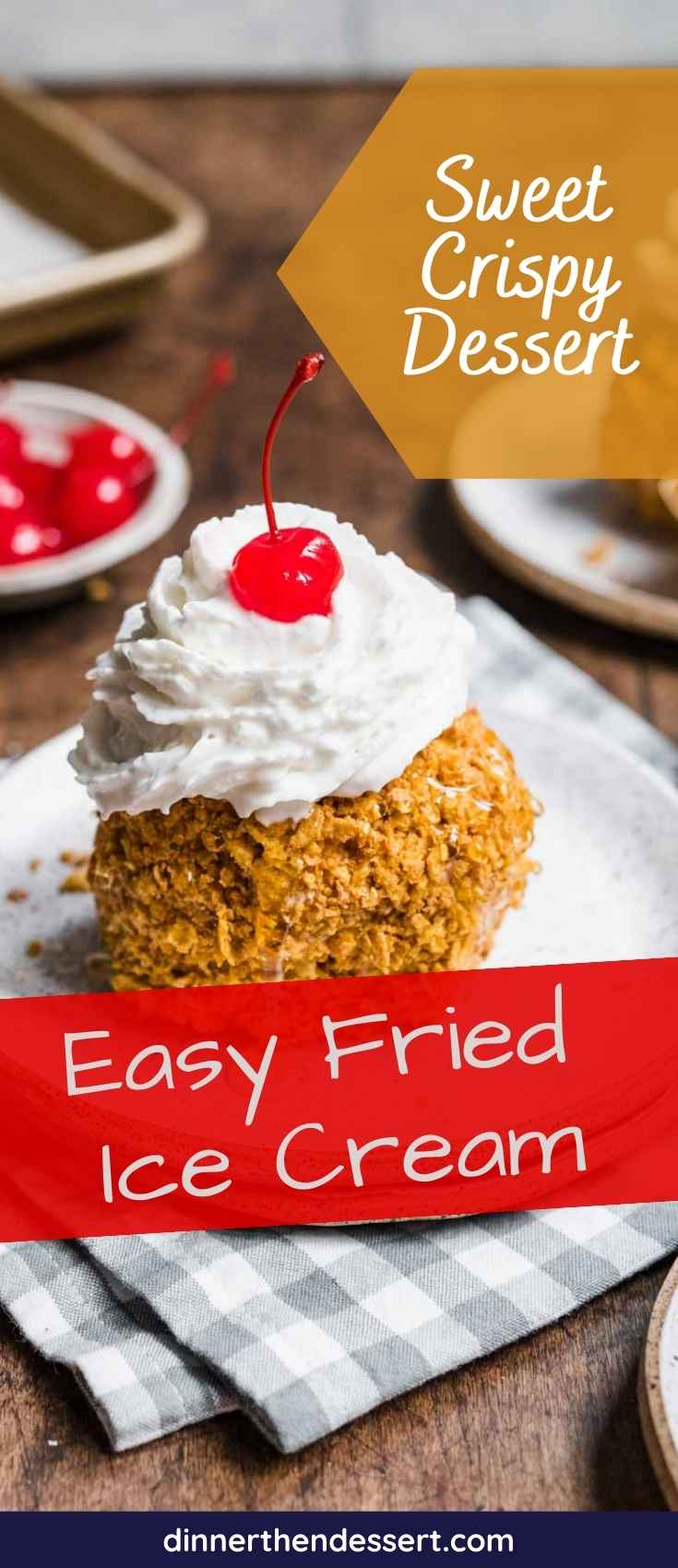 Photos used in a previous version of this post.