Cherry Snowballs are easy holiday cookies with only 4 ingredients! Buttery cookies with a maraschino cherry center rolled in powdered sugar.
Festive holiday cookies like Italian Wedding Cookies are perfect for gifting, cookies platters, and cookie exchanges. Who doesn't love a Christmas Cookie Recipe that is easy to make, looks beautiful, and melts in your mouth?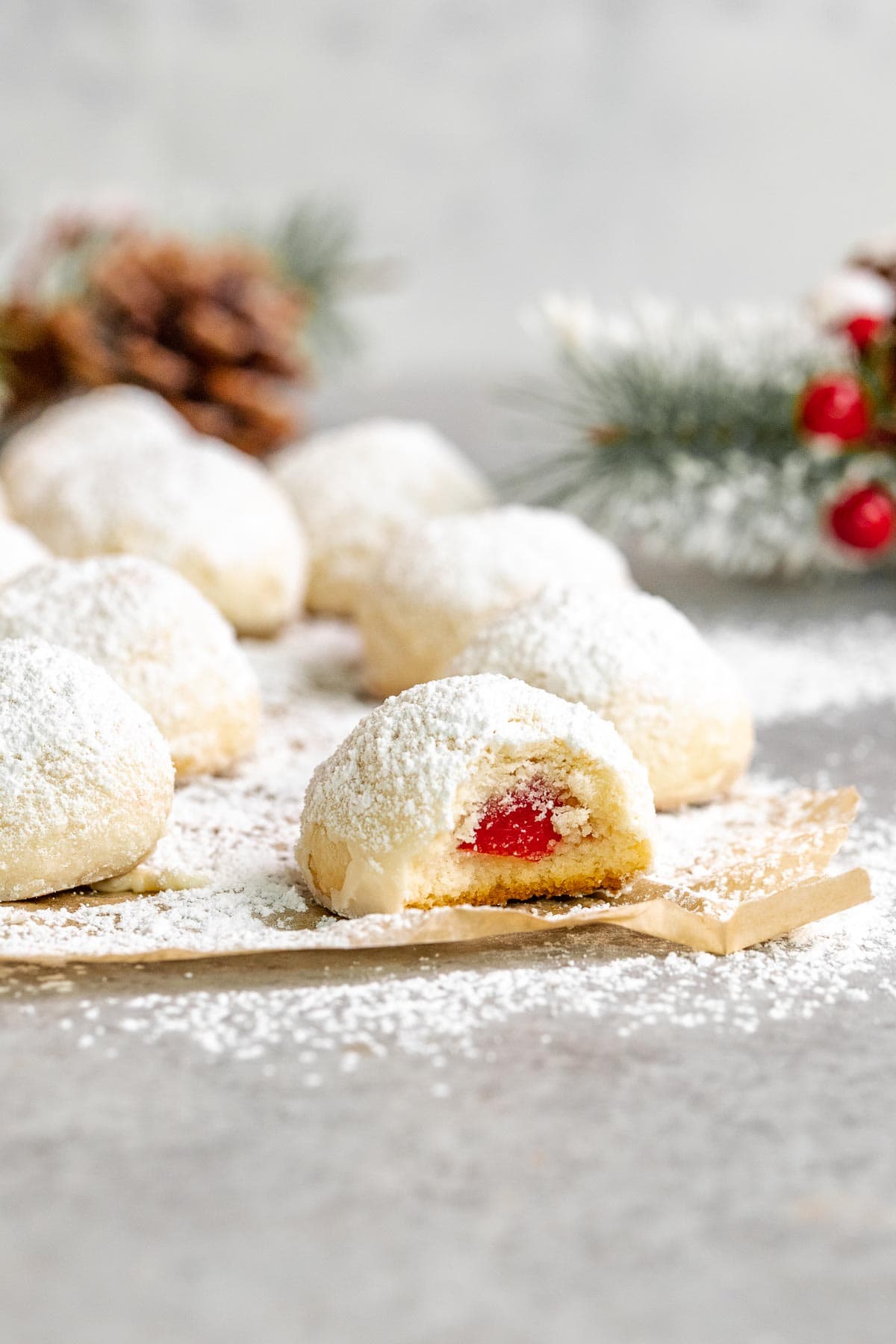 When it comes to baking homemade holiday gifts, the easier the better. Using common kitchen ingredients like flour, butter, and confectioners' sugar you can make so many delicious treats at once. Plus they come together quickly, so you can finish most of your holiday baking in one afternoon.
If a Cake Truffle combined with a Butter Cookie and had sweet cherry surprise in the middle, it would be Cherry Snowballs. The cookie has the texture and flavor of a shortbread completely melting with every bite, and then you get that chewy maraschino cherry pop.
Cherry Snowballs are so addicting you might need to make an extra batch if you are planning on giving them as gifts. And you should definitely give Cherry Snowballs as gifts! They look so pretty with the powdered sugar, like little bite sized snowballs, especially nestled in festive tissue paper. These cookies with a fun twist be a unique addition to any holiday cookie exchange.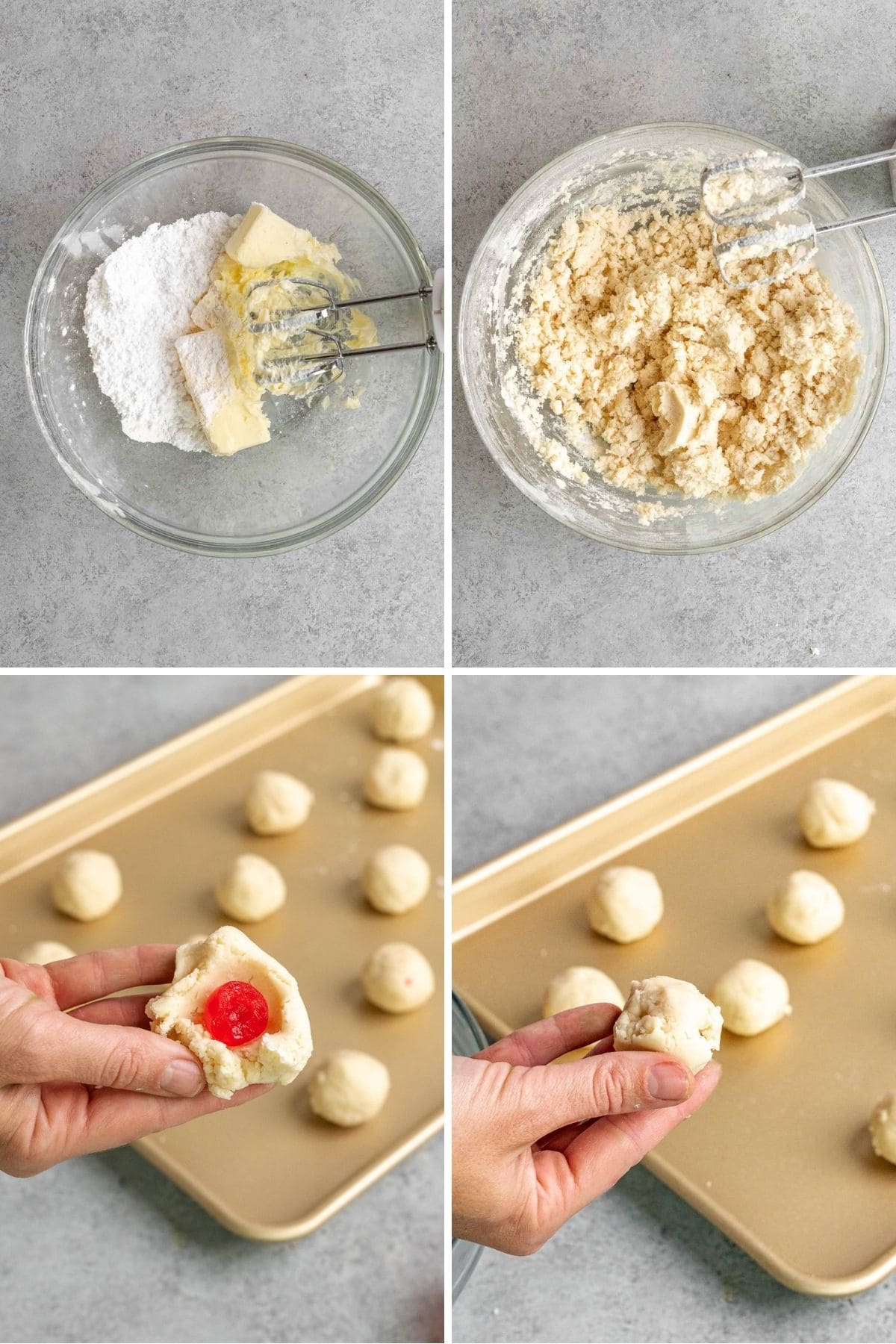 These Cherry Snowballs make perfect Santa cookies because they are so easy that your littlest holiday helpers can do most of the work! The dough is firm enough to easily mold it around the cherries. And kids will love rolling them around in the powdered sugar or other toppings. Add them to your holiday treat tray and watch them disappear!
There are so many variations that you can add to Cherry Snowballs, from almond extract to rolling them in shredded coconut to chocolate chips, the possibilities are endless. There are some ideas to get you started below. You can also add the cherries to the dough to get more of that syrupy sweetness in every bite.
Italian Cherry Cookies
Make your Cherry Snowballs like an Italian Wedding Cookie. Finely chop almonds or walnuts in a food processor and finely chop cherries. Add to cookie dough and bake as usual, rolling in powdered sugar to finish. The chopped maraschino cherries will make the cookie dough a beautiful pink and keep them moist.
What are Snowball Cookies?
Classic snowball cookies are a buttery shortbread style dough, typically with chopped or ground nuts, that is shaped into a ball and rolled in powdered sugar. They are sometimes called Italian Wedding Cookies or Mexican Wedding cookies. They have a pillowy soft texture, with a slight nutty crunch and a salty sweet combination of flavors.
How to Make Cherry Snowball Cookies
Preheat oven to 325 degrees.
In a large bowl, cream butter and powdered sugar until light and fluffy.
Gradually add flour and mix until well combined.
Shape a tablespoonful of dough around each cherry, forming a ball.
Place 1 inch apart on ungreased baking sheets.
Bake for 18-20 minutes, or until the bottoms are browned.
Roll warm cookies in powdered sugar. Cool on wire racks.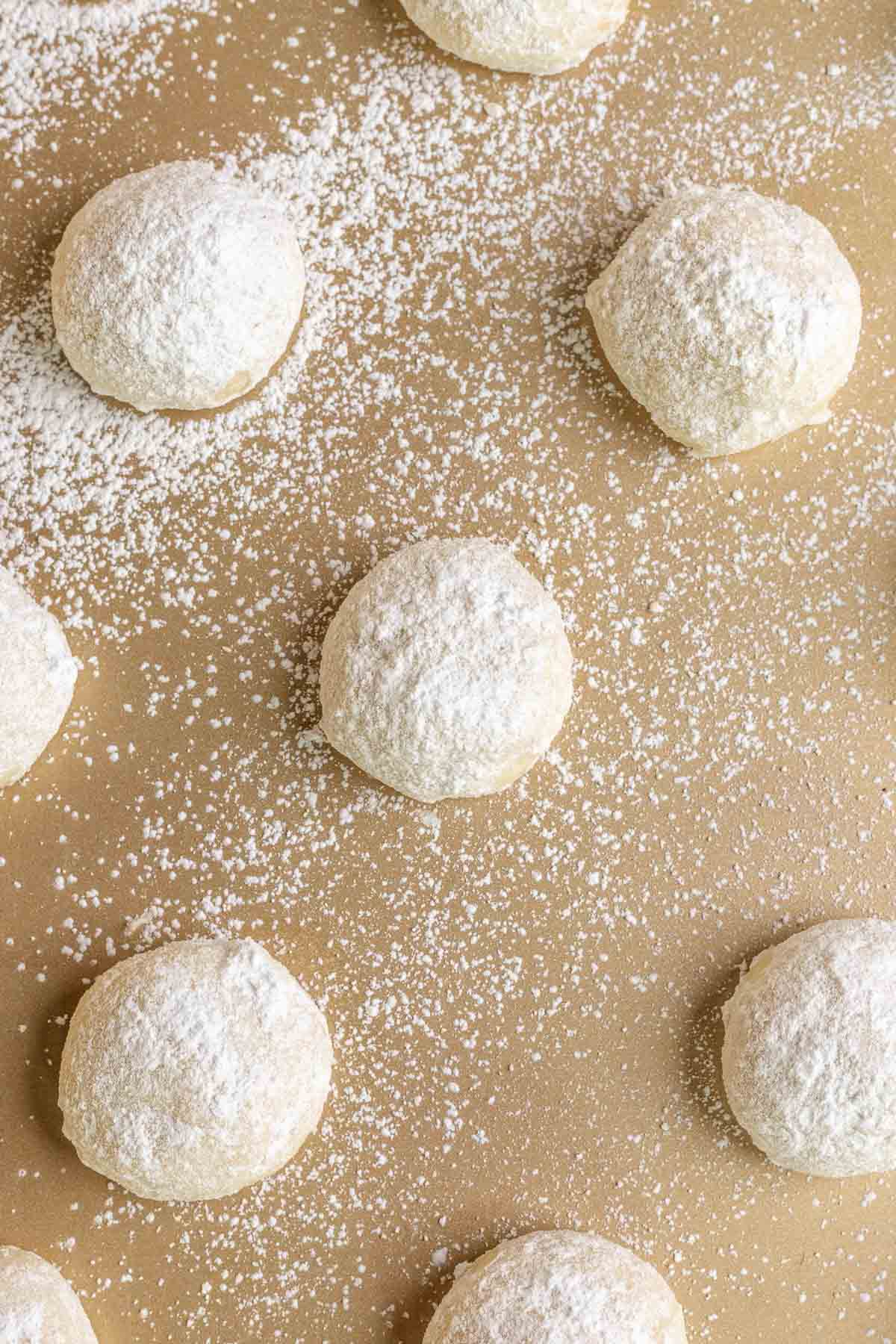 More Holiday Cookie Classics
Frequently Asked Questions
Can I make these cookies ahead of time?
Cherry Snowball cookies will last in the refrigerator up to 1 week. You can prepare the dough up to 2 days ahead and bake them fresh when you are ready to serve. If you'd like to make them much more in advance, I recommend freezing the dough and thawing when you are ready to bake. 
Can I freeze Cherry Snowball Cookies?
You can freeze these snowball cookies in a resealable freezer plastic bag for up to 2 months. Wait until they are thawed to roll the cookies in sugar so that they don't get sticky when they thaw.
Can I add nuts to Snowball Cookies?
Finely chopped or ground almonds, pistachios, walnuts or pecans would all make a delicious addition to the buttery cookie dough. Add ½ cup of your favorite nuts to the dry ingredients before adding the flour mixture to the dough.
How do I make gluten free snowball cookies?
Substitute the flour for your favorite gluten free all purpose alternative. You can also use almond flour instead of flour for a nutty flavor that goes wonderfully with the sweet cherry center.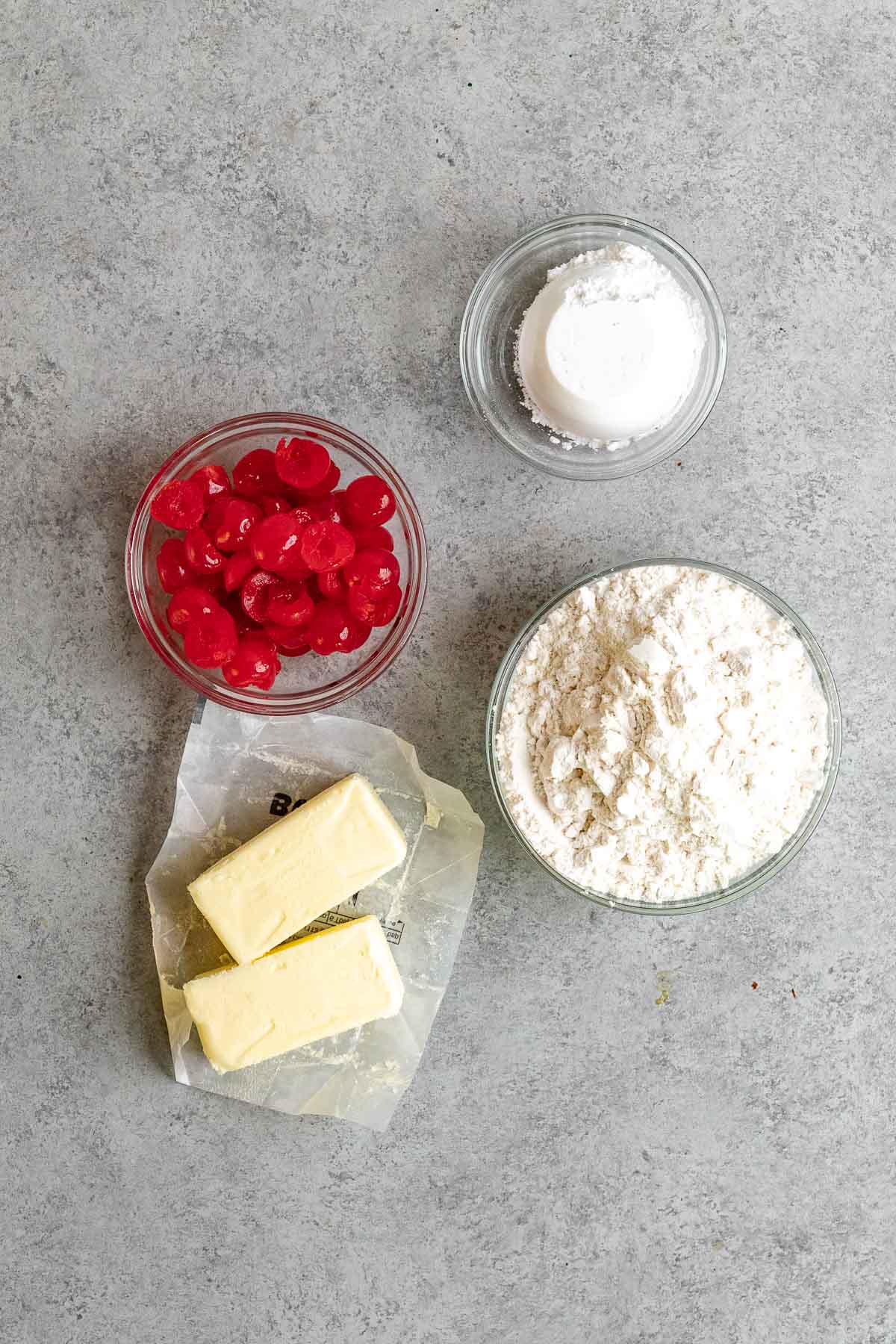 Create a free account to

Save Recipes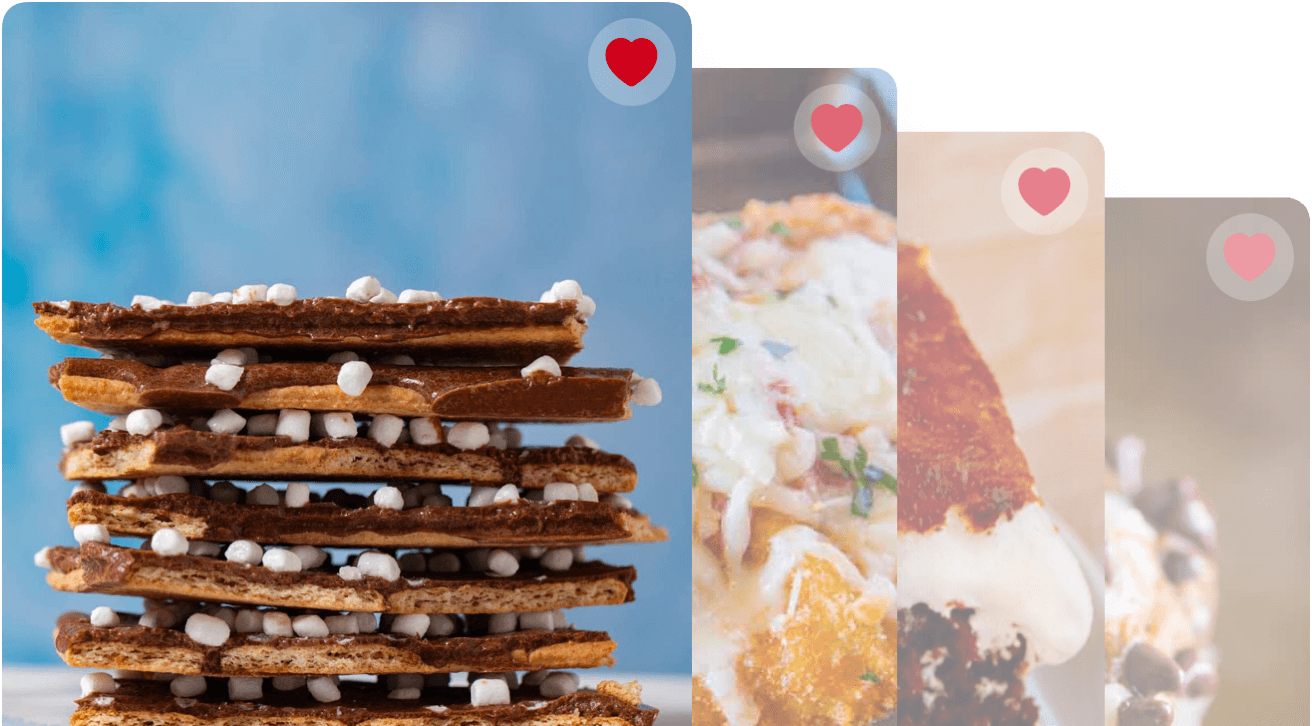 Key Ingredients in Cherry Snowballs
Butter: Let your unsalted butter soften to room temperature before baking. This allows the dough to be mixed together smoothly without any lumps and keeps your cookies tender and soft.
Powdered Sugar: Using powdered sugar instead of granulated sugar in the cookie dough helps to keep the cookies soft, and gives them some extra sweetness. Powdered sugar also coats the cookies for an extra festive touch. Make sure to sift the powdered sugar so there are no lumps.
Flour: All purpose flour also should be sifted when baking. First, properly measure by fluffing the flour a few times in the bag or container. Then spoon the flour evenly into your measuring cup, using a flat knife or spatula to level the top.
Cherries: Maraschino cherries will give these cookies a festive, fruity bright red center. You can also use candied cherries as a way to incorporate holiday goodies into these festive cookies.
Tips to Keep Cookies Fresh
Completely cool homemade cookies on a wire rack before storing them. Storing warm or hot cookies causes condensation which makes soggy cookies.
Keep different types of cookies separate. Storing soft cookies affects the crispness of harder cookies and the flavors will mesh together.
Use parchment paper to separate layers of cookies if you are baking in large batches to keep the cookies from sticking together.
Place a piece of white bread or tortilla in the container with cookies to absorb moisture.
Label your bags or containers with the baked date and an "eat by date" to take the guesswork out of how fresh they are.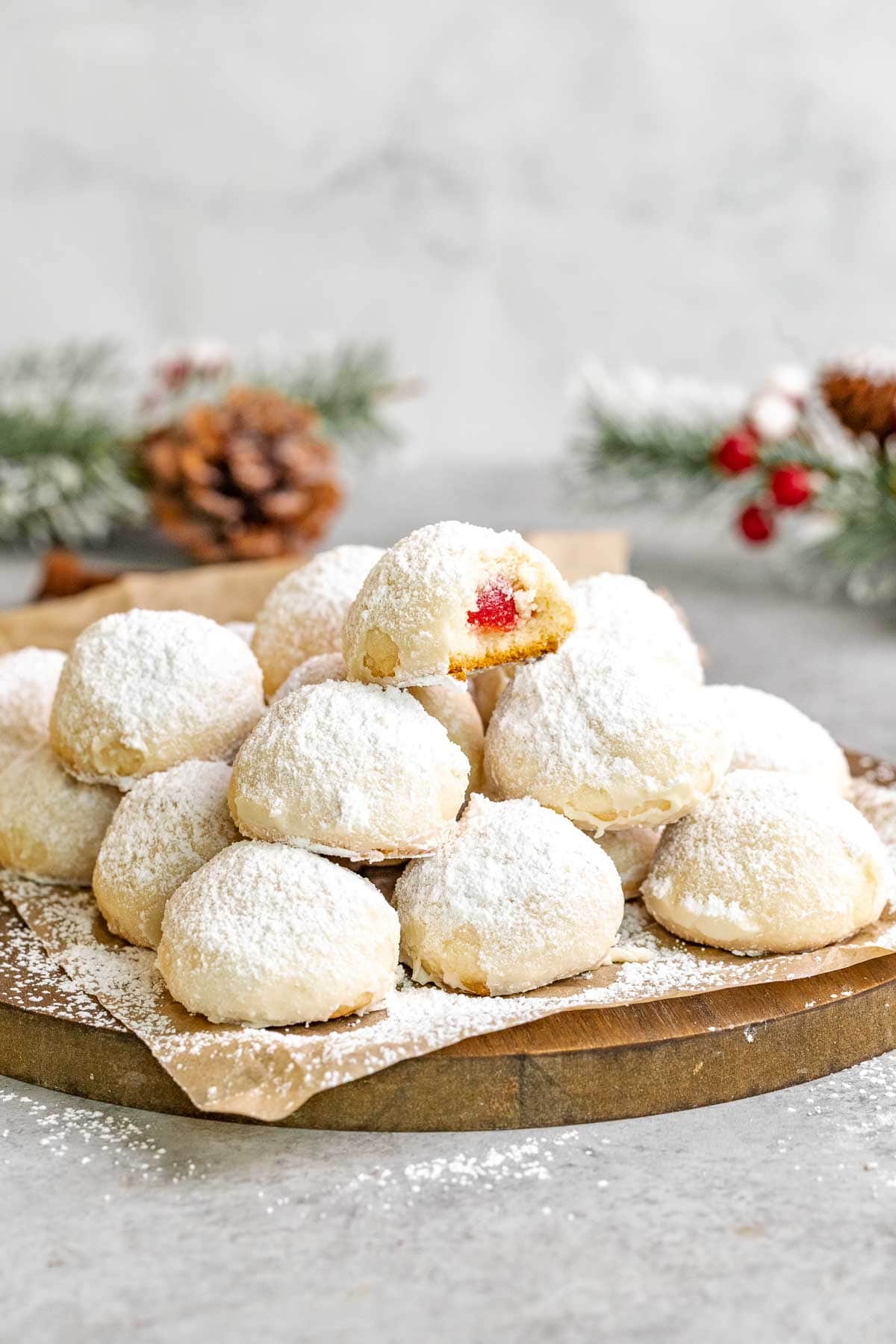 Variations on Cherry Snowball Cookies
Cherry Coconut Snowball Cookies: Roll Cherry Snowballs first in a Buttercream Frosting and then into finely shredded sweet coconut.
Lemon: Easily make these into Lemon Cherry Snowballs by adding 2 tablespoons lemon juice and 1 tablespoon lemon zest to the dough.
Chocolate Chips: Add chopped white chocolate chips or mini dark chocolate chips to the cookie dough. Melt chocolate chips to coat baked Snowballs for a cookie truffle.
Chocolate: Make Chocolate Cherry Snowballs by sifting 2 tablespoons unsweetened cocoa powder into the flour. Drizzle Chocolate Ganache over baked cookies. Turn them into Mexican Hot Chocolate Showballs by adding a pinch of cinnamon, too.
Almond Cherry Cookies: Cherry and almond extract taste amazing together (like a cherry cordial!) Use a bit of almond extract and finely chopped almonds to give this signature flavor.
Cherries: Instead of maraschino cherries, you can use red or green candied cherries or other candied fruit like pineapple. If you want a more adult cookie, use Luxardo cherries (liquor soaked cherries).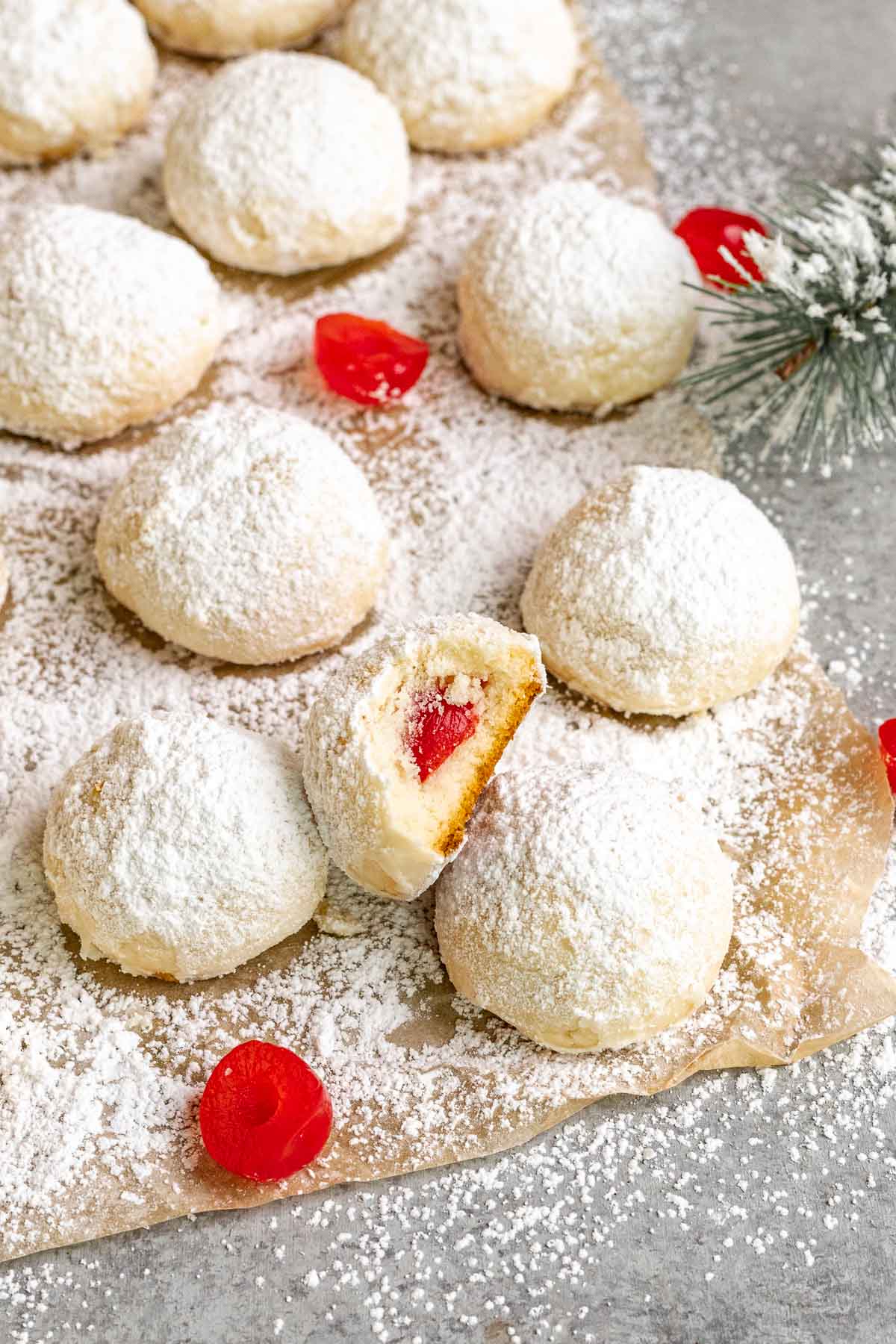 More Delicious Cookie Classics
How to Store Cherry Snowball Cookies
Serve: Place Cherry Snowballs in an airtight container and keep at room temperature for up to 1 week.
Store: Keep your cookies a little longer by storing in the refrigerator for up to 2 weeks in a sealed container.
Freeze: Freeze cookies before rolling them in powdered sugar for best results. Keep cookies for up 2 months in the freezer. Thaw at room temperature before serving.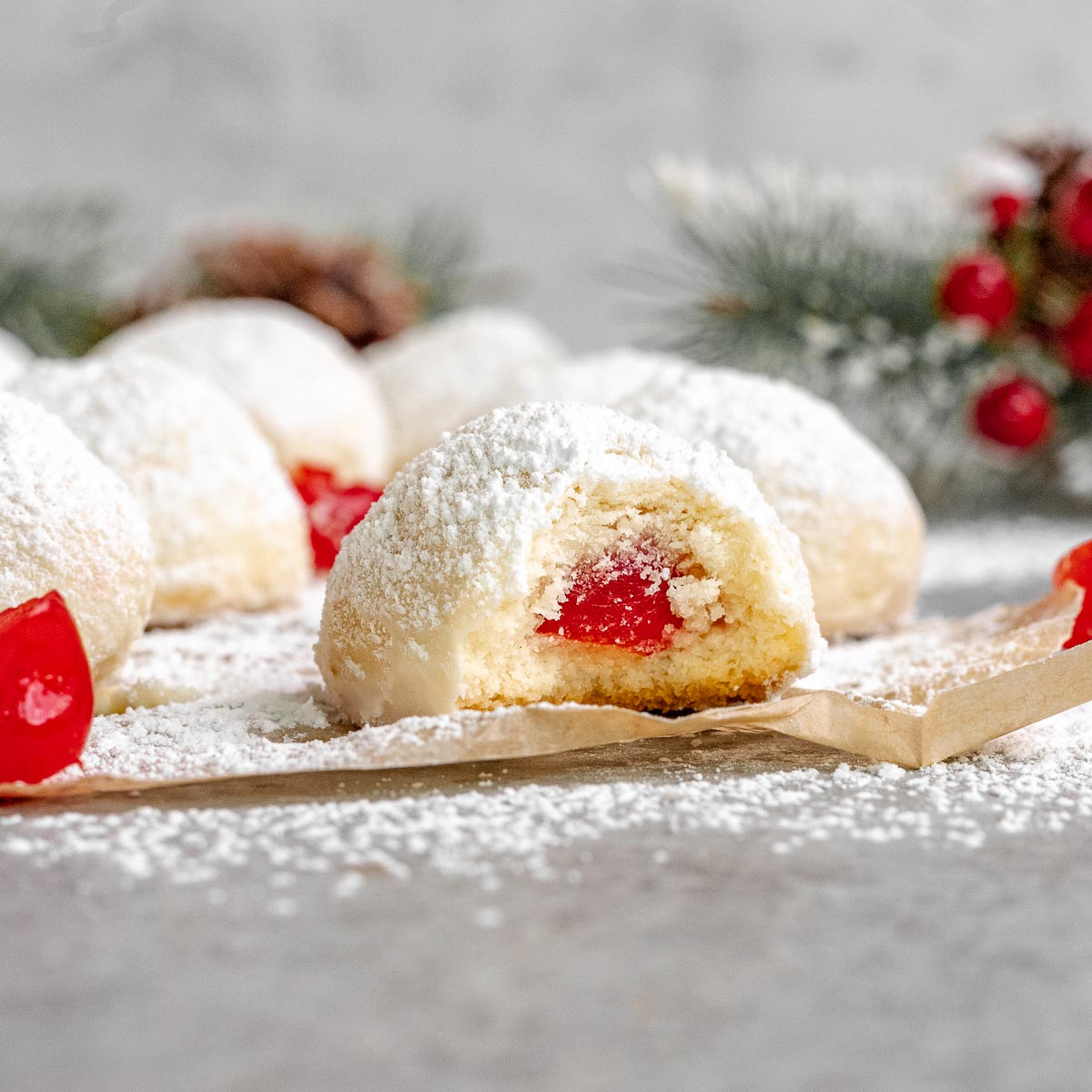 Ingredients
1

cup

butter

, softened

1/2

cup

confectioners' sugar

2

cups

flour

1

jar

maraschino cherries

, 6 ounces, drained and halved

Additional confectioners' sugar
Instructions
Preheat oven to 325 degrees.

In a large bowl, cream butter and confectioners' sugar until light and fluffy.

Gradually add flour and mix until well combined.

Shape a tablespoonful of dough around each cherry, forming a ball.

Place 1 inch apart on ungreased baking sheets.

Bake for

18-20 minutes

, or until the bottoms are browned.

Roll warm cookies in confectioners' sugar. Cool on wire racks.
Nutrition
Calories:
101
kcal
|
Carbohydrates:
11
g
|
Protein:
1
g
|
Fat:
6
g
|
Saturated Fat:
4
g
|
Cholesterol:
16
mg
|
Sodium:
54
mg
|
Potassium:
11
mg
|
Fiber:
1
g
|
Sugar:
4
g
|
Vitamin A:
191
IU
|
Calcium:
6
mg
|
Iron:
1
mg