Cinnamon Ice Cream is wonderfully creamy with a vanilla custard base and rich cinnamon flavor throughout. Perfect to top off your favorite desserts!
Just like Homemade Vanilla Ice Cream, this dish is perfectly easy to make, and it has the added taste of yummy cinnamon spice. It's a great Dessert Recipe to make for the holidays and top off your pies with.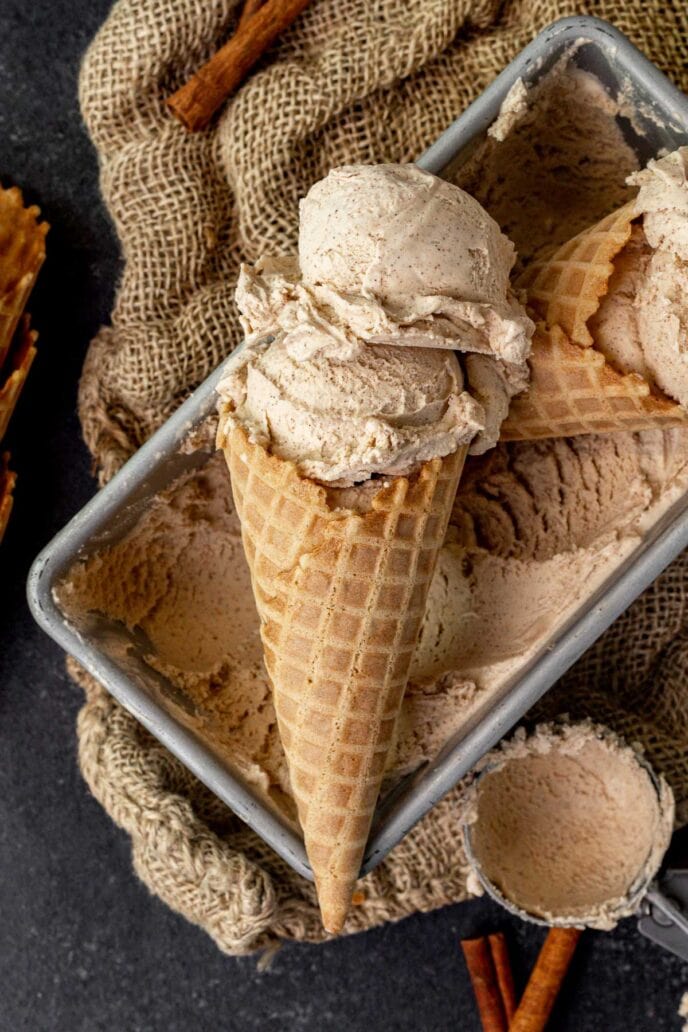 This Homemade Ice Cream is wonderfully easy to make with simple ingredients. There's no churning or complicated steps. Easy to follow directions bring together the milk, cream, sugar, eggs, salt, cinnamon, and vanilla into the ultimate rich, creamy ice cream dish.
People usually think of ice cream in the Summer, but this Cinnamon Ice Cream recipe is perfect to serve in the fall and for Thanksgiving. The warm cinnamon taste makes it the perfect complement to family-favorite holiday desserts like Pumpkin and Apple Pie. Just add a scoop of ice cream over a warm slice of pie for the most festive dessert ever!
Of course, you can enjoy the Cinnamon Ice Cream as a dessert on its own any time of year. Serve it up in a glass bowl with Whipped Cream and cinnamon sticks to garnish for the perfect simple after-dinner dessert. Whether as a topping or as a dessert in its own right, this recipe is absolutely wonderful!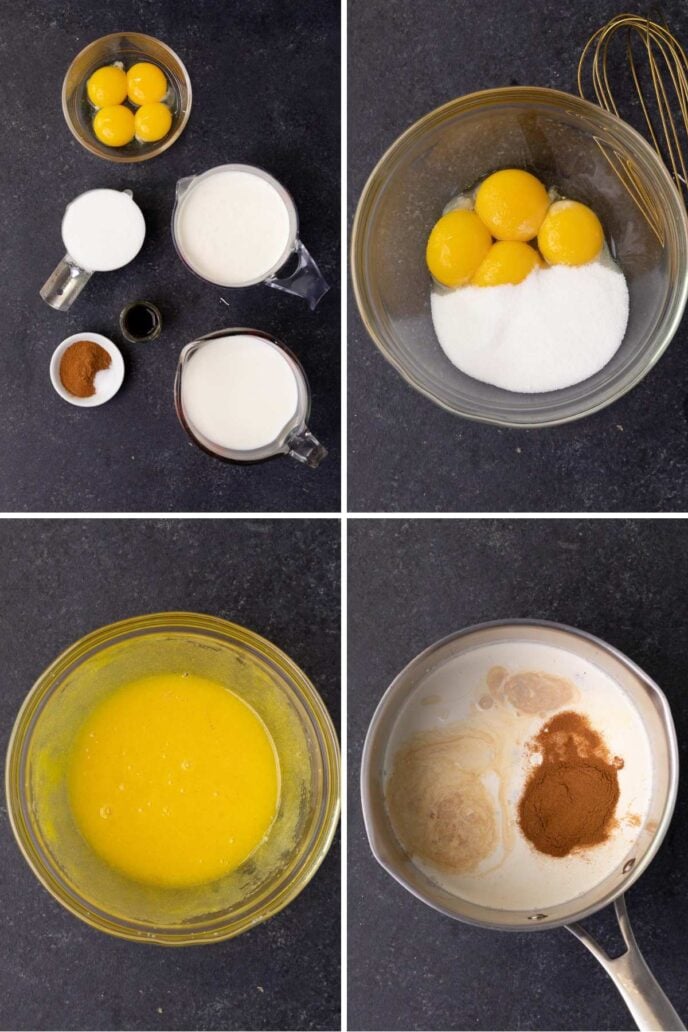 More Ice Cream Recipes
How to Make Cinnamon Ice Cream
Egg Mixture: Crack four eggs and separate the yolks from the egg whites. You'll be using the yolks for the ice cream recipe. Whisk the egg yolks and ¼ cup white sugar in a mixing bowl. Continue whisking until they're combined and the eggs are frothy.
Custard: Add the remaining sugar, heavy cream, milk, vanilla, cinnamon, and salt to a saucepan over medium heat. Continue whisking the mixture as it comes to a simmer. Then reduce the heat to low. Add ½ cup of the mixture to the eggs in a slow stream. Whisk continuously. Once the vanilla bean mixture is combined with the eggs transfer it slowly back into the pot. Whisk constantly, and continue cooking for 8-10 minutes. You want to keep the mixture cooking on low until it's thickened, but don't let it boil.
Chill: Turn off the stove and pour the custard mixture into a heatproof bowl. Cover the bowl and cool the custard for 2 hours in the fridge.
Ice Cream Machine: After it's chilled, add the custard to your ice cream machine. Follow the instructions on your ice cream maker for this part. Freeze the Cinnamon Ice Cream for at least 3 hours before serving.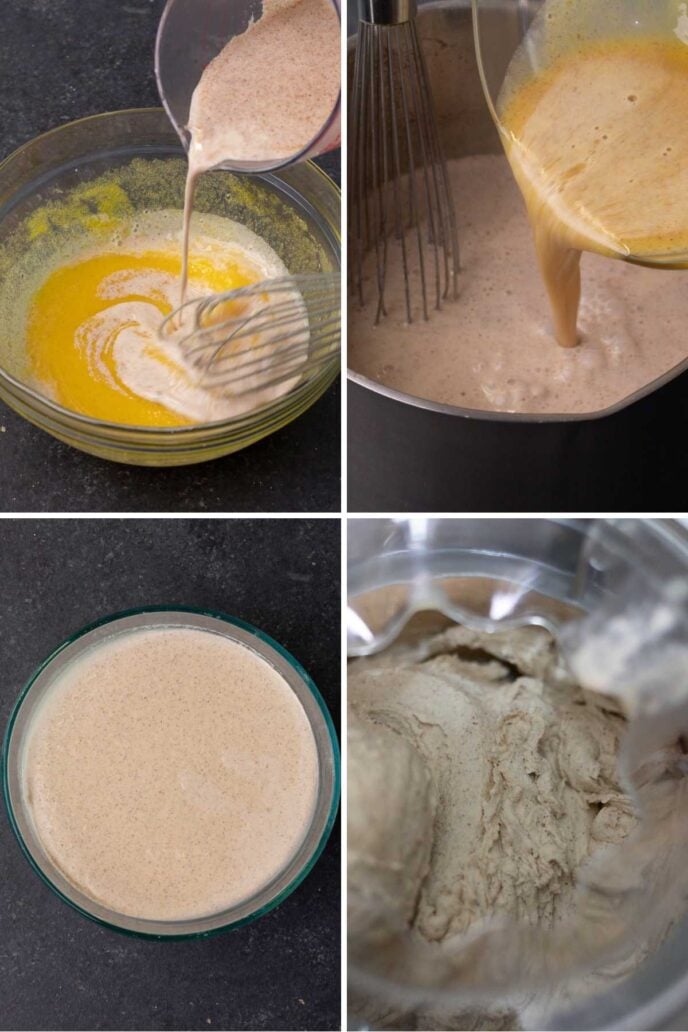 Frequently Asked Questions About Cinnamon Ice Cream
What is a custard?
You'll see that the instructions for this homemade Cinnamon Ice Cream recipe calls for making a custard. A custard is simply a creamy mixture that uses egg yolks as the thickener. It makes a fantastic, rich, creamy base for the Ice Cream.
Why does the custard have to be whisked constantly?
It is important to continue whisking the custard because that will help distribute the heat evenly throughout a nice, smooth mixture. That even heat distribution will ensure that you don't have any lumpy egg piece form in your custard.
Why should the custard be chilled before pouring into the ice cream maker?
A chilled custard will help your ice cream freeze faster, and will result in a better texture for your ice cream.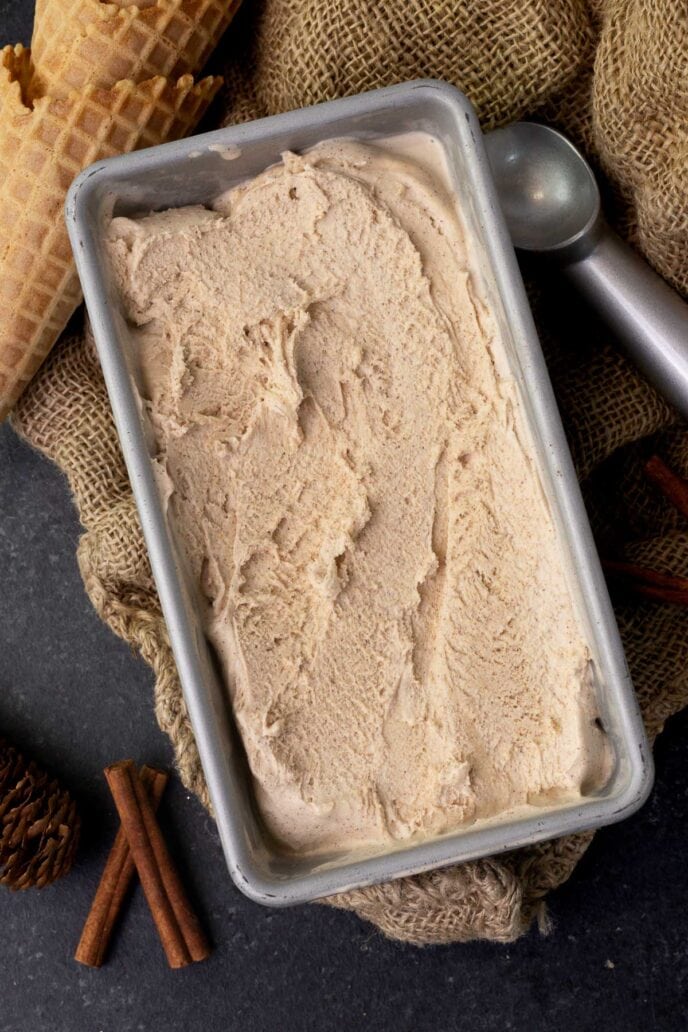 Create a free account to

Save Recipes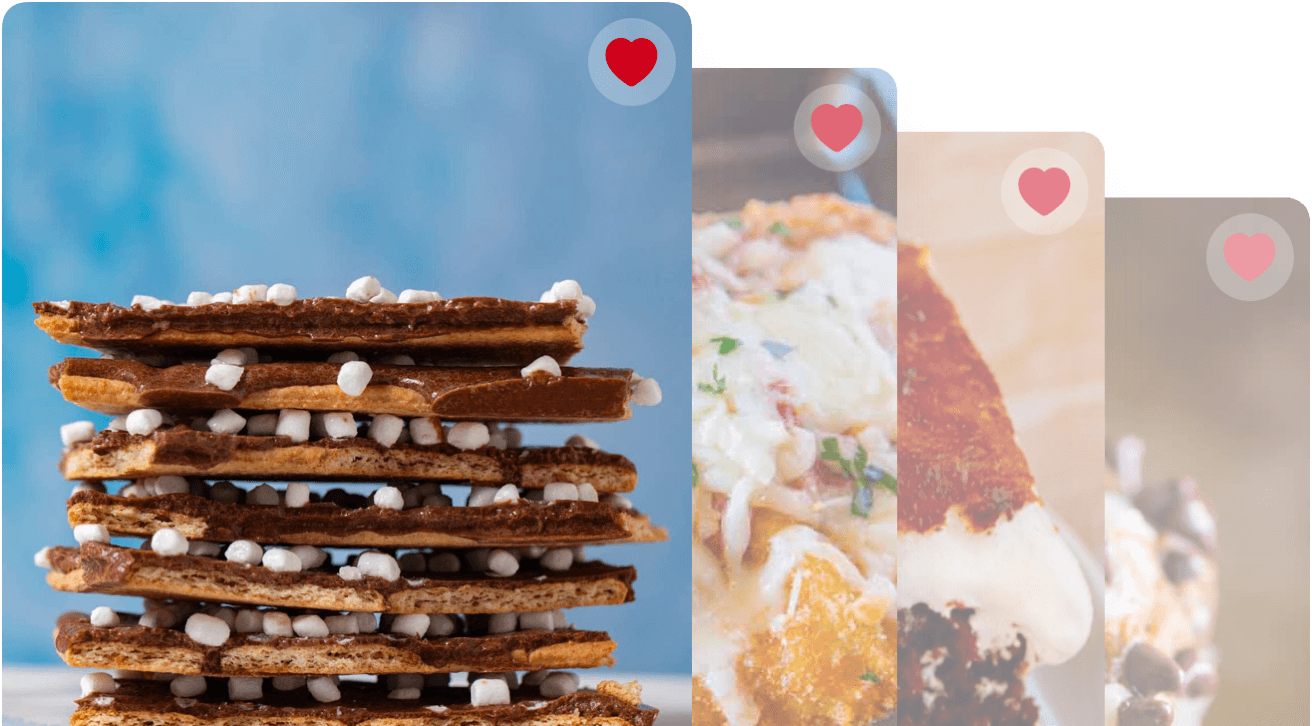 Variations on Cinnamon Ice Cream
Spices: For some extra flavor try adding additional spices along with the cinnamon, like nutmeg, ginger, or allspice.
Mix-ins: There are lots of ingredients you can add for more texture and flavor in your ice cream. Try mixing in pecans, almonds, walnuts, or cashews. You could also add toffee bits, raisins, coconut, or chocolate chips.
Toppings: Add any of your favorite ice cream toppings over your bowl of Cinnamon Ice Cream. Sprinkles, Cool Whip, Caramel Sauce, or Chocolate Ganache would all make tasty additions.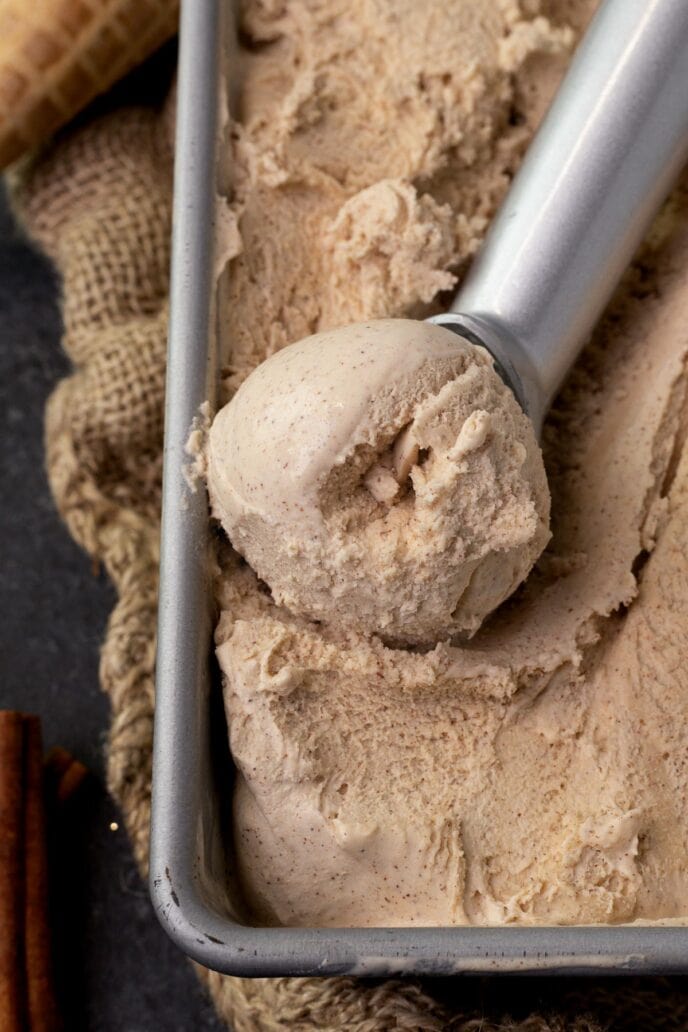 Serving Ideas for Cinnamon Ice Cream
Ice Cream Cake: This Cinnamon Ice Cream makes a delicious topping. However, you can also integrate it into other desserts like this easy Ice Cream Cake, or Baked Alaska.
Cinnamon Shakes: Scoop some Cinnamon Ice Cream into a blender. Add some milk, and a teaspoon of vanilla extract, then blend for a delicious cinnamon shake.
Ice Cream Bonbons: Bite-size Ice Cream is so much fun. Use this Cinnamon Ice Cream recipe for a delicious twist on Bonbons. It's awesome for movie night, game night, parties for kids or adults. Everyone loves to pop these frozen beauties, and good luck stopping at just one.
Fried Ice Cream: Fried Ice Cream is a perfect recipe for Cinnamon Ice Cream. Just replace the vanilla ice cream in the recipe with the Cinnamon and it will pair so well with the crispy topping. Anyone who enjoys this treat will really love the surprise cinnamon taste from the very first bite.
More Cinnamon Desserts
How to Store Cinnamon Ice Cream
Serve: Make sure to give the Cinnamon Ice Cream at least 3 hours to set before you serve it up.
Store: Keep any leftover ice cream frozen in a freezer-safe container. It will stay good for 2-3 weeks.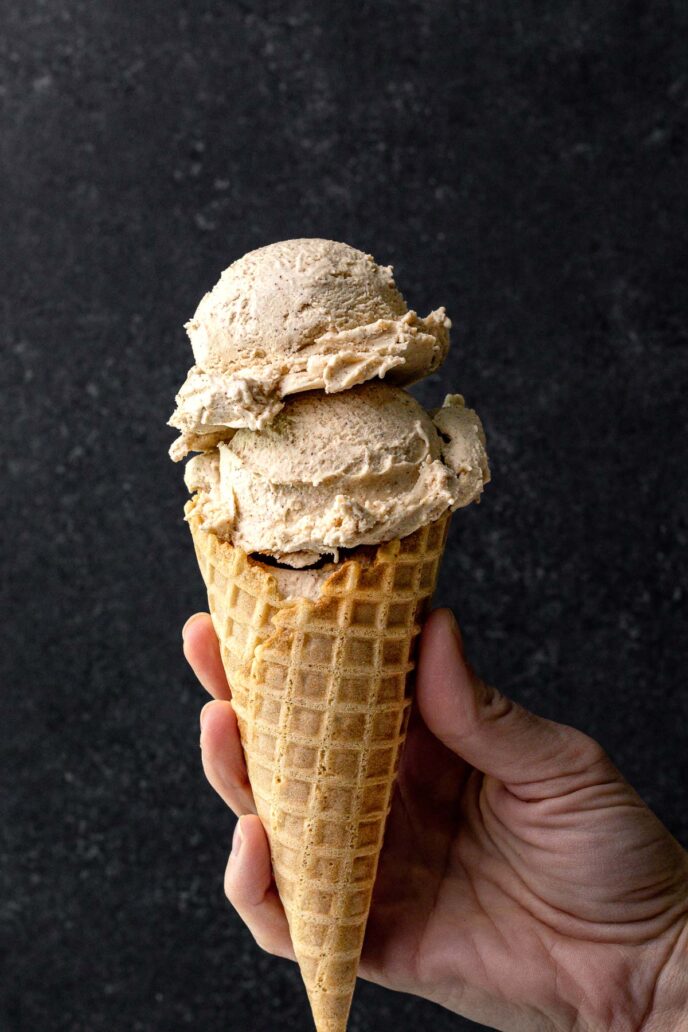 Ingredients
4

large

egg yolks

, lightly beaten

3/4

cup

sugar

2

cups

heavy cream

2

cups

whole milk

2

teaspoons

vanilla extract

2

teaspoons

ground cinnamon

1/4

teaspoon

salt
Instructions
In a medium bowl whisk eggs well with ¼ cup sugar.

In a medium saucepan add the rest of the sugar, heavy cream, whole milk, vanilla extract, cinnamon, and salt on medium heat.

Whisk non-stop and bring to a simmer, then reduce heat to low.

Add ½ cup vanilla bean mixture in a very slow thin stream to the egg yolks while whisking quickly (do not stop whisking).

Pour the egg/custard mixture back into the pot slowly while whisking constantly.

Cook until mixture is thickened, about

8-10 minutes

(do not let boil, or milk will taste scalded).

Turn off heat and pour into a metal bowl or other heatproof bowl.

Let cool completely, then refrigerate (covered) for

2 hours

.

Add custard to your ice cream maker (per machine instructions) then freeze for at least

3 hours

to harden before serving.
Nutrition
Calories:
277
kcal
|
Carbohydrates:
19
g
|
Protein:
4
g
|
Fat:
21
g
|
Saturated Fat:
13
g
|
Cholesterol:
144
mg
|
Sodium:
101
mg
|
Potassium:
108
mg
|
Fiber:
1
g
|
Sugar:
18
g
|
Vitamin A:
877
IU
|
Vitamin C:
1
mg
|
Calcium:
99
mg
|
Iron:
1
mg