Apple Crumb Pie is the perfect combination of apple pie and apple crisp in one holiday dessert your whole family will LOVE with a buttery crisp crumble topping and cinnamon apple slices.
If you've already tried my recipes for Apple Slab Pie, Apple Crisp and Southern Fried Apples and they were a huge hit, you should keep up your winning streak with apple crumb pie.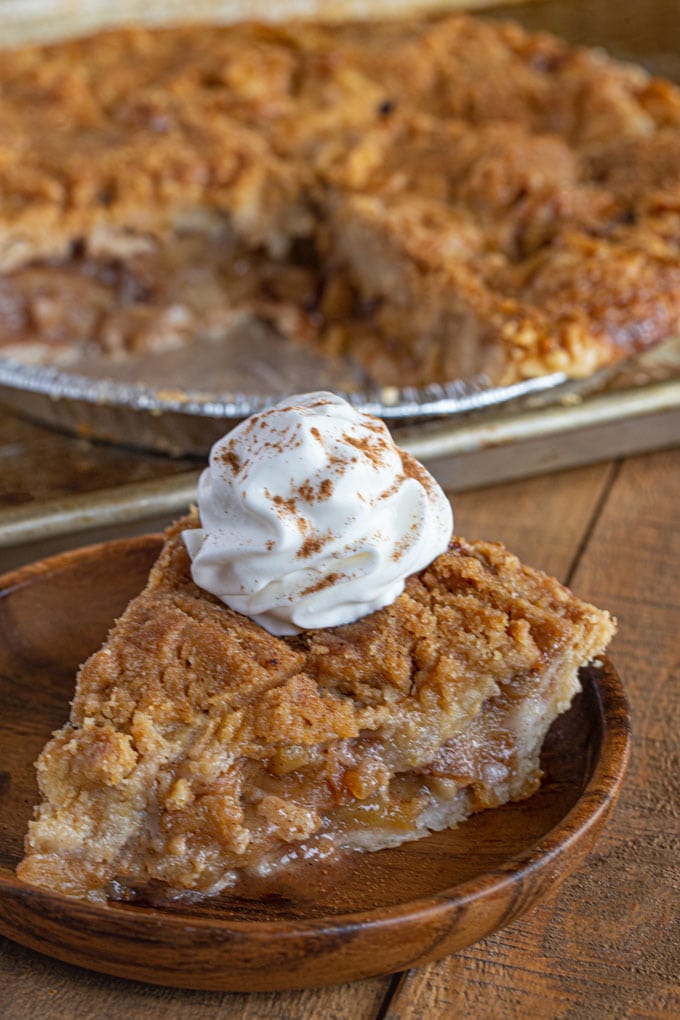 APPLE CRUMB PIE
Apple crumb pie is not only yummy, it has the easiest pie crust you'll ever make. The filling is rich and thick, and making a crumble pie crust easily infuses the dessert with texture and taste. This is a great dessert to follow up a holiday dinner or to make whenever you get a craving for something sweet.
This is the close relative to one of the most popular holiday desserts on my site, Apple Crisp Pie. The main difference here is the topping. In that recipe I use a classic crisp topping that has oats in it. In this one it is all buttery brown sugar goodness.
If you're making this for the holidays serve it up with some Apple Cider and the house will smell AMAZING.
If you like pies but you're fresh out of apples, try some of my other classic pie recipes like Blueberry Pie, Southern Pecan Pie or Mixed Berry Pie.
HOW TO MAKE APPLE CRUMB PIE
Preheat the oven to 375 degrees F (190 degrees C) and slice up the apples.
Put the apple slices in a large bowl and sprinkle them with lemon juice to keep them from oxidizing and turning brown.
In a medium bowl, stir the white sugar, all-purpose flour, cinnamon and nutmeg together. Once it's well mixed, pour the dry ingredients over the apples and toss everything together until the slices are completely and evenly coated.
If you want to go the walnut and raisin route, stir them in now.
Pour the apple mixture into the pie crust.
Mix 1 cup flour and 1 cup brown sugar together in a separate small bowl. Cut in unsalted butter until the mixture is crumbly. This is your crumb topping. Sprinkle it over the apple filling and cover the top of the pie loosely with aluminum foil.
Put the pie in the oven and bake it for 25 minutes.
Remove the foil and put the pie back in until the top is golden brown and the filling is bubbly.
Take the pie out of the oven and let it sit on a wire rack or baking sheet until it is just over room temperature.
Serve it up and watch people fight over the last slice.
SERVE WITH
Homemade Vanilla Ice Cream: serve up apple crumb pie with a side of homemade ice cream and your guests may end up licking their plates clean.
Easy Whipped Cream: whipped cream is much easier to make than you may think and adding a spoonful to the top of your pie is a great way to dress it up.
ORIGINS
While things may be as American as apple pie, apple crumb pie is definitely English. It was invented during WWII, when rationing forced people to alter recipes in order to make do with what they had. Some of the recipe alterations caught on, like apple crumb pie, while others (squirrel tail soup, crow pie and carrot fudge, for example) did not for obvious reasons.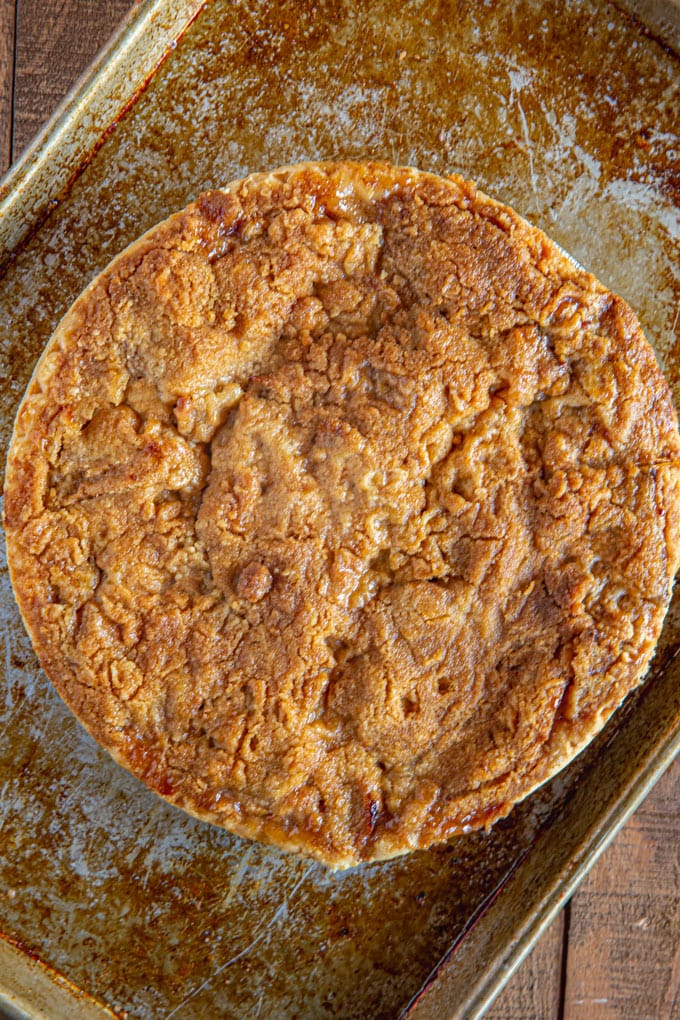 Create a free account to

Save Recipes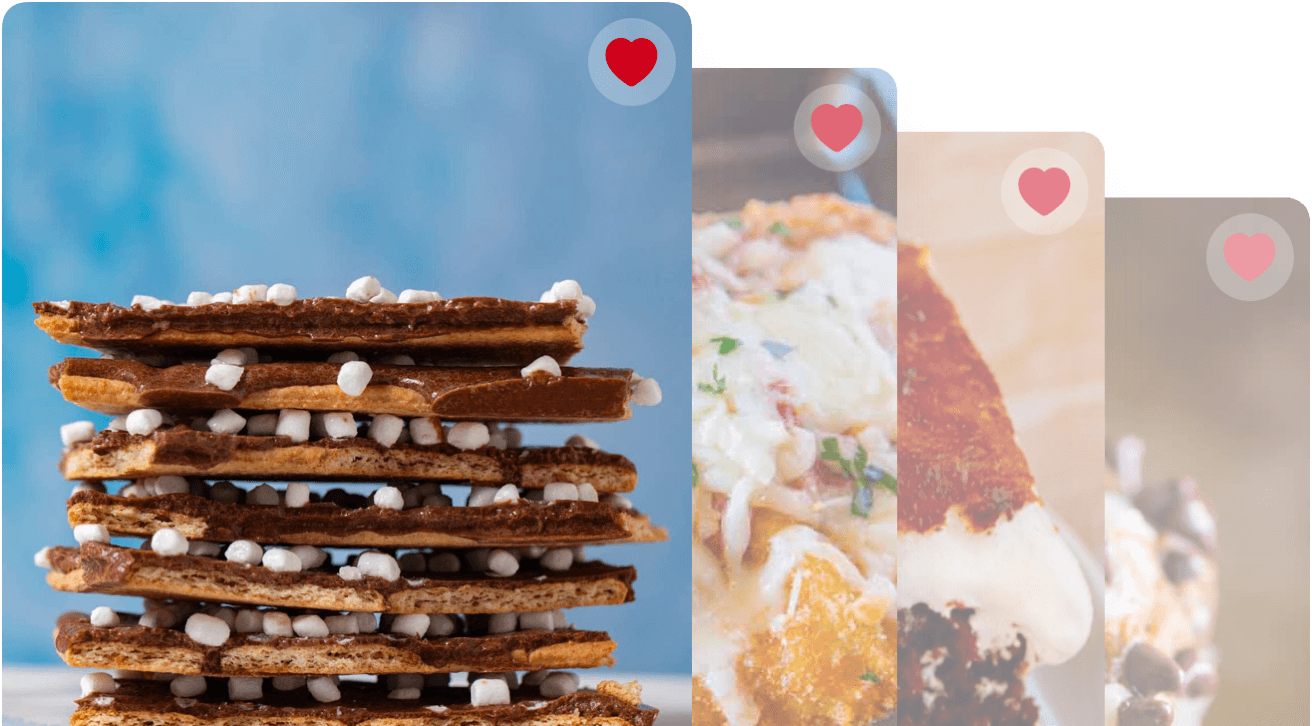 SIMILAR DISHES
Apple pie: you may notice that there's a few key differences between apple crumb pie and a traditional apple pie recipe, but the most obvious difference is the crust. Apple pie has a crust that fully covers it, or is in a lattice shape where a crumble pie is more mixed into the filling and is more crumb-like, hence the name. (Who knew?)
Apple Brown Betty: this apple crumb pie variant has an awesome name and is more like an apple pudding. The key difference between an Apple Brown Betty and an apple crumb pie is that an Apple Brown Betty is layered like lasagna, with apple slices and pie crust set on top of each other over and over to give it it's unusual texture.
Apple cobbler: this dessert goes by a lot of different names, like apple slump, apple grunt and, the best one, apple pandowdy. Apple cobbler is more free-form than a traditional pie, and the toppings are mixed together with the filling for a "cobbled" look, hence the name.
Eve's pudding: another dessert with an awesome name. Eve's pudding takes traditional apple pie filling and tops it with sponge cake. The name is probably a tongue-in-cheek play on the Adam and Eve story.
Apple crisp: this dessert is very similar to apple crumb pie. It's made up of chopped apple covered with streusel crust that is made crisp with brown sugar.
SAY CHEESE?
In the United States, parts of New England and the Midwest enjoy eating their apple pie and apple pie-like desserts with cheese. The cheese is either served on top or melted inside the filling. The most commonly used cheese is cheddar, but there's a ton of different varieties that are mixed in with the pie filling.
HOW LONG IS IT GOOD?
Serve: apple crumb pie is okay to leave at room temperature for up to 2 days. If it's sliced, cover it with plastic wrap to keep it from going stale.
Store: pie is good in the fridge for up to 3 days.
Freeze: if you let the pie cool completely and store it in an airtight container, it can last up to 4 months in the fridge. After that point, it won't thaw out very well and you'd do better to just make another one.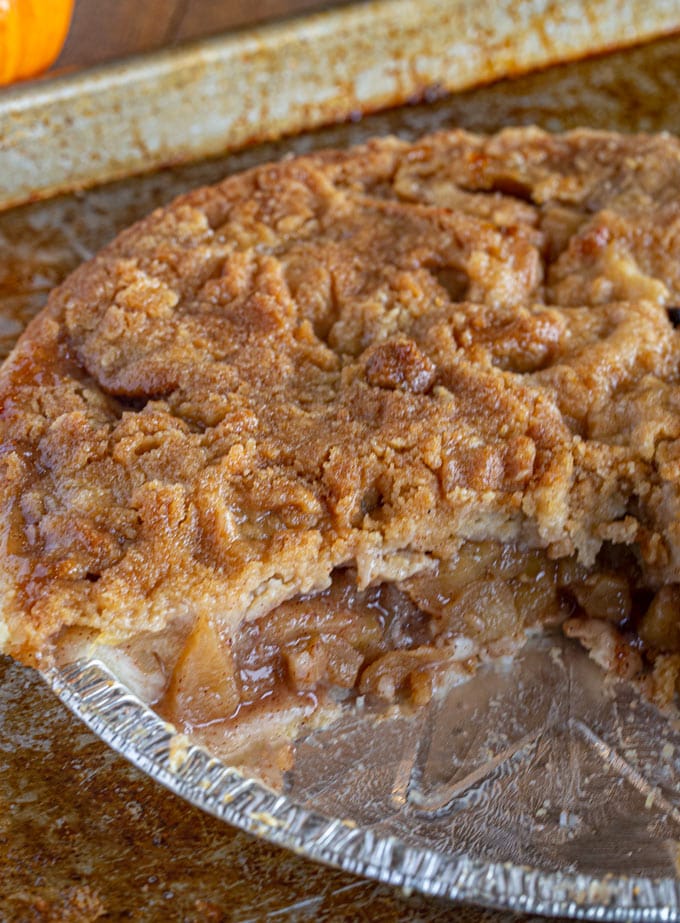 Ingredients
Pie Crust:
1 1/4

cups

flour

1/4

teaspoon

salt

1/2

cup

unsalted butter

, frozen and diced

1/4

cup

ice water
Apple Filling:
6

cups

thinly sliced apples

1

lemon

juiced

3/4

cup 

sugar

1/3

cup 

flour

1

teaspoon

ground cinnamon

1/4

teaspoon

ground nutmeg
Crumb Topping:
1

cup 

flour

1

cup

packed brown sugar

1/3

cup

unsalted butter

, frozen and diced

1/2

teaspoon

cinnamon

1/4

teaspoon

nutmeg
Instructions
Pie Crust:
Add the flour, salt, and butter to a food processor and pulse, adding the water in a thin stream through the chute one tablespoon at a time until the dough begins tiny crumbles (don't let it become a ball).

Empty it into a sheet of plastic wrap and press it quickly into a ball (you don't want the heat of your hands to melt the butter) and refrigerate for 4 hours before rolling it out to use.

Roll out the pie crust 1/4" thick on a floured surface and add to a deep dish 9" pie plate then refrigerate.
Pie Filling:
Preheat oven to 375 degrees.

In a large bowl mix the apples, lemon juice, sugar, flour, cinnamon and nutmeg.

Add the apples to the pie crust.

In a medium bowl add the 1 cup flour and 1 cup brown sugar together and stir.
Crumb Topping:
Using a fork or a pastry cutter, cut in butter until mixture is crumbly then pour it over the apples.

Bake in preheated oven for 25 minutes covered very loosely with foil.

Remove foil and bake an additional

25 to 30 minutes

, until the top is crisp and golgen brown.
Nutrition
Calories:
366
kcal
|
Carbohydrates:
69
g
|
Protein:
4
g
|
Fat:
9
g
|
Saturated Fat:
4
g
|
Cholesterol:
14
mg
|
Sodium:
109
mg
|
Potassium:
133
mg
|
Fiber:
3
g
|
Sugar:
39
g
|
Vitamin A:
191
IU
|
Vitamin C:
4
mg
|
Calcium:
29
mg
|
Iron:
2
mg