Shaker Lemon Pie is the best spring pie with a lemony custard perfect for Easter! Easy pie recipe using whole lemons, sugar, and eggs in a flaky pie crust.
Fresh fruit pies like Blueberry Pie are the perfect dessert to serve as spring flowers start blooming. There are so many beautiful and delicious Pie Recipes that would make perfect Easter desserts.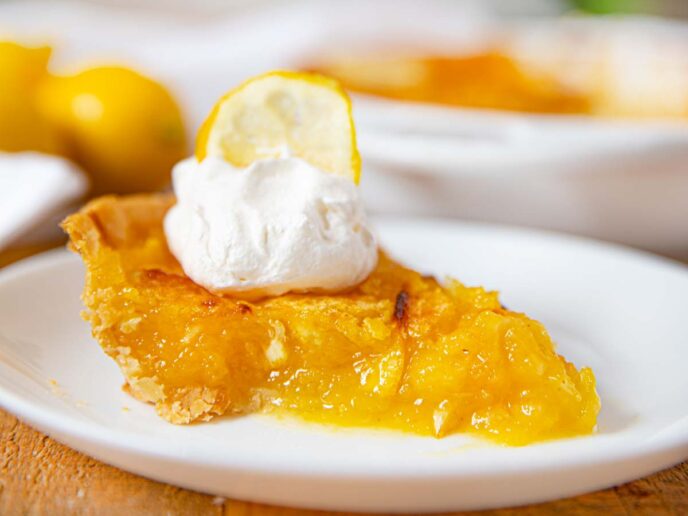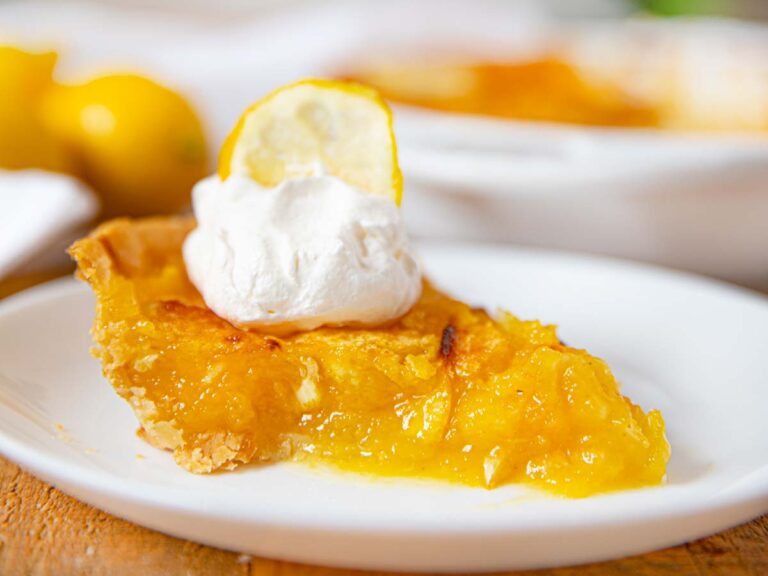 SHAKER LEMON PIE
Also known as an Ohio Lemon Pie, Shaker Lemon Pie is an old fashioned pie recipe from a time where being frugal was a way of life for most Midwestern families. Using whole lemons and few everyday pantry items like eggs and sugar, they were able to have a rich yet simple pie all spring long.
Shaker Lemon Pie is a bright citrus pie bursting with lemony goodness and has a texture that's like a cross between lemon curd and marmalade. This Shaker Lemon Pie recipe use just sugar, lemons, eggs, and a bit of flour. Other pie recipes add melted butter, but this recipe is closer to the original Ohio Shaker simplistic traditions.
This sweet and tart Shaker Lemon Pie is perfect for spring gatherings, picnics, and will look beautiful on an Easter table. It's light and refreshing, which after a heavy meal is just what you need! Serve warm Shaker Lemon Pie with homemade Whipped Cream or Vanilla Ice Cream for the best spring dessert!
Many Shaker Lemon Pie recipes use a double crust, but this version allows you to see the gorgeous thinly sliced lemon filling. After filling your pie crust, use small tongs to neatly arrange the top lemon slices in a more circular pattern for a prettier pie. Crimp pie crust edges and brush with egg whites to give them crunch and shine.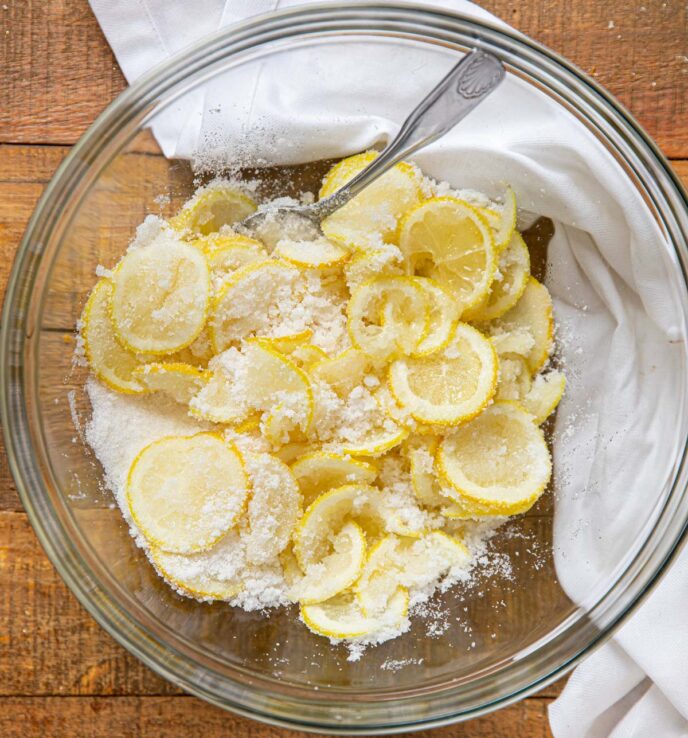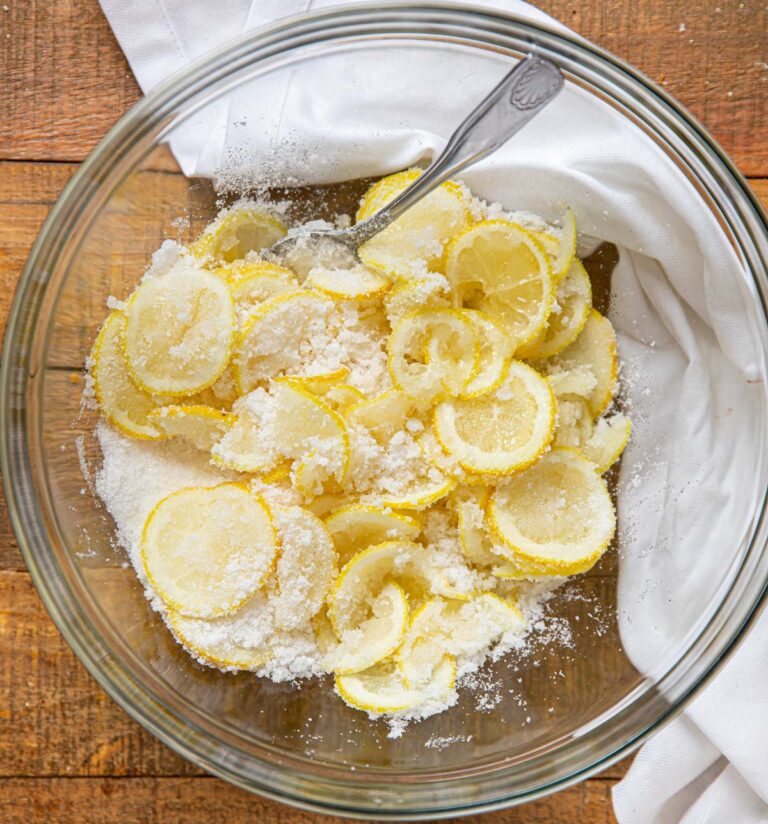 Old fashioned Shaker Lemon Pie takes a little bit of prep work but the beautiful, fresh lemony flavor that you get is so worth it. For the softest lemon rinds, let the sliced lemons sit in the sugar for at least 12 hours and up to a whole day. Stir the lemon sugar mixture occasionally and pick out any seeds.
MORE DELICIOUS, CLASSIC FRUIT PIES
HOW TO MAKE SHAKER LEMON PIE
Prepare the lemons: Use a mandoline slicer to get really thin lemon slices. If you freeze your lemons ahead of time, you can get your lemon slices super thin. Remember to give your lemon rinds time to fully soften in the sugar – be patient and don't rush your filling.
Pre-bake the crust: Blind bake your bottom crust before filling. Cover entire unfilled crust with foil and weigh down with dried beans and bake at 425 degrees for 10 minutes.
Baking the pie: To keep your pie crust from burning, either tent the pie with tin foil halfway through baking or create a foil ring to cover the pie crust edges.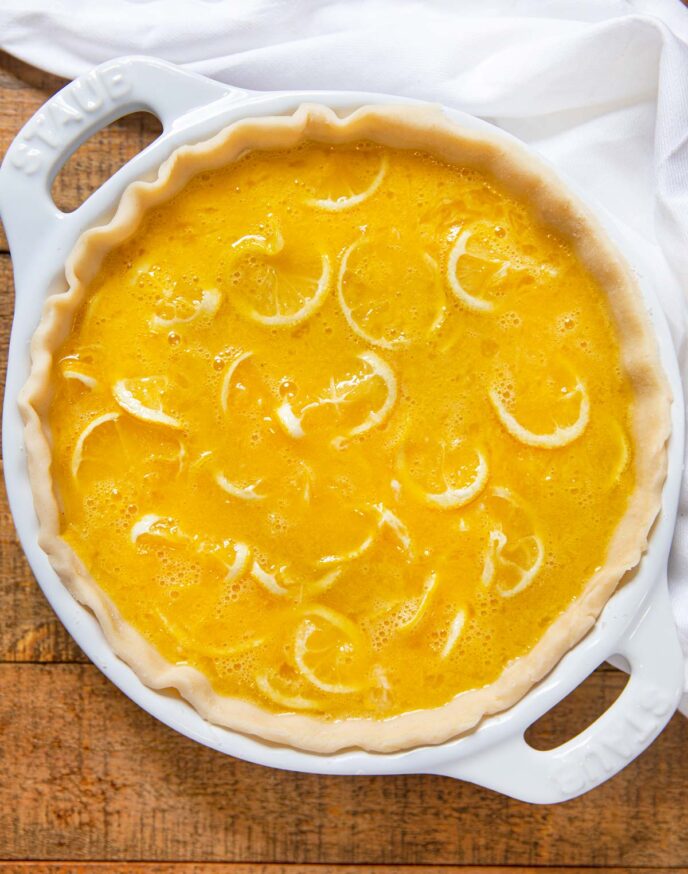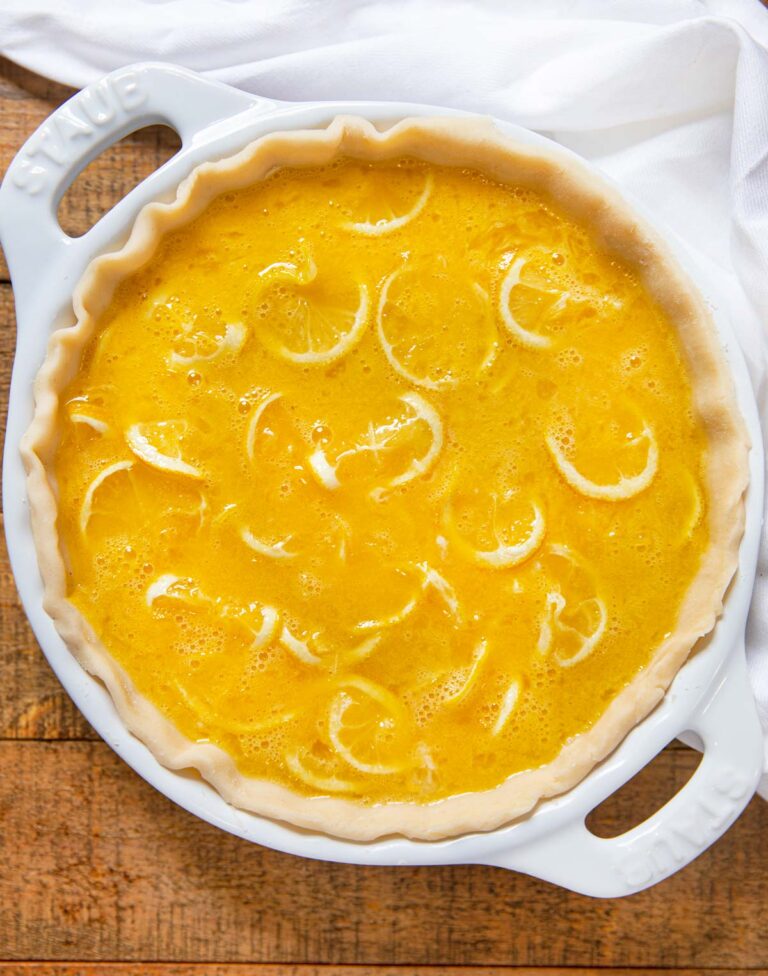 Create a free account to

Save Recipes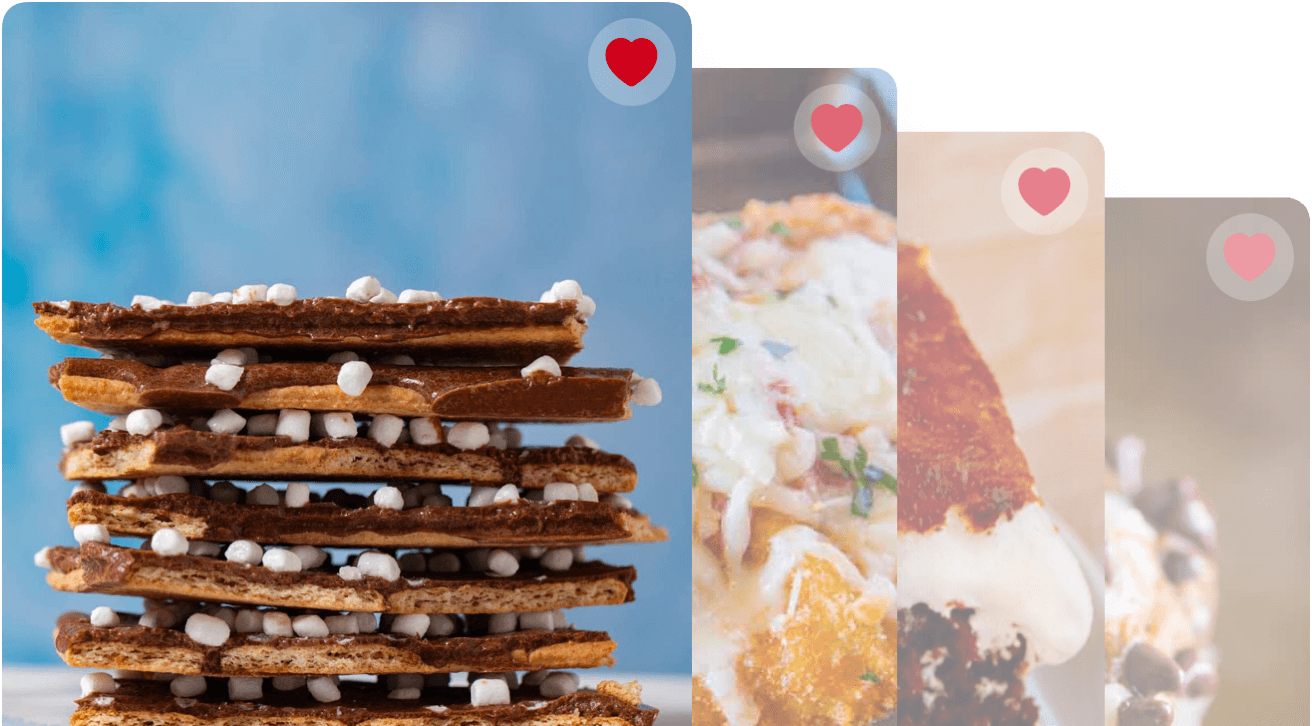 VARIATIONS ON SHAKER LEMON PIE
Meyer Lemons: Use the lemon-mandarin hybrid, Meyer Lemons when they are in season (they are much cheaper in season). These special lemons are a bit sweeter, so you may not need as much sugar depending on your sweet tooth.
Brown Sugar: Replace 1 cup sugar with 1 cup light brown sugar to give a sweeter, caramel flavor to the lemon mixture.
Blackberries: Blackberries and blueberries go so well with lemons. Top your pie with a blackberry simple syrup or fold in a handful of fresh berries to your lemony filling.
Ginger: Add some grated or thinly sliced fresh ginger to your lemon mixture while it sits overnight to give your Shaker Lemon Pie a spicy, gingery flavor.
Orange Pie: Make a Shaker Orange Pie by replacing the lemons with oranges with thin rinds. If the rinds are too thick, try zesting the oranges before thinly slicing.
Double Crust Pie: To make a double crust Shaker Lemon Pie, use an additional pie crust and cut steam vents into the top crust. Bake at 450 for the first 15 minutes, reduce to 375 degrees and bake for another 20-25 minutes.
DELICIOUS FRUIT DESSERTS:
HOW TO STORE SHAKER LEMON PIE
Serve: Shaker Lemon Pie is best served at room temperature and can be kept out for up to 2 hours.
Store: Cover your Shaker Lemon Pie tightly with plastic wrap or foil and refrigerate for up to 4 days. Bring to room temperature by setting on the counter for 15-20 minutes.
Freeze: Make sure pie is completely cooled before freezing. Tightly cover and seal in an airtight container and freeze for up to 3 months. Thaw in the refrigerator overnight.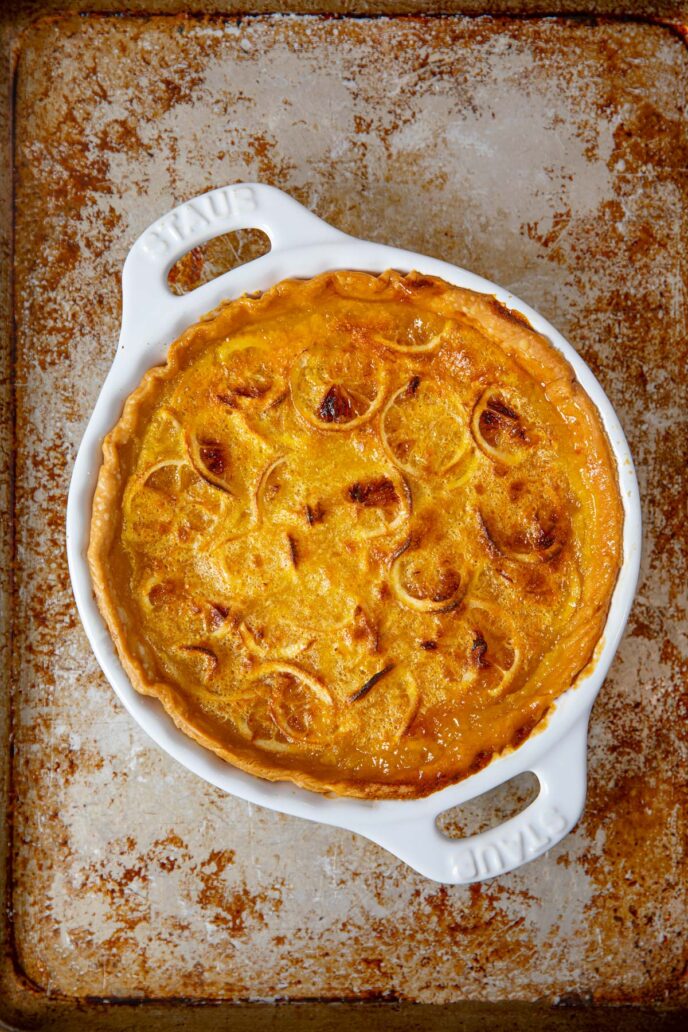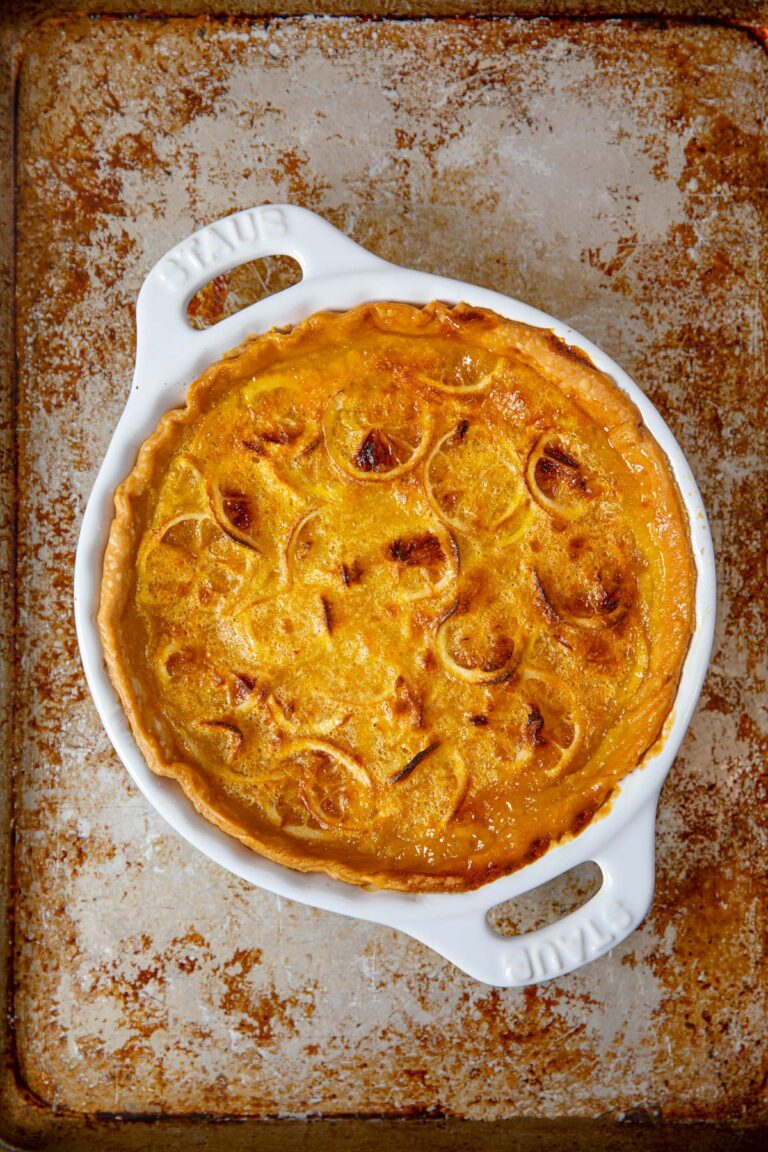 Ingredients
2

medium

lemons

2

cups

sugar

4

large

eggs

2

tablespoons

flour
Instructions
Trim the ends of your lemons until you can see the flesh. You don't want to use the ends in the pie.

Slice the lemons as thinly as you can, a mandoline slicer is best for this.

If you want an easier to slice pie, you can coarsely chop the thin lemon slices.

Mix the lemons with sugar and let sit overnight (

12 hours

is even better).

Pre-heat your oven to 375 degrees.

Prepare a pie plate with the pie crust.

Mix the lemon mixture with the eggs and flour.

Pour it evenly into the pie crust and bake for

45-50 minutes

(cover with foil if your pastry or the tops of the lemons are browning too much).
Nutrition
Calories:
231
kcal
|
Carbohydrates:
43
g
|
Protein:
4
g
|
Fat:
6
g
|
Saturated Fat:
2
g
|
Cholesterol:
70
mg
|
Sodium:
85
mg
|
Potassium:
65
mg
|
Fiber:
1
g
|
Sugar:
34
g
|
Vitamin A:
102
IU
|
Vitamin C:
10
mg
|
Calcium:
18
mg
|
Iron:
1
mg