Blackberry Pie is a classic pie recipe loaded with sweet fresh berries, balanced with cinnamon and lemon juice baked in golden brown lattice-top pie crust!
Classic fruit pies like my Ultimate Apple Pie and Blackberry Pie are like a warm, comforting hug. Whether you give them as a gift or enjoy them during a special meal, you are sure to find a pie that warms the heart in my collection of Pie Recipes.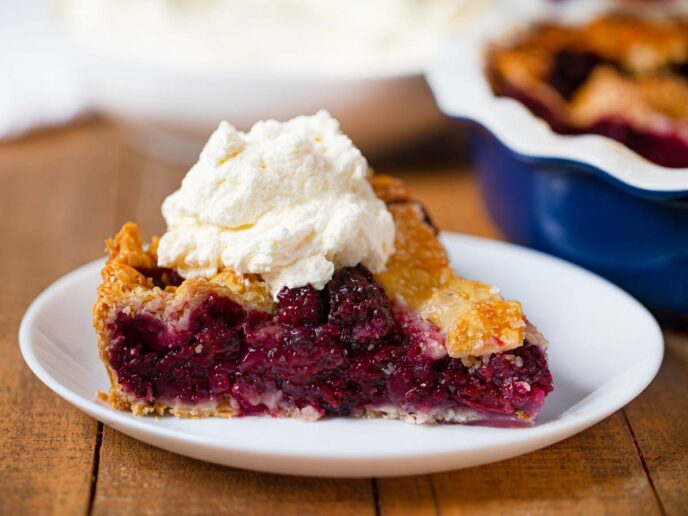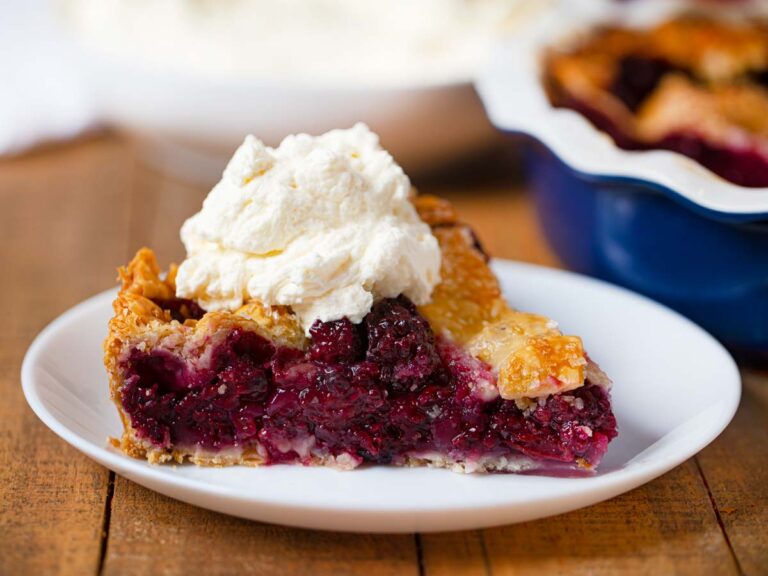 BLACKBERRY PIE WITH LATTICE TOP
Blackberry Pie another classic pie recipe, straight from the heart. This easy, delicious fresh berry pie has so much flavor without any preservatives, like it's straight from a farm or retro American diner. Warm golden brown pie crust with a thick blackberry filling, could there be anything better?
If you've never made a pie before, this is an easy introductory recipe. Make it easier on yourself by using a frozen double crust. Bring to room temperature so that you can easily roll out the top crust and form the bottom crust to the pie pan.
Don't skip the fresh berries however. There is so much flavor in fresh blackberries that you won't find in canned pie filling. Plus a lot less sugar! Even though you can use them, frozen blackberries have less structure and texture and will result in a much lower quality pie.
Blackberry Pie is perfect dessert for springtime holidays like Easter and Passover, or serve for a summer BBQ, when berries are at their peak. Enjoy it fresh from the oven with a scoop of Vanilla Ice Cream or cooled down with a dollop of Whipped Cream.
Double-crust pies are the common way to prepare a fruit pie, it allows the heat to trap inside and cook the berries faster. Plus it's an instant decoration. One of my favorite ways to prepare a top crust is to use a lattice top, which is not as hard as you think if you follow my steps below.
How to Make a Lattice Crust:
To make the lattice crust, use a rolling pin to flatten the top crust and then cut the pie dough into long strips.
Lay half on them horizontally across the pie filling, making sure that they're evenly spaced apart.
Take the other half of the top crust slices and weave them in and out vertically, so that they interlock with the first set of horizontal strips.
You should have small, square gaps in between the top crust strips so that you can see the pie filling through them.
MORE DELICIOUS, CLASSIC FRUIT PIES
HOW TO MAKE BLACKBERRY PIE
Prepare a Lattice Crust: See above for directions on how to make the lattice crust.
Blackberries: Use fresh berries if possible, this will make a better quality pie.
Putting the Pie Together: When adding the lattice crust, be sure to fold the edges under the bottom crust for better presentation and to seal the crust together.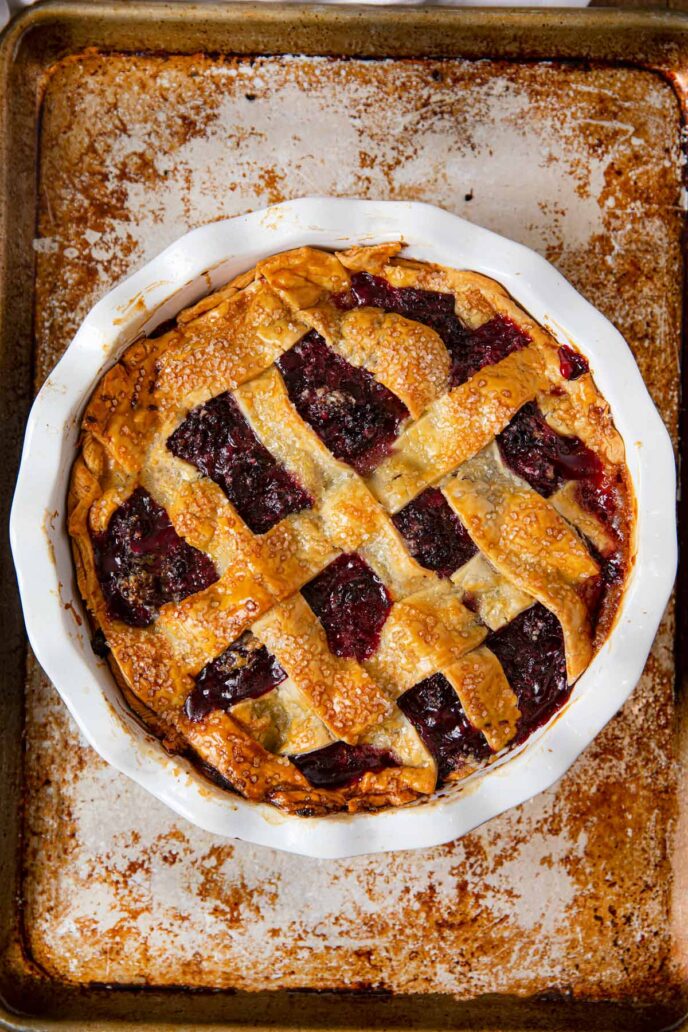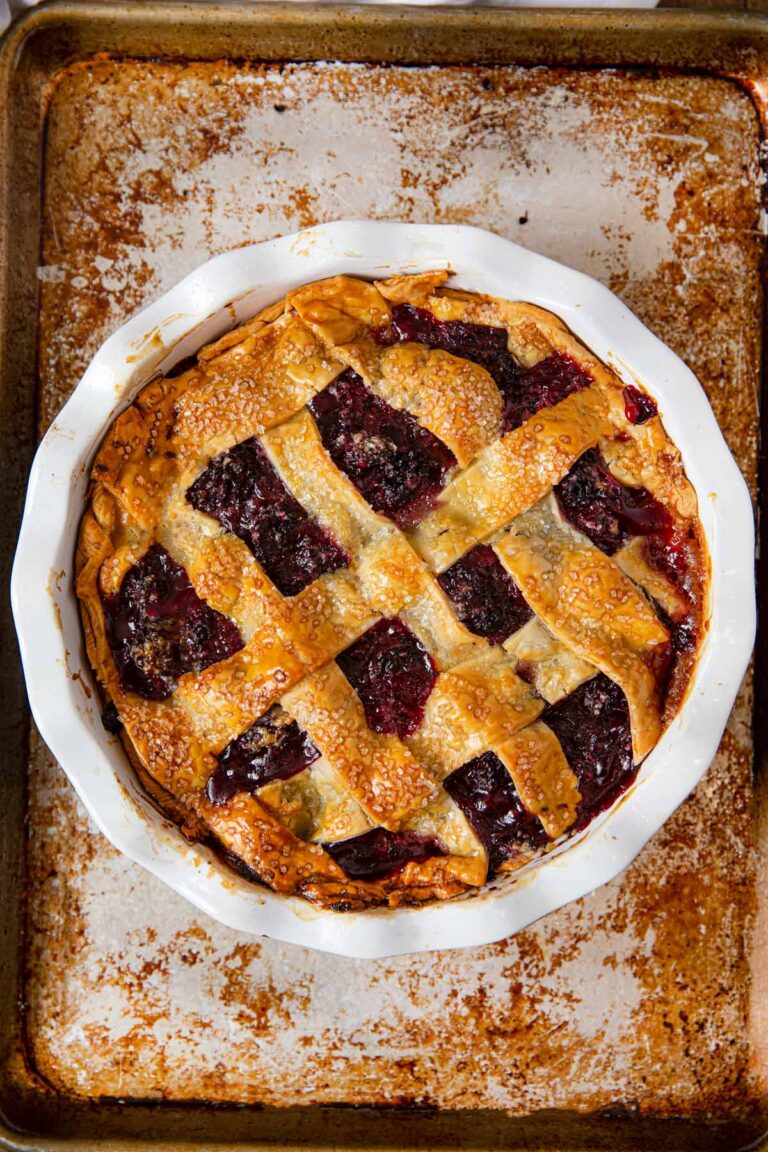 Create a free account to

Save Recipes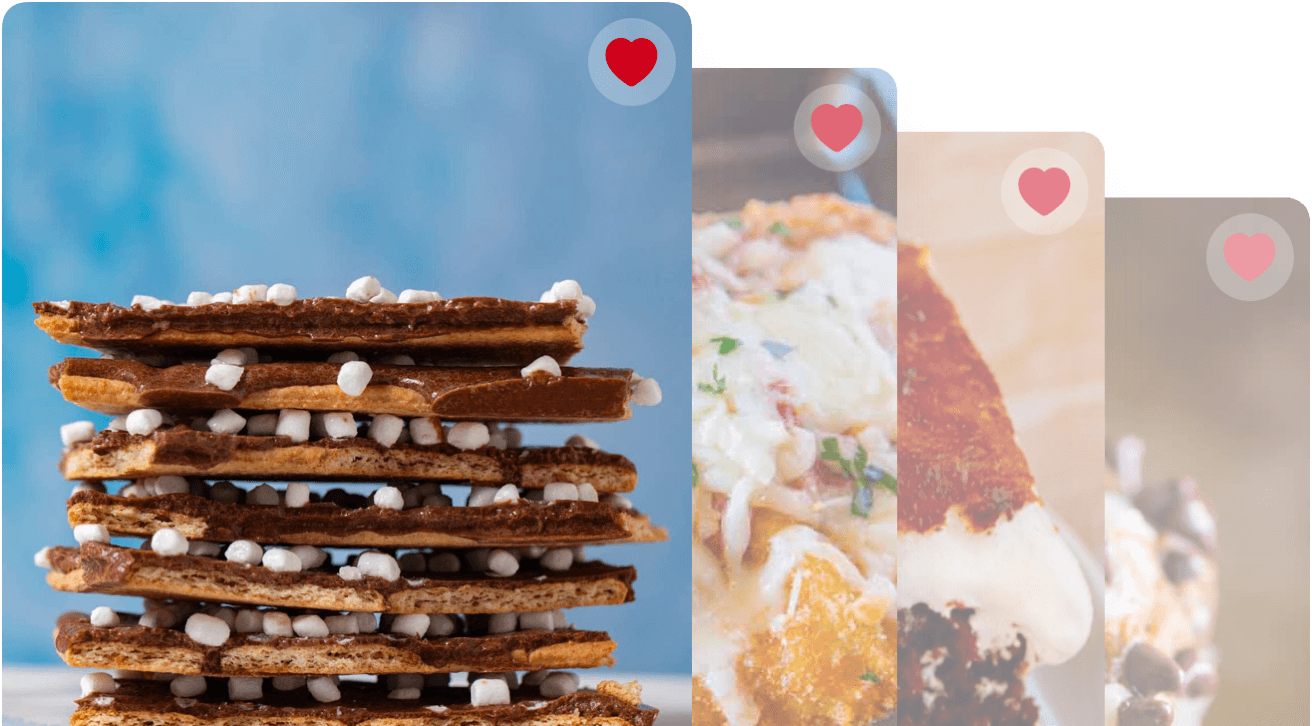 VARIATIONS ON BLACKBERRY PIE
Mixed Berry: When fresh berries are in season, many people love to mix in other berries in their pies. Substitute fresh blueberries, huckleberries, or raspberries for half of your blackberries.
Top Crust: If you don't want to make a lattice crust, try cutting small circles (other shapes) with a cookie cutter and layering in a spiral shape.
Lemon: To bring out even more tart lemon flavor, add in fresh lemon juice and grated lemon zest. You can garnish the top of the pie with candied lemons.
Crumble: Instead of a pastry pie crust, top your Blackberry Pie with a Crumble like the one I used in my Apple Crumb Pie.
PIE CRUST RECIPE
While I'm no stranger to using pre-made pastry and frozen pie crusts, when I have time, I always prefer making my flaky, buttery pie crust recipe. You can make a double batch of this recipe and freeze it so next time you crave a fruit pie, it's even easier to come together.
Ingredients: 2 flour, ½ teaspoon salt, 2/3 cup butter, 1 tablespoon white vinegar, 5 to 6 tablespoons, 2% milk
In a small bowl, combine the flour and salt; cut in butter until mixture is crumbly. Sprinkle with vinegar.
Gradually add the milk, tossing with a fork until a ball is formed.
Cover and refrigerate for 30 minutes or until easy to handle.
Divide pastry in two portions so that one ball is slightly larger than the other.
To freeze: Roll out balls to about ¼ inch thick. Store flat with parchment paper separating them. Freeze for up to 3 months.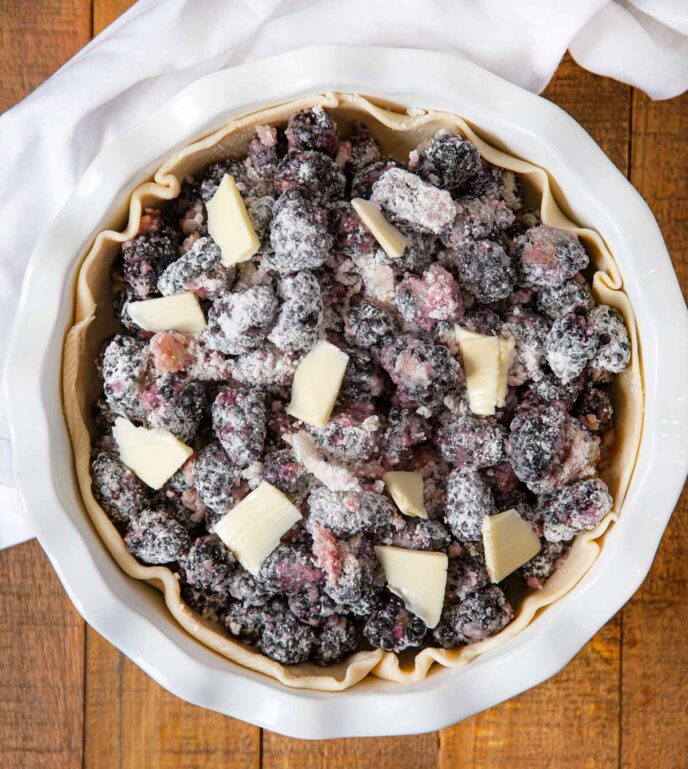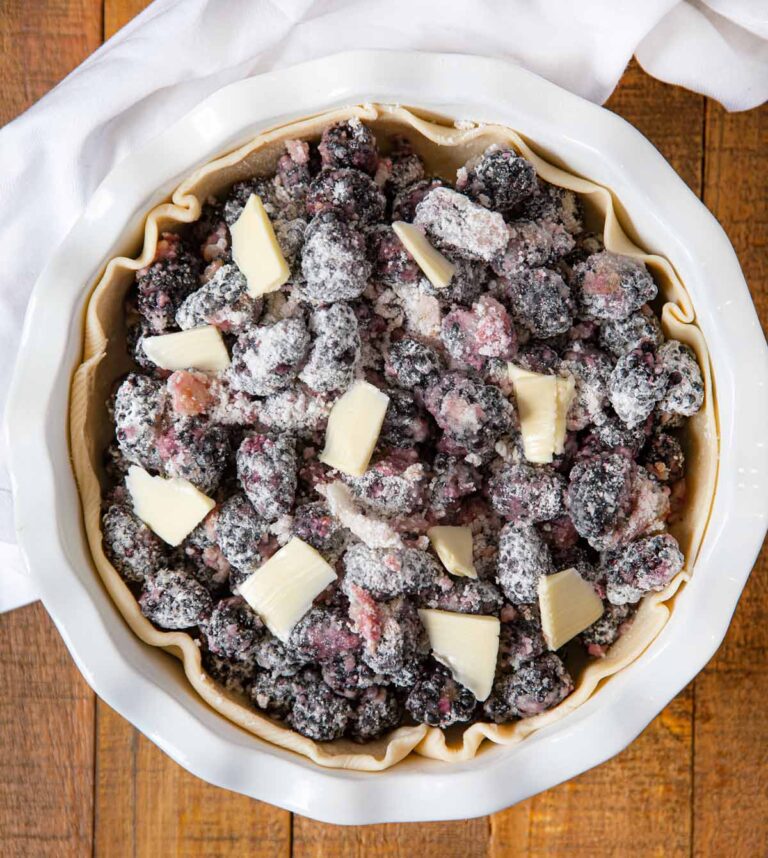 Frequently Asked Questions for Blackberry Pie
What size pie pan do you use? I get a lot of questions about what size pie dish I use. I have a favorite 9-inch pie dish that I have been for years.
Do I need to thaw frozen berries before baking? Make sure you thaw your frozen blackberries if you are substituting them for fresh berries. You do not want the extra liquid to release into the pie and make it soggy.
How many cups is 2 pints of blackberries? 2 pints of blackberries is going to be about 4 cups of fresh berries. So for this recipe, you will want 3 pints of berries.
DELICIOUS FRUIT DESSERTS:
HOW TO STORE BLACKBERRY PIE
Serve: Blackberry Pie is good at room temperature for 2 days, covered tightly with plastic wrap or foil.
Store: Cool your pie completely and store, tightly covered in the fridge for up to 4 days.
Freeze: This pie will freeze well for about 6 months. Cool completely, seal with foil, and place in freezer bag.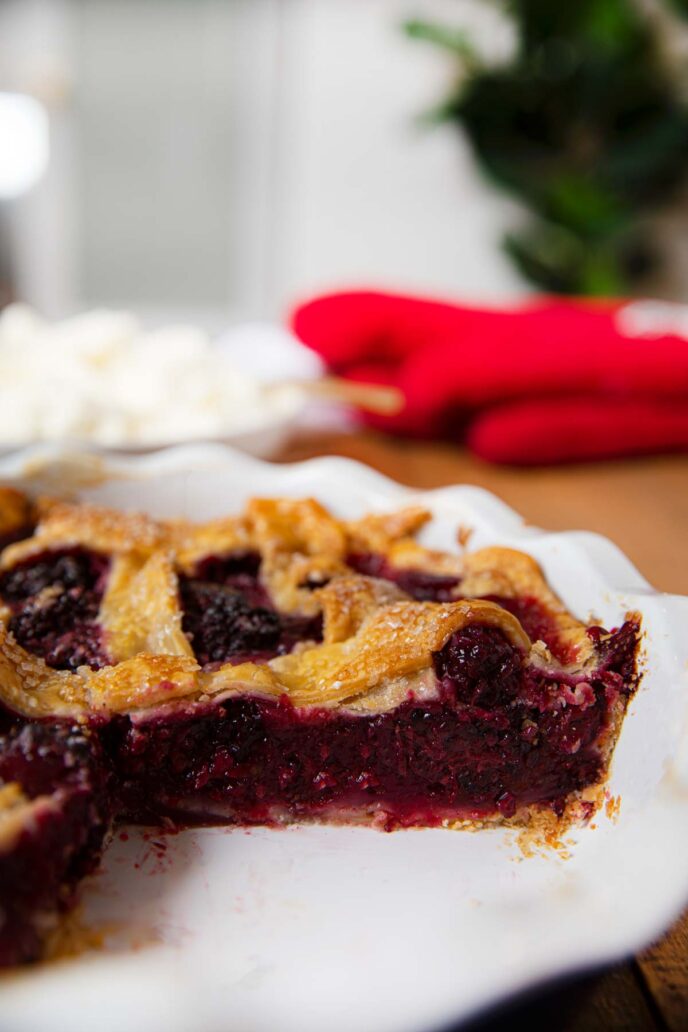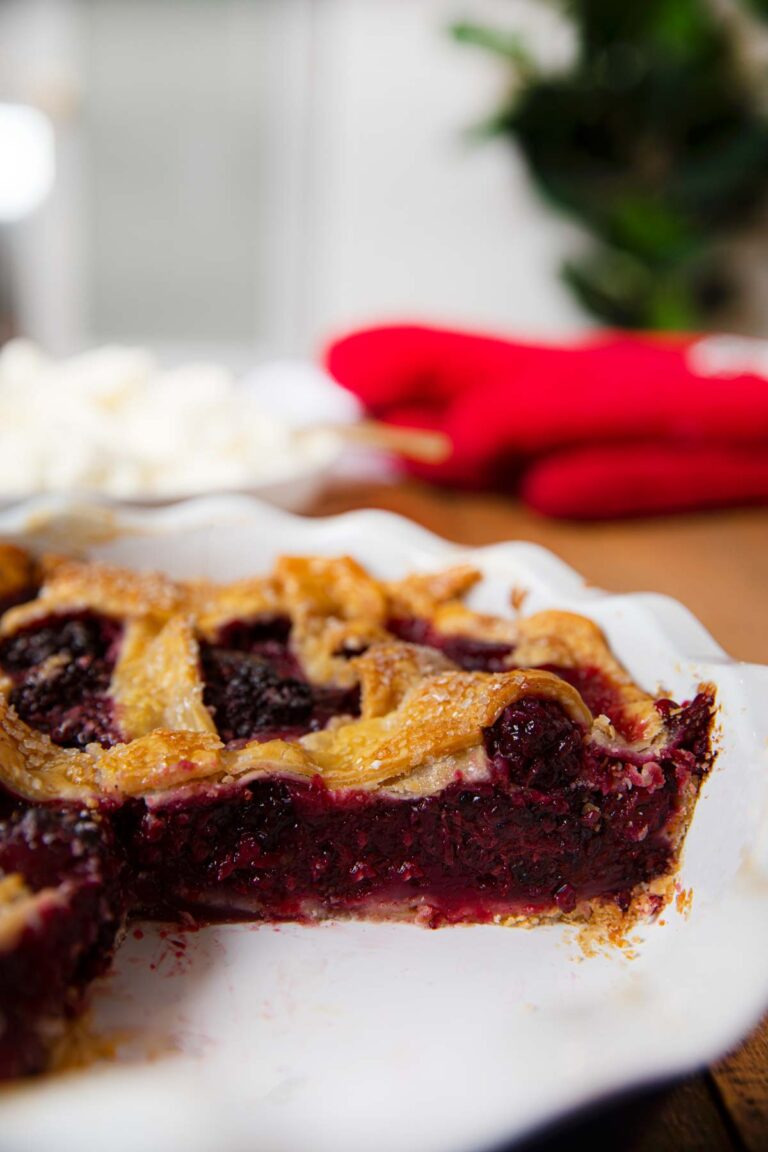 Ingredients
6

cups

fresh blackberries

, (24 ounces)

1/2

cup

sugar

1/3

cup

cornstarch

1

tablespoon

lemon juice

1/2

teaspoon

ground cinnamon

1

tablespoon

butter

1

large

egg

1

tablespoon

milk

1

tablespoon

coarse sanding sugar
Instructions
Pre-heat oven to 375 degrees.

In a large bowl gently toss the blackberries, sugar, cornstarch, lemon juice and cinnamon.

Let sit while you prepare your crust.

Line your pie tin with your first crust and keep it in the refrigerator while you make the lattice topping.

Make a lattice topping with your second crust (see directions above).

Add the blackberry filling to the pie plate.

Cut the tablespoon of butter into thin slices and distribute evenly over the pie filling.

Cover with the lattice crust then fold the edges of the lattice topping under the back of the bottom layer of pie crust and pinch them together to seal them together.

Beat egg and milk together and brush it onto the pie crust.

Sprinkle coarse sanding sugar over the top pie crust.

Bake at 375 degrees for

30 minutes

then at 350 degrees for an additional

30 minutes

.

If your pie is browning too quickly tent it lightly with a piece of foil to prevent additional browning (do not remove it from the oven sooner).

Cool pie before slicing so the filling can thicken.
Nutrition
Calories:
325
kcal
|
Carbohydrates:
50
g
|
Protein:
5
g
|
Fat:
12
g
|
Saturated Fat:
4
g
|
Cholesterol:
21
mg
|
Sodium:
184
mg
|
Potassium:
224
mg
|
Fiber:
7
g
|
Sugar:
19
g
|
Vitamin A:
261
IU
|
Vitamin C:
23
mg
|
Calcium:
45
mg
|
Iron:
2
mg