Lemon Chiffon Pie is an easy, no-bake pie perfect for Easter. Light and creamy lemon flavor custard made with egg whites, lemon curd, and fresh lemon juice.

Whether it's a creamy, tangy Lemon Bar or this Lemon Chiffon Pie, there is something so refreshing about lemon flavor desserts. For more bright and fruity springtime desserts, check out all these Pie Recipes.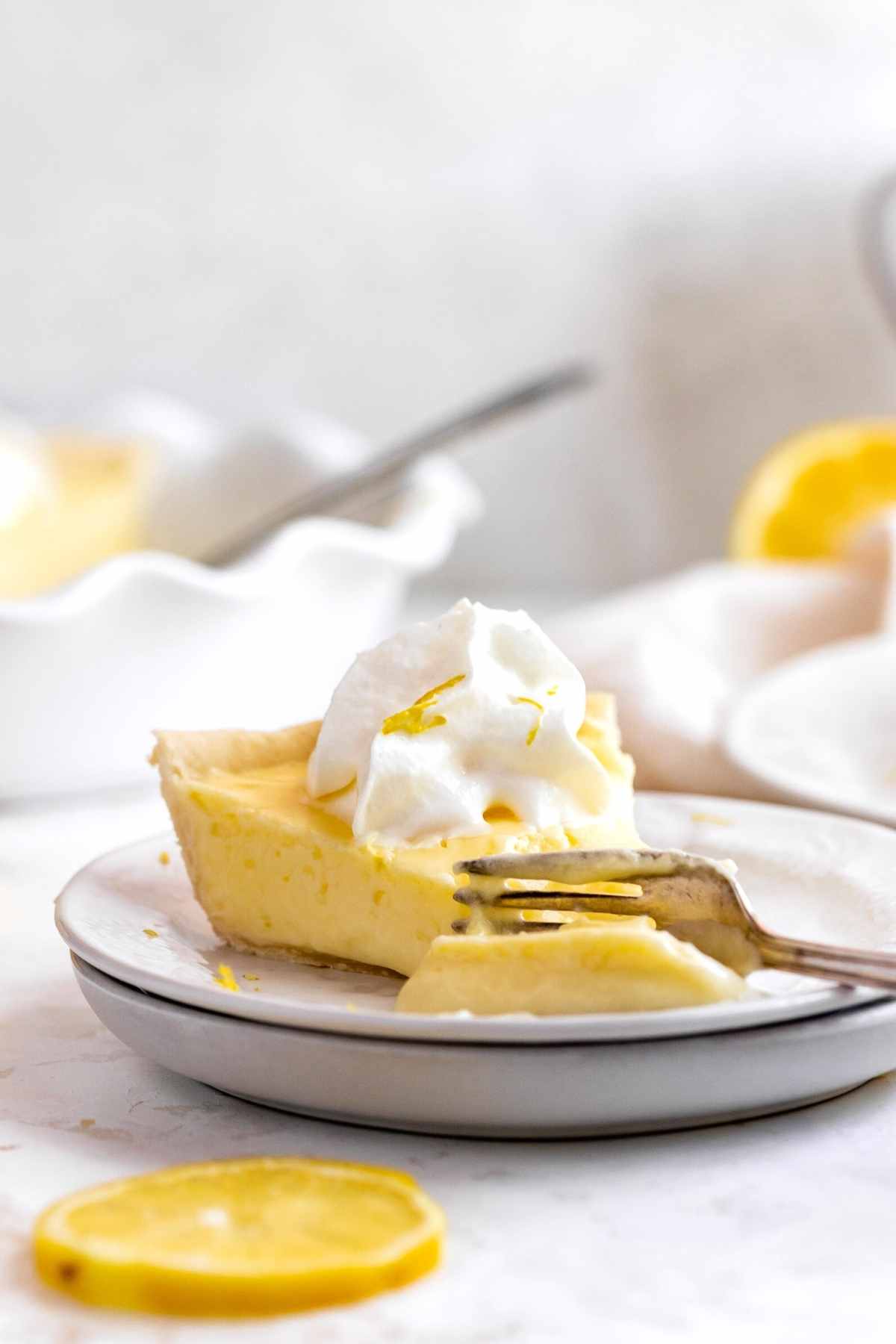 LEMON CHIFFON PIE
From a cold glass of lemonade, to accenting a piece of salmon to a fresh and easy Easter dessert, lemons make everything a bit brighter and refreshing. These tangy, tart, sweet citrus fruits are so versatile and can go from savory to sweet, or Dinner then Dessert, so easily.
A Lemon Chiffon Pie is the perfect spring dessert to serve for special occasions like Easter with a big dollop of Whipped Cream. It is a bright lemon pie made with both a homemade lemon curd and whipped egg white meringue so it is both light and airy but bursting with lemon flavor.
Unlike a lemon meringue pie, Lemon Chiffon Pie folds the egg whites into the lemon curd, instead of a layer of lemon curd and the meringue on top. The second difference is that Lemon Chiffon Pie is a no-bake lemon pie, and a lemon meringue is baked.
Many Lemon Chiffon Pie recipes use a gelatin mixture but this recipe uses cornstarch to get the firm, yet creamy custard like filling. Either way, a Lemon Chiffon Pie is best if you chill overnight in the refrigerator. It is even better with whipped cream and for more lemon flavor, garnish with a bit of lemon zest.
This Lemon Chiffon Pie recipe is simple, yet uses some culinary techniques you may not be familiar with. With the tips and guidelines below, you'll be able to quickly master both tempering egg yolks and whipping perfect egg whites. No custard pie or meringue will ever seem too hard again!
Fully tempering the eggs yolks before adding them to the hot lemon juice mixture is crucial. If you add cold yolks to the hot liquid they will cook, leaving you with a chunky, eggy pie. You can use this tempering technique when adding yogurt or cream to hot soups to keep the dairy from curdling, too.
SOME DELICIOUS TOPPING IDEAS:
BAKING TIPS
Lemon Juice: Fresh squeezed lemon juice is best for this recipe because it will have the best punch of lemon flavor. You can strain any pulp or leave it in, as it will break down as it cooks. To get ½ cup lemon juice, that is about 3 large lemons or 4-5 medium lemons.
Cornstarch: Dissolve the cornstarch with water before adding to the hot lemon mixture so it doesn't clump up with the heat and liquid all at once. Keep stirring until the cornstarch mixture is combined and the whole mixture has thickened. If you swipe the back of the spoon with your finger, it should leave a path in the mixture.
Temper the Egg Yolks: It's important to temper the egg yolks before adding them to the lemon mixture or they will scramble and make the custard grainy. Tempering is where you bring up the heat of eggs yolks by whisking them quickly into 1 cup slightly cooled lemon mixture until combined. This gets the egg yolks warm enough that they won't cook when you add the mixture back to the pan.
Egg Whites: The egg whites get folded in at the end to make your pie fluffy and light. See the tips for beating egg whites in the section below Recipe Variations for the perfect egg whites every time!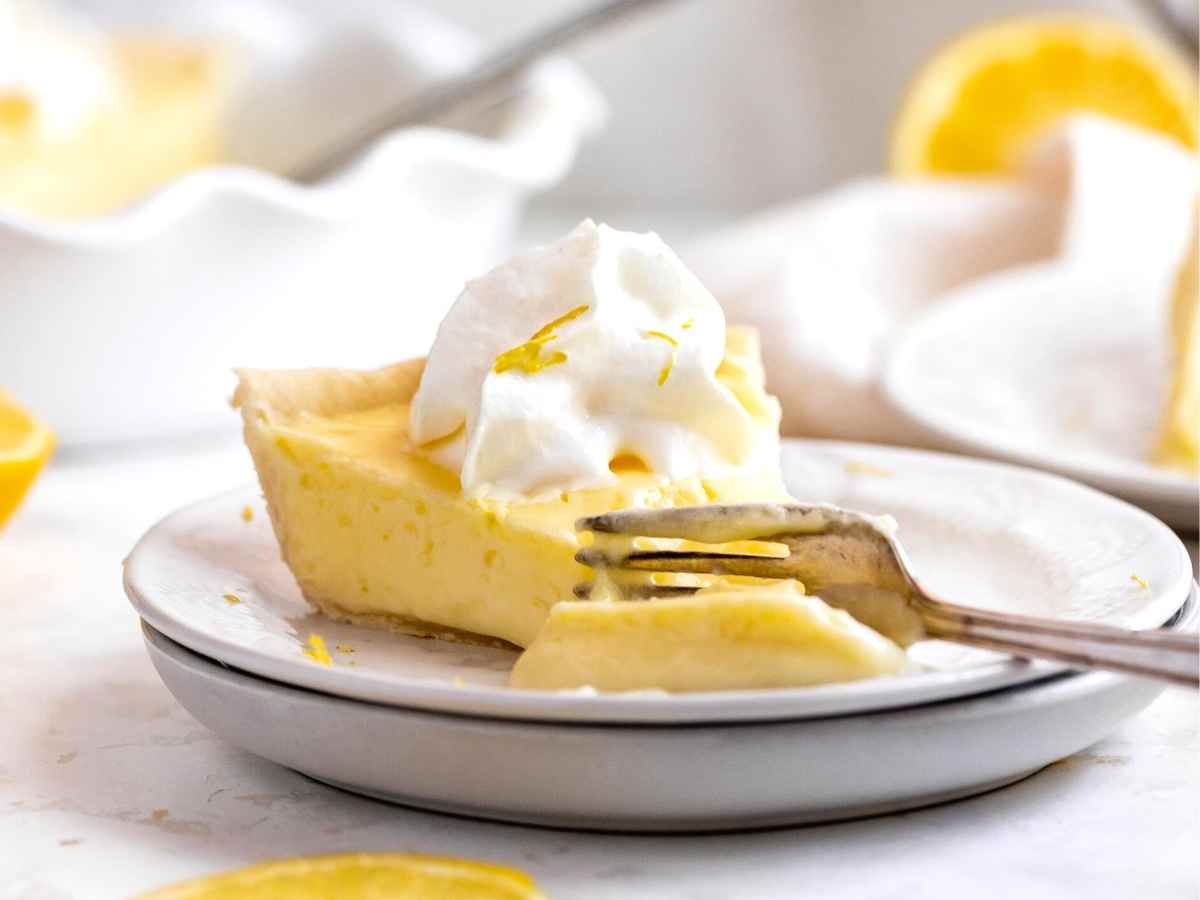 Create a free account to

Save Recipes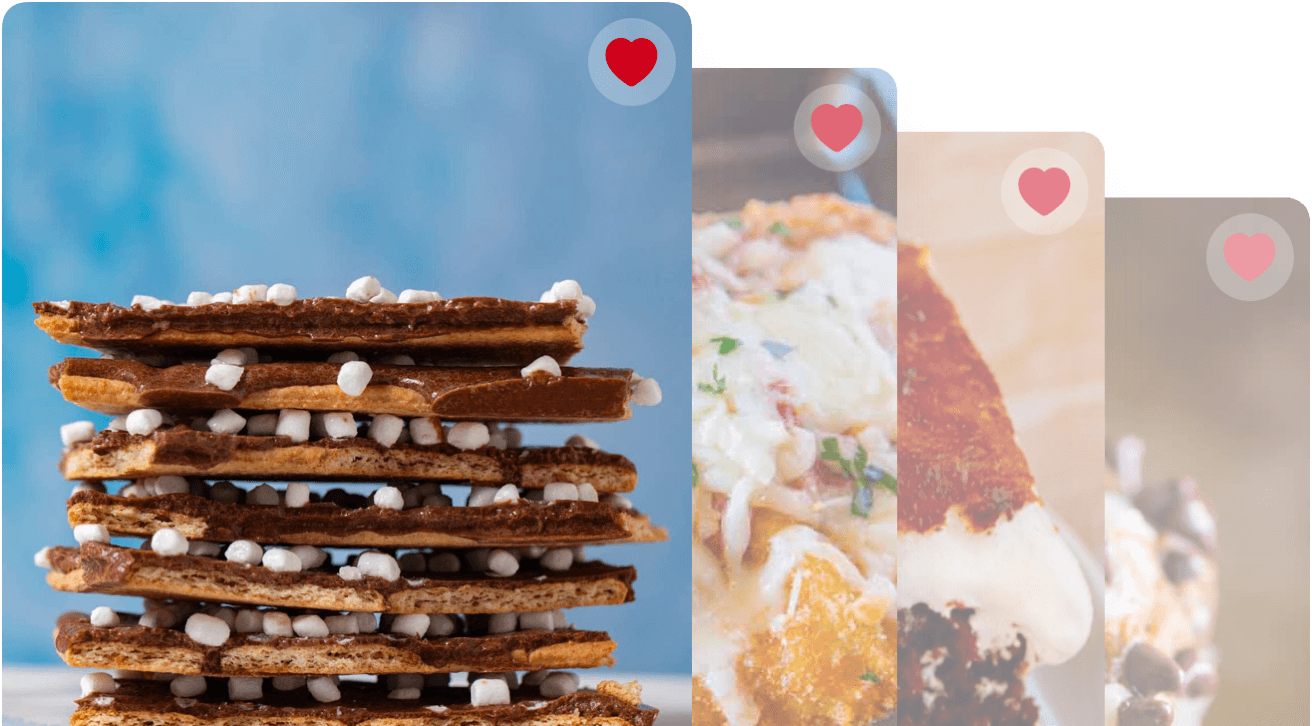 RECIPE VARIATIONS
Pie Crust: Instead of a regular pie, you can use a Graham Cracker Crust or for the holidays try a Graham Cracker Crust made with gingersnaps.
Orange: Use a ¼ cup orange juice and ¼ cup lemon juice to make an Orange Chiffon Pie. For more citrus flavor, use both orange zest and lemon zest.
Lime: Instead of a Key Lime Pie this summer, try a Lime Chiffon Pie! Swap out fresh lime juice in place of lemon juice and add a bit of lime zest for extra zing.
Raspberry: Make a Raspberry Chiffon Pie by substituting the lemon curd with a homemade raspberry curd. Boil 3 cups raspberries and 2/3 cup sugar until soft. Sieve and use the raspberry pulp instead of the lemon juice.
Tips for Whipping Egg Whites
A clean, dry bowl and beaters are essential when whipping egg whites. Leftover residue will also keep egg whites from whipping properly, so it's best to use a large bowl that is metal, ceramic or glass instead of plastic.
Difference between stiff peaks and soft peaks? When soft peaks form, the egg whites will be all white and lifting the beater will cause soft peaks that slump over. When stiff peaks form, the peaks will be firm and not fall over.
Don't over beat your egg whites. You'll be adding sugar after soft peaks form and the stiff peaks form shortly after that, so be cautious you don't go too far with the egg whites.
MORE BEAUTIFUL, TASTY DESSERTS
HOW TO STORE
Serve: This pie is best if you serve it after it has set in the refrigerator overnight. Don't leave out at room temperature for more than 2 hours.
Store: Store a Lemon Chiffon Pie tightly covered with plastic wrap or aluminum foil in the refrigerator for up to 3 days.
Freeze: Lemon Chiffon Pie can be frozen for up to 2 months. Wrap tightly with plastic wrap or foil and store in a sealed freezer safe bag.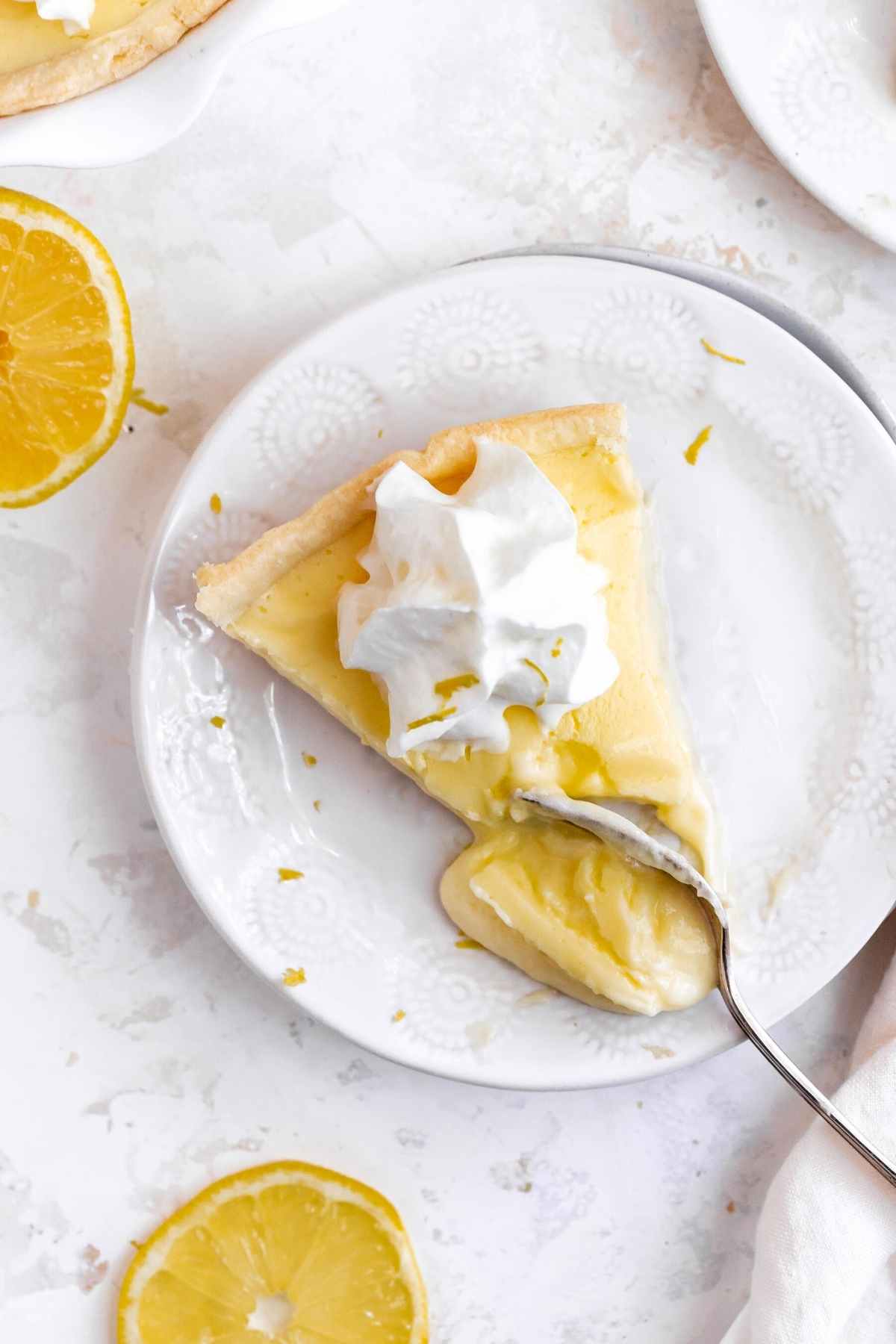 Ingredients
2

cups

water

, divided

1/2

cup

fresh lemon juice

1 1/2

cups

sugar

, divided

1/2

cup

unsalted butter

1/3

cup

cornstarch

3

large eggs

, separate the yolks and whites
Instructions
Preheat the oven to 375 degrees and line the pie tin with the pie crust and pie weights and bake for

15 minutes

.

In a large saucepan on medium heat whisk together 1 ½ cups water, lemon juice, 1 cup sugar and unsalted butter until it comes to a boil.

In a small bowl whisk together ½ cup water and cornstarch then add it to the lemon juice, whisk well and cook until thickened then turn off the heat.

Let 1 cup of the mixture from the saucepan slightly cool for

5 minutes

then add it slowly to the egg yolks while whisking fast.

Once the yolks are fully tempered add the mixture to the rest of the lemon juice mixture while whisking until fully combined.

In a stand mixer add the whites and beat until they reach soft peaks then add in the remaining ½ cup sugar slowly until stiff peaks form.

Fold the egg whites into the cooled lemon juice mixture then pour into the cooled pie crust and refrigerate for at least

2 hours

.
Nutrition
Calories:
313
kcal
|
Carbohydrates:
43
g
|
Protein:
3
g
|
Fat:
15
g
|
Saturated Fat:
8
g
|
Cholesterol:
74
mg
|
Sodium:
93
mg
|
Potassium:
47
mg
|
Fiber:
1
g
|
Sugar:
30
g
|
Vitamin A:
355
IU
|
Vitamin C:
5
mg
|
Calcium:
15
mg
|
Iron:
1
mg