Creamy Pumpkin Pasta is delicious, easy comfort food. One-pot pumpkin sauce made with pumpkin puree, chicken broth, heavy cream, and nutmeg.
Pasta Recipes like Baked Million Dollar Spaghetti are the ultimate comfort food. This delicious new recipe is just as comforting for the holidays as an easy weeknight main dish!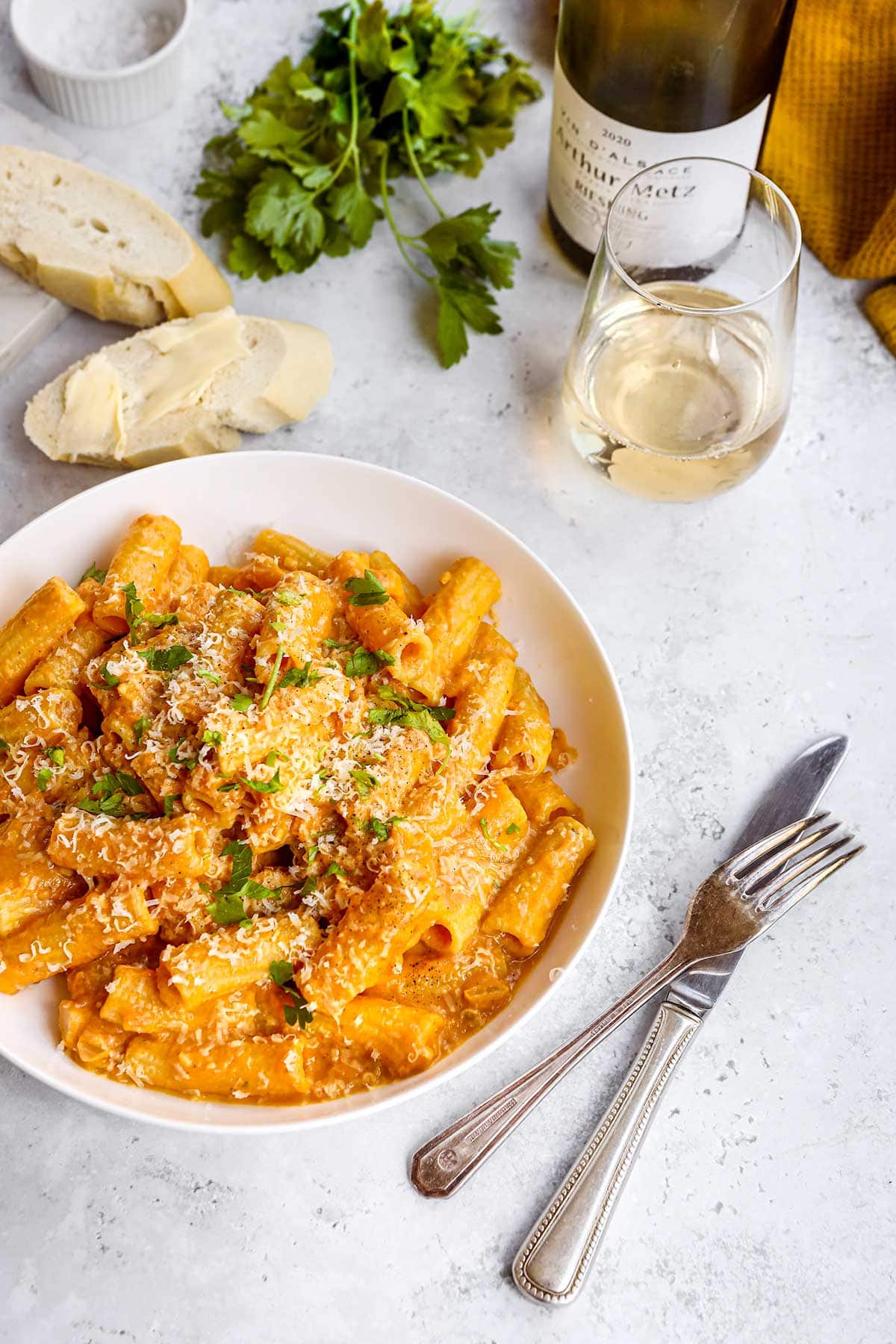 This easy Creamy Pumpkin Pasta is a tasty fall dinner recipe that you can enjoy all year long thanks to the magic of canned (or homemade) pumpkin puree. With just a few ingredients and about 30 minutes, you have a better-than-alfredo pasta sauce that will impress at any dinner party.
Prepare to be wowed at what pumpkin can do to pasta sauce! Creamy Pumpkin Pasta is a savory pumpkin recipe that looks fancy and gourmet but actually uses common pantry items. You may even have a leftover can or two of pumpkin puree from baking Pumpkin Pies. Add some chicken broth, seasonings, cream, and voila!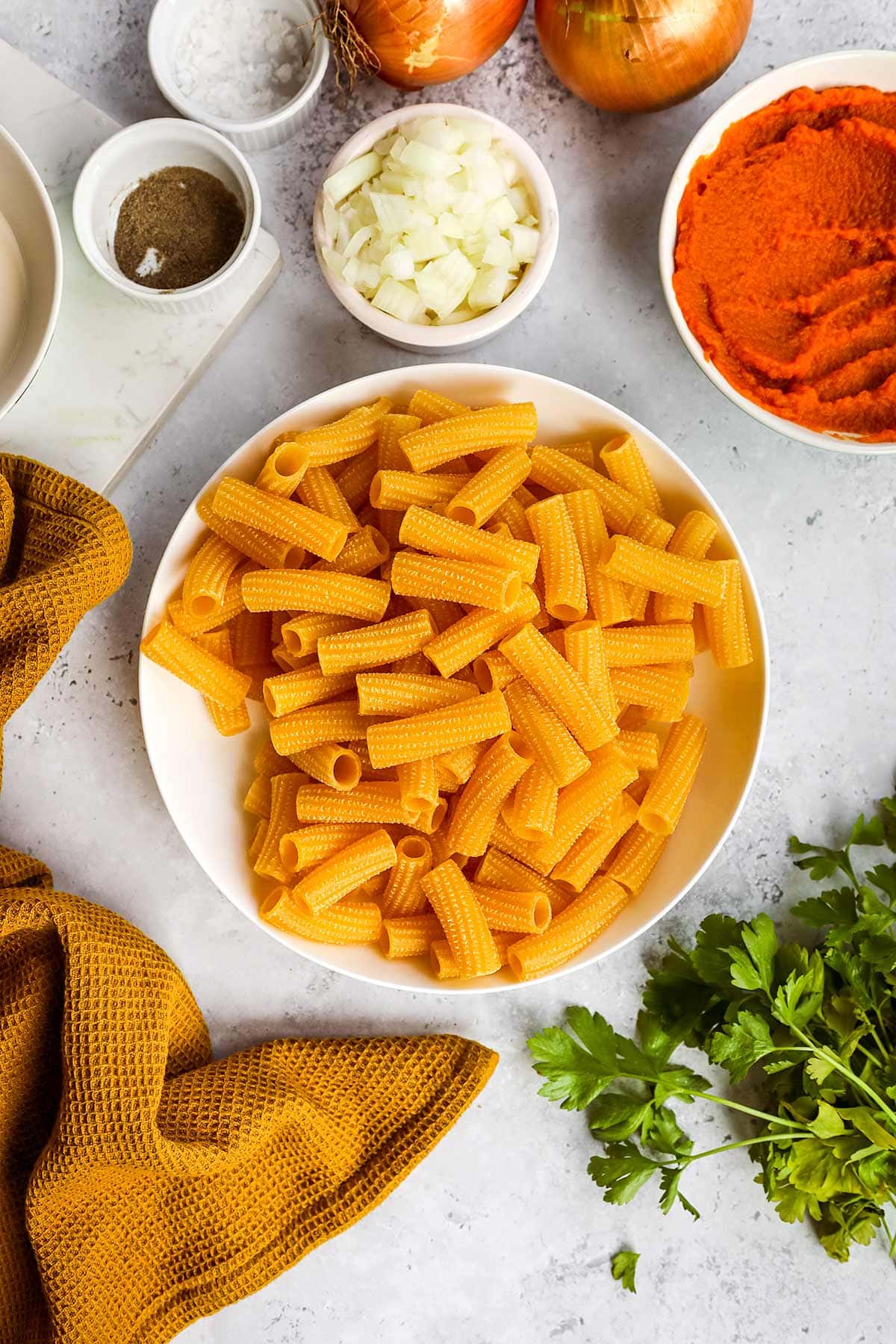 Be sure to use pumpkin puree and not pumpkin pie filling for your Creamy Pumpkin Pasta. Pumpkin pie filling is sweet and has pumpkin spices, like nutmeg, added. Canned pumpkin puree is sold in the same baking aisle and is usually a blend of pumpkin and butternut squash.
If you have extra time, and it's pumpkin season, the best pumpkin puree to use in any pumpkin recipe is homemade. Try this Easy Pumpkin Puree recipe that is 100% pumpkin and delicious. During pumpkin season you can make a huge batch of pumpkin puree and freeze it for up to 12 months. This means homemade Creamy Pumpkin Pasta all year long!
Creamy Pumpkin Pasta is a great dinner recipe all on its own or alongside a crisp, tart Winter Pear Salad. You could also serve it as a side dish along with main dishes like Roast Chicken or Garlic Pork Loin. Top it with Roasted Root Vegetables and swap out the chicken broth with veggie broth for the ultimate vegetarian comfort food.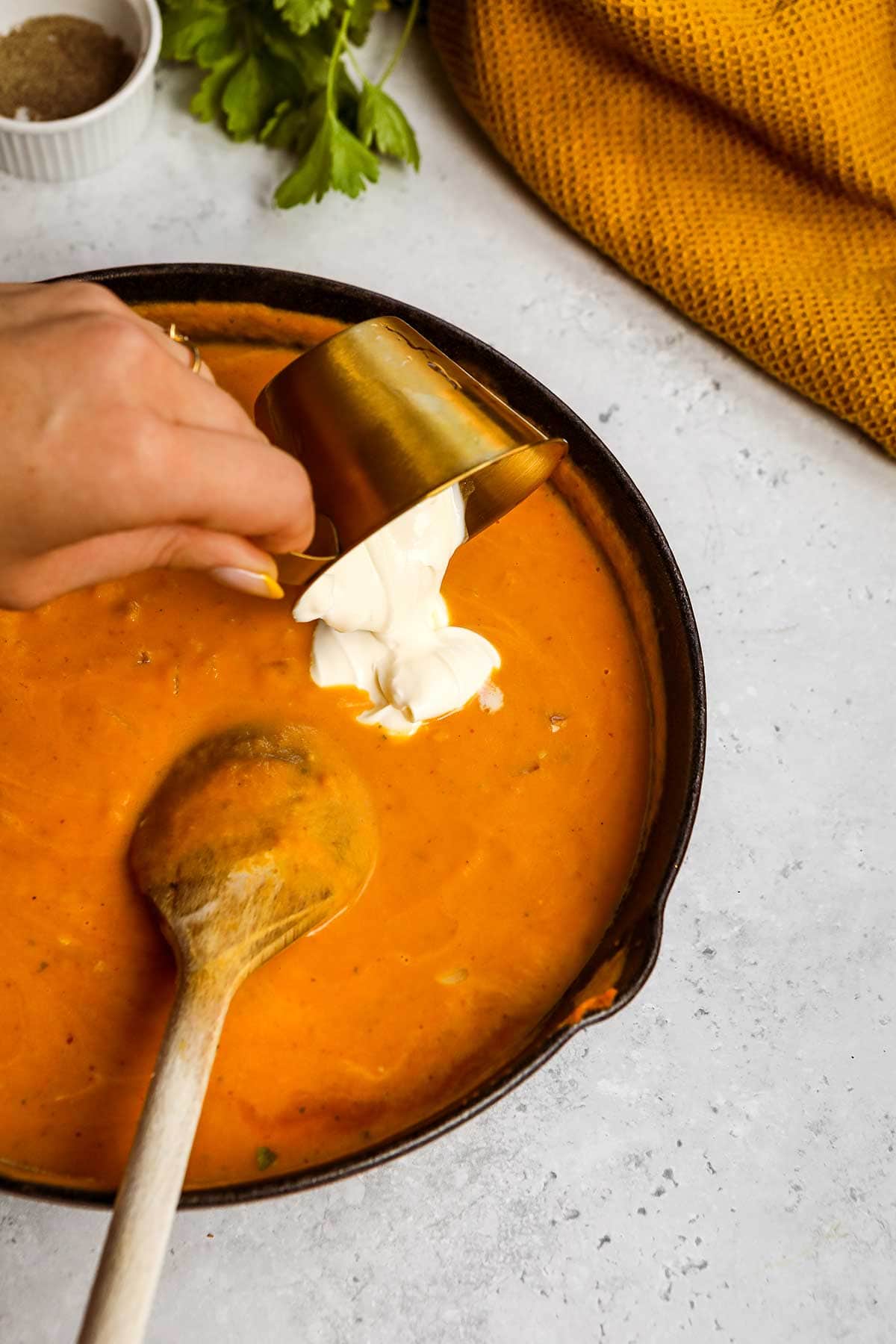 How to Make Creamy Pumpkin Pasta
Cook pasta to al dente, then drain and set aside.
Saute the onion and garlic in butter over medium heat until soft. Then whisk in the pumpkin puree, chicken broth, heavy cream, sour cream and seasonings.
Simmer pumpkin sauce for 10 minutes, stirring occasionally.
Stir cooked pasta into pumpkin sauce, simmering 2-3 more minutes until thick.
Garnish with Parmesan cheese and parsley, if desired.
Main Dishes to Serve with Creamy Pumpkin Pasta
Frequently Asked Questions
How do I reheat creamy pasta?
The creamy pumpkin pasta sauce will taste best if reheated gently on the stovetop. Add a few tablespoons of cream if needed to loosen up the sauce and rehydrate the pasta.
How do I make fresh pumpkin puree?
Make your own pumpkin puree by scooping out the seeds and strings on a small sugar pumpkin. Cut the pumpkin into 5 inch squares and place in a steamer basket about an inch above boiling water. Steam for 45-50 minutes, then let cool before scooping out the flesh. Purée pumpkin in a food processor, and strain over paper towels if you'd like it to be thicker like canned pumpkin.
Why use nutmeg in pumpkin pasta sauce?
Nutmeg has a warm, nutty spice flavor that enhances the savory ingredients of the sauce. It also goes really well with sweet dishes (think pumpkin pie), so in this case it will round out the sauce and give it and extra hint of fall flavor.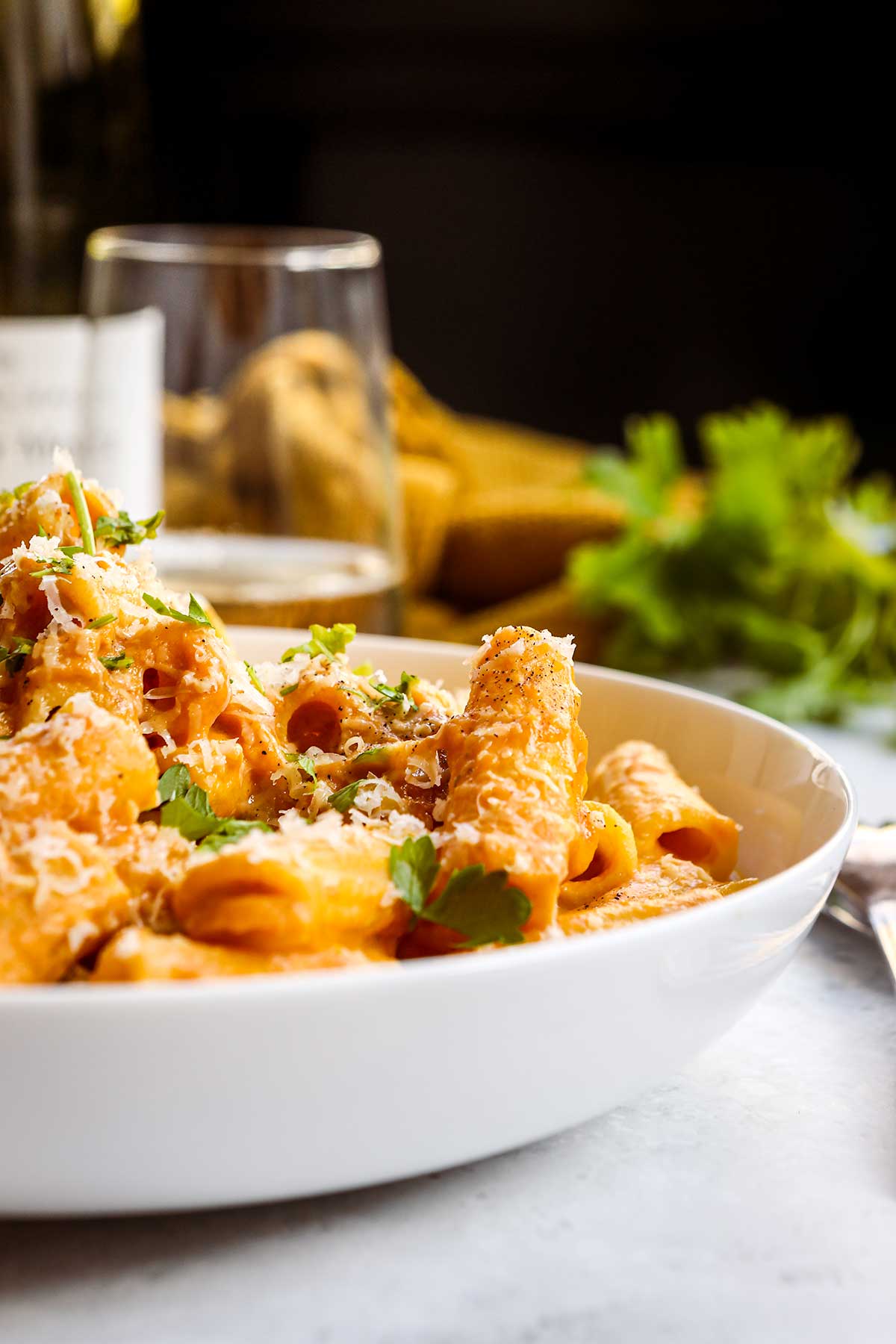 Create a free account to Save Recipes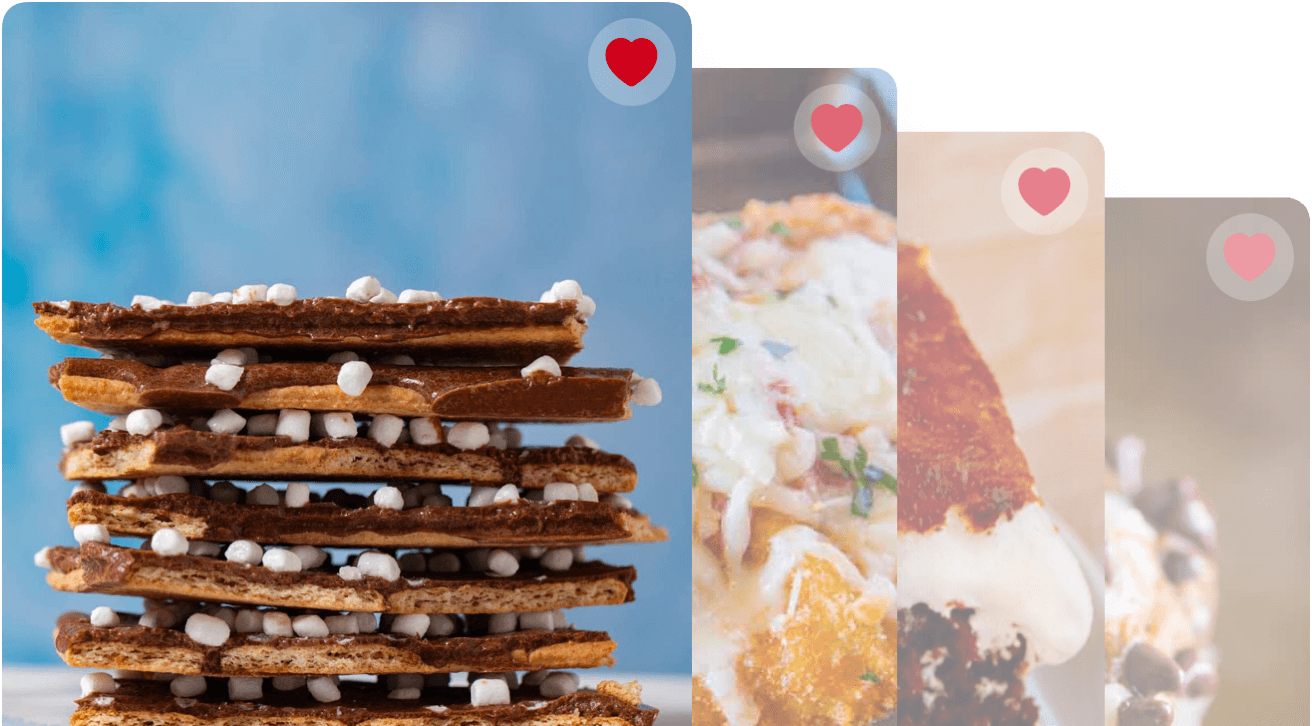 Key Ingredients in Creamy Pumpkin Pasta
Rigatoni: Rigatoni is a tube shaped pasta with ridges, making it perfect for holding onto this delicious creamy pumpkin sauce. If you can't find rigatoni, use penne instead.
Creamy Pumpkin Sauce: Pumpkin puree is combined with onions and garlic sautéed in butter, heavy cream, sour cream, chicken broth, salt, pepper and a dash of nutmeg. The nutmeg complements the sweetness of the pumpkin and balances the other savory flavors of the creamy sauce.
Parmesan Cheese: Since this creamy pumpkin pasta recipe is so simple, you'll want to buy fresh Parmesan cheese to grate over the top. The slightly nutty flavor adds another layer of richness.
Slow Cooker Creamy Pumpkin Pasta
Add all the sauce ingredients except the sour cream and heavy cream to your slow cooker and stir to combine.
Next add your uncooked pasta and stir again.
Cook on high for about 1 hour, or until pasta is cooked al dente.
Bring creams to room temperature (so they don't curdle).
Stir heavy cream and sour cream into pasta and serve immediately.
Can Creamy Pumpkin Pasta be Made Ahead?
This Creamy Pumpkin Pasta can be made ahead and stored for a few days. Cook the noodles just under al dente, about 5-6 minutes. Refrigerate the cooked pasta and sauce together in a sealed bowl for up to 2 days. Stir in a few tablespoons cream and reheat on the stove, stirring occasionally, at medium heat until hot.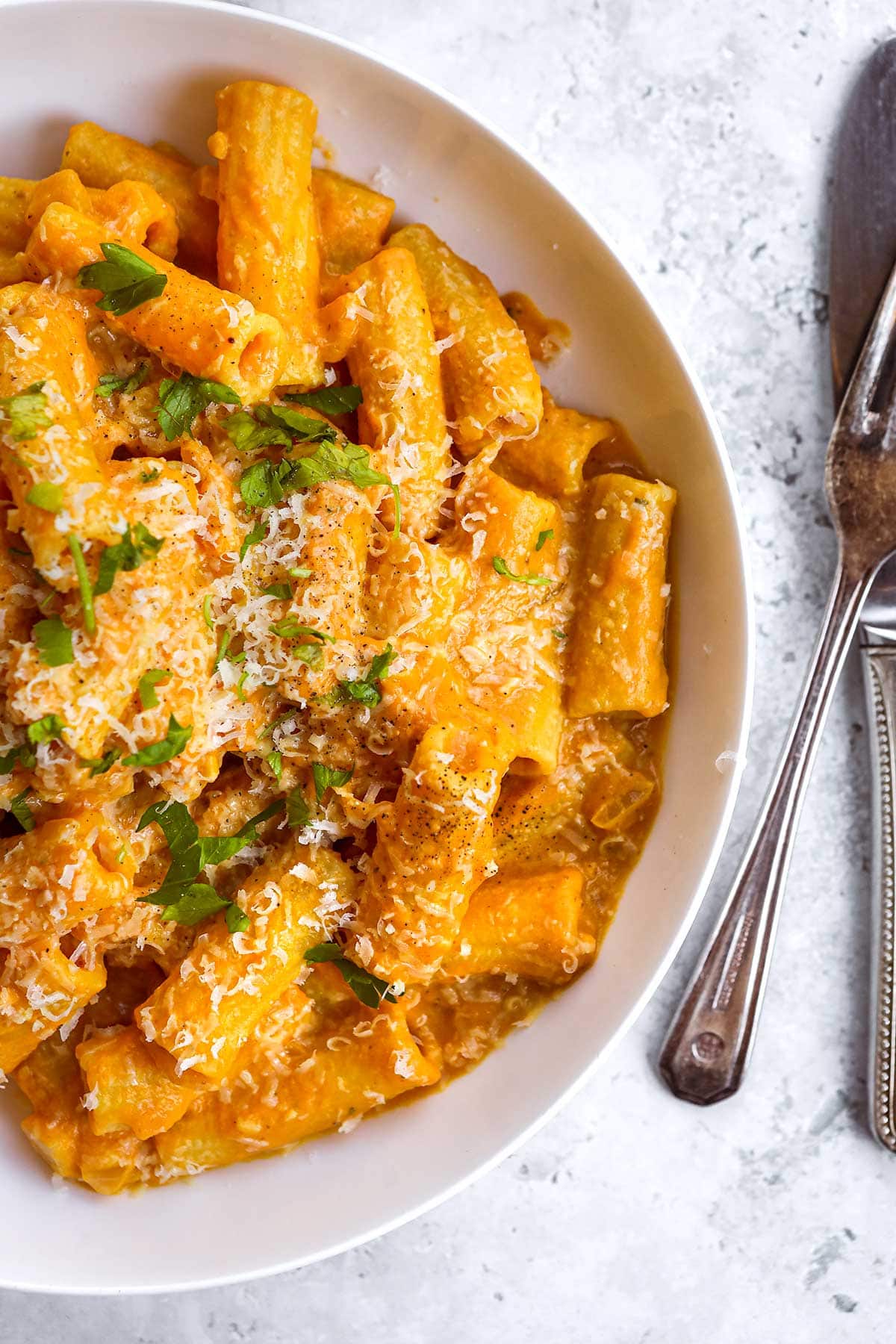 Variations on Creamy Pumpkin Pasta
Meat: Make this a hearty main dish by adding ground Italian sausage, crispy bacon, or Grilled Chicken Breasts. A leftover rotisserie chicken is a super easy way to add meat this pasta recipe.
Seasonings: Other savory seasonings that go with pumpkin are ground sage, cumin, fresh sage leaves. Add a pinch of cayenne pepper or red pepper flakes for a little kick.
Puree: Try pureed butternut squash or sweet potato in this recipe instead of the pumpkin puree.
Veggies: Sauté veggies like kale, spinach, sun-dried tomatoes, or mushrooms and fold into the pasta sauce before adding the cooked pasta.
Pasta: Any kind of pasta, like penne or fettuccine, tastes delicious in this creamy pumpkin sauce. Substitute whole wheat pasta, gluten free pasta, frozen raviolis, or use this sauce in a vegetarian lasagna!
Vegan/Vegetarian: Make Vegetarian Creamy Pumpkin Pasta by using vegetable broth instead of chicken broth. For Vegan Pumpkin Pasta, leave out the creams (or substitute non-dairy cream) and use olive oil to saute the onions and garlic.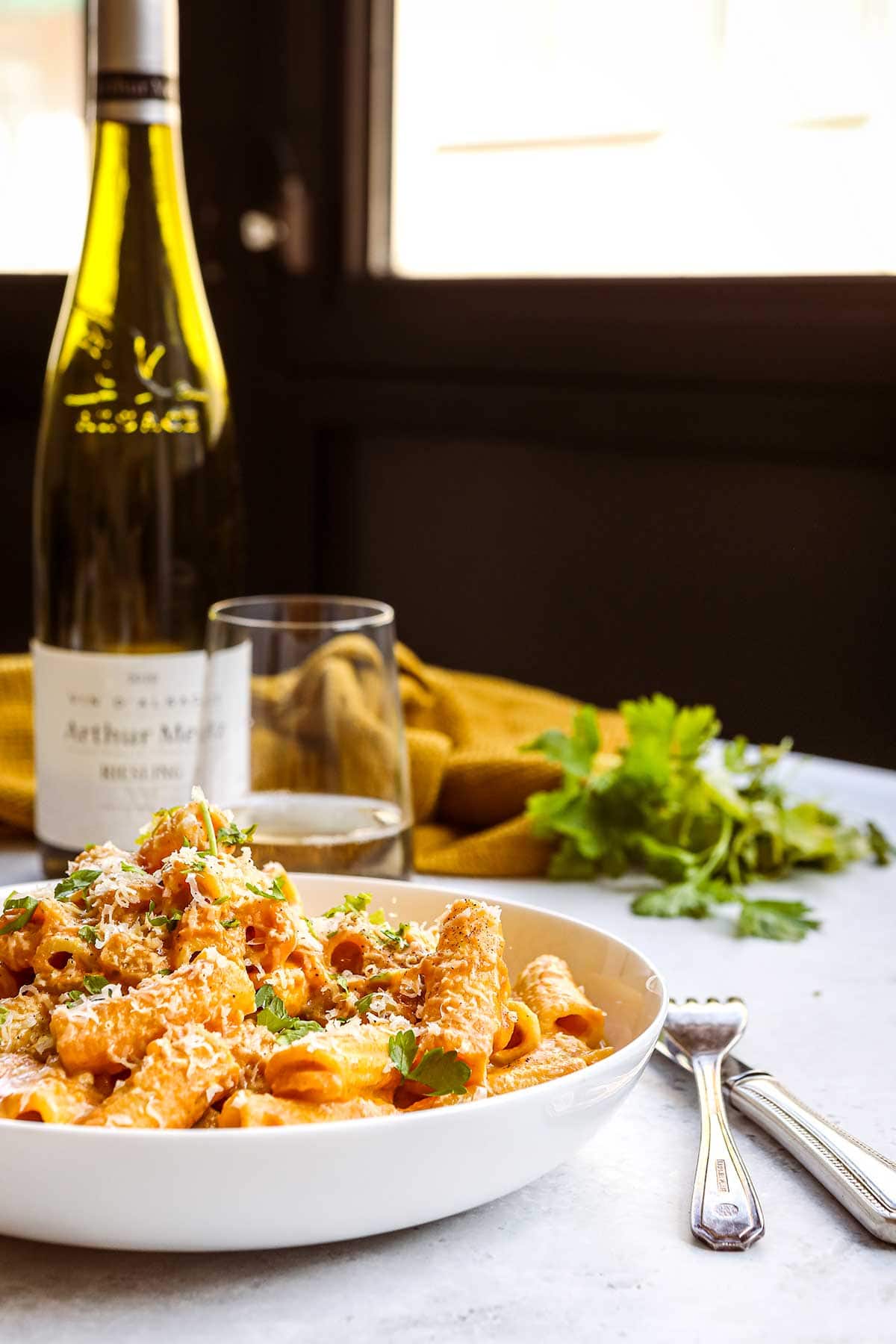 More Easy Italian Pasta Dishes
How to Store Creamy Pumpkin Pasta
Serve: This Creamy Pumpkin Pasta can be at room temperature for up to 2 hours, but it's best served hot!
Store: Store your cooled Pumpkin Pasta in an airtight container in the refrigerator for up to 4 days. If the sauce is too thick, add a little cream or milk to and heat until warmed through.
Freeze: Freeze Creamy Pumpkin Pasta for up to 2 months in a sealed container. Thaw in the refrigerator overnight and add a tablespoon of milk when reheating to make it creamy again.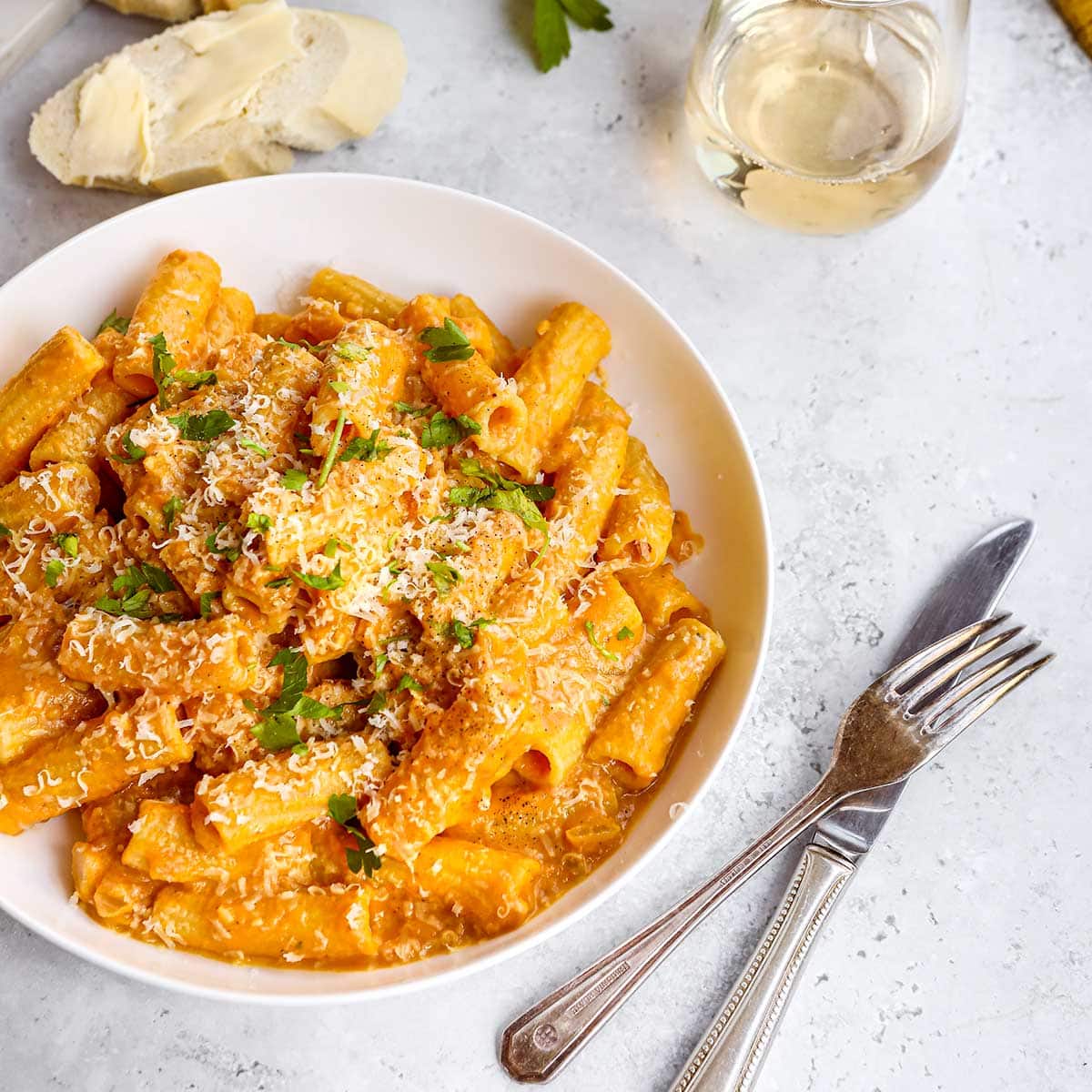 Ingredients
1

pound

rigatoni pasta

1

small onion

, finely chopped

2

cloves

garlic

, minced

2

tablespoons

butter

2

cups

pumpkin puree

2

cups

chicken broth

1/4

cup

heavy cream

1/2

cup

sour cream

1/4

teaspoon

nutmeg

1

teaspoon

salt

1/4

teaspoon

black pepper

2

tablespoons

fresh parsley

, minced

1/4

cup

Parmesan cheese
Instructions
Boil the pasta in salted water until al dente. Drain pasta, and set aside.

In a large skillet, saute the onion and garlic in butter, over medium heat, until soft.

Whisk in the pumpkin puree, chicken broth, heavy cream, sour cream and seasonings.

Simmer pumpkin sauce

10 minutes

, stirring occasionally.

Stir cooked pasta into pumpkin sauce, simmering

2-3 minutes

more until thick.

Garnish with Parmesan cheese and parsley, if desired.
Nutrition
Calories:
443
kcal
|
Carbohydrates:
67
g
|
Protein:
14
g
|
Fat:
14
g
|
Saturated Fat:
8
g
|
Cholesterol:
36
mg
|
Sodium:
804
mg
|
Potassium:
468
mg
|
Fiber:
5
g
|
Sugar:
6
g
|
Vitamin A:
13236
IU
|
Vitamin C:
13
mg
|
Calcium:
127
mg
|
Iron:
2
mg