Pumpkin Cobbler is the ultimate easy Fall dessert made with pumpkin, brown sugar, pecans and warm spices. Simple, buttery and full of flavor!
Pumpkin always makes the perfect Fall Dessert Recipe. From Pumpkin Pie to Pumpkin Cake, and Pumpkin Cobbler, there are plenty of options for pumpkin fans to choose from.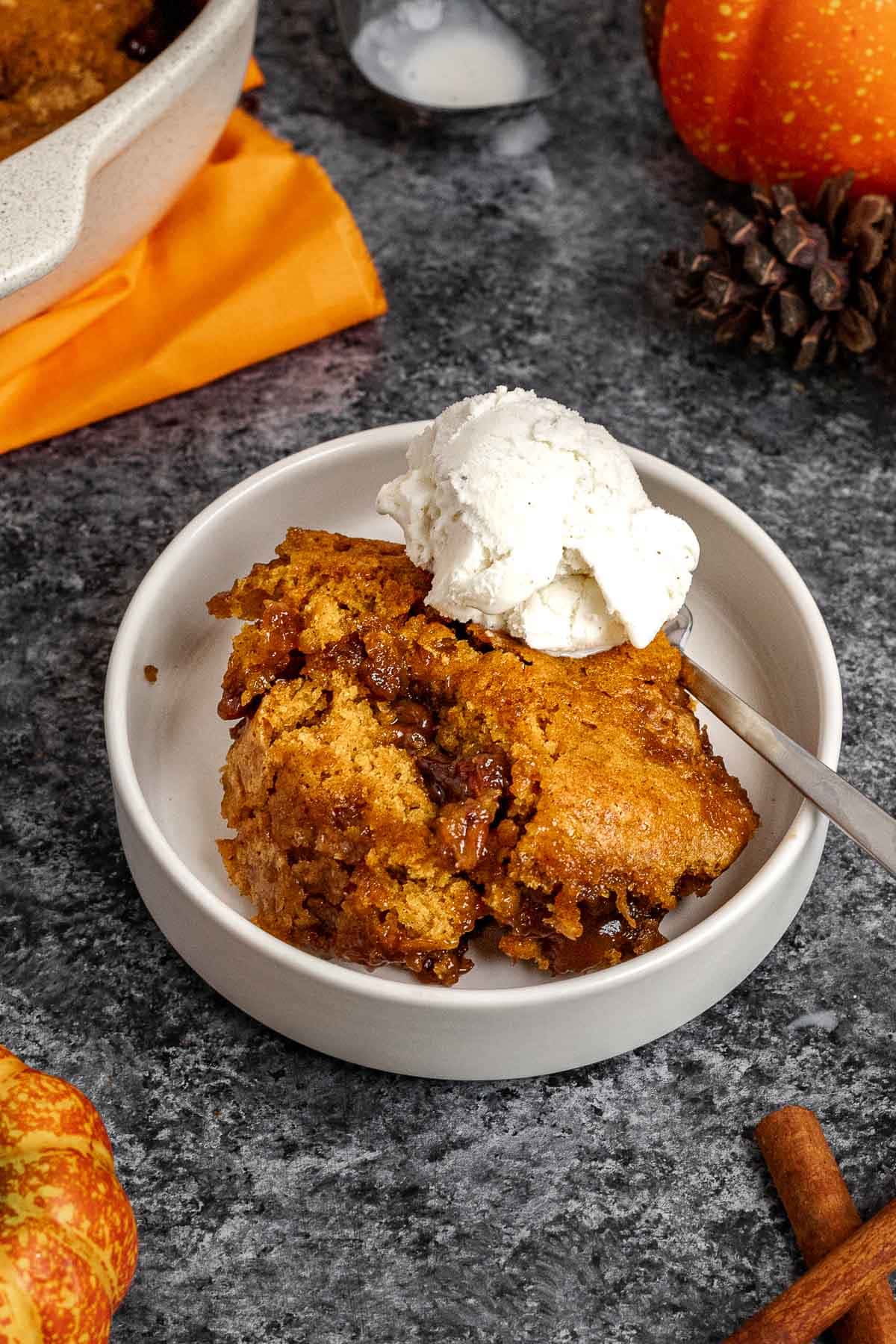 This Pumpkin Pecan Cobbler is a great option to get that classic taste of a traditional pumpkin pie without having to make a pie crust! The pumpkin batter is easy to make and then top it off with a rich brown sugar spice mix. The cobbler all bakes together in a casserole dish, and after the baking time, you'll have one of the most delicious pumpkin recipes ever!
This is an awesome recipe to pull out for the holidays or make afterward with leftover ingredients. Usually following Thanksgiving there's still a can of pumpkin puree lying around, ready to be used for one more dessert. Combining that with the simple wet and dry ingredients from your pantry and putting it all in the baking dish is the perfect way to use it up and get an amazing fall treat out of it.
To make this pumpkin dessert irresistible, top it off with some vanilla ice cream. You can buy a carton of ice cream or make Homemade Ice Cream. Either way, the creamy topping melts over the fruit cobbler for the perfect combination. For a little extra sweetness, drizzle Caramel Sauce over the top and enjoy.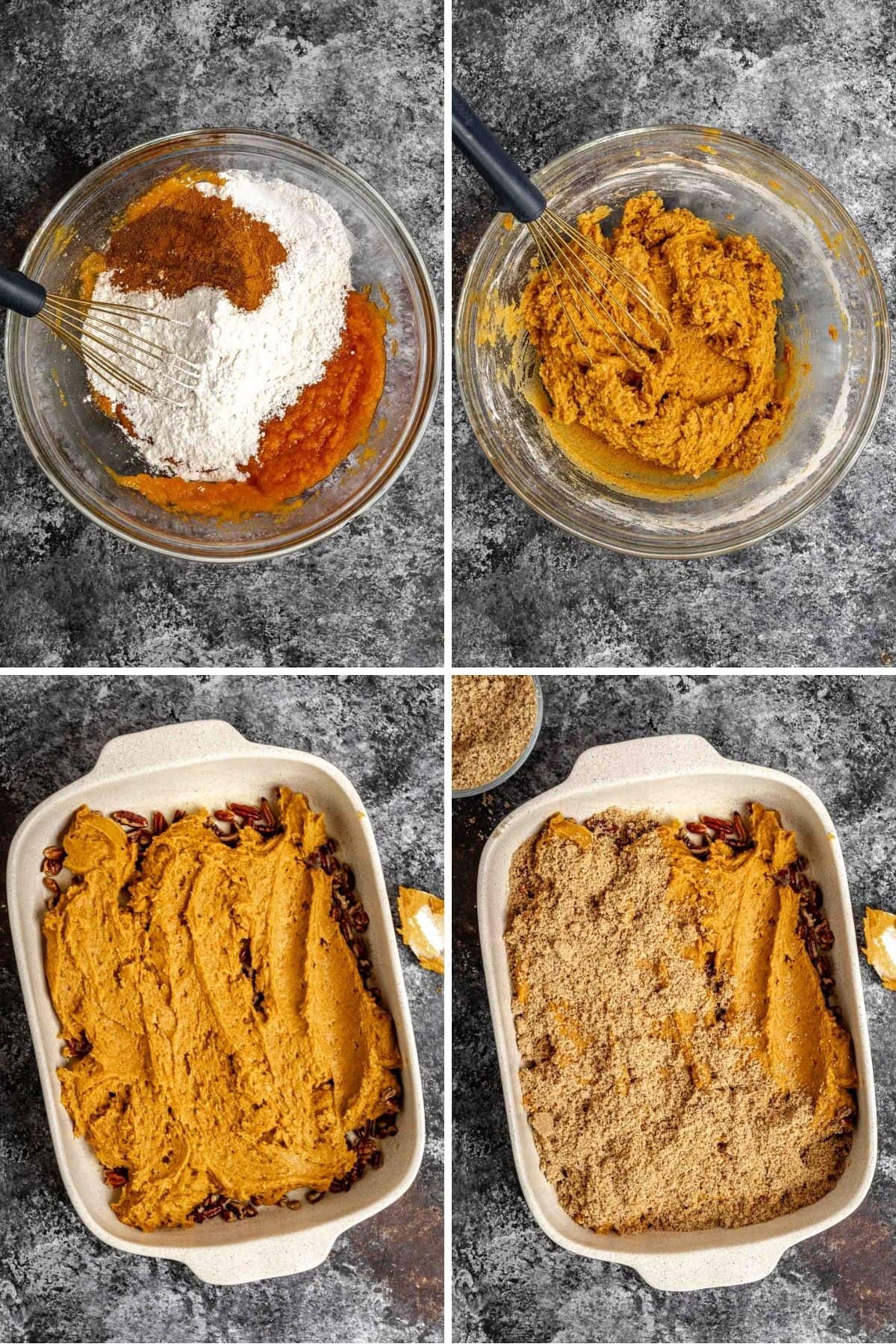 How to Make Pumpkin Cobbler
Preheat your oven to 350 degrees.
Spread melted butter and chopped pecans into a 9×13 baking pan.
In a large bowl, whisk together the pumpkin, vanilla, and sugar. Then add in the flour, baking powder, salt, cinnamon, and pumpkin pie spice. Whisk until just combined.
To make the topping, mix the brown sugar and pumpkin pie spice and sprinkle it over the batter. Gently pour the hot water over the top.
Bake for 45-50 minutes, until the filling is bubbly and the top is a deep golden brown.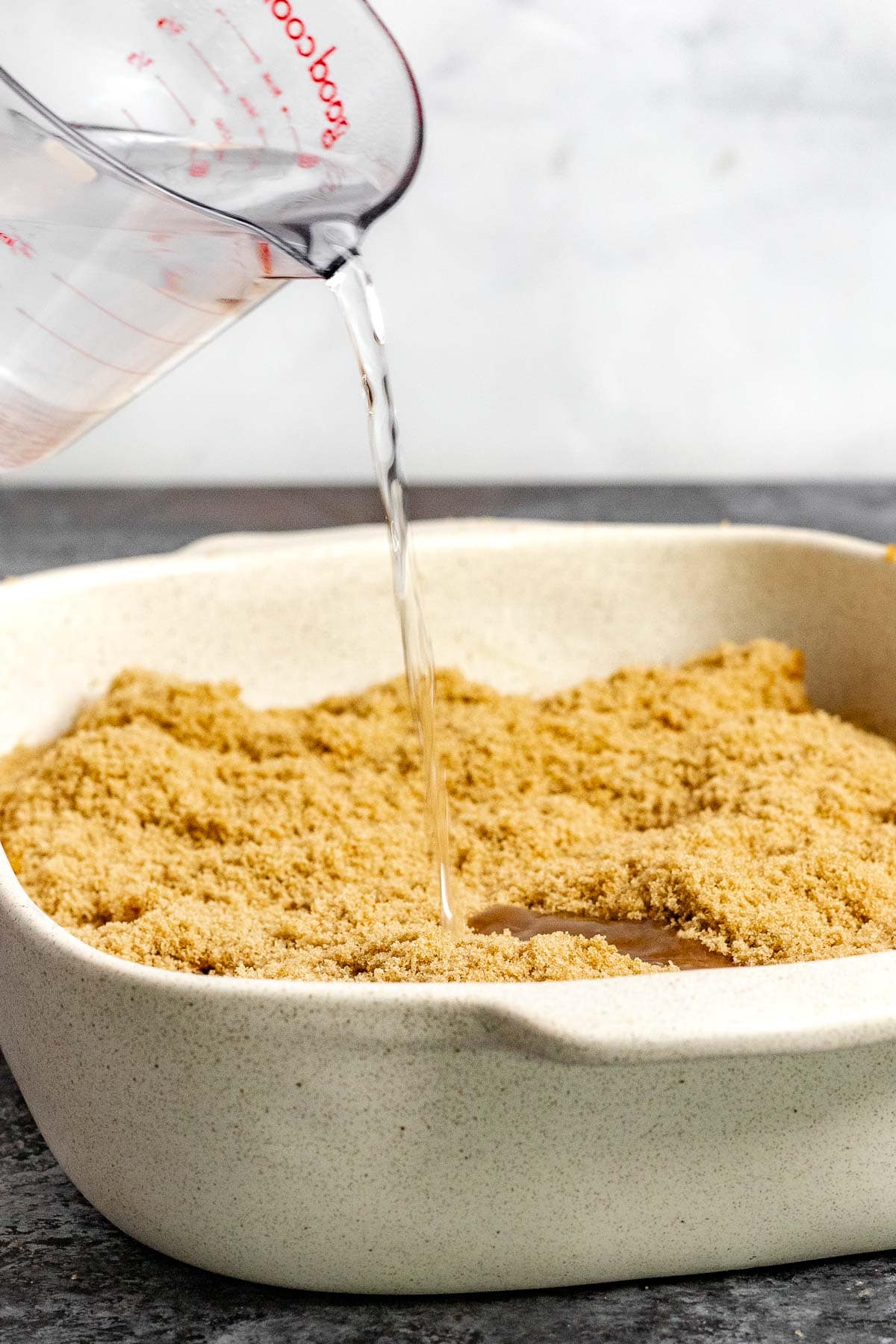 More Delicious Pumpkin Recipes
How to Make Your Own Pumpkin Filling
Although you can easily buy canned pumpkin puree at the store, if you have fresh pumpkin it's not that hard to make your own. You can use Pumpkin Puree for this recipe as well as saving leftovers to make a pumpkin pie filling
Start by putting a large pot of water on your stove top and bringing it to a boil. Place a steamer about an inch above the bubbling water.
Cut a 5-pound pumpkin in half and scoop out any seeds or stringy insides.
Slice each half of the pumpkin into 5-inch squares and place them in the steamer for 45-50 minutes.
Turn off the heat and let the pumpkin cool, then scoop out the softened pumpkin flesh.
Put the pumpkin in your food processor to puree.
Use 1 cup for this recipe and can any leftovers for later.
Frequently Asked Questions
What is the difference between a cobbler and a crumble?
Both cobblers and crumbles refer to baked dishes with a fruit filling that has a sweet topping. Cobblers have a topping that is more like a dough or batter, and sometimes even biscuits are used. Crumbles are usually topped with a streusel topping made from brown sugar, butter, flour, and sometimes oatmeal (which would make it a crisp).
Why did my Pumpkin Cobbler turn out runny?
If you are using a fresh homemade pumpkin puree, make sure to strain out as much liquid as possible. You want the homemade puree to have a similar paste-like consistency that a canned puree would. You could be measuring your dry ingredients incorrectly. It is especially important in baking to measure flour by first fluffing the flour inside the container by gently scooping and releasing a few scoops. Then spoon the flour into your measuring cup without packing it, and level off at the top.
How do I know when cobbler is done?
Your cobbler will be ready when the topping is golden brown, and a toothpick inserted into the cake part comes out clean. The rest of your cobbler could still be bubbling and may not look set. Just cool for about 10-15 minutes before serving warm, and the filling will not be too runny.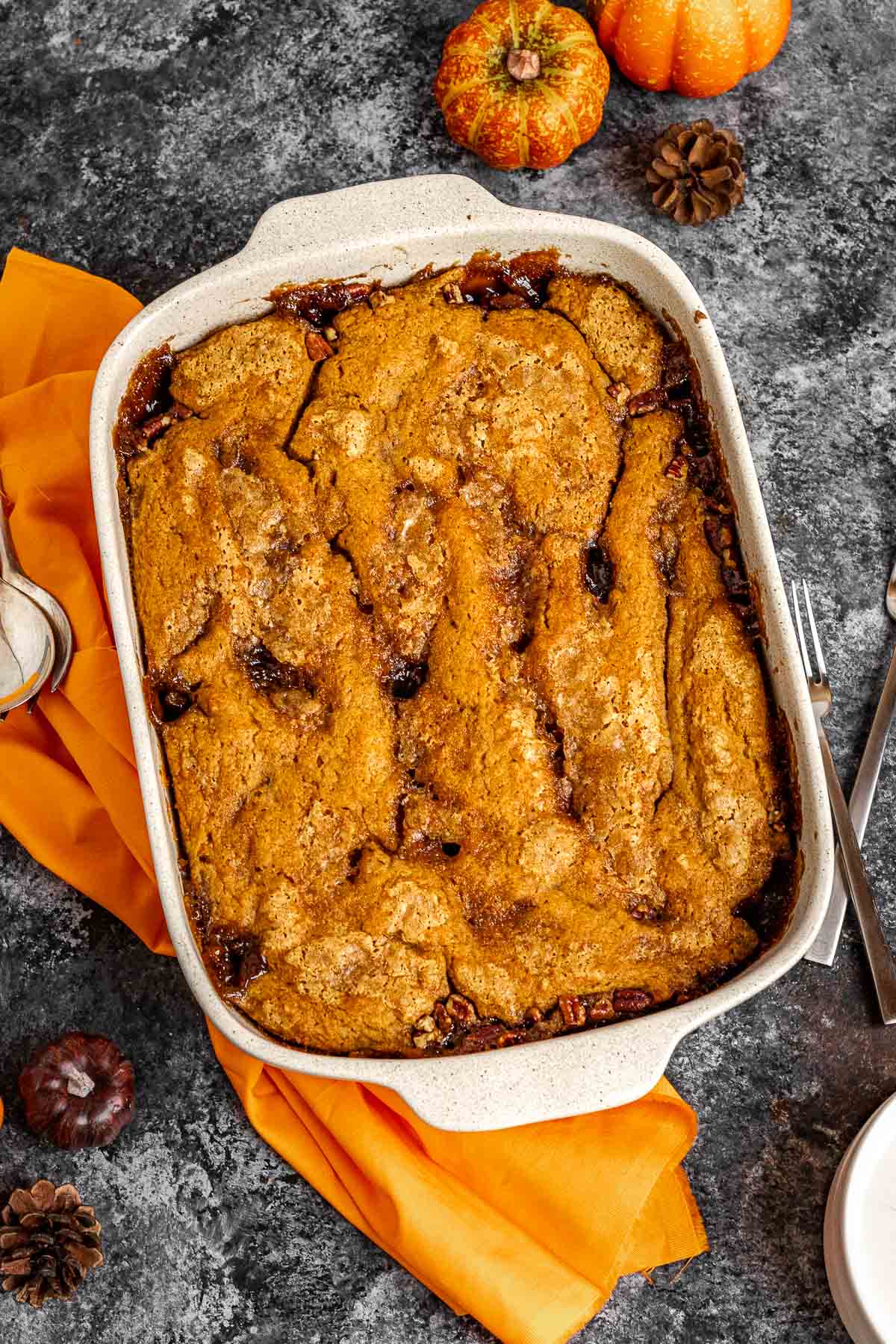 Create a free account to

Save Recipes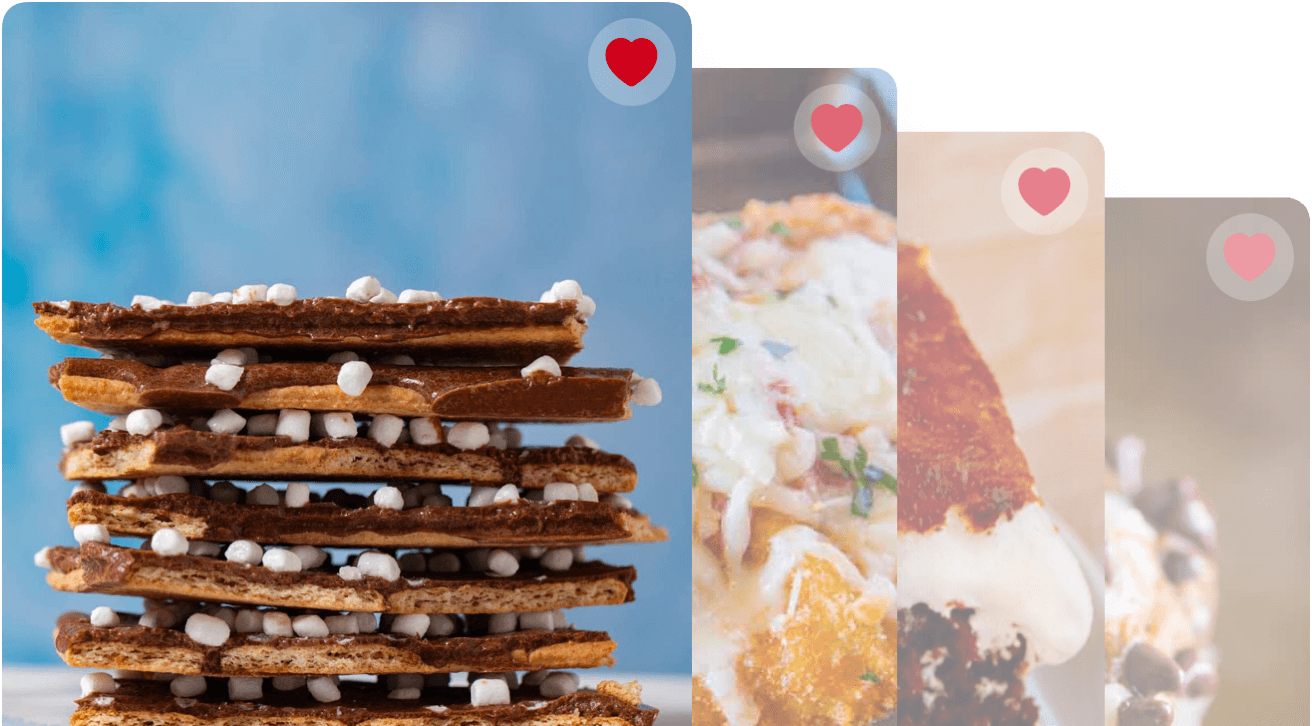 Key Ingredients in Pumpkin Cobbler
Butter Layer: Melted butter and chopped pecans form the gooey base for this cozy Pumpkin Cobbler. Always use unsalted butter for baking recipes, so that you can control the amount of salt that is added.
Pumpkin Layer: If you are using canned pumpkin, make sure you are purchasing pumpkin puree, not pumpkin pie filling. The canned filling already contains sugar, spices, and other ingredients, which would alter the recipe. The pumpkin mixture of puree, granulated sugar, and vanilla is combined with dry ingredients to create a cake-like batter for this pumpkin treat.
Topping: Brown sugar and cinnamon are sprinkled on top of the pumpkin filling before gently pouring hot water over the top. This is a special trick that makes the cobbler topping extra crunchy and keeps the cobbler moist and gooey.
Can Pumpkin Cobbler be Made Ahead?
You can prepare this homemade pumpkin cobbler in advance and cover it in the refrigerator up to 1 day before baking. Follow all the steps except for pouring the hot water over the batter. When you are ready to bake, take the cobbler out of the refrigerator about 30 minutes prior to come to room temperature, then gently pour the hot water on top and bake as usual. You can also store a baked Pumpkin Cobbler in the refrigerator up to 2 days before reheating and serving. Or freeze Pumpkin Cobbler up to 1 month before thawing and reheating to serve a warm delicious treat to your guests without any fuss!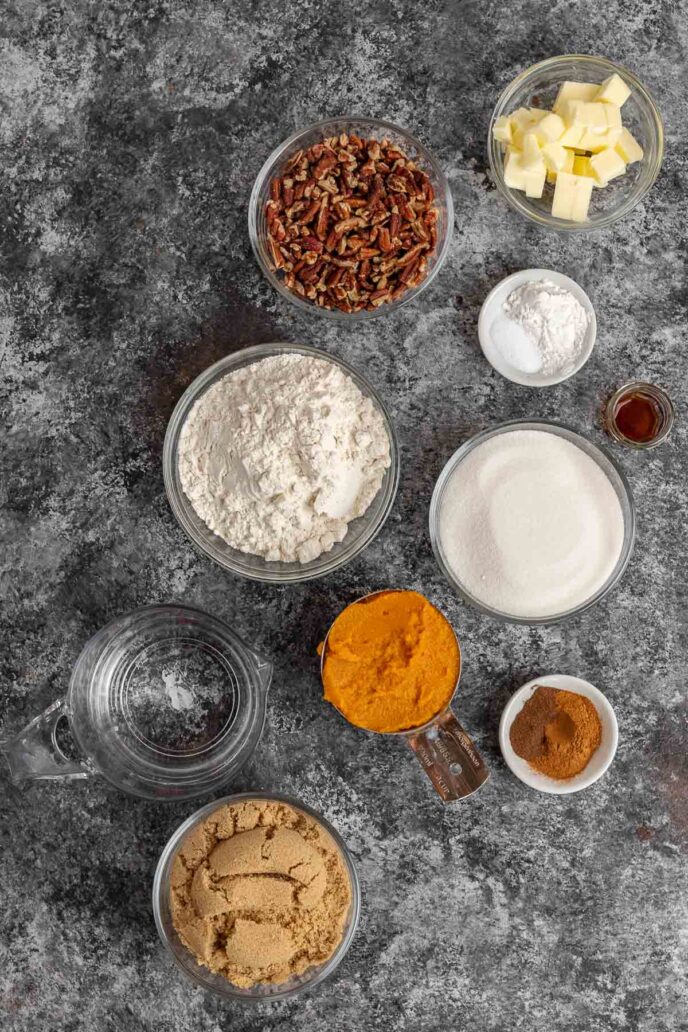 Variations on Pumpkin Cobbler
Cake Mix: Cobblers can taste great with a little cake mix sprinkled over the top. You can use a pack of yellow cake mix and add the powder over the Pumpkin Cobbler recipe before baking. The yellow cake mix will bake to golden brown perfection and add some nice vanilla flavor and sweetness. Instead of a yellow cake mix, you could also use a spice cake mix to add to the fall flavors.
Gluten-Free Maple Pumpkin Cobbler: To make this recipe slightly healthier try replacing the granulated sugar with maple syrup and the flour with oat flour, almond flour, or another gluten-free replacement. You can also use coconut oil to replace the butter in your Gluten-Free Maple Pumpkin Cobbler.
Spice: If you want some more holiday spice in your recipe mix in an extra sprinkling of cinnamon, teaspoon ground ginger, and teaspoon ground nutmeg. You can always adjust the amount of pumpkin spice according to your taste.
Buttery Oat Topping: This recipe has a brown sugar topping, but you could make a buttery oat topping to go on top. For the buttery topping cut together ¾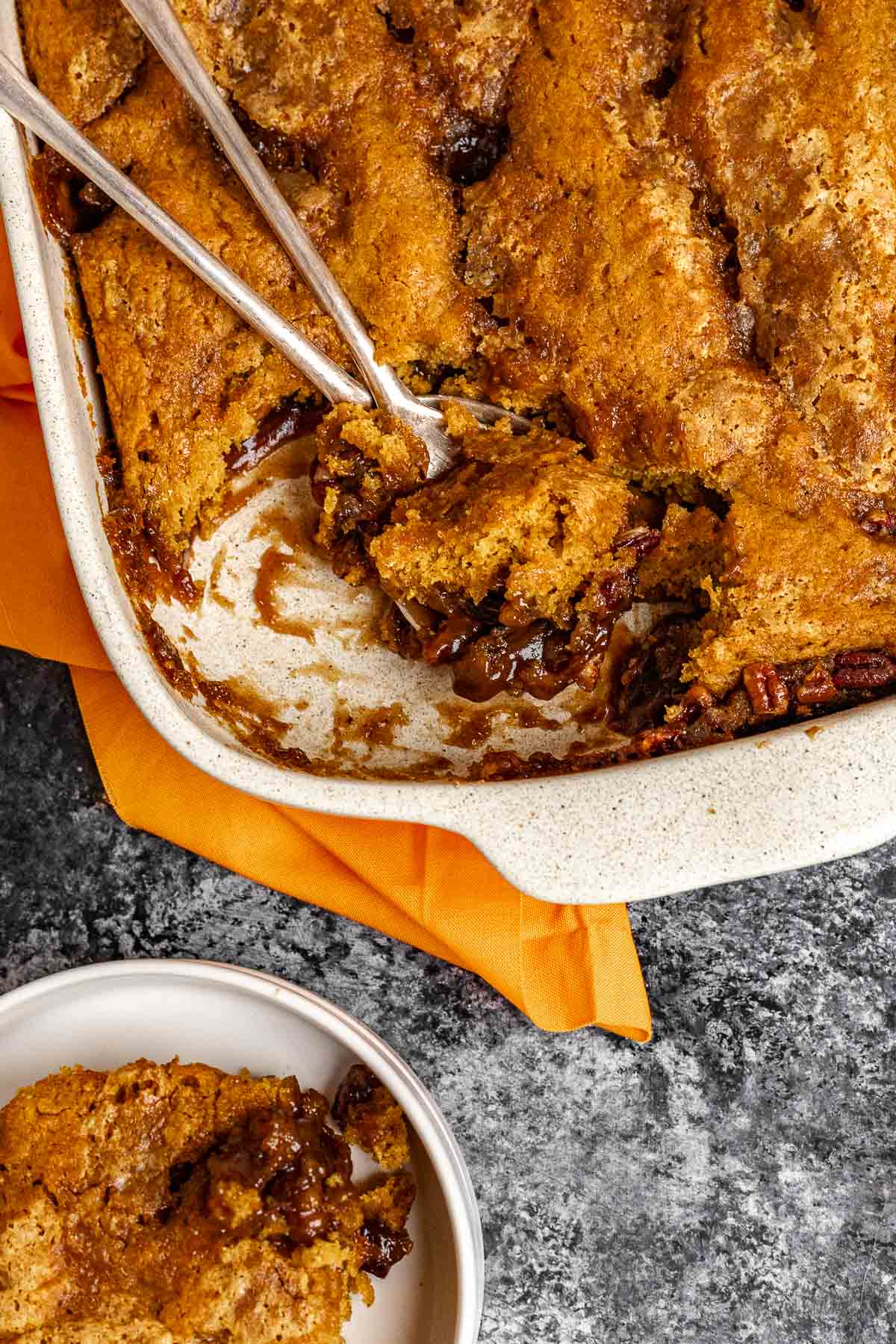 More Easy Cobbler Recipes
How to Store Pumpkin Cobbler
Serve: You can keep Pumpkin Cobbler at room temperature for up to 2 days. Cover the dish in plastic wrap or aluminum foil to keep it fresh.
Store: You can also cover the delicious dessert or put it in an airtight container to store in the fridge. It will stay good for up to 1 week.
Freeze: Let the Cobbler cool completely before you cover it to store in the freezer. To serve the frozen dessert, let it defrost in the fridge and then reheat it in the oven at 350 degrees.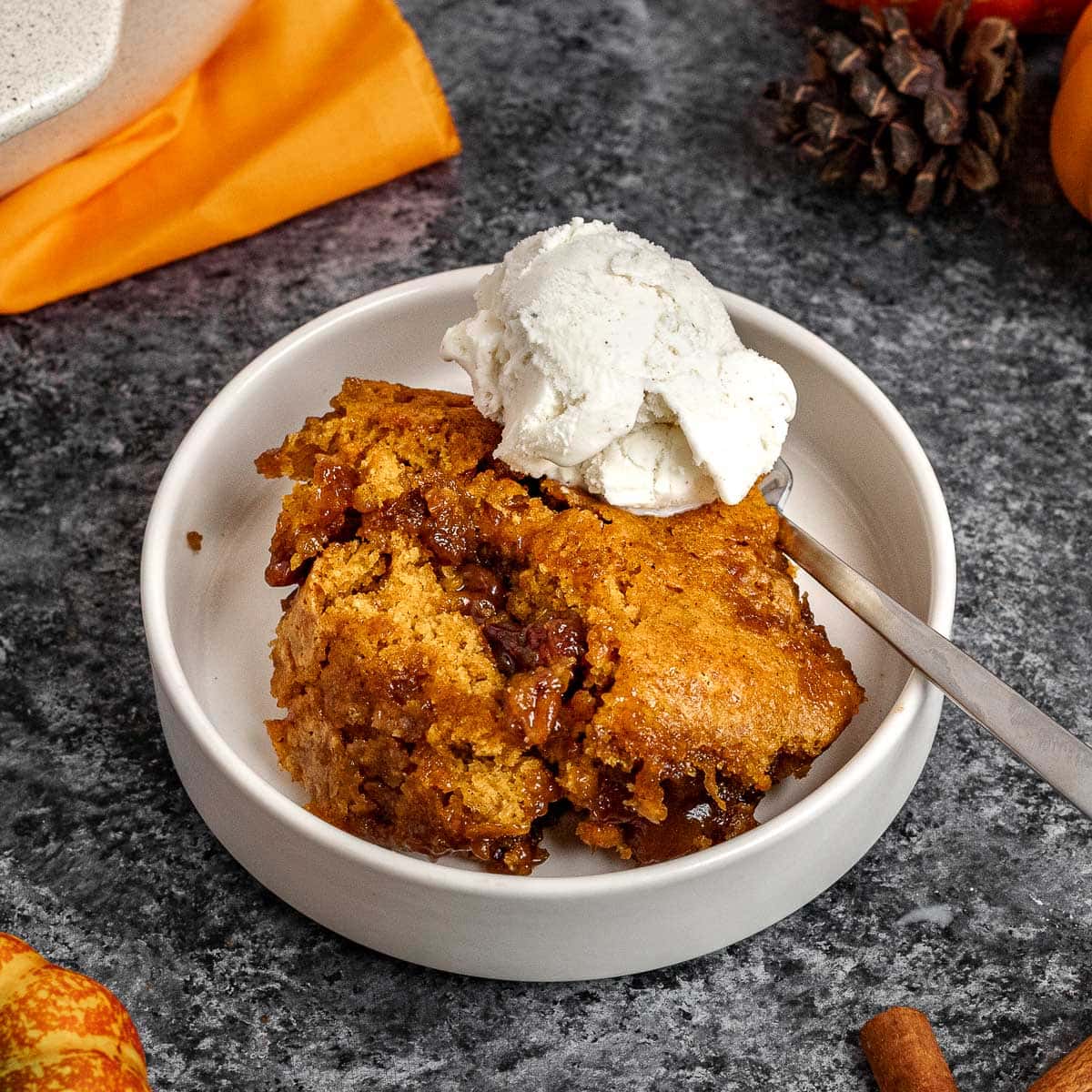 Ingredients
1/3

cup

unsalted butter

, melted

1

cup

pecans

, roughly chopped

1

cup

canned pumpkin

2

teaspoons

vanilla extract

1 1/2

cups

sugar

1 1/2

cups

flour

2 1/4

teaspoons

baking powder

3/4

teaspoon

salt

2

teaspoons

cinnamon

1

teaspoon

pumpkin pie spice
Topping:
1 1/2

cups

light brown sugar

, packed

1

teaspoon

pumpkin pie spice

1 1/2

cups

hot water
Instructions
Preheat oven to 350 degrees.

Spread melted butter and chopped pecans over a 9×13 baking pan.

In a large bowl whisk together the pumpkin, vanilla, and sugar until mostly dissolved.

Add in the flour, baking powder, salt, cinnamon, and pumpkin pie spice, then whisk until just combined and no dry streaks remain.

Spoon batter over the butter, careful to not mix the butter in.
Topping:
Mix the brown sugar and pumpkin spice and sprinkle it over the batter.

Gently pour the water on top.
Nutrition
Calories:
279
kcal
|
Carbohydrates:
51
g
|
Protein:
2
g
|
Fat:
8
g
|
Saturated Fat:
3
g
|
Cholesterol:
10
mg
|
Sodium:
118
mg
|
Potassium:
154
mg
|
Fiber:
2
g
|
Sugar:
40
g
|
Vitamin A:
2505
IU
|
Vitamin C:
1
mg
|
Calcium:
58
mg
|
Iron:
1
mg