Pork Chops with Apples and Onions is a tasty one-pan meal with a sweet and savory brown sugar and garlic sauce. Ready in just 25 minutes!
Classic Pork Chops are great for a quick and easy Weeknight Dinner. In this version, we've kept the recipe simple while also adding tons of extra flavor with onions, tart apples, and an amazing sauce.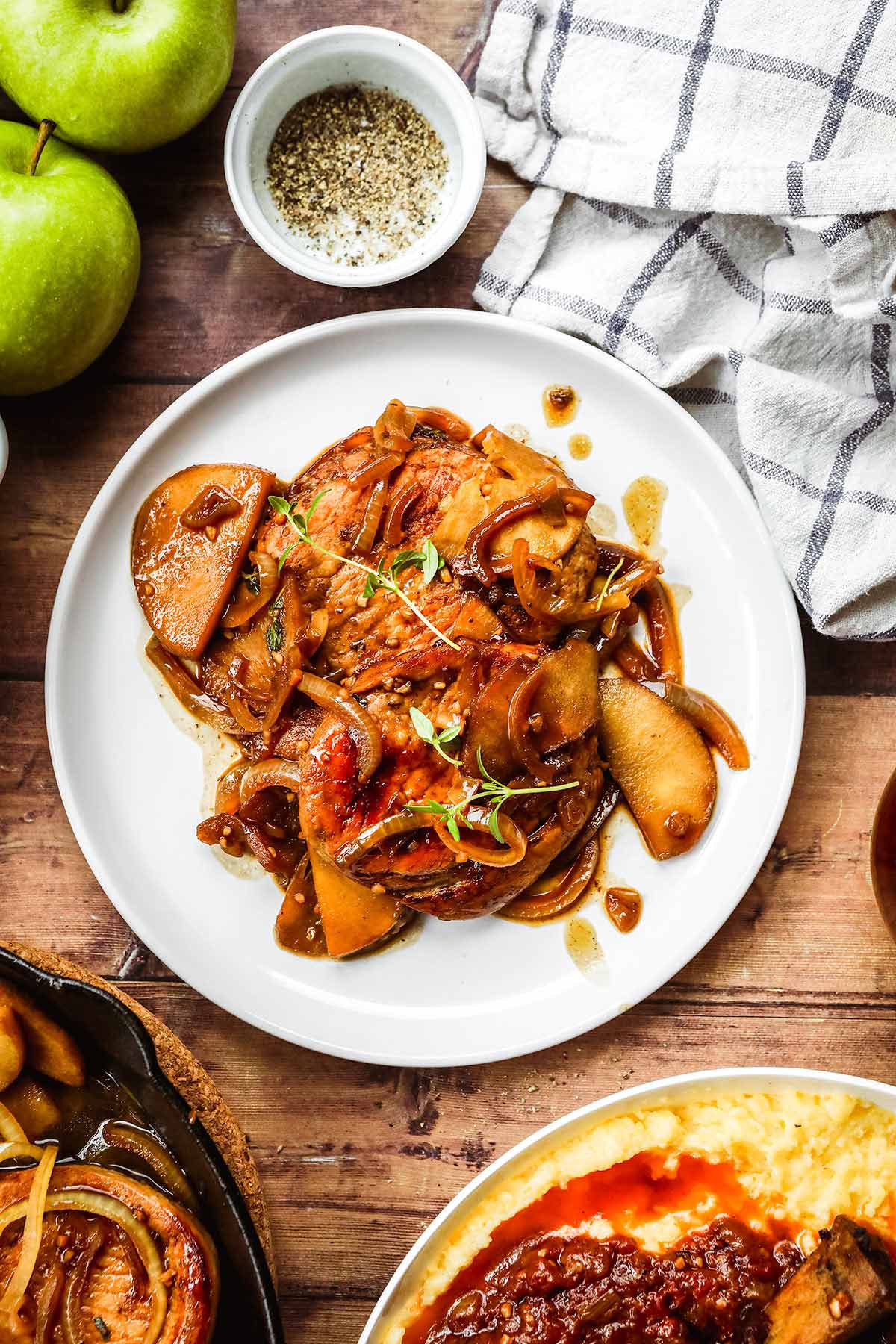 If you're looking for no-fuss family dinners that everyone will love, then you've come to the right place! This flavorful meal is made in under 30 minutes with simple, hearty, and comforting ingredients. The pork chops are cooked with sautéed apples and onions in a rich sauce. As the dish cooks the meat absorbs all the tart savory, and sweet flavors around it to make perfect pork chops that are wonderfully juicy and full of warmth.
One-pot meals like this one are the perfect recipes to make an amazing dinner in a hurry. Instead of juggling a bunch of things at once, the pork, onions, apples, and brown sugar sauce are all made with an easy cooking method on the stovetop. There's no need for any fancy equipment or confusing instructions. Once the skillet pork chops are done you'll have a hearty dish that's great for a family dinner.
This meal is not just delicious comfort food, it's also an economical way to prepare an impressive fall dinner. Pork is generally less expensive per pound than beef or chicken, and by adding just a few pantry ingredients along with apples and onions, you can wow your family and still stick to your grocery budget.
To round out the meal, you can serve the pork chops with equally easy and comforting side dishes. They'd taste great served with some Creamy Mashed Potatoes or simple Brown Rice. You can drizzle any extra sauce over the sides to spread the amazing flavor over your whole plate.
What are Pork Loin Chops?
Pork loin chops are primarily the "white meat" of the pig. They have less fat than the darker meat you'd find in shoulder chops or country style ribs. This means they are great for quick cooking recipes such as this, because you don't want to cook them for too long or they can dry out. The "dark meat" chops you can sometimes find less expensively at the store can handle a longer cooking time or braising. These are better for baked or slow cooker methods.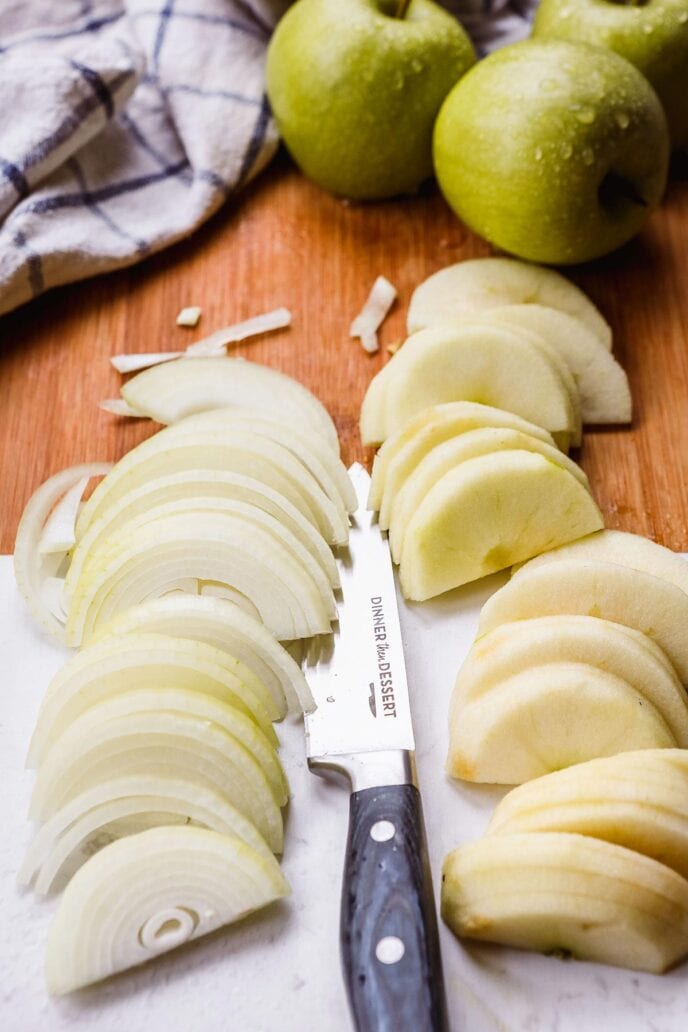 How to Make Pork Chops with Apples and Onions
Prep: To prep the meat, season with salt and pepper. Slice the onions into small pieces and the apples into wedges.
Pork cooking: Turn the stovetop to medium-high heat and add butter to the base of the cast iron skillet. Move the skillet from side to side so that the melted butter coats the bottom. Add the boneless pork chops to the pan and cook on both sides for 5-6 minutes to brown pork chops. You can make sure the pork is done by checking the internal temperature has reached 145 degrees.
Sauce: Remove the pork from the pan and lower to medium heat. Add in the onion slices and apples. After 3-4 minutes of cooking add chicken broth, brown sugar, apple cider vinegar, garlic, and thyme to the apple mixture. Stir the sauce well.
Finish: Return pork chops to the pan and let it all simmer together for 4-5 minutes until the sauce is thickened and the onions are tender.
More Pork Recipes
Frequently Asked Questions
How do I know when Pork Loin Chops are done?
Use a meat thermometer to monitor the internal temperature. Pork Chops are safe to eat at 145 degrees, which is considered medium rare. It is safe to eat medium rare Pork Chops, and you will find that they taste tender, juicy and less dry than when they are cooked to a higher temperature.
Why are my Pork Chops dry?
Make sure you are using boneless pork loin chops for this recipe so that the cooking time is accurate. The best way to keep pork chops from drying out is to cook them to an internal temperature of about 145 degrees and then let rest for 5 minutes. If you use bone-in or another cut of pork chop, adjust the time accordingly and follow the 145 degree recommendation.
Why should I use Boneless Pork Chops instead of Bone-in?
The advantage of using boneless pork chops is that the cooking time will be more even throughout the chop, and you will have a juicier end result. Bone-in pork chops can have a lot of flavor when prepared well, but when pan frying you're more likely to dry out the loin side of your chop before the meat next to the bone is a safe temperature.
Why are apples served with pork?
People have been serving pork with apples for centuries, according to food historians. It likely has to do with the autumn harvest being abundant with apples, during the same season in which pigs would be slaughtered to make preserved meats for the winter. The fresher parts of the pig were enjoyed for a harvest feast, and apples were used as a natural sweetener to complement the savory meal. Pork with apples became a natural pairing that is still enjoyed to this day.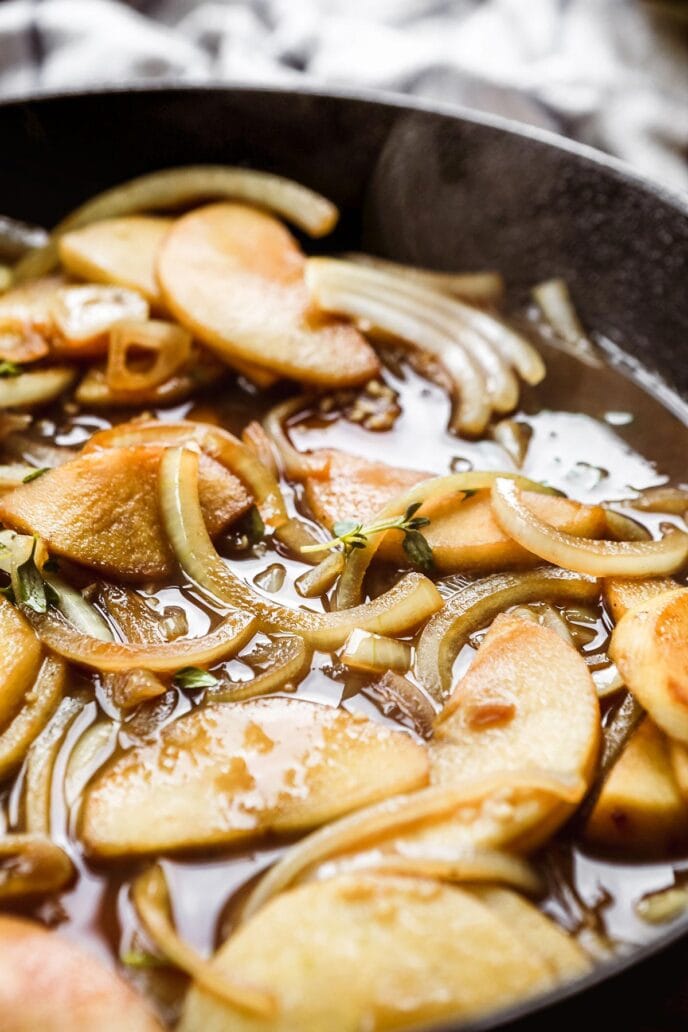 Create a free account to

Save Recipes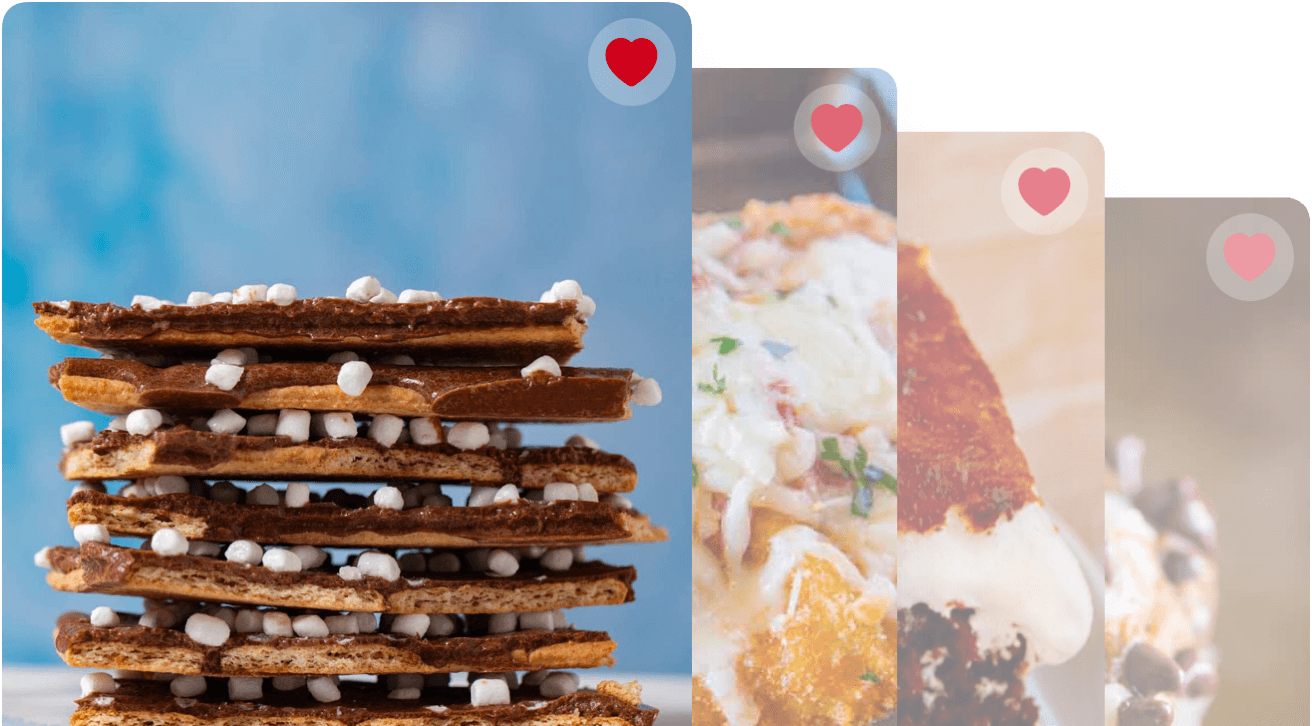 Key Ingredients in Pork Chops with Apples and Onions
Pork Loin Chops: Look for pink boneless loin chops with a small amount of fat on the edge and a bit of marbling throughout. Choosing chops that are about 1 inch thick will ensure you still have a juicy tender inside.
Apples: This recipe calls for Granny Smith apples. The tart, crisp green apples are perfect for cooking because they will balance the sweetness of the brown sugar and not get mushy from the cooking process.
Onions: The yellow onion lends a savory, aromatic flavor that blends perfectly with the sweeter ingredients in this dish.
Brown Sugar Garlic Sauce: Combine the chicken broth, brown sugar, apple cider vinegar, garlic, and thyme along with the softened apples and onions in the same pan that the Pork Chops were seared. The delicious juices and brown bits left behind will help to flavor the sauce as it reduces, soaking into the apples and coating the Pork Chops with sweet and savory sauce.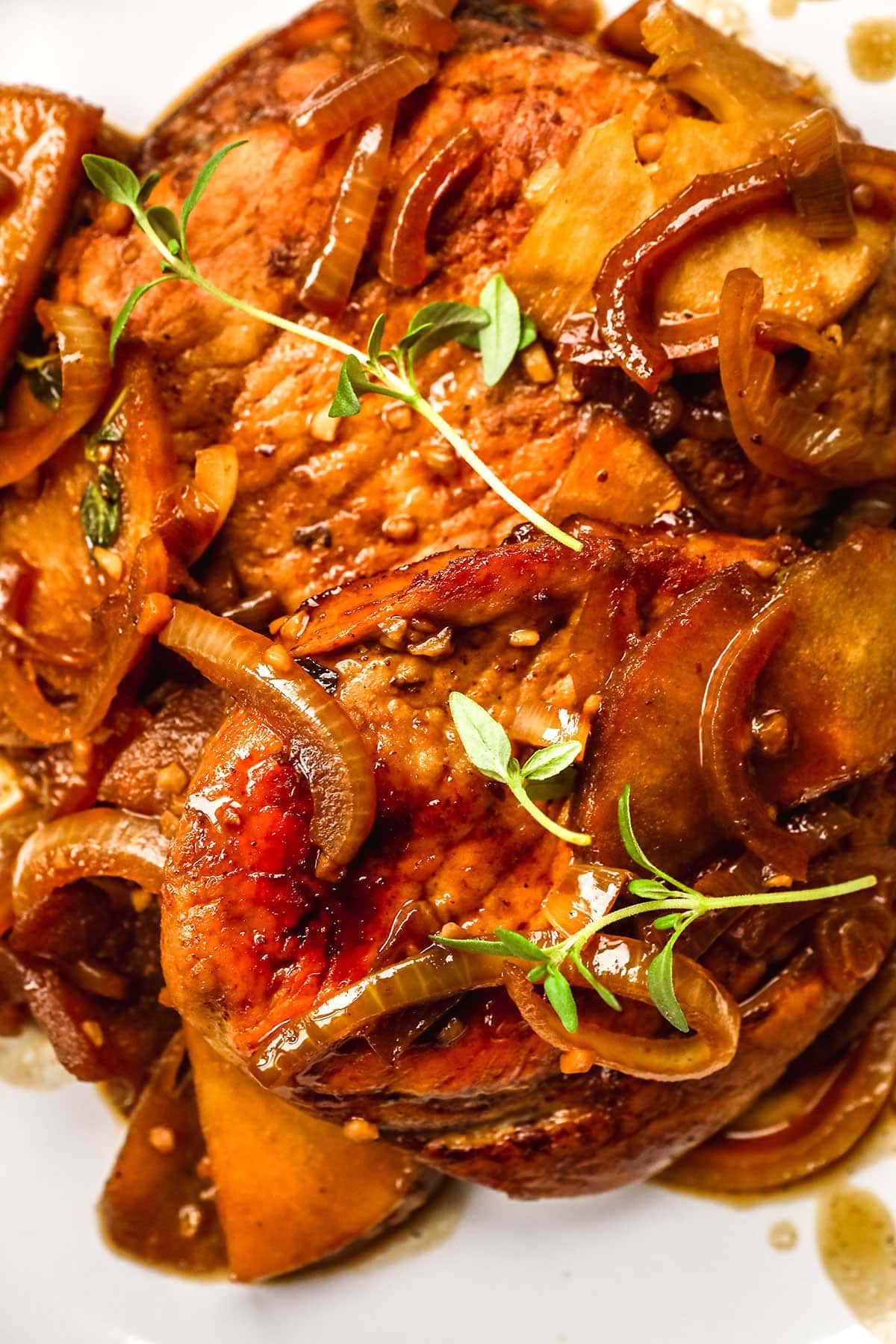 Variations on Pork Chops with Apples and Onions
Potatoes: To add some extra filling ingredients to the recipe, you can dice some russet potatoes or sweet potatoes to add to the mix. Potatoes may take a little longer to cook. To make the process easier, you can par boil the potatoes in a separate pan, then mix them with the sauce onion and apple ingredients when you add the pork back in.
Apples: We've used Granny Smith Apples for this recipe, which are nice and crisp with a tart, tangy taste. If you want sweeter apples try Jonagold, Honeycrisp, or Winesap.
Seasonings: Try adding in some extra herbs and seasonings like fresh sage, rosemary, oregano, cinnamon, chili powder, or cumin.
Sauce Flavorings: Add a small amount of extra liquid ingredients to enhance the sauce. You could mix Worcestershire sauce, liquid smoke, white wine, soy sauce, balsamic vinegar or dijon mustard into the sauce.
Side Dishes for Pork Chops
How to Store Pork Chops
Serve: After cooking, you don't want to leave these pork chops at room temperature for more than 2 hours.
Store: Make sure to let the pork cool down before you seal any leftovers in an airtight container and store them in the fridge for 3-4 days.
Freeze: You can also seal and freeze the recipe to keep in the freezer for 6 months. When you're ready to reheat the leftovers, defrost in the fridge overnight. Heat them up on the stovetop, or for a few minutes in your oven.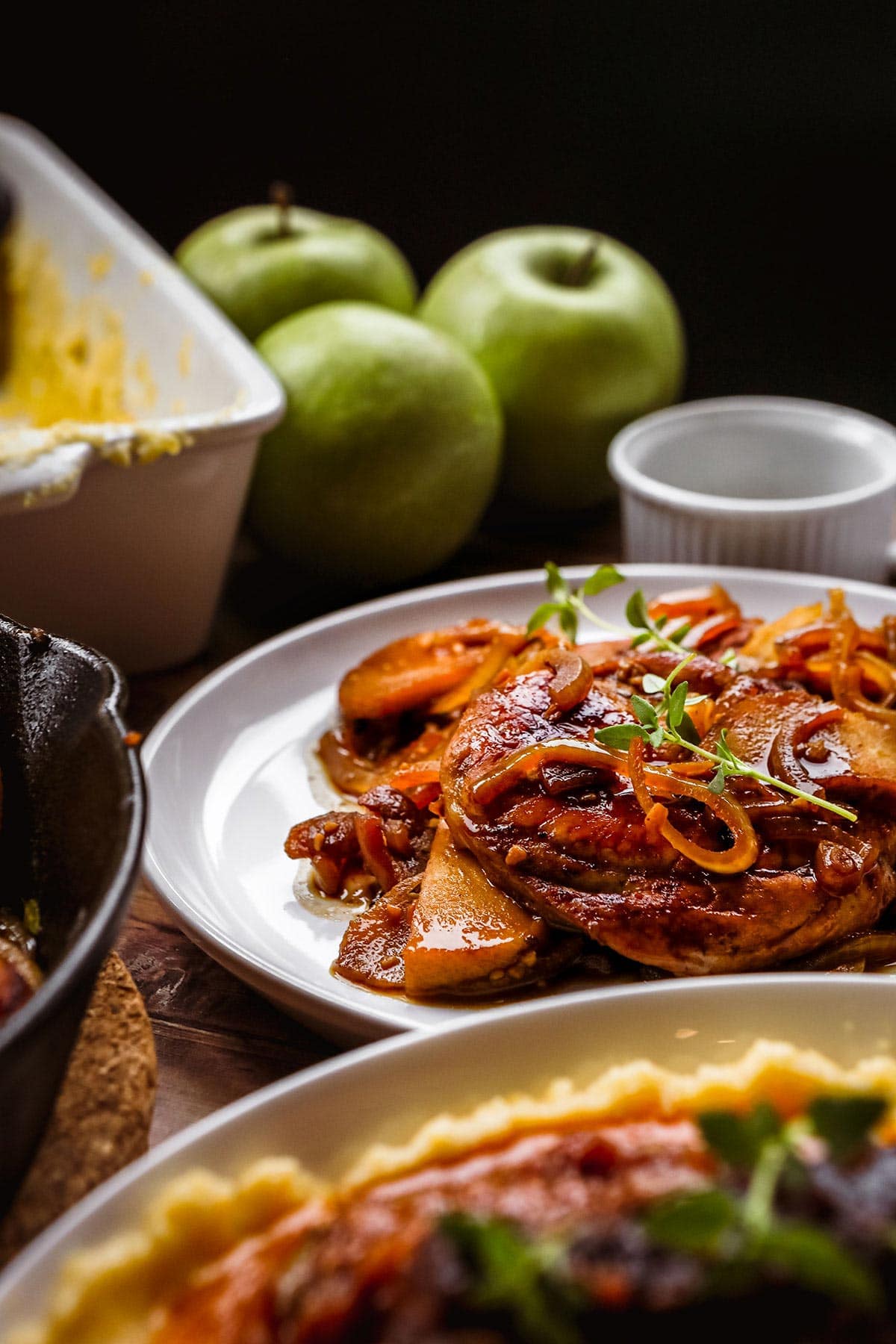 Ingredients
4

pork loin chops

, boneless

1

teaspoon

kosher salt

1/2

teaspoon

coarse ground black pepper

4

tablespoons

unsalted butter

2

Granny Smith apples

, peeled and thinly sliced

1

yellow onion

, thinly sliced

1/2

cup

chicken broth

2

tablespoons

brown sugar

1

tablespoon

apple cider vinegar

1

clove

garlic

, minced

1

teaspoon

fresh thyme

, stem removed
Instructions
Season pork chops with salt and pepper.

Add butter to a large heavy skillet on medium-high heat and cook the pork chops for

5-6 minutes

.

Remove the pork, lower the heat to medium, add in the apples and onions and cook for

3-4 minutes

.

Add in the chicken broth, brown sugar, apple cider vinegar, garlic, and thyme, stirring well.

Add the pork chops back into the pan and let the sauce simmer for

4-5 minutes

until the sauce has thickened and onions are tender.
Nutrition
Calories:
394
kcal
|
Carbohydrates:
22
g
|
Protein:
30
g
|
Fat:
21
g
|
Saturated Fat:
11
g
|
Trans Fat:
1
g
|
Cholesterol:
120
mg
|
Sodium:
759
mg
|
Potassium:
684
mg
|
Fiber:
3
g
|
Sugar:
16
g
|
Vitamin A:
431
IU
|
Vitamin C:
9
mg
|
Calcium:
36
mg
|
Iron:
1
mg