Brown Sugar Apple Whole Grain Bowl is a healthy slow cooker breakfast with cinnamon, barley, wheat berries, quinoa, and apple pieces.
Crock pot Breakfast Recipes like Slow Cooker Cinnamon Rolls are a great way to make a crowd-pleasing meal for the holidays. This superfood grain bowl is a healthy slow cooker breakfast with delicious apple pie flavor the whole family will love.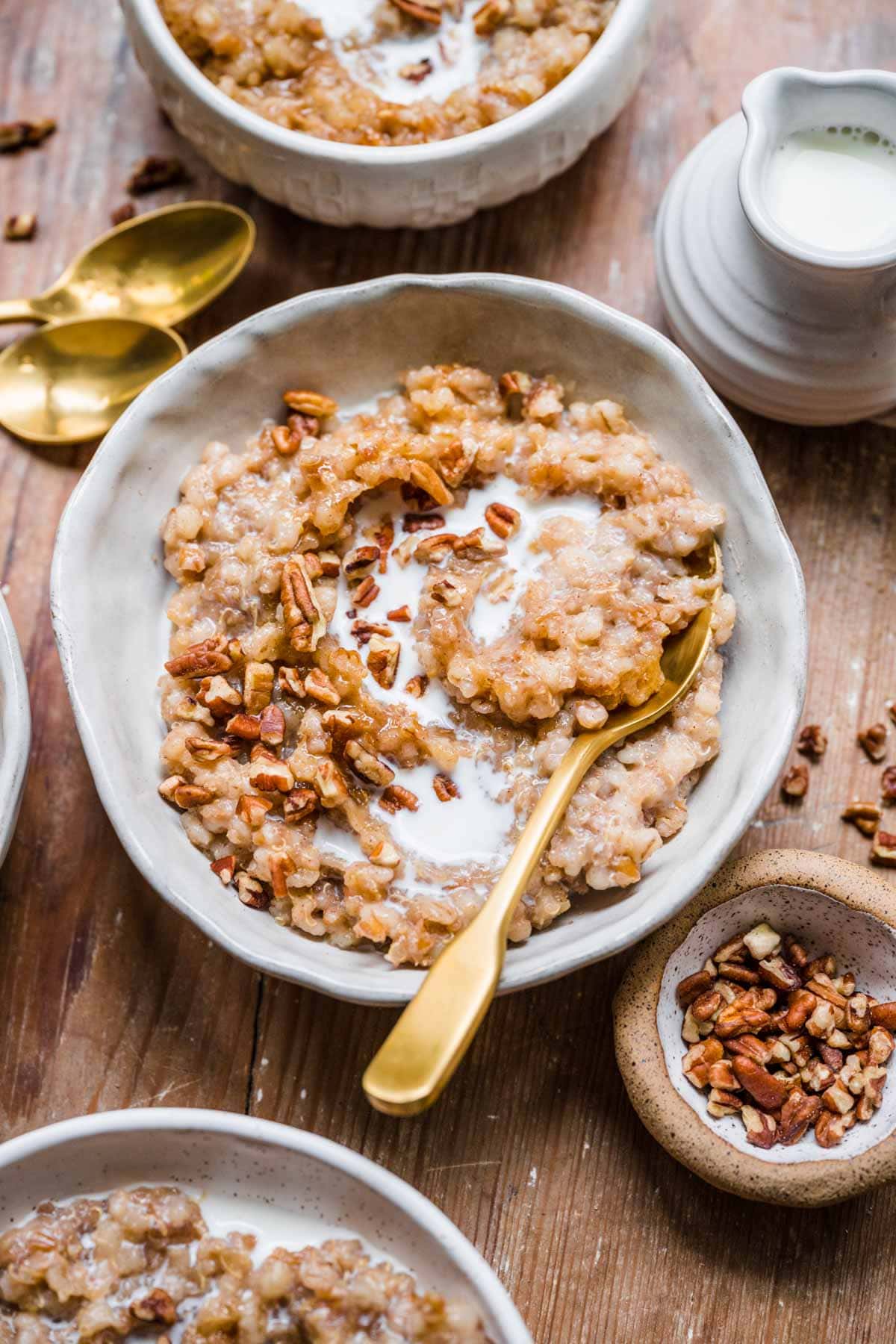 Grain bowl recipes are made with simple ingredients that come together in the slow cooker for a wonderfully tasty filling breakfast. Chewy grains are topped off with brown sugar, cinnamon, pecans, and brown sugar for a rich combination perfect for fall. As the whole grains and apples cook in the slow cooker it fills the whole house with the scent of warm Apple Pie.
If you've never had a porridge made with ancient grains like wheat berries quinoa before, think of this like a thicker oatmeal. The slow cooker is a great way to make sure it gets tender but still has a chewy texture to balance the soft cooked apples. Once it's done cooking just serve this hearty porridge like you would a bowl of oatmeal for an easy, family-friendly breakfast that tastes good and is good for you. Leftovers make delicious Yogurt Parfaits layered with Greek yogurt and more fresh apples!
Brown Sugar Whole Grain Bowls are great for meal prep. All you have to do is put the ingredients in the slow cooker, then let the cooker do the rest of the work. You can combine the ingredients in the crockpot insert the night before and let it soak overnight in the fridge. Wake up a couple hours early to pop the insert into the crock pot and turn on. You could also cook it on low while you are sleeping if your slow cooker has an automatic warm setting. Either way, there's a delicious healthy breakfast waiting for you when you are ready to start you day!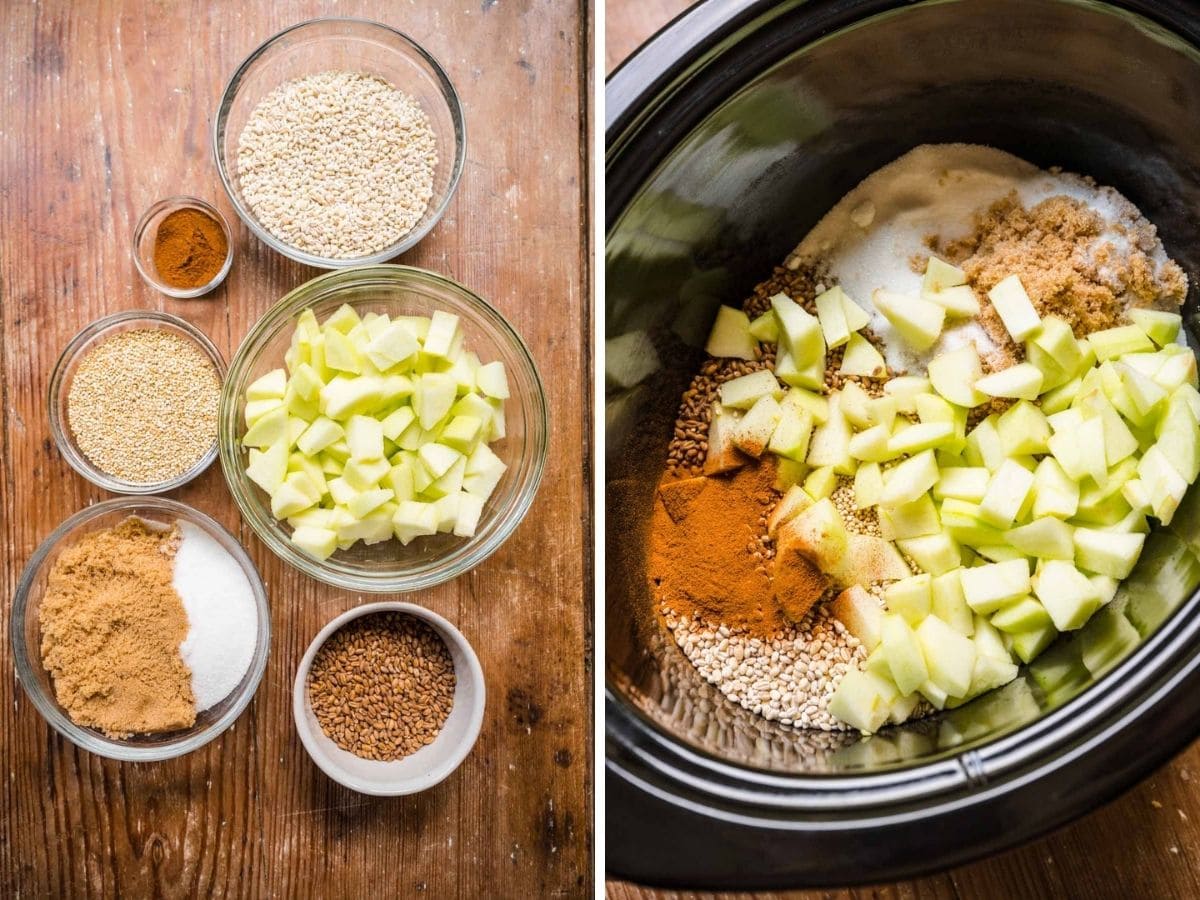 What are Ancient Grains?
Ancient grains are grains that have been around for a long time and have not been genetically modified or hybridized like many modern grains. They are often considered to be more nutritious than modern grains and may be easier to digest for some people. They are full of nutrients like B Vitamins, Calcium, Soluble Fiber, and are also a good source of protein.
How to Make Brown Sugar Apple Whole Grain Bowl
Prep: There are a few ingredients that you'll want to prep ahead of time. First, peel, core, and slice 2 Granny Smith apples. Then thoroughly rinse the quinoa so that it's ready to go.
Combine: Add the apple slices, brown sugar, cinnamon, nutmeg, barley, wheat berries, and quinoa to a medium-slow cooker. Pour 6 cups of water over the grains and stir until the ingredients are nicely distributed.
Cook: Cook the grains for 5 hours on low or for 3 hours on high.
Serve: After the cooking time, serve the recipe in bowls. Top each one off with milk, chopped pecans, a sprinkling of brown sugar, and any other toppings you want to add.
More Easy Breakfast Recipes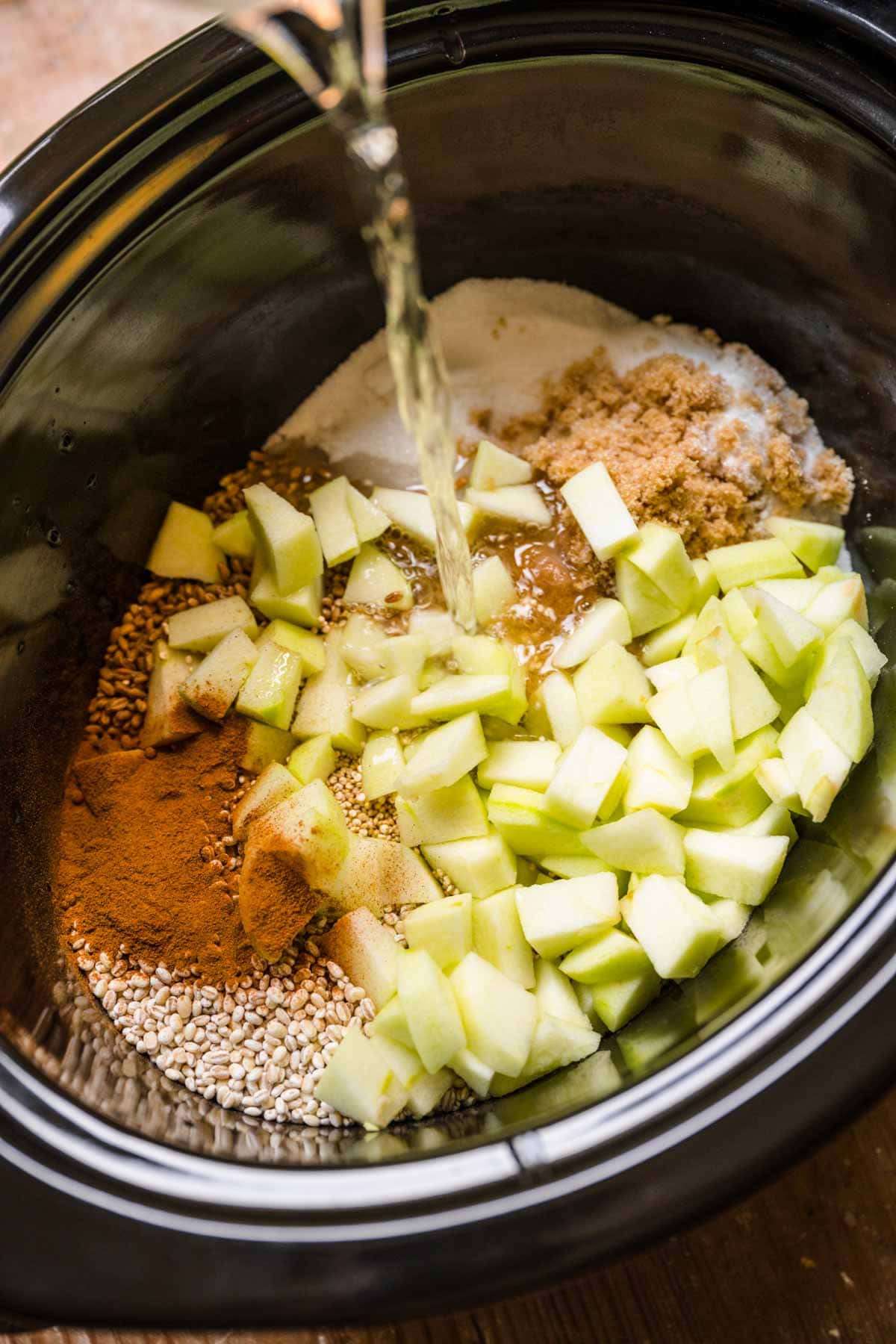 FAQs for Brown Sugar Apple Whole Grain Bowl
Are wheat berries wheat?
Yes, wheat berries are whole grains that are obtained from the wheat plant. They are made by harvesting the wheat plant, removing the outer husk, and then milling the grain to remove the bran and the germ. The resulting berries that can be cooked like this porridge or ground for baking.
What are examples of ancient grains?
There are quite a few ancient grains found all around the world, but some of the most common you'll see in the US are quinoa, millet and farro, even though they are from South America, Asia, and the Middle East, respectively. Others ancient grains include amaranth from South America, spelt from Europe, and teff from Africa.
What are good apples to use in slow cooker porridge?
Just like when you are baking apple desserts, you want to use tart, sweet apples like Granny Smith Apples, Golden Delicious, or Fuji apples with a firm texture. The porridge breaks down the apples as they cook so you want a variety that will keep their shape instead of getting mushy.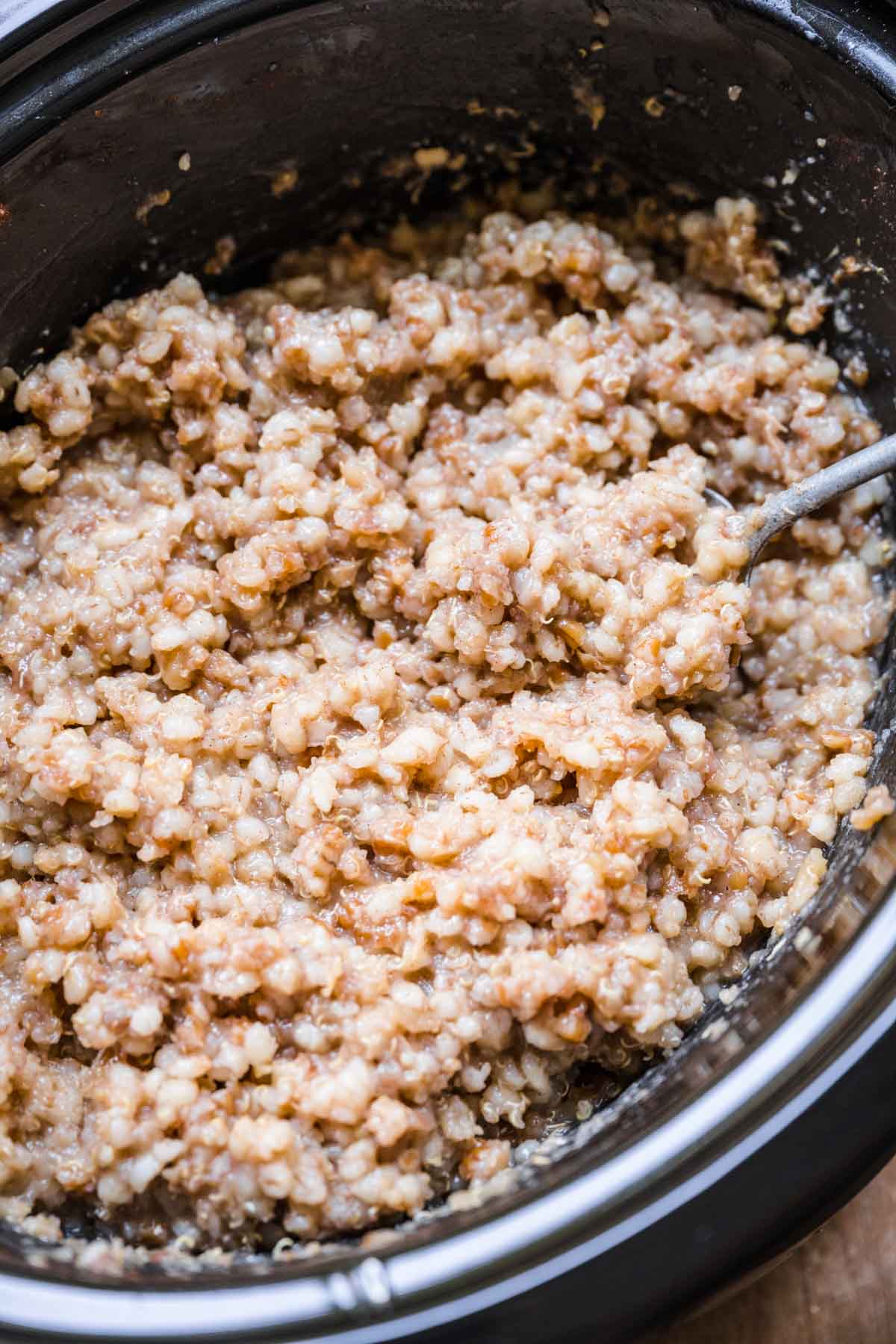 Create a free account to

Save Recipes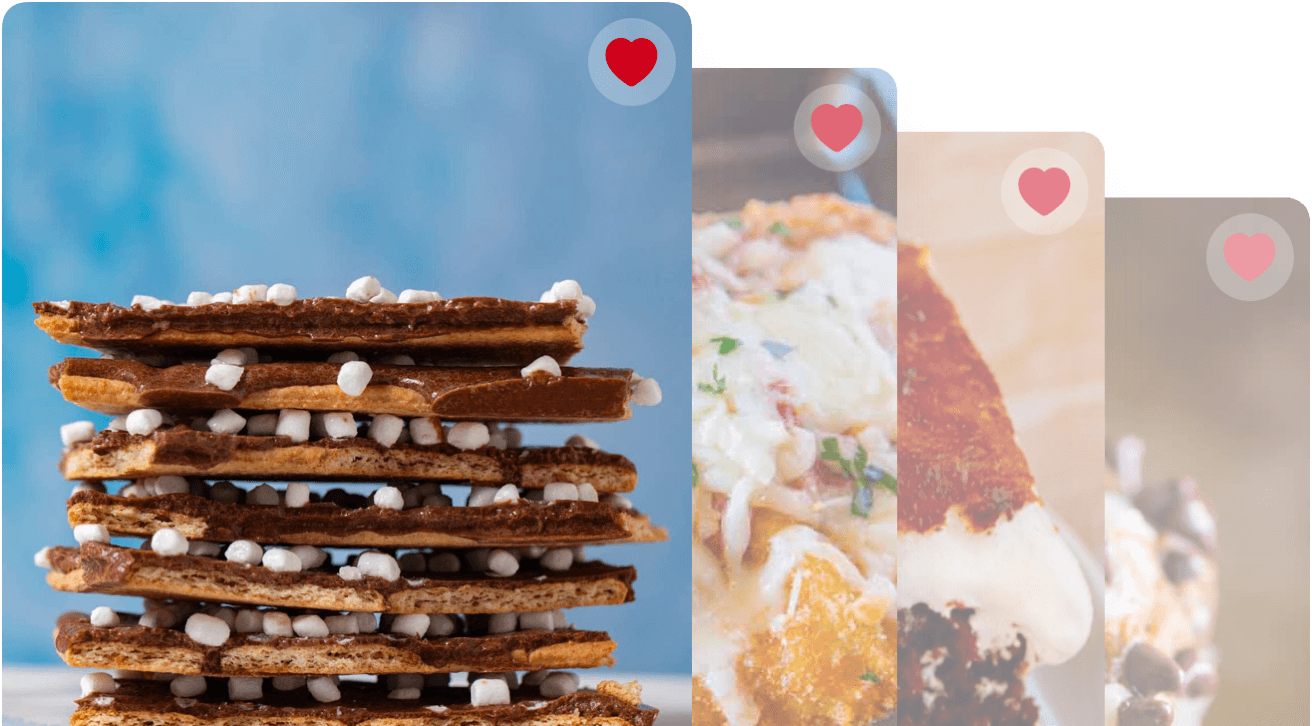 Key Ingredients
Fresh Apples: Granny Smith Apples provide natural sweetness and flavor to the porridge. The tender cooked apples give this hearty breakfast apple pie flavor perfect for fall.
Pearl Barley: Barley is an ancient grain that provides a chewy texture and a slightly nutty flavor to the porridge. It is also a good source of fiber and nutrients.
Wheat Berries: Wheat berries are whole grains packed with protein, iron, and B vitamins. Wheat berries can be found in natural food stores, specialty food stores, and some supermarkets.
Quinoa: While you probably see it in savory dishes, quinoa is delicious in whole grain breakfast bowls and sweet porridge. Its a heart healthy grain filled with protein, soluble fiber, and nutrients and adds a slightly crunchy texture to the porridge.
Sugars: Brown sugar adds a rich, caramel-like flavor to the porridge thanks to the sticky molasses but it's toned down slightly with the white refined sugar so it tastes more like classic apple pie.
Cinnamon: Ground cinnamon brings a warm, aromatic flavor to the ancient grains and pairs well with the apples. You could add other warm fall spices for even more flavor.
Variations
Fruit: There are a variety of flavors you can add to the same grain bowl base. Try making this recipe with different fruits like sliced bananas, blueberries, strawberries, or raspberries.
Seeds and nuts: Some other excellent options for this recipe are adding in more nuts and seeds for texture. Toasted sesame seeds or pumpkin seeds, pistachios, almonds, walnuts, or cashew would all taste amazing.
Pumpkin spice grain bowl: For the perfect Autumn breakfast bowl, replace the Granny Smith apples with ¼ cup Pumpkin Puree. Add 2 teaspoons Pumpkin Spice, and top the finished bowls off with pumpkin seeds.
Savory breakfast bowls: You can take out the cinnamon and brown sugar, and make a savory grain bowl. There are lots of veggies and other ingredients that you can add to make a delicious savory dish. Try topping the bowl off with avocado slices, tomatoes, chopped spinach, feta cheese, and soft-boiled eggs
Spices: Another way to experiment with grain bowl ideas is by adding different spices. Ginger, allspice, ground nutmeg or cloves would make great additions. If you make a savory grain bowl, try adding kosher salt, onion powder, or chili flakes.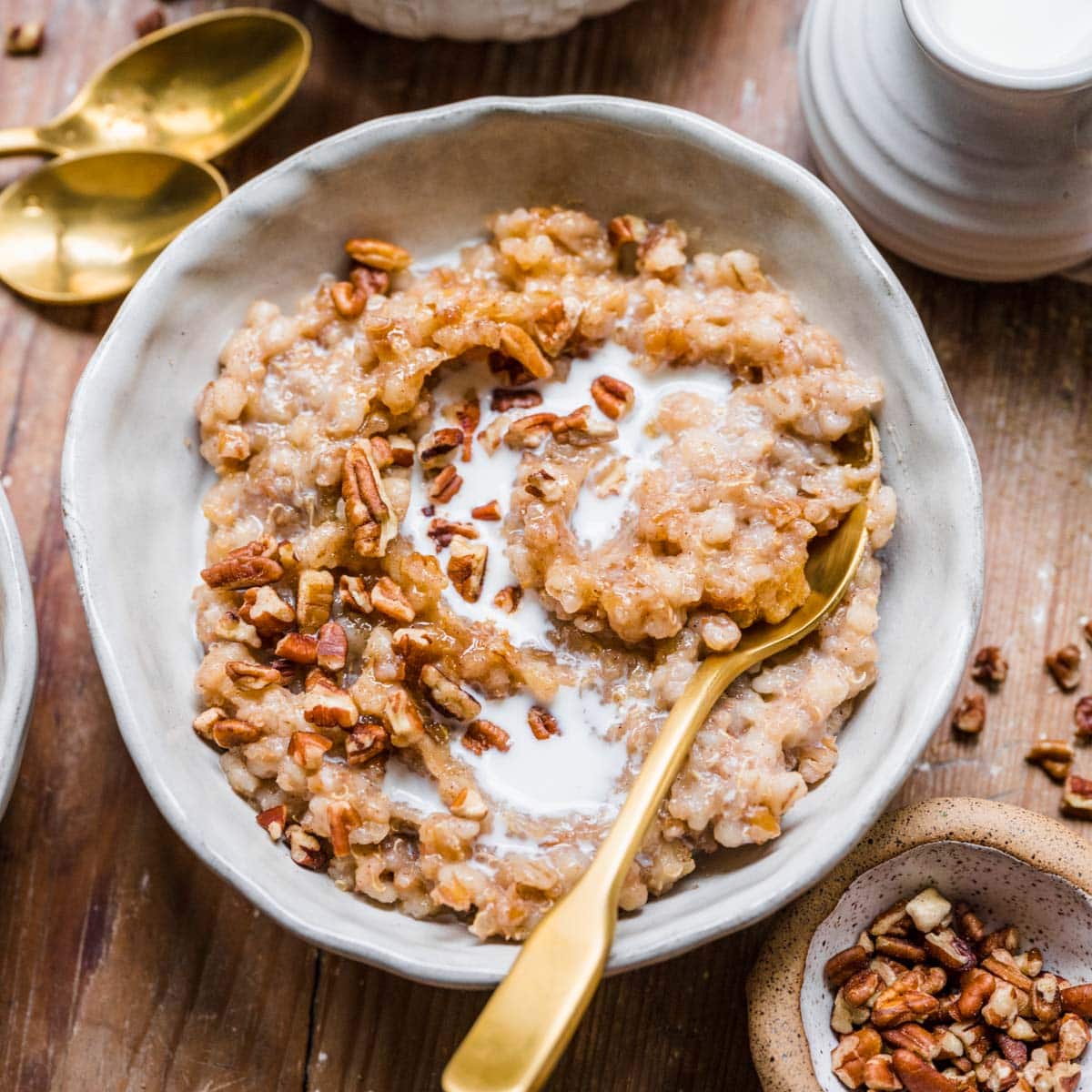 Stove Top Brown Sugar Apple Whole Grain Bowl
In a large saucepan, combine the chopped apples, brown sugar, white sugar, cinnamon, barley, wheat berries, quinoa, and water.
Bring the mixture to a boil over medium-high heat, then reduce the heat to low and simmer for about 45 minutes, or until the grains are tender and the porridge is creamy.
Stir the porridge well and serve hot with toppings like milk and pecans and more brown sugar.
Baked Brown Sugar Apple Whole Grain Bowl
Preheat the oven to 350 degrees. Spray a baking dish with cooking spray.
In a large bowl, combine the apple pieces, brown sugar, granulated sugar, ground cinnamon, pearl barley, wheat berries, quinoa, and water.
Cover the baking dish with foil and bake for 1 hour, or until the grains are tender and the porridge is creamy.
Stir the porridge well and serve hot, topped with milk, chopped pecans, and a sprinkle of brown sugar.
Instant Pot Brown Sugar Apple Whole Grain Bowls
Combine the apples, both sugars, cinnamon, barley, quinoa, and wheat berries with water in pressure cooker.
Lock the lid and seal the pressure valve. Set it to the "grain" or "porridge" setting, or cook on Manual high pressure for 13 minutes.
Cook for the recommended time, then naturally release pressure.
Stir the porridge well then serve with milk, chopped pecans, and other toppings.
How to Store
Serve: Breakfast Grain Bowls should be served warm. If you have any leftovers, don't leave them at room temperature for more than 2 hours, otherwise, they'll dry out. To keep it fresher longer leave the Apple Whole Grain recipe in the slow cooker at low heat.
Store: To keep any leftovers, put them in an airtight container. They'll stay good in the fridge for 3-5 days.
Freeze: Kept tightly sealed, you can freeze grain bowls for up to 3 months. Let them thaw in the fridge before reheating in the microwave or slow cooker.


Ingredients
2

Granny Smith apples

, cored, peeled, and chopped

1/2

cup

packed brown sugar

1/2

cup

sugar

2

teaspoons

ground cinnamon

1

cup

medium pearl barley

1/2

cup

wheat berries

1/2

cup

quinoa

, rinsed well

6

cups

water

pecans and milk

, for serving
Instructions
In a medium-slow cooker, add apples, brown sugar, cinnamon, nutmeg, barley, wheat berries, quinoa, and water.

Stir well and cook for

5 hours

on low or

3 hours

on high.

Serve with milk, chopped pecans, and a sprinkle of brown sugar.
Nutrition
Calories:
392
kcal
|
Carbohydrates:
90
g
|
Protein:
8
g
|
Fat:
2
g
|
Saturated Fat:
1
g
|
Polyunsaturated Fat:
1
g
|
Monounsaturated Fat:
1
g
|
Sodium:
22
mg
|
Potassium:
266
mg
|
Fiber:
10
g
|
Sugar:
41
g
|
Vitamin A:
44
IU
|
Vitamin C:
3
mg
|
Calcium:
57
mg
|
Iron:
2
mg