This Baked Strawberry Pie is an easy all-American classic pie bursting with fresh strawberries, sweetened with sugar and cinnamon, baked in a double crust.
If you are fan of nostalgic diner-style desserts like Apple Pie and Blueberry Pie, you are going love this easy Strawberry Pie recipe. For more classics, and some with modern twists, check out our Pie and Pastry Recipes section.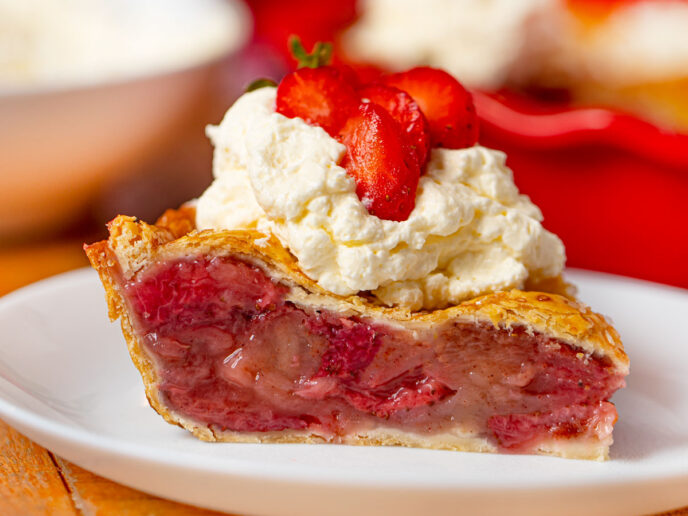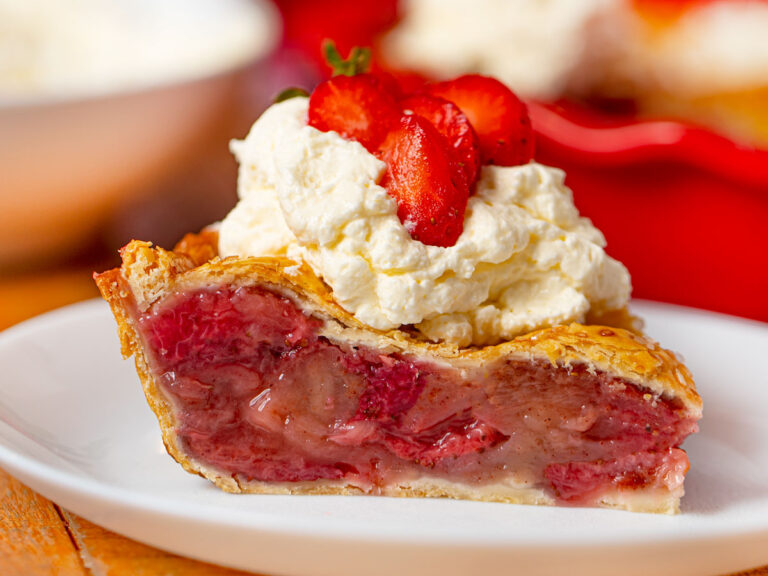 BAKED STRAWBERRY PIE
Pies are one of those comforting desserts that are easy recipes to make with only a few ingredients. I love fruit filled pies and using seasonal fruits and berries. Now that we are heading into spring, it's time for fresh berries like strawberries and blackberries.
This Strawberry Pie recipe is perfect as the weather is still not quite warm and you are looking for a burst of sunshine. It also looks gorgeous, so you can serve it as a dessert for Easter. If you have an extra pie crust, use a cookie cutter in cute shapes to cut decorations for the top of your pie.
I used fresh strawberries for this pie, however you can use frozen strawberries for this pie. The texture will be different and I suggest adding a tablespoon of cornstarch to balance out the extra moisture from the frozen berries. Make sure you thaw them and drain well before making your strawberry mixture.
To slice your strawberries easily, simply cut a V into the top to remove the stems. Slice long ways in thin, about a ¼ inch wide, pieces. If you decide to make a single crust pie, layer your strawberries, start around the edges in a circular pattern and work inwards.
How to keep your pie crust from getting soggy:
To make sure your pie shell is completely cooked on the bottom, you can blind bake it for 15 minutes. This means bake an empty pie shell for 15 minutes before taking out and adding your filling to bake as usual. You can also bake your pie on the lowest shelf on a sheet pan.
MORE DELICIOUS, CLASSIC FRUIT PIES
HOW TO MAKE BAKED STRAWBERRY PIE
Prepare Crust: Line a pie tin with a pie crust.
Add Filling: Mix sliced strawberries with sugar and cinnamon, then pour into pie crust.
Cover with Second Crust: Cover the pie with the second crust and crimp the edges around the first pie crust. Brush the crust with the egg-milk mixture and sprinkle with coarse sanding sugar.
Bake: Bake at 425 degrees for 30 minutes, then reduce temperature to 375 degrees and bake for an additional 30 minutes.
Cool: Allow to cool for 30 minutes before serving.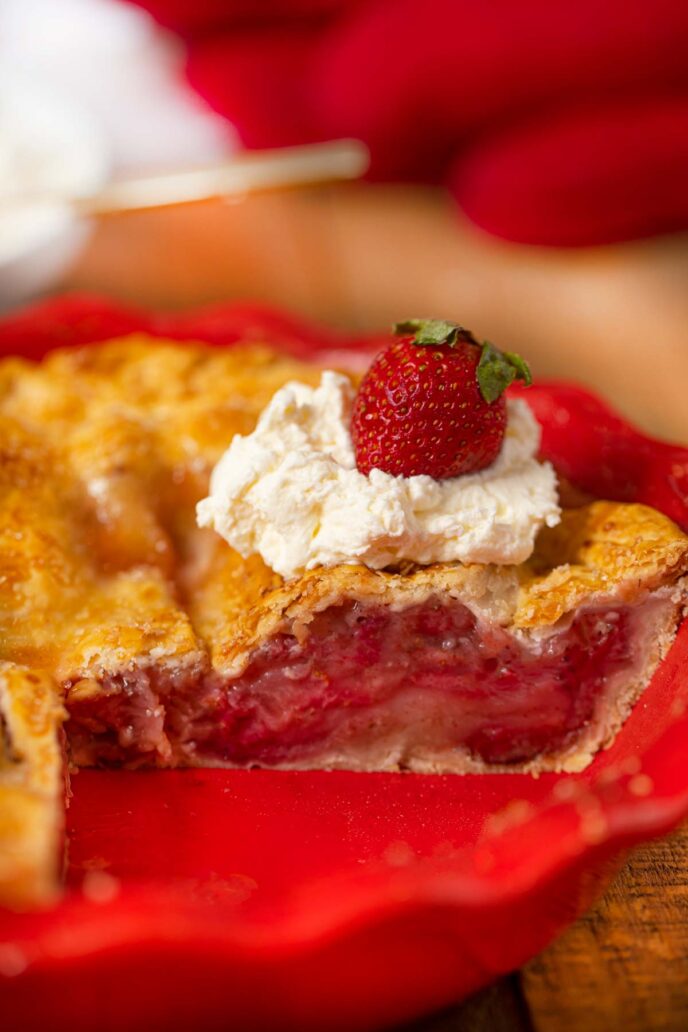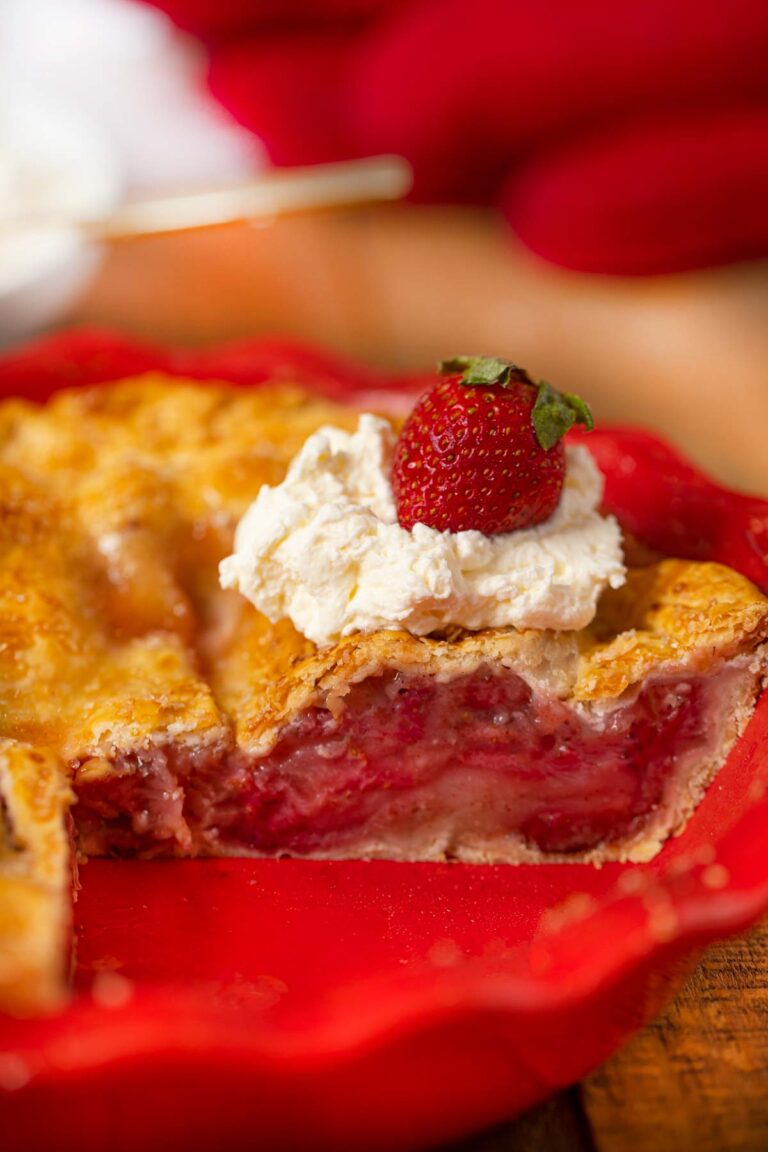 Create a free account to Save Recipes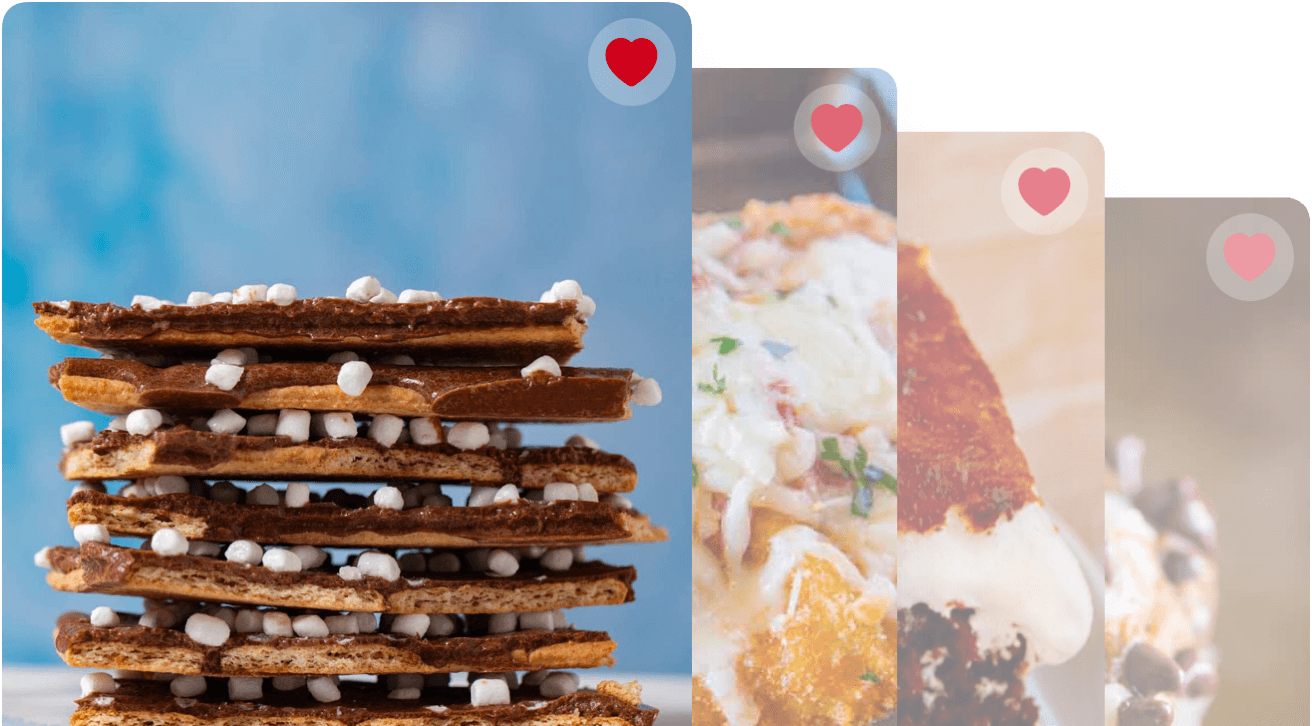 VARIATIONS ON BAKED STRAWBERRY PIE
Crust: If you don't have a pie crust available or want a different flavor, this Strawberry Pie would taste delicious with a Graham Cracker Crust.
Topping: Top your fresh Strawberry Pie with some easy, homemade Whipped Cream or Vanilla Ice Cream.
Berries: Mix in some blueberries or raspberries to make a mixed berry pie. Use a couple tablespoons of lemon juice to bring out the tartness of the berries.
Crumble: Instead of the second pie crust, try topping your pie with a brown sugar crumble. Mix flour, brown sugar, granulated sugar, butter together to a crumble texture, sprinkle on top and bake as usual.
Cream Cheese: Give your pie creamy bites by cutting up a block of cream cheese into tiny pieces and mix into your strawberry filling.
FREQUENTLY ASKED QUESTIONS ABOUT BAKED STRAWBERRY PIE
Why do you cool pie? As much as we'd all love to dig into Strawberry Pie fresh from the oven, it's important to allow it to cool for at least 30 minutes. The filling reaches above boiling point as it cooks, so you don't want a mouthful of lava to ruin that first bite.
How to slice a fruit pie nicely? If you are serving a fruit filled pie for nice dinner or event, you might be concerned about the filling falling out when you cut a warm pie. Instead, allow fruit pie to cool completely for 2 hours before slicing.
How to thicken Strawberry Pie? It is important that the strawberry mixture of your pie reaches a boiling point in order for the filling to thicken. You should be able to see the filling boiling at the slits cut into your top crust. I used flour as a thickening agent, but you can also use cornstarch or strawberry gelatin although that will affect the flavor.
DELICIOUS FRUIT DESSERTS:
HOW TO STORE BAKED STRAWBERRY PIE
Serve: Baked Strawberry Pie is okay at room temperature for up to 2 days, covered tightly with foil or plastic wrap.
Store: Keep your pie fresh longer by wrapping tightly and storing in the refrigerator for 4 days.
Freeze: Freeze your pie uncovered for 1 hour. Then wrap tightly with plastic wrap and keep in freezer to up to 4 months.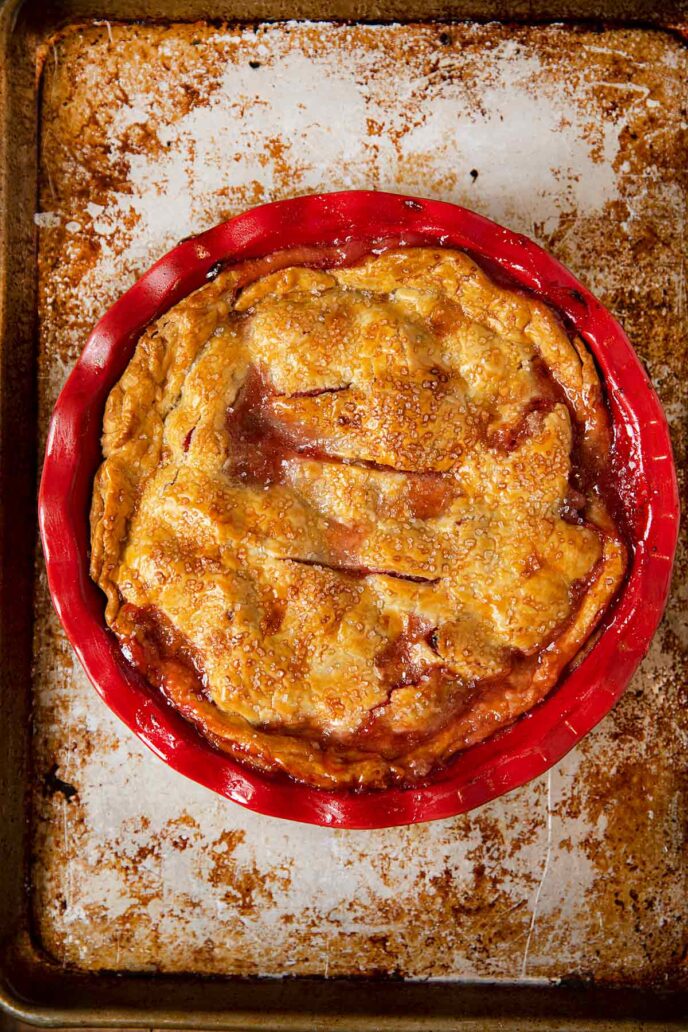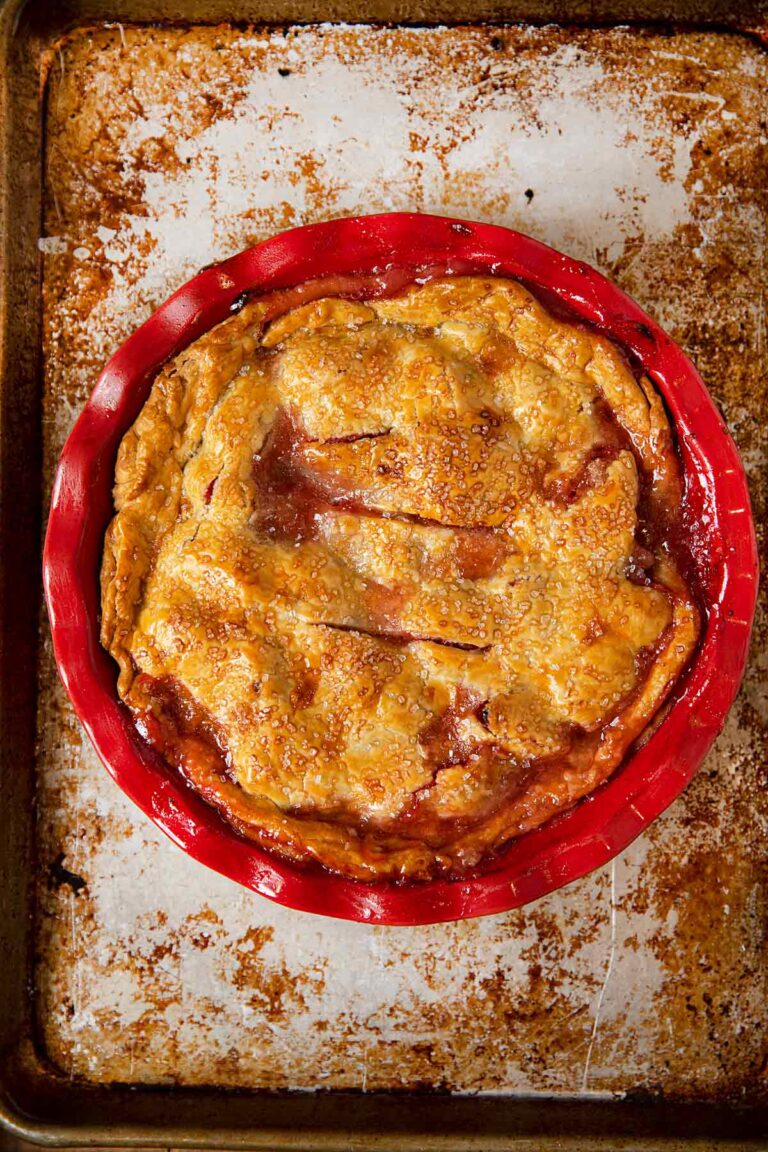 Ingredients
6

cups

fresh strawberries

, about 1 ¾ pounds

1/2

cup

sugar

1/3

cup

flour

1/2

teaspoon

ground cinnamon

1

large

egg

1

tablespoon

whole milk

1

tablespoon

coarse sanding sugar
Instructions
Preheat oven to 425 degrees.

Line pie plate with first pie crust and put in the refrigerator to stay cold.

Slice all your strawberries and toss with sugar, flour and cinnamon.

Pour mixture into the pie plate and cover with second pie crust.

Fold the edges of the second crust under the edges of the first one, crimping them together.

Cut two large slits into the top of the pie crust.

Beat egg and milk together and brush it onto the pie crust.

Sprinkle coarse sanding sugar over the top pie crust.

Bake for

30 minutes

, reduce the temperature to 375 degrees and bake for an additional

30 minutes.

If the crust starts to burn, tent the pie with aluminum foil.

Let cool for

30 minutes

before serving.
Nutrition
Calories:
209
kcal
|
Carbohydrates:
31
g
|
Protein:
3
g
|
Fat:
8
g
|
Saturated Fat:
2
g
|
Cholesterol:
18
mg
|
Sodium:
124
mg
|
Potassium:
148
mg
|
Fiber:
2
g
|
Sugar:
13
g
|
Vitamin A:
34
IU
|
Vitamin C:
42
mg
|
Calcium:
21
mg
|
Iron:
1
mg