Berry Trifle is the perfect summer recipe with pound cake, pudding and mixed berries in just 30 minutes. And it's a showstopper!
Easy berry recipes like Mixed Berry Pie, Strawberry Shortcake and Easy Fruit Salad are all more quick and summer friendly options for your BBQ, work lunch or potluck.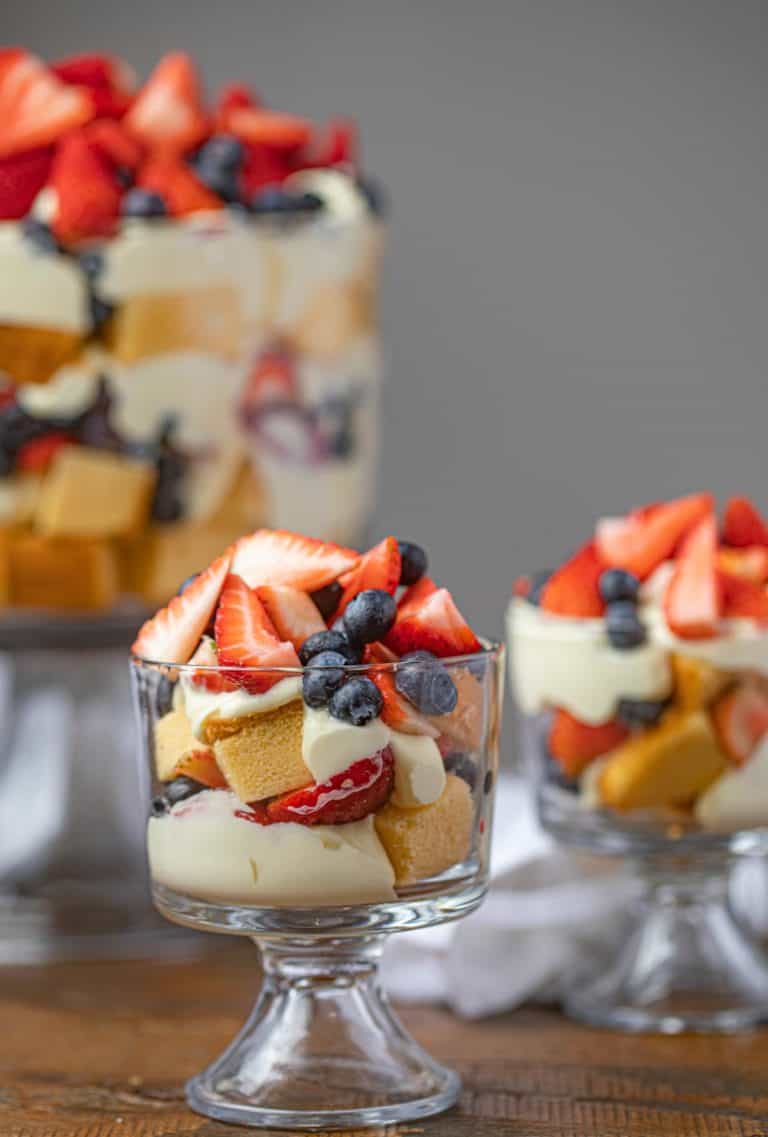 BERRY TRIFLE
Trifle is a chilled desert that is perfect for hot summer days. Fresh strawberries, blackberries and cream are very different but complimentary kinds of sweetness that blend deliciously with the pound cake squares that make up the base of this unusual dessert.
Trifle is fun if you are looking for something a little unusual to get yourself out of a dessert rut, or if you want something cool and refreshing after a hot day and because we make it in such a large bowl this is an easy potluck recipe that serves a large crowd!
If you liked the trifle and are looking for more easy desserts, you should check out our Grape Salad, Snickers Salad, American Flag Cake and of course classic Vanilla Ice Cream and Easy Whipped Cream to top it all off!
OTHER CAKE BASES
You don't just have to use Classic Vanilla Pound Cake (though I do love this recipe so much!). Different kinds of cake bases will give your trifles very different tastes and textures, which are fun elements to play around with for future desserts.
Angel Food Cake: spongy and light, angel food cake is similar to a pound cake base without the butter.
Classic New York Cheesecake: this is a heavier, thicker cake that doesn't have the sponge consistency of pound cake, but adds an entirely different flavor and feel to trifle.
MORE LAYERS
Just like how you can play around with different cake bases for trifle, you can also try different ingredients in your layers. Also, many of the ingredients have low-fat versions as well if you are trying to keep things a little healthier. Here are some fun ideas for next time.
Custard: this egg-based mixture gives delicious richness to the trifle filling.
Vanilla pudding: instead of using vanilla extract, you can use vanilla pudding to play around with the thickness of the layers.
Lady Fingers: if you would like a little bit of a crunch to your dessert, lady fingers are light enough to add some texture without overpowering the flavor.
Lemon curd: lemon curd is a mixture of eggs, butter, lemon zest and lemon juice, and it makes for a bolder flavor in your trifle.
Raspberry jam: if you want more berry flavor, using a jam or preserve is a great way to pack your trifle full of flavor.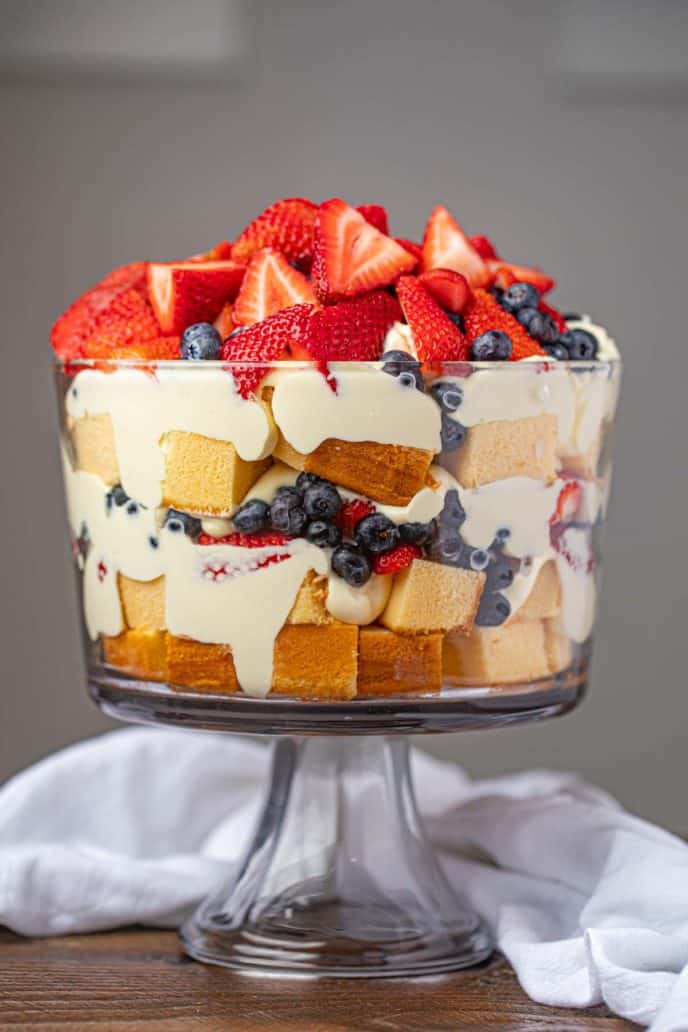 Create a free account to Save Recipes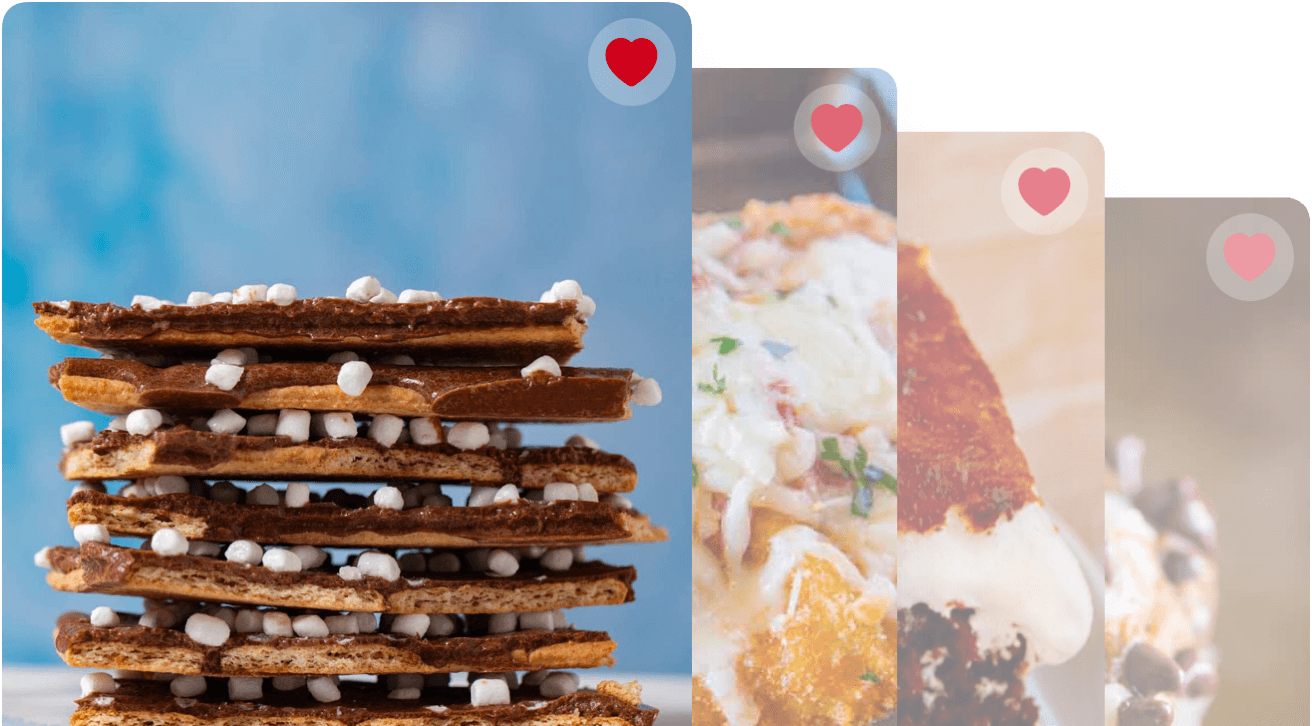 HOLIDAY DESSERTS
Not just for the summer, you can make various flavors of dessert recipes for the winter holidays as well. Replace the light pound cake or sponge cake, lemon juice and fresh berries with some of these fun alternatives.
Gingerbread trifle: using gingerbread and taking out the berries is a good way to winterize a trifle. You can also add notes of cinnamon to give it a little kick.
Brownie trifle: brownies make a sturdy base and the chocolate compliments the cream.
Caramel trifle: use caramel cake and top it with marshmallows and crushed nuts.
SERVING TRIFLE 
When making trifle, you should always use a trifle bowl (or even just a regular glass bowl.) This way, when you serve it you will be able to see the colors and patterns of the cake layers. Make sure that you use a large bowl so that you don't end up having to smash it down to fit.
CAN YOU MAKE BERRY TRIFLE THE DAY BEFORE? 
Yes, you absolutely can. If you make it the day before, wrap it carefully in plastic wrap and put it in the fridge. Since trifle is served chilled anyway, you can just pull it out and serve it when you're ready.
WHERE DO TRIFLES COME FROM?
Trifles have been around for a long time, possibly as far back as the 1500s. There are a lot of other desserts that are similar to the trifle, and what makes up a "true" trifle has changed a lot over time. Trifles are usually thought to be from England, and English trifles first showed up in a 1585 cookbook.
Parfait is probably the closest cousin to trifle. Trifle recipes and parfait recipes use a lot of the same ingredients and both are arranged in layers, but parfaits tend to be smaller, more single-serving treats where trifles are usually cake-sized and meant for multiple people. Trifle is to cake what parfait is to cupcakes: similar ideas in different sizes.
Storage
Serve: don't leave out longer than two hours, since the trifle has heavy whipping cream in it.
Store: you can store in the fridge for up to 3 days. If you leave it in for longer, the cake with soak up too much of the cream and berry juice and will be a squishy mess.
Freeze: I don't recommend freezing a trifle, the pudding will break upon thawing and the berries will become waterlogged as they thaw.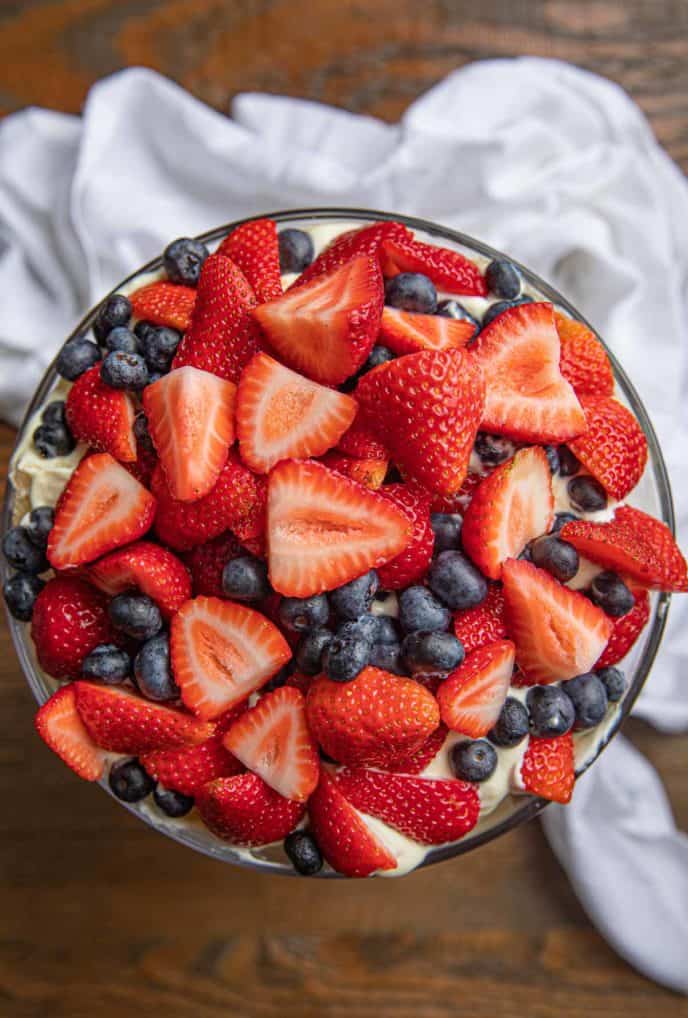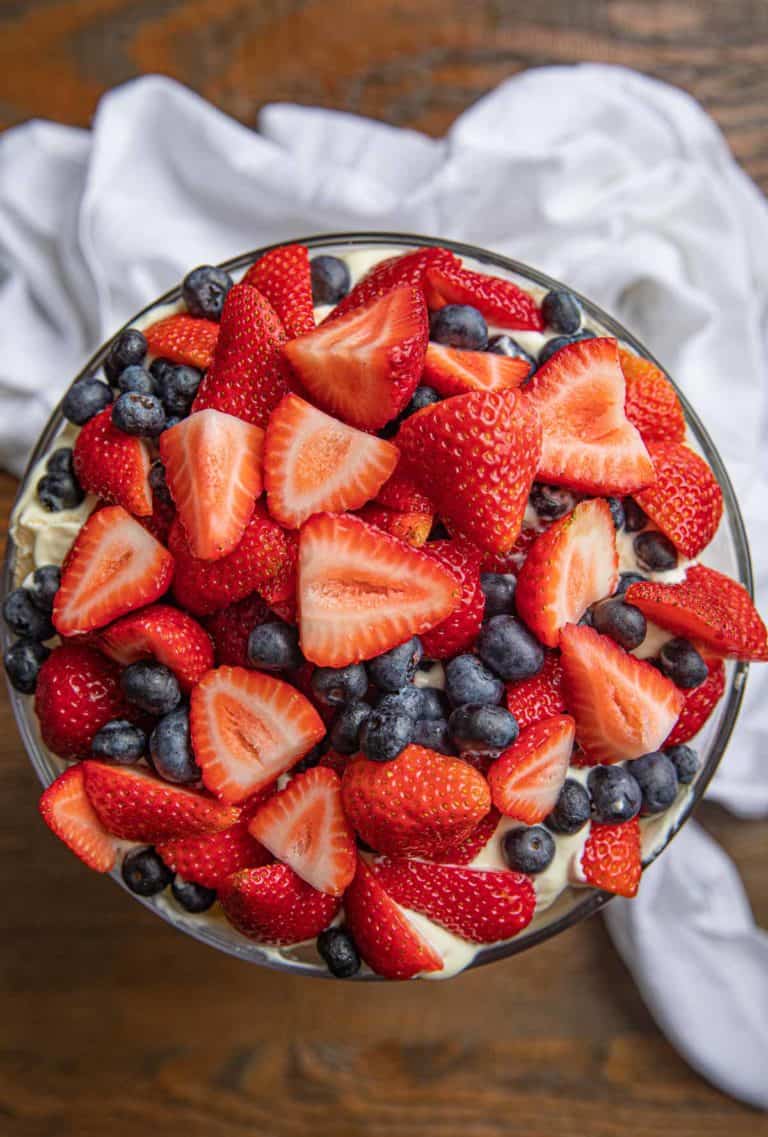 Ingredients
2

cups

heavy cream

at room temperature

1/4

cup

powdered sugar

2

teaspoons

vanilla extract

1

vanilla pudding mix

(3.4 ounceprepared according to box

2

pints

blueberries

2

pounds

strawberries

hulled and halved

2

tablespoons

sugar

1

Vanilla pound cake

cut into 1" cubes
Instructions
Add the heavy cream, powdered sugar and vanilla extract to your stand mixer and whip to stiff peaks, then fold in the prepared vanilla pudding.

Mix the berries with the two tablespoons of sugar and let sit for

5 minutes

.

Layer in your trifle bowl the pound cake, then pudding, then berries.

Make a second layer of the pound cake, then pudding, then end with a large mountain of berries.

Refrigerate for one hour before serving.
Nutrition
Calories:
226
kcal
|
Carbohydrates:
23
g
|
Protein:
2
g
|
Fat:
15
g
|
Saturated Fat:
9
g
|
Cholesterol:
54
mg
|
Sodium:
17
mg
|
Potassium:
206
mg
|
Fiber:
3
g
|
Sugar:
16
g
|
Vitamin A:
635
IU
|
Vitamin C:
52.3
mg
|
Calcium:
43
mg
|
Iron:
0.5
mg