Iced Lemon Muffins are the perfect quick breakfast. They're sweet, tart, and have a buttery taste, all topped with delicious, creamy lemon icing.
This is a surprisingly quick Breakfast Recipe that you're sure to love. It only takes 30 minutes to bake these delicious fluffy muffins. For more delicious fruit Baked Goods try Blueberry Buckle and Banana Coffee Cake.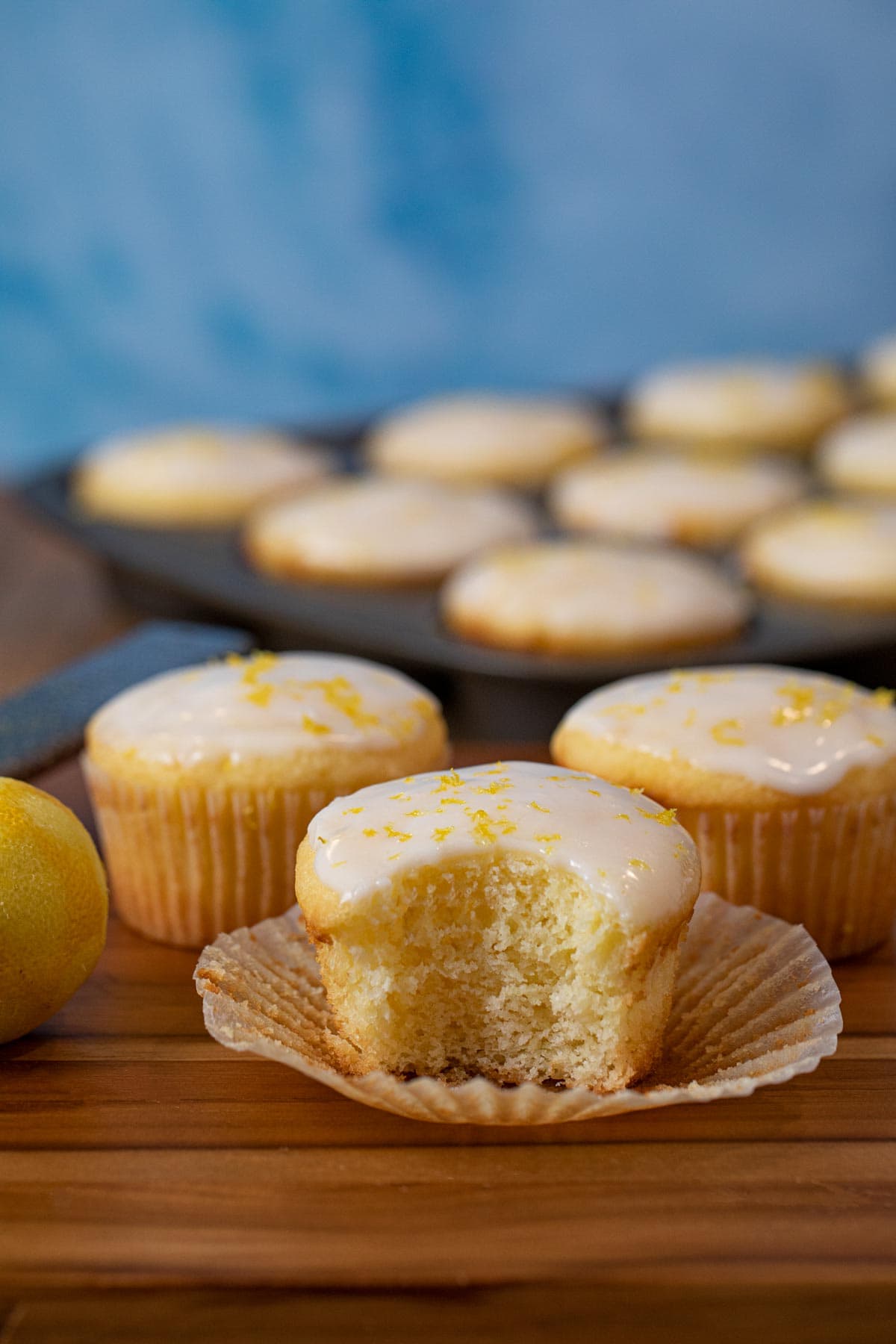 ICED LEMON MUFFINS
The lemon flavor in these soft fluffy muffins makes them the perfect bright combination of tangy and sweet. You'll love these sunny lemon muffins, complete with a little food coloring to make them extra colorful and bright. You won't be able to help but smile when you enjoy these bright, sweet Lemon Muffins.
This Iced Lemon Muffin recipe is great for beginning bakers. The ingredients are simple and easy to whisk together and only take about half an hour. There's no need for a lot of prep, and the baking time is only 20 minutes. For more delicious and easy muffin recipes try Blueberry Crumb Muffins and Poppy Seed Muffins.
These Lemon Fluffy Muffins are also topped off with a creamy lemon icing. This makes them even sweeter and adds some extra lemon zest to the recipe. For less sweet muffins, just skip over the icing, and enjoy warm breakfast muffins with melted butter spread over the middle.
MORE LEMON RECIPES
TIPS FOR MAKING ICED LEMON MUFFINS
Prep time: Start by preheating the oven, and prepare your muffin tin. Either grease the muffin pan with cooking spray or put paper liners in it so the muffin batter doesn't stick.
Liquid ingredients: Combine the eggs, vanilla extract, and yellow food coloring to a stand mixer or large bowl. Mix the ingredients together on medium-high speed, then add lemon juice and sour cream to the creamed mixture. If you don't have a stand mixer use a large mixing bowl and a handheld electric mixer.
Flour mixture: In a separate mixing bowl sift together the dry ingredients. When you add the dry ingredients to the batter, add it slowly and mix at the lowest speed.
Cook time: Scoop the batter into the prepared muffin pan. Let them bake for 20-22 minutes. After taking them from the oven you can let them cool on a wire rack. Let them cool completely before adding the glaze.
Icing: Combine the heavy cream, lemon zest, and sugar to make the icing. Once the muffins are totally cooled take them from the cooling rack and dip them into the bowl.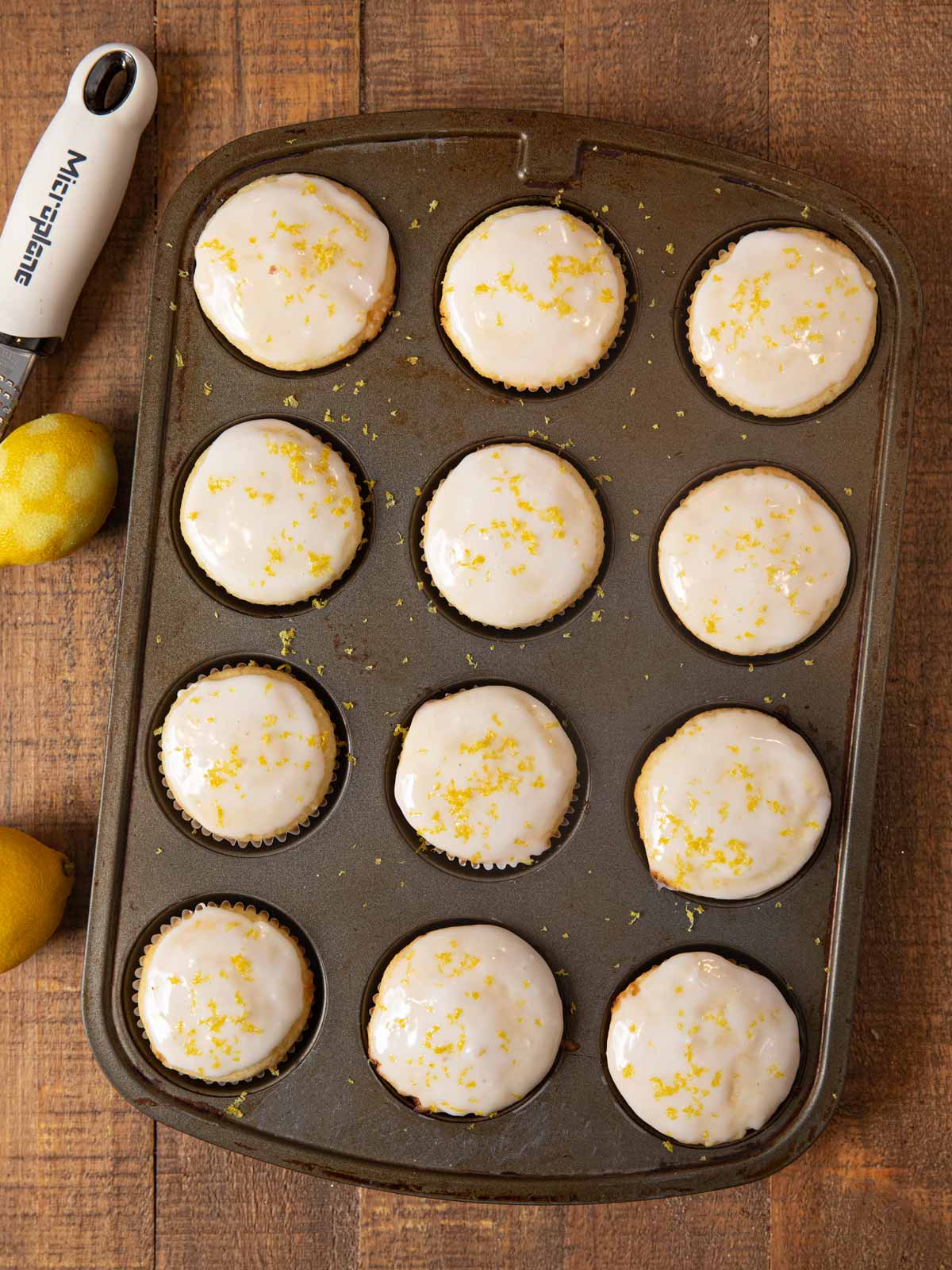 Create a free account to Save Recipes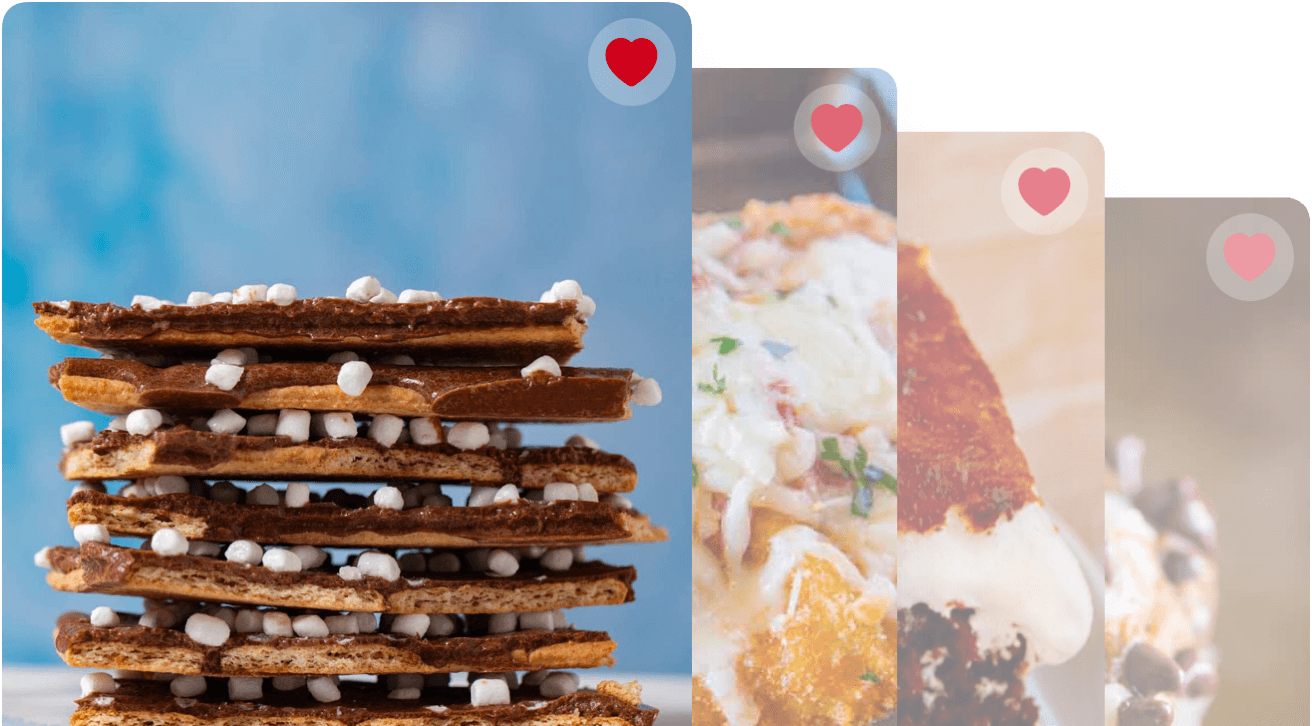 VARIATIONS ON ICED LEMON MUFFINS
Flour Mixture: You can use whole wheat or whole grain flour in place of all-purpose flour. If you want gluten-free Iced Lemon Muffins use gluten-free flours like coconut flour, almond flour, or oat flour.
Flavorings: For more flavoring add in a little extra to the 4 tablespoons lemon. You can also mix in some almond extract, pure vanilla extract, or mashed bananas.
Add-ins: For Blueberry Lemon Muffins, you can mix in frozen blueberries or fresh blueberries. If you use frozen blueberries let them thaw for a little while first. You can also add fresh raspberries, sliced strawberries, almonds, or

chia seeds.

Flax eggs: If you don't want to use regular eggs, you can replace them with flax eggs.
Lower calories: To make delicious Lemon Muffins with fewer calories you can use low-fat sour cream for a more healthy dessert. You can also replace the butter with olive oil or avocado for a more healthy dessert. For more butter replacements, try exchanging the regular real butter in the recipe with coconut oil, coconut butter, cashew butter, or other nut butters like almond butter.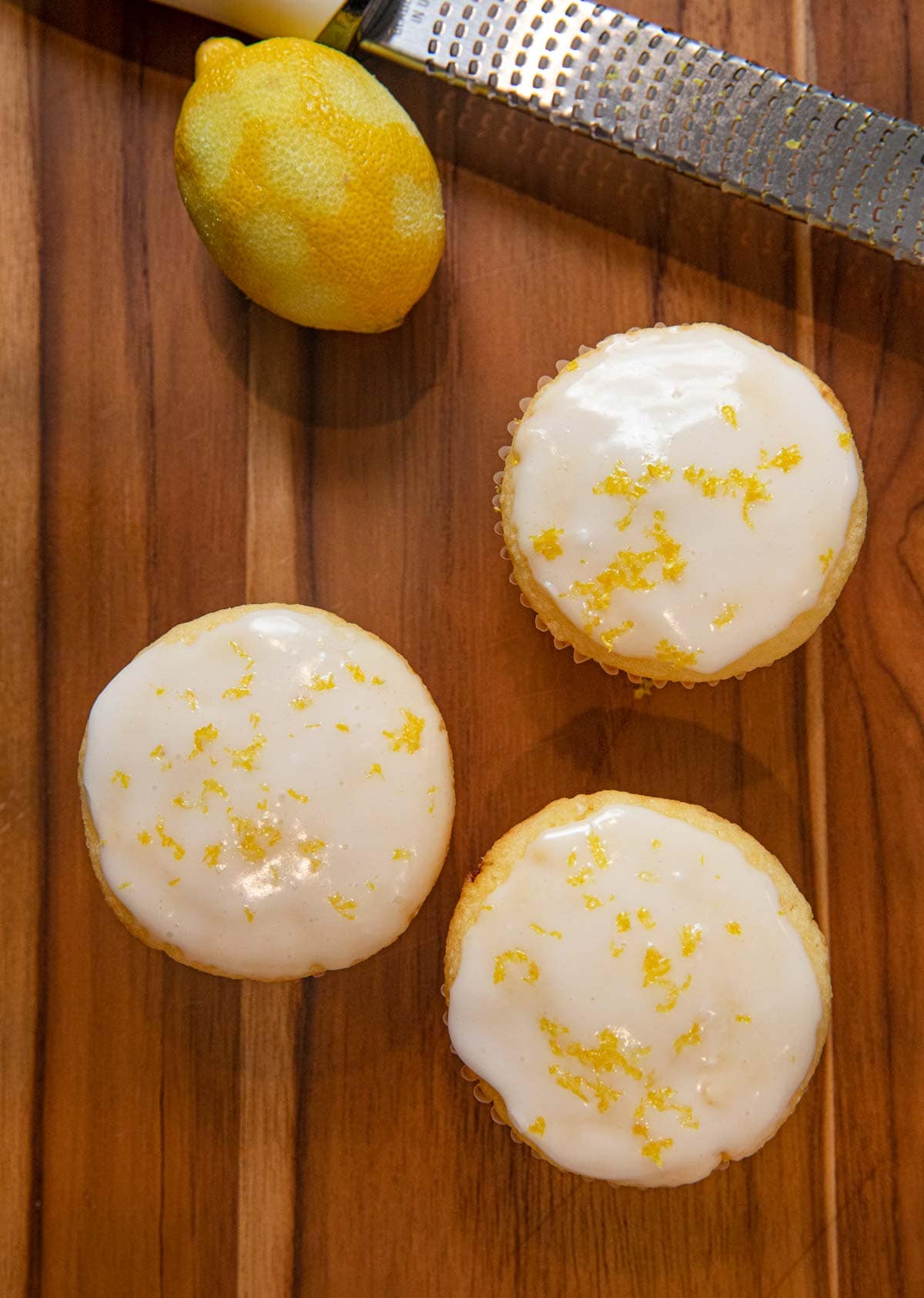 Streusel: Try making lemon crumb muffins with a streusel topping. To make the streusel muffins combine ¾ cup all-purpose flour, ¾ cup sugar, and ¼ cup cold butter cubed. Use a fork to combine them into crumbs then top the muffins with the streusel instead of glaze.
Glaze: You can replace the creamy lemon icing with a variety of other kinds of frostings on the Iced Lemon Muffins. Try making a sweet and tangy lemon glaze. Whisk together the frosting in a small bowl with 2 cups icing sugar mixed with 3 tablespoons lemon juice. Drizzle glaze over the top of cooled cupcakes for Glazed Lemon Muffins. You could also make Cream Cheese Frosting or Buttercream Frosting. Add a little lemon juice to the cream cheese or buttercream frosting to keep the flavor.
Sugar: Instead of regular granulated sugar, you can replace the white sugar with maple syrup, brown sugar, honey, or coconut sugar. Maple syrup or brown sugar will give a much deeper and less light flavor than the regular granulated sugar.
MORE MUFFIN RECIPES
HOW TO STORE ICED LEMON MUFFINS
Serve: Kept covered or in an airtight container, Iced Lemon Muffins will be good at room temperature for 1-2 days.
Store: You can keep leftover muffins in an airtight container for up to a week.
Freeze: You can also freeze Lemon Muffins for 2-3 months. Freeze them for an hour while still in the muffin tin, then you can transfer them to a freezer bag. Let them thaw in the fridge overnight for a quick breakfast in the morning.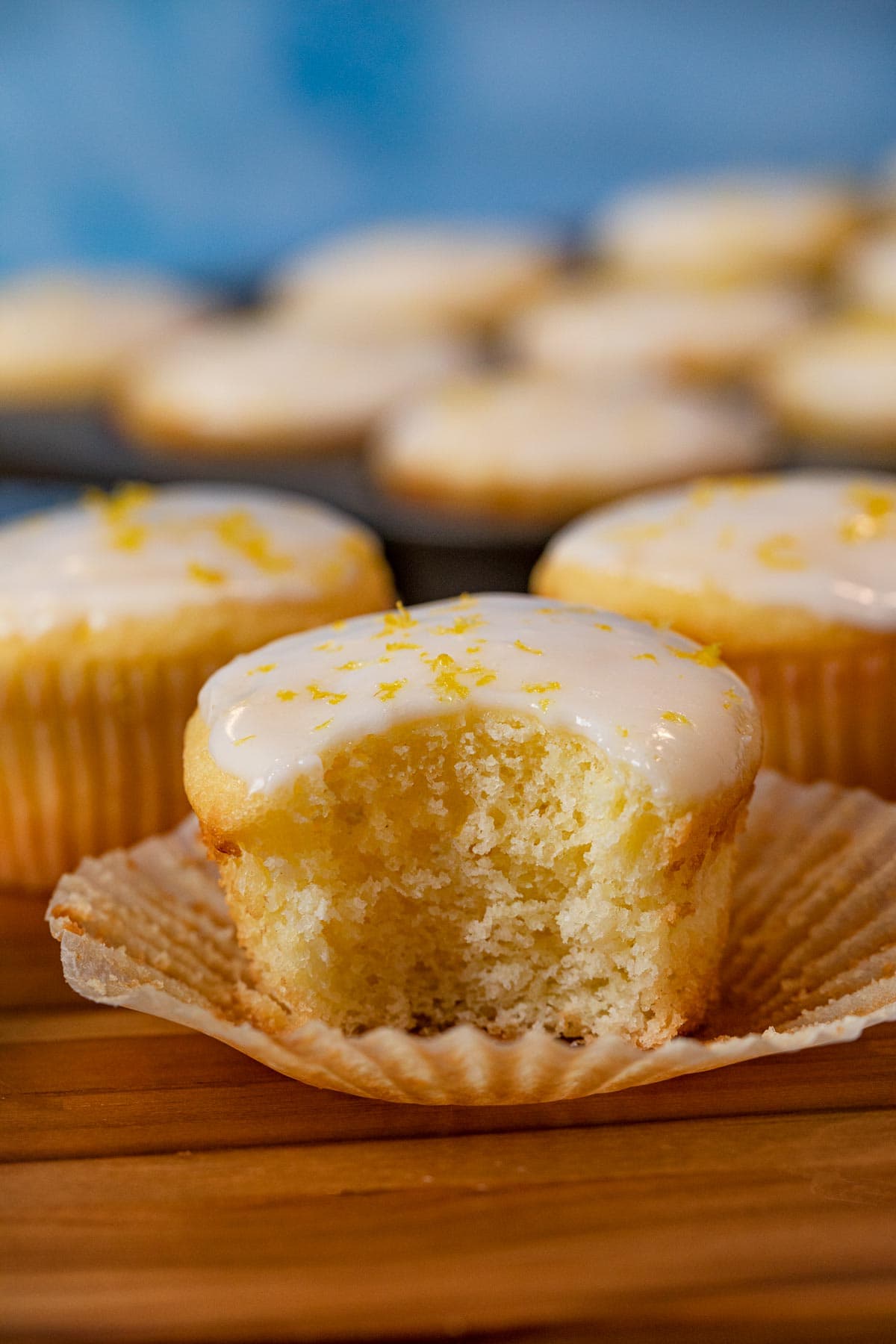 Ingredients
1/2

cup

unsalted butter

, softened

1

cup

sugar

3

large

eggs

1

teaspoon

vanilla extract

3

drops

yellow food coloring

, optional

1/4

cup

lemon juice

1/3

cup

sour cream

1 1/2

cups

flour

1/2

teaspoon

baking powder

1/2

teaspoon

baking soda

1/4

teaspoon

salt
Lemon Icing Frosting
1 1/2

cups

powdered sugar

3

tablespoons

heavy cream

1

tablespoon

lemon zest
Instructions
Preheat oven to 350 degrees and line a 12-cup muffin tin with muffin liners.

To your stand mixer add butter and sugar on medium speed until light and fluffy, about

1-2 minutes.

Add in the eggs, vanilla extract, and yellow food coloring until smooth and creamy.

Add in lemon juice and sour cream until smooth.

Sift together flour, baking powder, baking soda, and salt.

Add to your stand mixer on the lowest speed setting a little at a time until just combined.

Scoop batter evenly, using an ice cream scoop, into your muffin liners and bake for

20-22 minutes

until a toothpick comes out clean.

Let cupcakes cool completely before dipping into the icing.

Whisk together powdered sugar and heavy cream until thick and creamy.

Dip the top of the cooled muffins into the icing then sprinkle lemon zest on top.
Nutrition
Calories:
293
kcal
|
Carbohydrates:
44
g
|
Protein:
3
g
|
Fat:
12
g
|
Saturated Fat:
7
g
|
Cholesterol:
75
mg
|
Sodium:
120
mg
|
Potassium:
65
mg
|
Fiber:
1
g
|
Sugar:
32
g
|
Vitamin A:
399
IU
|
Vitamin C:
3
mg
|
Calcium:
28
mg
|
Iron:
1
mg