Lemon Poppy Seed Cookies are a rich, buttery cookie recipe full of bright lemon flavor! Made with fresh lemon juice and crunchy poppy seeds.
Whether you are a lemon lover or just in the mood for a tangy treat, Lemon Bars, Blueberry Lemon Bread and these buttery lemon and poppy seed Cookies are the perfect citrusy Desserts!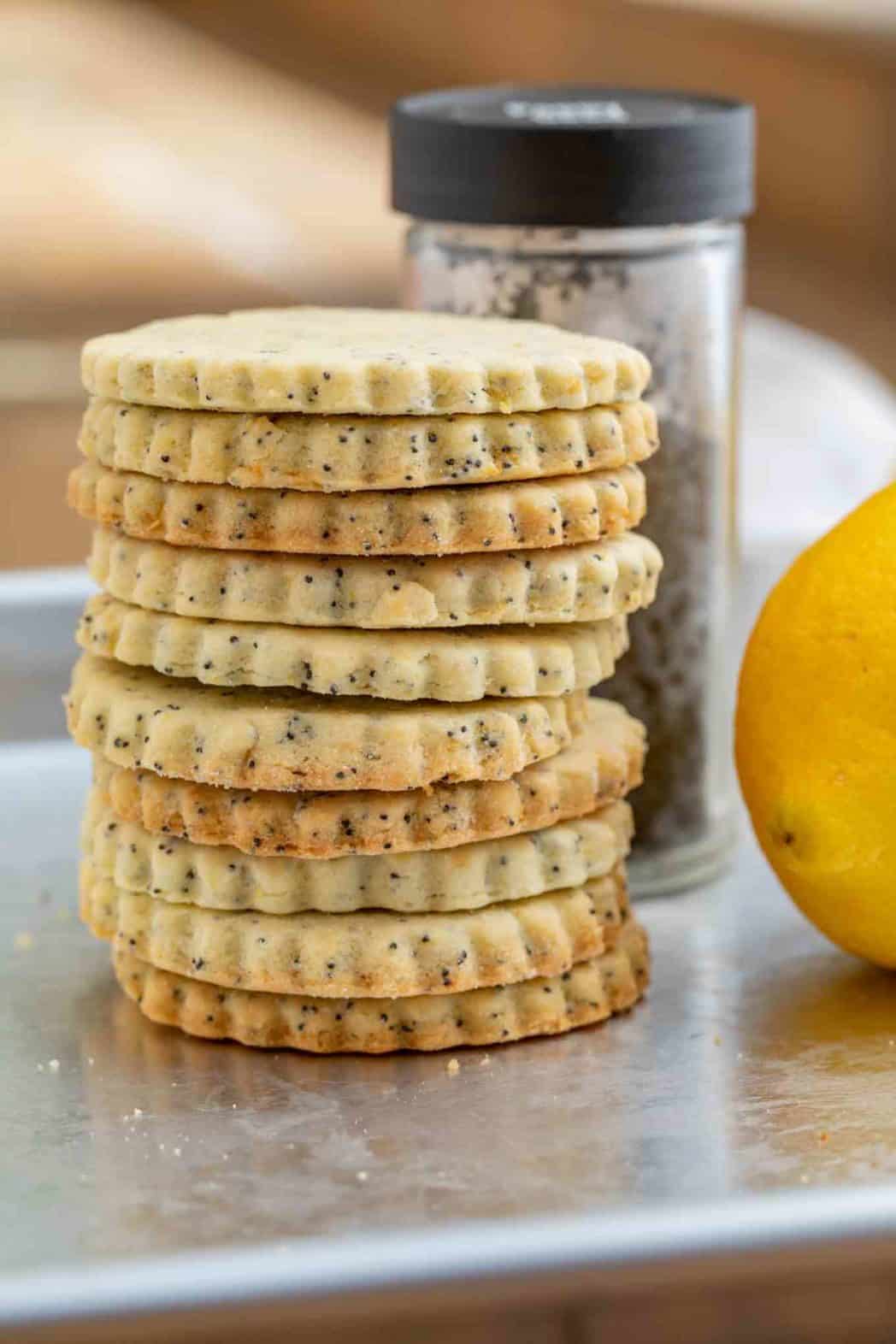 These Lemon Poppy Seed Cookies are the best shortbread cookies you've ever had. These summery cookies are a perfect blend of rich buttery goodness, vibrant lemon flavor, and a delightful tender texture for a cheery, sunny treat. To top it all off, there are crunchy, subtly sweet poppy seeds speckled throughout for a pretty cookie that tastes amazing!
Making Lemon Poppy Seed Cookies is a breeze, they come together with just a handful of pantry ingredients and bake in about 10 minutes. There is both fresh lemon juice and lemon zest in the cookie dough recipe to get as much lemon flavor as possible. And don't worry, the poppy seeds are easily found in most stores with other baking spices. The dough does need to be refrigerated for a couple of hours, but once it's chilled, you just roll it, cut it and bake it for delicious buttery lemon cookies with crispy speckles.
Lemon Poppy Seed Cookies are a perfect blend of simplicity and sophistication, offering a burst of citrusy freshness and a delightful crunch in every bite. They are technically shortbread cookies, which are different than your average cookie because they don't have any leavening agents that make them rise. So instead of being soft or cakey, these are dense yet tender cookies with slightly crispy edges.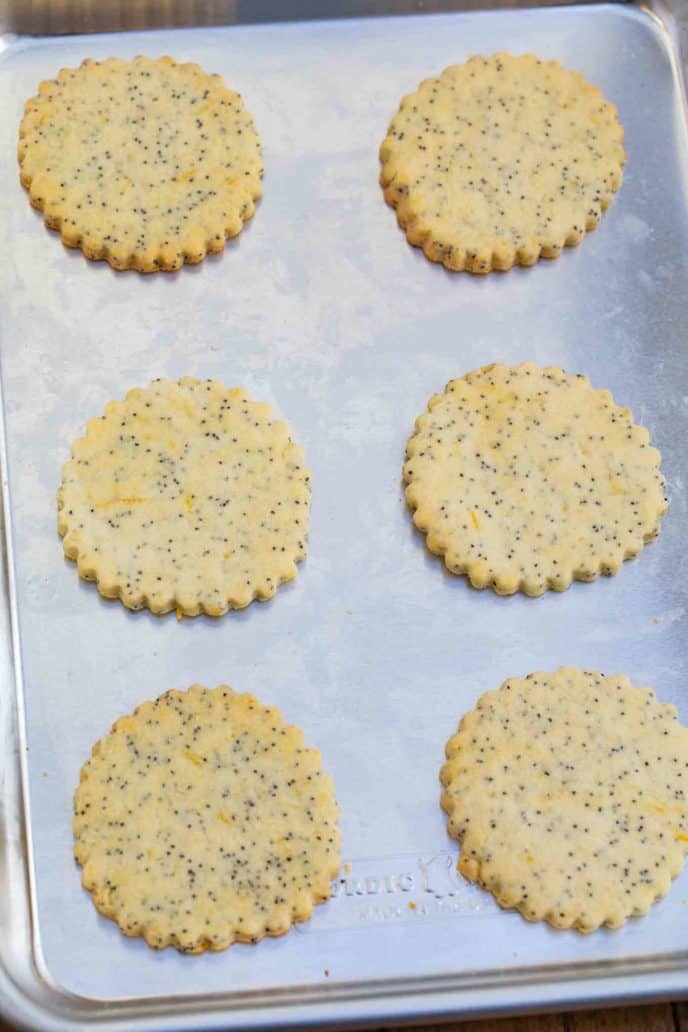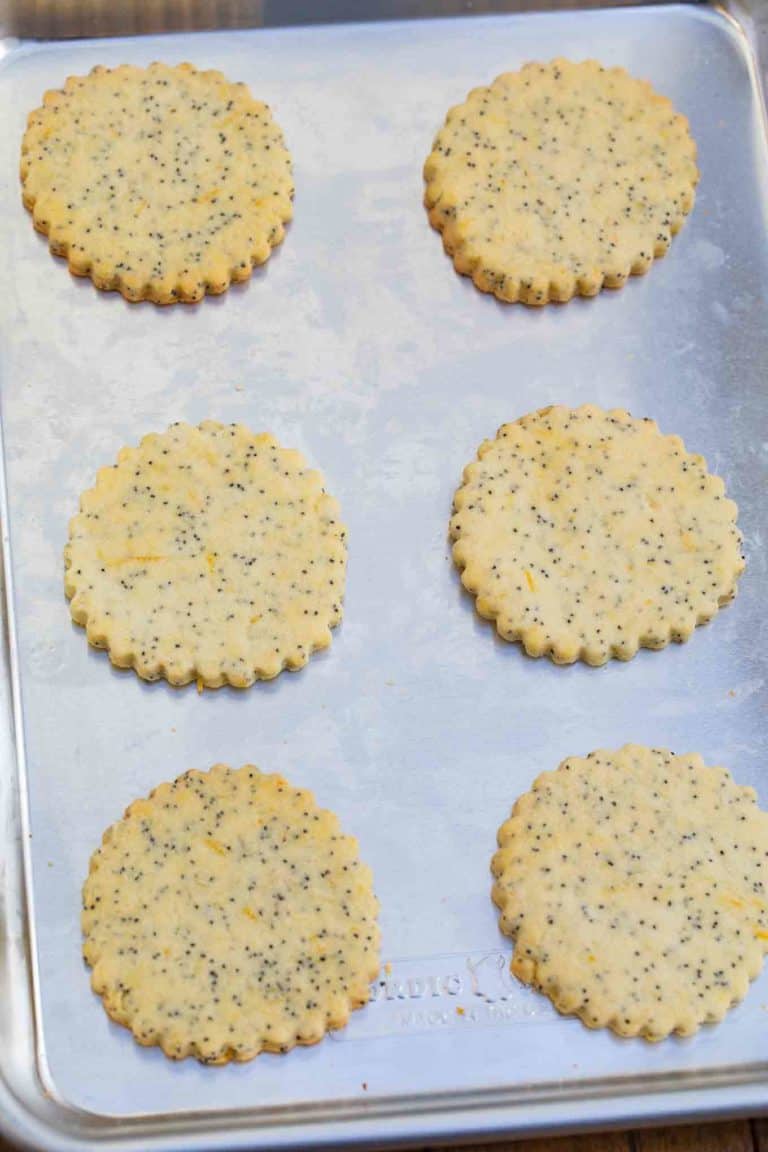 While these fresh Lemon Poppy Seed Cookies have lots of summery flavor, doesn't mean you can't make them year round. They make a cozy snack on fall afternoon with a hot cup of tea. Or serve them with some chilled Blueberry Jam for a refreshing, special Spring brunch treat. During the holidays, wrap up a stack of them for a cheery burst of sunshine in gift baskets. Whether you savor them with a cup of tea, serve them at fancy parties, or gift them to friends, these cookies are bound to become a cherished recipe.
What are Lemon Poppy Seed Cookies?
Lemon Poppy Seed Cookies are a delightful twist on traditional shortbread cookies. They are made with a combination of shortbread cookie dough, fresh lemon juice and poppy seeds. The result is a cookie that boasts a buttery, melt-in-your-mouth tender texture, balanced with a refreshing burst of citrusy lemon and a delicate crunch from the poppy seeds.
How to Make Lemon Poppy Seed Cookies
Cream: Cream the butter and powdered sugar on high speed until light and fluffy, about 2 minutes then mix in the egg and egg yolk until fully combined.
Dough: Keep the mixer going and add the vanilla extract, lemon juice, zest, and poppy seeds. On the lowest mixer speed, add the flour and salt until combined.
Chill: Form the dough into a ball and wrap it in plastic wrap. Chill for at least 2 hours, up to 48 hours.
Prep: Preheat the oven to 350 degrees. Cover a baking sheet with parchment paper or a silicone mat to prevent sticking.
Roll: Sprinkle a light layer of flour on a clean surface and roll out into a ¼ inch thick sheet.
Bake: Shape the cookie dough with a cookie cutter and bake for 10-12 minutes. The edges should be just starting to turn golden brown.
More Delicious Sweet Lemon Treats
FAQs for Lemon Poppy Seed Cookies
Do you have to soak poppy seeds before baking?
Unlike other seeds, such as chia or flax seeds, poppy seeds do not require soaking before adding them into Lemon Poppy Seed Cookie dough. However, soaking poppy seeds in hot milk can make them easier to digest and a bit more flavorful.
How do you make soft lemon cookies?
If you want to make these cookies soft and chewy like classic Lemon Cookies, add ¼ cup flour and 2 teaspoons of baking powder. The baking powder will help the cookies rise for a fluffier cookie and the extra flour balances the egg and butter for a chewier cookie.
Why do you have to chill the dough first?
Refrigerate this dough for a minimum of two hours, but preferably overnight, to make sure the butter is very cold. Cold butter will melt slowly as the cookies bake which prevents them from spreading and burning.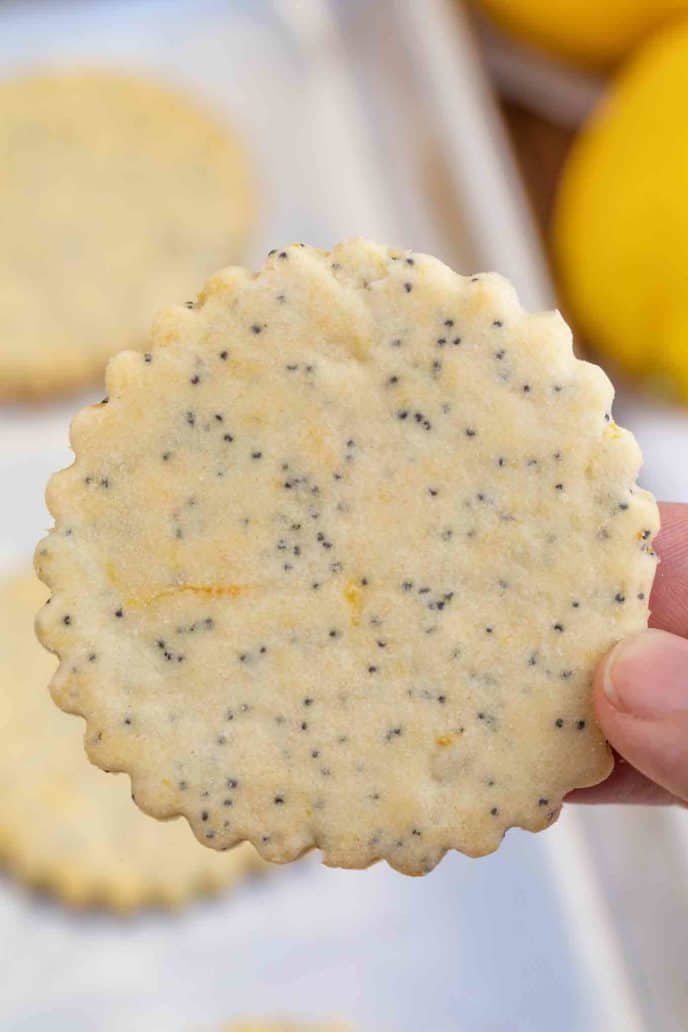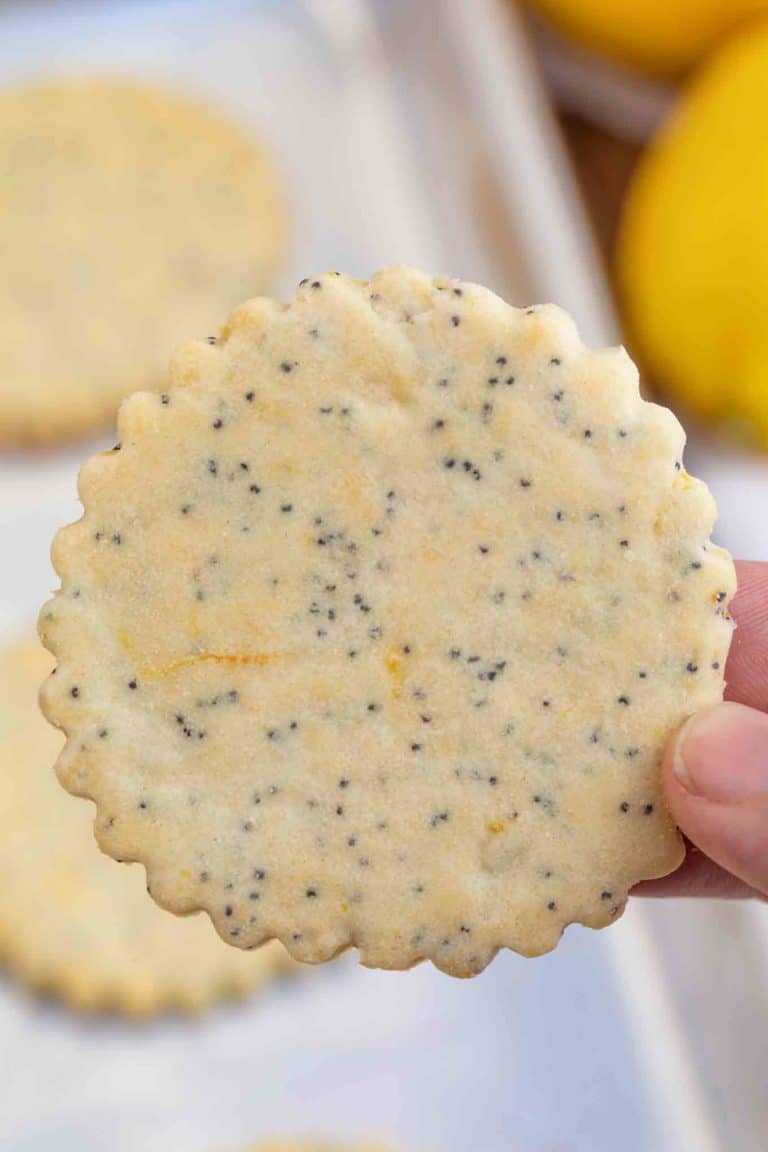 Create a free account to Save Recipes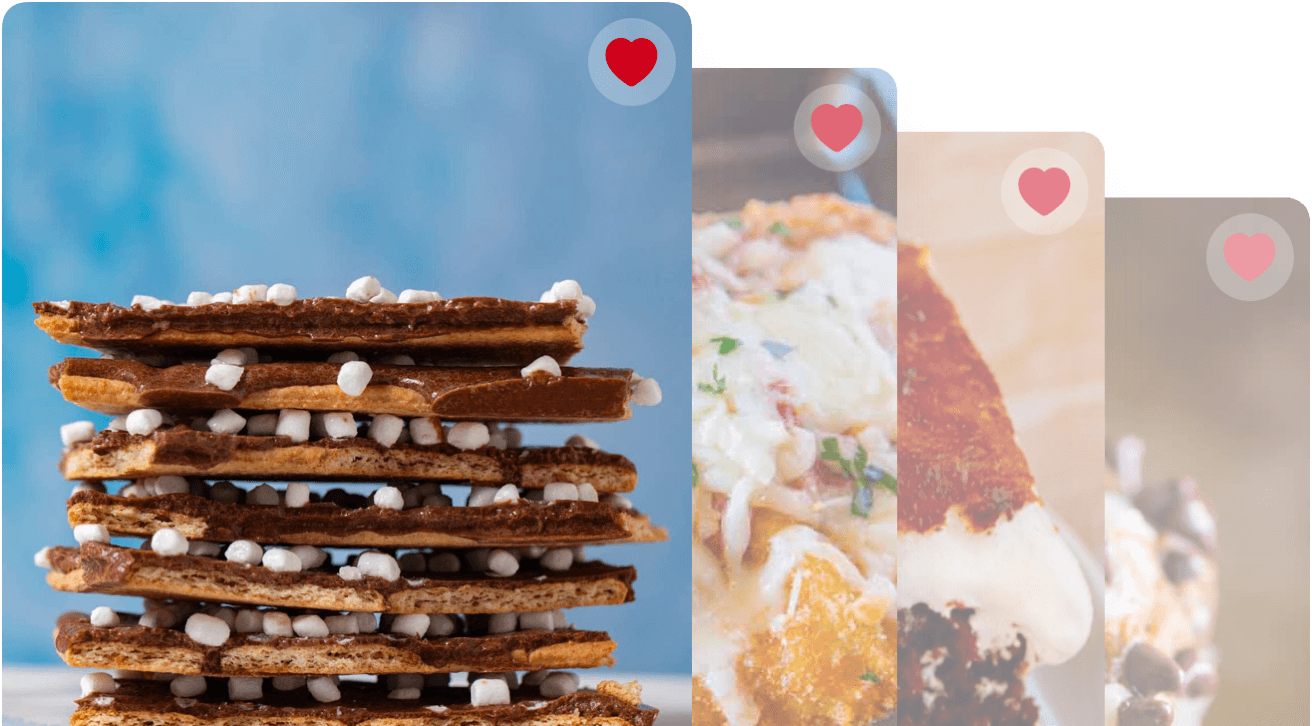 Key Ingredients
Butter: Unsalted butter forms the base of these cookies, providing richness and a tender crumb. It is important to use softened butter to be sure you get the mixture light and fluffy before refrigerating your dough.
Sugar: Powdered sugar adds a delicate sweetness and contributes to the light and tender texture of the cookies. It dissolves easily into the dough, ensuring a smooth consistency.
Eggs: The combination of a whole egg and an additional egg yolk adds moisture, richness, and structure to the cookies. They contribute to a tender and chewy texture.
Vanilla: Vanilla extract enhances the overall flavor of these cookies, adding depth and warmth to the citrusy notes of these lemony cookies.
Lemon: Fresh lemon zest and juice infuse the cookies with lots of bright and tangy lemon flavor. It's best to use whole lemons instead of bottled juice, they have much better flavor and the zest adds a floral note to the lemony goodness.
Poppy Seeds: These tiny black seeds not only add a delightful crunch to the cookies but also impart a subte nutty, sweet flavor. Poppy seeds are readily available in most grocery stores, often found in the spice or baking aisle.
Flour and Salt: All-purpose flour serves as the structural backbone of the cookies, providing a tender crumb. A pinch of salt enhances the flavors, balancing all the sweetness and tartness of the lemon.
Can you make Lemon Poppy Seed Cookies ahead of time?
Yes, Lemon Poppy Seed Cookies can be made ahead of time. The dough can be prepared, shaped into a log, wrapped tightly in plastic wrap, and refrigerated for up to 3 days. When you're ready to bake, simply slice the chilled dough into rounds, or rolled out and cut, and bake as directed. Absolutely! The cookie dough can also be stored in the freezer for up to 4 months. When you're ready to bake, simply thaw the dough in the refrigerator overnight, then proceed with the recipe as directed.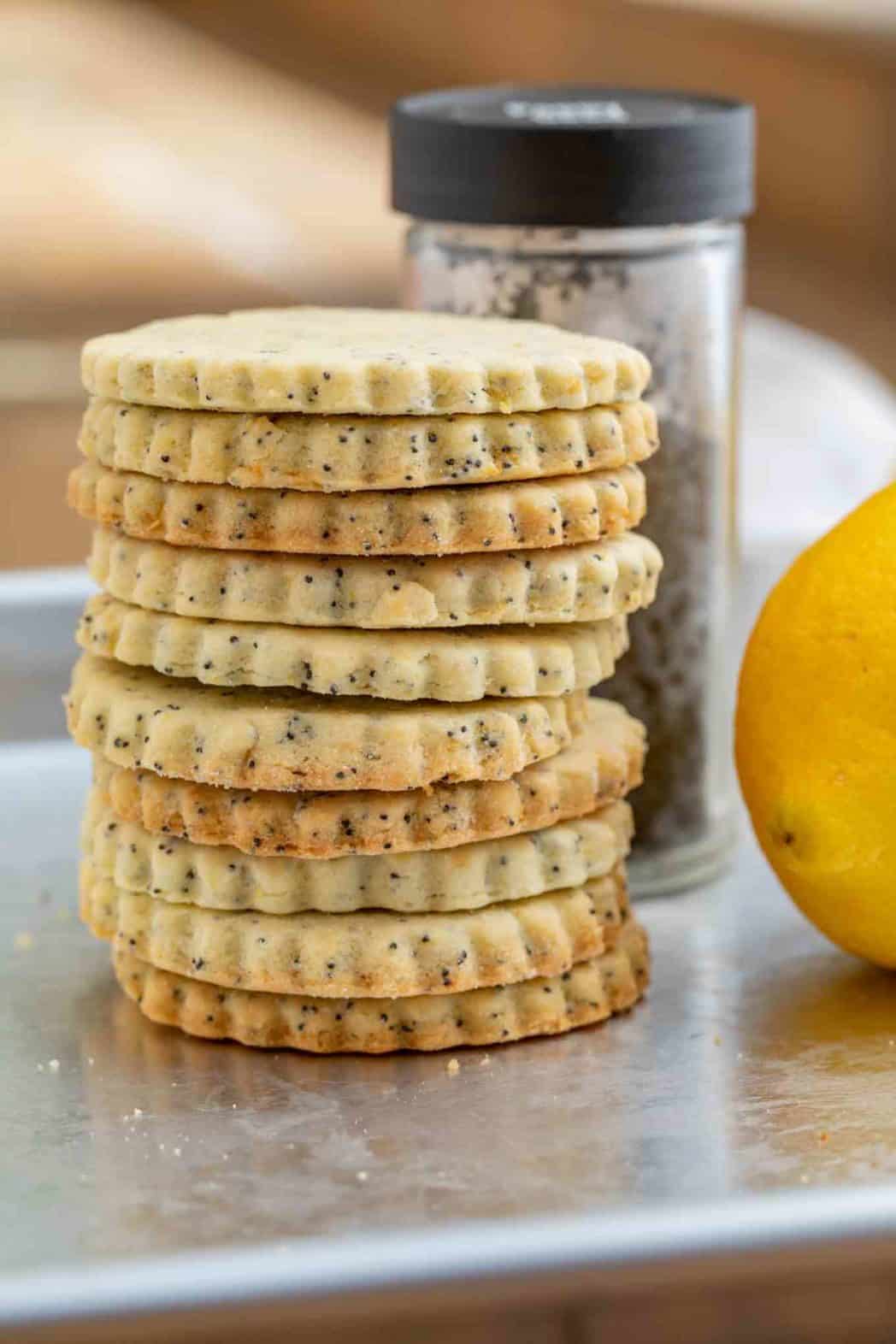 Variations
Citrus: Instead of lemons, you can make these sweet poppy seed filled cookies with other citrus. Try combinations like fresh lime and drizzle of melted white chocolate, or orange juice with mini dark chocolate chips.
Lemon Glaze: For an extra burst of lemony goodness, drizzle a tangy lemon glaze over the cooled cookies. Simply mix powdered sugar and fresh lemon juice until you achieve a smooth, pourable consistency. Drizzle the glaze over the cooled cookies and allow it to set before serving.
Almond: Add an extra sweet almond flavor by replacing the vanilla extract with almond extract. The combination of almond and lemon tastes amazing and will bring out the nutty flavor of the poppy seeds. You can add chopped almonds to the cookie dough too for some more crunch.
Lemon-Poppy Seed Bars: Transform the cookies into bars by pressing the dough into a baking dish instead of using cookie cutters. Bake until golden brown, then cut into bars for a different shape. Spread some Cream Cheese Frosting over the Lemon Poppy Seed Bars before cutting them for a delicious extra sweet dessert.
Lemon Curd: Make some super lemony cookies by adding a tasty homemade Lemon Curd filling. Spread the bottom-side of half the cookies with lemon curd, and then top with each with another cookie with the bottom on the filling side. Chilled lemon curd is easier to spread and stay in the middle of the sandwich cookies.
More Shortbread Cookie Recipes
How to Store
Serve: Place the cooled Lemon Poppy Seed Cookies in an airtight container, layered between sheets of parchment or wax paper. Store at room temperature for up to one week.
Store: You can keep the cookies fresh longer in the refrigerator. Store them in an airtight container or plastic storage bag for 2-3 weeks. Bring them to room temp or even warm them in a microwave to soften them up a bit.
Freeze: To freeze the cookies, pop them in the freezer on a baking sheet after they have cooled. Let them freeze for at least an hour then store in a freezer-safe container for up to 3 months. Thaw them at room temperature before serving.


Ingredients
1

cup

unsalted butter

, softened

3/4

cup

powdered sugar

1

large

egg

1

large

egg yolk

2

teaspoons

vanilla extract

1

tablespoon

lemon zest

1

tablespoon

lemon juice

2

tablespoons

poppy seeds

2

cups

flour

1/8

teaspoon

salt
Instructions
To your stand mixer add the butter and sugar and beat on high speed until light and fluffy, about

2 minutes

then add in the egg and egg yolk until fully combined.

Add in the vanilla, lemon juice, lemon zest and poppy seeds then lower the speed and add in the flour and salt until just combined.

Put the dough into plastic wrap and refrigerate for at least

2 hours

before rolling out onto a floured surface 1/4" thick.

Press out with a cookie cutter and bake at 350 degrees for

10-12 minutes

.
Nutrition
Calories:
170
kcal
|
Carbohydrates:
16
g
|
Protein:
2
g
|
Fat:
11
g
|
Saturated Fat:
6
g
|
Cholesterol:
36
mg
|
Sodium:
21
mg
|
Potassium:
28
mg
|
Sugar:
5
g
|
Vitamin A:
330
IU
|
Vitamin C:
0.7
mg
|
Calcium:
21
mg
|
Iron:
0.8
mg