Peanut Butter Chocolate Poke Cake is made with layers of moist chocolate cake, creamy peanut butter filling, and easy peanut butter frosting.
This delicious Cake Recipe has a smooth peanut butter filling sandwiched between two layers of chocolate. It's a Chocolate Poke Cake meets a Reese's Cup.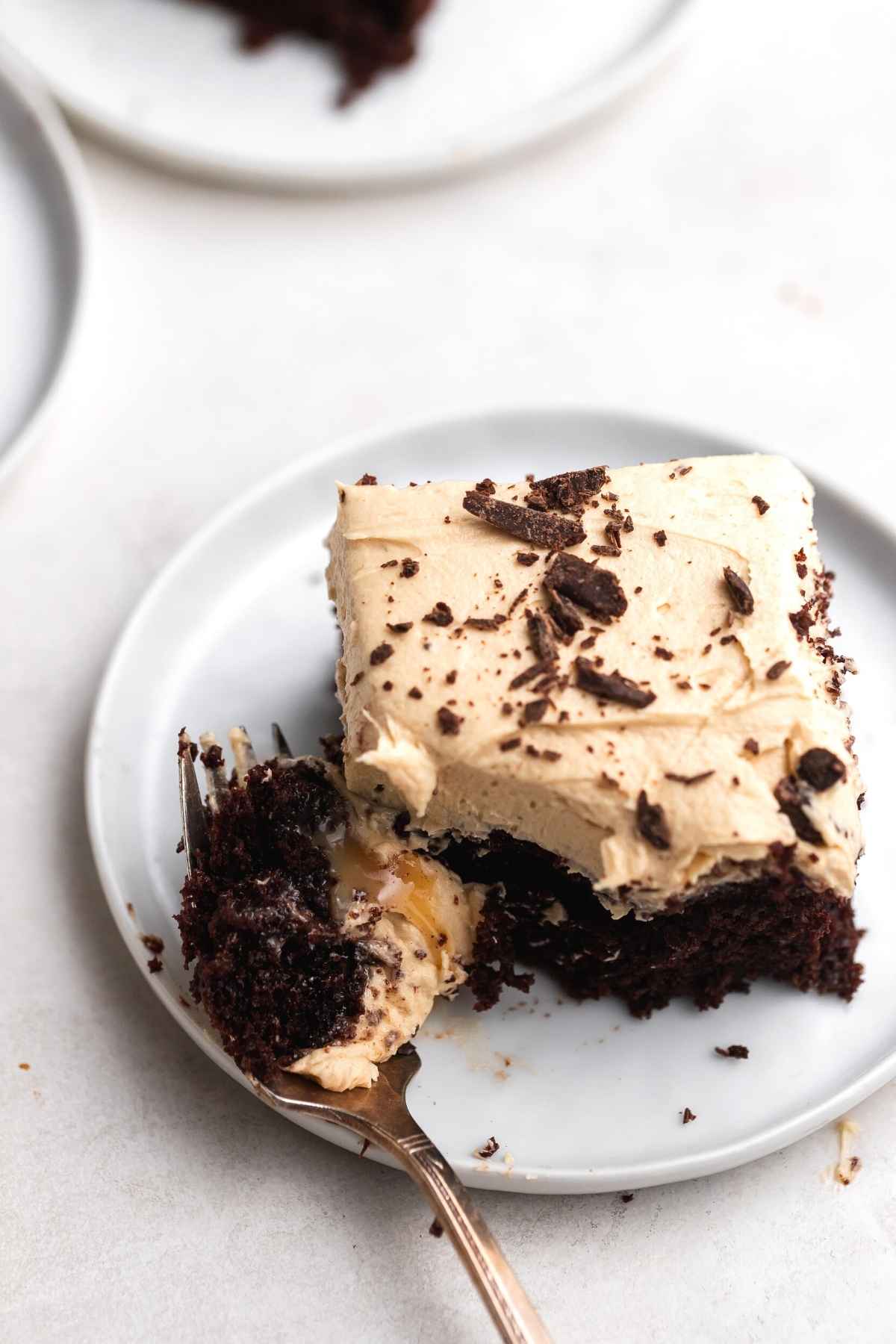 Chocolate Peanut Butter Poke Cake is a melt in your mouth chocolate cake for peanut butter fans everywhere! It's a perfectly balanced combination of sweet chocolate and salty, bold peanut butter flavor. Topping the rich chocolate poke cake with peanut butter frosting gives it a wonderful, creamy taste that you won't be able to get enough of!
It's hard to think of anything better than the combination of rich chocolate and creamy peanut butter. Chocolate Peanut Butter Poke Cake with its smooth peanut butter layer is a peanut butter dessert that is sure to be a fan favorite. This easy sheet pan cake is great for potlucks and parties too, because everyone will be clamoring for second helpings of this Chocolate Peanut Butter Cake!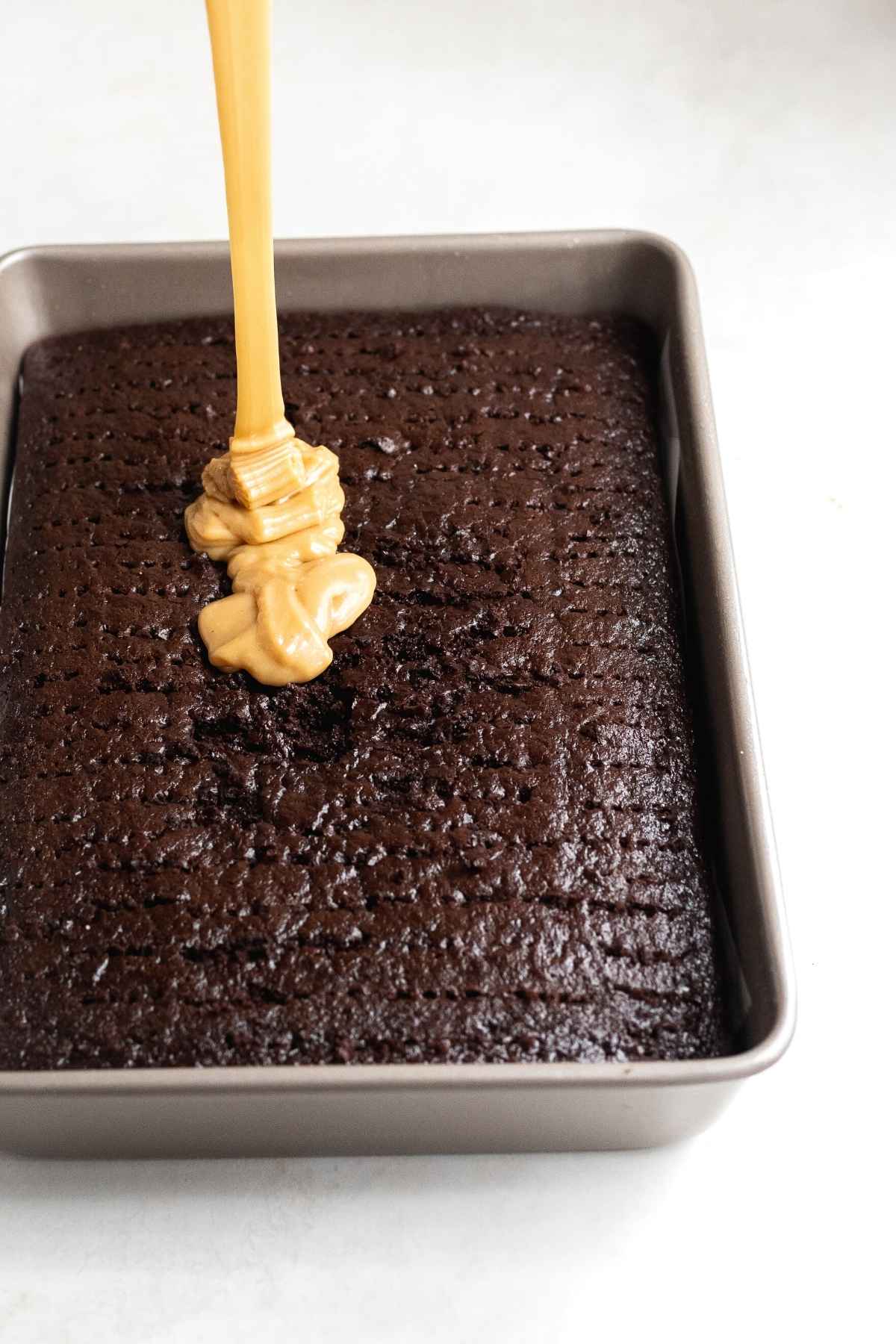 The secret ingredient to make this such a rich chocolate cake is the hot coffee. Coffee brings out the roasted notes of the cocoa. The result is an intense dark chocolate flavor that stands up against the double peanut butter layers. If you don't want to use coffee, substitute hot water or milk. You could also use hot water and 1 tablespoon espresso powder or instant coffee.
As the name suggests, a poke cake is a cake recipe that you poke holes in the top of after baking and then pour or spread a topping over the cake. The holes help the topping to sink into the whole cake and make it extra moist and flavorful. So, in this Chocolate Peanut Butter Cake, the peanut butter filling seeps into the poke marks and makes the whole cake unbelievably flavorful.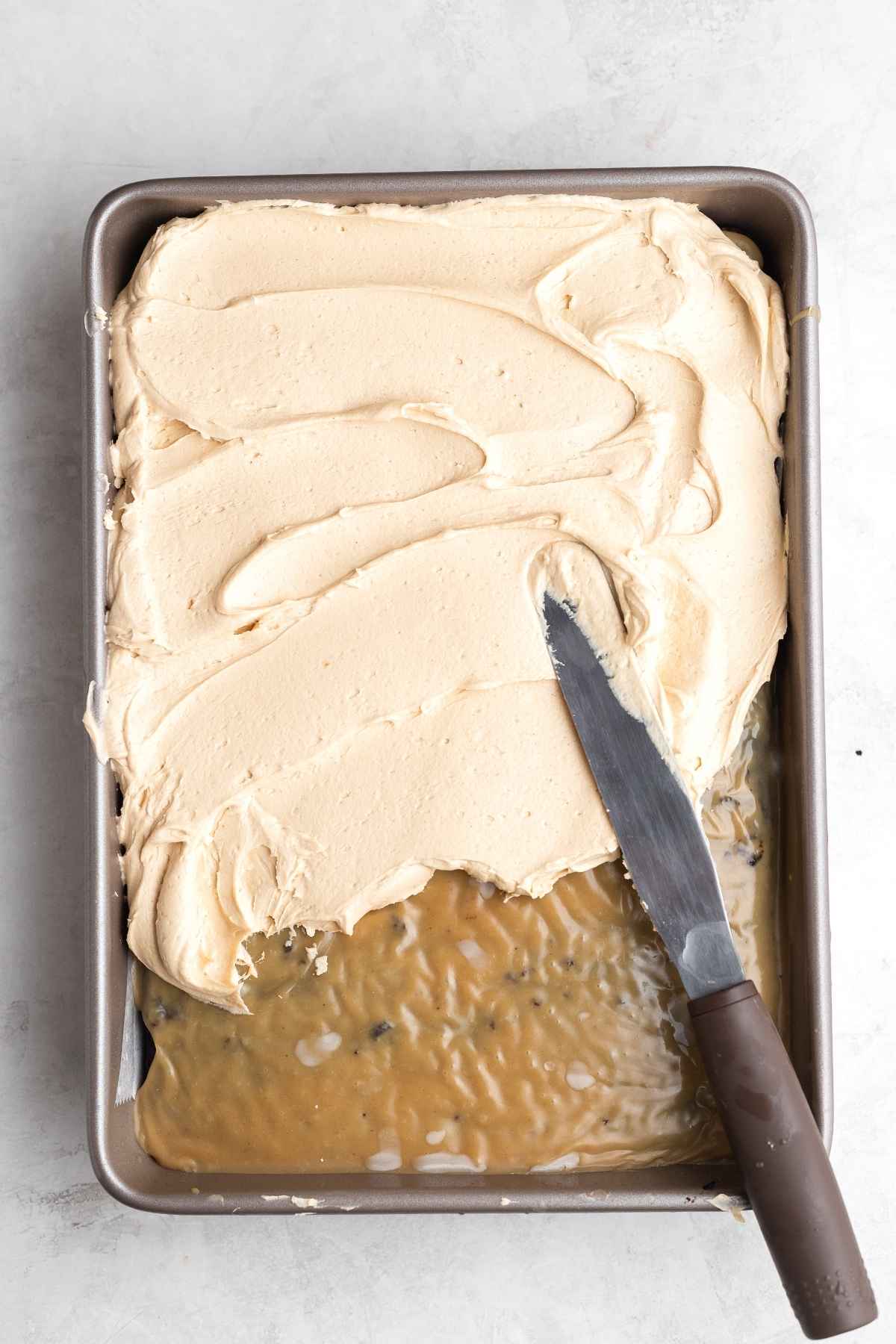 The peanut butter and chocolate poke cake is topped with a sweet fluffy peanut butter frosting but you can add extra delicious toppings to the Chocolate Peanut Butter Cake. Some great ones to start with are mini peanut butter cups or other peanut butter candy options like Reese's pieces. You can also serve with Hot Fudge or Chocolate Syrup for more chocolate flavor or a scoop of Vanilla Ice Cream for an extra decadent dessert.
What is a Poke Cake?
Poke Cakes are sheet cakes that have been poked with a fork, or sometimes the handle of a wooden spoon, to allow a filling to be poured on top and steep into the cake. The dessert was popularized in the 1980s by a Jell-O recipe that called for baking a cake mix, poking it, and pouring Jell-O onto it before chilling. Then the cake was frosted with a whipped cream topping. There are now dozens of varieties of poke cake recipes in all kinds of flavors. Instead of Jell-O, poke cakes can be filled with anything from a glaze like in this Peanut Butter Chocolate Poke Cake, to lemon curd, caramel sauce, or thinned out fruit preserves.
How to Make Peanut Butter Poke Cake
Prep time: Preheat the oven and prepare two baking pans with cooking spray.
Cake batter: To make the cake batter start by combining sugar, flour, cocoa powder, baking powder, baking soda, and salt. In a separate bowl combine the eggs, milk, oil, and vanilla. Whisk them together until smooth, then add them to the dry ingredients. Combine on low speed until mixed together. Pour in the hot coffee. Hand mix at this part to make sure the coffee doesn't splash and burn you.
Bake recipe: Once well combined, pour half the mixture into each of the prepared baking pans. Bake them for 30-35 minutes. Take the cakes from the oven and let the cake cool.
Peanut Butter Filling: Microwave the peanut butter for 20 seconds to loosen it up slightly. Stir in the sweetened condensed milk with a wooden spoon until creamy. Use a fork to poke holes in cake. Pour the peanut butter mixture over cake. Cover the cake and refrigerate it for 2 hours. This will give the peanut butter flavor time to seep into the cake.
Peanut Butter Frosting: Mix butter and peanut butter in your stand mixer at medium speed until fully combined. Bring the speed down to low and add the powdered sugar slowly. Add 1 cup powdered sugar then 2 tablespoons of milk alternating between the two until you have a light, fluffy mixture. Spread the frosting over the cake smoothly with an offset spatula.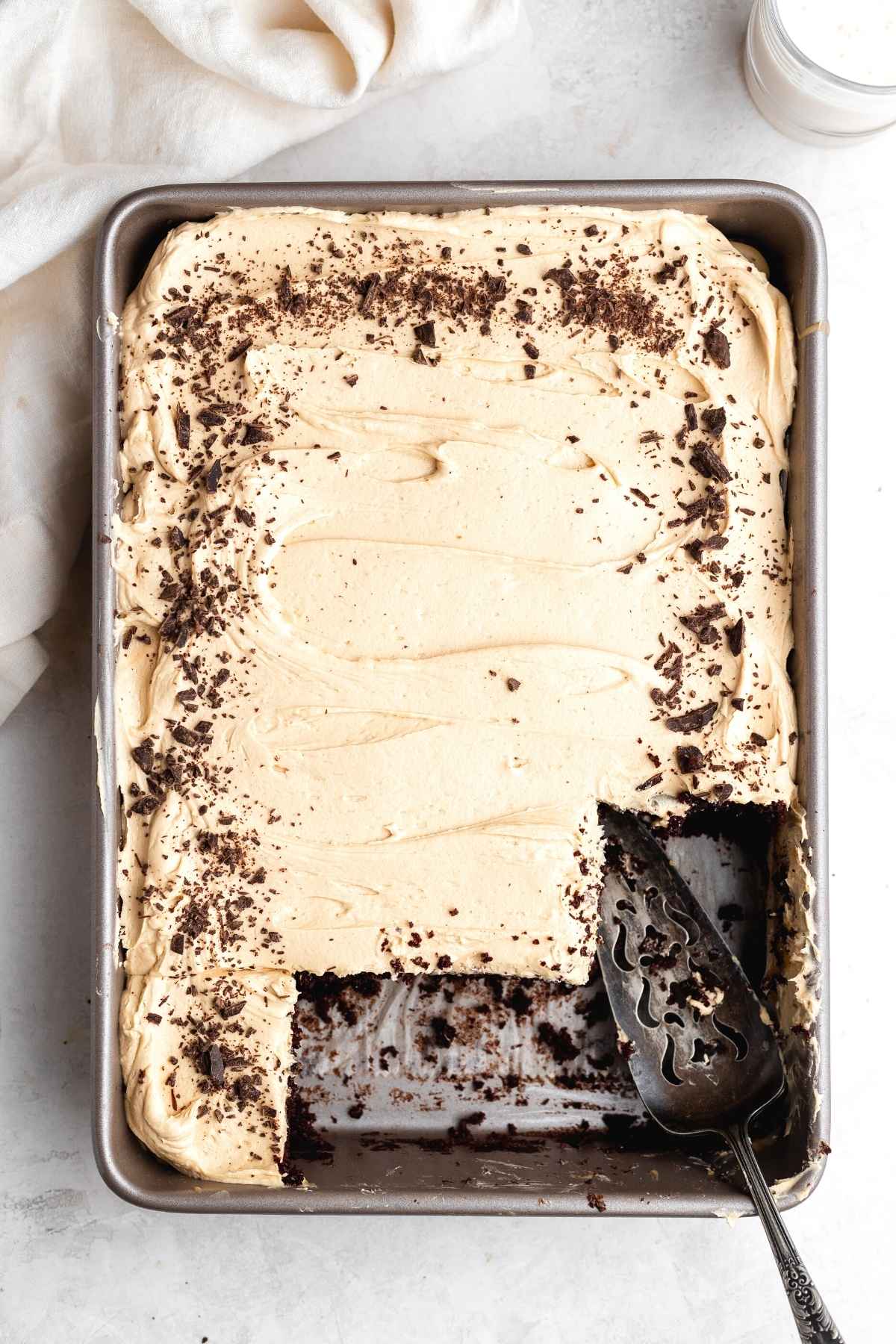 More Peanut Butter Cakes
Frequently Asked Questions
What kind of peanut butter should I use for baking recipes?
Use a standard creamy peanut butter, not a natural peanut butter. The texture will stand up better to being melted and mixed into the cake filling.
What should I use to poke holes in a poke cake?
Depending on the consistency of your filling, you'll want to make smaller or larger holes in the poke cake. If your filling is thinner and more the consistency of syrup, like a glaze, then use a fork to make lots of tiny holes for it to steep into. If your filling is thicker, like a caramel sauce or curd, then using the back of a wooden spoon will give you larger holes for the filling to penetrate.
How can I decorate a poke cake?
While poke cakes are more modest in presentation than a tiered or layer cake, you can still have lots of fun dressing them up! For this Peanut Butter Chocolate Poke Cake, try using mini chocolate chips, chopped peanut butter cups, chocolate shavings, Reese's Pieces candies, your favorite sprinkles, or a drizzle of chocolate or caramel sauce.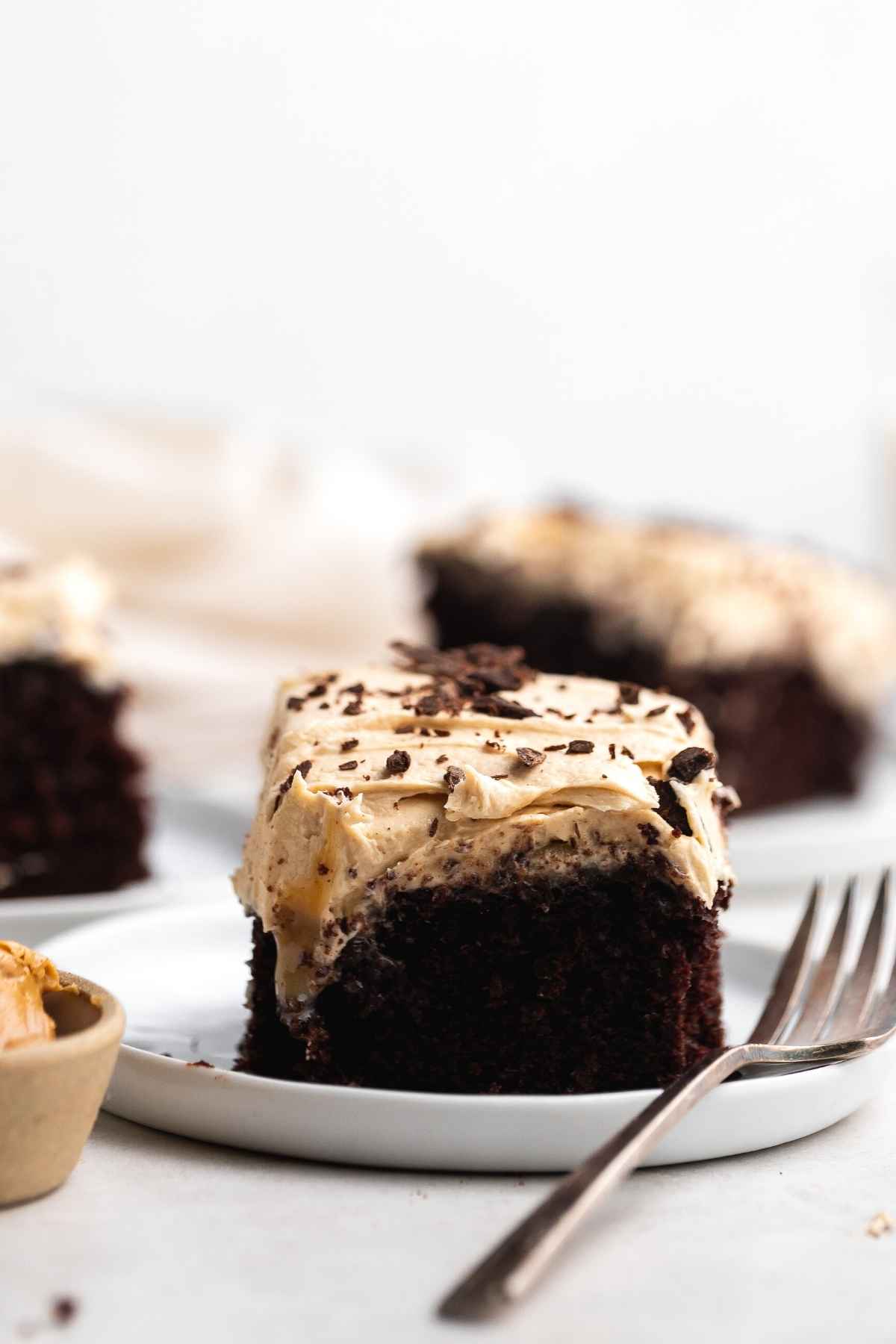 Create a free account to

Save Recipes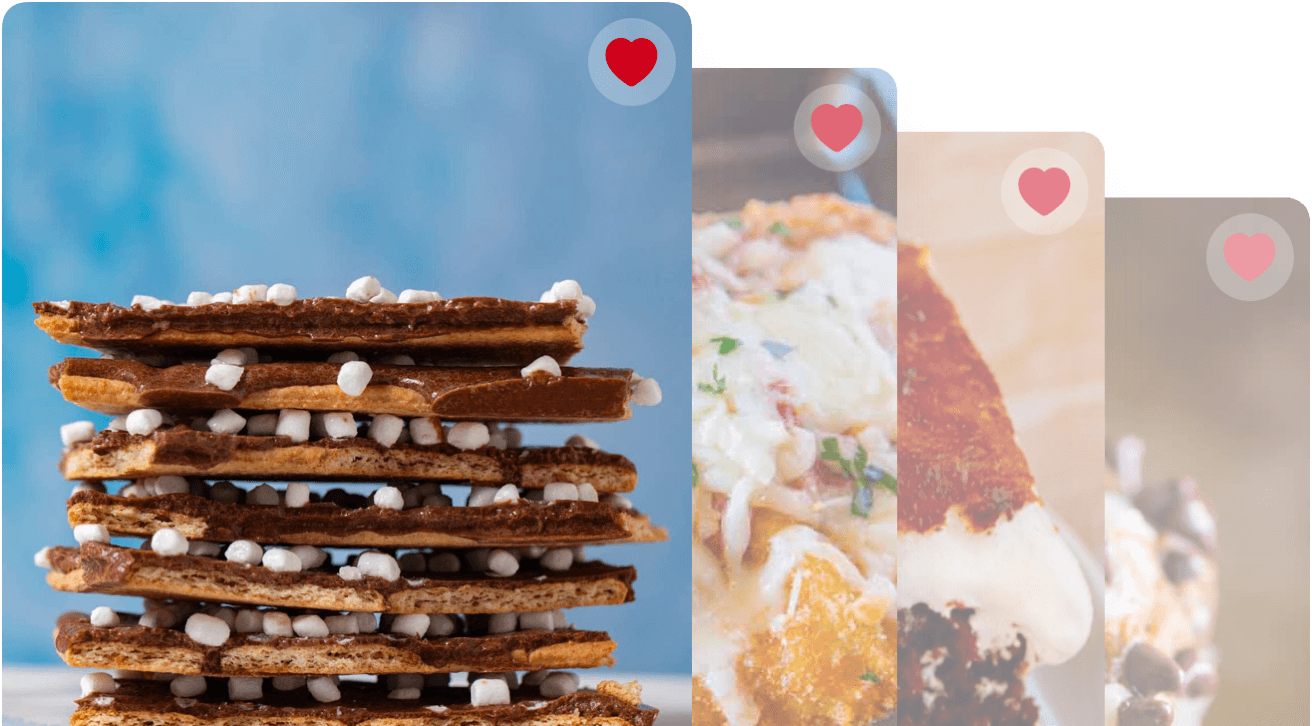 Variations on Peanut Butter Poke Cake
Chocolate Chips: For extra chocolatey flavor try mixing mini chocolate chips into the chocolate cake batter. For more peanut butter flavor, use peanut butter baking chips.
Cake Mix: To simplify this recipe just use a box chocolate cake mix. You can make small adjustments to the package directions in order to make the box cake mix more moist and delicious. Substitute the water called for with whole milk. You can also still use coffee for half of the liquid to bring out the chocolate flavor.
Gluten-free cake: To make your poke cake gluten-free just replace the plain flour with a gluten-free alternative like almond flour, oat flour, or coconut flour.
Whipped Topping: Save time by replacing the peanut butter frosting with a whipped cream topping instead. You'll still have tons of chocolatey peanut butter flavor form the cake and filling underneath. Use store bought or Homemade Cool Whip.
Can I make Peanut Butter Poke Cake Ahead?
Sometimes you'd like to get your baking over with the day before a party. Go ahead and make your poke cake and store tightly covered in the refrigerator for 1-2 days. Remove the cake from the fridge and allow it to warm to room temperature before slicing and serving. Colder cake tends to taste a bit stale, so when you give it time to warm up it will taste tender and fresh again.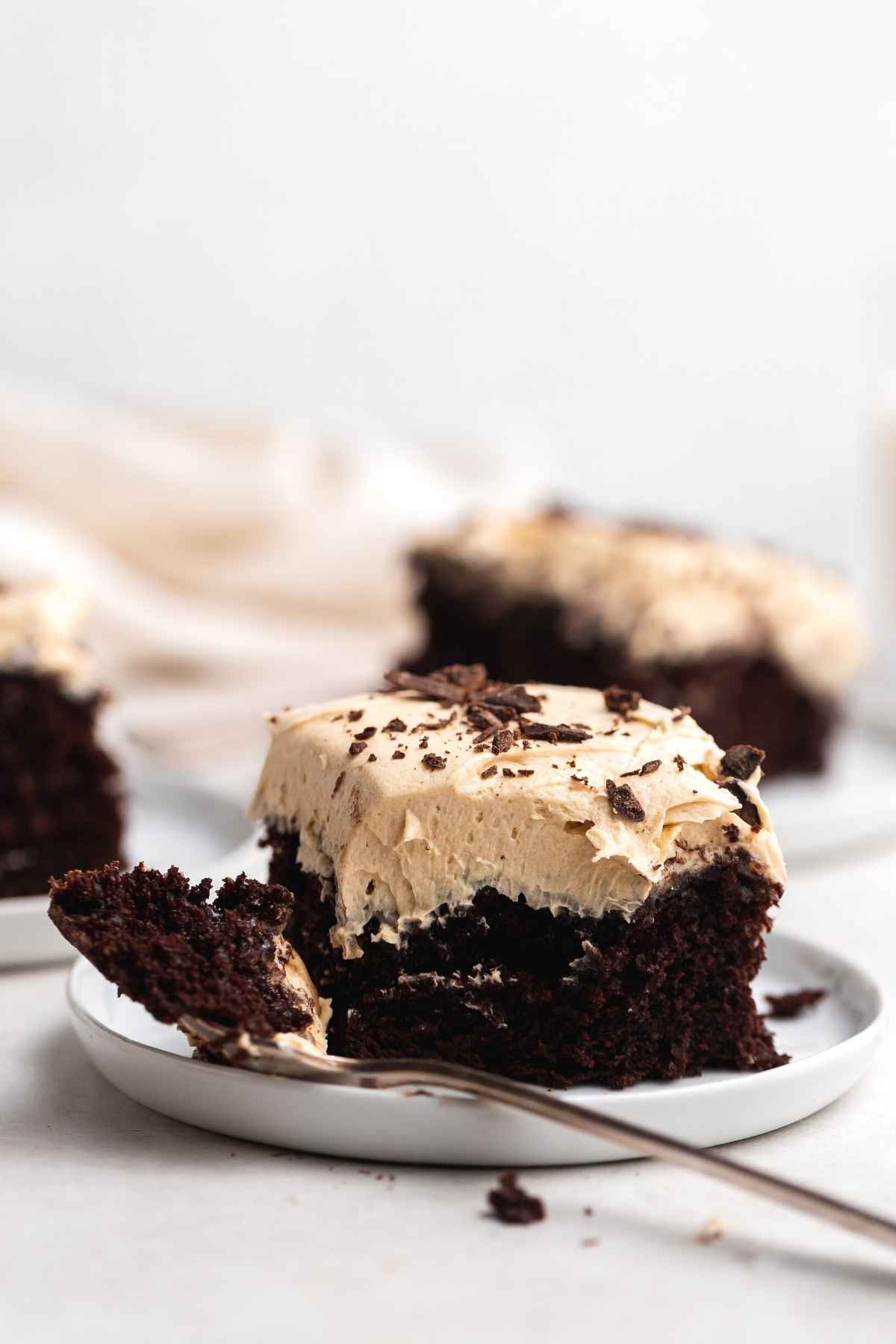 Even More Peanut Butter Desserts
How to Store Peanut Butter Poke Cake
Serve: You can keep this Chocolate Peanut Butter Poke Cake unfrosted at room temperature but the frosting is best kept chilled. Store after about 2 hours at room temp.
Store: Cover the cake pan with plastic wrap or aluminum foil, or transfer the cake slices to an airtight container, and store it in the fridge for up to 1 week.
Freeze: To freeze the cake, wrap it tightly with plastic wrap then tin foil. The plastic wrap keeps it from getting freezer burn. A frosted cake will stay good for up to 3 months. Remove the plastic wrap before thawing at room temp or in the fridge overnight.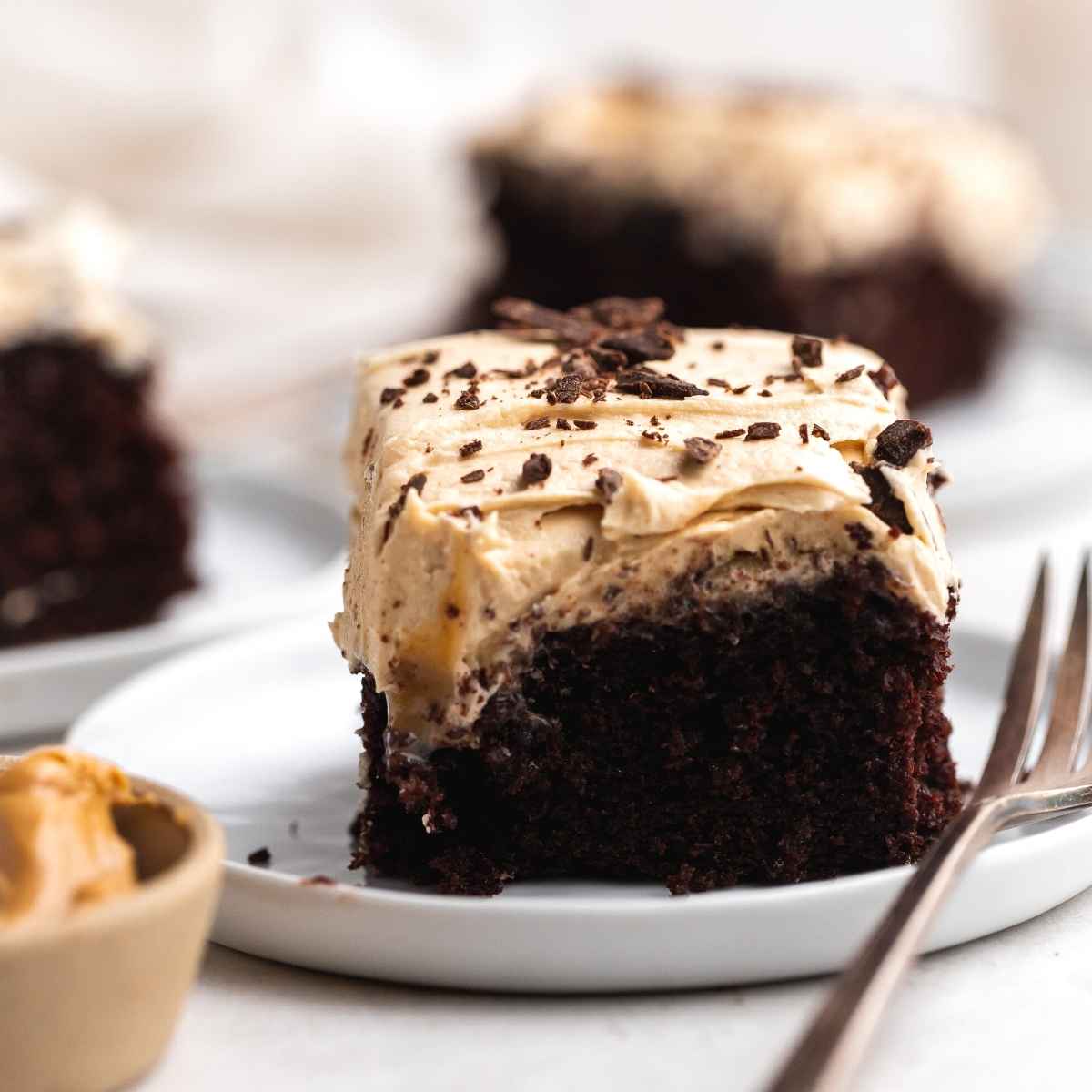 Ingredients
Chocolate Cake:
2

cups

sugar

1 3/4

cups

flour

1

cup

unsweetened cocoa powder

1 1/2

teaspoons

baking powder

1 1/2

teaspoons

baking soda

1

teaspoon

salt

2

large

eggs

1

cup

whole milk

1/2

cup

vegetable oil

1

tablespoon

vanilla extract

1

cup

hot coffee

, you can substitute boiling water
Peanut Butter Frosting:
1 1/2

cups

unsalted butter softened

1 1/2

cups

creamy peanut butter

6

cups

powdered sugar

1/2

cup

whole milk
Instructions
Chocolate Cake:
Preheat the oven to 350 degrees and spray a 9×13 baking pan with baking spray.

In a stand mixer on low speed mix together the sugar, flour, cocoa powder, baking powder, baking soda, and salt.

In a small bowl whisk together the eggs, milk, oil, and vanilla then add it to the stand mixer on low then medium speed until just combined and finally add in the hot coffee carefully and stir it in by hand until just combined (do not turn on the mixer, it may splash on you).

Pour the batter into the pan and bake for

30-35 minutes

until a toothpick comes out clean.
Filling:
Add peanut butter to a microwave-safe bowl and microwave for

20 seconds

until warm.

Stir in the sweetened condensed milk until creamy.

Using a fork, poke cake all over then pour the peanut butter mixture over the top.

Cover and refrigerate for 2 hours.
Peanut Butter Frosting:
To your stand mixer add the butter and peanut butter and beat on medium speed for

2 minutes

until fully combined.

Lower the speed to low add in the powdered sugar 1 cup at a time, alternating with 2 tablespoons of milk (starting and ending with sugar) until light and fluffy, about

2-3 minutes

.

Spread over cooled cake.
Nutrition
Calories:
560
kcal
|
Carbohydrates:
70
g
|
Protein:
9
g
|
Fat:
30
g
|
Saturated Fat:
15
g
|
Cholesterol:
53
mg
|
Sodium:
401
mg
|
Potassium:
325
mg
|
Fiber:
3
g
|
Sugar:
58
g
|
Vitamin A:
446
IU
|
Vitamin C:
1
mg
|
Calcium:
96
mg
|
Iron:
1
mg