Easy Peanut Butter Sheet Cake is a melt-in-your-mouth iced sheet cake with double peanut butter flavor. The best go-to party dessert made in just one hour!
Chocolate Texas Sheet Cake is one of the easiest Cake Recipes to make for a crowd and is perfect for chocoholics! This sheet cake recipe will please all the peanut butter lovers at your next cookout or dinner party.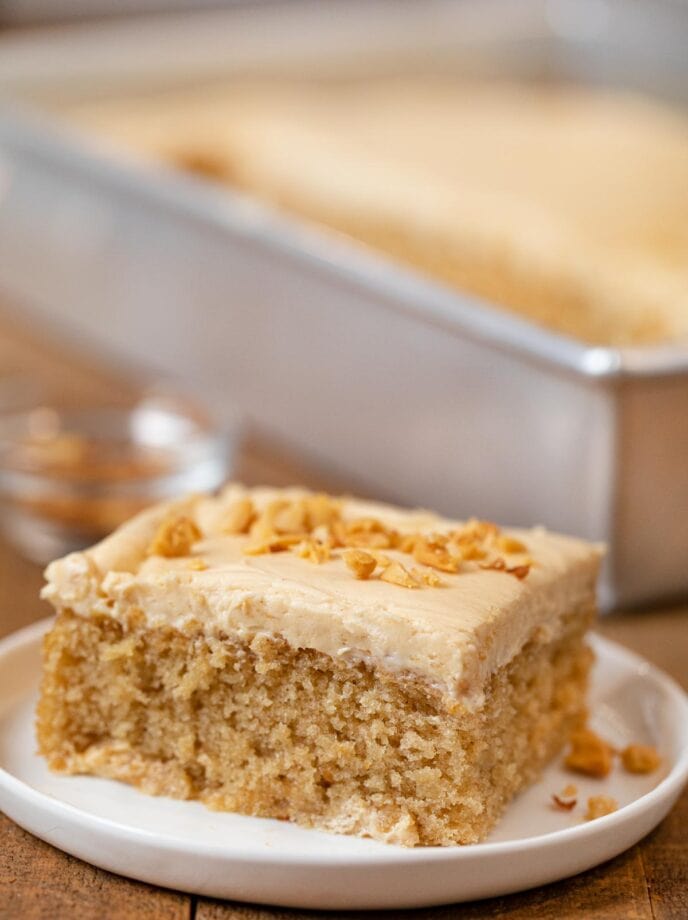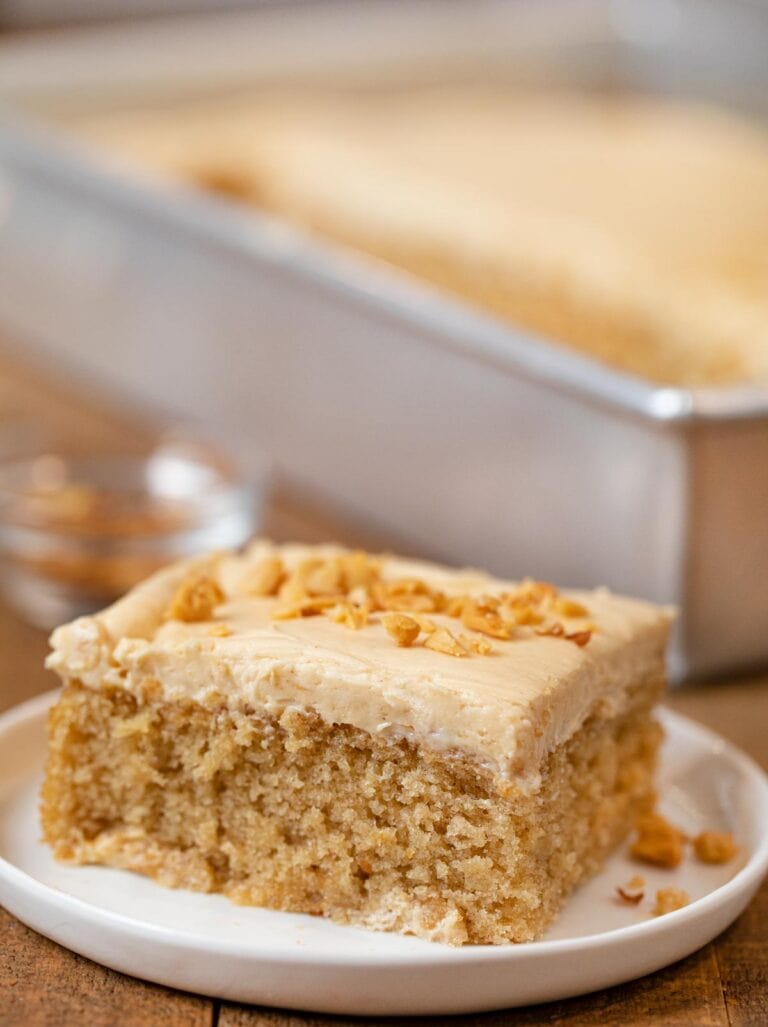 PEANUT BUTTER SHEET CAKE
If you can never get enough peanut butter in your life, this is the cake you have been waiting for. Peanut Butter Texas Sheet Cake is a rich, chewy peanut butter cake with even more peanut butter in the frosting! It's an easy to make, giant cake perfect for parties or getting your peanut butter fix all week long.
Peanut Butter Sheet Cake doesn't have any fancy ingredients or techniques, but that simplicity turns into something amazing. This cake is so moist and melt-in-your-mouth delicious guests won't believe it was made in less than hour with just a handful of pantry items. Take this cake to the next level by serving warm with Vanilla Ice Cream!
If you want to make Peanut Butter Sheet Cake by hand, simply melt the butter with the peanut butter in the microwave before mixing with the sugar and eggs. Melting the butter will make your cake much chewier, like a fudgy brownie.
As with all cakes, you want to make sure not to over mix the batter of Peanut Butter Sheet Cake. Mixing cake batter too much causes gluten strands to form and the cake becomes dense and gummy. A good practice to prevent over mixing is to always sift dry ingredients before adding to the wet ingredients.
Best Peanut Butter For Peanut Butter Sheet Cake
A jar of regular (cheap) creamy peanut butter is the best kind of peanut butter for Peanut Butter Sheet Cake and the frosting. You don't want to use natural peanut butter for baking because it doesn't have the extra ingredients to keep the oil from separating. Reduced fat peanut butter is not great for baking either, so save a buck and just grab a jar of regular Jif or Skippy.
Tips for Frosting a Peanut Butter Sheet Cake
You want the frosting to be at least room temperature so that it will spread easily on your warm cake. Warm Peanut Butter Frosting on the stovetop (or microwave) to make spreading even easier. You can also bring the frosting ingredients to a boil in a medium saucepan and then pour hot all over the warm cake. Pouring hot frosting also gives it more of an icing consistency.
MORE DELICIOUS PEANUT BUTTER DESSERTS: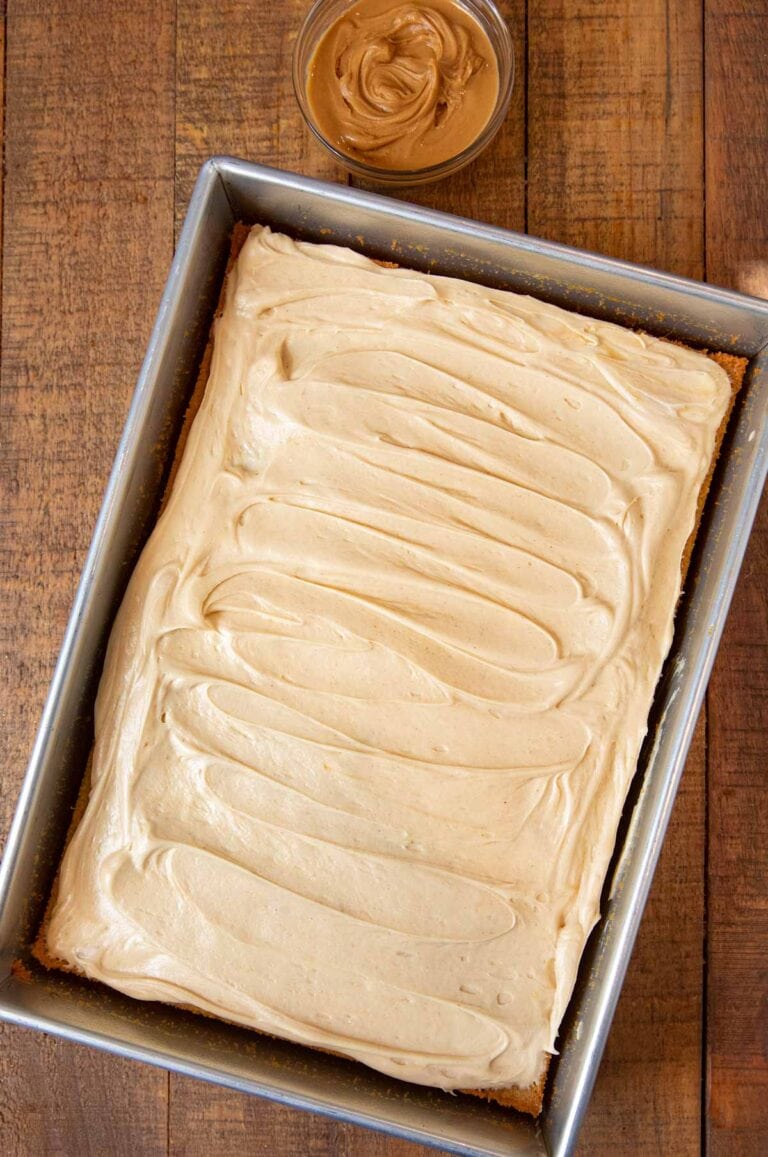 Create a free account to

Save Recipes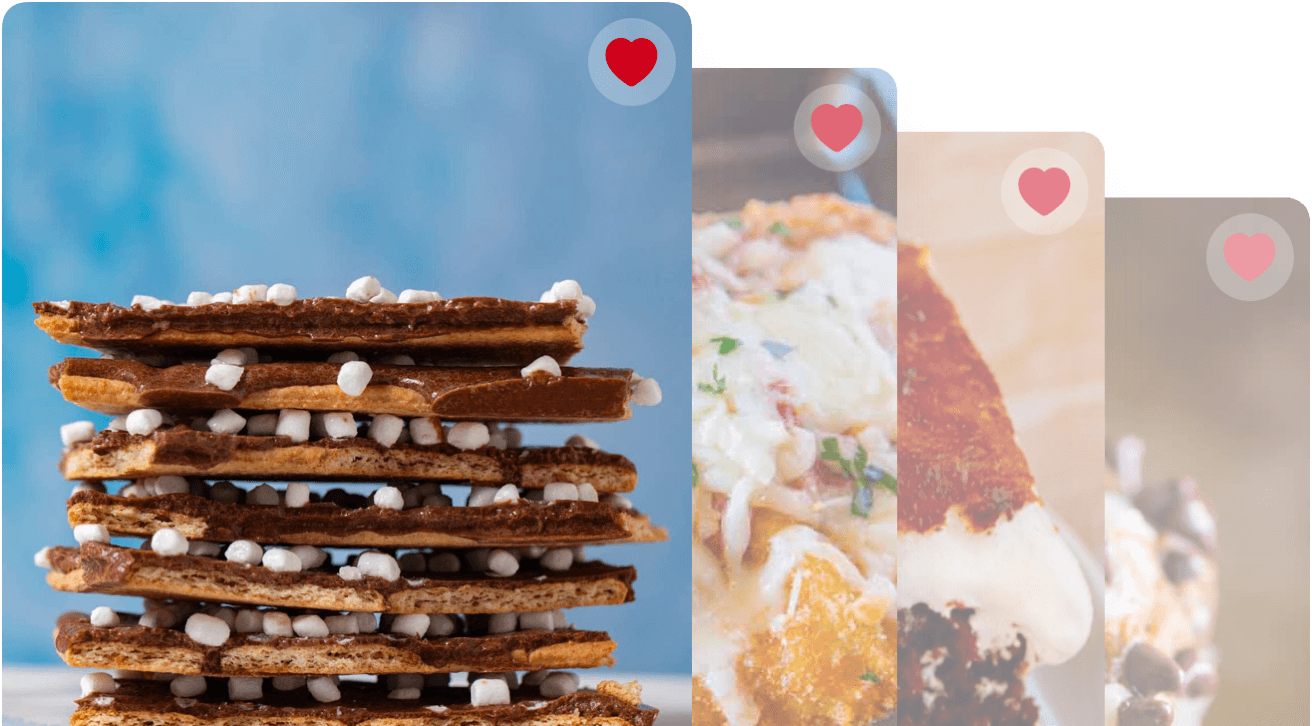 VARIATIONS ON PEANUT BUTTER SHEET CAKE
Chocolate: Make a Peanut Butter Chocolate Sheet Cake a few ways. Top with Chocolate Frosting instead of peanut butter. Drizzle the cake with Chocolate Ganache. Fold in a ½ cup semisweet chocolate chips or milk chocolate chips to the cake batter.
Banana: Replace ½ cup milk and ½ cup sugar with 1 cup mashed ripe bananas, mixing in after the eggs. Top your Peanut Butter Banana Sheet Cake with sliced bananas.
Toppings: After you frost the cake, sprinkle the top with chopped salted peanuts, honey roasted peanuts, Reeses Peanut Butter Cups, or peanut butter chips.
Cake Mix: To make Peanut Butter Texas Sheet Cake with cake mix, replace flour and sugar with 2 boxes yellow cake mix and use 3 large eggs.
Texas Sheet Cake Cookies: Leave out the milk and water and add ½ cup vegetable oil to make these into Texas Sheet Cake Cookies. Scoop into tablespoon size balls and bake for 7-8 minutes.
MORE SHEET CAKE RECIPES:
HOW TO STORE PEANUT BUTTER SHEET CAKE
Serve: The peanut butter frosting needs to be refrigerated after 2 hours at room temperature. Unfrosted sheet cake can be kept covered at room temperature for up to 4 days.
Store: Cover the sheet pan tightly with plastic wrap or jelly roll pan cover. Refrigerate for up to 1 week. You can also cut the peanut butter cake and store in an airtight container.
Freeze: You can freeze this cake with or without frosting. Wrap cake pan with plastic wrap and then aluminum foil. Freeze for up to 3 months and thaw overnight in the refrigerator to serve.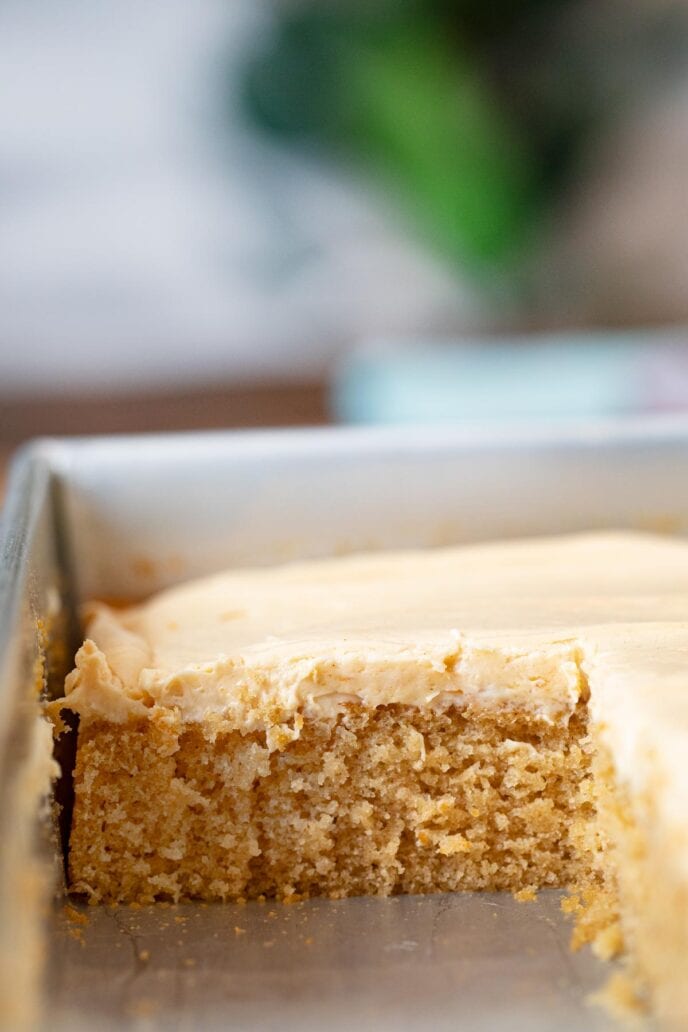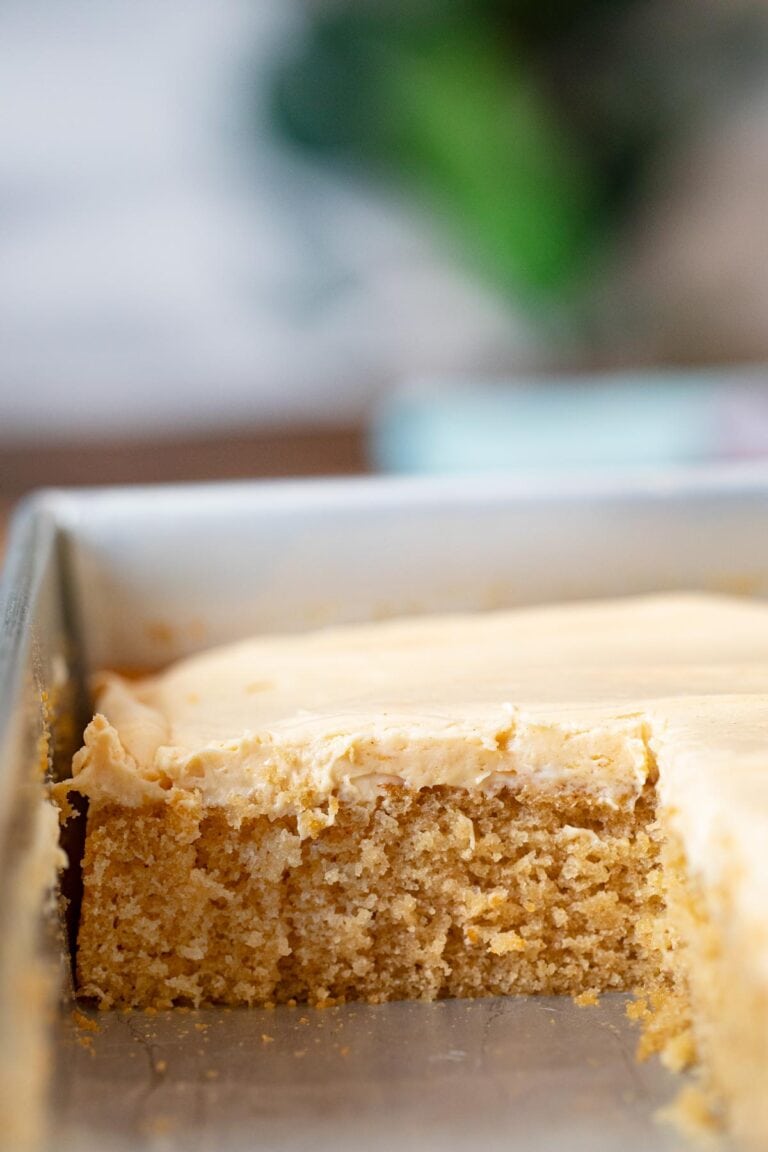 Instructions
Preheat oven to 350 degrees and spray a 9x13 baking dish with baking spray.

Microwave your peanut butter for 30 seconds in a microwave safe bowl (covered with a wet paper towel) until runny.

To your stand mixer, add peanut butter, butter and sugar and cream on high speed for

1 minute

.

Add in the eggs and vanilla until well combined.

On the lowest speed setting add in the milk and water until smooth.

Sift together flour, baking soda and salt.

On lowest speed setting add in flour in batches until just combined.

Pour into baking dish and bake for

30-35 minutes

or until a toothpick comes out clean.

Spread the Peanut Butter Frosting evenly over the cake while it's still warm.
Nutrition
Calories:
370
kcal
|
Carbohydrates:
54
g
|
Protein:
5
g
|
Fat:
16
g
|
Saturated Fat:
6
g
|
Cholesterol:
30
mg
|
Sodium:
232
mg
|
Potassium:
165
mg
|
Fiber:
1
g
|
Sugar:
41
g
|
Vitamin A:
185
IU
|
Calcium:
26
mg
|
Iron:
1
mg