Easy Mexican Cinnamon Cookies are a melt in your mouth buttery cinnamon flavored sugar cookies recipe with a crunchy cinnamon-sugar coating.
Just like Mexican Wedding Cookies, this is a simple Cookie Recipe perfect for any celebration or just to satisfy a sweet tooth. It's a quick, easy delicious cookie that is sure to become a go-to for a freshly baked treat.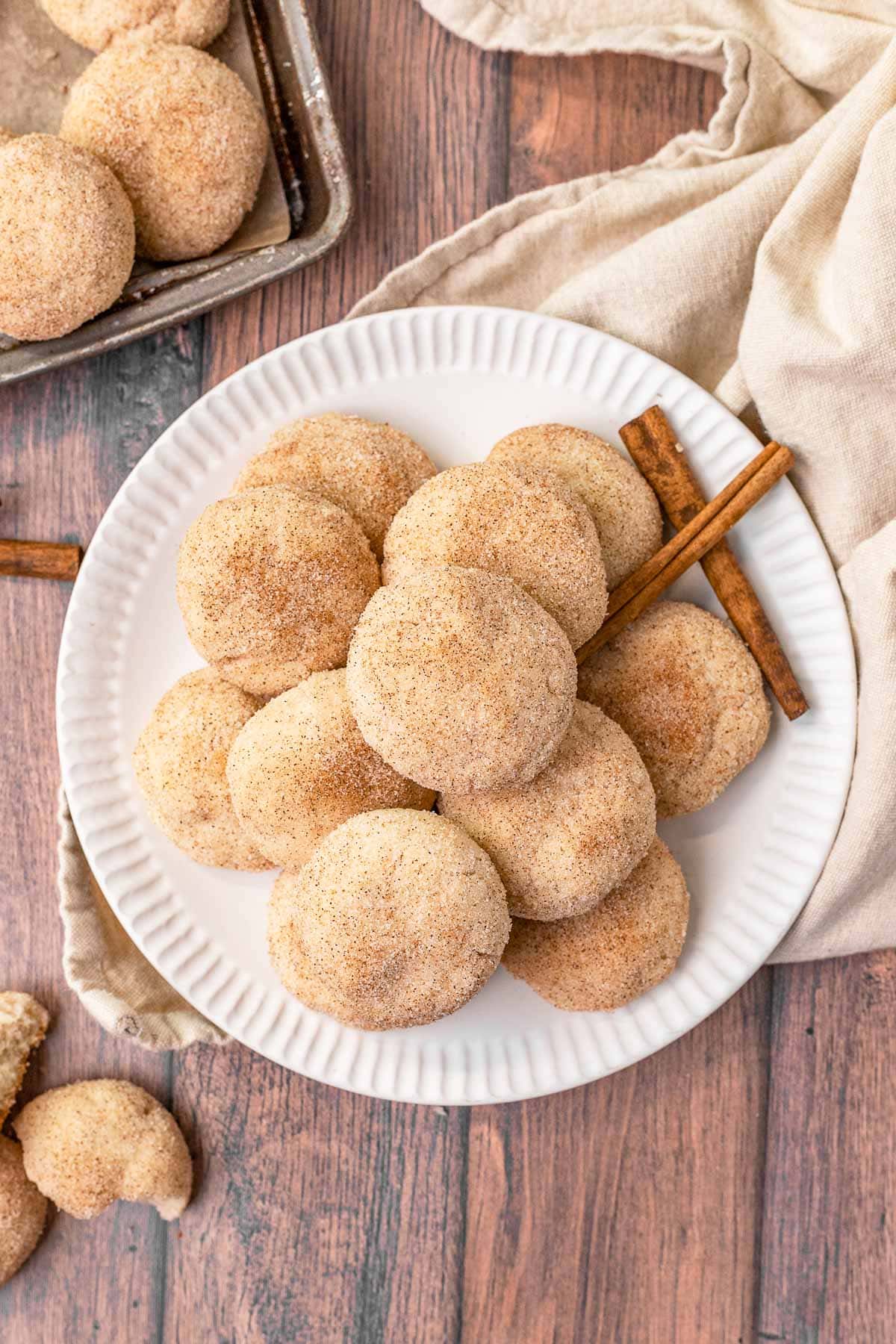 These Cinnamon Sugar Cookies may be easy to make with everyday  pantry ingredients but they taste unlike any cookie you've had before! Basic Sugar Cookies get amped up with ground cinnamon then the buttery cookie gets more warm spice with a cinnamon-sugar coating. The are like a churro baked into a sugar cookie but with extra buttery goodness. The sugar coating sparkles on top of the Mexican Cinnamon Cookies, making these simple, delightful cookies beautiful enough for any special occasion too.
The rich vanilla, butter, and cinnamon flavors definitely satisfy any craving without being too heavy or filling. You can serve these tasty cookies on their own, or hot from the oven with a scoop of Vanilla Ice Cream for a sweet Mexican dessert. The rich depth from the spice that makes them the perfect cookie to dunk in a cup of Hot Chocolate. They will keep great in a cookie jar as a sweet cinnamon sugar snack or you can add them to your holiday cookie platter for new treat that's sure to delight!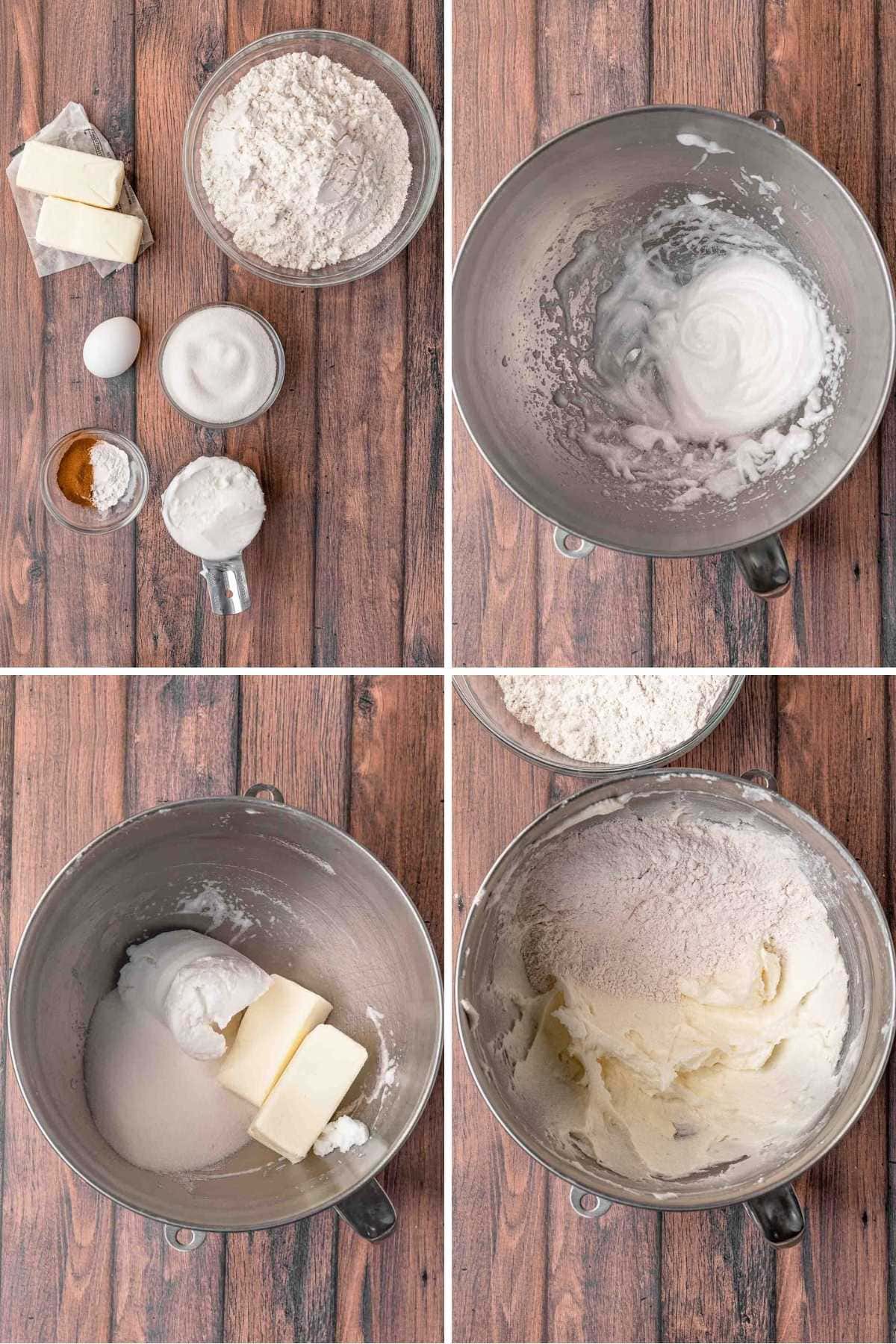 What is the difference between Mexican Cinnamon Cookies and other Mexican Cookies?
Mexican Cinnamon Cookies can refer to a few different cinnamon-flavored Mexican cookies such as Hojarascas and Polvorones de Canela. While there are lots of similarities between all these cookies, such as them being covered in some kind of cinnamon sugar mixture, there are ways each is unique. Hojarascas are often made with lard and cinnamon tea, so they are rich and packed with cinnamon flavor. Polvorones de Canela are made with butter, ground cinnamon and powdered sugar, similar to Mexican Wedding Cookies, and sometimes the sugar coating is made with powdered sugar instead of granulated sugar.
Mexican Cinnamon Cookies are kind of like combining both batches of cookies, using shortening (instead of lard) and butter for extra rich, crumbly cookies and getting the cinnamon spice from ground cinnamon. Finally, the big difference is these cinnamon-flavored Mexican cookies are made with baking powder and egg similar to sugar cookies. The result is a decadent, buttery taste similar to Shortbread but the tender moistness of a sugar cookie.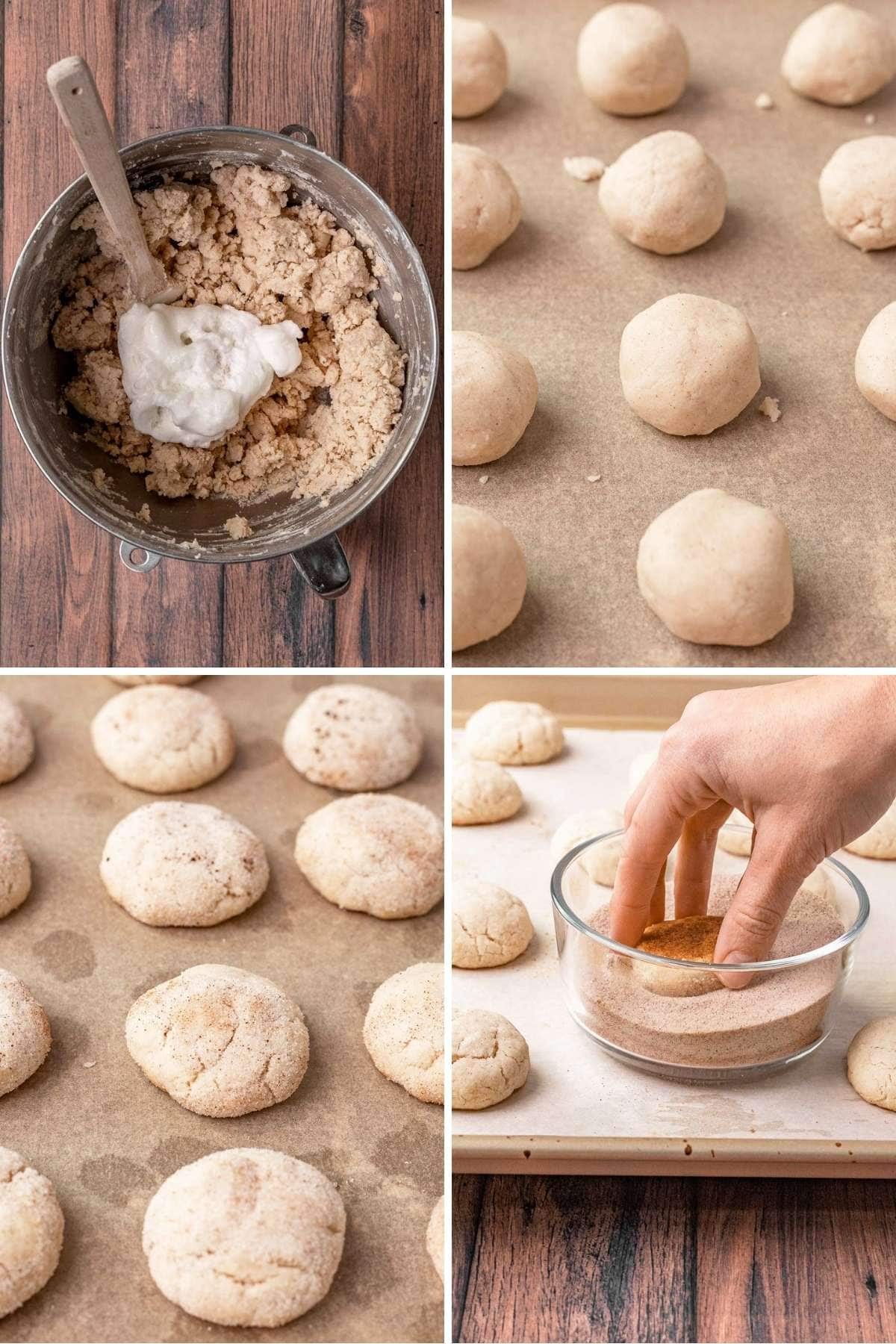 How to Make Mexican Cinnamon Cookies
Prep: Start by preheating your oven and line your cookie sheet with parchment paper or non-stick foil. Separate the yolk and egg white, storing the yolk for later use.
Egg Whites: Beat the egg white until stiff peaks form in your stand mixer on high speed. Use a spatula to gently transfer the beaten whites to a separate bowl.
Dough: Add the shortening, butter, and sugar to the mixer. Cream everything until light and fluffy. Sift the flour, baking powder, salt, and cinnamon. Reduce speed to low and slowly add the flour mixture to the butter mixture until just combined. Turn off the mixer and gently fold in the egg whites by hand.
Bake: Roll the dough into balls, careful not to handle too much so the dough doesn't get warm or sticky. Place cookies on a baking sheet 2 inches apart so that they can spread while baking. Bake in the center of the oven for 11-13 minutes, until they're light golden brown.
Coating: Combine the sugar and cinnamon in a small bowl until well distributed. Let the baked cookies cool for a few minutes, until you can safely handle them. Toss the cookies while still warm in the cinnamon sugar until fully coated. Let finish cooling or enjoy warm!
More Delicious Mexican Desserts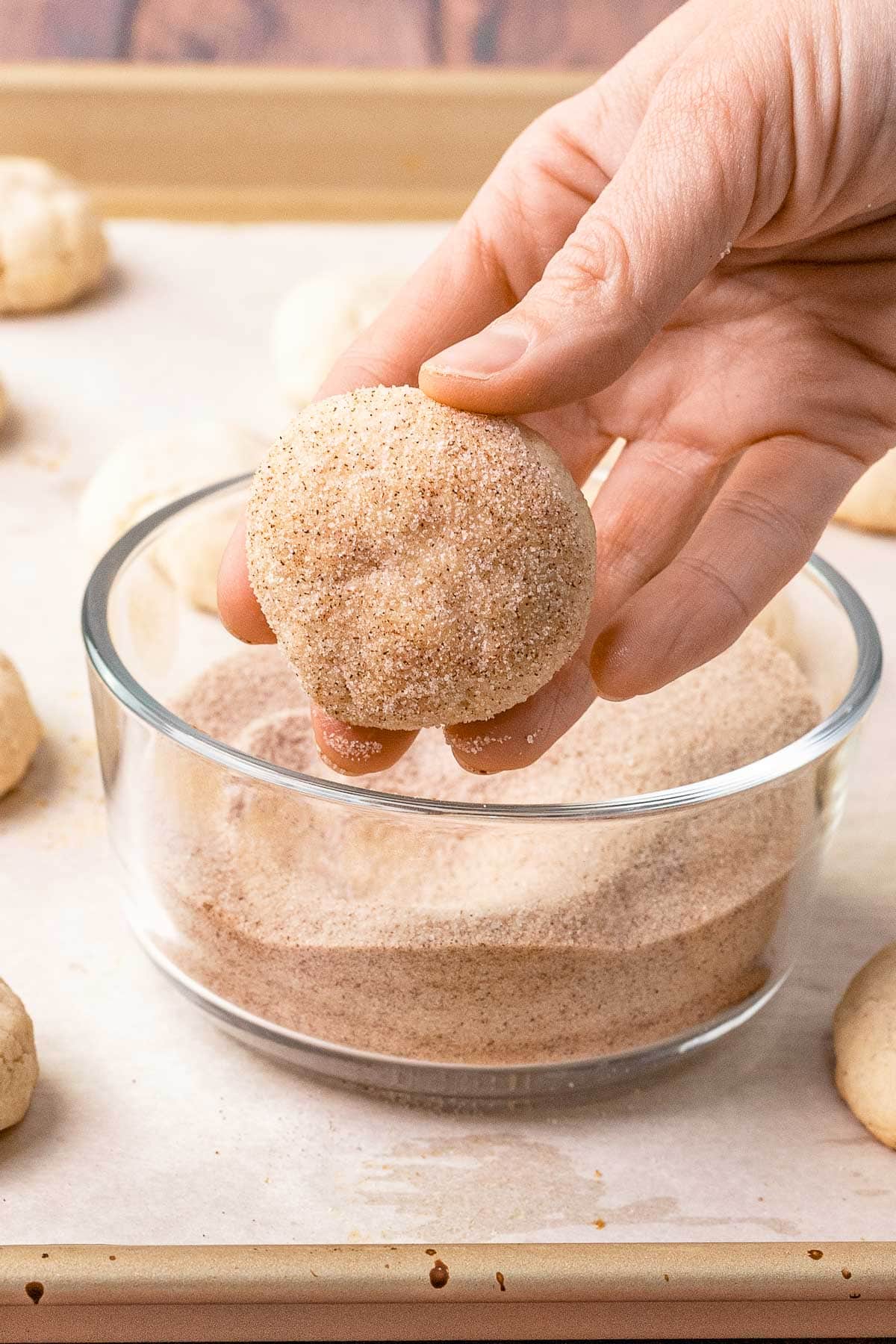 FAQs for Mexican Cinnamon Cookies
Why do Mexican cookies taste different?
When it comes to authentic cookies made in Mexico or Mexican bakeries, they often use a piloncillo or panela instead of granulated sugar or brown sugar. Piloncillo is made from evaporated unrefined sugarcane juice and has a stronger molasses flavor, which can alter the taste of Mexican cookies.
Why are my cookies crumbly and dry?
Since these cookies are made with both shortening and butter, plus egg, they should not be as dry as other shortbread cookies. The top two things that cause them to be dry and crumbly is if you bake them too long or add too much flour, so measure carefully and remove them when they are just starting to turn golden around the edges.
Are these cookies considered shortbread cookies?
These Mexican Cinnamon Cookies are like a cross between a shortbread cookie, because of the heavy amount of fat, and a tender sugar cookie thanks to the egg and baking powder. 

Create a free account to

Save Recipes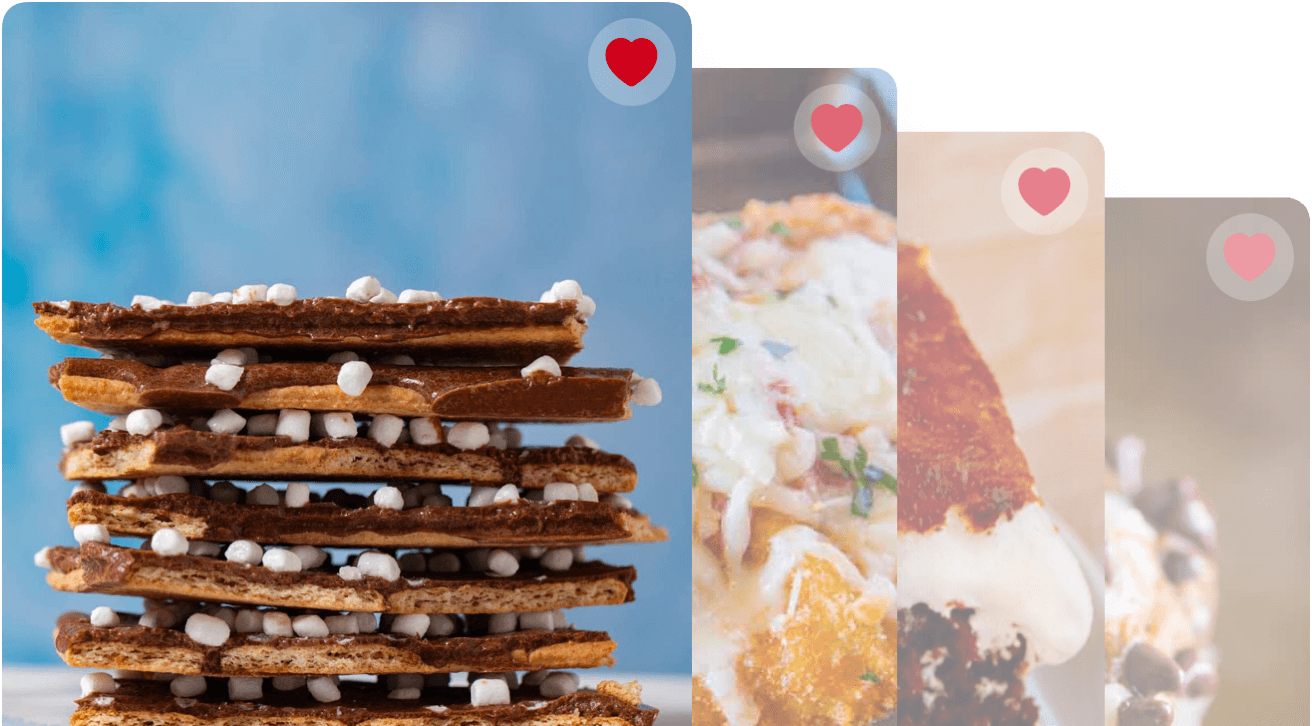 Key Ingredients
Egg White: The egg white adds lightness and a tender texture to these otherwise denser cookies without adding extra fat or flavor. Save the yolk for some Eggnog during the holidays or Chocolate Ice Cream in the summer!
Shortening: Shortening is a solid fat made from vegetable oil that contributes to the cookie's flaky, crumbly texture. It has a high melting point, which helps the cookies maintain their shape during baking.
Butter: Unsalted butter adds richness, flavor, and moisture to the cookies. It also aids in the creaming process, helping to create a light and tender cookie.
Sugar: Sugar not only adds sweetness to the cookie base but is part of the sweet cinnamon coating. For a more caramel flavored, chewy cookie, you could swap brown sugar instead of regular sugar.
Baking Powder: Baking powder helps the cookies rise and become light and airy. It creates a delicate crumb and contributes to the melt-in-your-mouth texture of the cookies.
Ground Cinnamon: Ground cinnamon is a warm, aromatic spice that is a popular flavor in Mexican treats. In this recipe, it is used both in the dough and as part of the crunchy cinnamon and sugar outside, enhancing the overall taste of the cookies.
Can Mexican Cinnamon Cookies be made in advance?
Yes, you can make the cookies and the cookie dough in advance and freeze them. It's best to freeze the dough after you shape it so you can just thaw and bake. To keep the dough from sticking together, shape into balls then freeze on a flat tray until solid. Transfer the frozen dough to sealed bag and store for up to 4 months.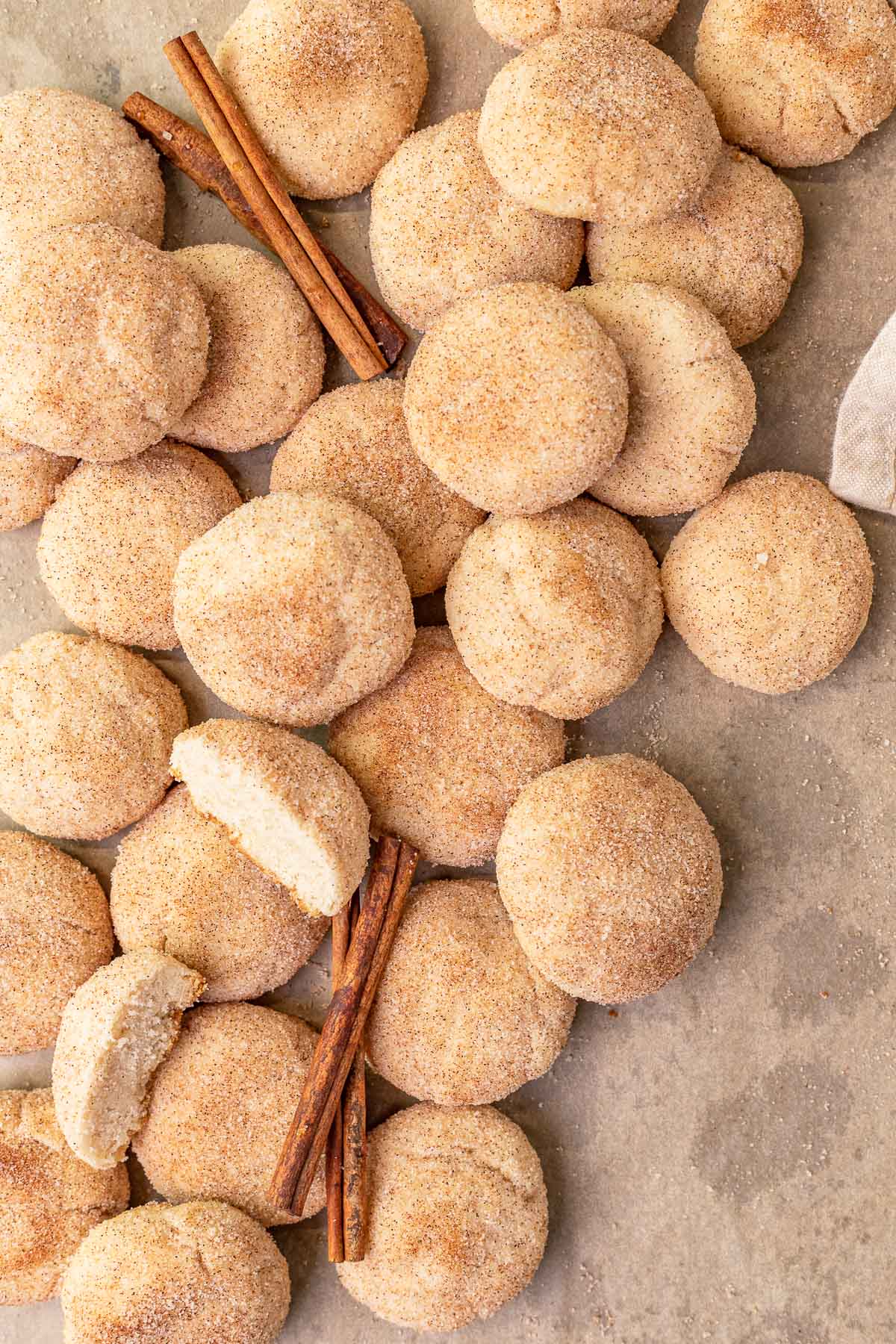 Variations
Powdered Sugar: You can replace the sugar in the cinnamon coating with powdered sugar for a cookie that's closer to a Mexican Wedding Cookie. You will need to coat the cookie in the sugar twice because it will melt slightly at first.
Spices: You can play with the spices in the cinnamon-sugar mixture. Nutmeg, cloves, or ginger would taste great along with cinnamon, just keep the total spices to 1 tablespoon. You could even add a little heat with cayenne pepper.
Chocolate: Add some chocolate by replacing 2 tablespoons of flour with unsweetened cocoa powder. You could also fold in mini chocolate chips in the dough and add a teaspoon cocoa powder to the sugar and cinnamon topping.
Mix-ins: Fold in up to ½ cup of your favorite cookie add-ins like raisins, chopped nuts, cinnamon chips, chocolate candies, or Toffee Bits. Add to the dough at the end and gently mix in until just combined.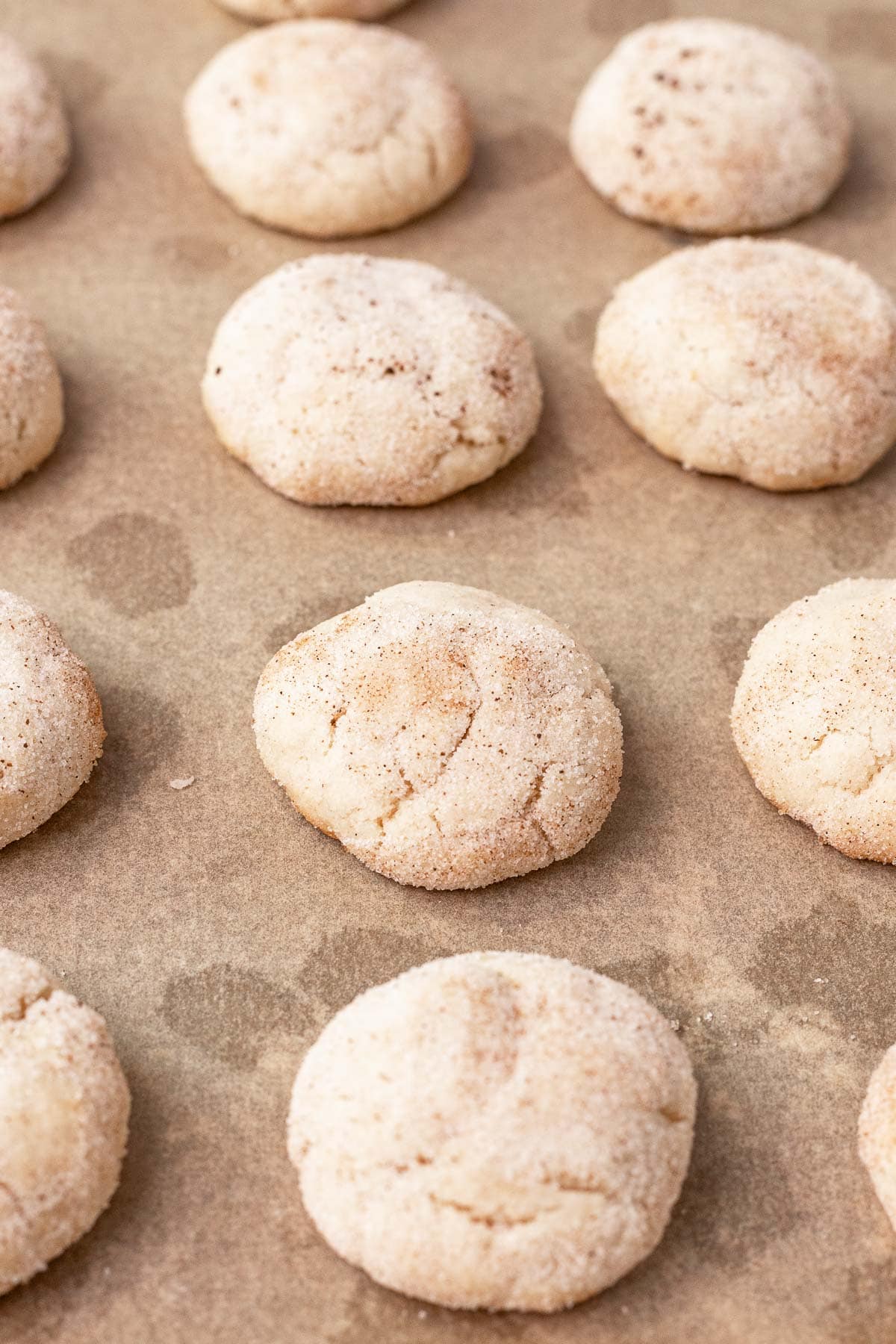 How to Store
Serve: These cookies are best at room temperature or slightly warm so they are soft. Kept covered, in a dry cool place Mexican Cinnamon Sugar Cookies will be good for 3-4 days.
Store: You can also store these cookies in a sealed container in the fridge for up to a week. Bring them to room temperature to serve.
Freeze: To freeze Cinnamon Sugar Cookies put them in a freezer bag with the layers separated by parchment paper. They'll keep well for up to 6 months.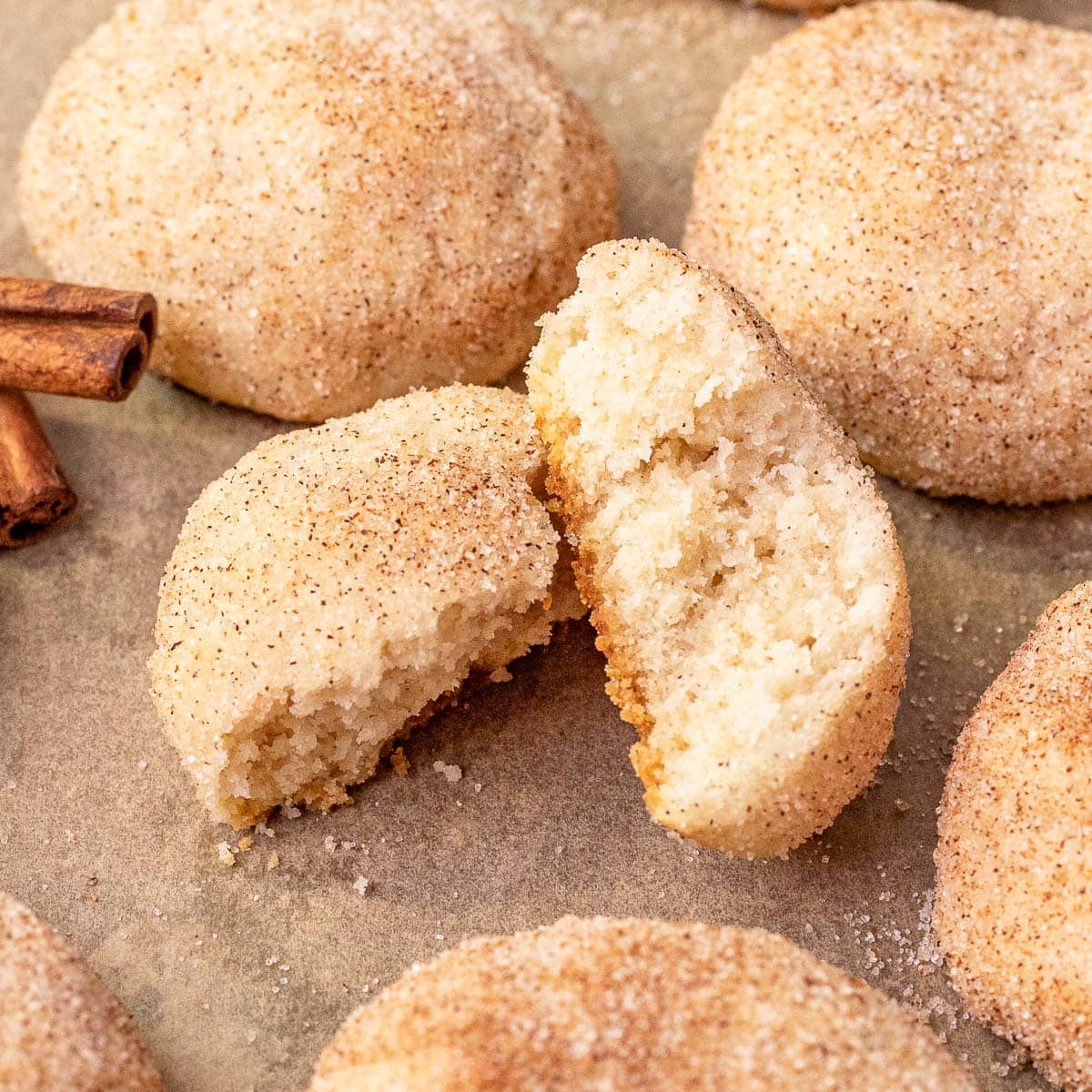 Ingredients
1

large egg

, room temperature

1

cup

shortening

1

cup

unsalted butter

, softened

3/4

cup

sugar

4

cups

flour

1

tablespoon

baking powder

2

teaspoons

ground cinnamon

1/8

teaspoon

salt
To Finish:
3/4

cup

sugar

1

tablespoon

ground cinnamon
Instructions
Preheat oven to 375 degrees and line baking sheets with parchment paper.

Separate the egg white (reserve the yolk). Add to your stand mixer and beat to stiff peaks on high speed.

Gently scrape whipped egg whites out of stand mixer into a mixing bowl.

To your stand mixer, add the shortening, butter, and sugar, and cream until light and fluffy.

Sift together flour, baking powder, cinnamon, and salt. Add to the stand mixer on the lowest speed setting until just combined.

Fold in the beaten egg white until just combined.

Roll into 1″ balls and place two inches apart on the baking sheet.

Add remaining sugar and cinnamon to a bowl and mix.

Let cookies sit

5 minutes

on the baking sheet to cool then coat in the cinnamon-sugar mixture.
Nutrition
Calories:
272
kcal
|
Carbohydrates:
29
g
|
Protein:
2
g
|
Fat:
17
g
|
Saturated Fat:
7
g
|
Polyunsaturated Fat:
3
g
|
Monounsaturated Fat:
6
g
|
Trans Fat:
1
g
|
Cholesterol:
27
mg
|
Sodium:
17
mg
|
Potassium:
80
mg
|
Fiber:
1
g
|
Sugar:
13
g
|
Vitamin A:
248
IU
|
Vitamin C:
1
mg
|
Calcium:
33
mg
|
Iron:
1
mg