Mexican Brownies are an easy gooey chocolate brownie recipe with a kick! Sweet heat fudge brownies made with cinnamon, chili powder, and chocolate chunks.
Give your favorite go-to Chocolate Brownies a little kick with some ground cinnamon and chili powder in this tasty new Brownie Recipe!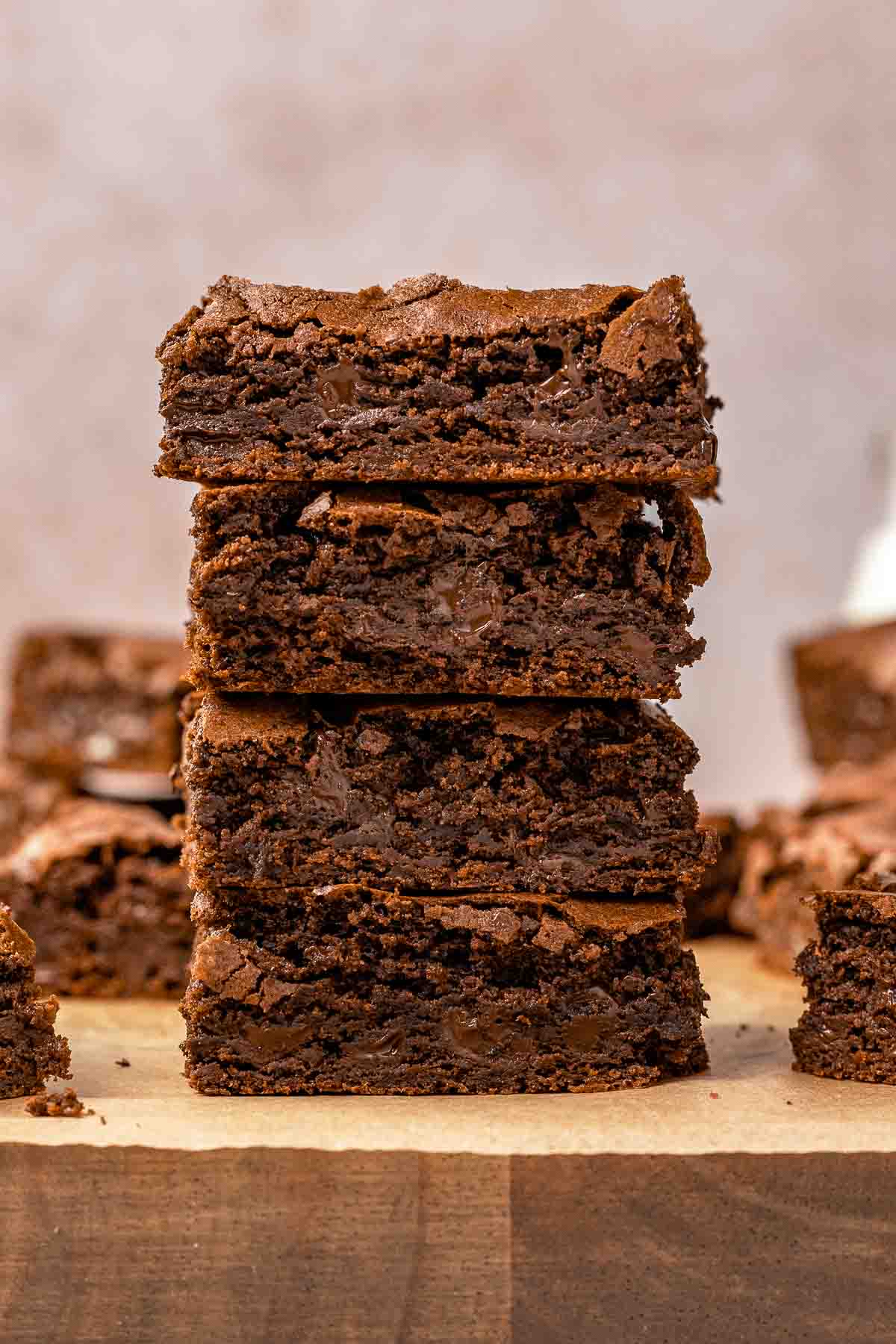 These sweet cinnamon and chili spiced fudgy brownies taste like a cup of Mexican hot chocolate and are made completely from scratch. This recipe starts with our super easy chocolate brownie batter and adds a few tweaks to make them extra special and delicious. The mild chili powder adds just a hint of heat so the whole family can enjoy these warmly spiced new brownies.
No need to head to a Latin market to pick up the ingredients for these Mexican Brownies, everything you need will be in your pantry or a regular grocery store. Some Mexican Brownie recipes use ground cayenne pepper, but this recipe is family friendly using chile powder so get the same chili pepper flavor without the tingly burn from hot peppers. The ground cinnamon adds a layer of earthy sweetness for a delicious brownie unlike any other you've had.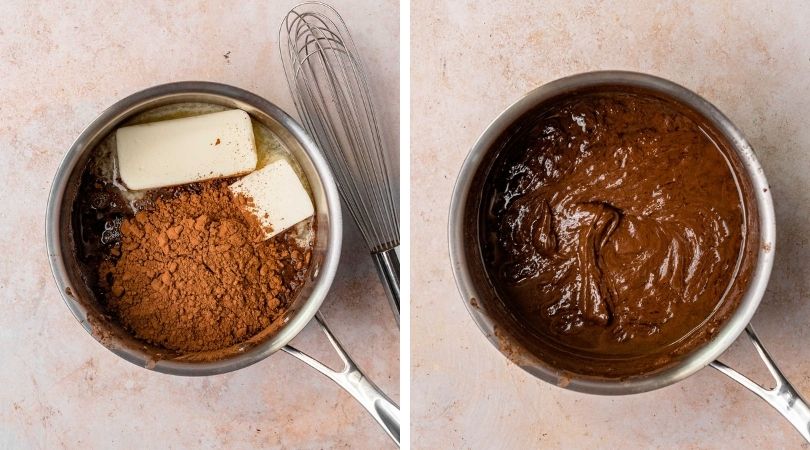 This Mexican Chocolate Brownies recipe starts a little differently than other brownie recipes by melting the butter and cocoa powder in water. This method of preparing the cocoa powder is called "blooming" and it intensifies the chocolate flavor in the cocoa, for the chocolatiest brownies ever. This blooming method is one you should try with all your chocolate cake and brownie recipes!
Mexican Brownies are delicious, sweet and spiced treat that make a great dessert on holidays and special occasions. Top your Mexican Brownies with powdered sugar, using a stencil or lace doily to make a design. Balance out the mild heat with a scoop of sweet Vanilla Ice Cream for a tasty sundae. Add a teaspoon ground cinnamon to Cream Cheese Frosting for extra Mexican Cinnamon Brownie goodness.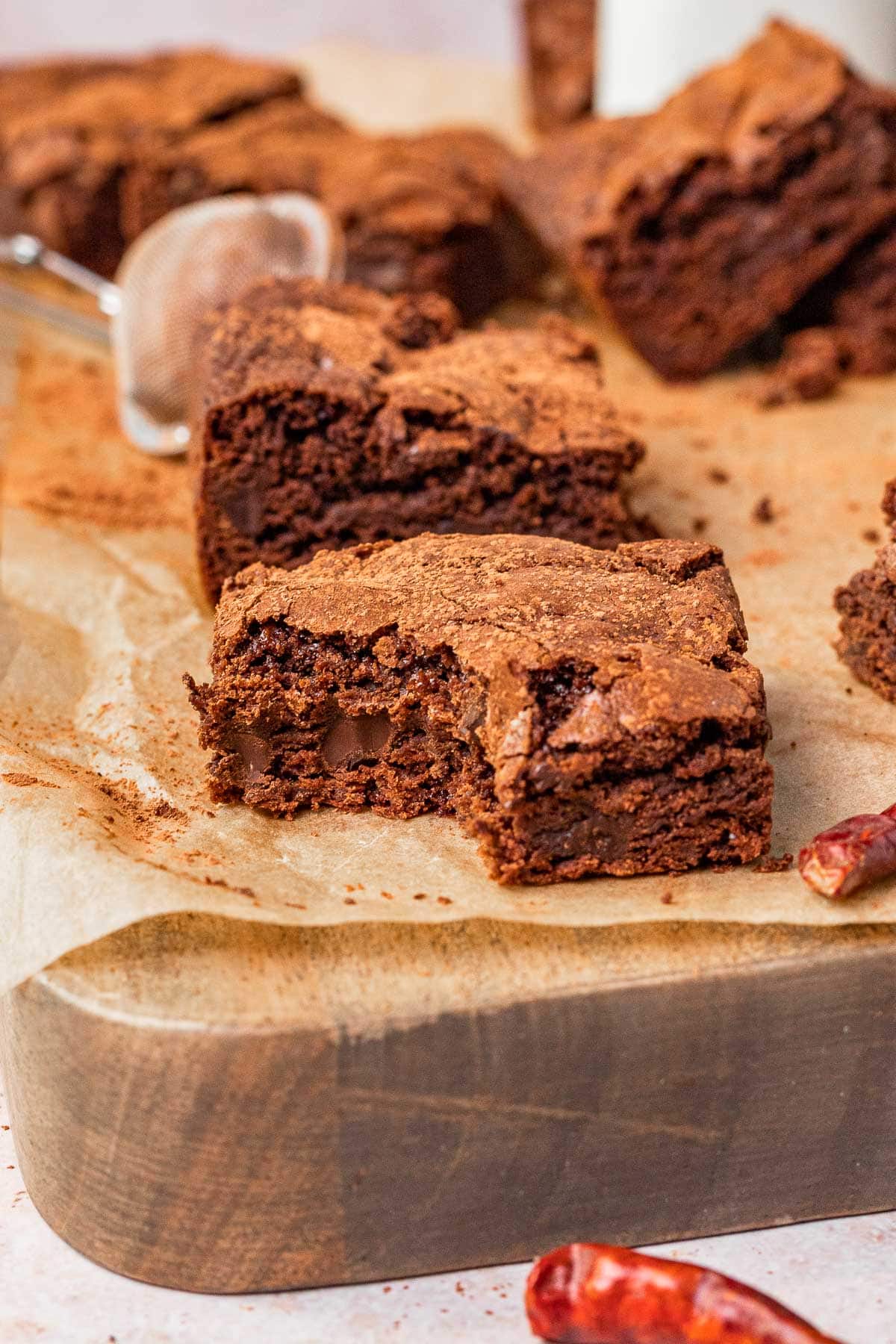 What is Mexican Hot Chocolate?
Mexican hot chocolate is a sipping cocoa made with cacao nibs, cinnamon, and spices. It is usually very rich, thick and chocolatey and not as sweet as American cocoa. The subtle flavors of the chilis and cinnamon bring out the warmth of the bittersweet chocolate flavor and give it a nice kick. These Mexican Brownies use the same ingredients to make a fudgy treat with a hint of cinnamon and spice flavors.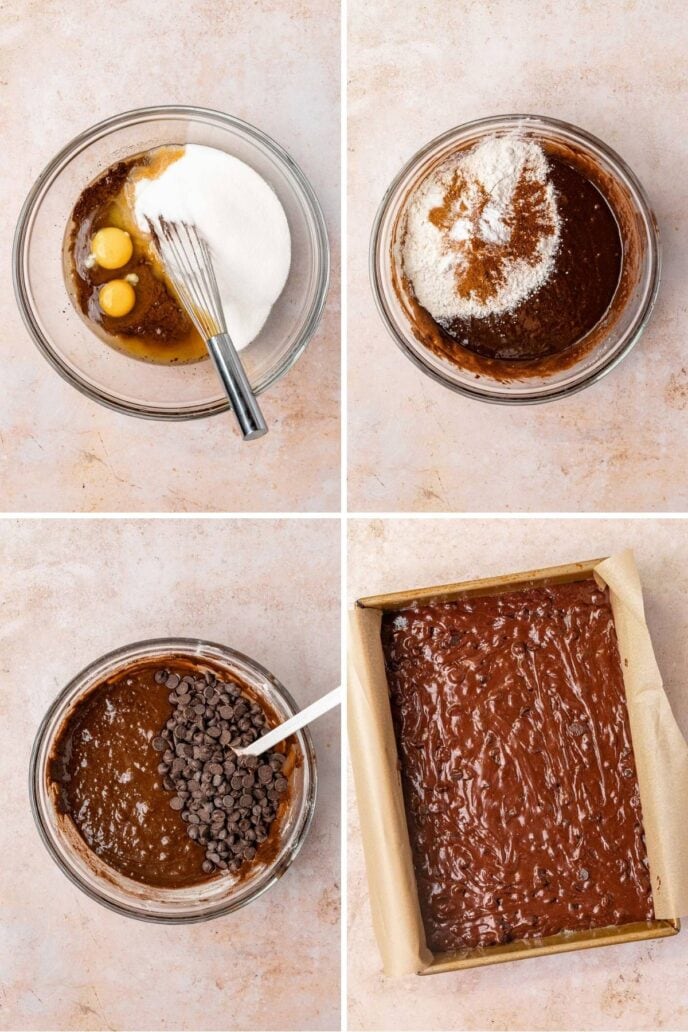 How to Make Mexican Brownies
Prep: Preheat oven to 350 degrees and spray an 9×13 baking dish with baking spray.
Bloom Chocolate: Add water to a saucepan and bring to a boil. Turn off the heat, add in the butter and cocoa powder, then whisk until completely blended.
Brownie Batter: Pour chocolate butter mixture into large mixing bowl. Add in the sugar, eggs and vanilla extract and whisk until creamy. Stir in flour, cinnamon, chili powder, baking soda, salt until just combined. Fold in chocolate chunks.
Bake: Pour into baking dish and spread evenly. Bake for 35-40 minutes, until a toothpick inserted comes out with moist crumbs. Cool before slicing and serving!
More Delicious Brownies Recipes
Frequently Asked Questions
Are Mexican Brownies Spicy?
There is not a lot of heat in the chili powder and cinnamon that this recipe calls for. If you'd like a bigger kick, add a teaspoon of cayenne pepper to the dry ingredients.
How do I keep brownies from overcooking?
Unlike baking cakes, you'll want to pull brownies from the oven when a toothpick inserted comes out with moist crumbs. They may look slightly underdone, but if it has been 35-40 minutes, go ahead and pull them out. Once completely cooled, your brownies will still have crunchy edge pieces that are not too over done along with chewy inner pieces.
Do I need a special pan to make brownies?
You can bake brownies in any 9×13 baking dish. A metal pan with straight edges will give you the best quality brownies with even, crispy edges and chewy centers. If you love edge pieces, you can opt for a nonstick brownie pan with individual squares and adjust the cooking time down.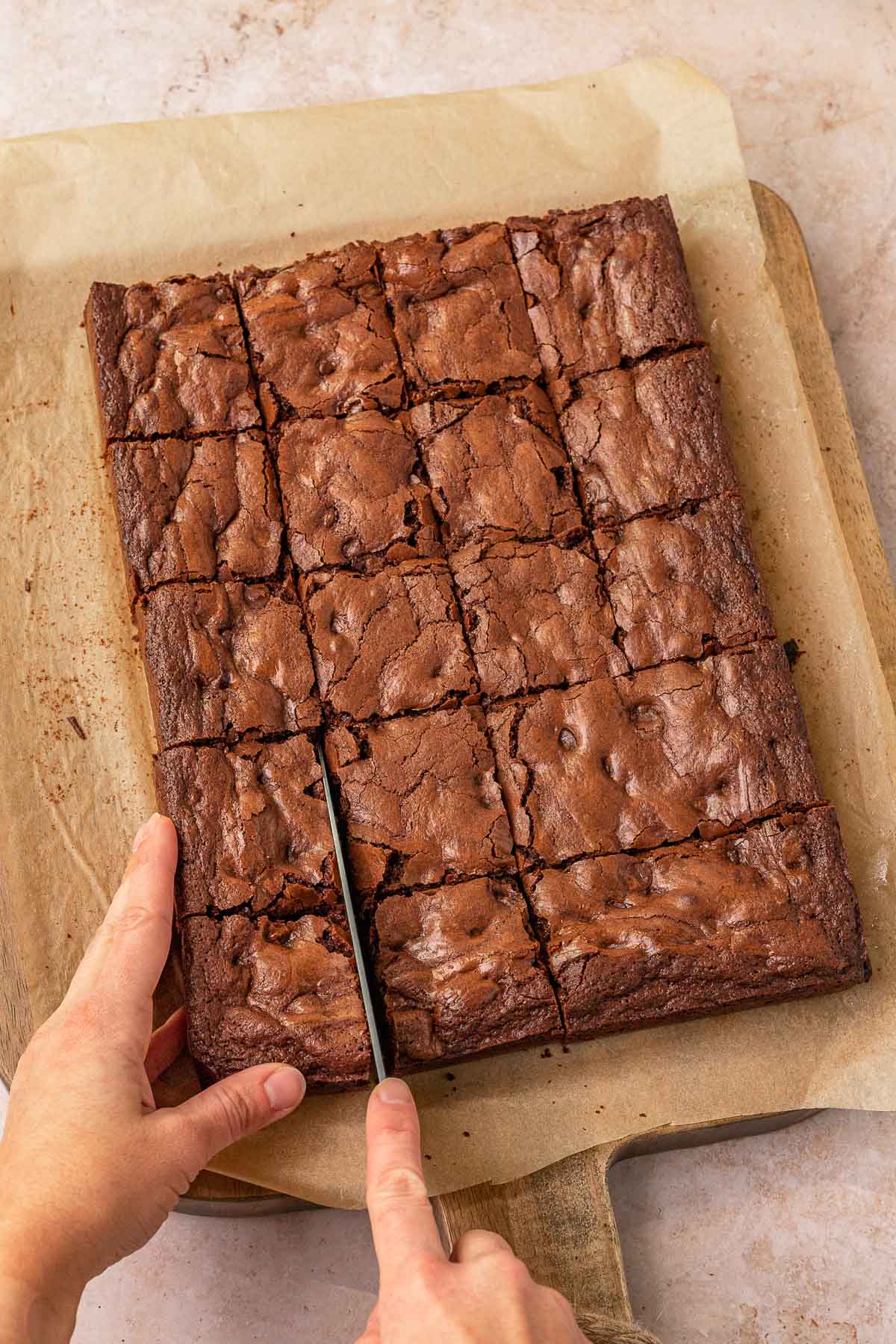 Create a free account to

Save Recipes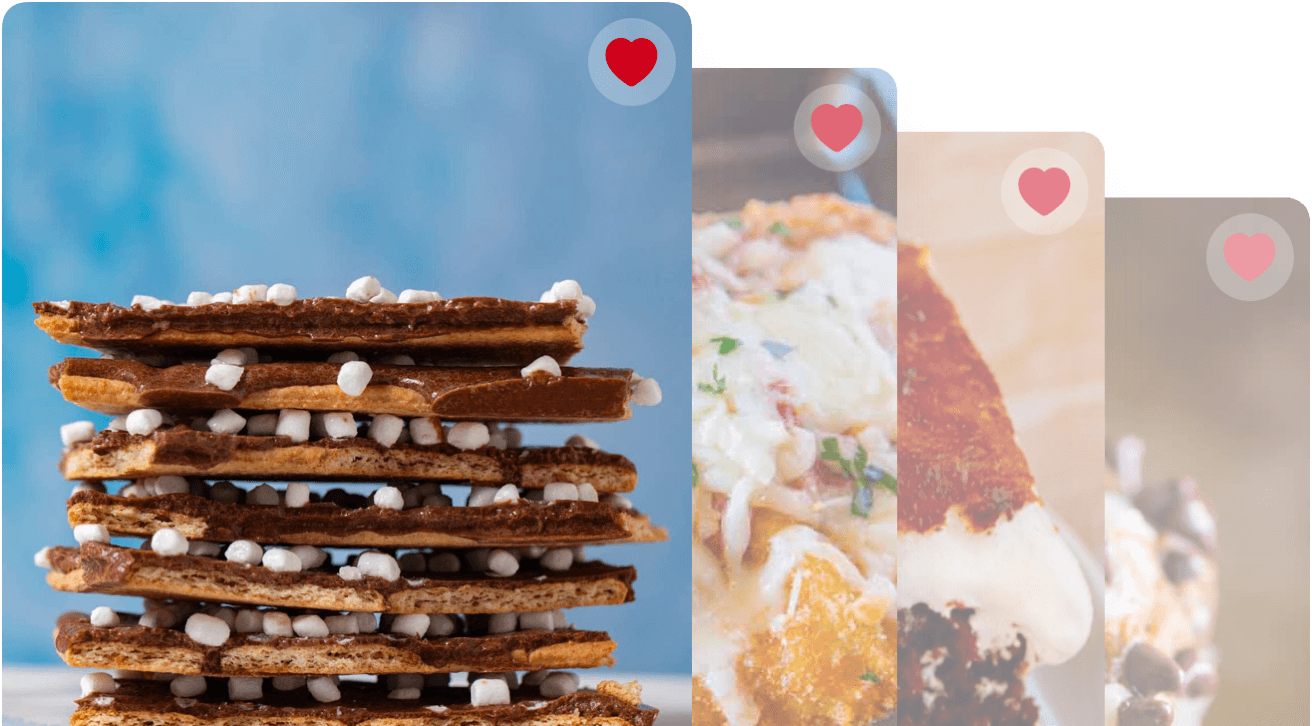 Key Ingredients in Mexican Brownies
Unsalted Butter: It's best to cook and bake with unsalted butter, so that you can control the level of salt in the recipe.
Unsweetened Cocoa Powder: Unsweetened cocoa powder is made from dried cocoa solids that have been separated from the cocoa butter and ground up. This recipe calls for regular unsweetened cocoa powder, not Dutch process.
Cinnamon: Cinnamon gives these brownies the distinct Mexican Chocolate flavor. Make sure to replace the spices in your pantry every six months for the best results in baking recipes.
Chili Powder: Chili powder is a blend of ground chile peppers along with other spices like cumin, paprika, and cayenne. The subtle amount in this recipe adds complexity to the flavor and brings out the cinnamon and chocolate even more.
Vanilla Extract: Vanilla is widely used in baking because it's subtle sweet flavor helps to enhance all the other flavors in your recipe. Mexico is also a large producer of vanilla, so including it in the recipe brings in another authentic flavor that works naturally with the cocoa and cinnamon.
Dark Chocolate Chunks: You can find dark chocolate chunks in your grocer's baking aisle, or buy a bar of your favorite dark chocolate and chop it up. The bittersweet flavor offsets the sweetness of the brownies and gives them a nice chunky texture.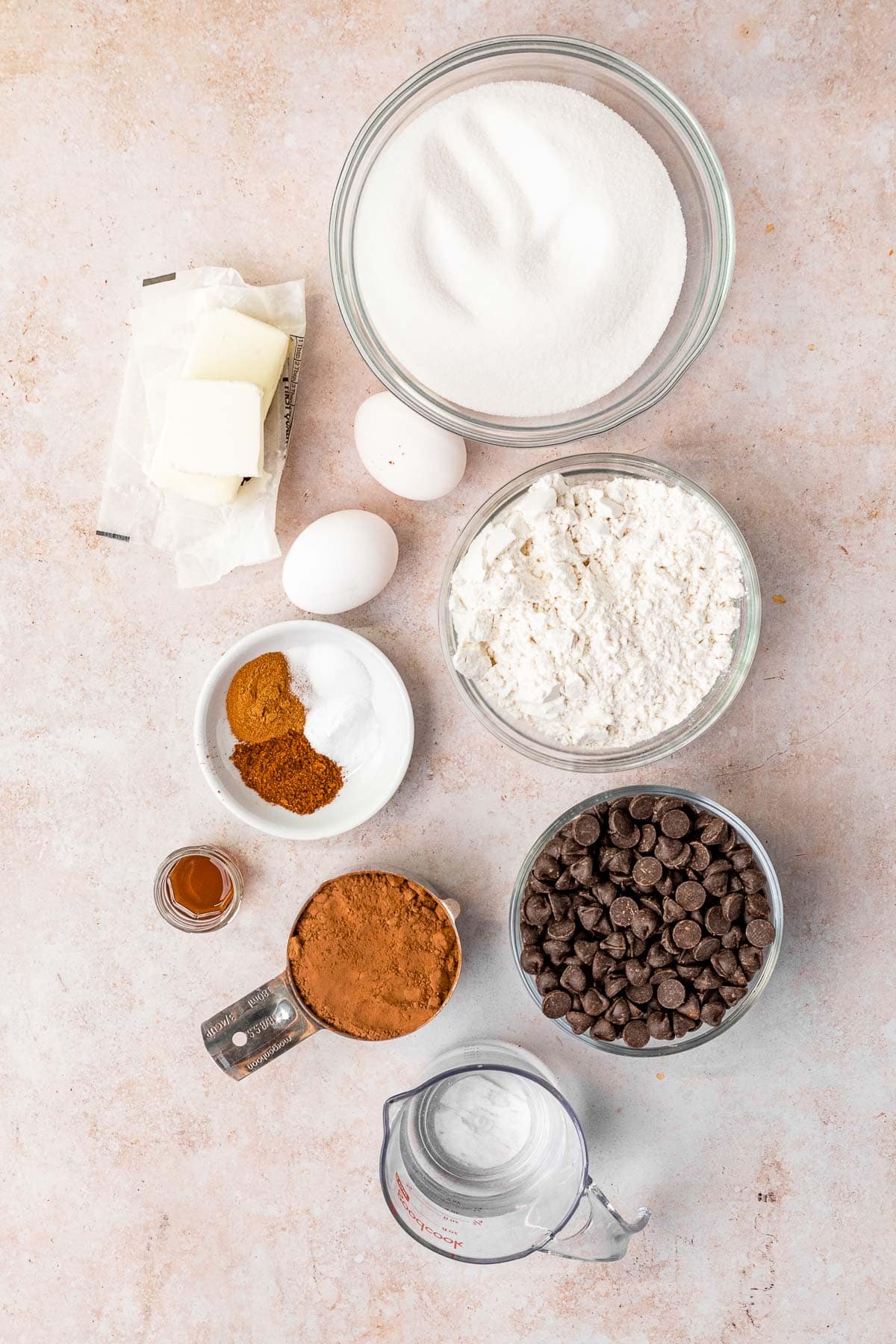 Variations on Mexican Brownies
Nuts: Toast ½ cup chopped pecans, almonds, or hazelnuts and fold the toasted nuts into your Mexican Brownie batter for an earthy crunch.
Spicy: Bring on the heat and make these Mexican Brownies a little spicier by adding a dash of cayenne pepper. Start with a ¼ teaspoon cayenne pepper and add more to taste.
Chocolate Chips: Instead of chocolate chunks, you can use white chocolate chips, dark chocolate chips, or semi-sweet chocolate chips. For extra cinnamon flavor, add ½ cup cinnamon chips, or try peanut butter chips or toffee bits.
Brownie Bites: Bake your Mexican Brownies in a 24 cup mini muffin tin for easy and delicious brownie bites. Divide batter between muffin cups and bake for 20-22 minutes, or until an inserted toothpick comes out clean with moist crumbs.
Hot Cocoa: Swap the cocoa powder for your favorite hot cocoa mix – try Abuelita's for authentic Mexican hot chocolate flavor. Reduce the sugar to 1 ½ cups because hot chocolate mix has sugar already in it.
Mix-Ins: Fold in up to ½ cup mix-ins like mini marshmallows, pretzel pieces, crushed Oreos, M&M candies, Reese's Pieces, or Salted Caramels.
Brownie Mix: To make a quick and easy version of Mexican Brownies, start with a box of brownie mix and prepare as directed. Just add the cinnamon and chili powder to the dry ingredients before adding to the wet ingredients. You can make brownie mix taste more homemade by replacing the water for milk, and the oil for melted butter.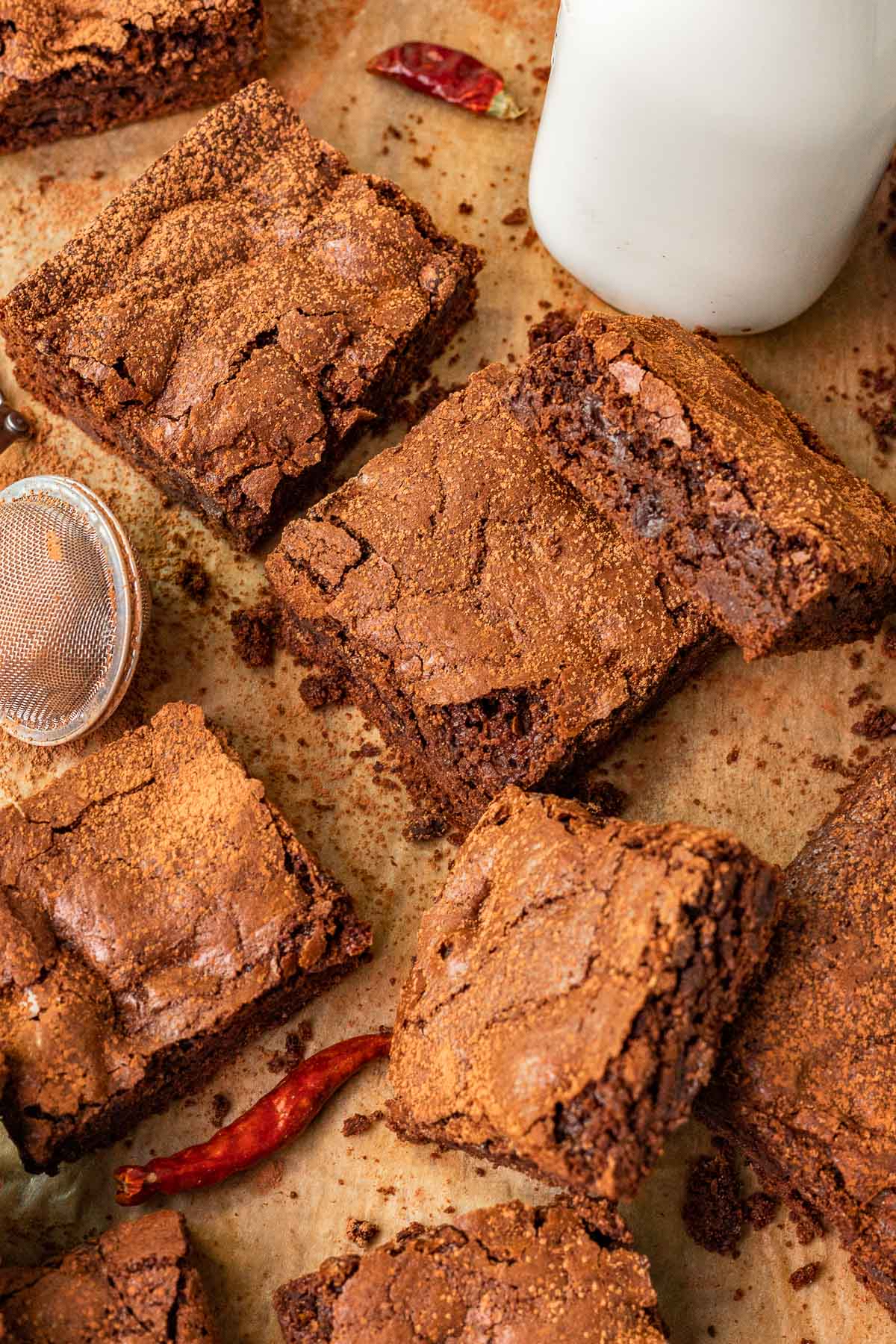 Even More Delicious Brownie Recipes
How to Store Mexican Brownies
Serve: Cool Mexican Brownies before slicing and serving, and keep covered at room temperature for up to 1 week.
Store: Store Mexican Brownies in an airtight container in the refrigerator for up to 2 weeks. Brownies are best served soft and warm, so bring to room temperature or heat in microwave.
Freeze: Once your Mexican Brownies are cooled, cut into squares. Freeze in a single layer on a baking sheet for one hour so they don't stick together. Place frozen brownies in a sealed container and freeze for up to 4 months. Thaw at room temperature or refrigerator to serve.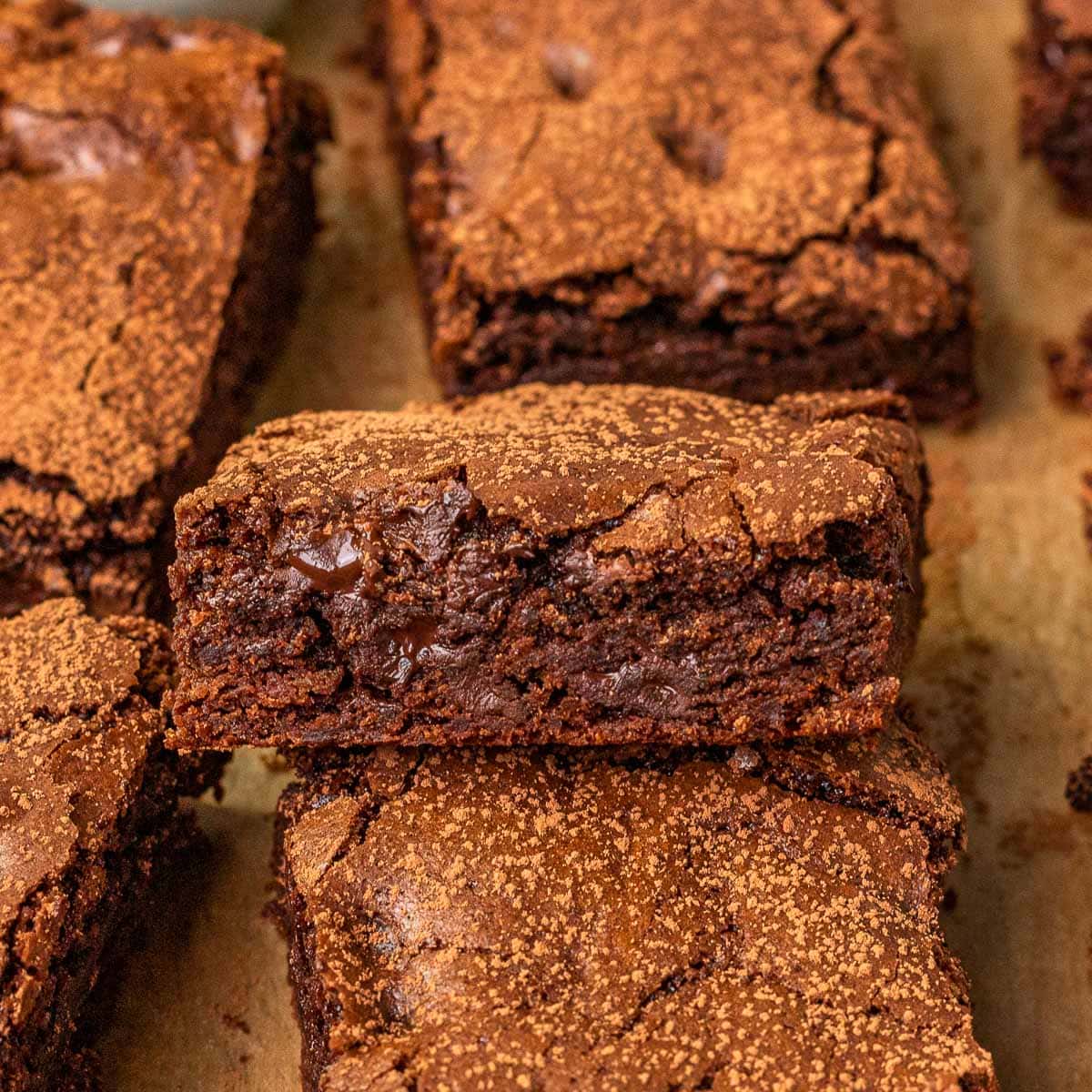 Ingredients
1/2

cup

water

2/3

cup

unsalted butter

3/4

cup

unsweetened cocoa powder

2

cups

sugar

2

large

eggs

1

teaspoon

vanilla extract

1 1/2

cups

flour

2

teaspoons

cinnamon

1

teaspoon

chili powder

1/2

teaspoon

baking soda

1/4

teaspoon

salt

12

ounces

dark chocolate chunks
Instructions
Preheat oven to 350 degrees and spray an 9×13 baking dish with baking spray.

Bring water to a boil in a saucepan.

Turn off the heat, add in the butter and cocoa powder.

Whisk until completely blended.

Pour mixture into large mixing bowl.

Whisk in the sugar, eggs and vanilla extract until creamy.

Add flour, cinnamon, chili powder, baking soda, salt until just combined.

Stir in chocolate chunks.

Pour into baking dish and spread evenly.

Cool completely before slicing.
Nutrition
Calories:
282
kcal
|
Carbohydrates:
37
g
|
Protein:
4
g
|
Fat:
14
g
|
Saturated Fat:
8
g
|
Cholesterol:
33
mg
|
Sodium:
70
mg
|
Potassium:
191
mg
|
Fiber:
3
g
|
Sugar:
24
g
|
Vitamin A:
249
IU
|
Calcium:
24
mg
|
Iron:
3
mg