Caramel Stuffed Brownies are the perfect gooey, chocolatey treat with chocolate chips, creamy caramel, and flaky sea salt.
What's better than delicious Fudgy Brownies? Maybe give these fudgy brownies with a sweet and rich caramel filling a try to to take things to the next level. This is even more indulgent than your go-to brownie recipe, and the amazing flavor combo is sure to make this a favorite Dessert with the whole family!
The caramel filling and sea salt topping add so much amazing texture to these brownies, and the brownie base is perfect to satisfy chocolate cravings. You can make Caramel Stuffed Brownies for a bake sale, potluck, or any get-together.
Unlike the traditional Caramel Brownie Recipe on the blog, this one is made with a full layer of caramel. Instead of simply drizzling caramel on top, or adding caramel bits, the layer of creamy caramel is baked in the brownies as a filling. Start the recipe by prepping the classic brownie recipe with an amazing chocolatey flavor. Then bake one layer of chocolate, add the creamy caramel filling, and finish it all off with another layer of brownie. The whole recipe is like a chocolate and caramel brownie sandwich.
Along with the amazing creamy caramel, this recipe also has a deep chocolate flavor. Not only, do you get the classic chocolate brownie flavor from cocoa powder, but there are also chocolate chips mixed into the batter for double the chocolate. The chocolate morsels melt during the baking time. So, if you eat the Caramel Stuffed Brownies while they're still warm you'll have little pieces of melted chocolate in each bite.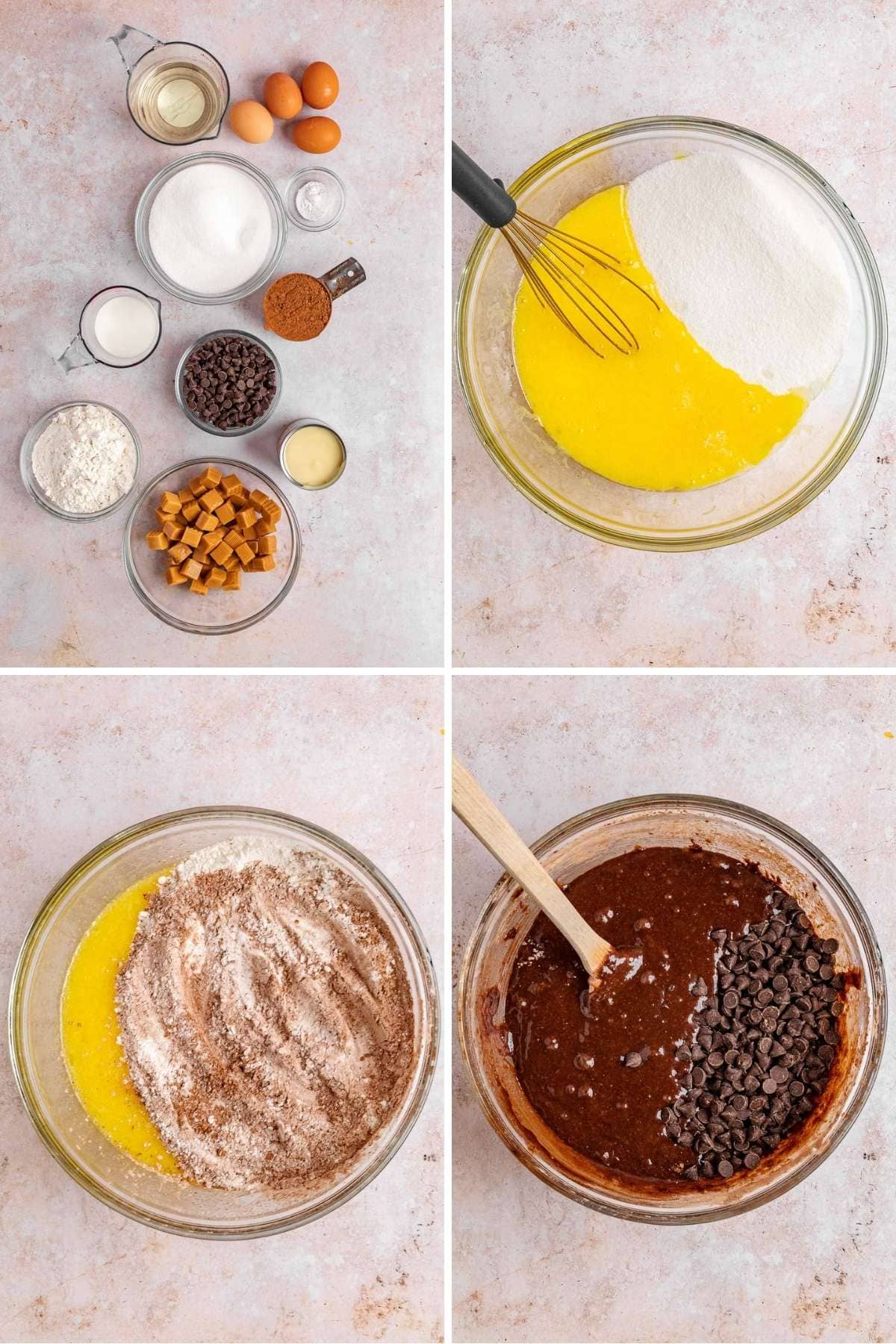 More Brownie Recipes
Key Ingredients
Brownie Batter: For the most part, the base recipe is made with standard brownie ingredients. Eggs, oil, milk, granulated sugar, cocoa powder, and a handful of other pantry ingredients are all you need to make classic chocolate brownies
Chocolate Chips: The brownies do get an extra kick of chocolatey flavor from the semisweet chocolate chips. Just fold the chips directly into the batter before baking. Then they'll add pieces of melting chocolate throughout the fudgy brownie recipe.
Caramel Layer: The homemade caramel sauce recipe is made with store-bought caramel squares and sweetened condensed milk. Melting simple caramel squares is an easy way to get a rich and sweet caramel flavor. Then the sweetened condensed milk makes the mixture more creamy and soft so that you can easily spread it over the brownie layer.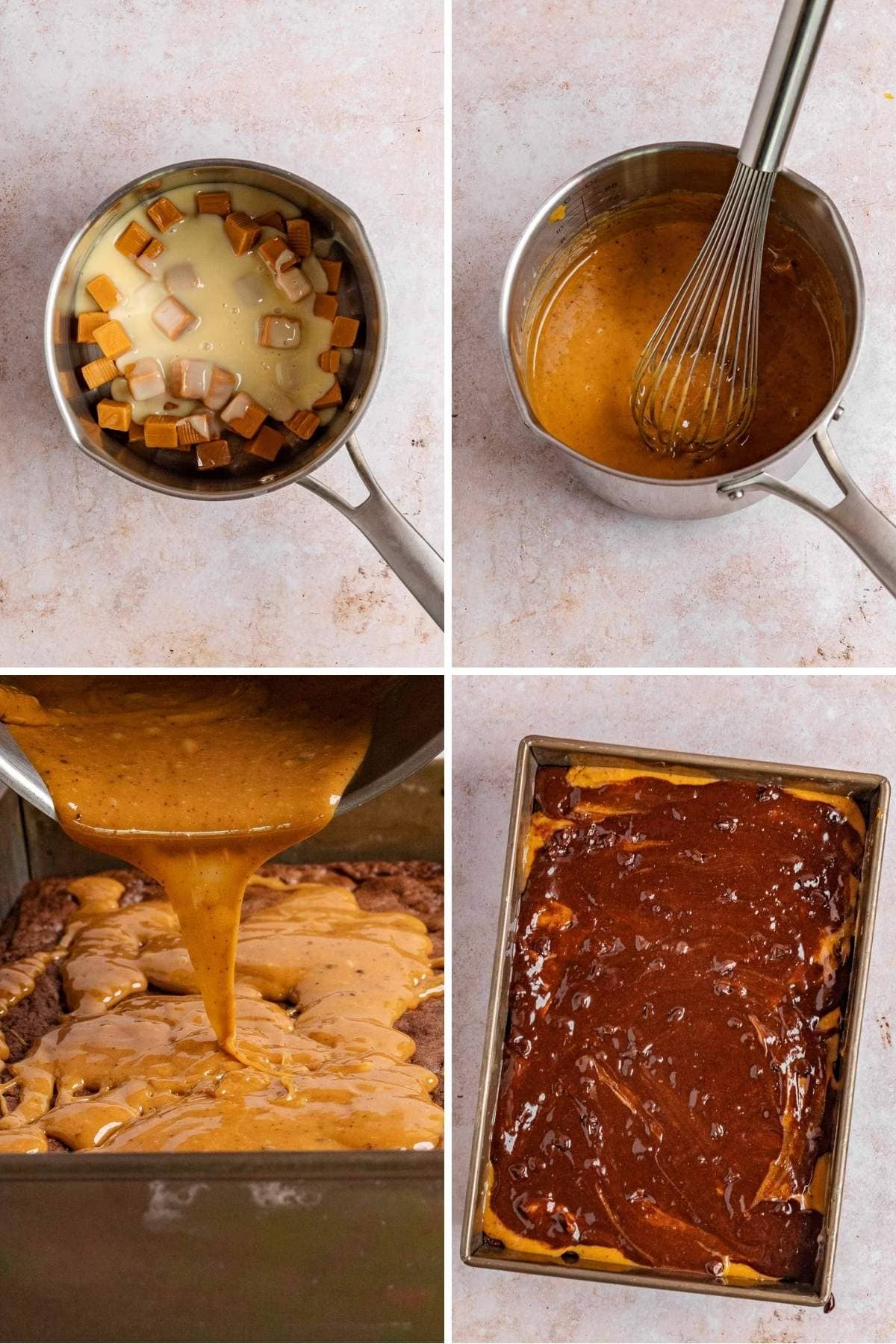 How to Make Caramel Stuffed Brownies
Prep Time: Start this brownie recipe by preheating the oven to 350 degrees. Then spray a 9×13 inch baking dish with nonstick cooking spray.
Brownie Batter: Whisk the oil and eggs together in a large mixing bowl. Then add the sugar and milk, whisking well again to combine. Sift the all-purpose flour, cocoa powder, baking powder, and salt together in a separate bowl. Then bring the wet and dry ingredients together, mixing until just combined. Add the chocolate chips and fold them into the brownie mix to finish.
Chocolate Layer: Spread about 2/3 of the chocolate mixture over the prepared baking dish. Then put the single chocolate layer in the oven for a 12-minute bake time.
Caramel Layer: While the brownie layer is baking, you can start making the caramel sauce filling. Start by adding unwrapped caramel squares, and sweetened condensed milk to a medium saucepan. Then melt the caramel mixture over medium heat, and stir until smooth.
Assemble: Pour the caramel filling over the baked brownie layer. Let it cool like that for 5 minutes before you spoon the prepared brownie batter over the top. Use the back of the spoon or an offset spatula to evenly spread the chocolate over the caramel. Once it's spread evenly, sprinkle sea salt over the top.
Baking Time: Pop the dish in the oven for another 28-30 minutes. Then you can stick a toothpick in the center of the Caramel Stuffed Brownies to see if they're done. As long as the toothpick comes out without wet brownie batter on it, you're good to go.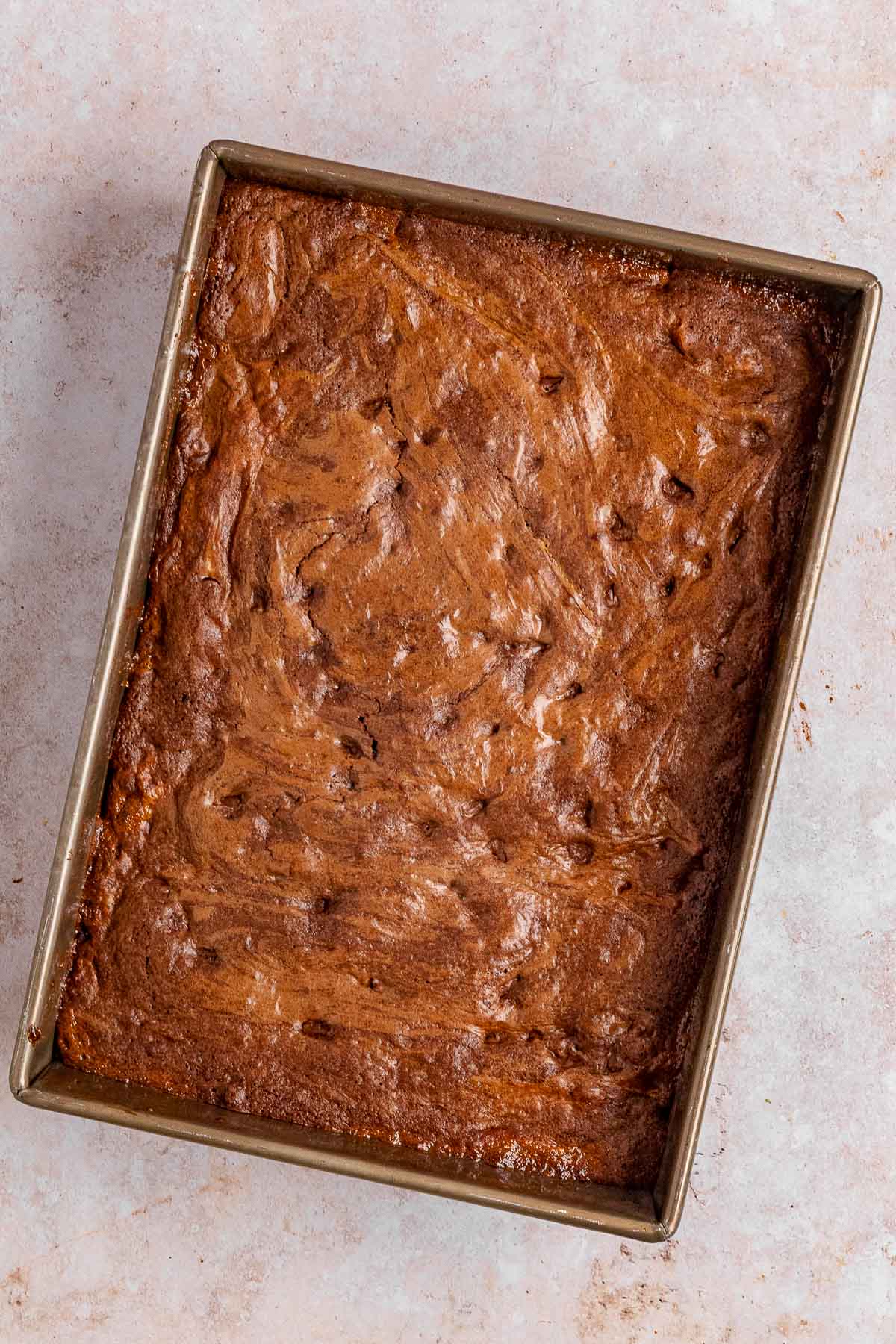 Create a free account to Save Recipes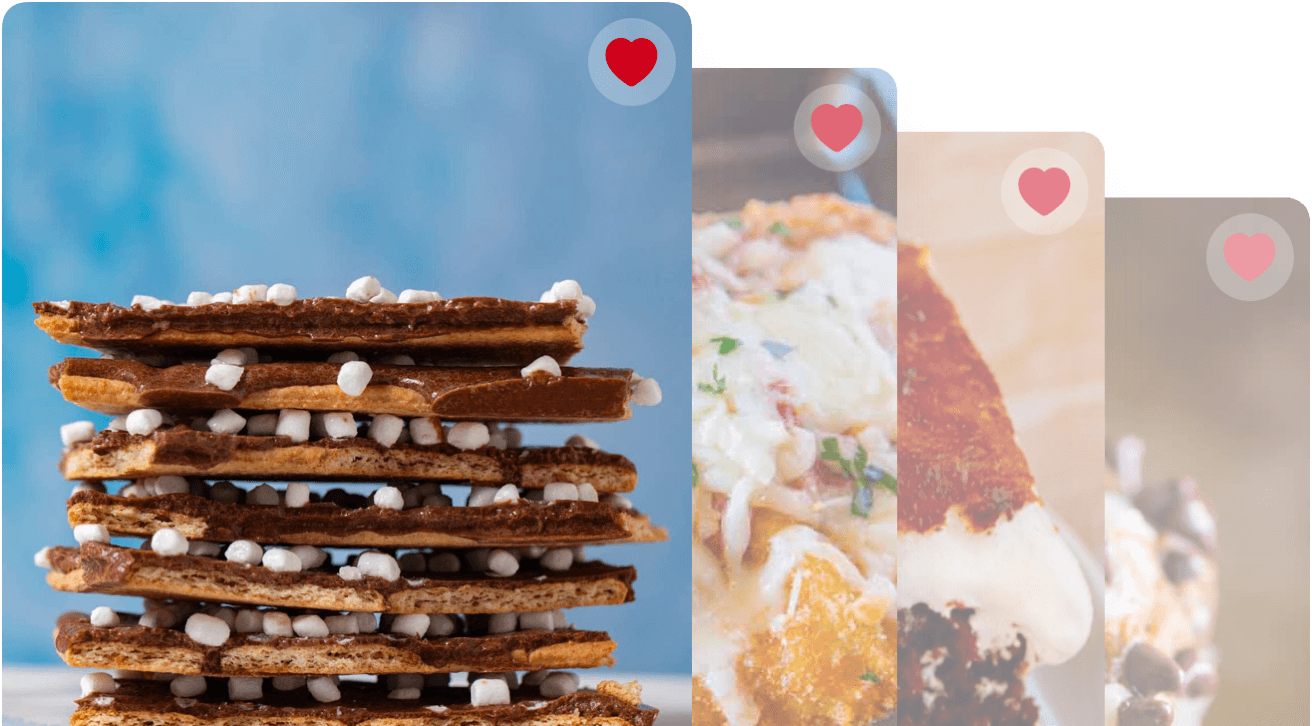 Frequently Asked Questions About Caramel Stuffed Brownies
Why is the first layer of brownie baked separately?
The bottom layer of brownie needs to be baked before adding in the caramel layer in order to give the caramel a more solid base to rest on. It will also help keep the layers separate so that they don't blend together while pouring into the pan, and then baking.
Why is flaky sea salt used over the top of the brownies?
Different kinds of salt have different flavors and textures. Sea salt is made from evaporated sea water and isn't as processed as regular salt. It also contains some minerals from the sea. Sea salt pairs very well with caramel and chocolate due to it's flaky texture. The flavor will linger the same way the rich flavors of chocolate and caramel linger.
Variations
Chocolate Chips: For a sweeter chocolate flavor in this recipe, you can use delicious milk chocolate chips. On the other hand, if you prefer more bittersweet chocolate, try replacing the semisweet chocolate with dark chocolate. You can also use a mix of different chocolate chips in the brownie batter.
Mix-ins: For a more crunchy texture, mix chopped nuts into the Caramel Stuffed Brownie recipe. You could also mix in toffee bits, M&Ms, or broken candy bars.
Toppings: If you'd like to add some toppings to the brownie recipe, try melting chocolate to drizzle on a chocolate topping. Or, melt caramel for a caramel drizzle. You can also add a dollop of whipped cream to the top of each brownie before serving.
Peanut Butter Stuffed Brownies: In the mood for chocolate and peanut butter? You can replace the caramel filling with a layer of peanut butter. Most kinds of peanut butter will work well. You just don't want to use natural peanut butter. Heat your chosen peanut butter to make it thinner. Then spread it over the first layer of brownies. After that, you can add the rest of the brownie batter and bake.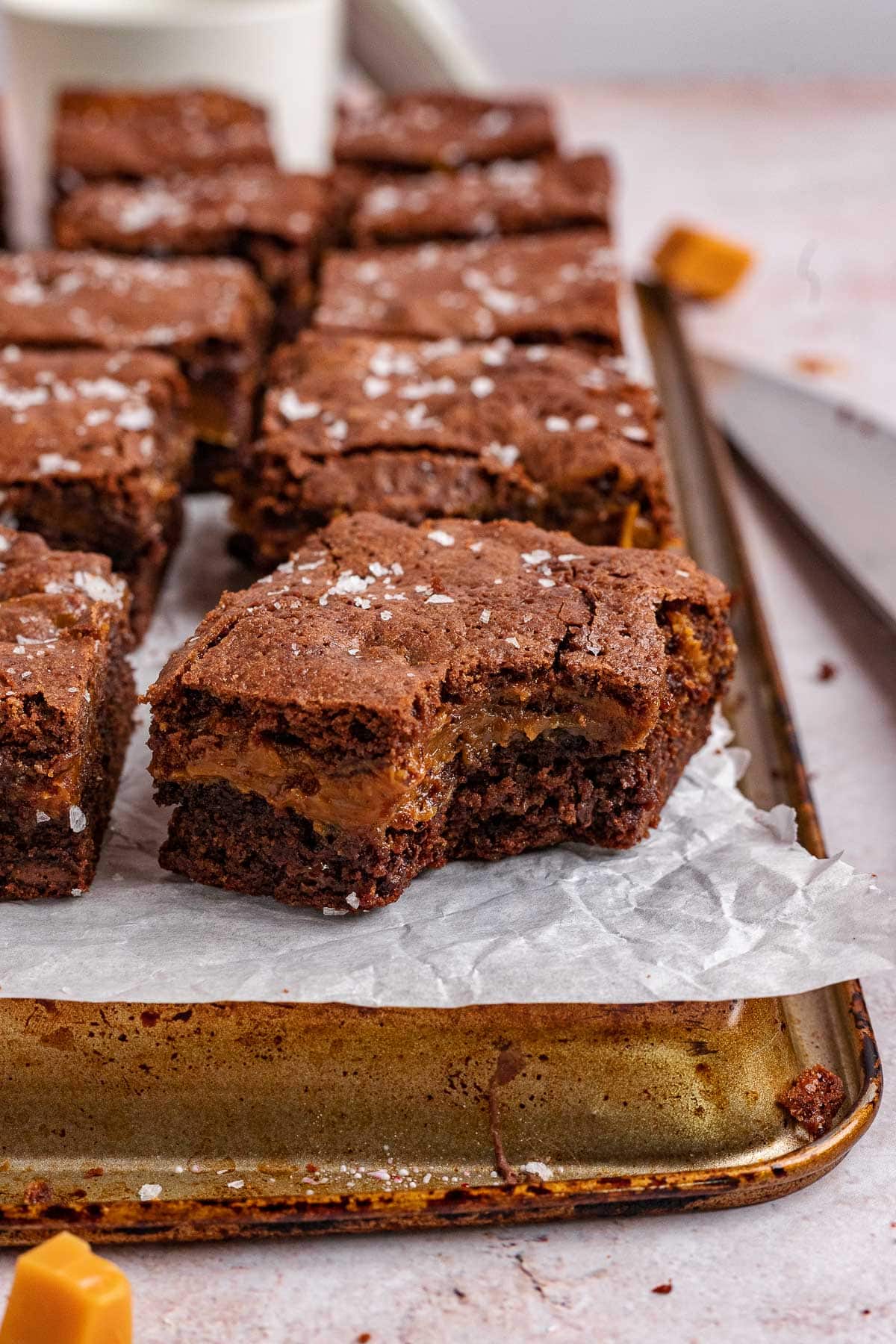 Caramel Desserts
How to Store
Serve: If you cover the fudgy brownies in plastic wrap or tin foil, they can stay good for 3-4 days at room temperature.
Store: Covered brownies can be kept in the fridge where they'll stay good for up to 5 days.
Freeze: You could also freeze Caramel Stuffed Brownies. For best results, slice the brownies into squares and put them in a freezer bag with parchment paper to separate the layers. Then they can keep well for 3 months.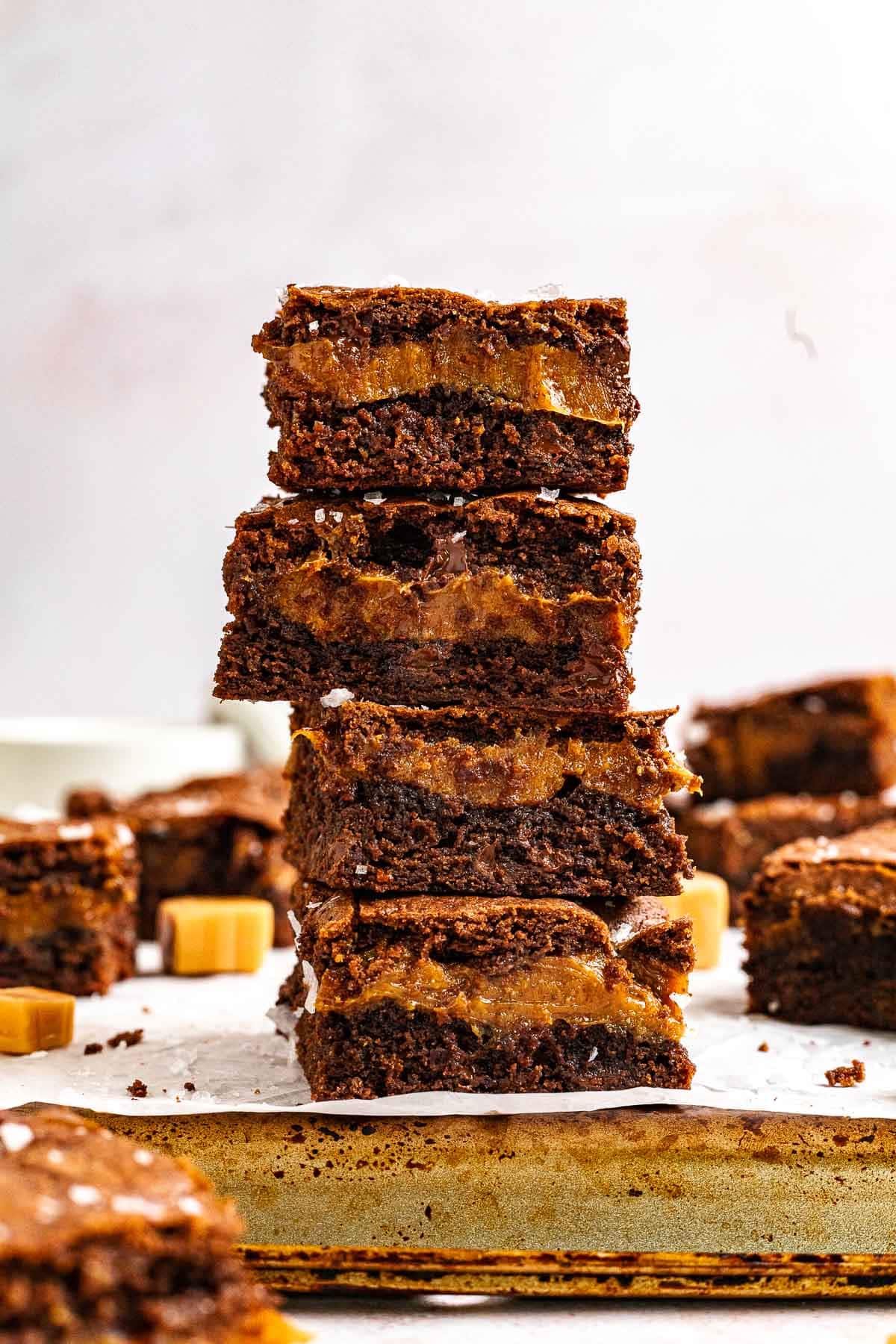 Ingredients
1

cup

vegetable oil

4

large

large eggs

2

cups

sugar

1/4

cup

whole milk

1 1/2

cups

flour

3/4

cup

unsweetened cocoa powder

1/2

teaspoon

salt

1

teaspoon

baking powder

1 1/2

cups

semisweet chocolate chips

14

ounces

caramels

, unwrapped

14

ounces

sweetened condensed milk

1/2

teaspoon

flaky sea salt
Instructions
Preheat oven to 350 degrees and spray a 9×13 baking pan with baking spray.

In a large bowl, whisk together oil and eggs.

Add in sugar and milk, whisk well to combine.

Sift together the flour, cocoa powder, baking powder, and salt.

Add to the wet mixture and whisk until just combined.

Stir in the chocolate chips.

Evenly spread about 2/3 of the brownie batter into the baking pan.

In a medium saucepan, add the unwrapped caramels and sweetened condensed milk and whisk together on medium heat until smooth.

Pour the caramel sauce over the baked bottom layer.

Let cool for

5 minutes

then gently spoon on the remaining brownie batter in as even a layer as possible.

Sprinkle with flaky sea salt (do not use regular table salt for this, skip if you don't have flaky salt).

Bake for

28-30 minutes

or until a toothpick is no longer wet with brownie batter.
Nutrition
Calories:
374
kcal
|
Carbohydrates:
52
g
|
Protein:
5
g
|
Fat:
18
g
|
Saturated Fat:
6
g
|
Polyunsaturated Fat:
6
g
|
Monounsaturated Fat:
4
g
|
Trans Fat:
0.1
g
|
Cholesterol:
39
mg
|
Sodium:
191
mg
|
Potassium:
225
mg
|
Fiber:
2
g
|
Sugar:
41
g
|
Vitamin A:
106
IU
|
Vitamin C:
0.5
mg
|
Calcium:
99
mg
|
Iron:
2
mg